October, 21, 2012
10/21/12
8:04
PM ET
A few thoughts on
Sunday's events at the Edward Jones Dome
:
What it means:
The
Green Bay Packers
got through a difficult portion of their schedule with a 4-3 record. After playing three consecutive road games, and winning two of them, they'll get four of their next six games at Lambeau Field.


RodgersWatch:
Quarterback
Aaron Rodgers
has caught fire. (In a good way.) Sunday against the
St. Louis Rams
, he completed 20 of his first 22 passes. He finished with 342 yards and three touchdowns. Over his past two games, Rodgers has completed 73 percent of his passes for 680 yards, nine touchdowns and no interceptions. It's been five years since a quarterback has thrown a combined nine touchdowns without an interception in back-to-back games, according to the NFL. And there aren't many, if any, other quarterbacks who could have made the across-the-body throw that Rodgers did on a 39-yard touchdown strike to receiver
Randall Cobb
in the fourth quarter.
No-huddle issues:
The Packers opened in the no-huddle offense but were admittedly "disjointed," coach Mike McCarthy said. According to McCarthy, officials stood over the ball -- preventing the snap while the Rams' defense substituted personnel -- "much longer than we experienced in the past." That's why the Packers moved toward the standard huddle as the game wore on. The change appeared to work.
CobbWatch:
Cobb caught two touchdowns as
he continues establishing himself
in the Packers' three-receiver sets. We've already noted the 39-yard score. In the third quarter, his outside-in move in the end zone turned around cornerback
Trumaine Johnson
and got him wide open for a 5-yard score. Cobb caught all nine passes Rodgers targeted him on, the second time this season he has caught 100 percent of the passes thrown his way. No other NFL receiver has done that (minimum eight targets) once this season, according to ESPN Stats & Information.
Hayward steps up:
Starting for the injured
Sam Shields
, rookie cornerback
Casey Hayward
intercepted Rams quarterback
Sam Bradford
late in the third quarter, giving him four in limited playing time this season. "They don't care if you're a rookie or a veteran," Hayward said. "They're going to throw the ball at you and you just have to be in position to make plays."
Quote to note:
Speaking about Cobb, Rodgers said: "He's a star in the making. He's a big-time player."
What's next:
The Packers will host the
Jacksonville Jaguars
next Sunday.
April, 27, 2012
4/27/12
11:41
PM ET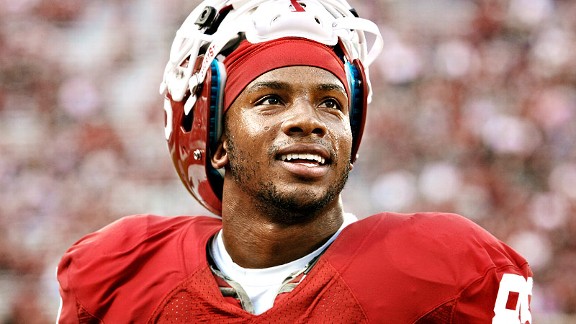 Brett Deering/Getty ImagesBy drafting Ryan Broyles Detroit stuck to their philosophy of targeting talent instead of need.
As they approached their second-round position Friday night, the
Detroit Lions
sure seemed to be sitting pretty. A team with a shortage of cornerbacks was looking at a nice group of second-tier defensive backs whose time on the market appeared up. In addition, the draft's top center was still available if the Lions were inclined to secure a future replacement for starter
Dominic Raiola
.
With their No. 54 overall pick, the Lions passed on Wisconsin center
Peter Konz
, who ultimately went one slot later to the
Atlanta Falcons
.
They turned away a trio of cornerbacks: Vanderbilt's
Casey Hayward
, Montana's
Trumaine Johnson
and Central Florida's
Josh Robinson
. Hayward went at No. 62 to the
Green Bay Packers
, Johnson at No. 65 to the
St. Louis Rams
and Robinson at No. 66 to the
Minnesota Vikings
.
The Lions? Naturally, they went for a 24-year-old slot receiver who tore his anterior cruciate ligament last November. Oklahoma's
Ryan Broyles
will join a seemingly crowded position group that also includes
Calvin Johnson
,
Nate Burleson
and 2011 second-round pick
Titus Young
.
I got a number of immediate reactions along these lines of this one from
@breynolds0324
: "Sadly, best case he is 4th receiver. That secondary made [Matt] Flynn a multimillionaire. Feel like we are a secondary away from SB."
I understand where you're coming from, and perhaps some of you were assuaged when the Lions drafted Louisiana-Lafayette cornerback
Dwight Bentley
in the third round. But I feel like many of you allowed your immediate emotions to overtake rational thought, and more importantly, what should be a clear understanding of how the Lions operate under general manager Martin Mayhew and coach Jim Schwartz.
You can object to the relative lack of attention the Lions have paid their secondary during this rebuilding process. Feel free to dispute their assessment of the talent they've passed over. But by now, like it or not, you should have come to expect that they will follow their board in as much of a vacuum as any team in the NFL. And I hope you also realize that approach has left the Lions short in the secondary but is probably the single-biggest factor in their return to contention.
"You don't solve needs by drafting poor players," Lions coach Jim Schwartz
told reporters in Detroit
. "… There's a discipline that goes into it. You have to be able to stick with that philosophy. The philosophy is: 'Talent rules the board.' … If you chase need, you're chasing a moving target. What looks like a need one day might not be a need another day. If you have the discipline to say, 'Hey look, let's get good football players that fit a philosophy that we have a plan for, that continue to be the highest rated guys on your board,' then you're going to be successful over the long run.
"Even in this organization in the past, I think everybody knows some examples where this organization reached for certain players because of needs. I don't see how that solves your need. When it's all said and done, the need is still there."
It would be reasonable to question whether, say, Hayward would have been a reach at No. 54 when the Packers selected him just a few spots later. But the more relevant question is whether the Lions would have left a more talented player on the board. And in the Lions' evaluation, they would have. That made their decision easy Friday night at No. 54.
Broyles is one of the most productive receivers in the history of college football, having caught an NCAA-record 349 passes in his career. Just five months after surgery to repair his ACL, he ran the 40-yard dash in 4.57 seconds. Mayhew, whose success in recent drafts grants him some leeway in making such judgments, told reporters: "If the guy were healthy now he'd have been gone way before our pick."
And while they are in fact stacked at the front end of their depth chart, the Lions in reality were one injury away from not being able to use offensive coordinator Scott Linehan's three-receiver set. Burleson, meanwhile, will turn 32 this summer. In other words, the Lions could be a year or two away from having an obvious need at receiver. As we discussed Thursday, the key to orderly transitions is acquiring the replacement before he is needed.
Look, the Lions don't need me to be an apologist for a decision -- and thus far, an entire draft -- that might not have much impact on their 2012 team. You have a right to dispute it. But you shouldn't be surprised, and the Lions' success to this point earns them at least a partial benefit of the doubt from me.
April, 27, 2012
4/27/12
9:22
PM ET
Before Friday,
Green Bay Packers
general manager Ted Thompson had traded up a total of three times in the NFL draft.

Hayward

Worthy
Friday afternoon, Thompson did it twice in the second round alone.
A few minutes after moving up to draft Michigan State defensive lineman
Jerel Worthy
, Thompson moved back into the second round to select Vanderbilt cornerback
Casey Hayward
. The Packers gave up a third-round (No. 90) and fifth-round pick (No. 163) to do it, but as we've discussed, they entered Saturday with an NFL-high 11 picks to work with.
The Packers have gone for defensive help in each of their first three picks. I think they were serious about remaking their defense this offseason. You?
NFL SCOREBOARD
Thursday, 10/16
Sunday, 10/19
Monday, 10/20
WEEKLY LEADERS