August, 26, 2012
8/26/12
4:39
PM ET
The Browns and Ravens have already made some cuts as teams need to get down to the 75-player limit by Monday at 4 p.m.

As everyone knows by now, the Ravens cut kicker
Billy Cundiff
in
a gutsy move
by the team. That means undrafted rookie
Justin Tucker
takes over as kicker.
"Billy had a great camp, the best he has had with us," coach John Harbaugh said in a statement. "He showed, like he always has, a toughness and an ability to come back and be a top-flight NFL kicker. These decisions are never easy, and this one was difficult for all of us -- Ozzie [Newsome, general manager], Jerry [Rosburg, special-teams coordinator] and me."
Harbaugh added, "Of course, that says something about Justin, the way he has kicked and our belief in him. But, that does not say something less about Billy. Billy was ready in every way to be our kicker. He'll kick in the NFL. He's a very good kicker and an even better person."
The Ravens had signed Cundiff to a five-year, $14.7 million contract that included a $3 million signing bonus just 19 months ago.
The one notable player waived by the Ravens was center
Cecil Newton
, the brother of Panthers quarterback
Cam Newton
. Cecil Newton was on the team's practice squad last season. Here are the other players waived: tight end
Davon Drew
(a 2009 fifth-round pick), receiver
Devin Goda
, OL
Addison Lawrence
, cornerback
Jordan Mabin
, long-snapper
Patrick Scales
, quarterback
Chester Stewart
and receiver Patrick Williams.
These cuts bring the Ravens' roster down to 81 players, meaning six more need to go by Monday's deadline. One move could be placing wide receiver
Tommy Streeter
, who didn't practice Saturday, on injured reserve to store him away for a year.

For the Browns, the biggest name to go was wide receiver
Carlton Mitchell
.The Browns had hopes they could develop Mitchell when they drafted the 6-foot-3, 215-pounder in the sixth round in 2010. But he managed three catches for 31 yards in two seasons. Cleveland decided to move on after drafting
Josh Gordon
in the supplemental draft and taking
Travis Benjamin
in the fourth round in April.
Here are the other players waived by the Browns: offensive linemen
Jake Anderson
and
Matt Cleveland
, defensive back
Emanuel Davis
, linebacker
JoJo Dickson
, punter
Spencer Lanning
and wide receivers
Bert Reed
,
Jermaine Saffold
and
Owen Spencer
.
The Browns now have 80 players on their roster and need to make five more moves by Monday's deadline.
September, 4, 2011
9/04/11
3:17
PM ET
Let's catch up on a few more transactions that have come out Sunday.
As expected, the Bucs didn't sit still at linebacker. They
reportedly have signed
Zac Diles
, who was released by St. Louis. Diles fits the profile of what the Bucs were looking for in a backup for rookie middle linebacker
Mason Foster
. They wanted someone with experience, but not an older player. Diles also played at Kansas State when Tampa Bay coach Raheem Morris was an assistant.
Diles made 30 career starts while with the
Houston Texans
. He can play the middle or strong-side linebacker. We don't know the flip side of this move yet. But the Bucs could be adding more players, and that would mean more releases.
In other news, the
New Orleans Saints
signed eight players to their practice squad
. Linebacker
Nate Bussey
, quarterback
Sean Canfield
, tight end Michael Higgins, cornerback
Terrail Lambert
, defensive tackle
Swanson Miller
, long snapper
Kyle Nelson
, center
Cecil Newton
and receiver
Andy Tanner
, who all spent time with the Saints this summer, were signed. Newton is the brother of
Carolina Panthers
quarterback
Cam Newton
.
May, 5, 2011
5/05/11
11:15
AM ET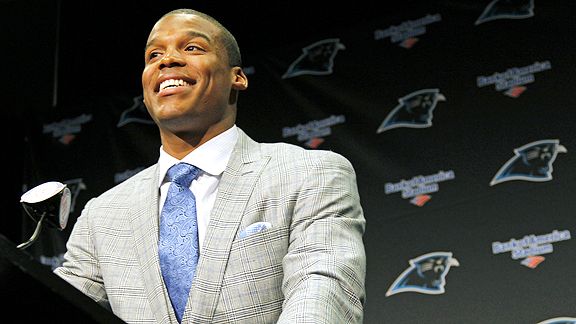 AP Photo/Bob LeveroneCam Newton was all smiles during his introduction in Charlotte. The smiles may continue into the season.
At a kickball game in Charlotte on Sunday,
Cam Newton
and
Jimmy Clausen
were on common ground for perhaps the first and last time in their lives.
The future and current quarterbacks of the
Carolina Panthers
(or is it already the current and past quarterbacks?) got together for a charity event that included some other players. It's kind of ironic, because Newton and Clausen have virtually nothing else in common, and, despite the fact they're going to be teammates, things already are setting up for them to be competitors, maybe even rivals.
You could see that building last Friday as Newton was introduced to the Charlotte media and asked what jersey number he wants to wear. At Auburn, Newton wore No. 2. Clausen picked that number when he was drafted by the Panthers last year. In the world of the NFL, the veteran usually gets to keep his number, unless some sort of financial agreement can be worked out.
Newton didn't concede the number to Clausen and made some reference like "we'll see." That might lead you to believe the man taken with the No. 1 overall pick in the draft might flex his muscle to wear No. 2.
It might not come with a bad ending for the Panthers, but you can see Clausen and Newton, two guys with entirely different backgrounds and personalities, already lining up on a collision course. The ending won't be happy for both, because they're playing for one job as the long-term starting quarterback.
It can only be coincidence, but the kickball game came precisely one year to the day that Clausen threw his first NFL minicamp pass and many people thought the Panthers finally had found their franchise quarterback. A year later, the Panthers turned around and drafted Newton to fill that role.
That's the role Clausen has been groomed for all his life, while Newton's grooming process was far less traditional.
Let's start with Clausen. Chances are pretty good you first heard of Clausen when Sports Illustrated ran
this story
, titled "The Kid with the Golden Arm."
In it, the writer talks about how people viewed Clausen as the next great quarterback: "Others see the arm of
John Elway
, the composure of
Tom Brady
and the quick release of Joe Namath."
Former NFL quarterback Brian Sipe said, "I've never seen anyone with a quicker release than Jimmy has."
The story was written when Clausen was
a junior in high school
. It goes on to reveal details of his grooming -- how he worked with a private quarterbacks coach since junior high, how his brothers, Rick and Casey, made it as college quarterbacks at the University of Tennessee -- and the recruiting wars that were being fought over him.
Skip ahead a little more than a year. If you somehow hadn't heard of Clausen by then, well, that changed. He
showed up in a white limousine
at the College Football Hall of Fame to announce he would attend Notre Dame. Notre Dame, the school with Charlie Weis (the man who developed Brady) and all sorts of quarterback pedigree (forget
Brady Quinn
, we're talking the days of
Joe Montana
and Joe Theismann).
Weis didn't really win big, but Clausen had a respectable career. Although some thought he might go in the first round of last year's draft, he slid to the second and the Panthers grabbed him. For the first time in his life, Clausen wasn't in a position where success was assured, and it showed. Former coach John Fox -- fighting the youth movement imposed by management and throwing farewell gestures on his way out the door -- refused to play Clausen until injuries left him no choice. In the offense of Fox and coordinator Jeff Davidson, which looked like it was created for a 1950s high school team, Clausen struggled mightily and the Panthers finished 2-14.
Clausen clashed with volatile receiver
Steve Smith
. Media and teammates described Clausen as self-centered, aloof and not the kind of guy who commands respect in a locker room or a huddle. The Panthers swear they haven't given up on Clausen and still think he can turn into a decent NFL quarterback.
[+] Enlarge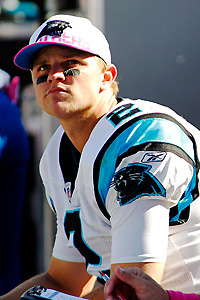 Geoff Burke/Getty ImagesJimmy Clausen could find himself watching from the bench again this season.
But they were saying that after they had drafted Newton, and logic says you don't go out and use an early pick on a quarterback if you think you have one on your roster.
Newton suddenly is the chosen one, and he's coming at it on a completely different track than Clausen. At his press conference the day after the draft, Newton was engaging and cracking smile after smile.
The Panthers talked about his charismatic personality and the passionate halftime speech that sparked Auburn to a win over Alabama last season. They talked of how Newton's teammates spoke about his leadership skills, and no one ever has questioned his physical skills. It's the kind of stuff Clausen can only dream about.
It's not as though Newton comes with a résumé that's empty compared to Clausen's. Newton won a national title and a Heisman Trophy at Auburn. He won a junior college national title at Blinn College. But he played only one year at each place, and neither program ran a Notre Dame offense, the kind of offense people said made Clausen the most NFL-ready quarterback in last year's draft.
Newton's résumé also included a brief stop at the University of Florida, which doesn't recruit quarterbacks from the bargain basement. But
Tim Tebow
already was there. Newton was involved in an incident in which a computer was stolen. There were reports of academic improprieties, reports Newton disputes. Newton left, went to Blinn, and, as he was looking to transfer back to a big-time school, things got murky.
There have been reports Newton's father, Cecil, sought money for the rights to his son, and the NCAA is investigating the matter.
The Panthers did all sorts of homework on Newton's background and decided that none of it suggests future problems. They put him under a microscope on and off the field and decided they loved what they saw.
If it means pushing aside the kid who grew up in a quarterback laboratory, the Panthers appear fine with that. In a best-case scenario, maybe Clausen rallies and pulls off something like
Drew Brees
did when he was in San Diego. Brees, at least temporarily, did a nice job of keeping
Philip Rivers
on the sideline.
But that's far fetched. The Panthers didn't draft Newton to sit, and, listening to them talk last week, you could read between the lines and see that they'd like nothing more than to open the season with their franchise quarterback as their franchise quarterback.
The labor situation could complicate things a bit. If there are no offseason workouts and a limited training camp, the Panthers might be forced to open the season with Clausen as the starter. But, seriously, how long is that going to last? Four games? Six, tops?
The smiles and relaxed atmosphere from the kickball game are over. Whenever the Panthers do get back to the practice field, Newton just has to show he's getting a grasp of the playbook and then he'll be the one on the playing field.
Really, it's all about pedigree. He might have taken an unconventional route through college, but Newton's got the upper hand now. Clausen, because he's had so much coaching already, might be as good as he's ever going to get.
Newton's the guy who has won championships and won over huddles. He's the one with potential that seems limitless. He's the one the Panthers picked in the spot that gives him the ultimate pedigree.
June, 3, 2010
6/03/10
1:00
PM ET
By
Scouts Inc.'s Matt Williamson
| ESPN.com
»
NFC On the Radar
:
East
|
West
|
North
|
South
»
AFC
:
East
|
West
|
North
|
South
A player, coach or issue that should be on your radar as training camp approaches.
Jacksonville needs better play from the center position, and undrafted rookie
John Estes
from Hawaii has a shot to make an impact in the middle of the Jaguars' offensive line.
[+] Enlarge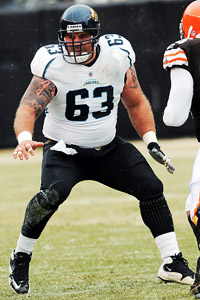 Tom Cammett/Getty ImagesBrad Meester, above, may need to fight off undrafted free-agent center John Estes at center.
Brad Meester
, 33, has battled a lot of injuries. But even when he was on the field last season, Meester's run blocking was a problem. Replacing him makes a lot of sense, but at the minimum, Jacksonville needs to put pressure on its current starting center's hold on the job.
If Meester is replaced, the most likely scenario would be for
Uche Nwaneri
to move from guard to the pivot. Considering the volatility of this offensive line last year, Nwaneri -- while far from spectacular -- should be considered rather dependable. Plus, Jacksonville did just trade for
Justin Smiley
, creating is a bit of a logjam at guard with
Vince Manuwai
and
Kynan Forney
. So moving Nwaneri seems like a logical move after the acquisition of Smiley.
But where does Estes fit in -- and, to a lesser extent,
Cecil Newton
, who is a year older than Estes? If Nwaneri can prove that he is the best option for the starting center spot, Meester could be shown the door, which would open up a possibility for one of these youngsters. Estes is the guy I would expect to take advantage of that opportunity.
Estes isn't a particularly big offensive lineman and Jacksonville certainly does value size up front, but he moves well and is tough and durable while playing the game with a bit of a mean streak. He isn't extremely powerful, but was a four-year starter, is very aware in protection and has a good feel for maximizing his leverage advantage. There are tons of examples of offensive linemen who enter the league and prove very difficult for their coaching staff to cut from the roster. Estes might just be next.

NFL SCOREBOARD
Thursday, 8/21
Friday, 8/22
Saturday, 8/23
Sunday, 8/24
WEEKLY LEADERS