May, 2, 2013
5/02/13
11:16
AM ET
The NFL future of former
New York Jets
quarterback
Tim Tebow
remains cloudy. But Tebow could play in another league this year, such as the CFL, if he so desires. His rights have already been claimed by the Montreal Alouettes.
But would Tebow also be a major bust in the CFL? Former quarterback Warren Moon, who is well respected with Hall of Fame credentials, doesn't believe
Tebow has what it takes
to thrive in the league north of the border.
"If you can't throw the football, it doesn't matter where you play quarterback," Moon said. "You have to be able to throw it. That's his biggest problem, just being able to complete passes, be an accurate passer. I think he's a really good athlete playing the position, but I don't think that's enough sometimes."
Moon, who played in the CFL, brings up a good point: Other places like the CFL and Arena Football League are wide-open, high-scoring passing leagues. Tebow's biggest weaknesses are his shoddy mechanics and throwing accuracy.
The more Tebow throws, the worse it is for him and his team. An NFL quarterback may need to throw 30 times a game to be successful. A CFL or Arena Football League quarterback may need to throw 40 to 60 times per game. It's hard to imagine Tebow thriving in that scenario, even against easier competition.
The best move for Tebow is to simply switch positions, the best way to prolong his football career. Tebow has the athleticism to play H-back, tight end, running back or special teams. Some teams would probably be interested if Tebow was more open-minded about a position change. But the more Tebow tries to be a throwing quarterback, the closer he gets to retirement.
Tebow would be wise to wait as long as possible for his next NFL shot. Going to the CFL right now would be a major risk. If Tebow fails in Canada, as Moon predicts, he may never make it back to the league where he won a playoff game as quarterback of the
Denver Broncos
.
December, 4, 2009
12/04/09
4:01
PM ET
»
NFC Final Word
:
East
|
West
|
North
|
South
»
AFC
:
East
|
West
|
North
|
South
Five nuggets of knowledge about Week 13: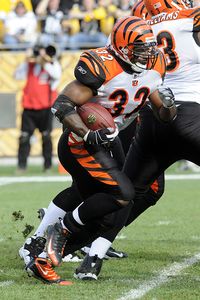 AP Photo/Tom E. PuskarCedric Benson will rejoin a crowded Bengals backfield.
'Big Ben' is back:
Amid controversy and plenty of national headlines, Steelers quarterback
Ben Roethlisberger
returns to the starting lineup Sunday against the
Oakland Raiders
. Team captain
Hines Ward
questioned the decision to pull Roethlisberger one day before Pittsburgh's loss to the
Baltimore Ravens
. But Ward said this week that the issue has been resolved. The best way for the Steelers to truly move on is to get back on the winning track and for Roethlisberger to have a big game. Their three-game skid has caused a lot of discontent for a proud group that's not used to losing this time of year. This game against Oakland is virtually a must-win for the Steelers (6-5), who have a small margin of error if they want to get into the postseason.
Benson rejoins crowded field:
Another player who is returning to the starting lineup, but with less attention, is
Cincinnati Bengals
starting tailback
Cedric Benson
. He missed the past two weeks with a hip injury. Cincinnati's offense has run the ball well without Benson, which makes you wonder how carries will be distributed between Benson, former Pro Bowler
Larry Johnson
and rookie
Bernard Scott
. All three tailbacks have had 100-yard games this season. Benson wasn't too happy with the recent signing of Johnson. It will be interesting to see how Cincinnati's coaching staff handles this sensitive matter the rest of the season.
Protections issues:
If the Baltimore Ravens (6-5) want to pull off the upset Monday and beat the
Green Bay Packers
(7-4) at Lambeau Field, the Ravens must apply constant pressure on Packers quarterback
Aaron Rodgers
. Green Bay's offense is red hot, averaging 32 points the past two weeks. But the Packers' biggest weakness has been protecting Rodgers, who has been sacked an astounding 44 times. Baltimore has been inconsistent in rushing the passer. But this is a golden opportunity for the Ravens to turn up the heat against a team that hasn't blocked well all season.
The Clayton factor:
In the first four games after the bye week, Baltimore Ravens receiver
Mark Clayton
had only five catches for 58 yards. Then Clayton exploded for seven catches for 129 yards in last week's huge win over Pittsburgh. The Ravens (6-5) need more of that from their former first-round pick if they expect to make a push to the postseason. Clayton has been one of the great enigmas in the AFC North. He's had big performances over his five-year career but usually disappears for weeks afterward. Clayton's biggest game before Sunday was in Baltimore's season opener against the
Kansas City Chiefs
, when he had five catches for 77 yards and a touchdown.
New rushers:
With the season-ending concussion to
Jamal Lewis
, the
Cleveland Browns
will now turn to backups
Jerome Harrison
and
Chris Jennings
for the remainder of the season. Both Harrison and Jennings have shown a few flashes this year but are averaging only 3.6 and 3.4 yards per carry respectively. The coaching staff pretty much knows what it has in Harrison, who is a smaller, change-of-pace type of runner who struggles with pass protection. Look for the team to give Jennings a lot of touches down the stretch to find out what the former CFL product is made of.
August, 23, 2009
8/23/09
10:28
AM ET
Posted by ESPN.com's James Walker
Half of the AFC North division saw action Saturday night in the preseason.
Here are several observations on the Pittsburgh Steelers and Cleveland Browns:
The Steelers were wise to take precaution in sitting quarterback Ben Roethlisberger (Achilles) in a 17-13 exhibition loss to the Washington Redskins. In fact, I said on ESPN radio Saturday night that I wouldn't be surprised if Pittsburgh sits "Big Ben" the following week as well. In my time with the Steelers this summer, I came away feeling one of their biggest priorities was making it through training camp and the preseason with as few injuries as possible. So the Roethlisberger injury Thursday had to give the team a scare. The Steelers already have well-defined roles, and besides a few backup jobs and bringing along rookies, Pittsburgh doesn't have as much use for the preseason as most teams.
The first-team offense minus Roethlisberger did not look sharp in the first quarter. Starting left tackle Max Starks was called for holding on the first offensive play, fullback Carey Davis had a false start and quarterback Charlie Batch also contributed an intentional grounding penalty all within the first two drives. The unit still produced a touchdown with Willie Parker's 3-yard run, but there are some minor procedural things offensive coordinator Bruce Arians will want to clean up after he watches the tape.
This week was Stefan Logan's turn to return kicks and he looked impressive. He had the longest kickoff return in the game (60 yards), in addition to averaging a solid 12 yards per punt return. The Steelers are looking to boost their special teams and have turned over every rock this offseason to do so. The team signed Logan from the CFL, and his best chance to make the roster is to become the best returner.
Cleveland Browns quarterback Derek Anderson responded in what was a make-or-break game for him in Saturday's 27-10 win over the Detroit Lions. Anderson completed 8 of 13 passes for 130 yards and a interception as he moved the offense well. The performance likely evened the competition with Brady Quinn, who outperformed Anderson in the first preseason game against the Green Bay Packers. Expect this competition to go down to the wire.
Josh Cribbs is doing all he can to prove that the new regime in Cleveland should give him a new contract. The special-team's ace returned a punt 84 yards for a touchdown and had another return to start the game called back. Cribbs, who is also competing for the No. 2 receiver job, has been impressive in both preseason games. But Cribbs says he is undecided if he will play in the regular season without a new deal.
Rookie tailback James Davis provided the big play Cleveland is looking for from its backfield this season. Davis, a sixth-round pick who has been a pleasant surprise, broke through for an 81-yard touchdown run against the Lions. The Browns are looking for a change-of-pace tailback to pair with Jamal Lewis, and big plays like that will earn the trust of Browns coach Eric Mangini.

NFL SCOREBOARD
Thursday, 9/11
Sunday, 9/14
Monday, 9/15
WEEKLY LEADERS