NFL Nation:

Chad Hutchinson
May, 9, 2014
5/09/14
2:45
PM ET
IRVING, Texas -- The
Dallas Cowboys
reaffirmed their love of QB
Tony Romo
on Thursday night when they passed on selecting
Johnny Manziel
in the 2014 NFL draft.
In 2007, they made a very similar move.
Romo
Back then, there were questions about Romo even after he took the NFL by storm and lifted the Cowboys to the playoffs in 2006.
Was he truly a franchise quarterback? Would a new coaching staff see him the same way the previous coaching staff saw him? Would there be any aftereffects from the bobbled snap in the playoff loss to the
Seattle Seahawks
?
The Cowboys had searched forever, it seemed, for Troy Aikman's successor. They tried Quincy Carter. They tried baseball players, such as Chad Hutchinson and Drew Henson. They tried veterans, such as Vinny Testaverde and Drew Bledsoe.
In 10 games, Romo threw for 2,903 yards with 19 touchdowns and 13 interceptions. He went to the Pro Bowl.
He was also in the final year of his contract. Would the Cowboys make him a mega-offer with such a short track record?
Staring at the Cowboys as they were about make the 22nd pick in the '07 draft was Notre Dame quarterback
Brady Quinn
. Nobody expected him to be there. He was the Cowboys' highest-rated quarterback. Forgetting what we know now, he had the stamp of approval from Charlie Weis, a coach who worked with
Tom Brady
. Quinn put up some strong numbers.
On the clock, the Cowboys traded out of the first round when they secured the Browns' second-round choice in 2007 and their first-rounder in 2008. Eventually they moved back into the first round in a trade with the
Philadelphia Eagles
to take
Anthony Spencer
with the 26th pick.
The Cowboys affirmed their love for Romo. Seven games into the 2007 season, they signed him to a six-year, $67.5 million deal that included $30 million guaranteed.
About 14 months ago, the Cowboys reaffirmed their love for Romo with a six-year, $108 million extension that included $55 million.
Like in 2007, he faces some questions in 2014. Some are football-related. He has not led the Cowboys to the playoffs since 2009. He has a 25-28 record since the beginning of the 2010 season. There are a lot of questions about his health because he is coming off his second back surgery in less than a year. He turned 34 last month.
But just like seven years ago, Jerry Jones backed Romo once again.
"I think that Tony has everything to do with this decision," Jones said of Dallas' selecting OT
Zack Martin
over Manziel. "We have a big commitment to Tony. We feel that anything we look at at quarterback would be down the road and in the future in the development of that quarterback. If you look at the difficult dynamic, giving up this player [Martin] that really enhances what we can do on offense and what Tony can do for the future, just on a pretty quick consideration [taking Manziel] didn't make sense. That was the driving force behind it."
August, 27, 2012
8/27/12
10:40
AM ET
Five rookies are scheduled to start at quarterback in Week 1 this season.
The NFL has previously had no more than two rookie starters at QB on opening day since the 1970 merger, ESPN Stats & Information notes.
Seattle's
Russell Wilson
isn't quite the same as the other rookies scheduled to start in 2012.
Andrew Luck
,
Robert Griffin
III,
Ryan Tannehill
and
Brandon Weeden
were drafted in the first two rounds. Wilson lasted until the third, presumably because teams were skeptical about his relative lack of height.
Wilson will become only the sixth rookie since the merger to make an opening-day start at quarterback after entering the NFL as a draft choice taken in the third round or later. That note comes from Elias Sports Bureau. Wilson stands out from that list as well in that he won the job outright, unlike most of the others.
A quick look at Wilson and the other rookie quarterbacks since 1970 to start in Week 1 as third-round-and-later picks:
The chart breaks out Wilson and the five others for a quick look at their combined 20-36-1 record as rookie starters
January, 19, 2011
1/19/11
1:01
PM ET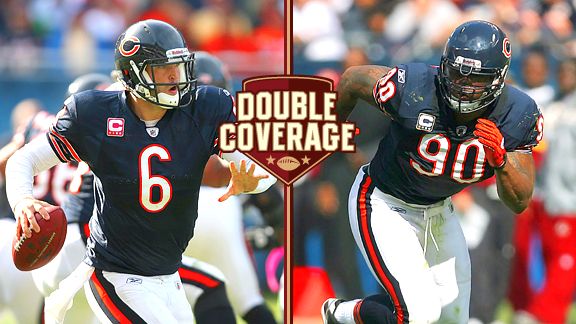 US PresswireThe Bears gave up two first-round draft picks and a third-rounder for Jay Cutler. Is he the reason Chicago is on the brink of the Super Bowl? Or does the credit go to Julius Peppers and the defense?
Let's play a game of addition.
The starting quarterback is the most important player on any football team.

The Chicago Bears finished the regular season 11-5, won the NFC North division title and will host the NFC Championship Game on Sunday at Soldier Field.

Jay Cutler is the biggest reason why.
So, in this case, does 1+2=3? Did the Bears need Cutler as their quarterback to advance this far? Was he the key to their resurgence this season? Or could they have followed the same path without making the 2009 blockbuster trade that cost them three high draft choices? In today's Double Coverage, ESPNChicago.com's Jeff Dickerson and ESPN.com NFC North blogger Kevin Seifert discuss that very question.
Kevin Seifert:
Jeff, you've been covering the Bears for years. You saw them go to Super Bowl XLI with
Rex Grossman
as their quarterback. You've lived through Kordell Stewart, Craig Krenzel, Chad Hutchinson,
Brian Griese
and
Kyle Orton
. You've seen a team win in spite of its quarterback, and you've seen quarterbacks single-handedly lose games. Let's start it off this way: How much credit do you think Cutler should get for the Bears sitting one step from the Super Bowl?
[+] Enlarge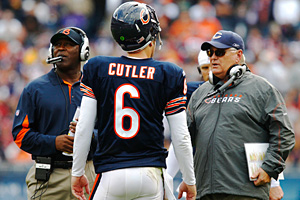 AP Photo/Nam Y. HuhBears quarterback Jay Cutler has thrived in Mike Martz's offense.
Jeff Dickerson:
Cutler deserves plenty of credit, Kevin. As much as we want to hammer Cutler for his mistakes -- more on that later, I'm sure -- you can't overlook the fact his quarterback rating was above 100 six times in the regular season. And you guessed it: the Bears won all six of those games.
So if the most important player on the field was arguably the best player on the field nearly half the time, I find it impossible to minimize the positive impact Cutler had on the Bears' playoff run. Is he going to run for public office after he's finished playing football? No. Does he care that we're talking about him today, either good or bad? No. But to sit back and say Cutler was simply along for the ride wouldn't be doing his contributions much justice.
And by the way, thanks for bringing up Chad Hutchinson. I was trying to suppress that memory. What's next? Are we going to break down the NFL career of Jonathan Quinn? I could talk bad Bears quarterbacks all day.
KS:
Any time. How about this: Cade McNown, Henry Burris, Shane Matthews and Steve Stenstrom. That pretty much covers it for our generation, I think.
Anyway, I agree it would be wrong to overlook some of Cutler's individual performances this season. He bounced back from some early hits in Week 2 to throw three touchdown passes against the
Dallas Cowboys
in a 27-20 victory. He forgot about the early interception against the
New York Jets
and went on to throw for another three touchdowns in a 38-34 victory. His performance against the
Philadelphia Eagles
-- four touchdown passes, 146.2 passer rating -- was superb. And don't forget his late-game drive against the
Detroit Lions
in Week 13, the one that locked up the division title.
But I think the question at hand is whether the Bears would have won 11 games with, say, Orton at quarterback. To me, Cutler was not among the top two reasons for the Bears' success this season.
More important was the defense, which limited opponents to 17.9 points per game, and the best special teams in the NFL. As a result of those two factors, Cutler and the rest of the Bears' offense had the best head start in the NFL. No offense had a
better average start of its drive
(33.7-yard line) than the Bears'.
Do you think the Bears win those games with Orton?
JD:
I must first admit to being a card-carrying member of the Kyle Orton fan club. Is there a more underappreciated quarterback in the NFL? That being said, I think you could make the playoffs with a guy like Orton, but the Bears are in a better position to potentially win a Super Bowl with a guy like Cutler.
Let me explain.
I firmly believe if Orton quarterbacked the Bears in 2009 they probably would have won three more regular-season games (against the Packers,
Atlanta Falcons
and
San Francisco 49ers
). They would have finished 10-6 and perhaps earned an NFC wild-card playoff berth. Cutler cost the Bears those games because of a barrage of turnovers and terrible decisions. But that's where the ride would've ended with Orton, in my opinion.
Could Orton have beaten the Cowboys, Eagles or Jets in 2010? Maybe. But with apologies to Jim Mora, we're talking playoffs, Kevin, playoffs!
[+] Enlarge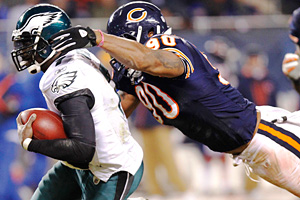 Mike DiNovo/US PresswireThe Bears' defense, led by Julius Peppers, gave the offense a head start on most drives.
Believe me, I know Cutler's only career postseason victory came against Seattle this past weekend, and he could easily go out Sunday and throw five interceptions against the Packers. But he could just as easily throw five touchdowns.
That's why the Bears are better off with Cutler -- because Orton hit his glass ceiling as an NFL quarterback. Cutler has not. Look at how Cutler tore up the Jets. The defense struggled, and it needed a lift from the quarterback position to beat a tough opponent. Cutler delivered. I'm not saying Orton is incapable of leading a team to victory over playoff-quality teams, but the chances Cutler can do it are greater.
Sorry, Kyle. I loved your neck beard. But I have to go with Cutler on this one.
KS:
It's all fantasy talk, of course. We'll never know if Orton would have played well enough last year to compel the Bears to keep offensive coordinator Ron Turner this season. We also don't know if Mike Martz would have wanted Orton this season.
But the Bears gave up two first-round draft picks and a third-rounder for Cutler. Has he provided them enough value for those picks? Or could they have used those draft picks to improve themselves in other areas?
It would be wrong to say that Cutler hasn't had a positive impact on the Bears this season, but I'm not willing to say he was the key to the Bears' division title, either. But if the Bears go to the Super Bowl, no one is going to care about that distinction.
JD:
And you know Cutler is happiest when nobody cares!
I guess it's possible Jerry Angelo would have turned those two first-round selections into starting-caliber players. But I've seen the Bears use high draft choices on the likes of Michael Haynes, Roosevelt Williams,
Mark Bradley
,
Dusty Dvoracek
, Dan Bazuin, Michael Okwo,
Jarron Gilbert
and
Juaquin Iglesias
. So to assume Angelo would've waved his magic draft wand and taken the right guys? Well, that would be misguided, to say the least. Despite all the warts, I'm happy with Cutler and feel the Bears are now in a better position to win their first Super Bowl since the 1985 season because of him.
I could talk bad Bears draft picks all day.
KS:
Spoken like a longtime Bears follower. Basically what you're saying is that while Cutler has demonstrated some flaws, his acquisition nevertheless prevented the Bears from making another series of draft mistakes! Perfect. I love it.
On that note, Jeff, this has been fun. I think we can agree Cutler has made a positive impact on the Bears' run to the NFC Championship Game. Could they have done it without him? That's up for debate.