NFL Nation:

Charles Barkley
July, 24, 2014
7/24/14
2:40
PM ET
Impressionist Frank Caliendo stopped by ESPN.com's NFL Nation TV Thursday and offered hilarious takes in different voices on the current state of the NFL, joining host Paul Gutierrez (
Oakland Raiders
reporter), co-host Coley Harvey (
Cincinnati Bengals
reporter) and Kevin Seifert (NFL national reporter).
Caliendo broke out many of his impressions, including his staple of staples, John Madden, and advised life-of-the-party rookie
Johnny Manziel
to keep on partying, in Madden's voice, like Madden's Raiders of the 1970s did as one of the league's dominant teams of the era, both on and off the field.
Earlier in the day on ESPN Radio's "Mike and Mike" show,
Caliendo read LeBron James' letter to the fans
, his reason for returning to Cleveland, in the voice of Morgan Freeman. Caliendo shared some of it on the Spreecast as well.
Other NFL personalities Caliendo did impressions of included what is now his newest staple, Jon Gruden, while briefly taking the show into a Gruden family reunion and reminiscing on Harry Potter's school of Hogwarts. He also did Will Ferrell doing Harry Caray.
Caliendo, who has had his own television show in the past, said he stopped counting how many voices he has in his repertoire, though it's been reported he has at least 120 impressions, from former president George W. Bush to Mike Ditka, which he said is all about chewing gum and putting his index finger above his lip as a mustache. He wants to add a
Peyton Manning
impression, saying there's some "Elvis" in the five-time NFL MVP's voice.
And yes, Caliendo did some Charles Barkley while discussing how he comes up with ideas for impressions. Caliendo was on the show for 20 minutes.
Other topics discussed by Gutierrez, Harvey and Seifert included
Ray Rice
getting a reported two-game suspension, Tony Dungy's recent assertion that he would not draft the openly gay
Michael Sam
because he would be too big a distraction, and a new home for the Raiders.
The show can be watched here:
May, 29, 2013
5/29/13
12:45
PM ET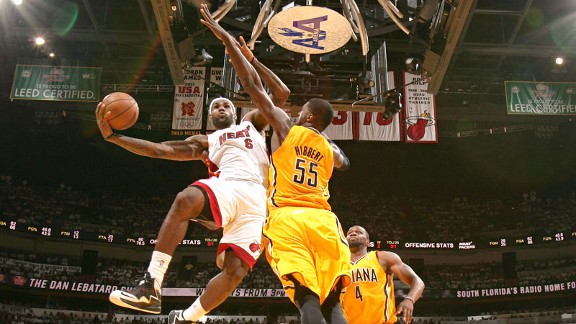 Nathaniel S. Butler/Getty ImagesLeBron James' passing skills could translate to the NFL, Joe Theismann believes. Warren Moon, on the other hand, disagrees.
Warren Moon, Pro Football Hall of Famer, has occasionally shared
strong opinions
on matters of social import. Turns out the nine-time Pro Bowl quarterback is no less formidable on a subject more suitable for you, me and the guy seated at the next barstool: how well LeBron James and other NBA stars would project to the NFL.
"First of all, the mentality, the psychological and mental makeup, is totally different," Moon said Tuesday.
Then came the fighting words.
"You can't come from basketball into a football environment and succeed," Moon said. "You can go from football to basketball and have a tough mindset that will help you succeed."
Moon's opinions on the matter became known to me last year when he joined in progress a debate between reporters in a hotel lobby the night before a game Moon was working as a radio analyst. Knowing Moon threw a tight spiral (mean fastball?) on the subject, I followed up with him this week after James' suitability for the NFL made its way into the late-May news cycle through another former quarterback. Joe Theismann suggested James, a four-time NBA MVP and an all-state receiver in high school, could
succeed as a pro quarterback
if James set his mind to it.
We pick up the conversation there.
Moon:
Charles Barkley, Clyde Drexler and I used to argue for hours about who the best athletes are. I thought football players were better overall. I love basketball players for what they do for their size -- so graceful. But what else can they do? They are not good golfers because they are too tall. There is too much room for error in there when you are 6-[foot-]10. They are not tough enough to be football players, and what position but probably tight end would they play? And if you get too tall, you can't play even tight end. Football players can be baseball players.
Sando:
You'll get no argument from
Barkley's golf swing
. The greatest basketball player of them all, Michael Jordan, was not even mediocre at baseball by big league standards when he set his mind to it completely. A few NBA players dabbled in pro baseball, Danny Ainge and Dave DeBusschere among them.
Tony Gonzalez
famously played football and basketball at Cal before becoming a Hall of Fame-caliber tight end in the NFL.
Moon:
Three significant football players made the transition to baseball. Bo Jackson was great at baseball as well as football. Deion Sanders made it to the majors and was a decent baseball player. The strong safety who played for the
Atlanta Falcons
, Brian Jordan, played in the majors for years. Michael Jordan was arguably the greatest athlete in the world and the greatest basketball player, and he could not even get to the majors. We had three NFL guys do it at a high level, and a number of other guys could have done it, including John Elway. You don't see a lot of basketball players drafted in baseball. You see a handful get drafted in football like Tony Gonzalez, but he was a football player first.
Sando:
I'm picturing Barkley and Drexler shaking their heads.
Moon:
They just think football is easy compared to what they do, and they could go out there and be successful. That is just their egos. They didn't have great arguments. My argument was naming players who had done it. Think of all the things Herschel Walker could do -- going out for the bobsled team, being an MMA fighter. Anything he could do, whatever he tried to do, he could do. Watch
Terrell Owens
play basketball. He could play the game. There are a lot of football players who are really good basketball players who decided to go the football route because they were not tall enough or whatever. Football players, the skill guys, they are more versatile because of their size.
Sando:
Guys like Barkley, Karl Malone and Wes Unseld strike me as basketball players with football players' mentalities. Why couldn't guys like them fit in the NFL?
Moon:
Basketball players want contact to get a foul called. Slaps on the wrist and bumps on the shoulder are big time to them, and they don't like that. In football, you get that all the time. The whole mental makeup is different. Maybe a Ron Artest would be different because he likes physical play. Barkley always talks about how he could have been a football player. I still don't see it with him even as big and physical as he was. He was also a complainer about fouls. He always wanted a foul called. Karl Malone definitely had a football body, but he is another guy always complaining about fouls, and he was bigger than the other guys. I liked guys that wanted to draw the contact and loved it. Maybe the guard from the Pistons who played next to Isaiah Thomas.
Sando:
Vinnie Johnson? 'The Microwave' had those all-world thighs. I always thought Anthony Mason had an NFL-type body and a physical mindset. Let's get to LeBron James specifically. He's 6-foot-8, 250 pounds and about as gifted as an athlete can be.
Moon:
Quarterback is not a position that you come in having not played it your whole life.
LeBron was a wide receiver
in high school. Not having played quarterback and having the instincts that a quarterback needs to have, the intangibles, you don't just pick those up overnight because someone teaches you how to throw. And we don't even know if he could throw. There has never been a successful quarterback in the NFL over 6-foot-6.
Sando:
We obviously wouldn't compare Dan McGwire to LeBron James in terms of athleticism. Then again, height wasn't necessarily what doomed McGwire in the NFL.
Moon:
Once you get over 6-6, you are not as fluid, you have a longer stride in the pocket -- all those things taller quarterbacks have to deal with. As great an athlete as LeBron is, he could never make the transition with just a year or two to get ready for it. You have to grow up with it, and even then you are still learning the position.
Tom Brady
is still learning things at the position, but there are also things he can draw back on that he did as a little kid. LeBron does not have that.
Sando:
The first time I sat near the court at an NBA game, the players' height and length were what stood out. In football, it's the speed and violence that are absolutely captivating from field level, even for people who have watched the NFL for years from the stands or from their living rooms. I'll never forget the first time I stood on a sideline at a major college game. The speed was so much faster than what it appears on TV.
Moon:
Basketball players, for their size, are so graceful for what they do on the court, but it just doesn't translate other places. They don't understand this game, how violent it is. Try to get a sideline pass and watch two series from a sideline in a game and tell me if you can stand it. I remember how amazed I was my first year out of the league when I was doing sideline reporting. I was like, 'What in the hell was I thinking all those years?' It was that quick. To see how fast and violent it was -- and I did it every Sunday for 23 years.
Sando:
I have a feeling you're going to hear from Barkley and Drexler on this one.
Moon:
Every time we have dinner together, this is all they talk about. Charles says we wore pads in football, but I tell him contact in basketball is not the same. Those guys run into each other and they call a charge. You'd foul out in the first series if they called an NFL game that way. I don't hear about basketball players having CTE or any of those types of problems. It's just a different game.
Sando:
We're not going to settle this one to the satisfaction of all. Every sport has its own special requirements. I'm sure hockey fans would love to see NBA and NFL players settle their differences on the ice. We'll leave that one for another day.
December, 11, 2011
12/11/11
11:30
PM ET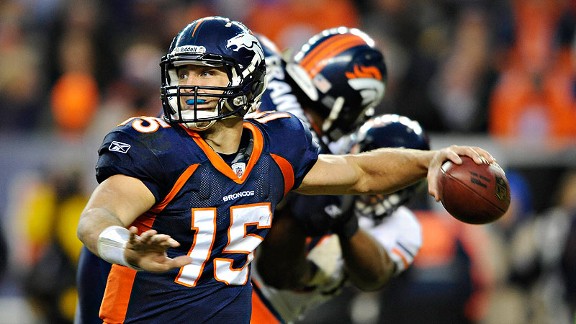 Ron Chenoy/US PRESSWIRETim Tebow guided the Denver Broncos to another dramatic victory.
DENVER -- Sorry Charles Barkley, but this
Tim Tebow
thing isn't going anywhere.
For those of you who are like Barkley and
are burned out by Tebowmania,
we send our deepest regrets. It has reached a new level. Yeah, we know Tebowmania trends upward weekly. That's why it's rivaling the 13-0
Green Bay Packers
as the story of the NFL season.
And I'm getting the feeling Tebowmania may stick around for the next, oh, 10 to 12 years. After watching Tebow and the
Denver Broncos
score 13 points after being shut out for the first 57 minutes, 45 seconds of the game Sunday to beat the
Chicago Bears
13-10 in overtime, how can anyone honestly say Tebow is nothing more than a temporary fix?
Hours after
ESPN's Chris Mortensen reported
that Denver will likely decide to move forward with Tebow as its quarterback in 2012 if he leads it into the playoffs, the Tebow train kept on moving. If we are ranking Tebow's victories, Sunday's may have been the most stunning. But that's like picking your favorite Rolling Stones song. There are so many classics to choose from.
The victory -- combined with a 46-16 Oakland loss at Green Bay -- gave Denver sole possession of first place in the AFC West at 8-5. The Broncos lead Oakland by one game with three games to go. Denver also owns the current tiebreaker over the Raiders. At this point, it looks like Denver may be headed to the postseason for the first time in six years either as a division winner or wild-card entry. If Denver beats Kansas City at home in Week 17, the Raiders will have to finish with a better record than the Broncos to win the division because of tiebreaker reasons.
Denver is 7-1 with Tebow as its starter and has won six straight games. It is 3-0 in overtime with Tebow as its quarterback and it has won five games late with Tebow playing. Denver has trailed in the fourth quarter in all of its past four games.
Sunday, though, was incredible.
The Bears led 10-0 until Denver scored 10 points in two frenzied drives in the final 2:15 of regulation and then won it with 8:40 remaining in overtime on a 51-yard field goal by
Matt Prater
.
Denver punted eight times before it scored. Tebow, who was the victim of six dropped passes in the first three quarters, completed three passes (all in the first quarter) before the fourth quarter. He had 18 of his 21 completions in the fourth quarter and overtime. He was 7-of-7 on pass attempts on the Broncos' touchdown drive in the fourth quarter. According to ESPN Stats & Information, Tebow was 4-for-4 with a touchdown pass when he threw outside of the pocket in the fourth quarter and overtime Sunday. He was 3-of-7 with an interception prior to the fourth quarter.
"His eyes light up when the pressure is on," Denver receiver
Eric Decker
said of Tebow.
Still, several members of the Chicago defense were not overly impressed by Tebow, who completed 21 of 40 passes for 236 yards. He had 49 yards rushing on 12 attempts.
"He's a good running back," said Chicago linebacker
Brian Urlacher
when asked his thoughts on Tebow after the game. Typically, Tebow was not bothered by the shot. "Coming from a really good player, that means a lot," the unflappable Tebow said.
Added Chicago defensive end
Julius Peppers
: "It wasn't anything special that he did."
Despite those less-than-stellar assessments of Tebow, there is no doubt Denver is buying into Tebow.
"He's huge," Broncos coach John Fox said of his young quarterback.
Mortensen's report makes complete sense. There is little chance Denver can dump what it has going with Tebow. First of all, if Denver makes the playoffs and tries to make a switch, fans will erupt.
As long as the Broncos continue to see Tebow making strides as a passer, they will be more than comfortable moving forward with him. The fact that he threw the ball 40 times Sunday is a sign the coaching staff is getting comfortable with him.
John Elway
recently told Fox Sports that he plans to work with Tebow in the offseason, particularly focusing on his footwork. Remember, Tebow missed an offseason because of the lockout. This is a player who is improving quickly. An offseason of working with his coaches and Elway will help immensely.
At the present, though, the focus is on the final three games, beginning next week when Bill Belichick gets his crack at putting Tebowmania in its place. Still, Tebow and his teammates -- Denver continued to play strong defense Sunday -- have a good thing going with no signs of it slowing down.
"I think we're rewriting the book on 'keep fighting,'" Fox said. "Our guys never blink."
Nor does Tebowmania.
September, 30, 2010
9/30/10
10:44
AM ET
By
Matt Mosley
| ESPN.com
One of the things we'll be looking for Sunday at The Linc is what kind of reception quarterback
Donovan McNabb
receives when he takes the field with the
Washington Redskins
. ESPN.com's Jemele Hill joined the parade of folks writing about this topic Wednesday, and she was
pretty harsh toward Eagles fans
.
"The team traded him to a hated division rival," writes Hill. "That sent a crisp message about the franchise's sentiment. And considering that some meathead fans had the nerve to burn McNabb's jersey when he was traded -- as if he had asked to be dealt -- why wouldn't this same, often hateful fan base take one more chance to kick McNabb in the figurative shin?"
First of all, I don't think a couple of idiots burning a jersey represents how most of the fan base feels about McNabb. I'm convinced that McNabb will receive a standing ovation when he's introduced before the game. He's unquestionably the best quarterback in the history of the franchise and I think fans will appreciate him more and more as the years go by.
More than anything, fans were simply tired of all the near misses. McNabb had been brilliant at times during his 11 seasons, but his performances in those four NFC title-game losses and in the Super Bowl have to be considered. And
as I wrote Wednesday
, it always seemed like fans thought McNabb was too flippant after mistakes or losses.
I think McNabb has a lot better shot at being beloved in Philly after he's been retired for a few years. It's not like Eagles fans lavished Ron Jaworski with unconditional support during his tenure. But the fact that he lives there and is very accessible has made him one of the most popular former players in franchise history.
Eagles fans simply got a case of McNabb fatigue after 11 years. But I think they'll show their appreciation Sunday afternoon. And by the way, I've been tipped off that an Eagles fan named Charles Barkley will be wearing a McNabb Redskins jersey to show his support.