NFL Nation:

Charley Casserly
January, 29, 2014
Jan 29
8:53
AM ET
A few thoughts on former Redskins corner
Champ Bailey
:
When I started covering the Redskins, Darrell Green was already deep into a Hall of Fame career. When Bruce Smith joined the Redskins, you knew he was on that path, too. But Bailey is the only player I've covered that I remember thinking after several years: This guy is going to be a Hall of Famer.

Sean Taylor might have gotten there, too. But, remember, he didn't start playing at that level until his third season -- he certainly wasn't bad before then -- and then in his fourth started to really take off and become a major difference-maker. And then he was murdered. It was right at the time when players separate themselves. Taylor was doing so.

Like Taylor, Bailey had all-world talent and both players were great with the ball and could have been standout offensive players. These players were ... just different.

[+] Enlarge

Photo by Scott Halleran/Getty ImagesChamp Bailey played for the Redskins for five seasons before being traded to the Broncos in a deal for RB Clinton Portis.

Bailey made the Pro Bowl in his second season (2000) and didn't miss one until 2008. By then he was long gone from Washington. There was something different about him: He was athletically arrogant. Though he hasn't come across as boastful during his NFL tenure like some other corners do, you better believe he's competitive and felt like he was the NFL's best corner. I remember talking to Bailey about that early in his career in an article for Pro Football Weekly. Bailey was matter-of-fact about where he thought he stood and he could say things without being perceived in a negative light.

He was also immensely talented. Every corner will be beat and when you're a corner like Bailey, people expect perfection. I remember one game against the New York Giants -- I forget the year -- in which Bailey smothered his man off the line all game (I want to say it was Amani Toomer, but could be wrong). I remember the Giants' quarterback looking in that direction and quickly going elsewhere. This happened all game. But Bailey did get beat once and it resulted in a touchdown. The life of a corner. Darrell Green got beat, too.

Bailey was great with the media. That's not to say everyone was yukking it up around him and he was some sort of lively personality or sharing state secrets. No, he was respectful. There were many examples of Bailey being stopped by a group of reporters outside the locker room. He'd answer the questions. Another group would stop him inside the locker room. He'd answer the questions. And then another group would talk to him at his locker. Again, he'd answer the questions. I don't think his demeanor ever changed. That demeanor is one reason he's lasted so long at a position that demands steadiness. Santana Moss is similar in the way he deals with the media.

Bailey learned from his elders, notably Green and Deion Sanders. At the Super Bowl media day, Bailey told reporters, "I give a lot of credit to Darrell Green. He was an older guy and he had won Super Bowls, played in a lot of games, and he definitely helped me out a lot in my first couple years."

Green told ESPN's Elizabeth Merrill for this in-depth look at Bailey and his career that they met twice a week in the morning to watch game film. "My motivation wasn't the fame, and people screaming my name," Green said. "It was going to work and being the best I could be."

Here's what Bailey told reporters on his time in Washington: "I was very fortunate to be drafted by the Redskins, a great organization. But things just didn't work out and I was blessed to go to an even better organization with the Broncos. That was probably the best thing to happen for my career because I've been in a good place, a good city, and have worked for some of the best people in the world."

And Bailey's thoughts on the Redskins now: "They're still a great organization. There's so much history there, and I appreciate them believing in my talents enough to draft me. That was pretty much [former Washington general manager] Charley Casserly all the way, but people forget about him. He's the one that made me a pro."

Casserly made some of his best moves in the 1999 draft to not only land Bailey, but to also leave the organization with three first-round picks in 2000 -- even though he knew he'd likely be gone -- courtesy of a trade with New Orleans. The Redskins turned those three picks into the first two picks in the draft, grabbing LaVar Arrington and Chris Samuels.

Here's Bailey's secret to his success: "Really, my thing is you find something that works for you. I don't try to push my values and my faith on anybody. You find what works for you. Everybody's built a little different and just believing in myself and what I can do and things like that, that's what's really propelled me to the position I'm in."

I don't know if Bailey is done as a player or when he'll retire. He has the body type to shift to safety if he wants and he's smart and athletic enough to make such a switch. But will he have to? Green told Merrill that he has more time. Green said, "If he is in the mold that I believe he is, he doesn't even have to begin to look over his shoulder for three years, maybe four. I didn't feel like until I was 38 or 39 years old that I needed to take a breath. That's a once-in-a-generation kind of gift. People don't have that. I say it humbly, but it's true. I was blessed that way, and I think Champ is, too."
May, 20, 2011
5/20/11
1:08
PM ET
Examining the most crucial event in the history of every team in the division.
Peyton Manning
melded a team and a town, resurrected the once-proud horseshoe and will finish up as a contender for the greatest of all time on the quarterback list.
There is no minimizing his impact.
Said DaveatIU: "Without drafting Peyton Manning... they would be the Los Angeles Colts right now. 'Nuff said."
The Blog Network offered four choices per team, plus the option to vote "other." And out of 160 total options, the drafting of Manning got a higher percentage of votes on his team's ballot than anyone or anything else.
As of Thursday afternoon, Manning had a whopping 87 percent of the Colts' vote. He didn't win by a little. He outpointed the next three biggest Flash Points in your eyes by 18 percent: Joe Namath's guarantee for the Jets, the Broncos trade for
John Elway
and the Packers' hiring of Vince Lombardi were all at 69 percent.
In general, AFC South voters went modern. With the Jaguars and Texans, there is no other choice. With the Colts and Titans, you chose not to hearken back to Baltimore and Houston, respectively.
I understand many of you don't regard Baltimore/Indianapolis and Houston/Nashville as single histories. But we don't get to decide. The Irsay and Adams families did.
As edutil21 wrote: "The question is asking about the colts FRANCHISE, not the cities of Indianapolis or Baltimore, and with that in mind it is perfectly plausible to include anything that occurred during the Franchise's time in Baltimore."
And so, as big a moment as drafting Manning was in setting his franchise's course, I think my vote has to go to The Greatest Game Ever Played, the 23-17 overtime win over the Giants in the NFL Championship Game at Yankee Stadium in 1958.
Without that game, are we certain the league turns into an entity where Manning has the chance to make the impact he has?
j_sleik83 was disgusted with the balloting: "And the idiots voting reign supreme. It's the 58 title game. In NFL history it's number 1, much less Colts history. And btw, Johnny Unitas is still the greatest QB in Colts history."
Added CPCaesar: "Do Colts fans have zero sense of history?! I can understand a strong showing for Peyton, but to have him blowing out the game that made the NFL into a televised sport is ridiculous! This team has a legacy that includes Don Shula and Johnny Unitas, but it seems as if their impact on the game is lost on a modern fan base…"
There was also a pretty good other mentioned by a few, including krankor: "The actual Colts Flash Point didn't even involve the team. It was in 1955 when the
Pittsburgh Steelers
brilliantly decided that it would be a shrewd move to cut Johnny Unitas."

TITANS: Epic playoff collapse set stage for relocation
With the Titans, modern also ruled. I understand why 52 percent of voters clicked the button for The Music City Miracle.
For Nashville sports fans to get a play like that in the team's first year as the Titans, in the city's first playoff game, was absolutely remarkable. It put the team's claws into everyone with any sort of interest that day for the long haul. Quite frankly, it spoiled them, too.
With apologies to greenlawler and the majority of voters, I've got to go a different direction again.
The Oilers/Titans are, historically, average at best. Since the AFL-NFL merger, the team has had 18 winning seasons, 17 losing seasons and six .500 seasons. It's 14-19 all-time in the playoffs even counting the AFL days when it won a couple of titles. Since the Music City Miracle season, the team is 2-5 in the playoffs. What was transformed?
Put the MCM aside, and the biggest historical moments for the franchise are generally not wins: A yard short of overtime in its one Super Bowl appearance; back-to-back AFC Championship Game losses in Pittsburgh to end the 1978 and 1979 seasons; and the firing of Bum Phillips after an 11-5 year in 1980.
And the mother of bad playoff moments, that epic playoff collapse in Buffalo on Jan. 3, 1993, when the Oilers blew a 35-3 lead to lose 41-38 in overtime.
That's the Flash Point to me.
What if that team or the 12-4 team a year later (that was scarred by that disaster), went to a Super Bowl? What if it won a Super Bowl?
Surely Bud Adams would have maintained a better standing in the city, which would have been more willing to build a new stadium. Take away that loss, and there still could be a team in Houston wearing powder blue and an oil derrick. (And a guy like me, who got his big break in sports writing because Nashville got an NFL franchise, might be an admissions director at some private high school.)
So I align with mag5011ad: "If they don't blow that 32 point lead, I think they represent the AFC in the Super Bowl, not the Bills. With that excitement in the city, they get the support to build a new stadium, which keeps the team in Houston. Most defining moment. . ."
JAGUARS: Quick Final Four appearance boosted city
A trip to the AFC Championship Game in the Jaguars' second season of play had quite an impact on the market in 1996. It got 52 percent of your votes as the Jaguars' Flash Point, and I am in agreement.
But your comments were mostly about the 1999 season, when the Jaguars hosted the AFC Championship Game. They lost to the Titans for the third time that year, in a season which they lost to no one else.
Said markpark64: "I would say the 1999 AFC Championship Game. It was the last home playoff game and ended a run of four straight playoff appearances. The Jags' history can really be divided into pre-1999 (2 AFC Championship Game appearances in 4 years) and post-1999 (only 3 playoff games and 1 playoff win in over 10 years). The team has not been the same since the 1999 loss."
You also wanted to spin forward, which isn't the game we're playing but was understandable.
Said SeattleJaguar: "It may be too soon to say, but I think the promotion of Gene Smith to GM will be looked at as the most significant turning point for this franchise. The fan base is starting to become more mature and a unique football culture is beginning to establish itself. We are seeing a young, die-hard, fan base emerge from the 'Jaguars babies' of the 90s. If you go to any games, its remarkable how young the fans are and they will stay loyal to the Jags, unlike the old farts that abandoned the team after the 90s. Go Jags!"

TEXANS: Controversial draft choice proved correct
Texans fans voted, narrowly, for the drafting of
Mario Williams
in 2006 over the awarding of the franchise in 1999.
The Texans got crushed for the selection, but history shows they knew exactly what they were doing. He's a superior player to
Reggie Bush
or
Vince Young
.
The decision to draft Williams did not transform the team, but there is nothing that's boosted a nine-season-old team in such a dramatic fashion.
Said vonstev1668 "Though I voted for the win against the Cowboys [in the franchise's first game], the truth is the Texans haven't had their defining moment yet."
Said EMajorwitz: "Trick question, hasn't happened yet. [Dom] Capers and [Charley] Casserly essentially ruined this team with their horrible drafting and free-agent signings. Other than
Andre Johnson
, I don't like a single first-round pick. Nearly a decade into the franchise's history and we still haven't made the playoffs while recent expansion teams like Carolina and Jacksonville have been deep into the playoffs."
February, 26, 2010
2/26/10
9:15
PM ET
INDIANAPOLIS --
I doubt Bill Belichick will be too impressed
with this declaration.
Nevertheless, NFL Network analyst Charley Casserly made a bold statement Friday about this year's draft class.
[+] Enlarge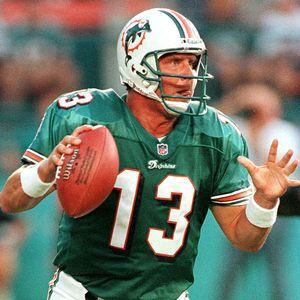 RHONA WISE/AFP/Getty Images Dan Marino was the 27th player drafted from the very successful Class of '83.
The former
Washington Redskins
and
Houston Texans
executive asserted the players taken in this year's first round will be the greatest collection of talent since the most celebrated class turned pro nearly three decades ago.
"This is the best first round I've seen since 1983," Casserly said at the NFL scouting combine in Lucas Oil Stadium.
Of the
28 players selected in the first round in 1983
, six have been inducted into the Pro Football Hall of Fame. They went to 77 Pro Bowls and won nine Super Bowls.
The 1983 quarterback class is legendary. All five AFC East clubs selected quarterbacks.
The Baltimore Colts took John Elway first overall. The
Buffalo Bills
drafted Jim Kelly 14th. One spot later, the
New England Patriots
chose Tony Eason. The
New York Jets
got Ken O'Brien 24th, and the
Miami Dolphins
used the 27th pick on Dan Marino.
Other first-round stars included running backs Eric Dickerson and Curt Warner, offensive linemen Chris Hinton, Jimbo Covert and Bruce Matthews and defensive backs Joey Browner, Gil Byrd and Darrell Green.
Casserly claimed only that crew will surpass the one that comes together in April.
With a rookie salary cap expected to be part of the next collective bargaining agreement, 53 underclassmen declared for this year's draft so they can sign under the current CBA, which allows rookies to get whatever they can.
"In talking to general managers throughout the league, decision-makers," Casserly said, "I think it's the result of two things. Last year, there was a concentrated effort to keep players in school. Conversely, both sides in the labor negotiations have talked about a rookie wage scale.
"So when you have those two things working, players without a motivation to stay in school will say 'The players who stayed in last year, you have a perfect storm to have the best junior crop you've had since all the way back to '83.' So I think this is the best first round I've seen going into a draft since 1983."
January, 26, 2010
1/26/10
3:08
PM ET
By
Matt Mosley
| ESPN.com
I've found the ESPN.com Senior Bowl blog
to be a nice resource
for keeping up with the developments in Mobile, Ala, this week. The North team, coached by the Detroit Lions' staff, has already wrapped up its practice and the Tim Tebow team (South) is getting ready to take the field. Here's what our guys from Scouts Inc. had to say about an offensive lineman from Idaho:
"Idaho's Mike Iupati is clearly the best offensive lineman on the North roster. He is quick, powerful, balanced and nasty. He struggled when moved to tackle and might fit best at guard in the NFL, but Iupati is good enough to consider in the late first round."
I've been on the phone with a longtime scout from the AFC South this afternoon. After reading about Florida quarterback Tim Tebow's struggles on Day 1, I wanted to get the scout's take:
"I know he dropped a couple from center, but that's not a big deal to me," said the scout. "He's got time to figure that out. He's a good football player, so teams will have to figure out how to use him. I think he'll run a 4.6 or better at the combine, so his speed won't be an issue. We'll look at him first as a quarterback, but you have to also think about how he would look as a running back or a tight end. I even think he might be able to play linebacker."
That would cause quite a stir this week if Dolphins head coach Tony Sparano asks Tebow to line up with the linebackers. But that's not going to happen. This is the first day the players are in full pads, so we should have a more accurate read on Tebow by this evening. I know players such as Peyton Manning and Ryan Leaf were scrutinized coming out of college, but I'm not sure we've ever seen a player who will spark such wildly different opinions as Tebow.
As I told you earlier today, former Redskins/Texans general manager Charley Casserly, now with CBS, told the Miami Herald that two teams he'd spoken with said that Tebow was a first-rounder. But as I start to visit with scouts across the league, I think it's more likely that Tebow will go in the second or third round.
By the way, if Iupati is truly a late first-round prospect, that's someone the Cowboys could target at No. 27. I'm in touch with the Cowboys' scouting party in Mobile, so I'll pass along anything I hear. Owner Jerry Jones said Monday that
he doesn't expect to move off that No. 27 pick
.
January, 26, 2010
1/26/10
11:47
AM ET
By
Matt Mosley
| ESPN.com
In case you somehow missed it, former Florida quarterback
Tim Tebow
is the biggest story from this week's Senior Bowl in Mobile, Ala. Former Redskins/Texans general manager Charley Casserly, now with CBS,
told the Miami Herald
that he's spoken with two teams that think Tebow is a first-rounder. But it seems like most scouts around the league see Tebow going in the third round.
Our Todd McShay thinks that Tebow will be "overdrafted," which would likely place him in the second round. Fortunately for Tebow, he'll be working with Dolphins quarterbacks coach David Lee this week during Senior Bowl workouts. Lee brought the Wild Hog formation to Arkansas as the offensive coordinator under Houston Nutt and then he used it (Wildcat) to help Tony Sparano and the Dolphins reach the playoffs in '08.
But Lee won't be focused on teaching Tebow the Wildcat this week. He'll take a look at a throwing delivery that will be dissected by scouts from all 32 teams in the league and every so-called draft expert in the country. In 2003, Lee encountered an undrafted rookie from Eastern Illinois with uncanny footwork, but a highly questionable delivery. Bill Parcells took one look at
Tony Romo
's delivery and informed Lee, an offensive assistant at the time, that all of his passes would be batted down.
Lee was hesitant to completely overhaul a three-quarter delivery that had served Romo well since middle school, but the young quarterback begged him to make the changes. Lee helped Romo change his release point, making it much higher. In the summer of '03, Romo would call Lee's house at 9 p.m. and ask the coach to meet him up at the practice facility to play catch. Those sessions helped form the foundation for Romo's shocking rise to fame in 2006.
But Lee won't have three or four years to work with Tebow. He'll have to give him some pointers this week on shortening his windup and improving his footwork. Tebow's reputation as one of the greatest college quarterbacks of the past 50 years will be good and bad for him.
That big-time pedigree will probably allow him to go higher in the draft than most quarterbacks of his skill level. But he'll also be under a tremendous amount of scrutiny as he tries to transition into a pro-style offense. It's hard to believe now, but Romo spent his first three years in the league basically learning his craft in private.
Here's the one thing I know: Tebow's very fortunate to spend at least one week with Lee. By this Saturday, he'll have a much better understanding of the challenges ahead.
If you'd like to hear Lee explain the Wildcat,
check out the Shutdown Corner blog
. And here's a report from McShay saying that Tebow
really struggled with his footwork
on the first day of Senior Bowl workouts. McShay called it an "erratic" day.
May, 1, 2009
5/01/09
11:59
AM ET
Posted by ESPN.com's Paul Kuharsky
I'll see the Titans' rookies on the field late this afternoon and bring you some observations from their orientation practice.
Pete Prisco re-grades the 2006 draft and joins the applause for Charley Casserly's work.
Alex Marvez spells out the seven deadly sins for an NFL rookie.
Houston Texans
Indianapolis Colts
Jacksonville Jaguars
Tennessee Titans
March, 12, 2009
3/12/09
2:00
PM ET
Posted by ESPN.com's Paul Kuharsky
The first wave of free agency has come and gone. While Round 2 hasn't played out yet -- the draft is still six weeks away and offseason programs are in the offing -- the AFC South blog pauses to assess our four teams.
What's the overriding issue that remains to be addressed for each team? How might the franchises take them on?
| | |
| --- | --- |
| | |
| | Rob Tringali/Sportschrome/Getty Images |
| | Defensive end Antonio Smith gives the Texans some help on their defensive line. |
The team's 2006 draft was the last with Charley Casserly as GM and coach Gary Kubiak signed off on all seven picks. Three of them -- Mario Williams, DeMeco Ryans and Owen Daniels -- already have been to the Pro Bowl, and a fourth -- Eric Winston -- is a very solid starter.
If the Texans can come close to matching that with a defense-heavy draft, they could position themselves to challenge Tennessee and Indianapolis atop the division.
They need an infusion of defensive playmakers for new coordinator Frank Bush to work with: A sturdy linebacker, a stout defensive tackle, a safety or corner to challenge for a big role.
Never mind their standing as the league's 22nd-ranked defense in 2008. If the Texans can improve in scoring defense (24.6 points, 27th) and third-down defense (39.4 percent, 16th), that can make a huge difference. Defensive stinginess would help a team that's got an offensive head coach in Kubiak and an attack that should be able to score with a quality skill trio of Matt Schaub, Andre Johnson and Steve Slaton.
They believe they answered the question at defensive end by signing free agent Antonio Smith to play opposite Williams. But more additions to the front seven are needed, as they have to produce more pressure on quarterbacks. Only five teams had fewer than the Texans' 25 sacks last year, 12 of which came from Williams. Each of the 12 playoff teams last season recorded more sacks than it allowed. Houston was minus-seven.
Above all else, the pass rush needs to remain the focus. The Texans need a pocket-collapsing tackle, a linebacker who could contribute to the rush and/or a defensive back who can help keep the ball in a QB's hand for an extra beat. A running back to go with Slaton will be tempting, but the Texans should wait to grab one until after they've spent at least a couple of value picks on defense.
Bill Polian got deals done with cornerback Kelvin Hayden and center Jeff Saturday before they became free agents, both big moves.
The Colts like Roy Hall and Pierre Garcon, but they are unproven and it would be asking for and expecting a lot for one of them to emerge as the third receiver on a team that needs dependable pass catchers for Peyton Manning. That's why it won't be a surprise at all if the Colts use the 27th pick in the draft on a wideout if there is one they believe fits what they do and can contribute right away.
But even if they go that direction early, their bigger issue is on defense, where the front seven needs restocking. The Colts need at least one big, run-stuffing defensive tackle and they need a new weakside linebacker with Freddy Keiaho (not given a qualifying offer when he could have been a restricted free agent) and Tyjuan Hagler (unrestricted) apparently out of the picture.
New defensive coordinator Larry Coyer is expected to be more complex, and Polian needs to give him more pieces to work with. The Colts like to choose "the best player available" in at least the first two rounds. It would be great for them if those players happened to be interior linemen or outside linebackers. Without boosts there, we'll be discussing a lot of the same issues in 2009 we covered in 2008.
The Jaguars have sent the message loud and clear: They are looking to rebuild by improving their foundation first, and they are big believers that the offensive and defensive lines are that foundation.
| | |
| --- | --- |
| | |
| | Howard Smith/US Presswire |
| | While providing stability on the offensive line, Tra Thomas knows he needs work on his run blocking. |
The addition of veteran left tackle Tra Thomas alleviates the pressure on the team to find a left tackle at No. 8 in the
draft, but Thomas himself said he needs work as a run blocker. With a team looking to spring Maurice Jones-Drew, that's the big priority.
At their peak, Jack Del Rio's Jaguars were known as one of the league's most physical teams. For a long time, the interior defensive line tandem of John Henderson and Marcus Stroud were primary reasons for that reputation.
The 2008 Jaguars never really replaced Stroud effectively after he was traded to Buffalo, and finding someone like him who could eat space and blockers and help boost Henderson back to his old form is important.
As usual, Jacksonville needs a playmaker outside. Their failures with receivers are well documented, but if David Garrard has insufficient protection and the defense can't get off the field on third down better, the next Jerry Rice won't win them too many games.
Re-establishing a physical identity remains priority No. 1, and will be a big focus in the draft.
With Jason Jones poised to make a second-season jump and Jovan Haye added to the interior defensive line mix, the Titans are not desperate to replace Albert Haynesworth as many seem to believe.
Beyond Haynesworth, the Titans have lost little and should be in position to be a contender again. The big issue is the lack of playmakers.
When Chris Johnson left the Baltimore playoff game hurt, Tennessee didn't have an alternative and became far less threatening. Adding a field-stretching receiver can improve the Titans' quick-strike ability. A burner would help keep defenses honest so they can't focus on Johnson as much.
Is free-agent acquisition Nate Washington that guy? Perhaps.
If the Titans can bring back Chris Carr or sign one of the veteran corners they've looked at -- Justin Miller, Eric Green or Jarrett Bush -- they won't be in dire need of anything in the draft. That's a liberating idea for a team that needs to line up heirs at some spots like outside linebacker and corner.
But it also gives the Titans the option of grabbing a receiver they think can help add a dynamic like Johnson did a year ago. The question is, will they finally do it?
February, 26, 2009
2/26/09
3:09
PM ET
| | |
| --- | --- |
| | |
| | AP Photo/Las Cruces Sun-News/Shari Vialpando |
| | Marvin Harrison's career numbers are among the best ever, but how much does the 36-year-old have left in the tank? |
Posted by ESPN.com's Paul Kuharsky
Marvin Harrison's legacy is firm. He was named to eight consecutive Pro Bowls, has been a first-team All-Pro three times and stands as second all time in career receptions (1,102), fourth in career receiving yards (14,580) and fifth in receiving touchdowns (128).
He also now stands with Ike Hilliard, Joey Galloway and Jerry Porter as veteran receivers, recently released, looking for a job.
What's Harrison worth now? What's he got left?
"When he's hungry and healthy, boy, people have to respect him still being out there on the field," Colts kicker Adam Vinatieri told ESPN Radio's Colin Cowherd on Thursday.
At the scouting combine, analyst Charley Casserly said on the NFL Network that Harrison would be best off if he ultimately went back to the Colts, willing to play for less: "This is his best chance for success if he wants to play next year. I'm not sure he'll get one offer in free agency."
I spoke with two AFC personnel men this week and with Casserly, the former Washington and Houston GM, as part of an interview on "The Wake Up Zone" in Nashville on Thursday. They didn't have a universal opinion on anything regarding Harrison, so this sampling covers the spectrum.
Let's break things down into some manageable categories.
December, 18, 2008
12/18/08
8:55
PM ET
Posted by ESPN.com's Tim Graham
When making the rounds for my story on Matt Cassel's soaring value, I asked about another AFC East quarterback whose stock is plummeting.
| | |
| --- | --- |
| | |
| | Evan Pinkus/Getty Images |
| | J.P. Losman has thrown two touchdown passes and five interceptions this season. |
J.P. Losman found himself back on the field when Buffalo Bills starter Trent Edwards aggravated a groin injury in Week 13. Losman's return to the huddle was tantamount to a 31-team tryout because he'll be a free agent after the season.
Losman groused over the Bills' decision to go with Edwards over him. But every time Losman has had a shot this year, he has failed to demonstrate he's worthy of starting in the NFL.
This week he was demoted to third string behind Gibran Hamdan.
"He was a first-round pick, but he wasn't able to perform in this league," former NFL personnel executive Michael Lombardi said. "He's not going to be in a bonanza situation. If he signs somewhere it will be based on experience and not on his production.
"He's at a crossroads. He's going to have to go somewhere and rehabilitate his career rather than accelerate his career. If you're his agent, you need to put him in a situation where he's a backup with good coaching in an offense that fits his style of movement and running around."
Charley Casserly, the former Washington Redskins and Houston Texans general manager, doesn't think Losman is starter material.
"He got beaten out in Buffalo because of inconsistency," Casserly said. "He has raw skills. He has arm strength. He has mobility. But his decision making and accuracy all feeds the inconsistency. I don't know that people are looking at him to fill their starting quarterback needs. He will be on a roster, though."
Losman's stat line while filling in for the frequently injured Edwards:
Four games, all losses.
63 completions on 104 attempts (60.6 percent).
584 yards.
Two touchdowns.
Five interceptions.
15 sacks.
Three fumbles, one lost.
12 rushes for 70 yards and a touchdown.
62.3 passer rating.
Given the general malaise of Losman's career, would his options be different had he capitalized on his chances this year?
"It would have piqued people's interest," Lombardi replied. "The quarterback position is the most coveted in the league and when you play well -- like Todd Collins last year -- people are always in search of that answer at quarterback.
"If he would have played well, he would have enhanced his stock. Everybody has a chance to re-invent themselves at quarterback."
December, 18, 2008
12/18/08
9:00
AM ET
| | |
| --- | --- |
| | |
| | Cary Edmondson/US Presswire |
| | Patriots quarterback Matt Cassel has turned some heads with his performance this season filling in for Tom Brady. |
Posted by ESPN.com's Tim Graham
There might still be some Matt Cassel doubters out there.
Among NFL insiders, however, the New England Patriots quarterback is viewed with a high degree of respect. Their admiration of Cassel has only grown with the way he has carried himself the past 10 days.
"If you loved him before, you love him a little more today," ESPN analyst and former Tennessee Titans general manager Floyd Reese said.
With a heavy heart, Cassel on Sunday threw a career-high four touchdown passes in a 49-26 road victory over the Oakland Raiders. Earlier last week, Cassel's father was found dead. The funeral wasn't held until Tuesday.
"You could see the pain in his eyes," former NFL executive Michael Lombardi said after watching behind-the-scenes NFL Films footage of the Patriots' week. "It's just very, very dramatic."
Sunday might be remembered as the signature performance of Cassel's breakout season.
Cassel briefly left the team and missed an important practice, but -- on the same field Brett Favre famously threw four touchdown passes the day his father died in 2003 -- he was sensational. Cassel would've finished with even more prolific numbers Sunday had the game not been so lopsided.
"To have the wherewithal or ability or gumption or whatever it takes to be able to pull off what he did was indeed special," Reese said. "There's a lot of us in the football world who think we're pretty tough, but when something like that comes along it brings you to your knees. For him to be able to pull it off was a special performance."

NFL SCOREBOARD
Thursday, 8/28
WEEKLY LEADERS