NFL Nation:

Charlie Anderson
January, 9, 2011
1/09/11
12:05
PM ET
KANSAS CITY –- There was only one mild surprise on the Kansas City Chiefs' inactive list Sunday for their AFC wild-card game against visiting Baltimore.
Veteran receiver
Chris Chambers
was inactive, while newly signed veteran receiver
Kevin Curtis
is active. Chambers has been disappointing this season and he might have played his final game in Kansas City. Curtis was signed Wednesday.
Also,
Brodie Croyle
is back to being the Chiefs' backup quarterback while
Tyler Palko
is the emergency quarterback. Palko was the backup last week against Oakland. Here are Kansas City's other inactives: receiver
Quinten Lawrence
, fullback
Mike Cox
, safety
Reshard Langford
, linebacker
Charlie Anderson
, center
Rudy Niswanger
and defensive tackle
Anthony Toribio
. Baltimore had no surprises on its inactive list.
December, 19, 2010
12/19/10
11:47
AM ET
ST. LOUIS --
Kansas City Chiefs
quarterback
Matt Cassel
has done little during warm-ups at the Edward Jones Dome.
He might play anyway.
Cassel's name was not among the list of inactive players Kansas City submitted 90 minutes before kickoff. The Chiefs named
Tyler Palko
as their third quarterback. The Chiefs did not immediately disclose any lineup changes. Cassel or
Brodie Croyle
could start at quarterback.
Cassel has already missed one game since having an appendectomy. He practiced on a limited basis during the week and did not participate fully in warm-ups at the Edward Jones Dome on Sunday morning. Croyle and Palko threw intermediate routes to receivers running at full speed. Cassel tossed soft 8-yard passes to a team staffer while working off to the side.
The Chiefs' inactive list featured cornerback
Mike Richardson
, safety
Ricky Price
, fullback
Mike Cox
, safety
Reshard Langford
, linebacker
Charlie Anderson
, center
Rudy Niswanger
and defensive tackle
Anthony Toribio
.
Inactive for the Rams: safety
Michael Lewis
, cornerback
Justin King
, running back
Kenneth Darby
, fullback
Mike Karney
, linebacker
David Nixon
, guard
John Greco
, receiver
Mardy Gilyard
and tight end Mike Hoomanawanui.
The situation at running back is a little troubling for the Rams. Darby is the top backup for
Steven Jackson
. The team has been naming Karney inactive by choice.
Rookie
Keith Toston
is the No. 2 running back behind Jackson.
November, 28, 2010
11/28/10
2:58
PM ET
SEATTLE -- The
Seattle Seahawks
and
Kansas City Chiefs
will play Sunday without a couple of their top offensive threats.
Seattle receiver
Mike Williams
and Kansas City receiver
Dexter McCluster
worked out at Qwest Field, but their teams named them inactive. Williams has been
Matt Hasselbeck
's go-to target for most of the season. Seattle's offense changes quite a bit without him.
Ben Obomanu
,
Brandon Stokley
,
Deon Butler
,
Golden Tate
and
Ruvell Martin
are active at receiver for Seattle. Obomanu and Stokley played particularly well against New Orleans last week. Tate played well against Oakland before suffering an ankle injury. This is his first game back.
Butler will start in Williams' place, the Seahawks said.
McCluster has missed the Chiefs' last four games.
Also inactive for Seattle: fullback
Michael Robinson
, guard
Chester Pitts
, defensive end
Clifton Geathers
, tackle
Will Robinson
, nose tackle
Colin Cole
and defensive tackle
Amon Gordon
.
J.P. Losman
is the third quarterback.
Also inactive for Kansas City: cornerback
Brandon Flowers
, safety
Donald Washington
, running back
Tim Castille
, safety
Jon McGraw
, linebacker
Charlie Anderson
, linebacker
Justin Cole
and defensive tackle
Anthony Toribio
.
November, 14, 2010
11/14/10
3:18
PM ET
DENVER -- Kansas City rookie receiver/returner/running back
Dexter McCluster
is inactive for the third straight game because of an ankle injury.
The Chiefs are also without safeties
Jon McGraw
(knee) and
Kendrick Lewis
(hamstring).
Donald Washington
may be set to start with
Eric Berry
at safety. The Chiefs have not made that announcement yet. Linebacker
Corey Mays
is inactive for the first time this season.
Kansas City has signed safety
Ricky Price
from the practice squad. Linebacker
Charlie Anderson
was cut to make room for him.
For Denver, running back
Laurence Maroney
is inactive.
Lance Ball
, who can play special teams, is active. Denver traded a fourth-round draft pick for Maroney earlier this season. As expected, linebacker
Robert Ayers
and cornerback
Andre' Goodman
are inactive because of injuries.
August, 30, 2010
8/30/10
10:28
AM ET
The
Miami Dolphins
head into their final preseason week not entirely settled at linebacker.
Tony Sparano is moving his players around in hopes of finding the right mix. Inside linebackers
Channing Crowder
and
Tim Dobbins
have been battling injuries. So Sparano is trying outside linebacker
Charlie Anderson
on the inside.
[+] Enlarge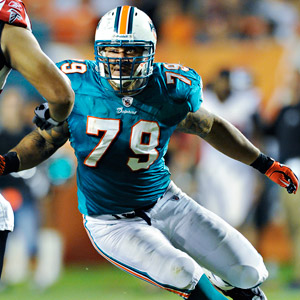 Richard C. Lewis/Icon SMIIkaika Alama-Francis is making a run at one of the starting outside linebacker spots.
An intriguing player to monitor is
Ikaika Alama-Francis
, a converted down lineman who didn't play high school football, has been mounting a summer drive to crack the starting lineup at outside linebacker.
After another solid preseason performance Friday night, Alama-Francis shared first-team reps with rookie
Koa Misi
at strongside outside linebacker in Sunday's practice. Misi still projects as the starter opposite
Cameron Wake
, but Alama-Francis has been a revelation.
"I love it, man," is what Alama-Francis told me at Dolphins camp three weeks ago.
Sparano has been steadily impressed with him at outside linebacker since training camp began. It's important for the Dolphins to find those types of players with
Jason Taylor
and
Joey Porter
signing elsewhere.
"He's a handful in the rush," Sparano said a week into camp. "He set the edge of the defense pretty well, strong guy and very, very smart."
When Sparano said that, Alama-Francis hadn't been an outside linebacker for long, just a handful of practices. But it wasn't the first time Alama-Francis had switched on a whim, and this change brought an opportunity to stick in the NFL after bombing out with the
Detroit Lions
.
Alama-Francis is the son of Joe Francis, who backed up Bart Starr for two seasons with the
Green Bay Packers
. But Alama-Francis didn't play organized football until his sophomore year at Hawaii. He was a basketball walk-on, but football coach June Jones convinced him to convert.
The Lions drafted Alama-Francis 58th overall in 2007. He played tackle and end under D-line specialist Rod Marinelli, but started only two games over two seasons. The Lions cut him at the end of last year's preseason. He remained unemployed until November, when the Dolphins signed him to play defensive end at 6-foot-5 and 290 pounds.
Then, with three offseason workouts to go before summer break, the Dolphins approached Alama-Francis about standing on two feet for the first time. No more springing out of a three-point stance. They wanted him to try outside linebacker.
Sparano and linebackers coach Bill Sheridan saw something in the way Alama-Francis moved for a player his size. Alama-Francis said he had "three good practices" to show he could handle the gig.
"That's not a lot," he said. "When they're throwing things at you to see how you'll react, you have to do the best you can with what's been given to you. But it was an opportunity, and I embraced it. I was thankful."
After those three OTA workouts, Sparano didn't view the move as experimental anymore. Alama-Francis is at about 275 pounds now.
"Moving from a different position, it's a total 180, dropping into coverage," Alama-Francis said. "When you're on the line, you're moving forward. When you're standing up, you see a lot more and you've got to be aware a lot more. Rushing the passer, coming off the edge and dropping into coverage, I'm excited about all that."
November, 18, 2009
11/18/09
5:06
PM ET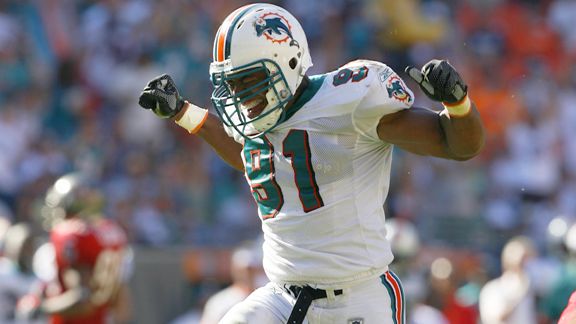 AP Photo/Hans DerykCameron Wake's professional football journey has taken him from Canada to Miami.
This is not your first time. ... You've done this before. ... It's just a different-colored uniform and a little warmer. ... Get to the quarterback.
The words scrolled through
Cameron Wake
's mind in an endless loop on a steamy August night. He was about to play his first NFL preseason game, something he'd waited five years to experience. He didn't want to blow it.
Wake was a dynamic linebacker at Penn State, a captain. But when he left campus he might as well have fallen off the face of the earth. He wasn't drafted, and although he signed with the
New York Giants
, they cut him before training camp began.
So he floated. For years. He took a job shuffling mortgage papers, another as a personal trainer. A pro tryout got mixed in here or there. He assumed a new name.
Wake finally landed in the Canadian Football League and
created enough of a ruckus to get another shot
at the NFL.
He signed with the
Miami Dolphins
, and that's what brings him to that seminal moment in August at Land Shark Stadium. It's only the preseason, but he feels the moment and wants to make sure he experiences many more.
"I don't know if it's fear, but it's a feeling of wanting to make sure you're as ready as you can be when the moment comes," Wake said. "If you're not nervous when that situation comes up, then something's wrong with you. But that situation has happened many, many times.
"When I went up to Canada, every game was a chance. Coming down here [to the Dolphins] and auditioning for the various teams, this was my chance. Getting on the field was my chance. The first preseason game, 'Don't blow it.' It's something I've definitely come across more than once."
Wake has showed he belongs in the NFL. He was deactivated the first three games and gets the scrap snaps left over from veteran outside linebackers
Joey Porter
,
Jason Taylor
,
Matt Roth
and
Charlie Anderson
.
But Wake has managed to get to the quarterback a few times anyway. He enters Thursday night's game against the
Carolina Panthers
with 4.5 sacks, tied for second on the team and one behind Taylor.
Symbolic of Wake's journey, he traveled as far as a professional football geographically could -- about 2,800 miles from Vancouver to Miami -- to get his big break. He spent the past two seasons as a 4-3 defensive end for the BC Lions. He collected 39 sacks and was named the CFL's best defensive player each year.
"It's amazing," Wake said. "I changed positions, changed leagues, changed climates, changed coaches, changed countries. I'm literally in the opposite corner of the continent. It has been a major journey."
Wake, however, won't ever admit to feeling like he has arrived.
"Once you get a little bit, you want a lot more," Wake said. "When I signed, that was fine. I was part of the Dolphins. But that wasn't enough. I wanted to make the team. I made the team. That wasn't enough. I wanted to play. When I played and got a couple sacks, that's not enough.
"I need more. Give me more. I want more responsibility. I want more everything. I know it's not going to happen overnight, but I'm hungry."
Wake will turn 28 in January. Brigham Young grads and even Chris Weinke think that's pretty old for someone with one season of NFL experience.
"

It's amazing. I changed positions, changed leagues, changed climates, changed coaches, changed countries. I'm literally in the opposite corner of the continent. It has been a major journey.

"

-- Dolphins linebacker Cameron Wake
The long road to quasi-rookie status has given Wake perspective.
He calls himself "a sponge," trying to absorb as much as he can from the wisdom that surrounds him. He played for Joe Paterno (under the name Derek Wake), but for the past nine months he has been inundated by highly concentrated football lessons from the likes of football operations boss Bill Parcells, head coach Tony Sparano, defensive coordinator Paul Pasqualoni, the NFL's active sacks leader (Taylor) and last season's AFC sacks leader (Porter).
"Sitting in the locker room, you can see all the guys who were big names coming out of college," Wake said. "No disrespect to the easy way to the NFL, but I had to sit on the couch. Being cut from football and having to go off somewhere and having to work your way back in, you appreciate every day moreso than maybe somebody who hasn't had to go through that."
Many Dolfans would like to see Wake get more chances to produce in games. Porter hasn't been getting it done. Porter has been bothered by a hamstring problem and was benched for Sunday's victory over the
Tampa Bay Buccaneers
.
Wake had a sack against the Buccaneers, giving him one in consecutive games.
But his signature NFL performance thus far came in his second regular-season game. He recorded 2.5 sacks and forced a fumble against the
Buffalo Bills
in Week 4.
He abused Bills right tackle
Kirk Chambers
. Wake used speed and power to record his first NFL sack. He sprinted deep into the Bills' backfield, made a U-turn to shake off Chambers and charged at
Trent Edwards
from behind, jarring the ball loose.
Wake slowly climbed to his feet, stomping as he rose. He clenched his fists, and in a sudden motion arched his back, threw his arms outward and yelled at the sky.
"It's amazing to go from the couch to a game ball," Wake said. "It's hard to put into words. That journey, to get to that point, it's just the beginning."

Posted by ESPN.com's Tim Graham
Five nuggets of knowledge about this weekend's games:
| | |
| --- | --- |
| | |
| | Stew Milne-US PRESSWIRE |
| | Tom Brady and the Patriots will make a statement with a win over the Ravens this Sunday. |
The best game of the week is not the New York Jets at New Orleans Saints.
As interesting as a battle between two 3-0 teams will be, we'll learn a lot more about the state of the AFC when the
Baltimore Ravens
visit the
New England Patriots
in Gillette Stadium on Sunday.
Ravens offensive coordinator Cam Cameron, the former
Miami Dolphins
coaching pariah, is calling the league's second-ranked offense. The Ravens' defense is ranked first against the run and seventh overall. But the Ravens have been relatively vulnerable against the pass. If
Tom Brady
can manage to work around Ravens safety
Ed Reed
, then the Patriots could score another big win after that setback to the Jets in Week 2.
The Jets' offensive line still is playing below expectations.
Many observers, myself, included considered the Jets among the elite O-line units. They're solid on paper from tackle to tackle, featuring four first-round draft picks. But the Jets have been average in protecting
Mark Sanchez
and have struggled to generate a run game.
The Jets are tied for 20th in run offense. Take away two long fourth-quarter runs in the season opener, and reigning AFC rushing leader
Thomas Jones
is averaging 2.3 yards a carry. The starting front five have committed nine penalties for 62 yards.
While everybody's talking about the need to stop Drew Brees, running back Pierre Thomas will be a devil for the Jets' defense.
The Saints' offense obviously changed when they started handing the ball to Thomas in the second half of Sunday's game against the
Buffalo Bills
. Thomas didn't touch the ball in the first half, but finished the game with 126 yards and two touchdowns. He averaged 9 yards a carry.
Maybe few people noticed because it was against the Bills, and a scan of the box score doesn't show that Thomas did all of that damage in 30 minutes. Brees, meanwhile, threw for only 172 yards to win comfortably.
Bills receiver Terrell Owens should have a nice bounce-back game against the Miami Dolphins.
For the first time in 185 games, Owens is coming off a no-catch performance. Bills offensive coordinator Alex Van Pelt and quarterback
Trent Edwards
are under fire for not getting Owens and
Lee Evans
the ball. They've had all week to address those concerns and likely will enter Land Shark Stadium with a plan to get Owens involved early and often.
The Dolphins rank No. 3 against the run, but their pass defense has been the sixth-most lenient. Opposing quarterbacks have a 103.3 passer rating against them and are averaging 9.1 yards per attempt, second-to-worst in the league.
Dolphins reserve Charlie Anderson could be a difference-maker against the Bills.
Unless you're a diehard Dolphins,
Houston Texans
or Ole Miss fan, you probably don't know who the heck Anderson is. He has started just six games in his six-year career. But he will be relied upon Sunday.
Anderson is
Joey Porter
's backup, and the reigning AFC sack king has been slowed down by a hamstring problem. Porter has insisted he will play, but even if he does, Anderson will see increased snaps. Anderson does have ability. In back-to-back games last year against the Bills and
San Francisco 49ers
, he recorded two sacks and two forced fumbles.
November, 26, 2008
11/26/08
4:34
PM ET
Posted by ESPN.com's Tim Graham
DAVIE, Fla. -- There was a day of reckoning at the Miami Dolphins headquarters Wednesday.
| | |
| --- | --- |
| | |
| | AP Photo/Alan Diaz |
| | Miami Dolphins linebacker Channing Crowder, right, was mum Wednesday on his fight with Patriots lineman Matt Light which earned them both a $15,000 fine. |
Disobedient outside linebacker Joey Porter publicly apologized to head coach Tony Sparano for refusing to come off the field in the final minutes of Sunday's loss to the New England Patriots.
With barely three minutes left in the game, Porter was flagged on consecutive plays for unnecessary roughness and unsportsmanlike conduct and continued to yap at the Patriots. Sparano sent Charlie Anderson into the game for Porter, who refused to leave the field and sent Anderson back to the sideline.
Porter on Wednesday afternoon sat on a stool in front of his locker and addressed reporters, who were instructed by Dolphins senior vice president of relations Harvey Greene not to ask any questions.
"I'd just like to apologize for not respecting coach Sparano's order to come off the field," Porter said. "I wasn't looking at it that way. I was just kind of still playing football. I wasn't trying to make it as being disrespectful to the team or not obeying his order. We have a great relationship.
"It's crazy how you all got ahold of this and just tried to make it seem as if me and him were not good. I listen to all of his orders. I wasn't looking at the situation that way. I was just standing on the field, playing football. That's just my nature. If I'm not hurt I don't like to come off the field.
"So I think it got blown out of proportion, but I definitely apologize to coach, the staff, and that's pretty much it."
Porter then stood up and walked out of the locker room.
Earlier in the day, Dolphins inside linebacker Channing Crowder was fined $15,000 for his altercation with Patriots left tackle Matt Light, who grabbed a helmetless Crowder by the hair and punched him in the back of the head. Both were ejected.
Crowder spoke to reporters with the caveat he would only speak about the St. Louis Rams and wouldn't address the fine or the incident with Light.
"The league's going to do what the league's going to do," was all Crowder would tell me about the situation.

NFL SCOREBOARD
Thursday, 8/21
Friday, 8/22
Saturday, 8/23
Sunday, 8/24
WEEKLY LEADERS