NFL Nation:

Charlie Sanders
June, 3, 2014
6/03/14
9:45
AM ET
WEST BLOOMFIELD, Mich. -- Charlie Sanders has been a part of some of the most successful
Detroit Lions
teams in the franchise's modern history. While it is not exactly a glowing barometer considering the franchise's failings over the past 40 years, the Hall of Fame tight end does know what talent looks like.
And he thinks the Lions did not do much to upgrade their talent from 2013 to 2014 -- but that they didn't necessarily need to.
[+] Enlarge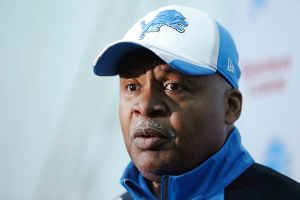 Carlos Osorio/AP PhotoLions cornerback Bill Bentley says coach Jim Caldwell "makes you not want to make a mistake."
"The talent was always there," Sanders said Monday before the "Have A Heart Save A Life" golf outing for charity he runs. "This team hasn't really improved, talent-wise, as much as people would like to think. The talent was there last year.
"When you look at it and look at it on paper and say where have we really, really made that giant step, all we've done is created a different problem with the tight end. But talent-wise, we've always had the talent."
The difference this season will be coaching, Sanders said. He echoed Monday what many others have said about first-year Detroit head coach Jim Caldwell since the team hired him in January. He's an honest man who is going to exude calmness, control and consistency consistently as players deal with him.
From what Sanders has already seen, the way Caldwell coaches has put the onus of the team's success back on the players instead of having a coach -- or a coaching situation -- add more angst to an already pressure-filled situation each season.
The players have felt this as well. It is only May in a period of the year where almost everything is about development and learning instead of on-field results, but there is a different vibe around the Lions with Caldwell.
He is able to get his message across without yelling or screaming or even raising his voice. He does his correcting in private, with only the team around.
"He makes you not want to make a mistake," cornerback
Bill Bentley
said. "Because when you make a mistake, he puts you on the board in front of everybody and you don't want to be on that board in front of everybody. You know what I'm saying.
"That'd be embarrassing. You don't want that, you don't want to be embarrassed."
The players, for now at least, appear to appreciate Caldwell's style throughout his dealings with the players. They see the calm and that he never really changes no matter the situation.
That can lead to the same soothing influence on players, something Sanders already saw.
"There's no panic and stress and confusion and things like that," Sanders said. "For once, it puts all the pressure back on the player in that they want to assume responsibility of going out and performing without, quote, adding that pressure, that added pressure on them.
"A lot of the success of where the Lions go from here on out is solely resting on the shoulders of the players and not on the coach because the coach is just letting them do what they do best."
One area the Lions did upgrade was at tight end, where the team drafted
Eric Ebron
in the first round. The pick was questioned by many -- including in this space -- because the Lions seemed to be in decent shape at tight end.
Perhaps Sanders clued in part of what Detroit is actually going to do with Ebron, though. He sees him more as a receiver than a true tight end. This comes a year after Sanders told reporters then-tight end
Michael Williams
would eventually become an offensive tackle. That move happened before the start of organized team activities.
Sanders didn't have as bold of a prediction about Ebron.
"In a sense, people say he's a tight end. He's just a big wideout," Sanders said. "(Brandon) Pettigrew is a tight end. There's a difference.
"I don't have any predictions other than that I think he's going to create some matchup problems, and I think it's a situation where the Lions are going to benefit from it."
How much they benefit could end up being on both the players and the coaches.
March, 9, 2014
3/09/14
8:40
PM ET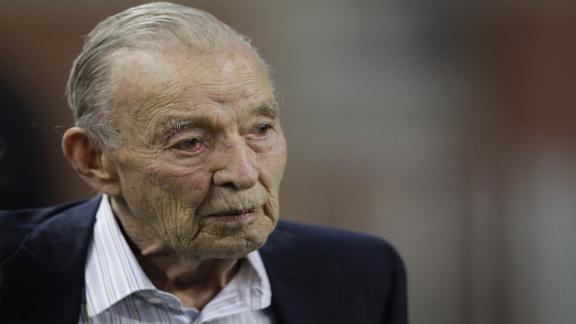 He was the man who paid Charlie Sanders' salary for years, the man Sanders looked upon as a father figure, a boss and a friend. He was the man Sanders wanted to have introduce him into football's greatest honor, enshrinement into the Pro Football Hall of Fame.
William Clay Ford Sr., who died of pneumonia on Sunday at age 88, embodied many things to Sanders, one of the best players in
Detroit Lions
history.
It was a different time in American sports when Sanders played and Ford was young enough to relate to the players he also paid. As rich as Ford was, as much as his last name was synonymous with the American automotive industry, Sanders knew him more as the guy he could talk to and befriend.
That is what he will remember. That is what stands out now, on the day Ford died.
"I think a lot of people look at him and just don't understand him, period," Sanders said during a conference call with Detroit media Sunday night. "Not just as far as football is concerned. To me, he was just a guy that wanted to be just one of the guys.
[+] Enlarge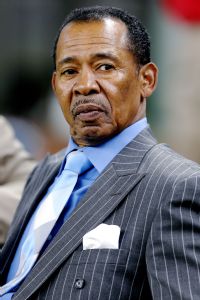 AP Photo/Scott BoehmCharlie Sanders asked William Clay Ford Sr., to introduce him for induction into the Pro Football Hall of Fame.
"Once you got beyond, you know, Ford and who he was in terms of the corporate world and try to get to know him as a human being, you realize that this guy is really just a simple sports advocate that happens to own the Detroit Lions. He was a very personable guy that you could get to know and you could learn a lot from."
It was a relationship that spanned 40 years, so Ford was the first person Sanders thought of when he found out he would be inducted into the Hall of Fame in 2007. Sanders just hoped Ford would be able to be there to do it -- and he was.
"It was as great an honor for me to be asked by Charlie to be his presenter as it was for him to be elected to the Hall of Fame," Ford said during Sanders' introduction speech in 2007. "We really chatted about it quite casually, but he kind of hemmed and hawed around a little bit.
"Finally, it dawned on me that, 'Gee, he'd like me to be his presenter,' and I can't think of anything nicer."
The quality of the man is what stood out to Sanders on Sunday, about how he would be generous with his money and his time to the players he hoped would one day give him the championship that eluded him throughout his 50-plus year ownership of the Detroit Lions.
Sanders said during his speech and again Sunday that he asked Ford to present him to the Hall of Fame because of who Ford was as a human being, not because of wins or losses or championships dreamed about but never won.
He saw a man who let his people work and take their own visions and try to implement them. He saw a man who didn't over-interfere, who just wanted to know what his employees were doing. He saw someone with a good heart and who cared -- an opinion shared by many who spoke publicly about Ford on Sunday.
And to those who look at the lack of titles and lack of wins and say,
like was written here earlier
, that Ford was too loyal, Sanders said his response would be unprintable.
"I understand the fans' side of it. They want a championship. I understand that. But so did he. And I know that," Sanders said Sunday. "I know that personally, that it was what he wanted more than anything in the world.
"And so I'm not going to let that be the one thing I remember this man by because there was so much, much more that he brought to this world other than a lack of a championship."
July, 1, 2010
7/01/10
11:00
AM ET
Notable players:
Running back Mel Farr, center Ed Flanagan, tight end Charlie Sanders, linebacker Paul Naumoff, defensive tackle Alex Karras, cornerback Lem Barney, cornerback Dick LeBeau.
[+] Enlarge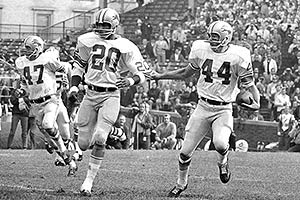 AP Photo/Jim PalmerCornerbacks Lem Barney and Dick LeBeau combined to snag 16 interceptions during the 1970 season.
Analysis:
I'm fully aware that this franchise played for four NFL Championships during the 1950s, winning in 1952, 1953 and 1957. It was without question the golden age of Lions football, but you can make a decent argument that the best team came two decades later.
The 1970 Lions ranked second in the NFL in points scored and points allowed, won their first two games by a combined score of 78-3 and finished the season with the league's second-highest average point differential (10.4), according to pro football-reference.com. They had the best turnover ratio in the league, were the victims of Tom Dempsey's then-record 63-yard field goal and produced an impressive five-game winning streak to end the regular season.
This team fielded two Hall of Fame cornerbacks, and both Barney and LeBeau had the best seasons of their careers. LeBeau intercepted nine passes, while Barney had seven -- returning two for touchdowns. The Barney/LeBeau team helped the Lions limit the powerful Dallas Cowboys to five points in the playoffs, and that total should have been enough for an offense that put up at least 28 points in six of its regular-season games.
But the offense inexplicably fell flat that day in a 5-0 defeat, leaving Lions fans their first in a series of torturous "what-ifs." At the time, there was a feeling the Lions were
bound for a Super Bowl victory
had they gotten past the Cowboys.
I realize there is some room for discussion here. But the 1970s were a newly competitive era for the NFL, and that's where I landed when comparing this team with the 1950s teams.
Most impressive victory:
I'll go with a tie for the Lions' collective performances in shutting out Green Bay twice -- 40-0 in the season opener and 20-0 in the season finale. The Packers weren't a good team that year but they did win six of their other 12 games.
Did you know?
The 1970 Lions were the first wild-card playoff team in NFL history. When the league merged with the AFL, the postseason was expanded to eight teams -- three division winners and one wild-card team.
Did you know, Part II?
Soul musician Marvin Gaye had a failed tryout for the 1970 team.
Honorable mention
1952:
A high-powered offense scored 40-plus points five times on the way to a 9-3 record and an NFL Championship.
1953:
A similar team scored a touchdown in the final minutes of the championship game to become the third team in NFL history at that point to win back-to-back titles.
1957:
The Lions overcame the training camp resignation of coach Buddy Parker and the broken leg of quarterback Bobby Layne to win its last NFL title.
April, 30, 2009
4/30/09
7:37
AM ET
Posted by ESPN.com's Kevin Seifert
The Brett Favre story is keeping things lively in the NFC North. Few people seems swayed by agent Bus Cook's reiteration Wednesday that Favre plans to remain retired despite his request to be released from the New York Jets' reserve/retired list.

I'm leaning toward that camp as well. Cook said it was a necessary administrative move for Favre to retire a member of the Green Bay Packers. Technically, that's true. But from everything I can tell, a reunion/retirement ceremony won't happen for a while. There are a few repair jobs on both sides left to be done, on both sides, before they start singing "Kumbayah" outside of Lambeau Field.
If Favre decides to play in 2009, the Star Tribune's Patrick Reusse is convinced Minnesota will jump at the opportunity.
The Vikings demonstrated on Saturday, when they made the strange decision to take the injury-prone, undersized, dope-smoking [Percy] Harvin over Michael Oher, a starting offensive tackle for the next decade, that selling tickets is currently the team's top priority. The Vikings' need for a big-time right tackle was greater than for a receiver, and that leaves creating a buzz -- not improving the roster -- as the main motive for taking Harvin.
Mike Vandermause of the Green Bay Press-Gazette is warning Packers fans to get used to that idea.
Circle Nov. 1 on your calendar, because that's the day Brett Favre could stroll onto Lambeau Field as a member of the Minnesota Vikings. Don't be shocked if Favre, who was granted his release by the New York Jets on Tuesday, gets the itch to play again and lands with the quarterback-challenged Vikings. The only thing that could stop this marriage from happening is the torn biceps in Favre's right arm, which might require surgery and could keep the 39-year-old quarterback permanently on the shelf.
Ultimately, that biceps issue is going to play an important role. Favre said in February he would need surgery to repair it if he wanted to play again, and that was a major consideration in his retirement decision. He'll either need to have the surgery or devise a plan to rehabilitate it, which would require exhaustive offseason work, in order to have it ready for training camp.
Continuing around the NFC North: