NFL Nation:

Chauncey Washington
March, 30, 2011
3/30/11
11:48
AM ET
Our periodic look at the best and worst draft pick by position for each team begins with running back. We'll look at draft results since realignment in 2002, since that's when the Texans came into existence and gives us the most level comparison.

Houston Texans
Best:
Arian Foster
is the best guy they've had, but he was undrafted so he doesn't qualify. It's not a great list, but the best of the lot was
Domanick Williams
, who became Domanick Davis, a fourth-rounder in 2003. In three seasons, he averaged 4.1 yards a carry and scored 28 touchdowns. That's pretty solid production for a back during a three-year stretch when his team was 14-34.
Worst:
Lots of options here. I remember thinking that 2002 fourth-rounder
Jonathan Wells
was simply not an NFL back.
Vernand Morency
(2005, third),
Wali Lundy
(2006, sixth) and
Tony Hollings
(2003, second in the supplemental draft) were also not good. The Texans got just one season plus one game out of Morency, who couldn't get ahead of
Ron Dayne
, Lundy or
Samkon Gado
. But the least value came from Hollings, who earned just 49 carries in three seasons. Pro Football Reference says his weighted career average ranks him 10,562nd since 1950.

Indianapolis Colts
Best:
He takes a lot of grief because he's not necessarily a big producer for fantasy leagues, but
Joseph Addai
(2006, first) is very effective at doing what's asked when he's healthy. He's got a darting style that's suited for the team, he's a great pass-catcher and he's very reliable in protecting
Peyton Manning
.
Worst:
The team spent late picks on backs in 2002 (
Brian Allen
), 2005 (
Anthony Davis
) and 2006 (
T.J. Rushing
) and none of them did much. Hard to grade hard on such low picks, but it's too early to talk
Donald Brown
(2009 first-rounder) here. Allen had one kick return in 2003 and Davis didn't make the team. We'll declare it a tie, acknowledging a hit with either would have qualified as a nice surprise.

Jacksonville Jaguars
Best:
Maurice Jones-Drew
is the centerpiece of the team and was a steal in the second round (60th overall) of the 2006 draft. The Jaguars passed on him at No. 28 in the first round, when they took tight end
Marcedes Lewis
. MJD qualifies as the face of the franchise.
Worst:
LaBrandon Toefield
and
Alvin Pearman
made contributions on a team that was in pretty good shape at the position with
Fred Taylor
and then Jones-Drew. So while it's unfair to hit them for a seventh-rounder from 2008, it also means they've done pretty well. Three years into his career,
Chauncey Washington
finished 2010 on the practice squad of the
St. Louis Rams
.

Tennessee Titans
Best:
You'd expect the 24th overall pick to be here and
Chris Johnson
certainly is the selection. He's coming off a 1,364-yard, 12-TD season that was largely regarded as a failure because he'd set the bar so high with his 2,006-yard rushing season in 2009. He's as fast as or faster than any running back in the league.
Worst:
The Titans fell in love with
Chris Henry
at the combine and let his measurable outweigh his unspectacular performance at Arizona. The second-round pick the team spent on Henry in 2007 amounted to a waste. The Titans kept him for three seasons to try to justify spending the 50th overall pick on him, which was longer than the needed to know he was a strikeout. He played in just 10 games.
October, 22, 2010
10/22/10
4:00
PM ET
»
NFC Final Word
:
East
|
West
|
North
|
South
»
AFC
:
East
|
West
|
North
|
South
Five nuggets of knowledge about Week 7:
[+] Enlarge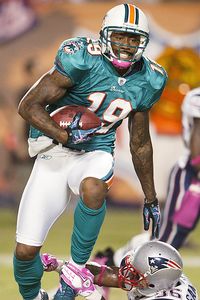 Jonathan Brownfield/US PresswireBrandon Marshall and the Dolphins can increase their profile with a win against the Steelers.
The Dolphins have a glorious opportunity to vault themselves into the Super Bowl discussion.
The Dolphins are the third-best team in the AFC East, but both of their losses are against
Nos. 2 and 3 in ESPN.com's latest Power Rankings
-- the Jets and Patriots. The Dolphins have been overlooked because both of those losses happened in Sun Life Stadium and in prime time. But they can grab everyone's attention with a victory at home against the No. 1 Steelers. While winless at home, the Dolphins are 3-0 on the road and have beaten a pair of NFC teams commonly forecasted to reach the Super Bowl. They're good, but they haven't established themselves as a contender yet. That could change Sunday.
Patriots safety Brandon Meriweather will need to be careful Sunday in San Diego.
There's heightened awareness on big hits. Increased ejections are possible, and officials will be mindful of Meriweather. He was fined $50,000 for his helmet-to-helmet shot on Ravens tight end
Todd Heap
. The Patriots head cross country with depleted numbers at safety.
Jarrad Page
hurt his calf against the Ravens and hasn't been able to practice.
James Sanders
is expected to return, but he has been bothered by a hamstring problem. If Meriweather isn't on his best behavior, the Patriots could find themselves even more short-handed against
Philip Rivers
, who has completed 63.5 percent of his passes between the field numbers.
The Bills have one weird offense.
Let's try to figure this one out ... The Bills rank fourth in the league and second in the AFC in yards gained on first down at 6.3 a pop. They rank fifth in average gained per rush at 4.8 yards.
Ryan Fitzpatrick
has a 99.9 passer rating. Only two teams have committed fewer penalties. So how in the world do the Bills rank 31st in third-down conversions? The NFL doesn't cull stats specifically for second down, but something must be going on there. Have the Bills been skipping straight from first down to third down and nobody has noticed?
The Joe McKnight draft choice continues to dog the Jets.
They used a fourth-round draft choice to draft McKnight out of USC. That wasn't a huge investment, but the trickle-down affect continues to make the decision look terrible. McKnight lost the coaching staff's trust in the preseason because he couldn't pick up the playbook and fumbled too much. But they stuck with him and eventually lost
Danny Woodhead
and
Chauncey Washington
to other teams. While McKnight has been deactivated for all but one game, Woodhead has become a smash hit among Patriots fans. I'm pretty sure Woodhead jerseys are being stitched together as I type this. I have hard time imagining anybody wearing one of McKnight's.
We haven't heard anything from the Jets this week, and that's a good thing for Jets fans.
One of the bigger concerns for Jets fans had to be their players being unoccupied by work for a week during their bye. They have a few major players --
Braylon Edwards
,
Antonio Cromartie
,
Santonio Holmes
-- with track records of landing in hot water, and Jets head coach Rex Ryan gave his team the entire week off. Ryan is far more generous than most of his colleagues. Bills coach Chan Gailey, for instance, had his player practice through Friday afternoon of their bye week. The Jets are 5-1 and looking quite solid in their quest to make a Super Bowl run. The last thing they need is another off-field distraction.
September, 5, 2010
9/05/10
9:18
PM ET
From the starting lineup of their regular-season finale, the
New York Jets
have lopped 77 seasons of experience.
No wonder head coach
Rex Ryan was bemoaning a lack of leadership
in the latest episode of "Hard Knocks."
On Sunday, the Jets released veteran fullback
Tony Richardson
-- a day after he survived the cutdown deadline for the 53-man roster.
Richardson is trying to play a 16th NFL season. He was outplayed by rookie
John Conner
, but it was clear watching "Hard Knocks" the Jets coaching staff viewed Richardson as highly important to the 2010 cause. He was considered perhaps the most prominent leader in the locker room.
"Each season, there are difficult choices when constructing the 53-man roster, and this year is no exception," Jets general manager Mike Tannenbaum said in a statement. "We appreciate Tony's contributions and leadership over the past two seasons and have nothing but the highest respect for him as a person and as a player."
The Jets also waived running back
Chauncey Washington
and receiver
David Clowney
. The dismissals cleared way for three waiver pickups: receiver
Patrick Turner
from the
Miami Dolphins
, tackle
Patrick Brown
from the
Minnesota Vikings
and defensive tackle
Marcus Dixon
from the
Dallas Cowboys
.
Richardson joined a long list of veterans who aren't around from a roster that was good enough to get the Jets to the AFC Championship Game, among them running back
Thomas Jones
(10 seasons), guard
Alan Faneca
(12 seasons), defensive end
Marques Douglas
(nine seasons), kicker
Jay Feely
(nine seasons) and long snapper
James Dearth
(nine seasons).
In fact, of the 10 most experienced players on the Jets' final roster last year, including injured reserve, only three remain: right tackle
Damien Woody
, nose tackle
Kris Jenkins
and defensive end
Shaun Ellis
.
Granted, the Jets did add veterans via free agency. Quarterback
Mark Brunell
is entering his 18th season, running back
LaDainian Tomlinson
his 10th and pass-rusher
Jason Taylor
his 14th. But all of them were signed with the intention to be backups.
You have to wonder whether the Jets have over-tinkered their roster.
September, 3, 2010
9/03/10
12:05
AM ET
With all 32 teams wrapping up their preseason schedules Thursday night, here are a few quick hits from each AFC East game:
Detroit Lions 28, Buffalo Bills 23
Trent Edwards was efficient in his one quarter, completing all four of his passes for 66 yards, including a 50-yard strike down the left sideline to Lee Evans.
But because Edwards is so inconsistent and injury-prone, backup quarterback remains a big question mark. Ryan Fitzpatrick had the night off. Brian Brohm played less than two quarters and completed 7 of 15 passes for 78 yards and an interception that was tight end J.P. Foschi's fault.
Bills kicker Rian Lindell is in midseason form. He nailed field goals from 47, 50 and 41 yards. Remember when former coach Dick Jauron shied from letting Lindell try long kicks?
The Bills still have a tough decision to make at receiver. Chad Jackson had a game-high five catches for 59 yards, but hobbled off the field late. James Hardy, a 2008 second-round pick, was targeted seven times but made three catches for 23 yards in the second half.
New York Giants 20, New England Patriots 17
Rookie tight end Rob Gronkowski is becoming a folk hero. He caught his fourth touchdown of the preseason, a 5-yard toss from Tom Brady on their first drive. The touchdown wasn't as eye-popping as Gronkowski's first two, but he did have a defender hanging on him.
New England's first-team defense looked shaky again. Eli Manning marched right through them, going 86 yards on nine plays for a touchdown to open the game. The Giants' starters picked up two more easy first downs on the second possession before punting.
Running back Laurence Maroney finally got some action after being a bystander the previous two games: nine carries for 32 yards. Uninspiring. For the record, Fred Taylor started the game.
Rookie Devin McCourty bounced back from an awful performance in the previous game, and that's a good sign with veteran Leigh Bodden sidelined for the season. McCourty played only two series but made three tackles and had a pass defensed.
New York Jets 21, Philadelphia Eagles 17
Rookie running back Joe McKnight had a rough preseason. He lost his third fumble, and this one was returned 64 yards for an Eagles touchdown. Rex Ryan said McKnight will make the roster and be deactivated until he proves himself in practice.
Had the Jets not used a fourth-round draft choice on McKnight, he'd be gone. He was outplayed by Chauncey Washington and Danny Woodhead. Washington ran 12 times for 56 yards, including a long of 22 yards. Woodhead had 12 carries for 45 yards and a 14-yard touchdown.
Mark Brunell had an efficient game: 11-of-17 for 118 yards and touchdown passes to Santonio Holmes and Jeff Cumberland.
Holmes had a busy night in what will be his last action for a month. He had four catches for 97 yards. His touchdown traveled 51 yards and came in the fourth quarter. Probably not fair to do to Philly reserves who won't be employed come Saturday. But Holmes will be out of commission while serving a four-game suspension.
Dallas Cowboys 27, Miami Dolphins 25
The Dolphins had a nerve-racking sequence in the second quarter. Franchise left tackle Jake Long, my pick as the club's most indispensable player, got shaken up on a play when Chad Henne absorbed a blindside sack and fumbled. Four plays later, Sam Hurd beat cornerback Sean Smith for a 43-yard touchdown.
Tyler Thigpen, not Pat White, received the prime mop-up duty after Henne and Chad Pennington took their turns. Thigpen did well. He was 10-of-18 for 160 yards and two touchdowns with one interception. He ran three times for 20 yards.
Only 12 rushing attempts for Dolphins running backs, but 39 passes. Not sure what it means. Maybe coach Tony Sparano just wanted to let Pennington and Thigpen air it out. Maybe the Dolphins didn't want to waste their backs. But I doubt that ratio is a blueprint for the regular season.
Tough decision coming at receiver, even after the Greg Camarillo trade. Patrick Turner (one catch for 29 yards) was a third-round pick last year, but hasn't produced as much as undrafted rookies Marlon Moore (4 catches, 31 yards and a touchdown) or Roberto Wallace (3 catches, 59 yards and a touchdown).
August, 26, 2010
8/26/10
12:25
AM ET
Storylines for this week's episode of "Hard Knocks" focused on the
New York Jets
' fringe players, laying the groundwork for drama on final cutdown day in a couple weekends.
Most revealing from my perspective was the chance to eavesdrop on general manager Mike Tannenbaum and head coach Rex Ryan discussing their roster numbers. On a dry-erase board, Tannenbaum tried to do the math and gave a glimpse of what the 53-man roster will look like, more or less.
Next to the team's official depth chart, Tannenbaum scrawled out the number of players they plan to keep at each position, with the caveat they can adjust for special teams.
Offense (25 players):
Three quarterbacks
Five running backs
Five wide receivers (including Santonio Holmes)
Four tight ends
Eight offensive linemen
Defense (23 players):
Six defensive linemen
Four outside linebackers
Four inside linebackers
Five cornerbacks (I think because I couldn't decipher the abbreviation)
Four safeties (I think for the same reason)
Add a kicker, punter and long-snapper, and that's 51 players, leaving two special-teams spots for everybody else to fight over.
The show suggested the bubble players were running back
Danny Woodhead
, fullback
Jason Davis
, receivers
David Clowney
and
Larry Taylor
, tight end
Matthew Mulligan
and linebacker
Lance Laury
.
Injuries, of course, can impact the numbers. The breakdown was done before defensive end
Ropati Pitoitua
suffered a season-ending torn Achilles tendon in Saturday's preseason game against the
Carolina Panthers
.
Pitoitua's injury was significant for
Rodrique Wright
, who had an "X" next to his name on the depth chart, suggesting the Jets planned to cut him.
"Hey, you going to make this [expletive] team?" Ryan says to Wright on the sideline after learning of Pitoitua's injury. "This kid just tore his [expletive] Achilles. Or do I need to pick somebody else up?"
"Hard Knocks" revealed others with an "X" next to his name or a "PS" to indicate practice squad. A slow and up-close pan of all the unmarked name plates helped determine who had been designated in the shot of Tannenbaum sketching out the roster.
These were the other "X" players still on the roster I could decipher thanks to the high-def on my big-screen plasma: quarterback
Kellen Clemens
, running back
Chauncey Washington
, center
Robby Felix
, guard
Marlon Davis
and tackles
Dan Gay
and
Michael Turkovich
. An "X" also appeared next to a blank spot at fullback, suggesting Jason Davis.
These were the "PS" players: defensive linemen
Matthew Kroul
,
Ty Steinkuhler
and
Martin Tevaseu
and safety
Emanuel Cook
.
Also notable about the depth chart, rookie
Vladimir Ducasse
was above
Matt Slauson
at left guard.
Shonn Greene
was on top of
LaDainian Tomlinson
.
Not a lot of surprises, but interesting nevertheless.
Yet based on Ryan's comments about his third-stringers late in the 9-3 victory over the Panthers, there's plenty of room to make an impression over the final couple weeks.
"Guys, we're dead with this group. We have replacements?" Ryan says into his headset to his defensive assistants in the press box. Ryan's voice gets angrier. "Do we have any replacements? Get me the No. Twos out there! I'm not going to lose this [expletive] game! Give me the [expletive] Twos out there. Finish the [expletive] job!
"We're leaving the Twos out there if we have to. Finish the game. I don't give two [expletive]. Some of those guys can't play dead in a B western."
Washington, for example, went from having an "X" next to his name to receiving a game ball for a jarring hit on punt coverage and strong running.
February, 26, 2010
2/26/10
5:53
PM ET
INDIANAPOLIS -- The
New York Jets
have downsized their drafts in recent years, dealing picks to trade up and procure players they wanted especially.
They selected a grand total of three players a year ago and 13 players over the past three years.
At some point, don't they need to have a healthy draft class to fortify the team's depth?
General manager Mike Tannenbaum doesn't think so.
"That would be the case, but we have such a talented scouting department," Tannenbaum said.
Vice president of college scouting Joey Clinkscales and senior personnel executive have identified contributors who were overlooked by other teams.
"We've added guys who are maybe not household names like [defensive tackle] Mike DeVito and [linebacker]
Jamaal Westerman
," Tannenbaum said. "We have a lot of young guys who we really like, who have really helped us."
Tannenbaum also pointed to the acquisition of receiver
David Clowney
and running back
Chauncey Washington
from the
Green Bay Packers
' and
Dallas Cowboys
' practice squads, respectively.
Tannenbaum certainly would've preferred to mention more significant names than those. Clowney had 14 catches for 191 yards and one touchdown. Washington joined the team last year with three games left and was deactivated for each one.
Tannenbaum contended the Jets aren't forced to amass picks, or have a bloated class like they did in 2006, his first year as GM. They selected 10 players, three of whom have made a Pro Bowl. Seven started at least one game last year.
"Because of those other avenues to improve the team," Tannenbaum said, "that has complemented the fact we haven't had a lot of picks."
When the Jets have dealt draft picks to move up in the order, their decisions have worked out. They traded up last year to get quarterback
Mark Sanchez
and running back
Shonn Greene
. In their four-man class of 2007, they twice traded three picks for two picks to move up and select cornerback
Darrelle Revis
and linebacker
David Harris
.
"When you trade up, you trade away valuable resources, and there is no guarantee on any of these guys," Tannenbaum said. "But you'd better be as close to pretty darn sure as you can. Fortunately for us, we had real organizational conviction in those situations be it Mark or Shonn last year or Revis or David Harris. We felt really strong.
"You have to make those value judgments of 'Is this price reasonable?' because to give up picks in our system is a heavy lift. Every situation is unique. We actually have traded back a few times, but no one ever seems to talk about that. Every situation is unique, but I fall back to we have a great college scouting staff that gives me good information."
January, 24, 2010
1/24/10
2:23
PM ET
INDIANAPOLIS -- No surprises among the
New York Jets
' list of inactives for the AFC Championship Game.
The biggest name is
Indianapolis Colts
right cornerback
Jerraud Powers
, who was downgraded to doubtful Saturday night.
New York Jets
Indianapolis Colts
January, 17, 2010
1/17/10
3:48
PM ET
January, 9, 2010
1/09/10
3:25
PM ET
CINCINNATI -- It's warmer here in Paul Brown Stadium than it was six days ago in the Meadowlands.
Still, my blood turned to slush on my walk from the parking garage to the press box.
A handful of players are milling about on the field to get ready for the 4:30 p.m. kickoff, but not as many as you'd usually see about 90 minutes before kickoff. The game forecast is for a wind chill of 14 degrees, but only a 10 percent chance of snow.
The field appears to be in decent shape. Snow encrusts the bottom rim of the stadium floor where it meets the stands. But the playing surface appears to be free of ice.
Referee Bill Leavy's crew has drawn the assignment.
A quick look at the 2009 officiating ledger shows Leavy's crew has called 188 penalties, fifth-fewest among the NFL's 17 crews. Nothing unusual jumps out about the types of calls from Leavy and his men. Offensive holding (36) and offsides (31) led the way, as you would expect. They called defensive pass interference 10 times.
Here are the inactives for the game:
New York Jets
Cincinnati Bengals
January, 3, 2010
1/03/10
7:34
PM ET
EAST RUTHERFORD, N.J. -- The
Cincinnati Bengals
are going to rest at least one key starter Sunday night against the
New York Jets
.
The Bengals have scratched running back
Cedric Benson
and named rookie
Bernard Scott
the starter. The Bengals also have
Larry Johnson
. Benson rushed for 1,251 yards and six touchdowns this year and is a candidate for NFL Comeback Player of the Year.
Cincinnati Bengals
New York Jets
August, 6, 2009
8/06/09
7:56
AM ET
Posted by ESPN.com's Paul Kuharsky
JACKSONVILLE, Fla. -- There is no denying Jack Del Rio has a fondness for Greg Jones. The fullback is one of the coach's guys.
Some people see it and understand. Others are puzzled.
| | |
| --- | --- |
| | |
| | Fernando Medina/US Presswire |
| | Despite just two carries last season, Greg Jones may be in line for more touches in 2009. |
But part of the decision to let Fred Taylor go and move Maurice Jones-Drew to the lead running back position also included some confidence that the team had alternatives for additional carries starting with Jones, who's averaged just less than 4 yards a touch in his four seasons. (He missed 2006 with a knee injury.)
"When we brought Greg in, we knew we got a terrific college runner with size and we thought the makeup to be a Pro Bowl-type fullback and be a little bit like [former Buccaneer Mike] Alstott in that we think late in games he could really wear on people," Del Rio told me in June. "He's physical and can close things out, can become more of a presence. With Maurice and Fred both, there really weren't the carries for him.
"He's a great athlete, he's very unselfish and I believe in him. I just believe he's a good football player and he's the right kind of guy. But he's got to fight to be the best guy, we're not going to hand anything to anybody."
Rookie Rashad Jennings could earn some carries. He's done a lot to win over coaches, teammates and the press since coming in as a seventh-rounder out of Liberty.
August, 30, 2008
8/30/08
1:11
PM ET

NFL SCOREBOARD
Sunday, 12/28
WEEKLY LEADERS