NFL Nation:

Cheta Ozougwu
November, 10, 2013
11/10/13
7:30
AM ET
Here's a look at five things to watch for Sunday when the Bears host the Detroit Lions for first place in the NFC North:
Jay Cutler's mobility:
When the Bears host the Detroit Lions, 21 days will have passed since Jay Cutler tore a groin muscle in the team's loss to the
Washington Redskins
. So Cutler's potential mobility against Detroit's formidable pass rush has to be a concern, even though the quarterback and the club say otherwise.
Cutler
"[The Lions] do a good job," Cutler said. "We've done enough to test where I'm at. I feel good, got a lot of trust in the offensive line and the way they're playing right now. Can't worry about that. Once you get in the game, it's just reactionary stuff. Your brain's not gonna be able to say, 'Hey, alright, I want you to step right.' It just happens. We tried to mimic that as much as possible [in practice]. I thought we did a good job of that. I feel ready."
Look for the Bears to try to help out Cutler by putting him in plenty of shotgun formations so he won't put strain on that groin muscle with constant dropbacks from under center.
Front seven's run fits:
Bears defensive coordinator Mel Tucker attributed the team's inability to hold down
Reggie Bush
(139 yards and a touchdown) in the last meeting to poor tackling and improper run fits. So Tucker is stressing better tackling out in open space, which is where Bush thrives, not to mention a swarm-the-ball mentality.
"We didn't tackle him. No. 1, we didn't fit the run well, and No. 2, he played exceptionally well," Bears coach Marc Trestman said. "He made people miss. We've got to do a better job this time of working this week to try to neutralize him."
The defensive line needs to stay in their gaps, and the linebackers need to make sure to fill accordingly. Rookies Jonathan Bostic and
Khaseem Greene
have struggled recently with leveraging blocks, which won't help the Bears in their attempt to stop Bush. So they've spent time this week working to improve in that area. But it all starts with the club's injury-depleted front four.
"We have guys who are injured, just like everybody in the league has guys who are injured," Trestman said. "We have no excuses. We have to go out there and try to stop him. It's never easy when you're at full strength, so we have to make it a point of interest this week, and No. 1 is to neutralize Reggie and minimize his ability to get big plays in the run game."
Pass rush:
Chicago's front four took a major step in the right direction with its five-sack outing Monday night at Green Bay, but there's a good chance the club's sack leader from that game won't play Sunday against the Lions. Coming off a three-sack game against the Packers, second-year defensive end
Shea McClellin
suffered a hamstring injury during Thursday's practice and is doubtful for the matchup with the Lions. That means the Bears need potential replacements such as
David Bass
and
Cheta Ozougwu
to step in and pick up the slack.
Julius Peppers
needs to do the same.
"We have guys that have talent and [have] put a lot of hard work and effort with that, and eventually guys are going to break through. So I think that's what you saw [against the Packers]," Tucker said.
But can the Bears produce that type of performance again this week with sole possession of the division lead on the line?
Rushing attack:
The last time these teams met, the Lions jumped out to a 30-10 second-quarter lead and immediately forced the Bears into passing mode, thus eliminating the prospects for
Matt Forte
getting into a flow. Forte rushed 14 times for 95 yards, including a 53-yard touchdown in the second quarter before the Lions erupted for three TDs in the final 3:26 of the first half. So the Bears could help themselves tremendously by using Forte to dictate the flow of the game early, which will also enable the passing attack to have success with play action.
Forte
Surely, the Bears learned the importance of ball security from their first matchup against the Lions, when Cutler contributed to the loss with four turnovers, including a fumble returned for a TD.
"Anytime you see a team for the second time, you have a better feel for how much strength you have against a guy, how much technique you're going to need against someone," Bears offensive coordinator Aaron Kromer said. "Just as you go from the first drive of a game to the second; 'I can do this more than I thought on tape watching him against someone else.' But they're also familiar with us."
Special teams:
Punter
Adam Podlesh
finished with a season-low 28.8-yard net average in the first matchup between these teams, and he hit a line-drive punt in that contest that
Micheal Spurlock
returned 57 yards to set up a
Matthew Stafford
touchdown run. The game nearly cost Podlesh his job.
"I think Adam's been consistent really since that time," special teams coordinator Joe DeCamillis said. "He's really picked his game up. He made some slight changes, and it's helped him. I'm glad he's going in the right direction."
That needs to continue against the Lions.
DeCamillis said the Bears played the kind of game Monday night where "we had 11 out there, but 10 guys played a lot of plays," which is unacceptable. The team's punt protection also allowed a blocked punt against the Packers.
"When you look back at the film, it wasn't just that punt," DeCamillis said. "There was kickoff return yardage that was left out there where there is one guy sitting in the hole because somebody gets beat. We've got to get all 11 going at the same time, and that was obviously critical during this past week."
It'll be the same Sunday unless the Bears resolve those issues.
August, 26, 2013
8/26/13
2:53
PM ET
LAKE FOREST, Ill. -- The
Chicago Bears
returned to the field to resume workouts Monday, but continued to hold out defensive tackle
Henry Melton
and receiver
Earl Bennett
as the duo works through the steps of the concussion protocol to return to the field.
Melton and Bennett attended the session inside the Walter Payton Center during the portion of practice open to the media, but it appears neither has been cleared to return to activity. Considering the starters aren't likely to play much, if any, during the preseason finale against Cleveland on Thursday, there's no rush for Melton and Bennett to return to the field.
"Henry is into (the) running (phase of the concussion protocol). Earl is day-to-day," coach Marc Trestman said. "I know he was with some of the medical people this morning, I haven't checked. Henry ran today. He's going to run tomorrow and Wednesday and pick up that running significantly. That's where he is at this point."
However, the Bears have already begun preparations for the regular-season opener against the
Cincinnati Bengals
on Sept. 8, and the week leading into that outing would seem to be the target date for Melton and Bennett to rejoin the team for workouts.
As the club's franchise player, Melton has already solidified his status as a starter. Bennett, meanwhile, is competing with
Joe Anderson
,
Eric Weems
,
Terrence Toliver
and rookie
Marquess Wilson
for one of the receiver spots behind
Brandon Marshall
and
Alshon Jeffery
. Bennett hasn't practiced with the team since suffering the concussion on Aug. 3 at Soldier Field after a hard hit from safety
Chris Conte
.
Melton suffered his concussion in the first game of the preseason at Carolina.
In other injury news, the team held out quarterback
Matt Blanchard
(hand), linebacker
D.J. Williams
(calf), offensive tackle
Jonathan Scott
(knee), defensive tackle (
Corvey Irvin
) (ankle) and cornerback
Zack Bowman
(hamstring).
Fullback
Harvey Unga
(ribs), defensive end
Cheta Ozougwu
(hamstring), and long snapper
Patrick Mannelly
returned to the practice field Monday after missing last week's game at Oakland.
May, 12, 2011
5/12/11
3:07
PM ET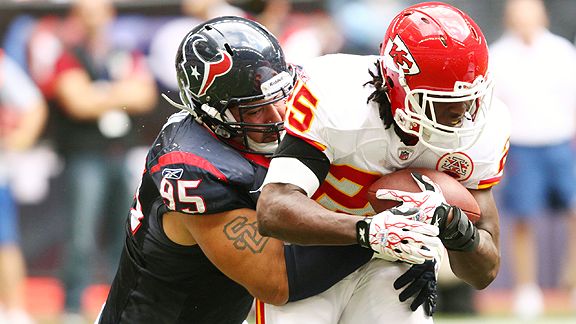 Thomas Campbell/US PresswireShaun Cody is confident he can play nose tackle in Houston's 3-4 defense.
Shaun Cody
's got a stable full of doubters, but the faith of one key person.
He understands the former and intends to prove himself worthy of the latter.
How is the seventh-year defensive tackle who's "just" 304 pounds going to man the nose in Wade Phillips' 3-4 front?
Fans and analysts are skeptical, but Phillips has repeatedly pronounced that Cody and second-year man
Earl Mitchell
will be fine in the nose tackle spot, a key to most 3-4s.
"When you hear 3-4 defense, the thing that pops in your mind is you want a big, huge, mountain of a guy who's 350, 350-plus in the center of it," Cody said. "That's what I thought until I heard how Wade Phillips wants to do it, how he's had undersized guys before. That's what gave me the confidence about the kind of role I'll be in.
"There are always going to be naysayers and guys who want a change. But I think Earl and I will be good for the job and we'll hold it down for them."
Phillips is charged with revamping a defense that ranked dead last (268 ypg) against the pass in 2010 and gave up 74 points more than the league average.
He got a defense-heavy draft class that didn't include a nose tackle and initially cast
Mario Williams
as Bruce Smith (who Phillips coached in Buffalo) at defensive end, but now has Williams as a weak outside linebacker with the hope he will become
DeMarcus Ware
(who played for Phillips in Dallas).
Recently, in clarifying how the outside linebackers will be deployed, Phillips said it will function more like a 5-2. That's a scheme that will put a strain on the corners, a topic for another column.
There is, at this point, an element of mystery about what Phillips' defense will look like with his Texans personnel. One coach told me he expects it will amount to an "under" defense with a four-man line, with Williams always standing up on the open end of the line. If that's the case then identifying the fourth rusher, the big challenge in facing a 3-4 scheme like Pittsburgh's, won't be a mystery with Houston and Williams.
Both Cody (who was listed at 6-foot-4, 304 pounds last season) and Mitchell (6-3, 291) will be looking to show the system can work with a less-than-giant nose guard. It will be more of an adjustment for Mitchell, who started his college career at Arizona as a fullback before moving to defense. Cody won't see a great change from the way he lined up in last season's 4-3, and he and Mitchell will not be responsible for two gaps the way monster defensive tackles in many 3-4s are.
"I've had huge nose guards," Phillips said after the Texans' recent golf tournament. "They've all played different techniques because of what their body type was and what they could do well.
Greg Kragen
, who was in the Pro Bowl in Denver, was smaller than the guys we have now. I know the league is bigger now. But he was one of the smaller guys and he played it really, really well.
"Cody actually played the technique that we play with our nose quite a bit last year in some of the under defense they ran and played it well."
During a break in his day in Southern California earlier this week, Cody said he understands his role and his niche. He was part of the Detroit team that didn't win a game in 2008. As a free agent following that season he visited New Orleans and Houston before signing with the Texans.
"I think and I hope I'm known for stopping the run," he said. "I've played predominantly on first and second down and I think I've done a good job of it and I think that's one of the reasons they wanted me back …
"Every guy wants to rush the passer and I'd love to help more with that. But we have a great bunch of pass rushers on this team. I'm a team guy first. I know that D-linemen love rushing the quarterback and I love rushing the quarterback, too. But to be on a team where you can have a role on it, I love filling out that role."
In discussing Cody and Mitchell, Phillips has also talked of
Jay Ratliff
, his undersized nose tackle in Dallas.
Mitchell actually has common friends with Ratliff and plans to talk with him soon, picking his brain. But Ratliff won't be able to pass along to Mitchell his super-violent hands, a key to Ratliff's effectiveness.
"I'll ask him what goes into being productive in this defense and about what I can expect," Mitchell said. "He knows Wade Phillips and he understands what he wants to get done in this defense. It's my first time playing 3-4 and I want to understand the best way to be a productive part of the team. I've watched a lot of his film, I think I can do a lot of things that he does. It gives me a good sense of the defense coming this year."
Both Cody and Mitchell met Phillips briefly before the lockout, and the new coordinator was able to convey his confidence in them. While Phillips' vision for Williams has evolved, his approach to the middle of the defensive line has not.
Cody, who was heading for his second tour of unrestricted free agency, was one of the handful of players around the league who got a new contract before the labor impasse reached a boiling point.
Phillips has not been on the field for work with either player. He saw enough on tape, though, to tell coach Gary Kubiak and general manager Rick Smith they could spend draft picks on other spots, and the team got defensive end
J.J. Watt
, linebacker
Brooks Reed
, cornerbacks
Brandon Harris
and
Rashad Carmichael
, safety
Shiloh Keo
and linebacker
Cheta Ozougwu
.
Both Cody and Mitchell said they appreciate Phillips' faith, and are determined to show he was right to have it.
"It's a big deal for me," Mitchell said. "I feel honored. I have a great deal of respect for the man and just being able to be mentioned, going into just my fourth year ever playing defensive tackle, it gives me a good feeling. I have to go out there and prove him right …
"A lot of people are skeptical. But I know the player that I am. I don't buy into what people are saying. I don't really listen to critics. All the stuff people are saying, that's the stuff that motivated me to get into the NFL in the first place. I know what I can do as a player. I'm going to show my motor, keep playing."
Said Cody: "My whole career I've been in a 4-3 and I've always wondered what I could do in a 3-4, what kind of player I'd be in that system. It's exciting. Hopefully I can prove I can play in any system and be a good football player."
April, 30, 2011
4/30/11
10:30
PM ET
By
ESPN.com staff
| ESPN.com
With the final pick of the 2011 NFL draft, the Houston Texans selected
Cheta Ozougwu
, defensive end, Rice.
NFL SCOREBOARD
Sunday, 2/2
WEEKLY LEADERS