NFL Nation:

Chiefs-Broncos 010310
January, 3, 2010
1/03/10
11:50
PM ET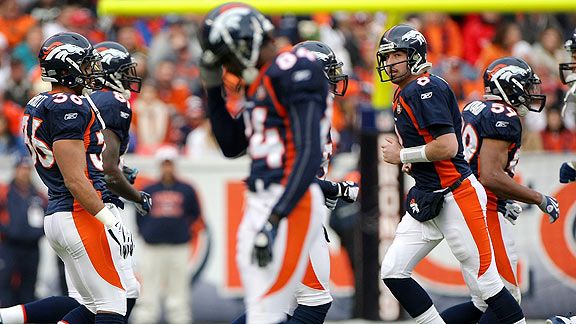 Doug Pensinger/Getty ImagesThe Broncos finished a disappointing season out of the playoffs after starting 6-0.
DENVER – The
Denver Broncos
handled one thing right after their Week 7 bye and it came in the moments after their tumultuous season ended Sunday.
They were crushed. And they should be.
There is no doubt Denver – which played Sunday without benched Pro Bowl receiver
Brandon Marshall
and tight end
Tony Scheffler
-- is feeling the sting of its colossal collapse. Many players had tears in their eyes. Many said the nosedive cannot be tolerated.
After getting help in the AFC playoff hunt in the early games Sunday, Denver could keep its playoff hopes alive with a win over the 3-12
Kansas City Chiefs
, who hadn't won in over a month. But the Chiefs were the team that played with urgency. Kansas City put together its best game of the season and punched the host Broncos in the mouth,
44-24
. Spectacular second-year running back
Jamaal Charles
ran for a franchise high 259 yards on 25 carries and linebacker
Derrick Johnson
tied an NFL record with two interceptions returned for touchdowns.
"It was embarrassing," Denver defensive end
Vonnie Holliday
said. "Embarrassing."
It was a fitting end into a terrible 10-week stretch for Denver.
Denver started the season 6-0. But it lost eight of its final 10 games to finish 8-8. It is the third team since the merger to not make the playoffs after starting 6-0. Denver had a 3.5 game lead over San Diego after Week 6. It is the first team in NFL history to not make the playoffs after having a 3.5-game lead. Had Denver beaten Oakland and Kansas City (they combined for nine wins this season) in its final two home games, it would have gone to the playoffs for first time in four seasons. Instead, the Broncos will have to spend the winter fretting over the lost opportunity.
That isn't the only issue in Denver, though. The season ended with serious upheaval.
On New Year's Day, Denver rookie coach Josh McDaniels dropped a major bombshell by indicating that Marshall and Scheffler would be benched against the Chiefs for accountability reasons.
ESPN's Ed Werder reported
Sunday that Marshall was benched for being late to a therapy session Thursday to treat a hamstring injury the team thought he was exaggerating. Marshall had 101 catches in 15 games and was named to his second Pro Bowl team last week. Werder reported Scheffler was benched for openly saying he couldn't wait for the team's season to end. Neither Marshall nor Scheffler was seen with the team Sunday.
After the game, McDaniels didn't address the issue.
Some players did, though. Safety
Renaldo Hill
said "we have to back the coach" on the decision. Team leader
Brian Dawkins
said Marshall and Scheffler's absence in the biggest game of the season had no factor on the outcome of the game. Holliday did say this: "We still are an immature team."
The season ends in Denver with the same discord in which the McDaniels' era began. Denver dominated NFL headlines when McDaniels feuded with, and then traded, Pro Bowl quarterback
Jay Cutler
after McDaniels flirted with the idea trading Cutler for
Matt Cassel
, who starred for McDaniels in New England last season. Ironically, Cassel contributed in knocking Denver out of the playoffs Sunday.
Perhaps this offseason will not be as dramatic as last year in Denver, but expect McDaniels to continue to try to mold the roster to his liking. There is likely little chance Marshall or Scheffler returns. It would be very difficult for either player to be brought back under these circumstances. Both players likely will be restricted free agents.
This is the third time in the past four seasons that Denver lost on the final day of the season with their playoff hopes still alive. Last year, Mike Shanahan was fired after 14 seasons when Denver lost a three-game lead in the final three weeks of the season.
McDaniels made a very pointed comment Sunday. He said he has to find the "common denominator" in the recent collapses.
That clearly means more members of the old regime could be on their way out. Thus, it wouldn't be a surprise if some of remaining staff members from Shanahan's regime or some of holdover players from Shanahan's days are not brought back.
"I'm not going to be dramatic about it," McDaniels said. "I wish we were playing next week, but we didn't play well enough to deserve that opportunity. There's no question about that. The last four weeks we didn't earn the right to continue to play in this league into the playoffs. We've got a lot of work to do and there's definitely going to have to be some things that change. We can't just go back and do the same thing."
After the 10-week collapse and the player-coach discord, Denver can't go into this offseason believing major progress has been made. This is not a good time for the organization.
Yes, there are many positive attributes about McDaniels, 33. He has the makings of building a good program, but the way this season ended cannot be overlooked.
In the end, there isn't much different from the way this season concluded than last, other than the fact that the head coach is coming back. There is still plenty of work to be done in Denver.
January, 3, 2010
1/03/10
7:44
PM ET
DENVER -- The
Denver Broncos
just completed one of the worst collapses in NFL history -- for the second year in a row.


Denver's embarrassing effort Sunday sealed an 8-8 record and eliminated them from the playoff race. Denver got help from other teams around the league Sunday. But the Broncos couldn't help themselves.
Denver started the season 6-0. But it lost eight of its final 10 game. It is the third team since the merger to not make the playoffs after starting 6-0. Denver had a 3.5 game lead over San Diego after Week 6. It is the first team in NFL history to not make the playoffs after having a 3.5-game lead.
Mike Shanahan was fired last year after Denver blew a three-game lead with three games to go. Josh McDaniels' first season as coach ended similarly, but don't expect McDaniels to be fired.
Kansas City deserves a lot of credit for finishing the season strong. This was Kansas City's best game of the year. It should halt any talk that first-year coach Todd Haley is in trouble.
Jamaal Charles
showed the future is bright in Kansas City as he ran for a team record 259 yards.
January, 3, 2010
1/03/10
7:20
PM ET
DENVER --
Jamaal Charles
is having an incredible game.
He just had a sensational 56-yard touchdown run to give the Chiefs a 44-24 lead over Denver, which is seeing its playoff hopes die.
Charles broke the Chiefs' franchise single-game rushing record with the run and has 259 rushing yards. The previous high was 211 yards by
Larry Johnson
.
When Johnson was cut in November, it opened the door for Charles' 1,000-plus yard season.
January, 3, 2010
1/03/10
7:11
PM ET
DENVER -- Kansas City linebacker
Derrick Johnson
tied an NFL record with his second interception return for a touchdown Sunday.
Both of Johnson's returns have come in the second half. Kansas City is leading Denver 37-24 with eight minutes to go, and Denver's playoff hopes are in major jeopardy.
There have been several outstanding individual performances in this game. In addition to Johnson's feat, Kansas City running back
Jamaal Charles
has 197 yards on 23 carries. Denver's
Jabar Gaffney
has 12 catches for 187 yards.
January, 3, 2010
1/03/10
5:55
PM ET
DENVER -- Is
Brandon Marshall
's single-game receiving record in jeopardy?
In a situation with many twists, Denver receiver
Jabar Gaffney
has 10 catches for 145 yards. The game is tied 10-10 at halftime.
Gaffney is starting because Marshall was deactivated by the team because of accountability issues. Last month, Marshall set the NFL record with 21 catches (he had 200 yards) against Indianapolis.
Like Marshall -- who had 101 catches in the first 15 games -- Gaffney is the clear focal point of Denver's attack Sunday. Even without Marshall, Denver is using the same spread attack. Gaffney is Marshall on Sunday and Marshall's record could be in jeopardy as a result.
January, 3, 2010
1/03/10
5:36
PM ET
DENVER -- Kansas City running back
Jamaal Charles
is, once again, showing he is ready to be the centerpiece of the Chief's offense next season.
Charles has 109 yards rushing on seven carries and it's not even halftime. It is Charles' fourth straight game with at least 100 yards rushing. He needs 30 yards to reach the 1,000-yard mark. Kansas City is leading 10-7 with five minutes to go in the first half.
The second-year player from Texas has been dynamic after the Chiefs cut
Larry Johnson
. The Kansas City season has long been lost, but Charles is showing the team it has a bright future at running back.

NFL SCOREBOARD
Thursday, 8/21
Friday, 8/22
Saturday, 8/23
Sunday, 8/24