NFL Nation:

Chiefs-Chargers 112909
November, 29, 2009
11/29/09
10:52
PM ET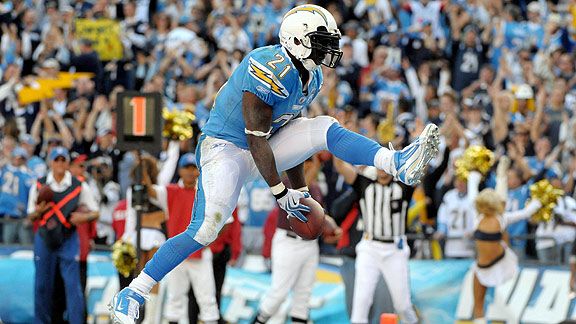 Kirby Lee/US PresswireLaDainian Tomlinson had touchdown runs of 1 yard and 3 yards against the Chiefs.
SAN DIEGO --
LaDainian Tomlinson
's days as a great running back are probably behind him. His days as a San Diego Charger may be numbered as well.
But as the Chargers continue to show that they intend to be a team to be reckoned with in January, Tomlinson still has a significant role. It may not be as a game-breaker anymore. But Tomlinson, 30, is still the most dangerous and the most used player in the NFL at the goal line.
When San Diego settled down near the goal line in their
43-14 pummeling
of the sloppy and overmatched
Kansas City Chiefs
on Sunday, everyone in the house knew what the Chargers were going to do.
The entire stadium started to chant, "L.T., L.T., L.T."
And the ball went to Tomlinson. Tomlinson scored on runs of 1 yard and 3 yards. He tried to get another touchdown, but he was stripped of the ball at the goal line in the fourth quarter. The Chargers challenged the close call, but they were denied.
According to ESPN Stats & Information, Tomlinson leads the NFL with 26 goal-line touches. He has seven touchdowns at the goal line, which is also a league high.
Even though he had only 39 yards on 13 carries Sunday, his work near the goal line shows Tomlinson is still a big part of this team. He said he was motivated when he was introduced as part of the franchise's 50th anniversary team prior to the game. Eleven current Chargers are on the team.
This is far from Tomlinson's last honor. Tomlinson is probably headed to the Pro Football Hall of Fame. He moved into 10th place on the all-time rushing list Sunday with 12,257 yards.
"It was a special day," Tomlinson said.
Tomlinson is on pace for the least productive season of his nine-year career. He has 458 yards on 135 carries and is averaging 3.4 yards per carry, which would be a career low if the season ended today.
It took Tomlinson and the Chargers several weeks to agree on a restructured contract to ensure his return in 2009. There is a good chance San Diego will decide to part ways with Tomlinson after this season.
Although Tomlinson's golden days in San Diego may only be a memory, he continues to show he can produce when it counts.
The following are other key aspects of Sunday's game:
San Diego keeps charging:
San Diego is one of the hottest teams in the NFL as its enters December, which has been Charger-friendly in recent years.
San Diego has won six straight games. It is 8-3 and leads the 7-4 Broncos by one game in the AFC West. San Diego, which plays at Cleveland next week, has two games remaining with teams with winning records. The Chargers look poised to make a run at the No. 2 seed in the AFC playoffs and a first-round bye.
The win over Kansas City gave San Diego a 5-1 record against AFC West opponents as it finished division play. The Chargers' only blemish was a home loss to the Broncos, which San Diego avenged last week with a
32-3 win
in Denver.
San Diego has registered back-to-back 29-point wins. During San Diego's six-game win streak, it has outscored opponents by 105 points.
The Chargers are smoking into the final stretch, which is good news for them, because they always play well in December. Quarterback
Philip Rivers
is 14-0 as the Chargers' starter in December. The team is 9-0 under coach Norv Turner in the month.
San Diego plays relentless defense:
The San Diego defense has been terrific during its winning streak. It has allowed an opponent more than 20 points just once during the streak. San Diego has surrendered a total of 17 points in the past two games.
[+] Enlarge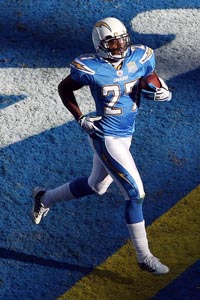 Donald Miralle/Getty ImagesPaul Oliver returned a fumble for a touchdown against the Chiefs.
Pressuring the quarterback has been a big part of the Chargers' defensive success. San Diego made Kansas City quarterback
Matt Cassel
uncomfortable all game. The Chargers had one sack, but Cassel was pressured into throwing an interception and he lost one of two fumbles. The lost fumble was returned by San Diego safety
Paul Oliver
for a touchdown.
"I think we're really playing well as a defense," San Diego cornerback
Quentin Jammer
said. "The pressure is a big key."
Charles and Chambers continue to shine:
The reason there is hope for the 3-7 Chiefs is that their two best offensive weapons are still just getting acclimated.
Second-year running back
Jamaal Charles
had 93 yards on 14 carries. Receiver
Chris Chambers
continued to shine with a team-high seven catches for 70 yards and a 7-yard touchdown catch against his former team.
Charles has taken over this month as the Chiefs' top back in the aftermath of
Larry Johnson
's release. Charles is a game-breaker who looks like he could have a future in Kansas City.
Chambers has been fantastic for the Chiefs in the four games since the team claimed him off waivers earlier this month from San Diego. Chambers has 17 catches in four games and he looks like Cassel's favorite target.
When
Dwayne Bowe
returns from a four-game NFL suspension in two weeks, he will have some work to do to reclaim being the Chiefs' top receiver.
November, 29, 2009
11/29/09
8:30
PM ET
SAN DIEGO --- After the Chargers'
43-14
win over Kansas City, linebacker
Shaun Phillips
clarified his role, to ESPN.com, in the verbal spat with Josh McDaniels. He apologized to the Denver coach for his words, which he said were misinterpreted.
Phillips said he wasn't trying to threaten McDaniels.
"I said 'We're going to beat that (rear end),' " Phillips said. "I meant it by our team, not me. I meant we're going to win. In no way was I threatening or challenging him personally. I'm sorry if he felt that way. I respect him. It's up to him to accept my apology."
Phillips said he has moved on from the situation.
"It's so last week," Phillips said.
November, 29, 2009
11/29/09
7:11
PM ET
SAN DIEGO --- The
San Diego Chargers
wrapped up their AFC West divisional play for 2009 in grand style.


The Chargers completely manhandled the Chiefs. The undermanned Chiefs stuck around in the first quarter, but the Chargers exploded in the second quarter with 21 unanswered points. The Chargers continued the beat down in the second half.
The Chargers finished their AFC West slate with a 5-1 record. Their only blemish was a home loss to the Broncos, which San Diego avenged last week with a 29-point win in Denver.
San Diego has registered back-to-back 29-point wins. In San Diego's six-game win streak, it has outscored opponents by 105 points. San Diego has outscored Kansas City 73-21 this season.
The Chargers are 8-3 and lead Denver by one game going into the final month of play. The Chargers, who play at Cleveland next week, have been excellent in December under the guidance of coach Norv Turner and the leadership of quarterback
Philip Rivers
.
San Diego looks poised to make a push for the No. 2 seed in the AFC playoffs and a first-round bye.
Kansas City dropped to 3-8 and saw its two-game win streak (its longest in two-plus seasons) end. The Chiefs did some nice things early, but they just couldn't keep up with the surging Chargers.
November, 29, 2009
11/29/09
5:51
PM ET
SAN DIEGO --- Halftime notes where the Chargers are handling the Chiefs, 28-7:
The Chiefs were in the game, but the Chargers scored 21 unanswered points in the second quarter. The rout was on when Kansas City quarterback Matt Cassel let a ball slip out his hands. San Diego safety Paul Oliver caught the ball and brought it back for a touchdown to give San Diego a 28-7 lead.
LaDainian Tomlinson has had more goal-line carries than any player in the NFL this season and he scored his sixth touchdown near the goal line Sunday. Tomlinson is now ninth in the NFL in all-time rushing yards.
San Diego tight end Antonio Gates is fourth in the all-time list for touchdowns by a tight end with 55.
San Diego safety Eric Weddle returned to the field after missing some time with a knee injury. San Diego linebacker Shawne Merriman (foot) left the game in the second quarter. He is questionable to return. He has been dealing with the injury for weeks. With San Diego leading big, Merriman may not return.
Oliver was called for another facemask penalty. He could be fiend or the second in a week for the infraction. He was fined $5,000 by the league for a face-mask penalty against Denver last week.
Kansas City running back Jamaal Charles has 71 yards on eight carries.
Former San Diego receiver Chris Chambers has five catches for 47 yards and a touchdown for Kansas City.