NFL Nation:

Chip Kelly to the Eagles
January, 16, 2013
1/16/13
5:00
PM ET
Jeff McLane of the Philadelphia Inquirer has
a lot of good background information
on the
Philadelphia Eagles
' hiring of Chip Kelly as their new head coach, including this:
Kelly favors an aggressive, attacking-style defense and will likely change the Eagles' scheme from a 4-3 to a 3-4, a source familiar with the coach's thinking said.
Well, that's interesting, no? And the way the Eagles played defense this year, it's hard to argue against change, even if it's for change's sake. But my first reaction is that I don't think the Eagles have the personnel to make this switch, and that it would require an even more drastic defensive rebuild than the one that faces them now.
Right now, they need to fix the secondary, but they have an excellent, deep, athletic 4-3 defensive line as well as a couple of good linebackers in
DeMeco Ryans
and
Mychal Kendricks
. If they switch to a 3-4, they need to evaluate what they have at all three levels of the defense, and here's what I think they'd find at the first two:
Defensive line:
It's easy to see
Fletcher Cox
and
Cullen Jenkins
as good 3-4 defensive ends, but they'd need a nose tackle. It's possible
Antonio Dixon
could be that, or they could draft Utah's Star Lotulelei with the No. 4 pick, but it would become a significant area of need if the Eagles did in fact make the switch.
Linebackers:
Personally, I like the idea of
Brandon Graham
as a stand-up outside linebacker and I think Kendricks fits the mold of a fly-around inside linebacker in a 3-4, assuming he develops some. But I don't see
Trent Cole
making the transition to stand-up outside linebacker very smoothly. And Ryans, who was their best defensive player in 2012, was just traded from Houston a year ago because he didn't fit anymore after they switched to a 3-4 and the Eagles saw him as a prototypical middle linebacker in a 4-3.
The problem here, as Scouts, Inc.'s Matt Williamson said when I asked him about this, is that a switch to a 3-4 doesn't really benefit any of the Eagles' current defensive players. Sure, some of them (such as Cox and Graham) could make their transitions, but it's hard to see how any of them would thrive as a result of the change. And if that's the case, that means the Eagles are going to spend this offseason and likely the next one trying to figure out which pieces fit and which spots require them to find replacements. Feels like a major project that would require time and patience, and that's not always something NFL fans and franchises are willing or able to offer.
Who will run it? NFL Network raised the names of Georgia's Todd Grantham and Florida's Dan Quinn as potential Eagles defensive coordinators under Kelly, and Adam Schefter says he's heard both as possibilities. Whoever it is will have a significant responsibility to rescue a defense that flopped more or less completely in 2012, and his ability to do that will go a long way toward determining whether Kelly's tenure in Philadelphia is a success.
January, 16, 2013
1/16/13
2:26
PM ET
Contrary to our best efforts and boldest assertions, none of us can see into the future. Only his eventual win-loss record will decide whether Chip Kelly is a good hire for the
Philadelphia Eagles
. Ultimately, as his predecessor can tell him, the legacy of this move will depend on whether Kelly can win the Super Bowl. Kelly inherits a wide range of questions, from the identity of his quarterback and his defensive coordinator, to his own ability to lead and innovate at the professional level as effectively as he did in college. You're going to hear and see and read a lot of speculation in the coming days on whether Kelly is up to this task and how successful he will be, but it's important to remember that no one actually knows.
But within the confines of the current moment, Kelly is a great hire for the Eagles. Putting aside all we cannot possibly know about how he'll actually do and focusing on right now, it's hard to imagine how they could have done any better. The hiring of Kelly is a triumph of persistence by the organization, and news about which its increasingly disgruntled fan base has good reason to be excited.
Kelly was the Eagles' top choice all along, and they put a serious push on him two weekends ago when they went out to Arizona to interview him in the wake of Oregon's victory in the Fiesta Bowl. The next day, he told them he was staying put at Oregon, and they moved on to a slate of somewhat uninspiring candidates. Sure, you could get yourself fired up about the idea of Seattle defensive coordinator Gus Bradley as an up-and-comer who would make them take defense seriously. But that was about it, and Eagles fans were braced for the possibility that the team would announce someone like Lovie Smith or Ken Whisenhunt -- former NFL head coaches who were solid but not spectacular in their previous stops. This would not have felt bold or visionary. It would have felt safe, and unsatisfying. And that is not what the Eagles wanted to do. So rather than settle, they went back and did what it took to get their guy.
Now, don't get me wrong. I believe this is a football decision by the Eagles first and foremost. I am confident that Jeffrey Lurie and Howie Roseman have selected the man they believe is right to lead their team into the post-Andy Reid future, and that public relations was not the most important thing on their minds when they decided to go back and do whatever they did this week to convince Kelly to change his mind. But if you think P.R. is no factor at all, then you haven't been paying attention to the Eagles the past couple of years.
There are people around the league who will tell you that Lurie has grown increasingly befuddled in recent years about the way his fan base views the team. A team that has averaged 10 wins a year and made the playoffs in nine of the past 13 seasons has nonetheless engendered strongly negative feelings among its own fan base. Eagles fans grew weary of Reid's aloof public persona and his inability to deliver a championship, as well as what they perceived as complacency by Lurie, because he wouldn't make the change they wanted him to make. Lurie believes he's running one of the best franchises in the league and doesn't like the idea that the fans dislike the team.
So you'd better believe that one of the things on Lurie's mind throughout this process has been the impression the ultimate decision would make among Eagles fans. And in that respect, he's hit a home run. Kelly was the top college candidate on the market. Based on his collegiate record, Kelly represents energy, innovation and excitement. He has head coaching experience of which to boast, but no NFL failures that public perception can hold against him. Eagles fans can puff out their chests and proclaim that, of the eight teams that fired head coaches at the end of the season, they were the one that got the top candidate on the market. It's a fun day to be an Eagles fan, and it's been a while since that was the case.
What comes of it, no one can say. Whether he
should
have been considered the best available candidate, only the inscrutable future will tell. Kelly could be a flop, a wild success or something in between. But what matters for the Eagles and their fans right now is that they got their man -- a fresh and exciting new face of the franchise and someone who represents bright possibilities for that future. That is what makes today a good day for the Eagles, no matter what tomorrow holds.
January, 16, 2013
1/16/13
1:07
PM ET
With the news that former Oregon coach Chip Kelly has been hired as the new head coach of the
Philadelphia Eagles
, attention now turns to the most important issue facing the team in 2013: Who will play quarterback?
Some have assumed, based on the fact that Kelly ran a speed-based option offense in college, that hiring Kelly would increase the chances that the team keeps
Michael Vick
. After all, Vick is a running quarterback in the mold of the guys who've played for Kelly at Oregon, while Foles is more of a pocket guy who doesn't get outside the pocket and throw on the run. Simplistically, you can see how this makes sense.
[+] Enlarge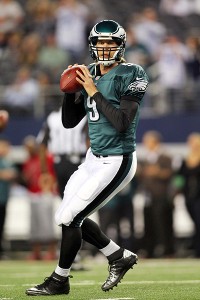 Tim Heitman/USA Today SportsNew Eagles coach Chip Kelly gushed over Nick Foles when the QB was still in school. "[Foles] is as good as anyone in the country," Kelly said in 2011.
But I don't think it necessarily does. First, there are the financial consequences of keeping Vick on the roster at his scheduled base salary of $15.5 million for 2013. The Eagles can get out of the contract scot-free if they cut him by Feb. 6. Vick has said he won't renegotiate for a lower salary. But with that deadline coming up it's possible he could change his mind. Depends whether Kelly wants him around, most likely.
I just don't think it's fair to assume that he does. First of all, if you're an intelligent NFL organization, you don't hire Chip Kelly because you like his dazzling, speed-based offense. You hire him because you believe him to be a nimble offensive mind who would have the wisdom to identify the best way to win in his new league with his new personnel and design an offense based on that. I personally believe Kelly fits the latter description and is smart enough to know that he's not going to win in the NFL the same way he won at Oregon, where he could recruit the fastest guys in the world and opposing defenses didn't have equivalent speed with which to counter it. Opposing defenses in the NFL are considerably faster than they are in the Pac 12. Considering what the Eagles are likely paying Kelly to change his mind and take the job a week and a half after turning it down, they'd better not be going all-in on the assumption that his college offense will translate to the pros.
Secondly, Vick isn't what he used to be. He's going to be 33 years old when the 2013 starts, which is three years older than he even was when he was running like crazy and putting up all kinds of points for the Eagles in 2010. To rely on Vick's speed as the basis for the offense is a mistake, and truth be told it's one of the mistakes that just got Andy Reid fired from this same job. The idea behind the Eagles' offense the past two years was that they had enough speed on offense with Vick,
LeSean McCoy
,
DeSean Jackson
and
Jeremy Maclin
to outrun people and operate dynamically. It didn't work, partially because Vick never developed his ability to read defenses, change protections and call the right audibles at the line. Vick's problem the past couple of years wasn't his ability to run -- it was his inability to make correct decisions, as well as his inability to protect the ball and keep himself healthy. It's hard to believe that's going to get any better under Kelly than it was under Reid. Especially as Vick ages and slows down.
And then there's this: Kelly knows Foles from coaching against him when Foles was at Arizona, and it's possible he really likes him.
Here's a story from the Tucson Citizen
in 2011 in which Kelly gushes over Foles:
"I'll tell you what; I'm glad Nick Foles is graduating," Oregon coach Chip Kelly said after his team's 56-31 victory Saturday night.

"I catch myself watching him in awe sometimes. … Nick is a hell of a football player. That kid's a warrior. He's as good as anyone in the country."
So if he wasn't blowing smoke there, it's possible Kelly's excited about the idea of Foles as his new quarterback and is planning to design an offense around him that doesn't necessarily match up with the offense he ran in college.
It's also possible he has something else in mind -- that the Eagles could draft a quarterback such as West Virginia's Geno Smith with that No. 4 overall pick they have. Or that he has someone in mind as a trade or free-agent target.
I just think people who are assuming Vick stays now because Kelly will want a quarterback who runs around are making a mistake. I think it's more complex than that.
January, 16, 2013
1/16/13
12:22
PM ET
A week and a half after telling interested NFL teams that he was staying put at the University of Oregon, Chip Kelly has
reversed course and accepted the job
as head coach of the
Philadelphia Eagles
, according to ESPN's Chris Mortensen.
We will have much more on this here on the NFC East blog as the day goes along, obviously, but some real quick first reactions:
Having looked into other options that included Seattle defensive coordinator Gus Bradley, former Bears coach Lovie Smith and former Cardinals coach Ken Whisenhunt, Eagles brass may have been uninspired and decided to go back and sweeten whatever offer they'd made to the guy who was their first choice all along. This is going to be a very large contract -- likely five years for more than $6 million per year -- and I wouldn't be surprised if it was even bigger than that given the way this went down.
Having turned down the Eagles and Browns two weekends ago, it's possible Kelly looked around a bit at his situation in Oregon and decided the time to jump was right after all. Phil Knight's Nike money is one thing, but Kelly knew that would always be there. There has been talk of NCAA sanctions on the horizon at Oregon, and it's possible Kelly got wind that those could be more significant than expected and decided he should get while the getting was good.
Two significant concerns remain even with this resolved: Who's going to play quarterback and who's going to run the defense?
Again, much more to come on this. But there you go, Eagles fans. They got the guy they wanted all along.
NFL SCOREBOARD
Thursday, 10/16
Sunday, 10/19
Monday, 10/20
WEEKLY LEADERS