August, 27, 2011
8/27/11
12:07
AM ET
With
Kerry Collins
on the roster and poised to take over as the primary backup to
Peyton Manning
,
Curtis Painter
fared much better working with the Colts' offense.
In a
24-21 loss
to Green Bay at Lucas Oil Stadium on Friday night, the Packers utilized one defensive element Manning typically helps Indianapolis avoid: the blitz.
Manning is masterful at making teams pay when they subtract from coverage to add to the rush. But Green Bay rolled out a steady stream of blitzes, many of which featured cornerback
Charles Woodson
, with no fear of such repercussions from Painter.
[+] Enlarge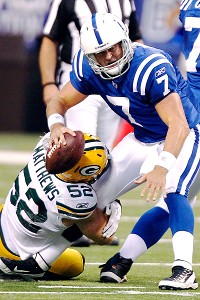 AP Photo/Michael ConroyWithout Peyton Manning, the Packers blitzed again and again on Curtis Painter.
Indy's offensive line is still being sorted out, and the group didn't do particularly well or get particularly good help in minimizing the pressure. Painter didn't get hit so much as he had to hurry, and he was hardly at his best in such circumstances.
Desmond Bishop
got flagged for roughing on one blitz, and Painter threw a ball away when Woodson looped between left tackle
Anthony Castonzo
and left guard
Joe Reitz
untouched. Another time, the quarterback made a nice throw to
Reggie Wayne
, who had a favorable matchup as Woodson came untouched.
No. 2 running back
Donald Brown
actually did reasonably well in blitz pickups, I thought, managing to keep himself between rushers and the quarterback on a couple of occasions. Still that rusher frequently contributed to a closing pocket.
The right side of the starting line, guard
Ryan Diem
and tackle
Jeffrey Linkenbach
, struggled with
Clay Matthews
, whose speed was more than they could handle.
Not every team is equipped to blitz the way the Packers are. But if it's Collins instead of Manning on Sept. 11 in Houston, odds are the Texans will blitz more often and with less fear. And the Colts and Collins will have to be prepared to handle it.
Some other thoughts on what was nearly a rare Colts preseason win:
August, 18, 2010
8/18/10
12:50
PM ET
METAIRIE, La. -- The Texans-Saints practice this morning was poorly attended, relatively short and pretty uneventful.
I talked with
Andre Johnson
,
Matt Schaub
,
Steve Slaton
as well as
Jacoby Jones
for a project you'll see down the road. They'll practice again Wednesday afternoon. Stay tuned for more from Metairie.
July, 31, 2010
7/31/10
12:27
PM ET
ESPN.com NFL Power Ranking
(pre-camp): 2
METAIRIE, La. -- As the
New Orleans Saints
finished their first camp practice Friday morning, defensive coordinator Gregg Williams, a man known for holding back nothing on or off the field, unloaded. He wanted to get something off his chest. Heck, out of his body, out of his mouth and out into the open.
Without ever really being asked anything that would prompt the issue, Williams started talking about why the Saints can repeat as Super Bowl champions. He's tired of hearing the reasons they can't and the repeated reminders that the follow-up season hasn't been good to many Super Bowl teams in recent history.
"I keep on hearing you guys talk about this Super Bowl hangover and it's starting to chafe me a little bit,'' Williams said. "It really is and I'm being real honest. The reason being is, if you could see behind the scenes of our offseason program from April 19 and to see every single practice we've had, I don't have any qualms about the way our defense is because all they did was show up with more hunger, more fire, wanted me to be a bigger jerk and get on their (butt) more. They begged for me to get on their (butt) more. So far, I've seen nothing that would indicate that we can't make another run at this.''
Williams may be one of the organization's more vocal figures, but you quickly get the feeling he's not alone on this idea. Sure, the Saints spent a good portion of the offseason celebrating the first Super Bowl title in franchise history. Sure, recent history is stacked against them. No team has repeated since the 2004 Patriots.
Confidence -- some even have suggested arrogance -- was a big part of the reason the Saints won the Super Bowl last season. That hasn't changed. Unlike a lot of recent Super Bowl teams, the Saints really didn't lose much in free agency and they didn't have their coaching staff picked apart. There really hasn't been much turnover of faces or attitude.
"There was a really good locker room here before I got here,'' Williams said. "There's a better locker room now. The guys that we brought in this year, they fit into that locker room because Jon Vilma and
Drew Brees
aren't going to let the wrong kind of people be in that locker room. They're just not going to do that.''
THREE HOT ISSUES
[+] Enlarge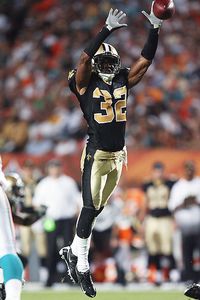 Doug Benc/Getty ImagesA healthy Jabari Greer could help the defense be more consistent.
1. Can a defense that was opportunistic but far from dominant become more consistent?
Sure, there is some bravado that comes with Williams. That's part of his nature and it's part of what makes him a good coach. But what he's saying isn't just bluster.
The Saints really should be much better on defense this season. All they really lost was linebacker
Scott Fujita
and defensive end
Charles Grant
. They showed Grant the door and probably upgraded the position by signing veterans
Alex Brown
and
Jimmy Wilkerson
. They'll line up on the other side from
Will Smith
. Brown and Wilkerson aren't dominant pass-rushers, but they're consistent in that area and play the run very well. Fujita was a key contributor, but the Saints believe they have a group of promising linebackers (
Troy Evans
,
Jo-Lonn Dunbar
and
Stanley Arnoux
) and believe one of them will rise up.
Plug in a healthy
Sedrick Ellis
in the middle of the defensive line and the Saints should have a solid front seven. But the defensive backfield is where the Saints really could be outstanding. They've assembled one of the best collections of secondary talent in the league.
Jabari Greer
and
Tracy Porter
might be the best cornerbacks no one outside of New Orleans has heard of. When healthy, they both can be shut-down guys. Both were banged up last season, and that's one of the reasons the Saints drafted cornerback
Patrick Robinson
. That move also has allowed them to move last year's first-round pick,
Malcolm Jenkins
, to free safety, where he might get the chance to beat out
Darren Sharper
. If you can put Sharper, a possible future Hall of Famer on the bench, that's a pretty big statement. People talk about New Orleans' offense being explosive, but the defense has a chance to be every bit as dynamic.
2. Can the offense live up to last year's standards?
Brees remains the quarterback and, as long as that's the case, this offense is going to be great. Brees clearly is in his prime and his pairing with head coach/offensive genius Sean Payton makes magic possible on every play.
This is an offense that can hit you from every angle -- Brees throwing short or long,
Pierre Thomas
running inside and
Reggie Bush
outside and an offensive line filled with Pro Bowlers. Keep in mind that the Saints had some injuries at the skill positions last year, but they still were phenomenal on offense. If they can keep Bush, Thomas,
Marques Colston
,
Heath Evans
and
Jeremy Shockey
healthy, last year's production could be eclipsed.
[+] Enlarge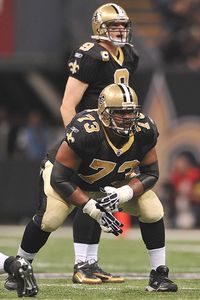 Larry French/Getty ImagesJahri Evans is part of a dominant offensive line that makes up for any weakness at left tackle.
3. Is left tackle really that important?
The Saints used to have a Pro Bowl left tackle. His name was
Jammal Brown
and they traded him to Washington in the offseason. That happened after Brown missed all last season with an injury and the Saints got by with
Jermon Bushrod
quite nicely.
The Saints aren't touting Bushrod as a franchise left tackle, although he's the favorite to be the starter. They also drafted
Charles Brown
, and
Zach Strief
, who filled in when Bushrod slumped a bit last season, also is in the mix. The Saints gave Bushrod plenty of help last season and they're prepared to do it again for him -- or for Brown or Streif. But the lesson that came out of last year is, in this offense, it's not a necessity to have a dominant left tackle.
But that's partly because the Saints have the league's best guard tandem (
Jahri Evans
and
Carl Nicks
), a Pro Bowl right tackle (
Jonathan Stinchcomb
) and an excellent center (
Jonathan Goodwin
). Throw anyone out there at left tackle and the rest of the line and Brees will make him look good.
BIGGEST SURPRISE
Jimmy Graham.
The Saints took what seemed like a bit of a leap when they drafted the tight end in the third round. He played basketball at the University of Miami before deciding to switch to football in his final year. The conventional wisdom was that Graham would be a bit of a project and would take a year or two to really have an impact. But there already is a buzz among the coaching staff and other offensive players about Graham. Everyone knew he had great athletic ability coming in, but he's picked up things faster than anyone expected and he got some first-team work with Brees in June workouts. He might play a bigger role faster than anyone expected.
BIGGEST DISAPPOINTMENT
Clint Ingram.
When the Saints signed Ingram, a lot of fans instantly thought he would be the automatic replacement for Fujita. Ingram had been a starter in Jacksonville, so the logic was solid. But Ingram was injured when the Saints signed him and he still hasn't been on the practice field, except while riding a stationary bike. That has allowed Troy Evans, Dunbar and Arnoux time to make a good impression. Unless Ingram gets healthy very soon and makes a huge impression on the field, he might not even get a roster spot.
OBSERVATION DECK
James Lang/US PresswireDarren Sharper wore down toward the end of last season and had offseason microfracture surgery.

I know this might sound like blasphemy to Saints fans because Sharper is very popular and had a huge impact last year. But the fact is he's 34 and coming off micro-fracture knee surgery. I've suggested before I think there's a good chance Jenkins takes his place in the starting lineup. But I'll take it one step further here and say -- I'm not promising this will happen -- I can see a scenario where Sharper doesn't even stay on the active roster. The Saints are high on Jenkins. They also like Usama Young and are hopeful about Chip Vaughn, who missed his rookie year with an injury. Ideally, the Saints would like to keep Sharper around for his leadership. But if his knee doesn't come along, he could spend part of the season on the physically-unable-to-perform list, the injured-reserve list or maybe even be released or retired. Even with all his credentials, Sharper can't contribute if his knee isn't right. The Saints have a lot of other safeties with young legs.

The Saints used a three-headed backfield with Bush, Thomas and Mike Bell last season. Bell is gone, but the playing time division should be pretty similar this year. Just plug Lynell Hamilton into Bell's place. The Saints wouldn't have let Bell go if they didn't think Hamilton was ready. I don't want to tease you and say this is the year Bush shows he can run between the tackles. But remember how well he ran in the playoffs and how he was more physical than at any time in his career? That was because he was completely healthy. That seems to still be the case, so don't be surprised if you see Bush's numbers go up a bit. This guy can do a little bit of everything.

Shockey's always been an easy target and there's no doubt he's brought some of that on himself. But he appears to be in very good physical shape. Shockey hasn't really been a distraction in New Orleans like many thought he was when he was with the Giants. He's just been banged up for much of his time with the Saints. Maybe –- and I'm just saying maybe -- Shockey might have matured and might be taking better care of himself in an effort to stay on the field.

It really didn't get much attention, but the best move the Saints made in the offseason might have been signing Patrick Ramsey to serve as Brees' backup. Veteran Mark Brunell was a good fit in that role for a couple of years, but the Saints needed to get a little younger. The Saints hope and pray nothing ever happens to Brees. But, if he were to miss some time, the New Orleans offense might not suddenly fall apart. Ramsey's a guy who has bounced around the league. He got messed up by Steve Spurrier early in his career in Washington, but he still has some talent. This is a quarterback-friendly offense with all sorts of weapons and Ramsey could win games for the Saints -- if that ever becomes necessary.

For a couple years, special teams were a bit of a question. That has changed. Kicker Garrett Hartley and punter Thomas Morstead were heroes in the Super Bowl. They're still young and should only continue to get better.

It's very early in camp, but one player who has intrigued the coaching staff is defensive end Junior Galette. He's an undrafted rookie and very undersized at 258 pounds. But this guy is showing great speed and there's a chance he could land a job as a pass-rush specialist. Yeah, Bobby McCray also is supposed to fit that description. But McCray had 1.5 sacks last season and actually was cut because of a high salary before he basically begged his way back (at a reduced salary). If the Saints cut McCray once, there's no reason why they couldn't do it again.
May, 11, 2010
5/11/10
3:09
PM ET
We've spent a lot of time talking about the 2010 draft picks in recent weeks.
But those guys aren't going to be the only "rookies'' in the NFC South this season. As I watched Atlanta's minicamp over the weekend and saw
Peria Jerry
and
William Moore
doing some work on the side, it reminded me of a trend that spread through the NFC South last year. A lot of 2009 draft picks missed all or most of last season because of injuries.
[+] Enlarge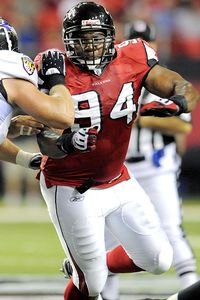 Dale Zanine/US PresswireThe Falcons are counting on 2009 first-rounder Peria Jerry to bolster their pass rush.
Look through the division and you can almost make a case that Atlanta and New Orleans and, to a lesser degree, Tampa Bay, each will have something of an extra draft class this year. Let's start with the Falcons because Jerry and Moore were their first two picks last year and both were injured before really getting a chance to do much.
Jerry instantly claimed a spot as a starter at defensive tackle before suffering an early-season knee injury. Judging by how folks in Atlanta were talking, Jerry still faces a long recovery. But he'll be back in the starting lineup as soon as he's ready. Moore's almost ready and the Falcons are hoping he can win a starting safety job.
New Orleans had only four draft picks in 2009 and cornerback
Malcolm Jenkins
and punter
Thomas Morstead
were the only ones to make an impact as rookies. Linebacker
Stanley Arnoux
and safety
Chip Vaughn
were hurt before the season even started. Both are expected to be healthy this year. I don't see either one stepping into a starting role, but the Saints are looking for Arnoux and Vaughn to be key players on special teams.
Tampa Bay saw some promise out of cornerback
E.J. Biggers
before the seventh-round draft pick got hurt. He's not going to solve the search as an heir apparent to veteran
Ronde Barber
, but Biggers has a chance at a roster spot and some duty on special teams. You can almost throw defensive end
Kyle Moore
, a fourth-round pick last year, into this category. Moore appeared in eight games, but didn't do much. He was set back by some knee problems. The Bucs believe Moore has matured mentally and physically and could be a factor this year.
May, 3, 2010
5/03/10
7:10
PM ET
In the end, the
New Orleans Saints
and
Darren Sharper
got things to work out exactly the way both sides wanted. It just took a long time.

Sharper
The past few months for the Saints and the veteran safety have been nothing but posturing. Despite a flurry of recent talk about the 34-year-old free agent landing in Jacksonville or somewhere else, the Saints announced Monday that Sharper
will return
to New Orleans.
"We have said since the end of the season that we would love to have Darren back in a Saints uniform for 2010 and I'm glad we've been able to make that happen," general manager Mickey Loomis said. "Darren was an integral part of our Super Bowl-winning team and we look forward to having him back."
Sharper had nine interceptions last season and solidified a secondary that went from terrible to very good. But, this time around, Sharper's signing isn't the kind of act that should be viewed as solving everything. In most areas of the secondary, the Saints really have nothing that needs solving. This is insurance, almost an embarrassment of riches.
With starters
Jabari Greer
and
Tracy Porter
firmly entrenched at cornerback and
Roman Harper
at strong safety, Sharper's return leaves a slight question about his role. While Sharper was hanging out in free agency, the Saints viewed moving cornerback
Malcolm Jenkins
to free safety as one alternative and letting veteran
Usama Young
step into a starting role as the other.
Those still could be options, but the Saints now have all sorts of flexibility in their secondary. They just drafted cornerback
Patrick Robinson
in the first round and they've got safety
Chip Vaughn
coming back from an injury that cost him his rookie season.
They've still got a quality veteran backup cornerback in
Randall Gay
. That leaves all sorts of possibilities for Jenkins, who I think is the most interesting guy in this whole mix. The Saints' first-round pick last season, Jenkins spent his rookie year as a backup cornerback. He did some good things there, but he also has the tools to move to free safety.
But, with Sharper's return, the Saints don't have to make an immediate decision on Jenkins' future. They can let things play out naturally in a secondary with loads of talent.
December, 4, 2009
12/04/09
1:09
PM ET
At a draft-day party in Raymond James Stadium, fans booed when the Bucs selected quarterback
Josh Freeman
. A day later, there weren't any large gatherings as the draft wound down, but you still could hear some groans in the streets of New Orleans as the Saints traded up to get a punter.
Funny, but no one's complaining now about the two most controversial draft picks in the NFC South. Four starts into his career, Freeman's shown enough promise to bring hope to a franchise that spent the first half of the season without any. In New Orleans,
Thomas Morstead
has gone from being the punter nobody aside from Mickey Loomis and Sean Payton wanted to one of the best picks in the entire draft.
We're only 11 games into the season and you never can fully judge a draft until two or three years out. But this year's draft class is forming an early identity and it's time for a look at the Class of 2009.
TAMPA BAY BUCCANEERS.
For all that's gone wrong with the Bucs this year, it's important to remember that one thing has gone right. Tampa Bay appears to have found the franchise quarterback it's been looking for since Doug Williams left. Don't undersell the importance of that. If Freeman really is that franchise quarterback, this rebuilding process is no longer so daunting.
[+] Enlarge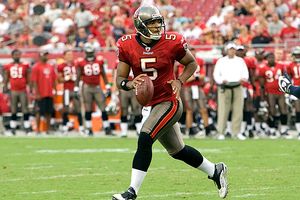 J. Meric/Getty Images Rookie Josh Freeman is giving the Bucs a reason to believe they have found their franchise quarterback.
Want some more hope for the Buccaneers? Consider these numbers. In Freeman's four starts, he has thrown more touchdown passes (seven) than
Matt Ryan
,
Joe Flacco
,
Matthew Stafford
or
Mark Sanchez
did in their first four starts. Freeman also has a 77.0 passer rating, which is significantly better than what the quartet just mentioned did in their first four starts.
He also is 1-3 as a starter, but easily could be 3-1 if the Bucs had just played a little bit of defense. Not bad for a kid who came out of Kansas State with questions about his ability to make decisions. It's looking more and more like the Bucs made the right call in locking in on Freeman, who coach Raheem Morris knew from his one-year stint as an assistant at Kansas State, even if they telegraphed their intentions so strongly that they had to trade up a spot to No. 18 to make sure they got their quarterback.
The next step is to surround Freeman with talent. You can bet that's going to be the focus of the 2010 draft as the Bucs quietly stockpiled 10 picks. But the Bucs already have landed a key piece for Freeman. That's wide receiver
Sammie Stroughter
, who came in the seventh round. Stroughter had some personal issues in college, but the Bucs did their homework and thought he was worth a gamble late in the draft.
Stroughter has turned out better than anyone could have expected. He's already a solid slot receiver, which is almost like a starter in the modern NFL. The Bucs also got another soon-to-be starter in the third round with defensive tackle
Roy Miller
. He's played in a rotation with
Chris Hovan
and
Ryan Sims
this season, but it's not much of a stretch to say Miller is the only member of that trio that will be around next year.
NEW ORLEANS SAINTS.
Pound for pound, the Saints probably have gotten the most out of their draft class so far. They only had four rookies to begin with and defensive back
Chip Vaughn
and
Stanley Arnoux
both went down with injuries in the preseason.
That leaves only Morstead and first-round pick
Malcolm Jenkins
, but that's a pretty strong combination. Morstead, who also handles kickoffs, has helped solidify a kicking game that struggled last season. With Jenkins, the Saints had a rare luxury. They were able to bring the rookie along slowly because starting cornerbacks
Jabari Greer
and
Tracy Porter
were playing so well.
That allowed Jenkins to go through the learning process on the practice field and the sideline. Injuries have piled up the last couple of weeks and Jenkins has been pushed into a starting role. He's shown he's ready for it.
CAROLINA PANTHERS.
Much like the Saints with Morstead and the Bucs with Freeman, the Panthers raised some eyebrows when they moved up in the second round (by trading away their 2010 first-round pick) to get defensive end
Everette Brown
. Unlike the moves by the Bucs and Saints, there remains room to question this one.
The Panthers drafted Brown at a time when there still was uncertainty about the future of defensive end
Julius Peppers
. But Peppers wound up staying as the franchise player and Brown hasn't really been a contributor. He has 1.5 sacks and, no doubt, has plenty of potential.
But Brown is a project. At the moment, he's undersized and nothing more than a situational pass rusher. But at least the Panthers are getting some production out of this draft.
They definitely hit on seventh-round pick
Captain Munnerlyn
, who's been a contributor as a defensive back and on special teams. They also seem to have found a starter in safety
Sherrod Martin
, the second of their two second-round picks.
ATLANTA FALCONS.
A year ago, everyone was talking about how general manager Thomas Dimitroff had put together such a brilliant draft class. That's not happening this year because the Falcons have gotten very little from their rookie class.
It should be noted it's a lot easier to get impact players when you're drafting in the top five in every round instead of in the 20s. It's also important to note that it wouldn't be fair to label Dimitroff's second class as anything close to a bust right now.
You could see right away the Falcons had a player in first-round pick
Peria Jerry
. But the defensive tackle went out for the season in Week Two. Pretty much the same story for second-round pick
William Moore
. Third-round pick Christopher Owens and fourth-round pick
Lawrence Sidbury
haven't been big factors.
Maybe there's a lesson in this draft for the Falcons. Maybe Atlanta fans shouldn't expect every Dimitroff pick to be Matt Ryan or
Curtis Lofton
and produce huge and immediate results. Maybe they should look at this year's draft class and remember the story of
Thomas DeCoud
. He's probably the only member of the spectacular 2008 class that didn't really produce as a rookie.
In his second season, DeCoud is starting at safety and playing well. Sometimes, it takes a little time.
April, 26, 2009
4/26/09
1:59
PM ET
Posted by ESPN.com's Pat Yasinskas
The NFC South stayed focused mostly on defense in the fourth round, the first round in which all four teams have made a pick.
Six players were selected and only two of them were offensive players. Both of those were chosen by Carolina as the Panthers took Texas A&M running back Mike Goodson and Syracuse fullback Tony Fiammetta. That makes sense because the Panthers need to replace versatile veteran Nick Goings, who was released after last season.
The Saints also had two picks and they followed the defensive path that was started when they took defensive back Malcolm Jenkins in the first round. They went into Carolina's backyard to take two Wake Forest players, linebacker Stanley Arnoux and safety Chip Vaughn. Arnoux brings some fresh legs to a veteran group of linebackers and Vaughn gives the Saints some flexibility in the secondary as they decide if Jenkins is a cornerback or safety.
Tampa Bay took Southern California defensive end Kyle Moore, who started to show some pass-rush skills last season. However, I think there's still a decent chance the Bucs will bring back veteran defensive end Kevin Carter, who remains a free agent.
But Atlanta's pick might be my favorite of the fourth round. The Falcons chose Richmond defensive end Lawrence Sidbury. Yes, this small-school guy might be a project, but I think Mike Smith can coach him into being a big contributor.
April, 25, 2009
4/25/09
10:23
AM ET
Posted by ESPN.com's Mike Sando

Matt Maiocco of the Santa Rosa Press-Democrat says the 49ers would draft Michael Crabtree with the 10th overall choice, if available. He says the 49ers would draft Knowshon Moreno over Chris Wells in the unlikely event they decided to draft a running back early. The team would be happy to draft Andre Smith at No. 10, but taking Michael Oher in that spot might not be a slam dunk. LSU's Tyson Jackson could be the preferred defensive lineman, over B.J. Raji. The team probably wouldn't take Malcolm Jenkins at No. 10. Brian Orakpo? Probably not. And it's unlikely the team would take Aaron Maybin or Everette Brown that early, either. Rey Maualuga or Brian Cushing could be higher priorities than Maybin or Brown.
Matt Barrows of the Sacramento Bee forecasts which players he thinks the 49ers will select with each of their picks. The list: Oher, running back Shonn Greene, outside linebacker Paul Kruger, quarterback Stephen McGee, inside linebacker Scott McKillop, receiver Brandon Gibson, outside linebacker Pierre Walters, receiver/quarterback Julian Edelman and tight end Bear Pascoe.
Daniel Brown of the San Jose Mercury News says there's value in the later rounds. He points to Pat White, Brian Hoyer, Chase Patton, Austin Collie, Ramses Barden, Kory Sheets and Ian Johnson as later-round prospects to watch.
Gary Plummer of 49ers.com says NFL teams can't measure a player's heart. Plummer: "I was never even invited to the Combine and I was never drafted, but I went on to play 12 seasons in the NFL. With those experiences, I've always rooted for guys who don't get drafted."
Niners scout Todd Brunner says the team has spent recent days making sure it has discussed every draft-eligible player.
John Crumpacker of the San Francisco Chronicle says the 49ers' public-relations department shielded coach Mike Singletary from reporters in the days leading to the draft. Crumpacker: "It's just as well. General manager Scot McCloughan put the 49ers' draft board together and will be making the call for the club."
Ray Ratto of the San Francisco Chronicle made me chuckle with this description of the NFL draft: "Today is the worst day of the entire NFL draft process, because it is the day that all the speculation ends and your favorite team is stuck with the choice it made rather than awash in the dozens it could have."

Kent Somers of the Arizona Republic previews the Cardinals' draft in general terms. Forget about getting specifics from Rod Graves or Ken Whisenhunt.
Also from Somers: It appears receiver Anquan Boldin will remain with the Cardinals through the draft. Trades are often contingent on a player passing a physical. The acquiring team also needs time, in many cases, to work out a new contract with the player. Somers: "The Cardinals are surprised there hasn't been more interest from teams, who apparently think the cost is too high, considering they would also have to come to terms with Boldin on a contract that would pay him an average of $8 million to $10 million a year."
More from Somers: The Cardinals would have no interest in Titans running backs LenDale White or Chris Henry if Tennessee offered either player as part of a trade for Boldin.

Greg Johns of seattlepi.com previews the Seahawks' draft options. Johns: "As much as teams talk of drafting the best player available regardless of position, there is an impetus to pick athletes who will be in line to earn starting roles before long in order to justify their draft position and salary slot."
Eric D. Williams of the Tacoma News Tribune says the Seahawks' first-round picks haven't panned out all that well under general manager Tim Ruskell, who has one year remaining on a five-year contract. Yes, this draft is important for him and the organization.
Clare Farnsworth of Seahawks.com takes a peek inside the Seahawks' draft room at their new facility. It's 1,600 square feet, twice the size of the old one. The rapport between Ruskell and vice president Ruston Webster transcends location. Webster: "You know what's sad? When we say something at the same time. That scares me. But it really is good. I know how he thinks. And I think for him, it's important to have somebody who understands that. And he knows how I think. For the most part, we were kind of brought up in this business the same way, so our philosophy is the same."
Tyler Dunne of Scout.com says the Seahawks would draft Wake Forest safety Chip Vaughn in the third round if available.

Nick Wagoner of stlouisrams.com says the Rams are putting an emphasis on character in this draft. Wagoner: "Fortunately for the Rams, most of the players they are considering in this year's draft are about as well rounded and mature as any crop of recent potential draft picks. Offensive tackles Jason Smith and Eugene Monroe, linebacker Aaron Curry and USC quarterback Mark Sanchez have received rave reviews for their personality and attitude at every stop they've made along the way. Taking Curry as an example, he has invited 12-year-old Bryson Merriweather, a leukemia survivor from Madison, Ala., to be his special guest at the draft in New York City."
VanRam of Turf Show Times warns against dismissing talk that the Rams could draft Sanchez with the second overall choice.
Jim Thomas of the St. Louis Post-Dispatch says he would draft Curry from Wake Forest with the second overall choice if he were making the decision for the Rams. However, all signs point to the team selecting an offensive tackle.
Also from Thomas: The Rams' need at tackle appears too great to ignore early in the draft. Thomas: "Michael Crabtree, the wide receiver from Texas Tech, basically eliminated himself from consideration with what Rams Park sources said was a diva attitude during his pre-draft trip here. Apparently, his rock star mentality was a big turnoff to coaches and front office personnel. Couple that with his foot injury, and the feeling in Earth City was that he wasn't worth the trouble. As for Sanchez, what first looked like pure smokescreen seemed to turn into downright infatuation. To some at Rams Park, Sanchez possesses the leadership qualities -- the 'it' factor -- that may be lacking in Marc Bulger. But at the end of the day, the Rams appear committed to Bulger for at least one more season."
NFL SCOREBOARD
Thursday, 10/2
Sunday, 10/5
Monday, 10/6