December, 20, 2013
12/20/13
1:30
PM ET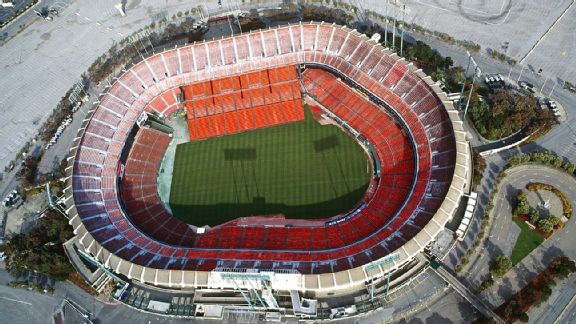 Hoberman Collection/UIG/Getty ImagesOn Monday night, San Francisco 49ers fans will empty out of Candlestick Park for likely the final time.
SANTA CLARA, Calif. – The odds are strong that Monday night will see the final game at Candlestick Park when the
San Francisco 49ers
host the
Atlanta Falcons
.
Barring a complete breakdown by first-place Seattle, the best the 49ers can do as a playoff seed is No. 5. In that scenario, the only way there could be another game at Candlestick – the 49ers move to Levi's Stadium in Santa Clara in 2014 – is if they host the No. 6 seed in the NFC Championship Game.
Don't count on it. According to ESPN Stats & Information, since 1990, a No. 5 seed has never hosted the No. 6 seed in a title game. So prepare to say goodbye to Candlestick on Monday night.
With that in mind, let's take a look at some remembrances of the historic but uncomfortable hunk of cement by the bay, as compiled by ESPN:
[+] Enlarge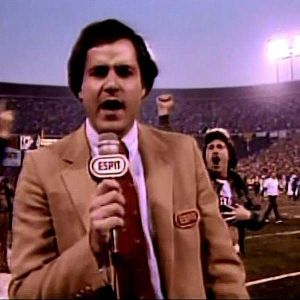 ESPNChris Berman reported from the field after "The Catch" game in 1982 at Candlestick Park.
"It was not the greatest-played game, but you couldn't have had more exciting a game. … The ball looks like it's going into the stands and Dwight Clark leapt like a basketball player, made the catch. But the game wasn't over. There was still a minute to go almost. … It caught even the city by surprise. It was fresh and it was fun, and who knew what they were building at the time. The whole thing sends shivers down my spine, that I was fortunate enough to be there and see it. It's an iconic game in pro football history, let alone Candlestick. That's what Candlestick will be remembered for more than anything else: that play, that game, even though there were some unbelievably great games, all the playoff games the 49ers have had there."
-- ESPN's Chris Berman, who covered "The Catch" from Joe Montana to Dwight Clark in the 1981 NFC Championship Game
"I have a plethora of memories, phenomenal memories of championship games won and lost, Monday night games, big games, December games, games that decided the home-field advantage almost every year it seemed like. The locker room dripping down from condensation. The high tide would come in and you'd get that smell on the field, really soggy when it started to rain. The infield, when the Giants were playing there, with crushed rock, you'd get skinned up all through September and early October. The wind, obviously, early in the season, was always a factor. The stadium needs to close. She's gone as far as she can go, it needs to be done. But for me, obviously it's hard to see her go, it's hard to see it end, and I'll always miss playing at Candlestick Park. I missed it the second I left the 49ers, and I still miss being in that park. It will be fun to be there Monday night and see the last game."
-- ESPN NFL analyst and Hall of Fame 49ers quarterback Steve Young
"When the 49ers beat the Giants on 'Monday Night Football' at Candlestick in 1990, I had this old, beat-up car, a Delta '88. I bought it for $500. It was the worst car you've ever seen. The players all made fun of me. They called me 'Uncle Buck.' This Giants game is huge, and before we leave for the stadium from the team hotel
Charles Haley
says to me, 'I need to ride over with you in that car to the stadium. I've got to get in the right state of mind.' I told him my car might not make it – it was that bad a car. He insisted on riding with me. So he didn't take the team bus. It's the biggest game in my life, and my car's going to break down on the way to the stadium. I don't have a parking pass or anything. So Haley is out the window yelling at security to let us in. I am a nervous wreck. I think Mike Holmgren and George Seifert are going to fire me – my coaching career is over. Even when we got to the stadium, I was scared to go in the locker room. Fortunately, we won 7-3 and Haley played his tail off."
-- ESPN MNF analyst and Super Bowl-winning coach Jon Gruden, who started his NFL coaching career as a 49ers assistant in 1990
[+] Enlarge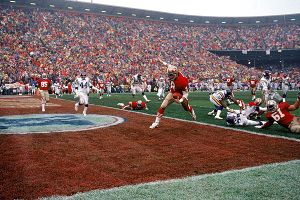 George Rose/Getty Images"I'll always miss playing at Candlestick Park," Steve Young said. "I missed it the second I left the 49ers."
"My first NFL start was at Candlestick against Steve Young's 1994 49ers team -- and I was pathetic. But it was going home to the Bay Area, close to where I grew up, buying 75 tickets for family and friends. At the time, you try not to get caught up in the nostalgia, the history and who you are playing because they were just awesome. Though I didn't play well, it's still a great memory that I was able to have my first NFL start there."
-- ESPN NFL analyst Trent Dilfer, a Northern California native and resident who played his first NFL game with Tampa Bay at Candlestick in 1994
"I remember going onto the field at Candlestick and warming up. I would go to every corner of the field and throw the football because the wind was different in every area of the stadium. You think it would go right, and it would go left. Some areas you think it would knock the ball down, it would take the ball up. You wanted to know what the wind was going to do to the football, and I always felt that was to the quarterback's advantage, knowing the wind current in Candlestick Park."
--ESPN NFL analyst Ron Jaworski, who played at Candlestick as a member of the Los Angeles Rams and Philadelphia Eagles
"The Eagles played the 49ers the last game in the final week of the 1993 season on 'Monday Night Football.' So we play the game and it ends up tied. They played a full 15 minutes of overtime, and with four seconds left Philadelphia was going to try a field goal. The kicker hooks it. He's going to miss the field goal but the defender came in and roughed the kicker. So the game is over, the overtime period is over, but with a foul on the last play of a period, you extend the period. The Eagles re-kicked and won the game 37-34. It was the longest regular-season game in NFL history -- a full game, a full overtime, plus one play."
--MNF rules consultant and former NFL official Gerry Austin, who refereed the longest regular-season game in NFL history at Candlestick on Jan. 3, 1994
December, 19, 2013
12/19/13
2:30
PM ET
By
ESPN.com staff
| ESPN.com
ESPN's Chris Berman joined the
Front & Center podcast
to discuss his memories of Candlestick Park, which will host its 36th and final "Monday Night Football" game (8 p.m. ET, ESPN). The
San Francisco 49ers
, who have played at the stadium since 1971, will host the
Atlanta Falcons
.
[+] Enlarge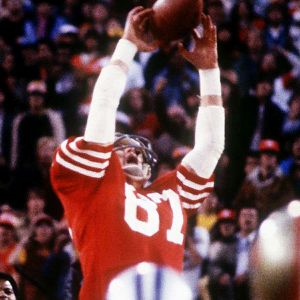 Rob Lindquist/Getty ImagesDwight Clark leaps to catch a pass from Joe Montana and start a 49ers dynasty.
Berman said the 1981 NFC Championship Game, in which Joe Montana connected with Dwight Clark for "The Catch," is one of his fondest memories of the park. He did a live shot from the 5-yard line as fans celebrated the 49ers' victory. Berman, who will host MNF from Candlestick, reminisced about the Clark catch and how it was the beginning of the 49ers' reign atop the NFC.
"They beat the mighty
Dallas Cowboys
, and it was [the beginning of] a ride that pretty much continued for 20 years," Berman said. "It was a momentous game. I can remember the plays in the drive that began at their own 11, San Francisco down 27-21, like it was yesterday.
"It was fresh, it was fun, and who knew what they were building at the time? The whole thing sends shivers down my spine, that I was fortunate enough to be there and see it. It's an iconic game in pro football history, let alone Candlestick. That's what Candlestick will be remembered for more than anything else, that play. That game."
Berman said his other biggest memory of Candlestick was the 1989 World Series between the A's and Giants. An earthquake occurred before Game 3 and postponed the series 10 days. The Giants played at Candlestick from 1960 to 1999 before moving to a new stadium.
"I have spent many an evening and day at Candlestick Park, it will be nice to go back there one more time," Berman said. "Fifty-four years, that is a half a century plus, open for sporting business. I am sure there will be a lot of memories for everybody who walks in the park or everybody that watches the telecast."
December, 12, 2013
12/12/13
11:50
AM ET
[+] Enlarge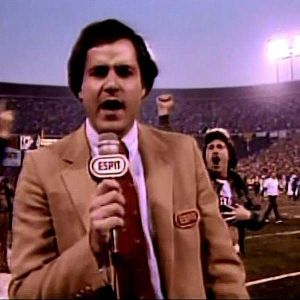 ESPNChris Berman does a stand-up report from "The Catch" game in 1982 at Candlestick Park.
SANTA CLARA, Calif. -- Chris Berman has a long history of reporting at important events at Candlestick Park, so it's natural that he would be in attendance for the final game at the stadium.
ESPN has switched its game plan to ensure Berman will be part of the coverage at the
San Francisco 49ers
' "Monday Night Football" game against the
Atlanta Falcons
on Dec. 23. The network is switching Berman and Stuart Scott, making Berman the on-sight host, while Scott will be in Bristol, Conn., hosting "Monday Night Countdown."
Among the Candlestick events, Berman has covered "The Catch" in 1982, the Bay Area World Series and earthquake in 1989, the final Giants' game at Candlestick in 1999 and he hosted the public memorial service for Bill Walsh at Candlestick.
Berman will honor the stadium in his "2 Minute Drill" segment this weekend, including highlights of historic events that have taken place in the history of the stadium.
August, 13, 2013
8/13/13
11:20
AM ET
Chris Berman is becoming the voice of the
San Diego Chargers
.
Or, at least, it appears that way.

Berman
Berman will be the play-by-play announcer and former NFL quarterback Trent Dilfer will be the analyst when the Chargers host Houston in the bottom half of a Week 1 "Monday Night Football" doubleheader Sept. 10 on ESPN. The pair called the San Diego-Oakland Week 1 "Monday Night Football game" last year.
It was Berman's first NFL play-by-play call in his 30-plus years at ESPN. The pair will get a sneak preview look at the Chargers on Thursday when they call San Diego's game at Chicago. It will be broadcast on ESPN at 8 pm. ET.
Berman is excited about his extended San Diego work.
"As it turns out, at least in the early goings, I am the national voice of the San Diego Chargers. And that's fine with me," Berman said. "I've long had warm feelings for the team, the powder blues and the city. I'm anxious to see the new-look Chargers under head coach Mike McCoy, who will very much be flying under the radar this year, which is probably perfect in the eyes of
Philip Rivers
and the rest of the team. The AFC could be a little more open this year than it normally is, and the Chargers, of course, hope they are somehow in the mix and become one of those teams that no one looks at until Halloween."
October, 31, 2010
10/31/10
10:55
PM ET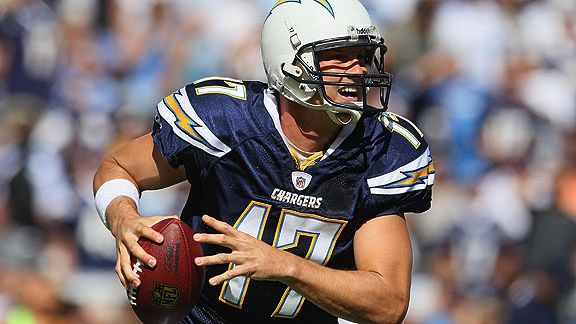 Jeff Gross/Getty ImagesFollowing a passionate halftime speech from Norv Turner, Philip Rivers helped rally the Chargers to victory over the Tennessee Titans.
SAN DIEGO -- The outside world had given up on the
San Diego Chargers
, tired of their maddening mistakes.
Yet, Norv Turner let his team know he hadn't given up on it, but it was time for it to start playing up to its potential and stop the self-destruction. Turner, who has a reputation for being laid back and lacking fire, delivered the most impassioned halftime speech of his four-year tenure in San Diego. The theme of the loud, colorfully worded address was belief.
"I've never seen him like that before," San Diego safety
Eric Weddle
said. "He told us how much he cares about us and he'd do anything for us. ... But he also told us it was time to get going. It was basically 'now, let's go freaking get it done.' ... I think that speech was a big reason why we came out like we did in the second half."
Losers of their past three games, the Chargers were in serious danger of seeing their AFC playoff hopes vanish Sunday. Tennessee was up by 12 points at one point in the first half. But spurred on by Turner's words from the heart, San Diego took over in the second half and
beat the Titans 33-25
.
The Chargers are now 3-5. They trail Kansas City (5-2) and Oakland (4-4) in the AFC West. The Chargers have come back with a strong second half in each of Turner's first three seasons, all of which ended with division titles. Yet, had San Diego not won Sunday, it would have been entering the second half of the season in a major hole.
"It's not a sigh of relief -- we're 3-5," San Diego running back
Mike Tolbert
said. "It's not like we're 8-0, or 7-1. ... But it's a start. We know we're capable of winning again."
And now so do all the critics. Along with Dallas, San Diego has been a major disappointment this season. The Chargers took a shellacking on ESPN's "Sunday NFL Countdown" on Sunday morning.
Here is a sampling of the verbal beating San Diego's players, Turner and general manager A.J. Smith took:
Keyshawn Johnson:
"No players. And when you don't have players, you can't win in this league. ... I put the blame on the general manager. He's the guy in the offseason that made a decision not to sign certain guys, run certain guys off."
Tom Jackson:
"It looks like the opportunity has passed them by and A.J. eventually is to blame."
Mike Ditka:
"The front office is horrible to make the decisions it's made."
Chris Berman:
"I'm embarrassed for the Chargers."
The Chargers missed the nationally televised dressing down because they were preparing to face the Titans. Smith wasn't available to react to the comments. But I had a chance to discuss them with some of the players after the game.
They were amused.
"No talent?" Weddle said. "OK, I'll take this no-talented team any day of the week. That's fine. It's OK no one respects us. Our coach does and we do, too."
Added Tolbert: "That's what happens when you are 2-5. People have been killing us all season. But what matters most is what our coach and everyone in this room thinks about us."
I didn't get the chance to ask Turner about the comments, but in his news conference, he alluded to outside criticism.
"I'm truly excited for those guys in that room because they don't blink," Turner said. "There are some people that might doubt them. We know who we are."
It was only one game, but if San Diego takes off, Sunday's performance and Turner's speech will be viewed as the turning point. San Diego has done this before. It won its final six games of the 2007 season, its final four games of the 2008 season and its final 11 games of the 2009 season.
"This is something to build on," San Diego cornerback
Antoine Cason
said. "Let's go build on it."
San Diego cut the Titans' lead to 19-14 with 1:55 to go in the first half. It evolved into a 20-0 run by San Diego, which led by eight points twice in the fourth quarter.
The catalysts, as usual, were quarterback
Philip Rivers
and tight end
Antonio Gates
. Playing without his top four wide receivers (and playing with undrafted rookie
Seyi Ajirotutu
), Rivers threw for 305 yards. It was the fifth time he has thrown for 300-plus yards this season. He has passed for 2,649 yards this season. No other quarterback in the history of the NFL has thrown for more yards after eight games.
Gates, playing with a bum toe, had five catches for 123 yards, including a 48-yard touchdown catch in the third quarter. It was a gutsy comeback performance by the two leaders on this team.
It wasn't all perfect for San Diego. It had its fourth punt blocked this season (that gave the Titans a safety early in the game) and an extra-point attempt was muffed in the fourth quarter, which kept it an eight-point game. The San Diego defense, which like the Chargers' offense entered the game ranked No. 1 overall, gave up way too many big plays.
But the Chargers found a way to overcome mistakes. That hadn't been the case this season. This has to be looked at as progress in San Diego. Perhaps this will be the start of another turnaround. If it is, the Chargers will always remember a rare show of intensity by their coach.
"I can tell you the fire I was able to see in [Turner's] eyes and what it meant to him," Gates said. "It meant the world to me for a coach to have that faith and belief in his team."
June, 4, 2009
6/04/09
8:05
PM ET
Posted by ESPN.com's Tim Graham
Buffalo Bills owner Ralph Wilson has chosen ESPN's Chris Berman to present him for induction into the Pro Football Hall of Fame.
Berman will introduce Wilson during ceremonies Aug. 8 in Fawcett Stadium. Former Bills defensive end Bruce Smith, also in this year's class, recently revealed he will have his old defensive coordinator, Ted Cottrell, introduce him for induction.
Wilson's choice will be well-received in Buffalo, but probably wouldn't be the same had he been inducted sooner. He was particularly fond of local boy and "Meet the Press" host Tim Russert. The Bills' most famous fan died in June 2008.
Legendary Bills quarterback and U.S. congressman Jack Kemp died last month. A few days earlier, Wilson's daughter passed away. Linda Bogdan was the NFL's only active female scout.
Wilson explained his choice in a press release:
"Chris has been a friend of mine for many years and I thought he would be a great person to introduce me if he would do so. He acknowledged that he would, and I thank him very much, and he will be in Canton with me. Chris really embodies the Bills fans, who have played such an important role in my career in professional football. Professional football is all about the fans and having Chris as my presenter follows that thought."
Berman has endeared himself to Bills loyalists over the years. He would pick their team to win the Super Bowl every preseason. "Nobody circles the wagons like the Buffalo Bills" is one of his popular sayings. Berman used to quote an anonymous cab driver (the late general manager John Butler) who would correctly identify the Bills' first-round draft choice before it was made.
Berman, the host of "Sunday NFL Countdown" and "Monday NFL Countdown," also released a statement.
"Fifty years in sports, there's only one constant: Ralph Wilson is the owner of the Buffalo Bills. What Mr. Wilson has done for pro football and for the city of Buffalo and Western New York, it's hard to put into words. He remains in it for the same reasons he got into it in 1959: He loves the game of football, and that's apparent in everything he does. It will be an honor to have a bird's eye view to watch him be inducted in the Pro Football Hall of Fame, especially this year, in the 50th year of the old American Football League. He's a man I admire very much and I'm honored to just be there."