NFL Nation:

Chris DeGeare
March, 11, 2013
3/11/13
5:00
PM ET
Titans offensive line coach Bruce Matthews always said he'd recuse himself on roster decisions involving his son, Tennessee interior offensive lineman
Kevin Matthews
.

It would have cost the Titans a tender of at least $1.323 million to retain his rights. With or without the input of Bruce Matthews, the Hall of Fame lineman, the Titans didn't tender Kevin Matthews or interior offensive lineman
Kyle DeVan
.
Kevin Matthews and DeVan will become unrestricted free agents Tuesday at 4 pm ET. At that point the Titans could sign them for deals at one-year base minimum salary. The third-year base salary minimum is $630,000.
It's time, though, for the Titans to be finished with Matthews, the project who came out of Texas A&M in 2010.
The interior offensive line is expected to be revamped with two new starting guards. As they are brought in, via free agency and/or the draft, the team is likely to move on from two expensive veterans,
Steve Hutchinson
and
Eugene Amano
.
Leroy Harris
and
Deuce Lutui
become unrestricted free agents Tuesday.
Tyler Horn was on the practice squad at the end of last season and
Chris DeGeare
was on the practice squad injured list.
The Titans now have
Mitch Petrus
and
Kasey Studdard
as their interior depth.
So Tennessee doesn't only need a couple starting guards. It needs a candidate or two to compete with Petrus and Studdard for backup roles as well.
September, 3, 2011
9/03/11
6:46
PM ET
Check here
for a complete list of the
Minnesota Vikings
' roster moves.

Surprise move:
Either the Vikings have confidence in a number of unproven offensive linemen or they have their sights on some veteran acquisitions later this weekend. They released guard/tackles
Chris DeGeare
and
Ryan Cook
, both of whom saw substantial action at right guard during the injury rehabilitation of starter
Anthony Herrera
. This version of their 53-man roster features three centers and a total of 10 offensive linemen. The group includes two rookies (
DeMarcus Love
and
Brandon Fusco
) and one first-year player in
Patrick Brown
. The Vikings' arrangement here remains under construction, as far as I'm concerned.
No-brainers:
Undrafted tight end
Allen Reisner
was one of the big surprises of camp. He
not only pushed
veteran
Jeff Dugan
off the roster but also forced the Vikings to keep four tight ends on their roster. I wondered whether the Vikings would release safety
Tyrell Johnson
, who has struggled to maintain his starting job in the face of a modest challenge from
Jamarca Sanford
. In the end, the Vikings didn't have enough in-house experience to make that move. But watch out down the road for rookie
Mistral Raymond
, who forced his way onto the initial 53-man roster and is clearly respected by coaches.
What's next:
You would think the Vikings would be on the lookout for two areas in particular: Linebackers and running backs. The decision to release veteran
Heath Farwell
left them with five linebackers, only two of whom have starting experience. The current backups are special-teams ace
Kenny Onatolu
and undrafted rookie
Larry Dean
. With new starter
Erin Henderson
still establishing himself, you wonder if that is enough depth. Meanwhile, the Vikings kept only three tailbacks (and no fullbacks). Both of
Adrian Peterson
's backups,
Toby Gerhart
and
Lorenzo Booker
, were dealing with injuries as recently as last week. Depth is definitely an issue and could be addressed in the next 24-48 hours.
August, 4, 2011
8/04/11
9:18
PM ET
Some quick-hitting nuggets from across the NFC North knowing that two of our teams, the
Green Bay Packers
and
Chicago Bears
, are still practicing as we type and/or read...
Item:
Bears defensive tackle
Marcus Harrison
still
isn't practicing
because he reported to training camp 11 pounds overweight.
Comment:
I wonder when the Bears' patience with Harrison will run out. While he works on conditioning, the Bears are looking at a host of defensive linemen who could take his roster spot.
Item:
Packers tight end
Andrew Quarless
(hip flexor)
returned to practice
.
Comment:
Not a moment too soon. A couple of young tight ends,
D.J. Williams
and Ryan Taylor, opened some eyes during the first week of camp.
Item
: Packers defensive end
Mike Neal
participated in his first team drills since major shoulder surgery last fall,
according to Rob Demovsky
of the Green Bay Press-Gazette.
Comment
: That should be a welcome sign for all Packers fans who hope he is ready to take over for the departed
Cullen Jenkins
.
Item:
The
Detroit Lions
used newcomer
Stephen Tulloch
at outside linebacker in his debut practice Thursday.
Comment:
Tom Kowalski of Mlive.com
believes Tulloch eventually will be moved inside. I agree. It makes sense to give him a chance to ease into the scheme before giving him play-calling responsibility.
Item:
Minnesota Vikings
coach Leslie Frazier said he doesn't consider right tackle
Phil Loadholt
a possible replacement at left tackle.
Comment:
That makes sense. Shifting Loadholt would put another position in flux. As it stands, the Vikings are also using
Chris DeGeare
at right guard while
Anthony Herrera
continues his recovery from knee surgery. The only way Loadholt should be a possibility is if current starter
Charlie Johnson
proves he can't handle the job.
Item:
Vikings tailback
Adrian Peterson
is expected to return Friday from a three-day absence. Peterson's fiancé gave birth to a son in Houston.
Comment:
His return will give the Vikings their full complement of offensive players for the first time this summer.
December, 5, 2010
12/05/10
11:50
AM ET
DETROIT -- Wow. We've had an interesting morning of roster machinations here in the NFC North. Let's get right to them, starting with three big losses for the
Minnesota Vikings
.
December, 1, 2010
12/01/10
2:46
PM ET
Two significant streaks could be in jeopardy this week for the
Minnesota Vikings
.
As we've discussed
, tailback
Adrian Peterson
is dealing with a sprained right ankle. He did not practice Wednesday and has his work cut out for him to extend his streak of playing in 51 consecutive games. Interim coach Leslie Frazier
told reporters
that "we've all got our fingers crossed" that Peterson will play Sunday against the
Buffalo Bills
.
Meanwhile, left guard
Steve Hutchinson
revealed that he
fractured his right thumb
during Sunday's 17-13 victory over the
Washington Redskins
. Hutchinson, who has started 123 consecutive games dating back to 2003, continued playing but endured significant swelling afterward. Like Peterson, he sat out practice Wednesday.
Rookie
Chris DeGeare
would start in Hutchinson's place if necessary, leaving the Vikings with backups starting at both guard positions. (
Ryan Cook
has already replaced right guard
Anthony Herrera
, who was lost for the season because of a torn anterior cruciate ligament.)
Hutchinson, however, said he would be fitted with a new cast on Wednesday and hoped to find a way to play with it Sunday.
"That's the plan," he told reporters. "Now the issue becomes casting it up enough to protect it. We can cast it up, pad it up enough where it doesn't hinder me from doing my job."
November, 23, 2010
11/23/10
11:50
AM ET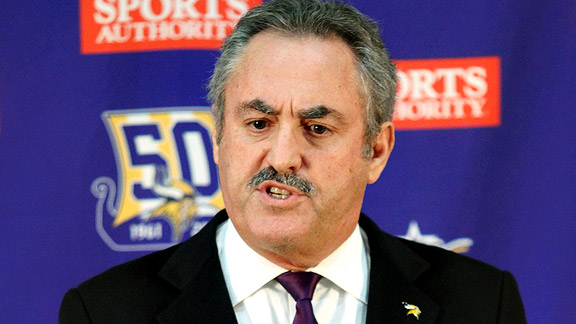 AP Photo/Andy KingOwner Zygi Wilf missed an opportunity Monday to lay out a vision of the Vikings' future.
After the Minnesota Vikings' 31-3 loss to the Green Bay Packers, and the subsequent firing of coach Brad Childress, here are three issues that merit further examination:
1. I'll be fascinated to see the extent to which the Vikings' offense changes with offensive coordinator Darrell Bevell presumably in complete control. Bevell has been associated with Childress since his days as a college quarterback at Wisconsin, but I've always suspected he subordinated some of his own ideas to mesh with Childress' rigid version of the West Coast offense.
The scheme opened up a bit in 2007, when Bevell took over the play calling. But anyone who watched the sidelines carefully knew that Childress was still heavily involved in play selection.
Obviously, the next six games will be an opportunity for interim coach Leslie Frazier to prove he is a viable head-coaching candidate. But on a different level, Bevell now has an opportunity to separate himself from the pocks of Childress' scheme and establish his own voice as an NFL coordinator for the first time. Frazier figures to have some input, but his career-long devotion to defense suggests he'll give Bevell more latitude than ever.
I'm curious to see how, and if, Bevell uses it.
2. Frazier and new defensive coordinator Fred Pagac have their hands full with a secondary that played a significant role in Childress' firing. For reasons I can't explain, the Packers are really the only opponent this season to take full advantage of mismatches against cornerbacks
Asher Allen
and
Chris Cook
. The Packers completed four passes of more than 20 yards on sideline routes, leading to the sideline bickering that indicated Childress had lost control of the team. (The
Dallas Cowboys
, among other teams,
should have done the same
.)
There isn't much from a personnel standpoint the Vikings can do at this point. But schematically or otherwise, the Vikings need to do more to protect both players. "People are going to try to attack our young corners going forward and we know that," Frazier said. "We'll have to adjust some things based on that."
3. Lost in the coaching change is this nugget of news: Right guard
Anthony Herrera
will miss the rest of the season because of a torn anterior cruciate ligament. Backup
Ryan Cook
struggled in Herrera's spot on Sunday, and you wonder if the team will turn to rookie
Chris DeGeare
this week against the
Washington Redskins
. Herrera is a hard-nosed bull who doesn't get much attention until he is replaced by an inferior player.
And here is one issue I don't get:
In a number of off-the-cuff conversations with owner Zygi Wilf over the years, I've found him to be articulate, passionate and smart. So I have no idea why he freezes up during press conferences. But after five years of owning the team, I think it's fair to expect a better articulation of his vision for the franchise -- and for him to provide at least a partial explanation for his actions and inactions.
Wilf's performance during Monday's announcement of Frazier's ascendance should be disappointing to anyone who wanted insight into the move or hoped to hear some accountability taken for the chaos of the past few months. Wilf spoke exclusively from prepared remarks, shuffling papers to find prewritten answers to anticipated questions. I think he literally skipped a line when addressing Childress' departure, because this is exactly what he said at one point: "It's often difficult to articulate one reason why change is needed. But obviously want to know is important to great a strong positive and successful rest of the season. We wish he and his family only the best."
Look, not everyone is a dynamic public speaker. We should remember that Wilf originally joined this ownership group intending to be a silent minority partner. He assumed the managing partner role only when lead investor Reggie Fowler encountered financial difficulty. And to be clear, I want no part of the snickering that went on during Monday's news conference. There will be no cheap shots here.
What I'll say is this: If I'm a Vikings employee, fan or sponsor on such a dramatic day, I want to hear more from the chief executive than a few minutes of clichés and garble. I want to hear something that tells me there is a plan for the near and long-term future, and for it to be articulated in a way that gives me confidence it can be executed.
I think Wilf and his partners have been the best owners this franchise has ever had. But I can't understand why he hasn't worked to get better at publicly representing it. Communicating a message is a learned skill, and this is a man with vast resources. If he wanted to, Wilf could hire presidential speechwriters and take private lessons from Tony Robbins.
I'm guessing Wilf doesn't consider it important enough to devote the time it would take to improve. If that's the case, he's mistaken. Whether he wants to or not, he ultimately sets the public perception of this franchise. If the owner doesn't communicate in public effectively, how can he expect a message to be heard?
October, 31, 2010
10/31/10
3:15
PM ET
September, 9, 2010
9/09/10
3:47
PM ET
NEW ORLEANS -- It appears as though one pregame question mark for the
Minnesota Vikings
has been answered. Barring a change of heart during pregame warm-ups, the Vikings have decided to start center
John Sullivan
despite a lingering right calf injury that cost him most of training camp and the entire preseason, according to ESPN's Ed Werder.
Sullivan returned to full practice earlier this week after spending more than a month dealing with the injury. The Vikings experimented with two options in the interim; one was using backup
Jon Cooper
and the other was shifting over right guard
Anthony Herrera
and inserting rookie
Chris DeGeare
at right guard. Ultimately, however, the Vikings decided to inflict minimal collateral damage by using an established starter who probably still isn't in full game condition rather than moving one or more players to different positions.
For our next trick, we'll endeavor to find out if the Vikings will add a cornerback to their roster or if they really do plan to enter this game with three healthy players at this position.
August, 9, 2010
8/09/10
6:59
PM ET
MANKATO, Minn. -- Let's get to some first-day impressions of the
Minnesota Vikings
, now that I've mopped off after a few hours on a steamy practice field where the heat index surpassed 100 degrees Monday afternoon:
When team drills began during the morning practice, these players were part of the first-team offense: Receiver Greg Lewis, center Jon Cooper, guard Chris DeGeare, tight end Jim Kleinsasser and quarterback Tarvaris Jackson. I wouldn't expect any of those five players to be in the starting lineup in the season-opening game Sept. 9 at New Orleans. Injuries, family death and indecision are all to blame.

[+] Enlarge

AP Photo/Andy KingE.J. Henderson has made strides in his recovery from a fractured femur.

Nose tackle Pat Williams, 37, and linebacker E.J. Henderson, who has a titanium rod in his leg, have each participated in more practices than receiver Sidney Rice, receiver Percy Harvin, center John Sullivan and quarterback Brett Favre combined. Tight end Visanthe Shiancoe has been added to the injury list with what coach Brad Childress called a strain, and he missed both of Monday's practices.

I plan to write more about Henderson soon, but for now you should know that Monday was the best day yet in his recovery from a fractured femur. For the first time, Henderson participated in all of the defensive repetitions for his group in the morning practice (first team) and afternoon practice (second team). "It felt good," Henderson said. "No pain. No worries. Ready to keep it moving."

DeGeare, a fifth-round draft pick in April, was filing in for injured right guard Anthony Herrera and appears on his way to winning a roster spot as a backup who can play both guard spots and perhaps tackle in a pinch. With DeGeare and Cooper on the roster, you wonder if the end is near for center/tackle Ryan Cook -- the player drafted in 2006 with the choice acquired from Miami in the Daunte Culpepper trade.

I thought the Vikings looked pretty sharp defensively. The best play I saw was linebacker Chad Greenway's diving tip of a pass intended for Kleinsasser.

Count me in agreement among those who have already observed that rookie quarterback Joe Webb is struggling. I counted three ducks on basic go routes and got the sense he has hit the rookie wall of training camp. Even offensive coordinator Darrell Bevell admitted that Webb's head is "swimming" with terminology and added: "There's been times out here where he's flashed some great plays, but there's been times where he's flashing that he's definitely a rookie."

Here's an interesting wrinkle to the Harvin situation we discussed earlier: Judd Zulgad of the Star Tribune reports that in addition to dealing with the death of his grandmother, Harvin might be suffering from the migraine headaches that plagued him for parts of last season. Childress reiterated Monday afternoon that he isn't certain when Harvin will rejoin the team. "I'm kind of flying in the dark a little bit," Childress said.

The Vikings have a full-pads practice scheduled for Tuesday morning. It will include some live scrimmaging and probably be their last real contact until Saturday's preseason game at St. Louis.

I made it almost a full day without addressing the elephant next door. Childress said he texted with Favre as recently as Monday morning but had no information on Favre's scheduled visit this week with Dr. James Andrews, who performed the routine surgery on Favre's ankle.