October, 22, 2013
10/22/13
2:45
PM ET
The
Washington Redskins
have depth at tight end and, because of that, they can think about trading a player that looked to be a part of their future a year ago. Even six months ago.
But
Fred Davis
isn't playing and
Jordan Reed
is now the pass-catcher of the future at tight end. So Davis will be shopped before the NFL's Oct. 29 trade deadline, according to multiple reports.
That doesn't mean a trade will happen, of course. One NFC executive -- who studied Davis in the offseason -- said Davis had "minimal" trade value. Yes, the old saying is, it only takes one team.
The problem is Davis himself. Two years ago his season ended with a four-game drug suspension and he's now one strike away from a year-long one. Last season, his year ended because of an Achilles' injury and this year he's been slowed by a sprained ankle. And now he's been surpassed by Reed. When you watch Reed play, that's not a damning phrase (also note: the coaches consistently praise how Reed and
Logan Paulsen
work in practice and in the meeting rooms; read between the lines if you'd like). But it does prevent Davis from showing what he can truly do coming off last year's injury -- or if he's even back to being his old self.
Another factor, of course: He's in the last year of his contract. So what would a team really be willing to trade in return? The executive said he thinks Davis likely would fetch a player instead of a draft pick. But would a team really give up a quality player for Davis at this point? My guess is, any player they receive would be one not in their current team's future plans.
Only one other team made an offer to Davis last offseason: Buffalo. A league source said at the time that the Bills offered Davis a two-year deal worth $700,000 more than what he received in a one-year contract from Washington. But Davis hoped to turn a productive 2013 season into a bigger offer in the offseason.
The
New York Jets
showed interest, but backed out when they heard the offers being discussed. Davis' trip there was canceled.
Would the Bills make an offer? I know there's a lot of talk about Buffalo safety
Jairus Byrd
and whether or not Davis could be used as a chip to get him. I can't imagine that being doable without some serious draft pick going along with Davis. And, yes, Cleveland is fielding offers for receiver
Josh Gordon
. But the Browns aren't jumping to make a deal and would a Davis/draft pick package really be all that enticing for them (when they already love their tight end,
Jordan Cameron
)? Perhaps there's a team out there that would love to get Davis; it'll be tough to get a lot for him.
Here's what ESPN.com's Bills reporter Mike Rodak
wrote about whether or not a trade would make sense
for Buffalo:
For the Bills, it's unlikely Davis would replace Scott Chandler in the starting lineup. He would simply provide another option at the position. Chandler, who is also coming off an Achilles' injury, ranks 19th among NFL tight ends, with 22 receptions for 269 yards and two touchdowns.

Beyond Chandler, the Bills have Lee Smith, a blocking tight end with two receptions this season, and their seventh-round pick, Chris Gragg. The addition of Davis would likely push Gragg, who has played just six offensive snaps this season, to the practice squad.

Although it's a considerable long shot, the other wrinkle to consider here is safety Jairus Byrd. Although they're not actively shopping him, the Bills have said they'll listen to any offers on Byrd. The Redskins need a safety.

While the Redskins would clearly need to give up more than Davis (i.e. a mid-round draft pick or higher) to get Byrd, it would be a swap of two players who have expiring contracts, creating an impetus for both sides to make a deal.
July, 19, 2013
7/19/13
12:00
PM ET
NFC Eight in the Box:
East
|
West
|
North
|
South
»
AFC:
East
|
West
|
North
|
South
What are the three key camp issues facing each AFC East team?
BUFFALO BILLS
Offense: Relying on rookies early

The Bills pressed reset this offseason with a franchise overhaul that included a new quarterback in rookie
EJ Manuel
. But he's not the only potential rookie starter on offense, as Buffalo might turn to receivers
Robert Woods
and
Marquise Goodwin
. Seventh-round tight end
Chris Gragg
is also a name to keep an eye on as
Scott Chandler
works his way back from injury (should be 100 percent for camp). Woods brings polish while Goodwin and Gragg have no shortage of speed, but can they turn those traits into immediate contributions? And if Manuel wins the starting role under center, can he replicate the recent success of other rookie quarterbacks?
Defense: Finding a third cornerback
The Bills were unable to come to terms on a long-range pact with safety
Jairus Byrd
before Monday's deadline, but that's not the only secondary issue they're facing. Beyond
Stephon Gilmore
and
Leodis McKelvin
, it's unclear how the cornerback depth chart stacks up. Veterans
Ron Brooks
and
Justin Rogers
are candidates to compete for the nickelback job, and in a division that features a
Tom Brady
-led offense, a defense without capable cornerbacks is in major trouble.
Wild card: Scheme transition on both sides
There is optimism surrounding the new direction of the Bills behind coach Doug Marrone, but one inevitability of a coaching change is the transition from one scheme to another. On offense, the success might depend on quarterback play, whether it's Manuel or
Kevin Kolb
under center. Defensively, new coordinator Mike Pettine faces the challenge of fitting the incumbent pieces into his scheme. If he can maximize the talents of
Mario Williams
,
Kyle Williams
and
Marcell Dareus
, the front seven should be formidable by season's beginning.
MIAMI DOLPHINS
Offense: Martin on the left side

Jake Long
is now a Ram, and the Dolphins are entrusting
Jonathan Martin
to fortify the left side of their offensive line. In limited reps as
Ryan Tannehill
's blindside protector in 2012, Martin struggled, showing an inability to consistently anchor and hold up against speed-to-power rushers. Martin was more comfortable on the right side of the line, but the Dolphins have enlisted veteran
Tyson Clabo
to take on that role this season. If Martin is unable to man the left tackle position, the Dolphins have limited in-house options to replace him.
Defense: Secondary
The Dolphins lost cornerback
Sean Smith
in free agency a year after trading away
Vontae Davis
. The presumptive starters for 2013,
Brent Grimes
and rookie
Jamar Taylor
, enter training camp coming off injuries (Grimes missed nearly the entire 2012 season), and it's fair to wonder how much, if at all, the secondary has improved. At his best, Grimes is one of the top off-man cornerbacks in football, a pesky ball hawk with reactive athleticism. But if an Achilles injury lingers, the Fins are in danger of playing with a short-handed secondary.
Wild card: Miller ready for heavy load?
With
Reggie Bush
in Detroit, the Dolphins must turn to a new feature back, and the early buzz suggests
Lamar Miller
is the leader in the clubhouse to take on that role. Talent, specifically speed, won't be the issue for Miller, but he'll be tested by the rigors of a full workload.
Daniel Thomas
hasn't proved to be the answer in the backfield, and although
Mike Gillislee
offers some ability, the Dolphins need Miller to emerge in order to ease the burden on Tannehill.
NEW ENGLAND PATRIOTS
Offense: Passing game chemistry

The Patriots face the prospect of starting the regular season without their top five pass-catchers from 2012, a tough chore for any offense. Although
Tom Brady
has shown a penchant for developing a rapport with new wideouts quickly, the turnover among his targets this year is substantial. The Patriots hope that
Danny Amendola
will replicate
Wes Welker
's success, but the depth chart behind him is less certain. A trio of rookies,
Aaron Dobson
,
Josh Boyce
and
Kenbrell Thompkins
, will come under the microscope during training camp.
Defense: Possible Dennard fallout
The Patriots worked hard to retain their secondary from 2012, a group that made strides when
Aqib Talib
and
Alfonzo Dennard
became starters. Dennard, however, enters training camp on uneasy footing after a recent arrest for suspicion of a DUI, which could affect his on-field status. (He was already on probation for an April 2012 arrest.) If Dennard misses any time, the Patriots' cornerback depth will be thinned and the depth chart reshuffled. For a group that finally seemed to hit its stride late last season, potential shuffling is not what it needs.
Wild card: Pass rush
Though the defense generated 37 sacks last season, an untimely no-sack, no-quarterback hit effort against
Joe Flacco
and the Ravens in the AFC Championship Game is difficult to forget. The Patriots passed on marquee veteran edge rushers this offseason, opting instead to rely on the development of young rushers and the selection of second-round linebacker
Jamie Collins
.
Chandler Jones
has a high ceiling, but he needs to build on the first half of his rookie season, during which he recorded all six of his sacks.
Marcus Benard
, who notched 7.5 sacks in 2010, is a player to keep an eye on.
NEW YORK JETS
Offense: Playmakers, anybody?

While all eyes will be on the quarterback competition this summer, there's also a startling dearth of talent at the skill positions for the Jets, especially with questions surrounding
Santonio Holmes
' foot. The Jets lack a dynamic tight end and are short on proven receivers. No matter who wins the quarterback competition, he won't have much in the way of reliable playmakers to give the football. New running back
Chris Ivory
is the most exciting player on this offense and is likely to be prominently featured.
Defense: Milliner ready?
The Jets will be well-coached on defense, as Rex Ryan is one of the best at maximizing his talents. Although the defense held up in the secondary without
Darrelle Revis
, the pressure will be on rookie cornerback
Dee Milliner
to make the group even better than it was toward the back end of 2012. He was widely considered the top cornerback in the draft, but now he has the task of trying to make Jets fans (partially) forget that Revis is a Buc.
Wild card: Coples' transition
Ryan can generate pressure through his defensive schemes, but the Jets have lacked a pure edge rusher in recent seasons. One vehicle to solve that issue is transitioning
Quinton Coples
from a down lineman to a stand-up linebacker role, a position that could fit with his skill set. Though Coples flashed as a rookie in 2012, it's about consistency for the former first-rounder. At 6-foot-6 and 290 pounds, he has the frame to be dominant. The Jets will need him to provide a pass-rush spark in his second NFL season.
April, 29, 2013
4/29/13
9:00
AM ET
The NFC West's fiercest current rivals, San Francisco and Seattle, both wound up selecting tight ends from Rice University in the recently completed NFL draft.
How the 49ers and Seahawks selected those tight ends invites a question: Did the 49ers snatch from Seattle a player the Seahawks would have selected?
Tight end was seen as a primary need for the 49ers and a secondary one for the Seahawks based on how each team has run its offense recently.
When NFL teams selected three tight ends between the 21st and 47th selections, San Francisco risked watching more players at the position come off the board before it was scheduled to select with the 61st overall choice. So, with Green Bay on the clock at No. 55 and Seattle scheduled to pick at No. 56, the 49ers traded into the Packers' slot to select Vance McDonald, the more prominent of Rice's tight ends last season.
Seattle then traded back six spots to No. 62 before selecting Texas A&M running back
Christine Michael
. The Seahawks later selected McDonald's teammate, tight end Luke Willson, in the fifth round at No. 158 overall.
To my knowledge, no one asked 49ers general manager Trent Baalke or his Seattle counterpart, John Schneider, about the sequence when San Francisco jumped past the Seahawks to select McDonald. The two men worked together in Washington years ago and could have a good feel for the other's tendencies. However, there is no way the 49ers could have known whether the Seahawks or any other team was going to select McDonald between the 55th and 61st selections.
"There's times when you want to sit tight and there's a lot of times where people will question, 'Well, why did you move up five when he would have been there?'" Baalke told reporters when discussing trades in general. "Well, there's no proof that the player would have been there. So, you do what you need to do to make sure you get the players you want to get."
By trading up six spots, the 49ers moved past Atlanta, New England, Denver, Houston and Seattle in the draft order. Three of those five teams selected tight ends later in the draft. Atlanta used a fourth-rounder for Stanford's Levine Toilolo. Seattle used the fifth-rounder for Willson. Houston used a sixth-rounder for Ryan Griffin from Connecticut.
Baalke could have sized up those teams' needs collectively when deciding to move up for McDonald. They might not have had only the Seahawks in mind.
The 49ers had enough picks to move around the board freely to fill needs at values agreeable to them. The price they paid Green Bay for the 55th choice -- the 61st and 173rd picks -- was lower than the price Seattle commanded for the 56th selection (Baltimore handed over the 62nd, 165th and 199th picks for that one).
[+] Enlarge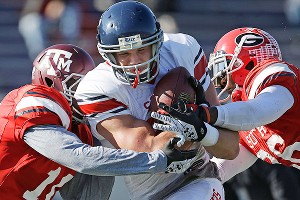 AP Photo/Dave MartinSan Francisco traded up in the second round to select Rice tight end Vance McDonald.
Comparatively, then, the 49ers got a good deal. Why not move up if the price is right? The Packers have long been known as a team willing to move back for additional picks. They simply could have made for a convenient trading partner whether or not Seattle was scheduled to select one spot later.
Teams usually have several players in mind for each selection they hold. They move up when the list of players they consider worthy of a certain value range dwindles, or if a specific player within striking distance is rated far higher than others likely to be available to them. They move down when the list of worthy players is longer.
"I don't know that you ever trade back six, seven, eight picks and hope one player's there," Baalke said when explaining why the 49ers traded back six spots to No. 40. "That's risky business. So, we had a number of players that we were willing to take. And at that time we felt that one of that group of guys was going to be available at 40, and we would have been happy with all of them."
The fact that McDonald and Willson both played at Rice before winding up in the NFC West seems coincidental.
"Vance was obviously the more stout guy, if you will," Schneider said. "Willson was more of the down-the-field threat, but there is no question Vance was much more involved in their offense."
Injuries limited Willson in 2012. He previously played first base on the Canadian national team and spent time in the Toronto Blue Jays organization. According to the Vancouver Sun,
Willson posted impressive numbers
at his pro day: 4.46 seconds in the 40-yard dash, 38-inch vertical leap, 10-plus feet in the broad jump and 23 reps of 225 pounds in the bench press.
"We like the fact that for us he was the second-best tester of all the tight ends in this draft," Schneider said. "He is 6-5 1/2, running 4.51 and great hands, can get down the field. He is quick off the ball, gets his shoulders around quick. He is a really interesting prospect for us."
Baalke said his team valued McDonald's versatility in particular. McDonald also led all tight ends at the NFL scouting combine with 31 reps on the bench press.
"He's 260-plus pounds, he's got a huge wingspan, he's got big hands," Baalke said. "He lines up all over the place. He lines up a little bit in the backfield. He lines up on the line of scrimmage. He lines up in the wing position, off the line of scrimmage. And he also lines up outside. He's smart, he's tough and he is a good fit within our system."
NFL SCOREBOARD
Thursday, 10/2
Sunday, 10/5
Monday, 10/6