May, 23, 2012
5/23/12
9:30
AM ET
Unlike the other all-time great safety in the division, the Steelers'
Troy Polamalu
is committed to playing this season. But Polamalu did acknowledge to the
Pittsburgh Post-Gazette
that he thinks of the end of his career "all the time."

Polamalu
"People have asked me how many years do you think you can play? My reaction is always, when you live day to day, it's hard to talk years," he said. "It's always been my mantra in life, whether it was my first year as a rookie or year 10, I just live day to day."
It's fair to say that Polamalu, who turned 31, has fewer years ahead in his playing career than behind him. But that won't impact this season. The fact that Polamalu was there for voluntary workouts will.
Polamalu usually skips these practices because he prefers working out with his trainer in Los Angeles. He said he chose to come this year "for obvious reasons."
"We had a lot of our major leadership leave, people that we count on," he said. "I think it's nice for the younger guys to see a familiar face, and, honestly, to get myself better."
This older Polamalu might think of retirement more, but he is also more mature and responsible. He understands the effect of losing the likes of
James Farrior
,
Aaron Smith
and
Chris Hoke
on defense. He understands that the Steelers need him in Pittsburgh and not on the West Coast.
General manager Kevin Colbert said at the NFL owners meetings that he couldn't identify who would become the new leaders on this team. "We're looking for that right now," he said.
Well, the Steelers looked at one when they saw Polamalu entering team headquarters for a workout in May.
April, 11, 2012
4/11/12
10:00
AM ET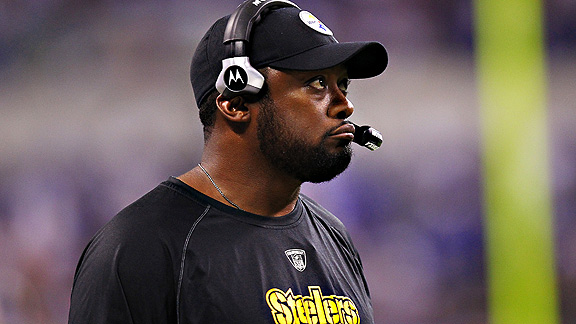 Michael Hickey/US PresswireMike Tomlin and the Steelers need to tap into their draft magic this year more than many.
Nearly a full month into free agency, the Steelers finally signed their first player Tuesday. It was -- yawn --
Leonard Pope
.
Not excited about adding a backup tight end? Well, this is essentially a repeat of last year, when the Steelers' big free-agent signing was wide receiver
Jerricho Cotchery
. Let's face it, Steelers' free agency contains as much action as a Sarah Jessica Parker flick. Everyone knows this, and that's why no one is wringing their Terrible Towel over the inactivity.
The Steelers find players in April, not March. They hit on first-round picks every year -- at least in recent memory -- and develop undrafted prospects into starters. No one has built their team through the draft quite like the Steelers this decade. If the season started today, only one of the projected starters (safety
Ryan Clark
) joined the Steelers as an unrestricted free agent.
The Steelers need this remarkable track record in the draft to come through for them again. In some ways, this is the most important draft of the Mike Tomlin era. I'm not saying this is a crucial draft in terms of finding immediate starters. But the pressure is on the Steelers to find "potential" starters for the 2012 season.
The organization lost a piece of its history when it parted ways with wide receiver
Hines Ward
, linebacker
James Farrior
, defensive end
Aaron Smith
, nose tackle
Chris Hoke
and guard
Chris Kemoeatu
this offseason. Some have downplayed these departures because none were major contributors last season. Farrior was a part-time player, Ward was being phased out, Kemoeatu was benched and Smith and Hoke were both injured. The Steelers, though, could have used their experience as backups this season.
The loss of these veteran safety nets makes injuries a major concern. Two starters -- running back
Rashard Mendenhall
and nose tackle
Casey Hampton
-- are candidates to start the regular season on the physically unable to perform list (and miss at least the first six games) after ACL surgeries this offseason. Tomlin has expressed concern whether right tackle
Willie Colon
and wide receiver
Emmanuel Sanders
can shake their injury histories. And the Steelers have to be worried about
Maurkice Pouncey
's ankle,
LaMarr Woodley
's hamstrings and
Doug Legursky
's shoulder.
If Hampton is placed on the PUP, the starting nose tackle would likely be an out-of-position
Ziggy Hood
. If Legursky is hurt, the current top backup at guard is
John Malecki
. If Colon goes down, the Steelers have to turn to the often-struggling
Jonathan Scott
. If Sanders can't play, the third receiver would be ... well, no one right now. These are all painful scenarios for the Steelers.
This is where the draft comes into play for Pittsburgh. Taking the right college player has always kept the Steelers in the mode of reloading, not rebuilding. No one knows whom the Steelers will select with the 24th overall pick. It could be Alabama inside linebacker
Dont'a Hightower
, Georgia offensive lineman
Cordy Glenn
, Stanford tight end
Coby Fleener
or someone not even linked to Pittsburgh. Based on the Steelers' history, the only certainty is the pick will become an impact player.
[+] Enlarge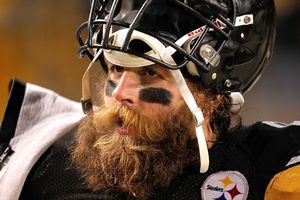 Gregory Shamus/Getty ImagesDefensive end Brett Keisel, taken in the seventh round, is just one of the Steelers' draft finds.
Since 2000, the Steelers' first-round selections have been wide receiver
Plaxico Burress
, Hampton, guard
Kendall Simmons
, safety
Troy Polamalu
, quarterback
Ben Roethlisberger
, tight end
Heath Miller
, wide receiver
Santonio Holmes
, linebacker
Lawrence Timmons
, Mendenhall, Hood, Pouncey and defensive end
Cameron Heyward
. The only one who didn't quite live up to expectations is Mendenhall, and he is hardly a major disappointment, having led the team in rushing for the past three seasons. This great run is more amazing when you consider only two (Burress and Roethlisberger) were selected in the top half of the first round. Even the Ravens, who are known for excelling in the draft, have had two busts during this span with quarterback
Kyle Boller
and wide receiver
Travis Taylor
.
General manager Kevin Colbert, one of the underrated decision-makers in the NFL, can't explain this string of success.
"We've been fortunate," he told reporters at the NFL owners meetings. "We are capable as anybody of making a mistake. We never keep score. There's only one score that matters and that's the last game of the year."
If the Steelers had been keeping score, they would realize their success goes beyond the first round. They have come away with current starters in the second round (linebacker Woodley), third round (wide receiver
Mike Wallace
), fourth round (cornerback
Ike Taylor
), sixth round (wide receiver
Antonio Brown
) and seventh round (defensive end
Brett Keisel
). And don't forget about the undrafted finds like Legursky, right guard
Ramon Foster
and running back
Isaac Redman
.
This is why the Steelers don't have to write a $100 million check to free agents. This is why the Steelers can sign one player in the first 28 days of free agency and not sweat about it. Pittsburgh's way of business is about patience and faith. The Steelers believe in their front office to select the right college players and they believe in their coaching staff to develop them. It's a proven system that has led to five AFC North titles in 10 seasons and three trips to the Super Bowl during that span.
As players come and go, the Steelers' goals never change. Like Tomlin always preaches: "The standard is the standard."
"If you have a desire to be in this league for a length of time, you are going to roll with the punches and the ebb and flow, the evolution of the game," Tomlin said at the NFL owners meetings. "Thankfully, I've been in the game long enough to see a little bit of that. Those who are able to sustain success are pliable and flexible."
And the organizations that are able to sustain success are often quiet in free agency and make their most noise in the draft.
March, 29, 2012
3/29/12
11:00
AM ET
»
AFC Assessments
:
East
|
West
|
North
|
South
»
NFC
:
East
|
West
|
North
|
South
Cincinnati Bengals

Key additions:
RB
BenJarvus Green-Ellis
, S
Reggie Nelson
, G
Travelle Wharton
, CB
Jason Allen
, CB
Adam Jones
, DE
Jamaal Anderson
, DE
Derrick Harvey
Key losses:
DE
Frostee Rucker
(Browns), G
Nate Livings
(Cowboys), G
Mike McGlynn
(Colts), DE
Jonathan Fanene
(Patriots), WR
Andre Caldwell
(Broncos)
Grade after first wave of free agency:
B. The Bengals were the most active team in the division and they should have been. Cincinnati entered free agency with over $50 million in salary-cap space, which was more than the rest of the AFC North combined. The Bengals upgraded at running back and left guard while bringing back their top free-agent priority in safety Reggie Nelson. The biggest knock against the Bengals is they didn't make a splash by signing a high-profile free agent like guard
Ben Grubbs
or wide receiver
Robert Meachem
.
The prize of the Bengals' signings is running back BenJarvus Green-Ellis, who is an improvement over
Cedric Benson
. Green-Ellis isn't known for breaking long gains, but he is a force in the red zone and has never fumbled in the NFL. Wharton is a step up from Nate Livings at left guard because he is a strong run-blocker who will open holes inside. The biggest losses came on the defensive line, where Cincinnati will miss Frostee Rucker on run defense and Jonathan Fanene in the pass rush.
What's next:
The Bengals can still close the gap between the Ravens and Steelers because they have two first-round picks in the draft (No. 17 overall, which came from Oakland in the
Carson Palmer
trade, and No. 21). Even with the signing of Wharton, Cincinnati needs a right guard and could have a shot at the top interior offensive lineman coming out of college. Stanford's
David DeCastro
is one of the safest picks in the draft and would start immediately for the Bengals.
The second first-round pick could be used on a wide receiver or a cornerback. The Bengals surprisingly didn't add a free-agent wide receiver to pair with
A.J. Green
. Georgia Tech's
Stephen Hill
or Baylor's
Kendall Wright
should be available in the bottom third of the draft. Another need is cornerback because Cincinnati could use an eventual replacement for
Nate Clements
, who is entering his 12th season. Alabama's
Dre Kirkpatrick
, the second-best corner in the draft, has a chance of sliding to the Bengals.

Cleveland Browns
Key additions:
DE Frostee Rucker, LB
D'Qwell Jackson
, CB
Dimitri Patterson
, DE
Juqua Parker
Key losses:
RB
Peyton Hillis
(Chiefs), S
Mike Adams
(Broncos), G
Eric Steinbach
, OT
Tony Pashos
Grade after first wave of free agency:
C. Browns president Mike Holmgren and general manager Tom Heckert said they were building this team through the draft and they weren't joking. The Browns desperately needed to improve at quarterback, wide receiver and right guard. But Cleveland's offense came out of the initial wave of free agency empty-handed. Blame the
Washington Redskins
. The Browns attempted to move up in the draft to take
Robert Griffin III
, and the Rams instead traded the second overall pick to the Redskins. Cleveland reportedly pursued wide receivers
Pierre Garcon
and
Josh Morgan
, and both took high-priced deals from Washington.
The Browns provided more help to the defense in free agency. Frostee Rucker will make an impact in stopping the run, which was the biggest weakness on the NFL's 10th-ranked defense. Juqua Parker, who has 31.5 sacks over the past six seasons, will team with
Jabaal Sheard
to give Cleveland a strong rush coming off both edges. The Browns didn't try to keep Peyton Hillis and Mike Adams from going elsewhere.
What's next:
Offense, offense and offense. Did I mention offense? The Browns need a quarterback but there's no one worthy of the fourth overall pick. Cleveland could trade down to select Texas A&M's
Ryan Tannehill
or wait until the second round for Oklahoma State's
Brandon Weeden
. The big decision comes if the Browns stay put at No. 4. Cleveland's choices are Alabama running back
Trent Richardson
or Oklahoma State wide receiver
Justin Blackmon
. The Browns could use either one because they don't have a starting running back or a No. 1 wide receiver.
Cleveland has a second first-round pick as a result of last year's trade with the
Atlanta Falcons
. The Browns need to target a wide receiver (if they don't take one earlier in the first round), right tackle or outside linebacker with the 22nd overall pick. Baylor receiver Wright, Mississippi offensive tackle
Bobby Massie
and Nebraska outside linebacker
Lavonte David
have been linked to Cleveland.
Baltimore Ravens

Key additions
: C
Matt Birk
, ILB
Jameel McClain
, OLB
Brendon Ayanbadejo
, CB
Corey Graham
, S
Sean Considine
Key losses
: G Ben Grubbs (Saints), OLB
Jarret Johnson
(Chargers), DE
Cory Redding
(Colts) and CB
Domonique Foxworth
Grade after first wave of free agency
: D. The Ravens lost three starters (Ben Grubbs, Jarret Johnson and Cory Redding) from last season's AFC North champion team and have yet to add anyone to replace them. It was a a rough start to free agency for Baltimore, which didn't sign any of its first three visits (guard
Evan Mathis
, defensive end
Mark Anderson
and receiver-returner
Ted Ginn
Jr.). The toughest part of free agency was when the Ravens failed to sign Mathis, who re-signed with the Eagles, after Baltimore had just lost Grubbs.
Baltimore was able to keep two free-agent starters, Matt Birk and Jameel McClain, and boost a struggling special-teams group that allowed three touchdowns last season. The Ravens signed Cory Graham, a Pro Bowl special-teams player from the Bears; Brendon Ayanbadejo, a three-time Pro Bowl special teams standout; and Sean Considine, who played special teams for three seasons under John Harbaugh in Philadelphia.
What's next
: The Ravens' biggest need is at left guard, but there might not be one that warrants being taken at No. 29. Wisconsin center-guard
Peter Konz
's stock has slipped recently even though he can guard right away before switching to center in future seasons. It's hard to pin down a player for Baltimore, which can go in a lot of different directions in the first round.
The Ravens could take the best wide receiver available (especially if he's a returner) because they need a third target who can eventually take
Anquan Boldin
's starting spot. They could take a safety because
Ed Reed
turns 34 at the start of the season and
Bernard Pollard
is a free agent next year. And they could take an offensive tackle because they don't have a reliable backup and
Bryant McKinnie
is a free agent in 2013.
Pittsburgh Steelers

Key additions
: None
Key losses
: CB
William Gay
(Cardinals), LB
James Farrior
, NT
Chris Hoke
, G
Chris Kemoeatu
, DE
Aaron Smith
, WR
Hines Ward
Grade after first wave of free agency
: D. It's been a quiet free-agency period so far for the Steelers. Then again, it's usually quiet for the Steelers at this point in the offseason. The only team that consistently does less than the Steelers in free agency is the
Green Bay Packers
.
The Steelers avoided a failing grade because they've only lost two starters from last season's playoff team. James Farrior was cut in the team's salary-cap purge, and William Gay left as an unrestricted free agent. What Pittsburgh really lost in trimming $25 million to get under the cap was veteran depth and leadership. Injuries would force young players to step up into starting roles.
What's next
: There are question marks at running back, guard, inside linebacker, nose tackle and cornerback. Despite all of those needs, the consensus has been Pittsburgh will draft Alabama inside linebacker
Dont'a Hightower
if he's available at No. 24. He has a great combination of size and speed and excelled in a 3-4 defense in college. It seems like Hightower would be the perfect fit for Pittsburgh.
There's no chance that Memphis'
Dontari Poe
falls to the Steelers, but there some quality nose tackles in the draft. Those who should be available after the first round are: BYU's
Loni Fangupo
(second round), Washington's
Alameda Ta'amu
(third round) and Alabama's
Josh Chapman
(fourth round). The Steelers likely will become active later in free agency, especially in retaining their own players. Wide receiver
Jerricho Cotchery
, running back
Mewelde Moore
and quarterbacks
Byron Leftwich
and
Charlie Batch
could potentially return to the team.
January, 26, 2012
1/26/12
2:51
PM ET
Nose tackle has suddenly become a priority for the
Pittsburgh Steelers
. A major one.

Hampton
Casey Hampton
told The
Pittsburgh Post-Gazette
that he will have surgery Friday to repair a torn ACL in his left knee. This comes one day after long-time backup
Chris Hoke
decided to retire
. The only other nose tackle with any experience on the Steelers' roster is
Steve McLendon
, and he is considered a backup player.
This news comes as a surprise because it was only two weeks ago that it was reported that Hampton
didn't need surgery
. This marks Hampton's third ACL surgery, two of which have come in his 11-year Steelers career.
The Steelers faced a tough decision with Hampton already because the five-time Pro Bowl nose tackle is scheduled to make $4.89 million, which is a big chunk for the cap-strapped Steelers. There had been talk that it wasn't a guarantee that the Steelers would release Hampton, but now comes this problem. Even if Pittsburgh somehow keeps Hampton, he most likely wouldn't be ready for the start of the regular season because he's having surgery less than eight months before the start of it.
Hampton, 34, injured his knee in the playoff loss in Denver earlier this month.
This is why Mel Kiper has the Steelers selecting Memphis defensive tackle
Dontari Poe
with the 24th overall pick in the first round. He is a space-eater who would be a great fit for the middle of the Steelers' 3-4 defense.
January, 25, 2012
1/25/12
4:00
PM ET
Chris Hoke
will announce his retirement at a news conference, ending one of the greatest runs by a backup defensive lineman. It will also mark the start of a salary cap-induced transition for the Steelers' defense.
With the Steelers projected to be $25 million over the cap, the top candidates on defense to get released in March are: nose tackle
Casey Hampton
($4.89 million salary in 2012), inside linebacker
Larry Foote
($3 million), inside linebacker
James Farrior
($2.82 million), cornerback
Bryant McFadden
($2.5 million) and defensive end
Aaron Smith
($2.1 million).
The biggest void would be at nose tackle, where Hampton and Hoke have been the anchor there for 11 seasons. If both are gone -- and it's not a lock that Hampton is gone -- the pressure is on the Steelers to fill that spot in the draft. The only nose tackle with any experience would be
Steve McLendon
, and he's better suited as a backup.
Ziggy Hood
could also be moved to that spot if Pittsburgh has no other options there.
The loss of Hoke can't be understated. He was the defense's best insurance policy. The Steelers were 17-1 in Hoke's 18 career regular-season starts, many of which came in 2004 when Hampton was injured.
Hoke, 35, who had season-ending neck surgery last month, is in the final year of his contract.
September, 30, 2011
9/30/11
11:38
AM ET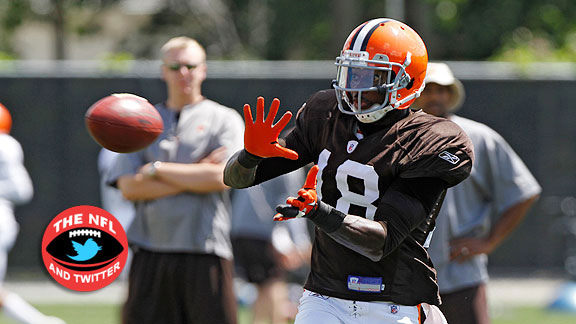 AP Photo/Mark DuncanCarlton Mitchell leads this week's Twindex.
Faith is a key piece of the lives of a lot of NFL players on Twitter.
Many tweet Bible verses or favorite passages, particularly in the morning when they get in a prayer and a daily reading.
It can be a piece of a well-rounded tweeter, though it's not something that typically scores for a guy in the NFL Twindex.
We seek well-rounded players who deliver good humor, good commentary and good football insight.
You can find what I consider the best player tweets of the week by looking at
my favorites
.
I try to scan through as many tweets as I can, but it's difficult to see them all and I can always use your help. Call my attention to anything of interest at
@ESPN_AFCSouth
or
@PaulKuharsky
.
This week's list:
NFL SCOREBOARD
Thursday, 9/4
Sunday, 9/7
Monday, 9/8