July, 18, 2014
Jul 18
11:00
AM ET
Examining the
Jacksonville Jaguars
' roster:
QUARTERBACKS (3)
General manager David Caldwell has said he likes to keep three quarterbacks, which means all three will have to be on the active roster, because Stanzi is ineligible for the practice squad. Stanzi should start the season as the No. 2 because he's more ready to play than Bortles, but that will likely flip-flop at some point.
Stephen Morris
is a practice squad candidate.
RUNNING BACKS (5)
If the Jags elect to keep only four backs, Todman and Johnson likely would battle for the final spot. That is assuming Robinson continues to be very good in camp. He might end up getting more playing time than any of the other backs after Gerhart if he shows he can be a reliable pass-catcher. Johnson has to prove he can pass block and doesn't have problems with ball security.
RECEVIERS (6)
The first four players should be locks, but it will be an interesting competition for the final two spots among Brown, Taylor, free-agent signee
Tandon Doss
, undrafted rookie
Allen Hurns
, and former practice-squad player
Chad Bumphis
. Doss missed most of the organized team activities and minicamp because of a calf injury, allowing Taylor, Bumphis and Hurns to get valuable reps. Doss was not a consistent receiver in his three seasons in Baltimore and has more value as a returner, but Sanders' strength is as a punt returner and the Jags have other options at kickoff returner. I have Taylor narrowly beating out Hurns because of his experience, but I can easily see that being flipped if the Jags want to add more size. Hurns is 6-foot-3; Taylor is 6-0.
TIGHT ENDS (3)
Jensen flashed during OTAs and gets the edge over three other players. He's a big kid (6-6, 270) who is a raw version of Lewis, one of the league's best blocking tight ends. Jensen will need a year or two to develop and likely will be used as an extra blocker more than a pass-catcher.
OFFENSIVE LINEMEN (8)
Some of the battles for starting jobs along the line are going to be intriguing during camp. Joeckel and Beadles are safe, but every other spot is up for grabs. Even Pasztor, who started 12 games last season, is uncertain because we don't know how his surgically repaired shoulder will hold up during camp. If it's fine, then he will win the starting job at right tackle. McClendon and Linder are battling for the right guard spot, and Brewster is going to have to hold off Bowanko and two others to be the starter at center. Bradfield has value because he can play both tackle spots.
DEFENSIVE LINE (10)
This should be the biggest upgraded position on the roster thanks to the additions of Clemons, Bryant and Hood. Despite public perception, Alualu isn't on the bubble for two reasons: He played solidly last season, and there really isn't anyone else on the roster as talented as he is to back up Bryant. The Jags are excited about Smith, who could end up playing more than Davis as the No. 3 LEO (hybrid end/linebacker) by the time the season is over.
LINEBACKERS (6)
Either
John Lotulelei
or
J.T. Thomas
, two key special teams players last season, could stick if the Jaguars decide to keep an extra linebacker instead of five cornerbacks, or if Hayes' surgically repaired knee doesn't respond well. Reynolds did a solid job subbing for Watson (groin) during OTAs and minicamp at the new OTTO position (replaces strongside linebacker).
CORNERBACKS (5)
The Jags will have to decide whether to keep fourth-year player
Mike Harris
or Jeremy Harris, a seventh-round pick in 2013 who spent his rookie season on injured reserve with a back injury. The 6-2, 185-pound Jeremy Harris is a better fit for what coach Gus Bradley wants in his cornerbacks than the 5-10, 188-pound Mike Harris, who was a member of former GM Gene Smith's final draft class. Blackmon has been working inside as well, which also makes Mike Harris expendable. Fourth-round draft pick
Aaron Colvin
will begin the season on the PUP list and doesn't count against the roster limit.
SAFETIES (4)
Chris Prosinski
has seemingly been a bubble player since he was drafted in the fourth round in 2011, but there is too much competition for him to survive this time. Martin started 36 games for Carolina in his first five seasons, and that experience gives him the edge. Evans seems to be the name everyone mentions when talking about the first Caldwell draft pick to get cut, but though he might lose his starting job to Guy, he's likely to stick around at least another year.
SPECIALISTS (3)
These guys should have little or no competition to make the roster.
June, 19, 2014
Jun 19
4:00
PM ET
JACKSONVILLE, Fla. -- His name was still atop his locker and there were a few items still in it -- some shirts, a towel, toiletries -- but that was the extent of
Jason Babin
's presence with the
Jacksonville Jaguars
on Thursday afternoon.
The team cut the defensive end early in the morning, a move coach Gus Bradley said was done now because of the development of some of the younger pass-rushers, but also as a sign of respect for the 34-year-old Babin to give him a chance to land with another team before training camps begin next month.
Babin
Marks
"We had to ask some tough questions about eventually the 53 guys that are going to be up on Sundays," Bradley said. "We feel that he still has some good games in him and some really good play in him. We were just juggling to try to find a way to get it done within our system. We feel like it was best to give him the opportunity to get out there and hook on with another team.
"I don't know if there ever is a right time or how to do it. We try to do the best we can, but when we're dealing with a man like Jason Babin that is tough on both sides."
Babin led the team with 7.5 sacks in 2013 and had nine sacks, 57 tackles and five forced fumbles in 21 games with the Jaguars. His teammates will miss him for more than that, though.
"Just the leadership he brings, the knowledge he brings," said defensive tackle
Sen'Derrick Marks
, who had the locker next to Babin. "Knowing everybody and how we were with Babs, Babs left a lot behind just by the things he used to teach and the way that he carried himself. I'll talk to Babs probably for the rest of my life just because of the type of guy he is.
"He was the same way every single day. I don't want to sit here and talk like he passed or he died or something, but Babs -- he was just a great guy. He always was willing to teach and he's always willing to help."
Second-year defensive end
Ryan Davis
is one of the younger players -- along with rookie
Chris Smith
and second-year player
Gerald Rivers
-- who will benefit from Babin's release. He was still surprised by the move, though.
"It was shocking," Davis said. "Jason was a key piece of this team, definitely helped this team in leadership. We were such a young team and he helped in my development. ... Whenever I needed to know something I'd go ask Babin and Babin would direct me or tell me what the best move was or pre-snap keys and stuff like that. [He taught me] how to prepare for a game. Babin was very instrumental in stuff like that. Not only that, he's a great guy."
Babin might have come to Jacksonville in 2012 with a bit of a reputation as a surly guy, but that was not the case with the Jaguars. In fact, Bradley called Babin a "tremendous" leader and said he was a big help to him during the team's rough start to the 2013 season.
"He ended up being one of our strongest leaders," Bradley said. "We went through some tough times and I leaned on him. He did a great job.
"... He's a big part of what we're building here and always will be."
June, 19, 2014
Jun 19
10:10
AM ET
JACKSONVILLE, Fla. --
Jason Babin
's release is a mild surprise only in that the 34-year-old defensive end didn't even make it to training camp with the
Jacksonville Jaguars
. He was going to be a bubble player after the addition of several pass-rushers via free agency and the draft.
Babin
That he was released Thursday morning is an indication the Jaguars are not only pleased with how veteran
Chris Clemons
, whom they signed as a free agent, has performed in organized team activities (OTAs) and minicamp, they are excited about several other young pass-rushers.
Coach Gus Bradley has consistently praised third-year player
Andre Branch
, the team's second-round draft pick in 2012, throughout OTAs. His burst off the ball and quickness around the edge is noticeable, and he has consistently been in the backfield during 11-on-11 drills. Though the players are only wearing helmets and prohibited from full contact, Branch appears to be ready to become the kind of consistent player he was during the second half of the 2013 season, when he recorded five of his six sacks in the final seven games.
"You see Andre Branch really focused and really capturing every opportunity," Bradley said.
Fifth-round pick
Chris Smith
doesn't fit the Jaguars' typical measurables for what they want in a LEO -- a hybrid end/linebacker whose primary responsibility is rushing the passer -- but they liked what they saw from him during Senior Bowl week so they took a chance. The 6-foot-1, 266-pound Smith is a little shorter than ideal, but he has long arms and runs well.
"He had a couple good rushes [Wednesday] and I think he's a guy that the more comfortable he gets and the more reps he gets we'll see what he's doing," Bradley said. "He's got the traits we're looking for. Now we just need to see it in training camp."
Second-year player
Ryan Davis
played in seven games last season and had one sack and made one huge play: an interception that sealed the Jaguars' victory in Houston. He is another player who doesn't have the typical LEO size (he's 6-2, 260) but he's an effort guy and the Jaguars are intrigued by his development.
Gerald Rivers
is another second-year player that has worked at LEO. He has the prototypical LEO size (6-5, 258).
The key traits Branch, Smith, Davis and Rivers all share are youth and potential. At 34, Babin wasn't going to get any better. It's likely, even with reduced snaps because of the addition of the 32-year-old Clemons (58 career sacks), that he was going to be less effective. But there is room for improvement for the four younger (and cheaper) players, and that is better for the health of the roster beyond the 2014 season.
January, 20, 2014
Jan 20
7:10
PM ET
MOBILE, Ala. -- Here are 10 observations/thoughts from Monday's Senior Bowl practices and interviews:
1. Though there was only one period at the end of South team practice in which the entire offense faced off against the entire defense, Monday was a good day to evaluate the quarterbacks. It was mainly from a mental standpoint, Jaguars offensive coordinator Jedd Fisch said. The offense was put in Sunday night and Monday was the first chance to see how well the quarterbacks transferred it from the meeting room to the field. Fisch said he was pleased with the way
Jimmy Garoppolo
(Eastern Illinois),
Derek Carr
(Fresno State) and
David Fales
(San Jose State) handled that. There were mistakes and issues, but all the quarterbacks did a solid job.
2. There isn't a lot of size among the quarterbacks for either team, with the exception of
Logan Thomas
(Virginia Tech), who measured in at an impressive 6-5 5/8 and 250 pounds. Fales (6-1) and Carr (6-2) were both listed at 6-3 on the pre-measurement roster.
[+] Enlarge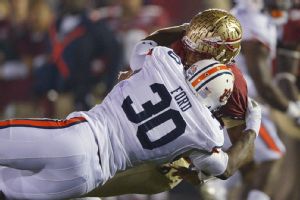 AP Photo/Mark J. TerrillDee Ford, who had 2 sacks in the national title game against Florida State and 10.5 sacks for the season, impressed on Monday at Senior Bowl practices.
3. Maybe it's my SEC background (I covered Florida and the league for 13 seasons), but defensive ends
Dee Ford
(Auburn) and
Chris Smith
(Arkansas) were noticeably quicker than the other defensive linemen. It really showed during one-on-one pass-rush drills. Offensive tackles
Joel Bitonio
(Nevada),
Wesley Johnson
(Vanderbilt),
Ja'Wuan James
(Tennessee),
Morgan Moses
(Virginia) and
Billy Turner
(North Dakota State) really struggled with those two players on the edge. Turner had a particularly hard time, which is partly to be expected because of the step up in competition. However, it was a bit surprising to see Johnson, James and Moses have issues. The layoff is partly to blame.
4. Ford had 10.5 sacks, including two in the national title game against Florida State, and was consistently beating the tackles around the edge. It'll be interesting to see how he handles coverage responsibilities. He's not really big enough to play a down end (6-2 1/4, 243 pounds) so he'd likely fit in the Jaguars' scheme as a leo.
5.
Jon Halapio
(Florida) had a rough start in one-on-one run-blocking drills -- defensive tackle
Will Sutton
(Arizona State) threw him aside pretty easily -- but he rebounded to have a solid performance in the pass-rushing drills. He handled Sutton and tackle
Deandre Coleman
(California) in pass-rush drills.
6. From the Don't Read Too Much Into This Department: Jaguars GM
David Caldwell
wandered over to watch some of the one-on-one run-blocking drills and stood next to end
Ed Stinson
for a while. The two appeared to be chatting while Stinson was sitting out some drills. Stinson weighed in at 292 pounds so he'd be a better fit for the spot that
Tyson Alualu
plays. The Jaguars were satisfied with the way Alualu played the run last season but they'd like more pass-rush production out that spot.
7. Here's a name to keep an eye on as the draft rolls into the later rounds: defensive tackle
Caraun Reid
(Princeton). He had a really strong day in run-blocking and pass-rushing drills. He moves very well for his size (6-2 1/8, 301 pounds) and showed good strength and quickness. He tossed guard
Gabe Jackson
(Mississippi State) aside and got underneath center
Bryan Stork
(Florida State) and drove him back.
8. Another small-school player that caught my eye was running back Lorenzo Taliaferro (Coastal Carolina), mainly because he's the biggest running back participating this week (6-0, 231 pounds). He had a couple nice runs during the short 11-on-11 period. He ran for 1,742 yards and 27 touchdowns and averaged 6.3 yards per carry last season. He has lost only 20 yards in 356 career carries.
9. Receiver
Jordan Matthews
(Vanderbilt) made a nice catch with a DB all over him during 11-on-11. Matthews (6-2, 209 pounds) is a physical player who caught 201 passes the past two seasons. He has good hands, knows how to use his body, and will make the tough catch. He doesn't have top-end speed, but he'll be one of the first several receivers drafted.
10. I wasn't that impressed with fullback
Jay Prosch
(Auburn), who struggled whenever he had to block an end or on the edge. Granted, there were only a few live periods but he seemed to be much better whenever he had to take on an inside linebacker.
January, 20, 2014
Jan 20
1:15
PM ET
MOBILE, Ala. -- Nearly the entire Jaguars football staff is on hand for the Reese's Senior Bowl. The Jaguars will coach the South team and the
Atlanta Falcons
will coach the North team, but each will switch rosters for a day on Thursday so they can interact with all the players.
Here's a primer of what to expect:
Help wanted:
Jaguars coach Gus Bradley said he expected his staff to remain intact, but linebackers coach Mark Duffner left the team on Sunday night to take the same position with the
Miami Dolphins
. Duffner just finished his eighth season with the team. Defensive coordinator Bob Babich, who spent seven seasons as a linebackers coach with the
Chicago Bears
and
St. Louis Rams
, will work with the linebackers this week. In addition to being a college all-star game, the Senior Bowl is also part coaches convention. Unemployed assistants are here trying to land jobs and head coaches are also here trying to fill staffs.
Keep your eye on:
The Jaguars certainly have a lot of needs to fill, beginning with quarterback and pass rusher. So naturally all the quarterbacks -- particularly
Derek Carr
,
Tajh Boyd
and
David Fales
-- are players to watch during the practices and games. Though he is unable to play because of a torn ACL he suffered in late November against Kentucky,
Aaron Murray
is here to participate in meetings and interviews. It's a smart decision and one that GMs will like.
As for those pass rushers, Jeremiah Attaochu (who played linebacker at Georgia Tech), Michael Sams,
Kareem Martin
,
Chris Smith
, and
James Gayle
are defensive ends to watch. At outside linebacker,
Trent Murphy
and
Christian Jones
are worth watching.
Unfortunately, two of the country's top pass rushers won't be here. Buffalo's
Khalil Mack
has opted not to participate and UCLA's
Anthony Barr
will miss the week because of an undisclosed injury. Both are considered top-10 draft picks.
Some other players to watch: WR
Jordan Matthews
, TE
C.J. Fiedorowicz
, TE Jacob Pederson, G
Cyril Richardson
and C
Weston Richburg
.
What you'll get:
Each day I'll provide Jaguars news and notes as well as observations from practice. I'll concentrate on players at positions that correspond to the Jaguars' top needs (QB, DE, OLB, interior OL, RB, WR) but there will be other players as well. I'll have several blog posts a day and you also can follow me on Twitter @ESPNdirocco.
ETC.:
Among the other players who either opted out or cannot participate because of injury are RBs
Carlos Hyde
(opted out),
Andre Williams
(injury) and
Tyler Gaffney
(injury), OTs
Jake Matthews
(opted out) and
Taylor Lewan
(injury), WR
Tevin Reese
(injury), and DT
Dominique Easley
(injury).
March, 13, 2012
3/13/12
4:53
PM ET
The
St. Louis Rams
' scheduled visit with
Tennessee Titans
cornerback
Cortland Finnegan
,
noted by ESPN's Adam Schefter
, lines up with expectations heading into free agency.
Finnegan played for new Rams coach Jeff Fisher in Tennessee. His reputation for hard-nosed play would lend an edge to the Rams' secondary.
Since 2007, when Finnegan became a starter, he leads the NFL with 16 combined penalties for disqualification, face mask, horse-collar tackle, personal foul, roughing the kicker, roughing the passer, taunting, unnecessary roughness and unsportsmanlike conduct. The chart identifies league leaders in these "swagger" penalties since 2007, according to ESPN Stats & Information.
Finnegan earned Pro Bowl honors for his play during the 2008 season. The Titans decided against naming him their franchise player at a cost of nearly $10.3 million for one season.
Injuries wiped out the Rams at cornerback last season. The team released starter
Ron Bartell
, who finished the 2011 season on injured reserve with a neck injury. The other starter,
Bradley Fletcher
, is returning from a season-ending knee injury.
Finnegan and the
San Francisco 49ers
'
Carlos Rogers
could
make sense for the Rams
as free-agent additions. The team could also consider LSU cornerback Morris Claiborne with the sixth overall choice in the 2012 draft.
Fletcher,
Jerome Murphy
,
Marquis Johnson
,
Brian Jackson
,
Nate Ness
,
Chris Smith
,
Josh Gordy
and
Kendric Burney
are the corners on St. Louis' roster at present.
New Orleans'
Tracy Porter
is
another option
. Like Rogers, he played for Rams defensive coordinator Gregg Williams elsewhere.