NFL Nation:

Christian Ballard
September, 2, 2013
9/02/13
3:33
PM ET
It has appeared for most of the offseason, ever since the Vikings drafted
Sharrif Floyd
, that they would be dealing from a position of strength in the middle of their defensive line. The Vikings planned to rotate Floyd and
Kevin Williams
at their three-technique tackle spot, and pair
Letroy Guion
with
Fred Evans
at the nose. They would be able to rotate four players, possibly mixing in
Christian Ballard
, and hand one of the inside spots to
Everson Griffen
on third downs to rush the passer from the inside.
Williams
That plan sounded nice in theory, but the details have been muddied by reality. Williams didn't practice on Monday, as the Vikings began their preparations for their season opener with the
Detroit Lions
. Floyd, who was back on the practice field, hasn't played since the Vikings' second preseason game, and could be thrust into a starting role in his first NFL game. Ballard is on the team's reserve/left squad list. Guion could wind up going back to the three-technique position, rotating with Floyd there and Evans at the nose if Williams can't play.
Chase Baker
, who hasn't played a NFL game, is the only other defensive tackle on the roster.
It's another reminder of how quickly the best-laid plans can get altered in the NFL, and as the Vikings head into Week 1 against Detroit, they suddenly have a reason to be concerned about what looked like a position of strength.
Frazier didn't offer much detail about injuries on Monday, probably because the Vikings aren't required to file an injury report until Wednesday, but the fact that Williams didn't practice probably means things aren't looking good for the Lions game. Williams is trying to come back from a hyperextended knee in two weeks' time, and rushing him back isn't in the Vikings' best interests.
But can Floyd handle a bigger role in his first game, after not having practiced in two weeks? That remains to be seen.
"I think we'll have to go through this week and determine that, but he's missed quite a bit of time and then (he's) coming off an injury," head coach Leslie Frazier said. "We'll have to gauge that as the week goes on."
Guion played the three-technique spot before shifting to nose tackle full-time last season, and the fact that he's not a typical wide-bodied nose tackle -- which might hurt him at his normal position -- could actually work in his favor here. But the Vikings are probably at their best at the nose when they have both Guion and Evans fresh, and they could be stretching their depth on Sunday if Floyd needs help on his side.
There might not be any perfect options for the Vikings in Week 1. There rarely are in the NFL. But it's striking to look at how quickly the defensive tackle position has become a worrisome spot for them.
August, 27, 2013
8/27/13
1:47
PM ET
The rancor over
Joe Looney
's low block on
Kevin Williams
was still strong on Tuesday morning, as the Vikings got back to work in preparation for their final preseason game. Coach Leslie Frazier said the Vikings have been in contact with the league about the hit, and linebackers
Chad Greenway
and
Desmond Bishop
didn't mince words when they were asked about it.
"It's really quite ridiculous," Greenway said. "It's something we talked about in our meetings with the refs before the preseason started. It's just unnecessary. He wasn't going to make the play. He wasn't going to be part of the play. I understand that guy [Looney]'s trying to earn a job, as well, but he could have easily just hit him high. You can say what you want about, you didn't mean to hurt him, but the reality is, you did that. And now we have a guy who's been one of the best at his position for a long time dealing with an injury he shouldn't have to deal with."
That will be the lasting effect of Looney's hit on Williams, once the Vikings' anger has cooled down. Williams, who sustained a hyperextended right knee, a posterior capsular strain and a bone contusion, could be back for the season opener on Sept. 8 in Detroit, but the concern over his injury is significant enough that
Sharrif Floyd
-- himself returning from a minor knee surgery after a low block in the Vikings' first preseason game -- probably won't play in the final preseason game on Thursday night. Floyd, who was expected to miss the rest of the preseason, might have been able to play a few snaps, Frazier said, but the Vikings determined it wasn't worth the risk.
"When you have a question mark regarding a potential Hall of Famer like Kevin Williams, that creates some concern," Frazier said. "He's one of the best to ever play the game at his position. We're all hoping he'll be ready to go, but it definitely creates some concern from a depth standpoint."
The Vikings expected to be deep at the position after drafting Floyd 23rd overall, but particularly at the three-technique tackle position, they're sweating things out before they start the season. Floyd will head into the opener with just 53 snaps of preseason experience, and if Williams isn't ready, the Vikings could be leaning on the rookie more than they'd planned to do. They would like to rotate Williams and Floyd, but that might not be an option in the first week of the season.
And defensive tackle
Christian Ballard
is still away from the team while he deals with personal issues. Frazier said "nothing has changed" with Ballard's situation, and it's becoming clearer the situation will take some time to get resolved. Ballard might be a better fit as a nose tackle than a three-technique, but he would help the Vikings' depth at the moment. With him gone, and with knee injuries complicating things for both Floyd and Williams, the Vikings won't start the season anywhere near as settled on the defensive line as they'd like to be.
"With Sharrif coming off an injury, with Kevin a little bit banged up, now you're into your depth quite a bit," Frazier said. "We have some other guys on our roster that we'll try to give an opportunity and see how they progress, but we're all hoping that Sharrif will play well and continue to improve and that we'll get Kevin on opening day."
November, 15, 2011
11/15/11
1:00
PM ET
»
NFC Stock Watch
:
East
|
West
|
North
|
South
»
AFC
:
East
|
West
|
North
|
South
FALLING
1. My ability to defend the Detroit Lions' aggression:
Nothing that happened Sunday at Soldier Field will change the emerging national narrative of the Lions as a dirty team. And in all fairness, it's getting harder and harder to split hairs in explaining the difference between tough and dirty as it relates to their play. Bears linebacker
Brian Urlacher
said the Lions play to the "echo" of the whistle, and that's a fair and accurate way to describe it from a technical standpoint.. But visuals of defensive tackle
Ndamukong Suh
ripping off Bears quarterback
Jay Cutler
's helmet, and Lions quarterback
Matthew Stafford
slinging the Bears'
D.J. Moore
to the ground by his helmet, carry far more weight in the court of public opinion. Monday, coach Jim Schwartz asked why no one was calling the hit by Bears defensive end
Julius Peppers
on receiver
Calvin Johnson
dirty. It was a "clothesline right in the neck area," Schwartz said. Technically, Schwartz is right. But the volume of instances the Lions have produced this season, explainable or otherwise, is reaching critical mass.
2. Minnesota Vikings' competitiveness vs. Green Bay Packers:
The Packers are supposed to be the Vikings' top rivals, but the Vikings have produced a number of complete clunkers against them in recent years. They lost 45-7 Monday night, absorbed a 31-3 loss at home in 2010 and were embarrassed 34-3 at Lambeau Field in 2007. We should give the Packers some credit for their performances in those games, but on each occasion the Vikings seemed mentally disengaged from the start. Monday night's game seemed over as soon as the Packers'
Randall Cobb
returned a punt 80 yards for a touchdown -- with all of one minute and 18 seconds gone in the game. NFL teams have to show up 16 days a year. For some reason, the Vikings are habitually missing that train against a division rival.
3. Remi Ayodele, Minnesota Vikings defensive tackle:
Although he has not been seeing much playing time, Ayodele had started the Vikings' first eight games as the free agent replacement for nose tackle
Pat Williams
. In those eight games, Ayodele was unofficially credited with two tackles. The Vikings finally replaced him in the starting lineup Monday night with rookie
Christian Ballard
, who is a better pass rusher. Ayodele isn't the reason why the Vikings are 2-7, but he has to qualify as one of the least productive free agent acquisitions in recent memory. He signed a three-year, $9 million deal that includes $4.25 million in 2011 compensation.
RISING
[+] Enlarge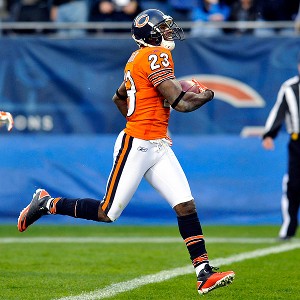 Mike DiNovo/US PresswireTeammate Brian Urlacher thinks Bears return man Devin Hester belongs in the Hall of Fame.
1. Canton credentials for Devin Hester, Chicago Bears returner:
Hester is one return away from tying the NFL record for touchdown returns of 19, set by
Deion Sanders
. He's reached that precipice in less than half the career games it took Sanders and, at 29, would seem to have a number of highly productive years remaining in his career. It's reasonable to believe he'll not just break Sanders' record but ultimately crush it. So if Hester's career arc rises so high above the best returners in NFL history, it would be hard for Hall of Fame voters to ignore him. Here's the way Urlacher put it Monday: "He's the greatest of all time at what he does, and in my opinion, when you're the greatest of all time at your position you should be in the Hall of Fame. He is a first-ballot Hall of Famer in my opinion."
2. Dom Capers, Packers defensive coordinator:
We don't have a recording of every word he spoke last week, but we can assume that Capers took cornerback
Charles Woodson
's blunt assessment of the Packers defense in stride. Capers started coaching four years before Woodson was born, but you're never too experienced to tune out constructive criticism. We'll never know what Capers would have done Monday night had Woodson not spoken out, but he certainly reinforced his reputation as a flexible manager by
turning loose his players on the blitz
. "That's the great thing about Dom," Woodson said. "You can talk to him. Tell him what's on your mind. Tell him what you think."
3. Bears competitiveness in the NFC North:
After watching the Packers' three-phase romp Monday night, it's hard to conceive them not winning the division. But of all the teams remaining on their schedule, the Bears might be the most formidable. One way to stop a high-flying offense is to hit it in the proverbial mouth and then capitalize on mistakes. One of the few things the Vikings did to the Packers was put pressure on quarterback
Aaron Rodgers
, who was sacked three times and was forced to scramble away from pressure on six other plays. The Bears can put the same kind of pressure on Rodgers and are better equipped to take advantage of that situation. We'll see if the teams' Week 16 matchup carries any postseason implications.
September, 2, 2011
9/02/11
4:58
PM ET
Minnesota Vikings
defensive tackle
Kevin Williams
fought for 2 1/2 years to reverse an NFL suspension he considered unjust and his attorneys said was illegal. His endurance pushed the final discipline into a new and more nuanced era of the NFL's policy on performance-enhancing substances, but it ultimately cost Williams more money than if he had accepted the original (and longer) discipline.
[+] Enlarge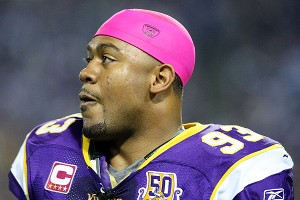 Brace Hemmelgarn/US PresswireDefensive tackle Kevin Williams will miss the Vikings' first two games this season.
So goes the upshot of Williams'
two-game suspension
to start the 2011 season, announced Friday by the league after Williams declined to continue pursuing his legal challenge. He was also fined an additional two game checks and will lose a total of $1.41 million as a result.
He will be eligible to return for the Vikings' Sept. 25 game against the Detroit Lions
.
As you recall, Kevin Williams and former teammate
Pat Williams
were originally suspended four games during the 2008 season after they tested positive for a banned diuretic known as bumetanide. Both players insisted they ingested it unknowingly while using the now-defunct StarCaps diet supplement, but at the time, the league handed out the same discipline for diuretics -- which can be used as masking agents -- as it did for performance-enhancing drugs themselves.
The NFL's new collective bargaining agreement (CBA) calls for a two-tier discipline system that calls for two-game suspensions in cases of positive diuretic tests, accounting for the reduced duration of Williams' suspension.
Brian Murphy of the St. Paul Pioneer Press
first reported that change.
Presumably to make up for that reduction, the NFL tacked on the additional fine to bring Williams' total discipline equivalent to 4/17ths of his 2011 base salary. (League payroll is based on a 17-week season, including the bye.)
Had Williams served the four-game suspension in 2008 or 2009, when his base salary was $1 million, he would have lost $235,294. In 2010, when his base salary was $2.274 million, Williams would have lost $535,058.
The Vikings, of course, will benefit from the extra games even if Williams is playing them essentially for free. And, frankly, Williams could probably use the additional two weeks off to rest the
plantar fasciitis condition
that emerged this summer in his left foot.
Letroy Guion
figures as the Vikings' likely replacement starter. Rookie defensive tackle
Christian Ballard
had an impressive training camp and could see some time as well.
In the end, Williams essentially will have paid more than $1 million, plus legal fees, to get back two games of eligibility. I suppose you can partially credit him (and the NFL Players Association) for creating a better discipline system, but it came at a high personal price.
August, 27, 2011
8/27/11
10:29
PM ET
Yeah, I know the game's not over yet. And I want to see DeMarco Murray as much as the next guy does. But I'm in New Jersey and I'm not sure how much longer the power will stay on. So I thought it made some sense to get something down now, rather than later, about the Dallas Cowboys' preseason game Saturday night in Minnesota.


First off, everybody's going to want to talk about the defense, which gave up 216 yards to Adrian Peterson, Donovan McNabb and the Vikings in the first half. Peterson looked unstoppable, which he often does against many teams. The Vikings' offensive line beat up the Dallas defensive line in the run game, and Peterson cashed in for 69 yards on 11 carries. Safeties Gerald Sensabaugh and Abram Elam got burned on a long touchdown pass to Bernard Berrian, and it's very easy to come out of that first half saying the Dallas defense looks like more of the same from last season, when only the Broncos gave up more points.
But I'm not sure Cowboys fans should be so quick to get so down about this, and for a number of reasons.
First, and most importantly, it's only preseason. I'm constantly preaching here that you can't make sweeping predictions or evaluations about team performance in preseason, because you don't know what you're watching. Some teams game plan, others don't, and sometimes plays get called for the express purpose of identifying how a certain player will do in a certain matchup. To say the Cowboys' defense is in trouble because they gave up a bunch of yards in the first half Saturday night is a classic overreaction.
[+] Enlarge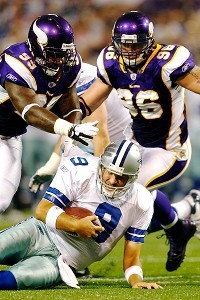 AP Photo/Andy KingThe Vikings pressured Tony Romo for much of the first half, but Romo still managed to amass 141 yards and was 15-of-20 passing.
Secondly, they did do some good individual things. Cornerback
Orlando Scandrick
had a couple of nice pass breakups in big spots against Berrian.
Jason Hatcher
got his hand on a McNabb pass and Sensabaugh made a nice diving interception before the ball hit the ground. I thought
Anthony Spencer
was very active and busy around the ball, whether it was pressuring McNabb (he sacked him once) or making a play or a tackle in coverage. Overall, the tackling (which was a major issue for the Cowboys last year) was fine. Peterson had a couple of chances to break very long gainers and didn't. So while they didn't do a good job containing him at the point of attack, they did manage to keep him from completely destroying them.
Finally, the Cowboys are not at full strength on defense. They're still missing starting cornerbacks Mike Jenkins and Terence Newman, and starting defensive end Marcus Spears. And those who are playing have only had a month's worth of practices in new defensive coordinator Rob Ryan's new system. It's perfectly understandable if frustration from last season's defensive performance leaks into this season. But it's unfair to assume based on preseason games that it won't be better. It's a work in progress, getting healthier and more comfortable. And considering how strong the Cowboys' offense should be, remember: The defense doesn't have to be one of the best in the league to make them a contender. It only has to improve from the back of the pack to somewhere near the middle.
As for that offense, there were quite a number of highlights, which I'll hit as I mention some other things I saw:
1. Tony Romo looks great. He was pressured early up the middle (remember, they were starting a third-string center) but held up fine and threw with impeccable accuracy and confidence all night. He was 15-for-20 for 141 yards in the first half, and even some of his misses were well thrown. The near-touchdown on which Kevin Ogletree couldn't get his second foot in bounds was a perfect throw. The throw just out of Dez Bryant's reach at the goal line shortly before Felix Jones' touchdown run was in a place where Bryant was the only one who would have even had a chance to catch it. Romo's accuracy is his greatest strength, and it was on display Saturday.
2. Bryant is a physical beast. He can overpower defensive backs to make a catch. When he makes a catch, he's hard to bring down. He's 6-2, 225 with great hands and great instincts. Once defenses have Miles Austin to worry about as well as Bryant, Romo is only going to look better.
3. Jones continues to impress. But while Jerry Jones is out there saying Tashard Choice needs to play better on special teams to make the roster, Choice looked good on a couple of runs while spelling Felix. Murray was also set to play at some point Saturday (and I'll update with stuff on him if the storm allows), and as great as Jones has been this preseason, it's good for the Cowboys to see what their other options are for giving him a break and helping to keep him healthy.
4. Jesse Holley is working hard to make the team. Made a couple of very nice third-down catches, missed a tackle on a kick return ... mixed bag kind of a first half for Holley, but if Romo's comfortable throwing to him and he's making the catches when he does, that's got to help his case.
5. The offensive line got better as the game went along. As mentioned, there were some issues early with the Vikings getting pressure up the middle. Rookie Bill Nagy still looks like he needs to add strength, and Tyron Smith looked as though he was struggling with his footwork again on the first offensive series. But things tightened up as the first half moved along, and they were able to keep Romo clean and allow him to make his plays. On the sack, left tackle Doug Free got beaten by Jared Allen, who forced Romo up in the pocket where Christian Ballard got off a Nagy block to bring Romo down. I wonder if Nagy's supposed to hold that block longer, or if I'm watching the rookie too closely.
6. Shayne Graham should be the kicker. Dan Bailey and Graham each hit a mid-range field goal (37 and 38 yards, respectively) at this writing, but given Graham's track record I have to think he gets the job as long as he doesn't miss kicks in the preseason. He didn't look great on kickoffs, but the new rules make that less important this season.
Again, more later if I'm still online. But that's what I have for now.
July, 28, 2011
7/28/11
5:49
PM ET
The
Detroit Lions
will be the first NFC North team to get on the field for a training camp practice, and so it makes sense for them to have made signing their draft class a high priority. After a flurry of agreements Thursday afternoon, the Lions are down to one unsigned rookie: First-round pick
Nick Fairley
.
The Lions have a 10:15 a.m. practice scheduled for Friday morning.

Chicago Bears
Signed
Unsigned

Detroit Lions
Signed
Unsigned

Green Bay Packers
Unsigned

Minnesota Vikings
Unsigned
July, 27, 2011
7/27/11
1:51
PM ET
Amid the frenzied free agent market, NFL teams are also trying to get their draft classes signed in time for the training camps they want to open in the coming days. So lets resurrect our annual draft tracker to keep you abreast of who has signed and who is left.
To this point, the
Chicago Bears
are the only team with confirmed draft pick signings at this point.
I'll post new versions of this bad boy regularly but not necessarily after every transaction.
Chicago Bears
Signed
Unsigned
Detroit Lions
Unsigned
Green Bay Packers
Unsigned
Minnesota Vikings
Unsigned
April, 30, 2011
4/30/11
1:34
PM ET
EDEN PRAIRIE, Minn. -- Based purely on his skills and production, you could make an argument that Iowa defensive tackle
Christian Ballard
had second-round value in the NFL draft. Scouts Inc., for example,
ranked him as the eighth-best defensive tackle
in a deep draft class and predicted he would be selected no later than the third round.
[+] Enlarge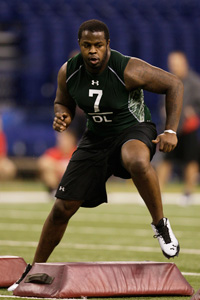 AP Photo/Darron CummingsChristian Ballard reportedly tested positive for marijuana at the scouting combine.
Ballard, however, was available Saturday when the
Minnesota Vikings
made the ninth pick of the fourth round (No. 106 overall). The most likely reason:
A recent FoxSports.com report
that he tested positive for marijuana at the February scouting combine.
Asked during a conference call if the report was accurate, Ballard paused for several moments before saying: "That's confidential. I'm just not willing to speak on that right now."
Ballard did admit to making "mistakes in the past." He added: "I'm only looking to the future. I'm a Viking now. Whatever happened in the past is behind me, and the only thing that's on my mind is making the Vikings a Super Bowl team."
Obviously Ballard has his reasons for not confirming the report. But I can't think of a reason to clam up if it was wrong. After all, it wouldn't be the first time the Vikings have drafted a player who reportedly failed a combine drug test; the same thing happened with receiver
Percy Harvin
in 2009.
I've always felt the most important red flag about a failed test at the combine is that the test is previously scheduled. Let's be realistic: Halting recreational drug use is just as important to combine preparation as is speed and weight work. Among many penalties, a player who tests positive at the combine opens his NFL career in the league's drug program, making him one step closer to a suspension than the rest of his class.
If he can stay clean, Ballard will provide important depth at a position the Vikings are re-tooling. Nose tackle
Pat Williams
has said he plans to sign elsewhere when free agency begins, and Pro Bowler
Kevin Williams
is subject to a four-game suspension to open the season.
April, 6, 2011
4/06/11
3:33
PM ET
New mocks are in from
Todd McShay

and
Mel Kiper
.

Though they are Insider files, I've received clearance to share the most important parts with this audience.
So away we go…

Tennessee Titans
, No. 8
McShay: Nick Fairley, DT, Auburn
"The Titans picked offensive skill players in the first round in 2008 and 2009 (RB
Chris Johnson
, WR
Kenny Britt
), but this year could mark a second straight defensive lineman in the first round after Tennessee took DE
Derrick Morgan
in 2010. Fairley is the most naturally gifted interior pass rusher in this draft and has a lot of upside, but the Titans need to decide if they are willing to take a chance on a player who could be a perennial Pro Bowler or turn into the next big DT bust thanks to questionable work ethic and football character."
Beyond the first round: Second -- Arkansas QB Ryan Mallet; Third -- Texans CB
Curtis Brown
.
Kiper: Fairley
"Defensive line probably falls lower on the list of team needs behind the obvious question of who will be taking snaps, but it's not a minor need. And to get the most productive interior lineman in the college game last year, a player who was simply unblockable in a number of key games, is a solid get for the Titans at No. 8 overall. Fairley gives you immediate help at a spot they need to address, and he offers the value of a top-five pick. Disruptive versus both the run and the pass, he will help this defense now, and they can look for a linebacker later on."
Kuharsky:
Fairley is almost a consensus guy for the Titans at the spot and I understand the rationale and am very intrigued. But if there are concerns about him dogging it once he gets a big payday, the Titans had better sniff them out. A new regime doesn't need a big dose of that. And it shouldn't put too much stock into the opinion of one guy, considering former Auburn defensive line coach Tracy Rocker, now in the same post with the Titans, is brand new.

Houston Texans, No. 11
McShay: Muhammad Wilkerson, DE, Temple
"With
[Von] Miller
and
[Robert] Quinn
gone there is no outside linebacker on the board who can address the Texans' need for a pass rusher, and while California's
Cameron Jordan
or Wisconsin's
J.J. Watt
could also be the pick I believe Wilkerson has more upside than any other 3-4 end in this draft. Houston also has a need at cornerback, but new defensive coordinator Wade Phillips believes that if he has a solid front seven he can live with an average secondary."
Beyond the first round: Second -- Georgia OLB
Justin Houston
; Third -- Temple S
Jaiquawn Jarrett
.
Kiper: Quinn, LB, North Carolina
"Houston has needs all over the defensive side of the ball, and Quinn is the best player still on the board if they can get him here. A gifted natural pass-rusher, Quinn sat out all of 2010, but his talent should overcome any questions about rust. A physical specimen, Wade Phillips can find a way to use Quinn in his scheme, and
DeMarcus Ware
will be what he has in mind when he gets Quinn into camp. Yes, the secondary needs help, but the fastest way to make that group look better is get a pass rush."
Kuharsky:
In my eyes, Quinn is more attractive than Wilkerson, who I've not seen this high anywhere I can remember. With so much defensive line talent available, if the Texans went McShay's direction with Quinn off the board, they simply have to be right that Wilkerson is a better fit than all the other defensive ends still sitting there at this spot.

Jacksonville Jaguars, No. 16
McShay: Ryan Kerrigan, DE, Purdue
"The Jaguars have bigger needs but defensive end offers the most value here. I would be tempted to take a shot on Bowers or the upside offered by Missouri's
Aldon Smith
here, but Jags GM Gene Smith has proved he will take the player with the higher floor rather than the higher ceiling. Kerrigan has some limitations but Jacksonville knows exactly what it would be getting, which is a player with the overall skill set to immediately push for a starting job opposite Jaguars DE
Aaron Kampman
."
Beyond the first round: Second -- Washington LB
Mason Foster
; Third -- WR North Carolina
Greg Little
.
Kiper: Aldon Smith, DE, Missouri
"Another guy I'm sticking with from the previous mock, Smith offers a raw talent package with a lot of upside. He's a player who could easily have been a top-10 pick in 2012 had he stuck around Missouri for another year of development. The Jags went for veterans to spackle over the holes at defensive end last year, but it's time to develop some edge talent to go with what is a really promising defensive interior. Smith is an ideal developmental option who can still help in 2011."
Kuharsky:
I think McShay's line about Gene Smith and floors versus ceilings is the single most interesting thing out of either of these files. I'll have to spend more time with it to see if I consider it totally accurate. From what I've heard and read, it seems Kerrigan is more ready to have an impact now, and he fits a lot of Smith's criteria.

Indianapolis Colts, No. 22
McShay: Nate Solder, OT, Colorado
"This one is a no-brainer. The Colts' offensive line has struggled mightily over the last couple of seasons and Indianapolis must upgrade there. Not only do the Colts need to protect the face of their franchise in QB
Peyton Manning
, they also need to address a running game that ranked 29th in the NFL last season. Solder is a good fit for an offense that emphasizes quickness and athleticism over brute strength."
Beyond the first round: Second -- DL Iowa
Christian Ballard
; Third -- Wisconsin G
John Moffitt
.
Kiper: Anthony Castonzo, OT, Boston College
"One more that stays the same from previous mocks, I just really like the fit. The Colts have to improve on the offensive line and even while Peyton Manning is a maestro working out of the shotgun, they need to be able to do more both in the run game and in pass protection. Castonzo is a smart, versatile tackle who has been consistently rated as a first-round tackle option. Indy has brought in some quarterbacks to work out, but Castonzo is more of an immediate help."
Kuharsky:
I don't know that I will ever be able to give you a super-quality read on which of the top tackles is the best fit for the Colts. If only USC's
Tyron Smith
is gone as in Kiper's scenario, having their pick of the second tackle in the draft seems like an awfully good situation for the Colts. McShay's got Solder to Indy as the fourth tackle. Whoever is there, if Bill Polian feels like the gap between the tackle options at No. 22 and a second- or third-round tackle isn't so big, he could grab a blue-chipper at another position.