NFL Nation:

Christian Jones
February, 20, 2014
Feb 20
2:30
PM ET
There are some positions the Redskins will have more interest in this offseason, starting with the scouting combine that takes place over the next week. Wednesday we
took a look at some safeties
; Thursday it's inside linebacker. The Redskins already know they need to find one starter this offseason. If they somehow let
Perry Riley
get away, they would need two and it could be hard to fill both spots in free agency. So here are four to watch for various reasons. It's not a deep group.
Inside linebackers
Chris Borland
(Wisconsin): He will be a good player in the right system. The question will be, can he do what Washington asks of its linebackers, particularly in coverage. That's a big part of playing inside in a 3-4 and it's one area of Borland's game that has been questioned. His instincts give him a chance. It'll be interesting to see what his 40 time is. It's not the main measuring stick (nor should it be), but it is a piece of the puzzle.
Shayne Skov
(Stanford): He was highly productive at Stanford, but Skov is not considered a fast player, which will impact where teams want to draft him. Scouts Inc. rated him as average in every key category aside from productivity where he was above average. They liked his ability to take on blocks, but wrote of his coverage skills: "Possesses adequate range in underneath zone coverage. However, lack of elite athleticism puts a cap on his overall play making ability in coverage. Will have limitations in man coverage. "
Christian Jones
(Florida State): Not everyone lists Jones as an inside linebacker because he also played outside at Florida State, so some might view him more as an outside linebacker. He's talented. He might go a couple rounds lower than Borland, but he's an active player with good range and might be the most intriguing. He just hasn't stayed at one spot long enough. He'll need to show a strong understanding when teams quiz him about the X's and O's. An inside linebacker in a 3-4 must have a good command of this area.
Here's what ESPN's Scouts Inc. wrote about him: "Flashes above average upper body strength and appears to have long arms. Not violent enough at the point and can take too long to get off blocks in phone booth … Gets to depth and can cover a lot of ground on underneath zone. Picks up backs and H-backs releasing out of the backfield. Appears long and fast enough to match up with tight ends."
Max Bullough
(Michigan State): He was productive, but there are plenty of questions that need to get answered, starting this week at the combine. Bullough was suspended for the Rose Bowl and must answer questions about that as well as why he put on so much weight. He weighed in at 265 pounds at the East-West Shrine Game -- about 20 pounds more than he had previously been listed at (I think it was his playing weight in 2012). It made a difference in his performance. Bullough will need to lose around 20 pounds to play in a 3-4. As of now, it sounds as if he's a guy you'd pick in the fifth round or later.
February, 19, 2014
Feb 19
11:05
AM ET
PHILADELPHIA -- You can trust your eyes or you can trust your eyes.
Trust them when
Philadelphia Eagles
inside linebacker
DeMeco Ryans
is on the field and you see a veteran who was playing, according to his defensive coordinator, at a Pro Bowl level late in the 2013 season.
Or trust them when you see the orange box in the
Pro Football Focus graphic
and the image of Ryans in the NFL.com photo display of veterans likely to be released by their teams for salary reasons.
[+] Enlarge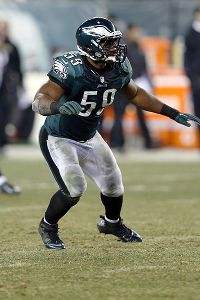 AP Photo/Paul SpinelliInside linebacker DeMeco Ryans had 4 sacks and 2 interceptions in his second season with the Eagles.
Reading through last week's positional analysis of the Eagles' inside linebackers, I certainly didn't portray Ryans as a huge issue. Bearing in mind that the Eagles moved from a 4-3 to a 3-4 defense, and that Ryans was in charge of getting everyone lined up correctly and maintaining order, the 29-year-old had a solid season. Defensive coordinator Bill Davis backed that up.
"DeMeco is the leader of our defense, and he's having an outstanding Pro Bowl year," Davis said in November. "We couldn't be happier with everything DeMeco is doing for us."
In its look at the Eagles' projected 2014 lineup, PFF classified Ryans as a "below-average starter/adequate role player" -- one of four orange boxes on the site's graphic representation of the Eagles' defense. Cornerback
Cary Williams
and safeties
Patrick Chung
and
Earl Wolff
were the others (free agents, including
Nate Allen
, were not included).
NFL.com's Gregg Rosenthal included Ryans on
his list
of veteran players whose 2014 salaries make them candidates to be released.
"His reputation and salary far exceed his play on the field (especially on passing downs)," Rosenthal writes. "Do the Eagles want to pay $6.9 million for leadership?"
Two quick reactions: Ryans provided more than leadership, especially as the defensive line improved in front of the linebackers. Logic suggests he can be even more effective as the rest of the defensive players improve within Davis' scheme.
But Rosenthal and the guys at PFF aren't making this stuff up. They know their stuff and viewed Ryans' play with dispassionate eyes. So it might make more sense that the Eagles spent a fair amount of time talking to inside linebackers during Senior Bowl week. Jimmy Kempski of
philly.com noted
Eagles personnel talking to LSU's
Lamin Barrow
, Wisconsin's
Chris Borland
, Illinois'
Jonathan Brown
, and Florida State's
Christian Jones
.
Ultimately, I think Ryans is still starting for the Eagles in September even if the Eagles draft his long-term replacement. Davis is not going to want his defense to take a step back while a rookie learns the system and how to diagnose offensive formations. Free agency doesn't seem like a viable option -- if the Eagles are going to pay top dollar for a veteran, they're better off with Ryans.
January, 21, 2014
Jan 21
7:20
PM ET
MOBILE, Ala. -- Here are 10 observations/thoughts from Tuesday's Senior Bowl practice(s) and interviews:
After practicing Monday on a mild 65-degree day, players had to deal with temperatures in the 50s and wind gusts of more than 20 mph. Naturally, it wasn't an easy day for the quarterbacks, who had trouble throwing the ball into the wind. It also was an issue for the punt and kick returners, who had trouble adjusting to the ball. Jalen Saunders (Oklahoma) did the best job of any of the South returners. Lorenzo Taliaferro (Coastal Carolina) completely whiffed on one punt and Mike Davis (Texas) dropped two kickoffs.
Three South players are out with injuries: offensive tackle Ja'Wuan Jones (Tennessee) suffered a sprained knee; tight end Marcel Jensen (Fresno State) suffered an abdominal strain; and defensive end Ed Stinson (Alabama) suffered a groin strain. Former Colorado State tight end Crockett Gillmore has been added to the roster and was scheduled to arrive Tuesday night.
One of the more fun drills to watch was the running back/tight end pass-blocking drills. Taliaferro was the most impressive of the backs, which shouldn't be surprising considering he's the biggest back on the roster (231 pounds). He handled linebacker Christian Jones (Florida State) and stuffed linebacker Telvin Smith (Florida State) before finally getting beat by defensive end Kyle Van Noy (BYU). Jones rebounded nicely, though, and consistently got by the other backs. He also beat tight end Arthur Lynch (Georgia) twice, including once with a nasty spin move.
Running back Antonio Andrews (Western Kentucky) more than held his own in the pass-blocking drill despite being much shorter than the players he was blocking. Andrews is 5-foot-10 but a solid 225 pounds. He also showcased his agility with a nifty juke after catching a swing pass that left linebacker Lamin Barrow (LSU) on the ground.
Smith's size is becoming an issue. He was a 6-3, 217-pound linebacker at FSU but he's having trouble getting off blocks and has been pushed around too easily at times.
It's clear that Jordan Matthews (Vanderbilt) is the South team's top receiver. He made a twisting sideline catch after adjusting to deep ball that got caught up in the wind and showed the ability to fight through press coverage. He also caught a short pass on a drag route with a defensive back all over him.
Give the Senior Bowl staff credit for putting offensive tackle Billy Turner on the South team. Why is that interesting? Turner helped North Dakota State win three consecutive FCS national titles. The Jaguars are coaching the South team and head coach Gus Bradley played and coached at North Dakota State. "We talked a little bit. There's a saying up there, once a Bison always a Bison," Turner said. "I don't know if it'll help me but it's kind of a connection. I think that my play on the field will help me the most." Turner certainly has the size to be an NFL tackle (6-5, 316 pounds) but he has struggled a bit adjusting to the speed on the edge. Defensive end Chris Smith (Arkansas) blew by him quite easily in 11-on-11.
Cornerback Jaylen Watkins (Florida) had an impressive day. He broke up several passes, including one intended for Matthews, and had an interception. He's comfortable in press coverage, which was what he played most of the time at Florida under coach Will Muschamp. Watkins (5-11, 194) has experience at field and boundary.
Quarterback Derek Carr spent about 20 minutes throwing to Matthews after practice. He worked on slants and in routes because he missed several of those throws during practice. He wasn't just doing it for the field of scouts, either. It's part of his competitive nature, he said, and his commitment to continually improve. "If I miss a throw I'd be wrong to not throw it again after practice," Carr said.
One outside linebacker who has flown somewhat under the radar so far this week is Jordan Tripp (Montana). The 6-3, 237-pound Tripp isn't flashy and doesn't have the speed and quickness of some of his SEC teammates but he always seemed to be around the ball. He is a two-time FCS All-American and was twice a finalist for the FCS defensive player of the year award.
January, 20, 2014
Jan 20
1:15
PM ET
MOBILE, Ala. -- Nearly the entire Jaguars football staff is on hand for the Reese's Senior Bowl. The Jaguars will coach the South team and the
Atlanta Falcons
will coach the North team, but each will switch rosters for a day on Thursday so they can interact with all the players.
Here's a primer of what to expect:
Help wanted:
Jaguars coach Gus Bradley said he expected his staff to remain intact, but linebackers coach Mark Duffner left the team on Sunday night to take the same position with the
Miami Dolphins
. Duffner just finished his eighth season with the team. Defensive coordinator Bob Babich, who spent seven seasons as a linebackers coach with the
Chicago Bears
and
St. Louis Rams
, will work with the linebackers this week. In addition to being a college all-star game, the Senior Bowl is also part coaches convention. Unemployed assistants are here trying to land jobs and head coaches are also here trying to fill staffs.
Keep your eye on:
The Jaguars certainly have a lot of needs to fill, beginning with quarterback and pass rusher. So naturally all the quarterbacks -- particularly
Derek Carr
,
Tajh Boyd
and
David Fales
-- are players to watch during the practices and games. Though he is unable to play because of a torn ACL he suffered in late November against Kentucky,
Aaron Murray
is here to participate in meetings and interviews. It's a smart decision and one that GMs will like.
As for those pass rushers, Jeremiah Attaochu (who played linebacker at Georgia Tech), Michael Sams,
Kareem Martin
,
Chris Smith
, and
James Gayle
are defensive ends to watch. At outside linebacker,
Trent Murphy
and
Christian Jones
are worth watching.
Unfortunately, two of the country's top pass rushers won't be here. Buffalo's
Khalil Mack
has opted not to participate and UCLA's
Anthony Barr
will miss the week because of an undisclosed injury. Both are considered top-10 draft picks.
Some other players to watch: WR
Jordan Matthews
, TE
C.J. Fiedorowicz
, TE Jacob Pederson, G
Cyril Richardson
and C
Weston Richburg
.
What you'll get:
Each day I'll provide Jaguars news and notes as well as observations from practice. I'll concentrate on players at positions that correspond to the Jaguars' top needs (QB, DE, OLB, interior OL, RB, WR) but there will be other players as well. I'll have several blog posts a day and you also can follow me on Twitter @ESPNdirocco.
ETC.:
Among the other players who either opted out or cannot participate because of injury are RBs
Carlos Hyde
(opted out),
Andre Williams
(injury) and
Tyler Gaffney
(injury), OTs
Jake Matthews
(opted out) and
Taylor Lewan
(injury), WR
Tevin Reese
(injury), and DT
Dominique Easley
(injury).
NFL SCOREBOARD
Sunday, 2/2
WEEKLY LEADERS