NFL Nation:

Christine Michael
December, 24, 2013
12/24/13
8:00
AM ET
RENTON, Wash. – For the
Seattle Seahawks
fans waiting to see more of rookie running back
Christine Michael
, you may have to keep waiting.

"He's working his way in and we think he has great promise for the future," coach Pete Carroll said of Michael Monday on 710 ESPN Seattle radio. "But he's still a young guy trying to break in."
In other words, Carroll is going to stick with veteran
Marshawn Lynch
, even though some fans are itching to see more of Michael. Lynch has not rushed for more than 100 yards in a game since Nov. 10 at Atlanta.
Lynch rushed for 60 yards in the first half of the 17-10 loss Sunday to Arizona, but had only 11 yards on seven carries in the second half. Lynch also failed to score on two tries when Seattle had first-and-goal at the Arizona 3 in the second quarter.
Lynch has rushed for 1,160 yards this season, but he has gained only 289 yards in the last five games, on an average of 3.3 yards per carry.
September, 4, 2013
9/04/13
5:00
AM ET
The
Seattle Seahawks
had 11 draft picks in 2013, but only one of them is likely to get much playing time in the season opener at Carolina.
Back-up tight end
Luke Willson
, a fifth-round selection from Rice, will be on the field in Seattle's two-tight sets and probably have a few passes thrown his way after his impressive showing in the preseason.

But other than Willson, don't look for much action from the other draft picks. That's a big difference from a year ago.
As a rookie,
Russell Wilson
started every game at quarterback. Middle linebacker
Bobby Wagner
started 15 of 16 regular season games at middle linebacker.
J.R. Sweezy
started the season opener at guard.
First-round pick
Bruce Irvin
played in every game at defensive end and led all NFL rookies with eight sacks. Running back
Robert Turbin
played in all 16 games as the backup to
Marshawn Lynch
.
The verdict is out on the 2013 draft choices, but it's clear they won't contribute as much as some of the 2012 picks did at the start of the season.
Three seventh-round picks in 2013 -- offensive linemen
Ryan Seymour
and
Jared Smith
, along with linebacker
Ty Powell
, were placed on the practice squad.
Here's a rundown on the other seven 2013 draft choices:
However, the Seahawks are likely to receive meaningful contributions this weekend from two undrafted rookies.
Benson Mayowa
, a defensive end from Idaho, is expected to see significant playing time Sunday after an impressive preseason when he had 3.5 sacks. And
John Lotulelei
, an outside linebacker from UNLV, probably will see some action backing up
K.J. Wright
.
September, 3, 2013
9/03/13
10:30
AM ET
Eighty-six of the first 88 players drafted in 2013 remain on 53-man rosters entering Week 1. The two exceptions play for NFC West teams.
The
Arizona Cardinals
'
Jonathan Cooper
, chosen seventh overall, suffered a season-ending leg injury during preseason. He is on injured reserve. The
San Francisco 49ers
'
Tank Carradine
, chosen 40th overall, remains on the reserve/non-football injury list while recovering from a knee injury.
Twenty-five of 39 NFC West choices this year remain on their original teams' 53-man rosters. That includes all seven picks for the
St. Louis Rams
and seven of nine for the Cardinals. The 49ers and
Seattle Seahawks
had a higher number of picks arranged lower within each round, and fewer open roster spots to accommodate them.
Injuries have left six picks from the division on various injured lists. Three of the Seahawks' top five picks will not help the team anytime soon. That includes Harper, defensive tackle
Jesse Williams
(injured reserve) and cornerback
Tharold Simon
(reserve/physically unable to perform).
Percy Harvin
, who cost Seattle its 2013 first-round choice, is also injured.
Five 2013 draft choices from the division landed on their original teams' practice squads. One of them, fourth-round choice Chris Harper, subsequently left his original team (Seattle Seahawks) to sign with the 49ers' 53-man roster.
Three picks from the St. Louis Rams and one from the 49ers are scheduled to start in Week 1. Cooper would have started for the Cardinals if healthy.
Harper wasn't the only NFC West draft choice to land on another team. The 49ers'
Marcus Cooper
, a seventh-round choice, wound up with Kansas City after the Chiefs claimed him off waivers.
August, 24, 2013
8/24/13
11:36
AM ET
Penalties, lots of penalties, haven't kept the
Seattle Seahawks
from winning in the preseason.
Seattle now has an unimaginable 34 penalties for 354 yards in the first three games, but the Seahawks won each of them. That includes a
17-10 victory
Friday night at Green Bay when the Seahawks were flagged 14 times for 182 yards.
[+] Enlarge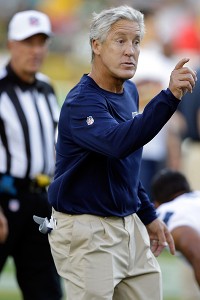 AP Photo/Tom LynnPete Carroll's Seahawks were penalized 14 times for 182 yards on Friday against Green Bay.
It looks worse when you realize coach Pete Carroll made the penalty problems his main point of emphasis entering the Green Bay game. Instead of getting better, it got worse.
"There were a lot of distractions in the game with 180 yards of penalties,'' Carroll said. "It's hard to deal with, and we are focused on cleaning that up. You never want to give your opponent anything, and we gave them 180 yards. That's makes it difficult to win."
The Seahawks won anyway. Here are a few observations from the game:
1. The defense does it again:
Seattle's defense has allowed only 30 points in the first three preseason games, and only three touchdowns, one in each game.
Tony McDaniel
looked good in his first start at defensive tackle, stuffing the middle and posting two tackles along with one pass defensed.
Sealver Siliga
, the defensive tackle Seattle acquired last week when guard
John Moffitt
was traded to Denver, had a strong first game with the Seahawks. Siliga had two tackles, including a sack.
2. Wow Mayowa:
The man on defense who continues to stand out is rookie free agent
Benson Mayowa
, a defensive end from Idaho. Mayowa's quickness makes it seem like he's everywhere on the field. He had four tackles Friday night, including one tackle behind the line. Mayowa had a quarterback hit and a fumble recovery.
Maybe his most impressive play Friday came when Green Bay had a 31-yard gain. Running back
Alex Green
got around the left end and was off to the races down the sideline, but Mayowa ran him down from behind.
Mayowa (6-3, 255) was a longshot to make the team when training camp started. Now he appears to be a lock. He has 10 tackles in three games and 2.5 sacks. He also has five quarterback pressures.
3. Big-play Williams:
Lanky receiver
Stephen Williams
, another man fighting for a roster spot, now has three long touchdown receptions in the first three games, one in each game.
Williams (6-5, 210) had a 42-yard touchdown catch Friday, pulling the ball away from the defender at the goal line on a pass from
Brady Quinn
. Williams came close to another long touchdown Friday on a play that could have been called interference on Green Bay defender
Brandon Smith
.
With
Percy Harvin
out until at least late November, it seems unimaginable now that Seattle wouldn't keep Williams as a deep threat with the height to out-leap defenders for the ball.
4. One tough Aggie:
Christine Michael
, Seattle's second-round draft choice from Texas A&M, had his best game of the preseason, rushing for 97 yards on 11 carries. Michael (5-10, 220) has shown a knack for breaking tackles and hitting the hole quickly at the line of scrimmage.
Seattle rushed for 166 yards on 27 carries (a 6.1-yard average) against the Packers.
6. The penalty culprits:
The running game looked strong despite a bad night for the Seahawks' offensive line. It allowed four sacks and was penalized five times for holding. Starting right
J.R. Sweezy
was penalized three times in the first half -- two for holding and once for a personal foul.
The bottom line is the Seahawks managed to get the job done despite all the miscues and yellow flags. But that isn't likely to continue in the regular season unless the team cleans up its act.
August, 8, 2013
8/08/13
3:15
PM ET
Three things to watch for Thursday night in the Seattle Seahawks' 2013 exhibition opener against the San Diego Chargers at Qualcomm Stadium (10 p.m. ET):


1. Return specialists.
The Seahawks released dynamic return man
Leon Washington
before they knew the recently acquired
Percy Harvin
would undergo season-altering hip surgery. The team is listing
Will Blackmon
,
Jeremy Lane
and
Bryan Walters
as its top three kickoff returners.
Golden Tate
is listed as the punt returner. Blackmon returned three punts for touchdowns while with Green Bay, but that was way back in 2007 and 2008. How will the Seahawks' return game fare without Washington and Harvin?
2. Backup QBs and a guy taking their handoffs.
Tarvaris Jackson
and
Brady Quinn
are competing to serve as the No. 2 quarterback behind
Russell Wilson
. Jackson has greater experience in the Seahawks' offensive system, having run it with Seattle and Minnesota. Jackson has greater equity in the locker room after playing through a torn pectoral muscle as Seattle's primary starter in 2011. Does that mean Quinn has to win this battle decisively to beat out Jackson? Can Quinn make this decision a difficult one? Don't stop watching after the handoff, either. Rookie running back Christine Michael is a player of interest after Seattle made him a surprise second-round choice.
3. Rookie TE Willson.
Luke Willson
makes his Seahawks debut as a rookie fifth-round choice and potential complement to starting tight end
Zach Miller
. A foot injury has prevented Miller from practicing and will keep him out of this game. Another familiar veteran at the position,
Anthony McCoy
, is not back after suffering a torn Achilles' tendon during offseason workouts. Willson,
Sean McGrath
and
Cooper Helfet
are among the lesser-known tight ends with an opportunity to distinguish themselves.
July, 30, 2013
7/30/13
11:45
AM ET
RENTON, Wash. -- This training camp marks the
Seattle Seahawks
' first since 2009 without some form of a starting quarterback competition. So comfortable, mature and in command is
Russell Wilson
this summer that you'd swear he's been the starter for a decade.
It's sometimes as though Wilson is 24 years old going on 42.

Wilson naturally took the driver's seat in the van Seattle players used when shuttling to the offseason practices Wilson organized in Los Angeles. While teammates joked around in the back like kids on a field trip, Wilson was their chaperone.
Asked during this camp what he knew of
San Francisco 49ers
quarterback
Colin Kaepernick
from their time together shooting a commercial and appearing at the ESPYS, Wilson, nearly 13 months Kaepernick's junior, described his rival as someone who loves football and is a good person to be around.
"Great kid," Wilson added.
Reporters can forget about prying a colorful quote from the player teammates have nicknamed "the robot" for his methodical approach to the job. Wilson has been known to favor coachspeak even inside Seattle's quarterback meeting room.
"We joke around all the time," backup
Brady Quinn
said. "There are some times when he'll state the obvious. We try to make sure he realizes that is a given. Like, for example, 'Hey man, guys gotta stay healthy this year.' Well, yeah. They always need to stay healthy. That's a big part of a team doing well, people not getting hurt. Times like that, you've gotta keep him on his toes, make him laugh a little bit, give him a hard time."
One year after Wilson won a three-way competition against
Matt Flynn
and
Tarvaris Jackson
, the player receiver
Sidney Rice
sometimes calls "the president" is running unopposed at this Seahawks camp.
"He's a champion when he steps out there on that field, even in practice," Rice said. "I've seen him run, I believe, 80 yards on one play on a scramble to try to get away and get us a first down. He is going to do whatever it takes. You have seen him running down the sideline blocking for
Marshawn [Lynch]
numerous times. That is the kind of guy you want leading your team."
THREE HOT ISSUES
[+] Enlarge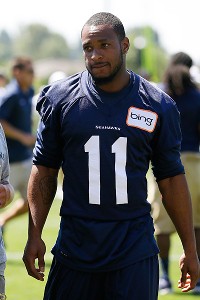 AP Photo/Ted S. WarrenThe Vikings aren't sure what to expect from their former receiver, Percy Harvin, who is expected to be in Seattle's lineup on Sunday.
1. Percy Harvin's health.
The Seahawks were already a good team before they acquired Harvin. They became a popular pick for the Super Bowl once the versatile receiver and return specialist joined their roster in March. Now, with Harvin seeking a second opinion that could lead to season-altering surgery on his sore hip, those projections seem a little more tenuous.
How Harvin will proceed from here is not clear. His sometimes rocky past in Minnesota invites questions and fuels his critics. Is he smartly erring on the side of caution, as coach Pete Carroll seemed to suggest in initial remarks about the injury? Or, is this another one of those tough-to-explain Harvin plot twists like the ones that seemed to pop up regularly during his Minnesota tenure? With Harvin set to seek that second opinion Tuesday, Carroll noted that safety
Kam Chancellor
played through a similar injury last season. Was he saying Harvin should do the same?
"Guys around here trust [Harvin] and believe in him," Rice said. "It's nothing like coming out here and taking days off and doing his own thing. I don't think he's that type of person. You get that perception from people that don't really know what's going on, and they just hear stuff and they just create their own [impression]."
Harvin is, by all accounts, plenty tough and competitive. If this is an injury Harvin can manage, it appears he'll do so on his terms, not on the Seahawks' terms. That surely wouldn't surprise the Vikings, even though Rice, himself an ex-Viking, said his teammate is misunderstood.
2. Bruce Irvin's position.
There has been some confusion, at least on my end, regarding the role Seattle envisions for 2012 first-round draft choice Irvin. The team drafted Irvin with plans to use him initially as a situational pass-rusher, and later as the successor to
Chris Clemons
in the "Leo" position as a stand-up rusher in Carroll's defense.
Irvin collected eight sacks as a rookie in the situational role, as planned. He'll continue to play that role within the nickel defense while adding responsibilities as an outside linebacker in base packages. It's not so much that Irvin will be playing the strong side or weak side. Rather, he'll be one of two outside linebackers positioned on the line of scrimmage in what will look like a 3-4 scheme. He'll be asked to set the edge in the running game, rush the passer, match up man-to-man or cover the flat.
First, though, Irvin will have to serve a four-game suspension for violating the NFL's policy on anabolic steroids and related substances.
3. Depth on the offensive line.
The Seahawks drafted offensive lineman
James Carpenter
25th overall in 2011 when they could have taken a quarterback such as
Andy Dalton
or Kaepernick. Finding Wilson a year later absolved the team from second-guessing on the quarterback front, but the Carpenter selection was still looking like a regrettable one heading into this camp. Injuries were threatening Carpenter's career, and he wasn't exactly dominant even when healthy in his rookie season.
Perceptions are beginning to change after Carpenter reported to camp in good enough shape to participate fully from the beginning. I noticed Carpenter running from one drill to the next when he could have jogged. It seemed like evidence Carpenter was feeling good and was eager to salvage his career. He's been working with the starting unit at left guard between Pro Bowlers
Russell Okung
and
Max Unger
. Adding a healthy Carpenter to the mix would upgrade the line's longer-term prospects.
REASON FOR OPTIMISM
Seattle has one of the NFL's best quarterbacks, best running backs and best defenses. That's a winning combination just about every time. Last season, Wilson struggled through his first few games while hamstrung by remedial game plans. He did not start to hit his stride until Week 8 at Detroit. Wilson did not break out all the way until leading 97- and 80-yard touchdown drives to win at Chicago in Week 13. That's the quarterback Seattle will have behind center from the beginning this season. That is why the Seahawks like their chances.
REASON FOR PESSIMISM
Potential depth issues at tight end, offensive tackle, weakside linebacker and defensive end (for now, while Clemons rehabs and Irvin faces a suspension) probably aren't serious enough to send the Seahawks plummeting into mediocrity. However, the margin for error within the NFC West figures to be small. Harvin, at his best, was supposed to put Seattle over the top. Now, the Seahawks can't be sure they'll have him for the regular season.
OBSERVATION DECK
[+] Enlarge

Steven Bisig/USA TODAY SportsRed Bryant, who had treatment for sleep apnea this offseason, says he has better stamina in practices.

Defensive end Red Bryant appears more comfortable, for good reason. Bryant had treatment for sleep apnea this offseason after former trainer Sam Ramsden, now the Seahawks' director of player health and performance, recommended testing for larger players. Bryant, who wears a continuous positive airway pressure (CPAP) mask when he sleeps, says he's feeling refreshed and has better stamina later in practices. This is a pivotal season for Bryant, who struggled with a foot injury last season after signing a $35 million extension. At Carroll's suggestion, Bryant has recommitted to his identity as a dominant run-stuffer after feeling pressure to improve as a pass-rusher upon signing his new contract.

Rookie fourth-round receiver Chris Harper didn't seem to be a factor in the first couple days of camp. The first time I really noticed him was when he caught a touchdown pass on the third day of practice. Perhaps not coincidentally, that was also the first day this summer that the Seahawks practiced in pads. Harper, oddly proportioned for a receiver at 6-foot-1 and 234 pounds, relishes the physical part of the game. Some young receivers flourish in shorts and struggle in pads. Harper might have it the other way around.

The Seahawks claimed off waivers former Arizona Cardinals outside linebacker O'Brien Schofield despite a $1.3 million salary and a history of injuries. Seattle had a middle-rounds grade on Schofield entering the 2010 draft even though Schofield was rehabbing from a torn ACL suffered in Senior Bowl practices. The Cardinals used a fourth-round pick on Schofield just ahead of the range where Seattle was considering taking him. The Seahawks are continually looking for "Leo" defensive ends in the 6-3 and 245-pound mold. Schofield, 26, fits the profile and has a chance to earn playing time in a rotational capacity while Clemons recovers from knee surgery and Irvin serves a suspension.

Irvin's speed showed up in practice when he chased down rookie running back Christine Michael to force a fumble some 40 yards past the line of scrimmage. Michael ran the 40-yard dash in 4.43 seconds at the combine. He has appeared to be one of the more explosive players in camp. Irvin caught him despite outweighing Michael by about 25 pounds, 245 to 220. Raw speed isn't the question for Irvin. He has plenty. The question is whether he can handle some of the coverage and run-stopping responsibilities associated with his evolving role.

Remember those offseason stories about Lynch skipping chunks of the voluntary offseason conditioning program? They're pretty much irrelevant now, as anticipated.

Nothing has changed the perception that Jackson will beat out Quinn for the No. 2 job behind Wilson. Trading Jackson a year ago was tough in some respects because Jackson was so popular among teammates. I see no reason for the Seahawks to make the same decision again unless Quinn vastly outplays Jackson.

Between the practice field and the locker room sits a cart with a laptop connected to a sensor atop a stand. The setup from GPSports allows teams to monitor player performance in real time. Team owner Paul Allen's other professional Seattle sports team, Sounders FC, has used the technology. The GPSports website says systems include a GPS, accelerometer, magnetometer, heart rate sensor and a wireless transmitter. The company says its product can "accurately measure distance, speed, acceleration, heart rate, bodyload and impacts all in real time."

Former Cardinals receiver Stephen Williams is doing what he sometimes did while with Arizona: impressing during camp by making spectacular leaping catches. Williams has the talent, but he has been unable to make it transfer to the regular season. Working with a top NFL quarterback cannot hurt. Williams arrived in Arizona the year after Kurt Warner retired.

Linebacker K.J. Wright has stood out in past camps, but not so much in this one, except for the big hit he delivered on rookie fullback Spencer Ware.

Speaking of Ware, he has some work to do before making veteran fullback Michael Robinson expendable, at least from early indications. The offense didn't look the same or as good with Robinson and tight end Zach Miller sitting out. Robinson and Lynch have a special feel for one another. Ware, more of a halfback type for most of his college career, has dropped a few passes and is still adjusting to the physical nature of the position.

The offseason buzz about rookie Jesse Williams possibly starting at defensive tackle seems to have subsided for the time being. Veteran Tony McDaniel and 2012 fourth-rounder Jaye Howard have stood out more.

Is that really assistant head coach/offensive line Tom Cable? He has dropped a significant amount of weight since having back surgery, and he said after one practice, "You can't imagine how nothing hurts on me. It's awesome."

Richard Sherman, although sometimes combative when facing receivers, projects unfiltered joy other times. He is the player most likely to groove along to the music Carroll plays at practice. Sherman thrilled the crowd during one practice when he picked off a pass and lateraled to Earl Thomas during the return. Football is fun to Sherman, and it shows.

There aren't many open passing lanes in practice against the Seattle defense. This team is stacked at cornerback. If this keeps up in preseason, and there's enough depth that it should, Seattle could be in position to trade one of its backups.
May, 24, 2013
5/24/13
12:06
PM ET
»
NFC Eight in the Box
:
East
|
West
|
North
|
South
»
AFC
:
East
|
West
|
North
|
South
How does each NFC West team look at running back, and what still needs to be done?

Arizona Cardinals:
This is a transitional year at the position for Arizona. Free-agent addition
Rashard Mendenhall
gets a shot to revive his career following a disappointing finish with the
Pittsburgh Steelers
. He's familiar with Bruce Arians' offense, giving him a head start over the competition.
Ryan Williams
has a shot at the job, too, but he's been injured and recently admitted to playing scared last season while trying to protect his surgically repaired knee. General manager Steve Keim was a huge fan of the speed and cutting ability Williams offered coming out of college. Knee and shoulder injuries have taken a significant toll. Can Williams bounce back? Arians wants his backs versatile enough to play on third down as well. The team used a 2013 fifth-round choice for Stanford career rushing leader
Stepfan Taylor
with that in mind.

St. Louis Rams:
Youth will be served in the Rams' offensive backfield now that
Steven Jackson
has left in free agency. The Rams could have kept Jackson, but they let him out of his contract with an eye toward building a younger roster. Rookie fifth-round pick
Zac Stacy
will get every chance to earn a prominent role on early downs.
Isaiah Pead
, a second-round choice in 2012, projects as more of a change-of-pace back.
Daryl Richardson
, a seventh-rounder last year, should also figure into the mix. The Rams anticipated moving forward from Jackson with a committee setup. It's an upset if one of the backs on the roster commands a huge majority of the carries. The Rams have assumed more of a fast-break look at the skill positions without Jackson as an offensive centerpiece.

San Francisco 49ers:
Frank Gore
remains the primary back at age 30 after holding up physically through a 19-game season in 2012. The 49ers have set up themselves for life after Gore by drafting
Kendall Hunter
,
LaMichael James
and
Marcus Lattimore
in recent seasons. The position has obviously been a priority for San Francisco. The 49ers know what the numbers say about running backs declining in their late 20s. Gore has resisted the trend to this point and doesn't seem to be declining. The dynamics behind Gore are fluid. Hunter could remain the No. 2 back if he can bounce back from ACL surgery, but James demonstrated during the playoffs why he should factor as well. Lattimore, a fourth-round pick this year, will get the full 2013 season to recover from a career-threatening knee injury suffered in college. This amounts to a redshirt year for him.

Seattle Seahawks:
Marshawn Lynch
blows off postgame interviews, shows up for the Seahawks' offseason program at his leisure and has a DUI case pending in the courts. He is even tougher to tackle on the field. The Seahawks know they have a great thing going with the hard-charging Lynch -- for as long as it lasts. They've been hedging their bets for two years running.
Robert Turbin
, a fourth-round choice in 2012, fits the power mold and has a promising future. The same goes for 2012 second-rounder
Christine Michael
. And if those picks weren't enough, Seattle used a 2013 sixth-rounder for
Spencer Ware
, who projects as a combination halfback/fullback. Lynch is arguably the best back in the division. Michael's addition gives the Seahawks outstanding young depth, too.
May, 10, 2013
5/10/13
8:09
PM ET
RENTON, Wash. -- A few notes after watching the
Seattle Seahawks
' rookies practice on a clear, 75-degree day at team headquarters along the Lake Washington shoreline:
Veteran presence: Veterans were not allowed on the field, but Seahawks cornerback Richard Sherman showed up about 20 yards offshore -- on a personal watercraft. For a few minutes, photographers had their backs to practice while they snapped away, their cameras trained on the Seahawks' brashest player. Not that Sherman likes attracting attention. "Was that Sherm?" head coach Pete Carroll quipped, adding in jest that he thought he'd seen workaholic quarterback Russell Wilson peeking over the hill on the other side of the field, away from the water.

[+] Enlarge

AP Photo/Ted S. WarrenBarred from attending, veteran corner Richard Sherman watched Seahawks rookies from the water.

Lots of faces: Seattle had 67 rookies in camp, including 38 players attending on a tryout basis. There were 12 draft choices and 17 players signed as undrafted free agents. Printed rosters have seldom been so helpful.

Wilson's legacy: Carroll opened a morning staff meeting by showing video of Wilson struggling with some of the basics, including center exchanges, during the rookie camp last year. Wilson finished the season with a playoff victory and an appearance in the Pro Bowl. Carroll wanted to put into perspective the first day of rookie minicamp so his coaches wouldn't get down on a young player for struggling early.

Tight end stands out: The recently released tight end Darren Fells was among those trying out. He caught passes consistently, but fifth-round choice Luke Wilson was the tight end standing out most demonstrably. He beat safeties in coverage to make catches on the run and separated from defenders. Carroll singled out Wilson as impressing him. Carroll: "Luke stood out today. He has really good speed and it showed. Caught the ball really well. That was probably the brightest spot that you could really see a guy jump out on. That was a really good first impression."

Inside job: Third-round choice Jordan Hill and fifth-rounder Jesse Williams worked together at defensive tackle, sometimes with seventh-rounder Ty Powell lining up in what appeared to be the "Leo" position. Hill and Williams are roommates. Hill played at Penn State, Williams at Alabama. Both played in tradition-rich programs led by old-school coaches, at least until Bill O'Brien succeeded Joe Paterno at Penn State. Carroll's new-school approach comes through loud and clear in the music playing over speakers during practice. Hill said that "wasn't going on in my first three years" at Penn State. "I just enjoy, you get to be yourself," he said.

Scruggs update: Second-year defensive end Greg Scruggs underwent reconstructive knee surgery Thursday after suffering a non-contact injury while planting awkwardly during a training drill. It's too early to know whether Scruggs could factor at all during the 2013 season.

Not much to go on: Players wore helmets, jerseys and shorts for practice. No tackling or hitting was allowed. Coaches encouraged defenders to make a quick attempt at stripping the ball from runners before letting them proceed upfield. This was not football, in other words. However, coaches were able to see players move. Second-round running back Christine Michael stood out for his quickness, balance and for the primal scream he let out after running to the end zone on one play. Michael also stood out for his biceps. He practiced in a No. 33 jersey with no sleeves.

No vets around: Years ago, before the current labor agreement went into place, teams held mandatory camps for veterans and rookies at this time of year. Only rookies are allowed under the current agreement. That made it impossible to compare rookies to the players they'll challenge for roster spots and playing time.

Smith at center: Seventh-round pick Jared Smith worked at center. He could project at guard, too. The Seahawks are converting him from defensive tackle, a transition J.R. Sweezy made last year. Carroll singled out Smith's quickness. He also praised seventh-round guard Ryan Seymour for having good feet.

Harper's hands: Carroll liked what he saw from fourth-round receiver Chris Harper. Carroll: "He caught the ball beautifully. He really has great hands."
That's it from here. Every team in the NFC West is holding its rookie camp Friday through Sunday. I would expect each team's coaches to come away excited about new players. That's a good thing. Draft choices come as-is, without receipts. There are no refunds.
May, 1, 2013
5/01/13
11:00
AM ET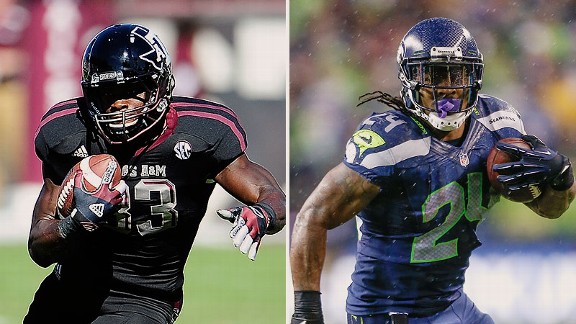 Getty ImagesChristine Michael, left, gives the Seahawks additional running back depth behind Marshawn Lynch.
Jump ahead to 2015 and put yourself in John Schneider's seat as the
Seattle Seahawks
' general manager.
By then, you will have re-signed or lost elite players such as safety
Earl Thomas
and cornerback
Richard Sherman
.
Your quarterback,
Russell Wilson
, will be entering the final year of his rookie contract. Wilson will be eligible to sign a new one for the first time under the NFL's labor rules.
The same goes for
Bobby Wagner
, your starting middle linebacker, and
Bruce Irvin
, your highly drafted pass-rusher. All will cost much more than they're costing right now.
Your Pro Bowl left tackle,
Russell Okung
, will also be entering a contract year.
One receiver,
Percy Harvin
, will have a contract counting $12.9 million against the salary cap. Another,
Sidney Rice
, will have a deal counting $10.2 million.
Oh, and one other thing about this 2015 adventure: You'll have to decide whether to pay a $2 million roster bonus and $5.5 million salary for a running back entering his ninth season.
Marshawn Lynch
is that running back, and right now, in 2013, he's about as good as they come, this side of
Adrian Peterson
. But you'll need younger, more economical alternatives for some of your best players down the line. These aren't the sort of immediate needs that show up in draft previews, but they're always lurking.
Now, thanks to one of the more surprising moves in the 2013 draft, the Seahawks have bought insurance for their future at the position most vulnerable to age.
Christine Michael
, the Texas A&M running back Seattle unexpectedly selected 62nd overall Friday, must by rule sign a four-year contract through 2016. His deal will run past the contracts that Lynch and backup running back
Robert Turbin
signed last offseason. It will count far less against the cap than the $9 million Lynch's deal is scheduled to count in 2015.
Seattle probably did not draft Michael with the distant future in the front of its mind. One explanation trumps all others when determining why the Seahawks used a second-round draft choice for a running back with two perfectly good ones on the roster already. The team thinks Michael can be special.
"He was the highest-rated player on our board and we lost
Leon Washington
, so we were looking for a little bit of depth there, and he is just our kind of runner," Schneider said. "He's a tough, intense, up-field, one-cut guy, and he's just a very good football player, competitor."
Adding Michael does not imperil Lynch for the 2013 season, of course. It does provoke natural tendencies to wonder whether there's more to this story.
"I could be far-fetched here,"
Kevin from McKinney, Texas,
wrote to the NFC West mailbag, illustrating how far the mind can wander, "but is it possible John Schneider and [coach] Pete Carroll are concerned with Lynch's future effectiveness due to the new lowering of the crown rule? It seems to me that is a big part of his game and significantly contributes to his yards after contact."
There is no way the rulebook pressured Seattle into drafting a running back.
Carroll and other coaches fear officials will struggle enforcing the new rule preventing runners from lowering their heads and delivering an aggressive blow to the opponent with the top of the helmet. The rule could affect Lynch, but league officials said they discovered only a few would-be violations per week when studying tape from last season.
The Seahawks selected Michael because they thought he was the best back in the draft and well-suited to their offense. They wanted additional depth for their running game, which will remain the focus of their offense. They have to realize that Lynch's back spasms, while manageable to this point, could become more problematic with additional wear and tear. And they surely realize that Lynch's occasional off-field troubles dating to his time with the
Buffalo Bills
could recur, inviting sanctions.
Adding Michael doesn't mean the team thinks less of Lynch or Turbin, a 2012 fourth-round choice. There are no indications the team is anticipating a Lynch suspension in relation to his DUI arrest last offseason.
Still, I would bet against Lynch playing out the final year of his deal when Michael and Turbin figure to be available at a significant discount.
Seattle was fortunate in 2010 to have a running back of Lynch's caliber and young age (then 24) become available by trade at reasonable cost. The team was wise to re-sign Lynch one year ago to a four-year deal featuring $17 million in guaranteed money.
This marriage should be good for both parties for the next couple of seasons.
Lynch's deal pays him $7 million in salary with an $8.5 million salary-cap charge in 2013. It carries a $5 million salary and $7 million cap number in 2014. The team will have a decision to make at that point because Lynch's deal includes a $5.5 million salary and a $2 million roster bonus with a $9 million cap figure for 2015, the contract's final year.
Michael, a luxury buy at present, should be much more than that by then.
April, 27, 2013
4/27/13
3:12
PM ET
The
St. Louis Rams
had a long list of needs heading into the 2013 NFL draft.
They have addressed most of them by selecting receiver
Tavon Austin
, linebacker
Alec Ogletree
, safety
T.J. McDonald
, receiver
Stedman Bailey
, center/guard
Barrett Jones
and now, in the fifth round, cornerback
Brandon McGee
.
Running back is still one position where the Rams could use help. They have wanted to add a bigger back to play with
Isaiah Pead
and
Daryl Richardson
. The team still has two picks in the sixth round.
Giovani Bernard
,
Le'Veon Bell
,
Montee Ball
,
Eddie Lacy
,
Christine Michael
,
Knile Davis
,
Johnathan Franklin
,
Marcus Lattimore
,
Denard Robinson
,
Stepfan Taylor
,
Joseph Randle
and
Chris Thompson
are among the running backs selected to this point in the draft.
Update:
Just like that, the Rams selected Vanderbilt running back
Zac Stacy
with the 160th overall choice. He goes 5-foot-8 and 216 pounds. Stacy is known for his excellent strength and power.
April, 27, 2013
4/27/13
1:18
AM ET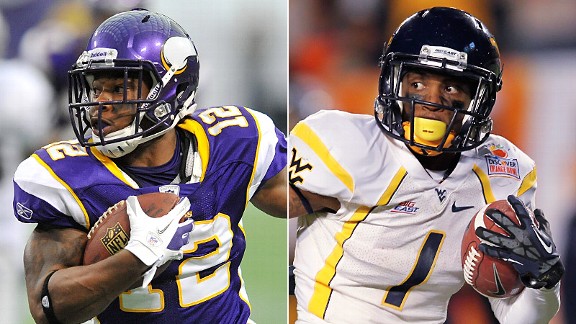 Getty ImagesSeeing Tavon Austin (right) go the the Rams at No. 8 validated Seattle's trade for Percy Harvin.
RENTON, Wash. -- The more the
Seattle Seahawks
watched game tape on
Tavon Austin
, the more they realized the West Virginia receiver would not last long in the 2013 NFL draft.
Back in mid-March, the Seahawks could not know Austin would land with the NFC West-rival
St. Louis Rams
. They had recently traded the 25th overall choice to Minnesota to acquire another multidimensional wideout,
Percy Harvin
.
John Schneider, the Seahawks' general manager, felt relief Thursday when the Rams traded up eight spots in the first round to make Austin the first skill-position player selected.
It's not that Schneider was happy to see such an elite talent land in St. Louis. Quite the opposite. Even the Seahawks' suffocating secondary could have its troubles against a receiver as gifted as Austin. It's just that the way the first round played out affirmed the Seahawks' decision to acquire Harvin. They could not have secured another wideout with as much playmaking potential had they held onto the 25th overall pick.
Austin wasn't going to be there for them.
Once the Rams moved up from 16th to eighth for Austin, no NFL teams selected a wideout until the
Houston Texans
drafted Clemson's
DeAndre Hopkins
at No. 27.
Cordarrelle Patterson
went to the
Minnesota Vikings
two picks later.
"Quite honestly, it made me feel at peace just because of where we were with the Percy deal when it started," Schneider said following the third round Friday night.
Both Hopkins and Patterson are obviously talented, but if they had struck evaluators as fitting into the Austin/Harvin mold, teams would have been tripping over one another in a rush to draft them earlier.
Schneider's thinking came into clearer focus in the weeks since Seattle made the move for Harvin before free agency opened March 12.
"I really wasn't quite sure, didn't feel really strongly about the difference makers at the receiver position at that level of the first round [in the 25th-pick range]," Schneider reflected. "And then the closer we got to the draft, the tape on Austin, it just kind of became obvious that he was going to be an extremely high pick."
That commentary should please Rams fans and Seahawks fans alike. Each team's leadership thought Austin was special. The Seahawks knew they had to deal for Harvin if they hoped to land a similar player. Not that Austin and Harvin are interchangeable. While both threaten the end zone as receivers, runners and returners, Harvin has a much sturdier build. He's part running back and part receiver in a much fuller sense. But touchdowns are touchdowns, and both teams expect their new wideouts to supply them multiple ways.
"We really do think Percy is our No. 1 pick," Seahawks coach Pete Carroll said. "He is part of this class."
Acquiring Harvin and addressing other areas of the roster during free agency left Seattle without significant needs entering this draft. That allowed the Seahawks, already loaded in the backfield with
Marshawn Lynch
and
Robert Turbin
, to indulge in Texas A&M running back
Christine Michael
.
This was a luxury pick and arguably a nonsensical one. It's also the sort of move smart organizations make. Seattle didn't have a need at quarterback when the team used a third-round draft choice for
Russell Wilson
last season. That move worked out pretty well.
The Seahawks could realistically be in the market for a new back two years down the line if Lynch's bruising style shortens his career. Having
Frank Gore
and
Kendall Hunter
on the roster didn't stop the
San Francisco 49ers
from using a second-round choice for
LaMichael James
last year. The 49ers took some heat when their 2012 draft class failed to produce much, but such is life for contending teams.
"We'll let these guys go at it, make sure everybody is aware of the competitive opportunity and hopefully that continues to make them elevate," Carroll said. "Sometimes there is a subtle way they help us by making other guys play well."
Not that Seattle was without needs entirely.
"Defensive tackle was definitely a need for us -- adding depth to the position," Schneider said. "That was the one spot that quite honestly, when you're putting it together, you are nervous you are maybe pushing players because of the need."
Seattle used its third-round choice (87th overall) for Penn State defensive tackle
Jordan Hill
. He'll probably contribute more as a pass-rusher than a run stuffer, differentiating him clearly from
Alan Branch
, who left in free agency. The Seahawks felt the talent at defensive tackle was about to drop off quickly as the third round gave way to the fourth. That gave them additional incentive to grab Hill.
The Seahawks hold 10 picks in the fourth through seventh rounds. Schneider and Carroll previously found
K.J. Wright
,
Richard Sherman
and
Kam Chancellor
in that range. Others such as Turbin,
Walter Thurmond
,
Jeremy Lane
,
Anthony McCoy
,
J.R. Sweezy
and
Malcolm Smith
came to Seattle in those rounds.
There might not be a Tavon Austin or Percy Harvin out there, but as the Seahawks and Rams discovered, that was the case eight picks into the draft.
April, 26, 2013
4/26/13
10:52
PM ET
The second day of the 2013 NFL draft has come and gone. The chart below recaps picks for NFC West teams. I'll have more as the night progresses, of course.


April, 26, 2013
4/26/13
8:46
PM ET
The
Seattle Seahawks
have selected a running back,
Christine Michael
of Texas A&M, with the final pick of the second round after trading back.

This one should catch everyone off-guard.
Seattle appears stacked at running back with
Marshawn Lynch
and
Robert Turbin
. The team could use a defensive tackle, an outside linebacker, a tight end and possibly depth for the offensive line.
NFL teams drafted no running backs in the first round. Michael was the fifth and final one taken in the second round.
I'll be interested in hearing the Seahawks' explanation for this pick. I'm guessing we'll hear the team talk about taking the best player available.
Seattle had no first-round pick after trading it to Minnesota for
Percy Harvin
. Now, it's looking like the team's second-round choice won't play much right away, assuming Lynch and Turbin are on course to be the primary backs, as expected. Perhaps Seattle has a specific role in mind.

NFL SCOREBOARD
Thursday, 9/18
Sunday, 9/21
Monday, 9/22
WEEKLY LEADERS