NFL Nation:

Clancy Barone
December, 7, 2014
12/07/14
2:55
PM ET
DENVER --
Denver Broncos
tight end Julius Thomas tested his injured left ankle with some drills, ran a few routes for backup quarterback
Brock Osweiler
, and in the end felt good enough to play in Sunday's game against the
Buffalo Bills
.
Thomas
Under the watchful eyes of tight ends coach Clancy Barone, Thomas spent more than 30 minutes stretching, jogging and running some short routes for Osweiler. He eventually went to the locker room with offensive coordinator Adam Gase and Barone after saying he felt ready to play.
Thomas, who suffered the injury in the first quarter of the Broncos' loss in St. Louis, had missed the past two games. Despite missing those games, Thomas entered the weekend's games with the league lead in touchdown catches with 12.
Cornerback
Aqib Talib
(left hamstring) is also back in the lineup after missing one game.
After re-signing kicker
Brandon McManus
on Saturday, to handle kickoffs, the Broncos had some decisions to make for the game-day roster. Five injured players -- running backs
Montee Ball
(right groin) and
Ronnie Hillman
(left foot), wide receiver
Cody Latimer
(concussion), safety
Quinton Carter
(knee) and cornerback
Kayvon Webster
(right shoulder) -- were among the gameday inactives.
The others were tackle
Chris Clark
and tackle
Michael Schofield
.
July, 31, 2011
7/31/11
5:29
PM ET
May, 20, 2011
5/20/11
5:35
PM ET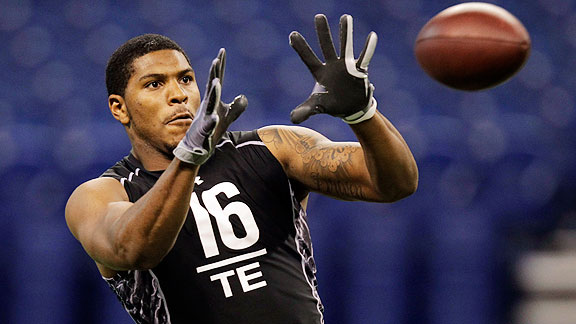 AP Photo/Michael ConroyThe Broncos are hoping former basketball player Julius Thomas can be the next Antonio Gates.
Just because
Antonio Gates
made the transition from basketball to the NFL, it doesn't mean everyone can do it.
Yet, in the past several years, Clancy Barone has seen a trend at the college basketball level.
"Antonio Gates made it look easy, but it's not," said Barone, who coached Gates earlier in his career and is now Denver's tight ends coach.
"It seemed like every college basketball player who wasn't going to the NBA, that they would be the next Antonio Gates. It's not the case … It's not for everybody. There's just a select few that can make it work."
Last season, New Orleans rookie
Jimmy Graham
excelled after playing one season of college football at Miami following a four-year basketball career at the school. Barone and the
Denver Broncos
hope
Julius Thomas
is the next player to make it work.
Denver took Thomas in the fourth round of last month's draft despite the fact he played just one year of college football at Portland State. Thomas was a star on the team's basketball team and walked on to the football team after his hoops eligibility ran out. Prior to that he played just one year of high school football in Stockton, Calif.
Denver sees something in Thomas, though, and the Broncos think he can join Gates and Graham as the rare players who can transition from being a college basketball player to being an NFL tight end. I don't count Atlanta's
Tony Gonzalez
–- the greatest tight end of all time –- among that group because he was a college football star who also played basketball at California. Make no mistake, Gonzalez, a first-round pick, was a football player first.
[+] Enlarge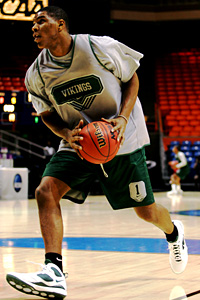 Brian Losness/US PresswireJulius Thomas averaged 10.8 points and 5.9 rebounds per game during his final season of basketball at Portland State in 2009-10.
Thus, it was Gates who started this trend. A high school football star in Detroit, he was a standout on the Kent State basketball team that made an Elite Eight run in 2002. The Chargers signed him as an undrafted free agent project in 2003 and he quickly developed into a prime offensive weapon.
Barone soon heard of other college basketball players who wanted to try out the NFL tight end gig. Denver gave a cup of coffee to former Mercer hoopster
Wesley Duke
. Former George Mason star Jai Lewis had an unsuccessful whirl at the NFL. Cleveland drafted former BYU basketball player
Jordan Cameron
, who eventually transferred to USC to play football, in the fourth round last month.
"It's not for everybody," Barone said. "Gates is a future Hall of Famer and now, all of sudden, everybody wants to do it. You look at guys because of the athleticism and the body build. But they must have toughness to be a football player and the willingness to learn football. Antonio Gates is a student of the game. That's part of the reason why it worked for him."
Still, Barone admits the success of Gates made him more willing to take a look at Thomas, who wowed NFL scouts with his athleticism at the NFL combine. Thomas, who played well for Portland State last season, is 6-5, 245 pounds and has 4.6 speed in the 40-yard dash.
Barone said one of the first things he told Thomas when he worked him out -- Thomas said he had his best pre-draft experience with Barone -- was that he would be inundated with Gates comparisons because of their similar journey. He told him not to buy in to that talk, that Thomas will have to pave his own way to NFL success.
With that said, Barone admits there are some comparisons beyond the college basketball connection.
"When I sat down with Julius, I saw some things that were very similar to Antonio," Barone said. "He gets the game. He understands it very well and he had great body control like Antonio."
Thomas said he will study Gates' game not only because he, too, was a college basketball player making the transition to tight end, but also simply because Gates sets the gold standard for tight end play.
"He is a guy that you can study and really start to model some of the things you do after," Thomas said. "I take it as an honor to be included in the same sentence as a lot of guys who have played basketball and transitioned to football and done well. That's a standard that I want to hold for myself, being successful in making that transition. Being compared to Antonio Gates is a great start for me. I'm going to go ahead and work as hard as I can to make that comparison as similar as possible."
Matt Williamson of Scouts Inc. thinks Denver made a worthwhile risk in taking Thomas. Williamson realizes the Gates' comparison is lofty, but the fact that Thomas played basketball is not exactly a negative.
"It's a worthwhile risk for sure," Williamson said. "When I was in recruiting at Pitt, we very much liked seeing high school kids with a basketball background. It was different at that level of course. They had size, were in shape, had good hand/eye coordination and knew how to use their body to shield defenders from the ball. Of course, that transition is much harder going from college to the NFL … I do think it is very worth the risk and I am quite curious to see how (Thomas) does in the NFL."
Not as curious as Barone.
"We've seen it work before," Barone said. "We'd like to see it work again."
April, 30, 2011
4/30/11
10:30
PM ET
ENGLEWOOD, Colo. -- Denver plans to bring back veteran safety
Brian Dawkins
at this point. He may need to take a pay cut. New Denver coach John Fox loves veterans and Dawkins' presence should help rookie safeties
Rahim Moore
and
Quinton Carter
.
Denver never took a defensive tackle, despite it being its greatest need. It's no surprise Denver didn't take a defensive tackle on Saturday. Once the second round passed, there weren't many quality prospects available.
The rumor mill in Denver is already spinning a Kyle Orton-Albert Haynesworth trade. Washington needs a quarterback and Denver needs defensive tackle. Makes senses, would Denver want to pay Haynesworth?
Expect Denver's starting linebacker crew to look this way: Von Miller at strongside linebacker, third-round pick Nate Irving in the middle and veteran D.J. Williams on the weakside.
Denver second-year quarterback Tim Tebow said he was pleased to hear Denver leader John Elway is behind him. Elway said Saturday that Denver will look at the top quarterbacks in every draft. Denver looked at the top eight quarterbacks this year without taking one. Fox, once again, said Orton is the starter as of now. Still, I expect Tebow to get the chance to play in 2011.
The Raiders took two receivers who played for former Oakland coach Lane Kiffin. They took Tennessee receiver Denarius Moore in the fifth round and USC receiver David Ausberry in the seventh round. Moore is fast, but he has issues with his hands. Ausberry is very big and he is an interesting prospect. Oakland has a lot of young receivers so these two players will have to work to make the team.
In his first draft, Elway took a player from Cal -- linebacker Mike Mohamed -- without taking a player from his alma mater. Mohamed, a candidate to play right away on special teams, said Elway noted that fact in a phone conversation Saturday.
Denver entered the draft wanting four immediate starters. It may have gotten five in Miller, Moore, Carter, Irving and right tackle Orlando Franklin.
Fox noted that Denver tight ends coach Clancy Barone was part of Antonio Gates' development in San Diego. Barone is in charge of making fourth-round pick Julius Thomas an NFL player. He played one year of college football after playing college basketball. Gates played college basketball but not college football.
The Chiefs made an intriguing pick in the sixth round in defensive tackle Jerrell Powe of Mississippi. He fills a need for the Chiefs. He is the massive run plugger that the team has been seeking. He was considered a first-round possibility a year ago. He has stamina issues, but he could help in a limited role as a rookie.
Denver took Oklahoma defensive end Jeremy Beal, who was productive in college even though he didn't test well at the combine. He had 28.5 sacks and 53.5 tackles for losses in college. That's a steal in the final round.
May, 18, 2010
5/18/10
4:24
PM ET
NFL assistant coaches are some of the best people to know for those looking to learn more about the game.
That has been my experience in covering the NFL since 1998.
I've helped push for better media access to assistants through the Professional Football Writers of America. I've also learned more about some of the issues important to coaches, including some outlined in
this recent story
about the NFL Coaches Association.
The chart shows NFLCA team reps as the association talks about forming a union.
Kevin Spencer (Cardinals), Johnnie Lynn (49ers), Dan Quinn (Seahawks) and Andy Sugarman (Rams) are the reps for NFC West coaching staffs. The 49ers' Jimmy Raye is president of the NFLCA executive committee.
It's not clear yet whether the NFLCA will move to unionize and such an effort would face a challenge even if the association did decide to move in that direction. But as coaches consider their options, these assistants presumably will be active behind the scenes.