NFL Nation:

Clete Blakeman
November, 29, 2013
11/29/13
11:15
AM ET
We've discussed a few times this season the complicated nature of the NFL rule book, especially how rules designed to address a specific instance can have unintended consequences. Attempts to repair the ensuing rabbit holes have bloated the rule book and, in some cases, overburdened officials who must keep straight the exceptions and nuances.
Latest case in point: The rule that reversed a touchdown Thursday night during the
Baltimore Ravens
' 22-20 victory over the
Pittsburgh Steelers
.
[+] Enlarge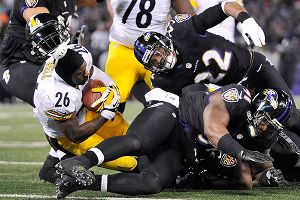 AP Photo/Gail BurtonLe'Veon Bell's 1-yard run was originally called a touchdown, but upon review he was ruled down just short of the goal line after his helmet came off.
With one minute, 32 seconds remaining, Steelers running back
Le'Veon Bell
took the handoff, found a hole on the left side of the line and lowered his shoulders in hopes of plowing into the end zone. He was met by Ravens cornerback
Jimmy Smith
, among others, and the ensuing contact knocked off Bell's helmet. It also launched Bell into the end zone, where officials initially awarded a touchdown (after Bell's unprotected head bounced violently off the turf.)
All scores are automatically reviewed on instant replay, of course, and eventually someone remembered a rule that was added in 2010. Rule 7, Section 2, Article 1 lists the reasons why a dead ball should be declared. Forward progress, kicking a live ball, and fair catches are all among the 18 examples listed. The final one, marked (r) for those who love legislative organization, reads: "when a runner's helmet comes completely off."
This rule was enacted in 2010, in response to plays like one that occurred in 2007 with
Dallas Cowboys
tight end
Jason Witten
. In that instance, Witten caught a pass 23 yards downfield. Two
Philadelphia Eagles
defenders converged on him, and the ensuing contact knocked off his helmet. Witten stayed upright, however, and ran bare-headed another 31 yards downfield before he was tackled.
No NFL player is going to take himself out of a play like that, regardless of the danger involved, so the league eventually added in example "(r)" to do it for him. It's highly doubtful the rule was intended for plays like Bell's run, because the contact knocked him to the ground anyway.
Technically, referee Clete Blakeman was correct to overrule the touchdown. The contact occurred before Bell crossed into the end zone. The play was over at the moment his helmet flew off, meaning the ball was to be marked wherever it was at that moment. In the end, it did not hurt the Steelers' chances for winning. They scored two plays later.
The rule did nothing to protect Bell, just as it did little to help
New York Giants
quarterback
Eli Manning
during a 2010 preseason game that led to a bloody gash on his head.
So what is the solution? The natural response would be to add an exception for players who are knocked to the ground by the contact. After all, the intent is to prevent players from extending the play once they've lost their helmet. Bell wasn't going to extend the play.
On the other hand, a seemingly simple solution adds to the already complex web of rules, exceptions and nuance that officials are tasked with tracking. What other possibilities could arise? What if a player is stepping out of bounds but trying to extend the ball past the first-down marker? And, while we're at it, what does it say about the state of head protection in the NFL that rules are enacted to address when they come off? Why can't we find helmets and chin straps that stay fastened?
I suppose those final two questions are for another day. At the moment, we're reminded once again of how difficult it is to account for every possible play in a football game -- and the unintended consequences that effort can create.
November, 19, 2013
11/19/13
11:08
AM ET
Reaction to Monday night's
game-ending call
has ranged from the ultra-emotional to the uber-analytical.
New England Patriots
fans are livid that a flag for pass interference against the
Carolina Panthers
was picked up, giving the Panthers a
24-20 victory
. Meanwhile, football wonks and officiating gurus are scouring the NFL rule book for precise wording on when contact is allowed and what exceptions must be made.
I suggest we all take a deep breath and reach for a third option: common sense.
When you boil it down, here's what happened on the play: The intended receiver was bear-hugged while the ball approached. As a result, another defender had a clear path to step in for a game-ending interception.
That sequence doesn't pass the smell test -- a basic expectation for officiating. We are now in a position where the complexity of the NFL rule book has bogged us down and clouded the bigger picture, reducing us to seek tortured and technical explanations when even an amateur set of eyes can tell us all we need to know.
Speaking to a
pool reporter late Monday night
, referee Clete Blakeman confirmed that back judge Terrence Miles initially called pass interference on Panthers linebacker
Luke Kuechly
, who had his arms all over tight end
Rob Gronkowski
, the intended target of
Tom Brady
's pass into the end zone on the final play. Umpire Garth DeFelice and side judge Greg Meyer joined the discussion. Ultimately, the crew ruled that Brady's pass to Gronkowski (which was picked off by Panthers safety Robert Lester) was uncatchable -- negating the possibility of pass interference.
Indeed, Rule 8, Section 5, Article 2 of the NFL rule book lists five exceptions to what would otherwise be pass interference. Among them: "Contact that would normally be considered pass interference, but the pass is clearly uncatchable by the involved players, except as specified in 8-3-2 and 8-5-4 pertaining to blocking downfield by the offense."
Yes, there is an exception to the exception. But let's forget that bit of dark humor for a moment and consider the question of whether Brady's pass was "clearly uncatchable."
There is no arguing that the ball was picked off about 5 yards in front of Gronkowski and Kuechly. It was far enough away that Gronkowski hardly made a move for it. But to me, this is an example of a rule exception seeping into an area it wasn't intended for.
Use common sense and apply the smell test. When we imagine the intent of the "uncatchable" exception, we think of a ball that sails 10 feet over a receiver's head on the sideline. Or perhaps it drops 15 yards downfield on a go route. Do we really want to judge whether a pass that is 5 yards short couldn't be completed by a 6-foot-6 tight end who has long arms, excellent hands and isn't running away from the ball?
Blakeman's crew might have made a decision that was technically defensible via the rule book. But as originally conceived, the ruling doesn't seem to have been intended to apply in Monday night's case. This is what happens,
as we discussed earlier this season
, when rules and exceptions are piled on top of each other in such a way that officials can't possibly keep it all straight.
Many of you were wondering why Blakeman didn't call illegal contact on Kuechly considering Gronkowski was well beyond 5 yards past the line of scrimmage. The answer is classic,
per former NFL referee Jim Daopoulos
. Because illegal contact only applies before the ball is thrown. Pass interference takes precedence after the quarterback throws the ball.
Exceptions on top of exceptions.
There are no easy answers here, but Monday night, common sense got trumped by thick prose and too-nuanced attempts to legislate every possibility in a football game. Rules are intended to allow players to compete fairly to win the game. If we're going to allow a receiver to get bear hugged in the end zone as the ball falls in the area, then why have a rule book at all?
October, 25, 2013
10/25/13
3:10
PM ET
Periodically this season, I've checked in on the raw totals of penalties called by each set of NFL referee crews. This year is my first attempt at tracking such numbers, and when I set out, I wasn't sure whether it would generate anything useful and significant.

Here's what I can tell you as we approach midseason: While most crews have handed out a relatively similar amount of penalties on a per game basis, there is a pretty big gap between the most and least active referees.

The chart breaks down all penalties, both accepted and declined, for each referee this season. Keep in mind that the referees have worked anywhere between one and seven games this season as part of the NFL's rotation system, so perhaps the most significant number is the percentage of penalties per game.

When viewed that way, you'll note the difference between referee John Parry (18.6) and, say, Peter Morelli (11.5) and Clete Blakeman (10.6). But what does that mean?

First, it's important to repeat that penalty totals shouldn't be correlated with the quality of official. Second, it's worth considering that some referees could have been assigned to more games with penalty-prone teams than others.

If that's the case, however, you would expect the numbers to even out over the course of the season. Otherwise, a continuing discrepancy would suggest, in fact, that some referees and their crews were more likely to call penalties than others this season.



December, 23, 2012
12/23/12
6:08
PM ET
Thoughts on the Titans'
55-7 loss
to the Packers at Lambeau Field:
What it means:
For the sixth time in their 10 losses the Titans were beaten by over 20 points. Green Bay did whatever it wanted against overmatched Tennessee, building a big enough lead that the Packers pulled
Aaron Rodgers
and played
Graham Harrell
at quarterback for most of the fourth quarter. It's another result that will fuel debate about whether Mike Munchak is the right coach and
Jake Locker
is the right quarterback for this franchise.


What I didn't like:
In short order early on, Locker underthrew a wide open
Taylor Thompson
, overthrew
Nate Washington
, and threw behind
Damian Williams
, who popped the ball into the air as he got his hands on it and watched it get intercepted. I don't see how anyone can defend Locker's accuracy or field presence right now. I'm not particularly interested in hearing about his better second half. When a quarterback is 3-for-12 for 35 yards, three sacks, two picks and a passer rating of 0 before halftime, it's hard for him to be as bad after intermission.
What I also didn't like:
Referee Clete Blakeman and his crew huddled up and decided to call intentional grounding against Locker in the first quarter when
Chris Johnson
came within inches of touching the pass in question. That was ridiculous.
Rodgers' day:
Aaron Rodgers completed 27 of 38 passes for 342 yards with three touchdowns, a 125.1 passer rating and a rushing touchdown.
What's next:
The Titans finish their season with a home game against the Jaguars, who beat them 24-19 on Nov. 25 in Jacksonville. A good performance in a win could qualify as one last push for Munchak to keep his job.
November, 9, 2011
11/09/11
11:15
AM ET
Rule 8, Section 5, Article 3(c)
of the NFL rule book is straightforward. But as is the case with many NFL rules, the interpretation is not. Here is what it says, in part:
"Acts that are permissible by a player include but are not limited to … contact that would normally be considered pass interference, but the pass is clearly uncatchable by the involved players…."
That instance would seem to apply to a key play in the fourth quarter of the
Green Bay Packers
' 45-38 victory Sunday over the
San Diego Chargers
. As you recall, Clete Blakeman's crew called Packers cornerback
Charles Woodson
for pass interference on a fourth-down incompletion, giving the Chargers a new set of downs to pursue the potential tying touchdown with three minutes, 26 seconds remaining in the game.
A look at the replay reveals
Antonio Gates
running a drag route along the Packers' 35-yard line and stopping abruptly at about the middle of the field. Woodson, trailing Gates in man coverage, kept running. The two collided as the ball sailed past them and fell to the ground.
Rational people could debate whether the play constituted pass interference. The rule book allows for both "incidental contact" and also for "inadvertent tangling of feet" when both players are competing for the ball. For the sake of this discussion, let's assume it was pass interference.
The ball landed about six yards past Gates and three yards behind him. I don't have the math degree to figure out the geometric number of yards the ball was, but let's just say Gates would have had to have some serious jets to have caught up to where quarterback
Philip Rivers
delivered the ball.
Blakeman's crew needed to decide whether the ball was "clearly uncatchable." I think you can make a reasonable argument that it was, but Blakeman must not have seen it that way. More often than not, when a receiver and defender collide and fall to the ground on a fourth-down play, you're going to see pass interference.
Dirty Laundry update:
Two weeks ago,
we reviewed a roughing-the-passer penalty against Packers linebacker
Clay Matthews
during a victory over the
Minnesota Vikings
. Matthews' hit didn't appear late and his contact with Vikings quarterback
Christian Ponder
was all below the neck.
We wondered if referee Peter Morelli threw the flag because Matthews grabbed Ponder behind the legs and drove him into the ground, a technical violation of NFL rules if Morelli deemed the hit unnecessary or violent. That would have made it a subjective judgment call.
In an appearance
on "The Scott Van Pelt Show" on ESPN Radio
, however, Matthews said he was told he launched into Ponder using the top of his helmet. That clearly didn't happen, which means Morelli simply missed it.
"When I had asked the ref what he had called me on," Matthews said, "he said I had used the top of my helmet to launch into him. I could see where he wouldn't be able to see the correct angle. It's understandable, but obviously with video replay and photos out there, I like to think it's a textbook tackle as well as any of the hits we put on quarterbacks. But it really comes down to a split decision, and you can't fault the refs for that. But at the same time, it did give them 15 yards and they went down to score and make the game that much closer."
Now, on to our Penalty Tracker:
September, 15, 2011
9/15/11
10:15
AM ET
Consider this scenario from the point of view of an NFL game official:
A player is open in the end zone. The quarterback spots him and throws the ball. A defender, positioned behind the receiver, jumps into the vertical plane occupied by the receiver and knocks the ball away. It all happens in a millisecond. Both players crash to the ground.
Pass interference, right?
[+] Enlarge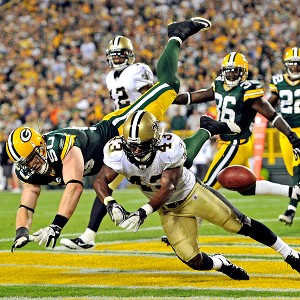 AP Photo/Jim PrischingThis play resulted in a pass interference penalty, which gave the Saints one final play.
Referee Clete Blakeman's crew came to that conclusion with the clock showing 0:00 last Thursday night at Lambeau Field.
New Orleans Saints
running back
Darren Sproles
was the open receiver.
Green Bay Packers
linebacker
A.J. Hawk
was the defender. The call was pass interference, giving the Saints possession at the 1-yard line for the final play of the game.
Longtime blog readers know we use this Dirty Laundry post to take a weekly look at officiating issues during the regular season. They often fall within a gray area of judgment, so I try to examine both sides in the context of the official NFL rule book and then offer a bit of analysis. The gray area of this case was especially deep.
Hawk has a pretty reserved personality on the field, so I took particular notice at how adamantly he protested the call. Asked afterwards about the play, Hawk said: "I'm going to try not to get fined here."
From the top, it seems clear where Blakeman's crew was coming from. Rule 8 Section 5, Article 2(b) of the NFL rule book states: "Acts that are pass interference include but are not limited to ... playing through the back of an opponent in an attempt to make a play on the ball."
Watching the play live, that's exactly what appeared to happen. Hawk seemed to climb Sproles' back, so to speak, to reach over him and knock the ball away.
In reality, this was an extraordinarily unique situation. Sproles, listed at 5-foot-6, is one of the shortest players in the NFL. In most cases, a defender couldn't jump over the shoulder of a receiver and lunge for the ball without initiating substantial contact.
When you watch the replay multiple times, however, Hawk did just that. Obviously I wasn't standing right next to them, but the replay indicates that Hawk -- at best -- grazed Sproles' right shoulder. Sproles was knocked to the ground by contact that occurred after Hawk knocked down the pass.
You might never see that kind of play on an NFL field again. Watching it live, it was natural to assume Hawk's torso hit Sproles' shoulder and knocked him down before he had a chance to catch the ball. So while I think Blakeman's crew might have made the wrong call, I can't come down too hard for it. In most instances, a defender leaping from behind to knock down a pass is going will initiate early contact. This was a rare case that didn't.
In previous incarnations, Dirty Laundry has concluded with a weekly look at NFC North coaches' success rates for challenges. I'll still hit those periodically during the year, but on a weekly basis I want to look at NFC North penalty totals with an assist from ESPN Stats & Information.
Below, you'll see each team's total number of penalties in Week 1, which includes penalties that were declined. I think that provides a more accurate illustration of how penalty-prone a team is over time.
September, 10, 2011
9/10/11
12:16
AM ET
The protest started almost immediately Thursday night after officials caught
Green Bay Packers
cornerback
Charles Woodson
punching
New Orleans Saints
tight end
David Thomas
. Saints coach Sean Payton called for Woodson to be ejected. So did NBC analyst Cris Collinsworth.
Woodson
Over on Twitter,
@Chewblaha
asked why Woodson remained in the game considering
Chicago Bears
defensive tackle
Tommie Harris
was
ejected from a game two years
ago for punching
Arizona Cardinals
offensive
Deuce Lutui
.
@HuhNJ
demanded consistency. If
Detroit Lions
defensive tackle
Ndamukong Suh
has been called dirty, "where is all the talk of Woodson being dirty? His punch was much worse than Suh's" on New England guard
Logan Mankins
.
Referee Clete Blakeman's crew assessed a 15-yard penalty but decided against ejection, helping us clear up a common misconception. NFL rules do not mandate an automatic ejection for a punch. In fact, here is how Section 2 of Rule 12 reads:
STRIKING, KICKING, OR KNEEING OPPONENT

Article 1 All players are prohibited from:

(a) striking with the fists;

(b) kicking or kneeing; or

(c) striking, swinging, or clubbing to the head, neck, or face with the heel, back, or side of the hand, wrist, arm, elbow, or clasped hands. See 12-2-3.

(d) grabbing the inside collar of the back of the shoulder pads or jersey, or the inside collar of the side of the shoulder pads or jersey, and immediately pulling down the runner. This does not apply to a runner who is in the tackle box or to a quarterback who is in the pocket.

Note: It is not necessary for a player to pull the runner completely to the ground in order for the act to be illegal. If his knees are buckled by the action, it is a foul, even if the runner is not pulled completely to the ground.

Penalty: For fouls in a, b, c, and d: Loss of 15 yards. If any of the above acts is judged by the official(s) to be flagrant, the offender may be disqualified as long as the entire action is observed by the official(s).
The key sentence is the final one. Blakeman had two standards to meet if he wanted to eject Woodson. First, he needed to judge the punch to be "flagrant." Then, he had to ensure that at least one member of his crew saw "the entire action."
That second step is important because it is intended to protect a player who was baited, or retaliated, from being ejected while his antagonizer goes unpunished. It's reasonable to expect that at least one of the game's seven officials saw the "entire action," but Woodson implied afterwards that more happened than a single punch.
According to
Jason Wilde of ESPNMilwaukee.com
, Woodson said that Thomas was "holding me a little longer than I wanted" and added: "I know the referees saw what was going on. I'm sure that probably swayed their decision not to eject me."
Woodson made a big mistake, one that was inexcusable from a veteran and team captain. He admitted as much and was fortunate the Saints didn't capitalize on the ensuing 15-yard penalty. Woodson almost certainly will receive a hefty NFL fine.
But calls for an automatic ejection were unfounded. Like any entity, the NFL has checks and balances to protect against auto-implementation of any discipline. This instance was no different. I couldn't tell you what Blakeman saw, or didn't see, that compelled him to allow Woodson to keep playing. But he absolutely had that option under NFL rules.
January, 7, 2011
1/07/11
3:15
PM ET
An end-of-season look at where NFL officiating crews rank in a few categories where discretion and controversy tend to apply, listed by referee (with Walt Coleman scheduled to work Seattle's wild-card game Sunday):
The second chart breaks down defensive pass-interference numbers by crew for the last three seasons.
The next chart breaks down offensive pass interference by crew for the 2010 season only.
Note that Coleman's crew has called only one such penalty this season, second-fewest in the league behind Seattle favorite Bill Leavy.
The next chart breaks down the offensive pass-interference calls by crew for the last three seasons.
The final chart shows three-year totals for roughing the passer, by crew.
Seattle fans might remember the controversial roughing penalty against Seahawks defensive end
Raheem Brock
during the team's defeat at New Orleans in Week 11.
The pivotal play did not draw a fine, tacit admission that referee Mike Carey's crew erred on the call.
Coleman's crews have only four roughing calls over the last three seasons, fewest in the league among referees working continuously since 2008.
Note:
All info from ESPN Stats & Information and includes declined penalties.

NFL SCOREBOARD
Thursday, 12/18
Saturday, 12/20
Sunday, 12/21
Monday, 12/22
WEEKLY LEADERS