NFL Nation:

Cletis Gordon
September, 4, 2010
9/04/10
7:24
PM ET
By
Matt Mosley
| ESPN.com

Biggest surprise:
The Cowboys are trying to become one of the first NFL teams to begin a season with only three cornerbacks. I seem to recall the Giants being in that situation in Week 2 last season, but it wasn't really their choice. The Cowboys cut veteran cornerback
Cletis Gordon
after he had, by all accounts, an excellent training camp. He struggled in the last couple preseason games and that may have done him in. Gordon had somewhere in the neighborhood of 10 interceptions in camp. It's also mildly surprising that former reality TV star
Jesse Holley
was released. The Cowboys decided to keep special teams ace
Sam Hurd
over Holley. It remains to be seen whether Hurd agreed to accept a paycut. He's owed $1.7 million this season. The Dallas Morning News reported Saturday that Hurd refused to take a pay cut. We'll try to get to the bottom of that this evening. It was a little surprising to see the Cowboys release nose tackle
Junior Siavii
. He's been pretty steady this preseason, but it looks like they'll go with youth behind
Jay Ratliff
.
No-brainers:
There's no room on this roster for four running backs and that's why
Herb Donaldson
and
Lonyae Miller
were released. One of those players could end up on the practice squad. I thought Miller was the better player, but it seemed like Donaldson received more snaps in the preseason. I loved guard
Mike Tepper
's backstory coming out of Cal, so perhaps he can land on the practice squad.
Bryan McCann
is an intriguing prospect at cornerback. I talked to two different teams who have been scouting him in the preseason, so he might have a tough time making it through to the practice squad.
What's next:
I'd probably mix in another cornerback before the first game but maybe they think fourth round pick
Akwasi Owusu-Ansah
is versatile enough to help them in a pinch. The Cowboys only kept two tight ends, so I'd definitely try to get
Martin Rucker
on the practice squad. Look for the Cowboys to scour the waiver wire for backup offensive linemen. Coach Wade Phillips hates cutting players once they have "made" the 53-man roster but the Cowboys have to protect themselves. I think this roster is pretty vulnerable in some areas. We'll keep an eye on things tonight and Sunday.
List of Cowboys players cut:
OT Will Barker
OG Travis Bright
DE Marcus Dixon
RB Herb Donaldson
TE DajLeon Farr
CB Cletis Gordon
WR Jesse Holley
WR Manny Johnson
OLB Curtis Johnson
CB Bryan McCann
RB Lonyae Miller
LB Steve Octavien
TE Jason Pociask
TE Martin Rucker
DT Jimmy Saddler-McQueen
LB Brandon Sharpe
DE Junior Siavii
OL Mike Tepper
CB Jamar Wall
CB Teddy Williams
September, 2, 2010
9/02/10
11:45
PM ET
By
Matt Mosley
| ESPN.com


The
Dallas Cowboys
rested their starters against the
Miami Dolphins
, but there were still some interesting developments Thursday evening. Third-team quarterback
Stephen McGee
won't make it to the practice squad after going 27-of-42 for 304 yards and a touchdown. If the Cowboys want to keep him, they'll have to hold a spot for him on the 53-man roster.
Here are some observations from the Cowboys' 27-25 win.
Apparently the Cowboys wanted to get left guard Montrae Holland a little more work in the preseason. From what I'm told, he has a 50 percent chance of starting against the Redskins with starter Kyle Kosier trying to return from a right MCL sprain. On an early third-and-1, the Cowboys' offensive line didn't get any push and Tashard Choice was tackled at the line of scrimmage. Holland was called for two false starts on the second drive of the game. The Cowboys need Kosier to return in a hurry.
I liked how outside linebacker Victor Butler pursued the running game from the backside. He came racing from the backside to knock down Ronnie Brown after a short gain. Butler also made some nice plays in coverage. Of the young backup linebackers, Butler's playing with the most confidence. On the Dolphins' first scoring drive, it was Butler who forced the field goal attempt by batting down a Chad Henne pass. Perhaps he's fired up about his alma mater Oregon State playing at Cowboys Stadium on Saturday.
Rookie safety Akwasi Owusu-Ansah appeared to bust coverage against Davone Bess in the first quarter. It was an easy throw for Chad Henne on third-and-long. Owusu-Ansah was fortunate to hop to his feet following a clothesline from Tim Dobbins on a punt return early in the game.
Tashard Choice was the Cowboys' best offensive player Thursday. Watching him take a short pass and turn it into a 34-yard play was pretty remarkable. Choice couldn't find any holes in the running game. It's time for the Pat McQuistan era to end. The reserve guard doesn't play with any power and he doesn't move his feet very well in pass protection.
It's obvious that Stephen McGee and Martellus Bennett have some nice chemistry. Bennett does a really nice job of getting separation downfield. If his head is in the game, he could help this team in a big way. I was really impressed with a play that McGee made late in the first quarter to find Manuel Johnson. He extended the play with his legs and did a nice job of throwing on the run. On the next play, McQuistan was beaten badly off the snap. He has really awful balance. And on the next play, Alex Barron was beaten on a speed rush by linebacker Cameron Wake.
Rookie linebacker Sean Lee is having trouble shedding blockers. On the long run by Ricky Williams at the end of the first quarter, Lee got sealed by wide receiver Marlon Moore. It looked like defensive end Jason Hatcher was trying to come up the middle on a stunt and he got stoned by the center. Beautiful play by the Dolphins, but Lee has to be more physical than that. But he fought back and had a fumble recovery to end the same drive. Butler took over the game in the first half against the Dolphins' starters. Nice strip-sack of Henne early in the second quarter.
That was a gorgeous throw from McGee on the 43-yard touchdown pass to Sam Hurd. Hurd did a really nice job of accelerating when the ball was in the air. Cornerback Sean Smith had good coverage until just before the ball arrived. Going to be tough to cut Hurd after watching that play.
Second-year linebacker Jason Williams tried to cover a running back on a wheel route late in the first half and he never attempted to play the ball. Williams was called for pass interference.
Big confidence booster for David Buehler to nail the 51-yard field goal at the end of the half. Wade Phillips gave special teams coach Joe DeCamillis a fist bump and appeared to shout, "Yeah baby!" Really good night for Buehler. He also made a 45-yard field goal. I still want to see what he does in the regular season, but this was an excellent tuneup for him.
After tonight's game, I feel like Butler can give the Cowboys between seven to 10 plays per game and he could fill in nicely if someone gets injured. It looked like DeMarcus Ware loved watching Butler fly around Thursday evening.
Sean Lee showed some excellent closing speed to sack Tyler Thigpen in the third quarter.

I liked the way Manuel Johnson fought for the football tonight. The former Oklahoma receiver probably doesn't have a spot on this team but he gave some other teams something to think about. Speaking of other teams, I know a couple of scouts from around the league who are very interested in Cowboys rookie cornerback Bryan McCann. He'll get scooped up if the Cowboys try to sneak him through to the practice squad. Early in the fourth quarter, McCann didn't take away the inside against Marlon Moore and was burned for the touchdown. Terence Newman met McCann on the sideline to explain what he should've done.
Quite a battle between Hurd and Jesse Holley on Thursday. Hurd had the big touchdown catch, but it was Holley who made play after play in the second half.
Herb Donaldson might be a good practice squad candidate. He had some nice runs in the second half.
I thought reserve cornerback Cletis Gordon had a rough night. He was beaten for a long pass by Roberto Wallace late in the third quarter and he just seemed a step slow in this game. And late in the game, Wallace reached up and caught one over Gordon's head. He just didn't make plays on the ball at all. And this is after he had a ton of interceptions in training camp. Really nice second half for Wallace. He beat rookie cornerback Jamar Wall on a back-shoulder route on the goal line.
August, 22, 2010
8/22/10
1:47
PM ET
By
Matt Mosley
| ESPN.com
I thought the most significant thing to come out of Saturday's preseason game was the debut of Cowboys rookie linebacker
Sean Lee
in Dallas'
16-14 victory
against San Diego. The second-round pick made back to back plays in the fourth quarter to shut down the Chargers' short-yardage running game. I wondered how he'd react to game speed, but it didn't seem to faze him. Watching him fight off a lead blocker and then tackle the tailback on his own was the most impressive play of the evening.
Now, let's look at some of other aspects of the Cowboys' win:
Nice job by cornerback Terence Newman bouncing back from getting burned to undercut a route and intercept Philip Rivers in the first quarter. This defense looks a lot more opportunistic after three preseason games.
The Cowboys better hope Ryan Mathews is the second coming of LaDainian Tomlinson, because he made them look bad at times Saturday night. The Chargers were able to run down hill with all three of their main backs. Wade Phillips' defense will have to work on tackling this week, because it kept bouncing off Chargers running backs. I've been a fan of Mike Tolbert's ever since he came out of Coastal Carolina. Impossible to bring him down if you go high, and Orlando Scandrick learned that lesson the hard way.
I didn't like the looks of Gerald Sensabaugh's left shoulder injury. Keith Brooking injured his right shoulder and said it was a "mild AC strain." Neither injury is serious, but don't be shocked if they sit out the final two preseason games.
I know that Tony Romo had linebacker Stephen Cooper closing in on him, but you can't throw that pass into the middle of the field. You'd rather see Romo take the sack in that situation, and he admitted that after the game. It wasn't a great night for Romo and the offense, but the red-zone touchdown pass to Miles Austin was a thing of beauty. Romo throws that back-shoulder fade as well as any quarterback in the league right now.
Norv Turner burned the Cowboys with those little slip screens to Darren Sproles. He used the Cowboys' speed against them by letting DeMarcus Ware and Anthony Spencer come free before dumping the ball over their heads. Not even Brooking could make a play in the open field as Sproles raced for daylight.
Marion Barber and Felix Jones aren't doing much in the preseason games. Jones needs to turn some of those runs upfield quicker instead of gliding down the line of scrimmage, hoping to find a seam.
Rookie free-agent safety Danny McCray has become a special teams phenom. I saw him make at least three tackles in coverage. He's already among the Cowboys' top two or three special-teams players, and he's not finished climbing.
It's fun watching left tackle Doug Free get out in space on screen passes. He flattened a defender to lead the way for Barber's 8-yard reception.
Let's give offensive tackle Robert Brewster his due. He certainly had some help at right tackle when Romo was on the field, but I thought he played pretty well. And when he moved over to the left side, Brewster did a nice job of anchoring and giving Jon Kitna a clean pocket. Backup center Phil Costa also receives kudos for some excellent work. He does a nice job on those middle screens. He's been the under-the-radar star of the offensive line in this camp. Mark that down somewhere.
Spencer is pretty much impossible to block right now. He had one sack wiped out because of defensive holding, but he was constantly in the face of Rivers or Billy Volek. He's poised to have a huge season.
During my time in Oxnard, Calif., last week, I kept telling you guys that Martellus Bennett could be a threat in the red zone. Well, Kitna realized that Saturday night. Bennett was a nice third-down option for both Romo and Kitna. He's an enormous target who is too big for safeties to cover and too fast for linebackers. That might have been the best all-around game I've seen him play in a Cowboys uniform. Let's see if he can take it to the regular season.
Linebacker Leon Williams didn't help himself by missing a tackle in the backfield on Tolbert. And fellow linebacker Victor Butler helped himself big time with a strip sack in the second half that led to the game-winning safety. Butler has had an excellent camp.
Cornerback Cletis Gordon's the biggest surprise from this camp. The former Charger snagged an interception with his right hand while running step for step with a wide receiver in the second half. If you count practice, I think he has at least 14 interceptions this preseason.
I like how rookie running back Lonyae Miller runs the ball. He played better than Herb Donaldson on Saturday. I'd try to get Miller on the practice squad. I'm sure he wanted to show off for his former Fresno State teammate Mathews.
August, 19, 2010
8/19/10
1:01
PM ET
By
Matt Mosley
| ESPN.com
ESPN.com NFL Power Ranking
(pre-camp): 4
OXNARD, Calif. -- No one would blame 34-year-old linebacker
Keith Brooking
for taking a day or two off in training camp, but that's not his style. He missed the Cowboys' OTAs this offseason after having a relatively minor knee surgery and now he's refusing to leave the field.
Brooking, who played in a Super Bowl with the
Atlanta Falcons
, hears the clock ticking on his career -- and he also hears rookie
Sean Lee
's footsteps.
"Dick Butkus is my idol and he always said you never want your last play to be a stinker," Brooking told the NFC East blog . "In saying that, he knew how precious this game is. The window's closing on me every passing day and it's time to push all my chips in."
Brooking has become the inspirational leader of this defense. He was frustrated last season when he had to come off the field in the nickel and he has reminded everyone in this camp that he can run step for step with running backs in pass coverage. Everyone expected Lee to replace
Bobby Carpenter
in the nickel defense, but Brooking's not making it easy.
"They've been drafting guys to take my place for 13 years," he said. "I thrive on the competition and I'm going to keep coming no matter who they bring in."
That said, Brooking and Lee have become fast friends. Lee speaks in awe of Brooking and
Bradie James
. Coach Wade Phillips has taken to calling Lee "Brooking" when he sees him around camp.
"Sean Lee keeps me young," Brooking said. "They've made a lot of comparisons between us, and most of them are accurate."
But Lee will have to wait his turn with the Cowboys because Brooking may be having the best camp of his 13-year career.
THREE HOT ISSUES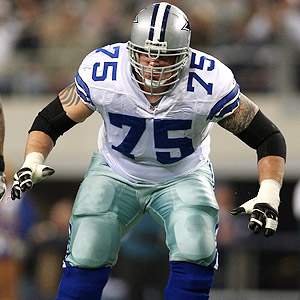 Matthew Emmons/US PresswireDallas hopes to have Marc Colombo back in time for the opener at Washington.
1. Is there enough depth on the offensive line?
That's a question folks were asking even before starting left guard
Kyle Kosier
and right tackle
Marc Colombo
suffered injuries. Colombo probably will return in time for the opener against Washington on Sept. 12, but Kosier could miss a couple of games. Veteran
Montrae Holland
(48 career starts) will replace Kosier. Holland's had his moments in the league, but he has started only two games since joining the Cowboys in '08.
Robert Brewster
may get the start in Colombo's place, and that's a problem. Brewster's footwork has been questionable and he's getting blown off the ball in pass protection. And on Wednesday, the Cowboys couldn't seem to decide whether quarterback
Tony Romo
would play Saturday against the Chargers. The Cowboys are extremely talented at the skill positions, but a couple of injuries on the offensive line could derail this team. The good news is that left tackle
Doug Free
has had an excellent camp. Owner/general manager Jerry Jones believes that Free will be an upgrade over
Flozell Adams
. I think that may be the case down the road, but for now, Free's still somewhat of a wild card.
2. Will the Cowboys score in the red zone at any point this preseason?
Romo's coming off the best season of his career with 26 touchdowns and only nine interceptions. He stopped putting so much pressure on himself to constantly make plays, in part, because he knew the defense would get him the ball back quickly. But for all the yards, the Cowboys were not a good red zone team. They ran the ball well between the 20s, but they were stymied after that.
Romo told a couple of us Monday that we're going to "enjoy" the Cowboys' new red zone plays. He said that Jason Garrett was purposefully being vanilla with his play calls because he doesn't want to tip his hand. The good news is that tight ends
Jason Witten
and
Martellus Bennett
have made several plays in the red zone during practice. If Romo can develop some trust in the 6-foot-6 Bennett, it would give the Cowboys quite a weapon. Bennett has made some remarkable catches since returning from an ankle injury Sunday. He's trying to persuade Romo to go ahead and force the ball to him even when it looks like he's covered.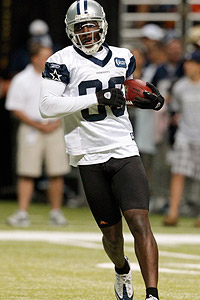 AP Photo/Tony GutierrezThe Cowboys are uncertain if Dez Bryant will play in the team's remaining preseason games.
3. How much of a setback was Dez Bryant's high ankle sprain?
Bryant was supposed to be the story of this camp, and he delivered all the headlines until
Jon Kitna
fired a pass behind him. He appears to be ahead of schedule in his rehab work with Cowboys associate head athletic trainer Britt Brown. Bryant has done a nice job of staying in the playbook and he passed a pop quiz from Garrett after practice Wednesday. You can stand there and watch him play catch during practice and be amazed by the way he snags balls with his left hand. The more I'm around Bryant, the more obvious it becomes that he's going to force his way into the starting lineup early in the season. I think we'll see him play in the final preseason game just to get a feel for game speed. It will be interesting to see if Phillips lets Romo play a series with him just to work on their rhythm.
BIGGEST SURPRISE
Cornerback
Cletis Gordon
and safety
Danny McCray
tied for this coveted award. My colleagues at ESPNDallas.com have Gordon with 10 interceptions in training camp. The ball just seems to find him and that's a great thing for a cornerback. He'll be the Cowboys' fourth cornerback.
The University of Texas wanted to make McCray into a linebacker, so the Houston native opted to play at LSU. He's one of at least nine rookies from the school and he was not even close to being the headliner. He played in the shadows of
Chad Jones
, the Giants' third-round draft pick who was in a horrific car accident this offseason. Special teams coach Joe DeCamillis thinks McCray could be a star for him. His play on special teams jumped off the screen in the Hall of Fame Game, but he also has shown excellent range at safety. There's no way to keep McCray off the 53-man roster.
BIGGEST DISAPPOINTMENT
The Cowboys still like wide receiver
Kevin Ogletree
's potential, but he's really missed some great opportunities in this camp. The knock on Ogletree is his consistency, and he hasn't done a lot to overcome that reputation. He has tremendous speed and runs nice routes. But he'll lose focus and drop a couple of balls in practice. When Bryant suffered the ankle injury, Ogletree should've seized the opportunity. But all he did is make
Patrick Crayton
look more valuable than ever.
[+] Enlarge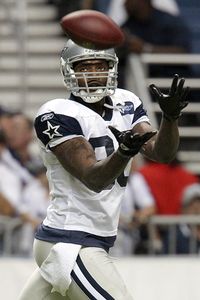 AP Photo/Tony GutierrezMartellus Bennett is out to prove he can be a threat in Dallas' offensive attack.
OBSERVATION DECK
Bennett has pretty much taken over camp the past three days. He told me Tuesday that he watched film of Brandon Marshall before practice every day because he loves his intensity. Bennett believes that he's been too nice of a guy to everyone in general and wants to play with more attitude. I don't know about the attitude, but he's catching everything. Perhaps he'll gain Garrett's trust heading into the season. As I mentioned earlier, I think he could be a huge weapon in the red zone.

Nose tackle Jay Ratliff had surgery on both elbows in the offseason and he's finally playing without pain. He's relentless in practice and he has put some of his mixed martial arts training to use. Ratliff has quietly become an important leader for this defense.

Brewster's still a work in progress, and that's as nicely as I can put it. He's had a difficult time anchoring in the two preseason games and he's lunging at defenders. The good news is that he's doing everything in his power to turn the corner. And he's going to get a huge opportunity this Saturday against the Chargers. If he can hold up well as the starter (if Alex Barron is out), that should solidify his roster spot.

Romo walked past the Beast West Coast bureau Wednesday and jokingly asked me whether he was playing Saturday. Moments earlier, Phillips had indicated that Romo might play an entire quarter. In other Romo news, he was seen sprinting after practice Wednesday near a busy street in Oxnard. I was later told that he was filming a spot for a TV network. According to an eyewitness, he was trailed by two motorcycle cops.

David Buehler has to be the cockiest place-kicker I've met -- and that's not a bad thing. The former USC kicker doesn't seem to have a care in the world, even though Cowboys fans are wondering what he'll do in real games. Other than that 49-yarder that he almost hooked into the stands in Canton, Ohio, he has been pretty consistent.

The Cowboys are going to try to get the ball to Crayton in the red zone. They've been lining him up in the slot and they're hoping to take advantage of his strength and sure hands. I love watching him compete against press coverage. He's a heady player who knows how to set up a route.

Safeties coach Brett Maxie has done some solid work with Alan Ball in camp. Ball looks like he has been starting for years. There are no false steps with this guy right now. Maxie is trying to get Ball to be a little more vocal on the field. That's not really Ball's nature, but he's getting a lot better at communicating with his teammates.

The John Phillips knee injury really hurts the Cowboys' offense. Garrett had made Phillips an important part of the running game and he was getting a lot better at catching passes. In fact, he was sensational against the Bengals before the injury. Without Phillips, the Cowboys only have two legitimate tight ends on the roster. We'll see what Scott Sicko does when he comes back from this concussion, but it's not a deep position right now.

What a superb camp it has been for Terence Newman. Everyone thought Mike Jenkins had passed him by, but Newman has responded with an excellent camp. He's doing a good job of getting his hands on everything.

Felix Jones looks so much bigger than I remember him, but the burst is still there. The Cowboys may have the best three-deep backfield in the NFC. Tashard Choice is an excellent back who could start for a lot of teams. Garrett has to find different ways to get him the ball. This team needs to get Jones and Choice in space.
August, 16, 2010
8/16/10
9:17
AM ET
By
Matt Mosley
| ESPN.com
OXNARD, Calif. -- If not for offensive tackle
Marc Colombo
's injury at the end of practice Sunday afternoon, the day would've been all about tight end
Martellus Bennett
. The mercurial player with the balky ankle put on a show in front of a nice crowd, but the sight of Colombo being carted off the field with a knee injury
stole the headlines
. Some of the players on offense walked off the field dejectedly -- especially Colombo's fellow offensive linemen.
With
Alex Barron
recovering from an ankle sprain, the Cowboys are suddenly thin at the tackle spot. Rookie
Sam Young
, who's been impressive at times, replaced Colombo in Sunday's practice.
Robert Brewster
's also in the mix, but he's looked overmatched in two preseason games. Colombo's the emotional leader of this line, and the Cowboys need him to be ready for the opening game against the Redskins. But since we've already said a lot about the injury, let's take a look at what else happened once the Beast rolled into camp Sunday afternoon:
I was surprised at how sloppy the offense looked three weeks into training camp. I'm told the quarterbacks were fairly sharp Sunday morning, but Tony Romo and Jon Kitna both struggled in the afternoon. Offensive coordinator Jason Garrett responded by making his players stay after practice and walk through a series of plays. The offensive line gave up at least three faux sacks and there was a lot of confusion between the quarterbacks and receivers. Even the normally reliable Jason Witten-Romo combo was off. Bennett was the only player who really stood out on offense. Perhaps it's because he has fresh legs after so much time off during this camp. He was surrounded by reporters after practice, but he didn't seem as jovial as usual. Bennett seemed to be a little annoyed with the media, and there's no shame in that.
Linebacker Keith Brooking has been excellent in pass coverage throughout camp. He had a good chance at an interception when Kitna threw a weak pass across the middle in team drills, but the ball glanced off his hands. Brooking sat out OTAs this offseason following knee surgery and I think that's made him fresher in this camp.
Bennett made a beautiful adjustment to a ball that Romo threw behind him in 7-on-7 drills. He basically posted up a smaller defensive back and then snatched the ball with his hands instead of trying to cradle it, as he once did for Texas A&M on the rare occasions Dennis Franchione remembered he had a tight end.
Free-agent rookie Bryan McCann out of SMU has not backed down from any of the Cowboys' top receivers. On an out route to Miles Austin, McCann poked the ball away with his right hand. You can tell that secondary coach Dave Campo's really excited about McCann.
Tight end DajLeon Farr's only here because so many tight ends were injured, but he's making the most of his opportunity. He snagged a ball in team drills and showed a little speed after turning upfield.
Young was pulled out of team drills following a false start. But when All-Pro nose tackle Jay Ratliff was called for jumping offside, he remained in the lineup.
Roy Williams had a decent day. He made a nice catch on the sideline before cornerback Teddy Williams shoved him into a writer from the Associated Press. Teddy Williams may be one of the fastest players in the league, but I'm not sure there's a roster spot for him.
The Wildcat formation is going to need a little work. At the end of practice, Tashard Choice took the snap and handed the ball to Felix Jones, who lateraled the ball to Romo. The quarterback then delivered a short pass to Jones for a minimal gain. Even though the play was handled ineptly, the crowd seemed somewhat pleased that Garrett attempted to entertain them.
Cornerback Mike Jenkins closed hard on a Kitna pass, but he couldn't hold on for the interception.
Cornerback Cletis Gordon missed Thursday's game with a neck strain, but he's returned to practice with a vengeance. ESPNDallas.com's Tim MacMahon, who has seen every practice in camp, told me Gordon has nine interceptions since July 24. That's believed to be a new camp record dating back to the Bill Parcells era. My notes from those years are a little tough to read, but I believe Aaron Glenn had a 10-interception camp in 2003.
Safety Gerald Sensabaugh intercepted a Kitna pass when the quarterback mistook Patrick Crayton for an NBA center. Romo apparently had the flu. Not sure what Kitna's excuse was Sunday.
Terence Newman's having one of his best camps in years. He's deflecting a lot of passes and he just seems to be as technically sound as any defensive back on the roster. He's also doing a nice job of mentoring some of the young players. It's not easy to provide tips to folks who desperately want your job, but he doesn't seem to mind. Newman's been banged up in camp the past couple seasons, so he backed off his workouts a little bit this offseason.
I had a nice visit with outside linebacker Anthony Spencer after practice. His growing confidence on the field has carried over to his interviews. He used to be painfully shy, but now he's engaging and seems to enjoy talking about his craft. He learned a lot from watching Greg Ellis and DeMarcus Ware, but he's now doing some "really creative" things on his own. Spencer's also a little more menacing with an unruly beard. Doesn't appear to be a lot of maintenance involved.
Running backs coach Skip Peete spent a lot of time talking to me about the rotation Sunday afternoon. I'll roll out that conversation in a blog entry later today.
The only practice Monday is at 5:15 p.m. ET. And if you're scoring at home, that's 2:15 local time. Thanks for making us either your first or second stop this morning.
March, 4, 2010
3/04/10
9:49
AM ET
By
Scouts Inc.'s Matt Williamson
| ESPN.com

Dallas Cowboys
Potential unrestricted free agents
: G
Montrae Holland
Potential restricted free agents
: NT
Junior Siavii
, WR
Miles Austin
, DE
Stephen Bowen
, CB
Cletis Gordon
, DE
Jason Hatcher
, WR
Sam Hurd
, T
Pat McQuistan
, C
Duke Preston
, G
Cory Procter
, S
Gerald Sensabaugh
, DE
Marcus Spears
, S
Pat Watkins
, K
Shaun Suisham
.
What to expect
: Anything is possible with Jerry Jones in charge, and the Cowboys could make a big splash after an underwhelming offseason a year ago. But in terms of team needs and what is required to take the next step, Dallas really doesn't need much. A big-time impact safety makes some sense and could make a very good defense great, but that might be a project for the draft in a trade-up scenario for someone like Earl Thomas. But
Darren Sharper
might pique their interest. They also need to get younger along the offensive line, particularly at tackle, but that seems like a draft-day project, too. Maybe Jones gets real aggressive in the wide receiver market, as
Roy Williams
certainly is not living up to his billing, but the Cowboys are still rather stacked with pass-catchers. All in all, this is a team that is sitting pretty and doesn't have a prominent unrestricted free agent who is poised to leave.

New York Giants
Potential unrestricted free agents
: QB
David Carr
, LB
Danny Clark
, P
Jeff Feagles
, DT
Fred Robbins
Potential restricted free agents
: WR
Domenik Hixon
, TE
Darcy Johnson
, DE
Dave Tollefson
, G
Kevin Boothe
, S
C.C. Brown
, DT
Barry Cofield
, CB
Kevin Dockery
, WR
Derek Hagan
, WR
Sinorice Moss
, T
Guy Whimper
, LB
Gerris Wilkinson
.
What to expect
: Big things could be in the works here, as there are already rumors swirling that New York could be a prime suitor for linebacker
Karlos Dansby
. An impact linebacker is certainly near the top of their wish list and Dansby fits the bill. Plus, he is extremely versatile. Getting faster on defense is a huge priority with new coordinator Perry Fewell stressing the ability to cover a lot of ground. However, Dansby isn't really the thumper they need in the middle and is more of an outside linebacker for this system, although he would be great on passing downs. This is a group of decision-makers who might be starting to feel some heat, so do not rule out a big move or two.

Philadelphia Eagles
Potential unrestricted free agents
: DE
Jason Babin
, S
Sean Jones
, LB
Jeremiah Trotter
, LB
Tracy White
Potential restricted free agents
: LB
Akeem Jordan
, P
Saverio Rocca
, WR
Jason Avant
, C
Nick Cole
, LB
Omar Gaither
, LB
Chris Gocong
, CB
Ellis Hobbs
, G
Max Jean-Gilles
, TE
Alex Smith
, FB
Leonard Weaver
.
What to expect
: There are questions on the offensive line, but overall, the Eagles are in a prime situation to improve their defense, particularly up front and at safety. Remember, they have quarterbacks to dangle as trade bait and really do not have any unrestricted guys that they need to bring back. This is a possible landing spot for
Julius Peppers
and he would be terrific on the opposite side of
Trent Cole
, who is among the most underrated players in the game and could blow up with someone taking pass protection attention away from his side. Count on the Eagles being aggressive in the free-agent and/or trade market. It might just be enough to get them that ever elusive Lombardi trophy. Stranger things have happened.

Washington Redskins
Potential unrestricted free agents
: LS
Ethan Albright
, DE
Phillip Daniels
, T
Levi Jones
, C
Casey Rabach
,
P
Hunter Smith
, T
Mike Williams
, DE
Renaldo Wynn
, TE
Todd Yoder
.
Potential restricted free agents
: DE
Lorenzo Alexander
, T
Stephon Heyer
, LB
Chris Wilson
, QB
Jason Campbell
, S
Reed Doughty
, DT
Kedric Golston
, LB
Rocky McIntosh
, DT
Anthony Montgomery
, C
Will Montgomery
, CB
Carlos Rogers
.
What to expect
: This is a difficult team to get a grasp on in terms of what they might do in free agency, but I think it is safe to say that ownership will not hold Mike Shanahan and company back from opening up the check book and signing (and even overpaying) players whom they desire. It would be wise for Washington to have an excellent idea of what they are going to do with the fourth overall draft pick in terms of going quarterback or offensive tackle before really devising a free-agency plan. Rebuilding the offensive line is a must and Shanahan needs lighter, quicker (and younger) linemen than are on the roster. A running back they can trust wouldn't hurt either, although it looks as though
Clinton Portis
will return, which they may regret. But don't forget, this is a team that -- unwisely in my opinion -- is switching to a 3-4 scheme, so inside linebacker help is required, as are defensive linemen who fit the new scheme. The Redskins have a long wish list, but also have the ownership to endorse big spending when free agency opens.
January, 17, 2010
1/17/10
12:13
PM ET
By
Matt Mosley
| ESPN.com
MINNEAPOLIS -- Greetings from the Metrodome, where fans have just been warned that pyrotechnics will be used throughout the game. This is somewhat concerning to me, but I'll just roll with it for now.
Now let's look at today's inactives list. No surprises here. For the Cowboys, special teams ace
Pat Watkins
has returned from a sprained knee and he replaces rookie safety
Michael Hamlin
on the active list.
Cowboys:
Emergency QB
Stephen McGee
, CB
Cletis Gordon
, S Michael Hamlin, LB
Jason Williams
, G
Montrae Holland
, C
Duke Preston
, T
Pat McQuistan
, LB
Curtis Johnson
Vikings:
Emergency QB
Sage Rosenfels
, WR
Jaymar Johnson
, CB
Karl Paymah
, TE
Garrett Mills
, LB
J Leman
, C
Jon Cooper
, DE
Jayme Mitchell
, DT
Letroy Guion
January, 9, 2010
1/09/10
7:00
PM ET
By
Matt Mosley
| ESPN.com
ARLINGTON, Texas -- As we've already told you,
Michael Vick
is active for tonight's game and I would expect for him to play a fairly significant role in the game plan. The Cowboys spent more time in the film room preparing for Vick this week because they felt like the Eagles would be in more of a desperation mode in this game. Now let's take a look at the inactives for both teams:
Cowboys:
QB
Stephen McGee
, S
Pat Watkins
, CB
Cletis Gordon
, LB
Jason Williams
, G
Montrae Holland
, C/G
Duke Preston
, T
Pat McQuistan
, LB
Curtis Johnson
Eagles:
QB
Kevin Kolb
, CB
Geoffrey Pope
, FS
Quintin Demps
, T
King Dunlap
, C
Dallas Reynolds
, WR
Kevin Curtis
, TE
Martin Rucker
, DT
Trevor Laws
March, 3, 2009
3/03/09
4:44
PM ET
Posted by ESPN.com's Bill Williamson

Forget the talk about Antonio Cromartie being on his way out in San Diego.
San Diego general manager A.J. Smith told ESPN's John Clayton that the team is not interested in trading the cornerback. It was reported Monday that Cromartie could be on the market if the team signed cornerback Drayton Florence.
Smith said Cromartie will not be traded regardless of any move the team may or may not make. Cromartie had 10 interceptions in 2007 but his production slipped badly in 2008.
If the Chargers sign Florence, they will be stacked at cornerback. The team also has Quentin Jammer, Antoine Cason and Cletis Gordon. Jammer had a solid season in 2008, Cason is a promising 2008 first-round pick and Gordon was just given a second-round tender as a restricted free agent. Add Cromartie and Florence to the mix and the Chargers could potentially have the deepest group of cornerbacks in the NFL.

NFL SCOREBOARD
Thursday, 9/18
Sunday, 9/21
Monday, 9/22