NFL Nation:

Cleveland Browns hire Mike Pettine
January, 24, 2014
Jan 24
3:59
PM ET
Jimmy Haslam and Joe Banner addressed the perception Thursday that the
Cleveland Browns
did not have a plan when they conducted their coaching search that resulted in the hiring of Mike Pettine.
They had a plan, they said. Their plan was simply different from most.
"We're going to spend thousands of hours researching whether to pick a quarterback in the draft or not," Haslam said. "Why would you not spend a lot of hours researching who the head coach of your organization is going to be?
"This thought that the first person to finish the coaching search is the winner I think is extremely far-fetched. This is an important hire. To not take your time and talk to people and do the research, the background checks we've done I think would be inexcusable.
[+] Enlarge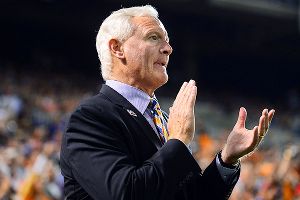 Andrew Weber/USA TODAY Sports"This is an important hire. To not take your time and talk to people and do the research, the background checks we've done I think would be inexcusable," Jimmy Haslam said.
"We think it was a great process."
Haslam went as far as to say the Browns did not start with a first choice or lead candidate, but went in "with a wide-open field."
"This is a fluid process," he said, "and it changes all the time."
Many teams do their coaching search by choosing one or two candidates, then zeroing in on them immediately and hiring them quickly. The Browns chose to cast a wide net, talk to as many people as possible and talk to many candidates. They acknowledge that Pettine was available immediately, but saw no rush to interview him when they knew he'd still be available in mid-January.
Haslam said the team interviewed 10 people in person, and a few others on the phone.
The time it took to hire a coach, though, and the Browns' decision to keep the search secret, led to a lot of reports, some of them inaccurate. A source familiar with the search said the Browns had no interest in hiring Oklahoma's Bob Stoops, Penn State's James Franklin or Bill O'Brien, formerly of Penn State and now with the Texans. (O'Brien reportedly left his interview with the Browns a year ago unimpressed with the team.)
Those names were widely reported as part of the search.
There are many different ways to hire a coach. The
Baltimore Ravens
did extensive research on John Harbaugh before hiring him. Haslam and Banner chose to go the in-depth route.
"With Mike we spent four or five hours twice, we spent another hour (Thursday)," he said. "These are exhaustive sessions when you ask all kinds of intense questions. They ask us very good questions. You tell a lot about the candidate by the questions they ask. There's not one moment, it's over a period of time. These are extremely important hires, so to rush into it in any way would be a huge mistake."
There's no escaping the fact the Browns did not rush into anything. Haslam said any negative perception generated by the search was caused by the media.
"This perception that's been created out there is not reality," he said.
Banner said fans and media have "no idea" who the candidates were and who wanted the job, but he declined to clear up misconceptions.
The pair felt the Browns had a plan all along. It was a unique plan, one that isn't always followed, but they felt it was a plan that didn't deserve the "pummeling" (Banner's words) that the team received.
"I'll take the ultimate responsibility that we did not perform last year," Haslam said. "It's all on me. I call all the shots at the end of the day. That's all on me. We're highly focused on putting together a team that will win consistently over a long period of time."
January, 23, 2014
Jan 23
8:38
PM ET
BEREA, Ohio -- The first thing CEO Joe Banner said when he spoke at the news conference to introduce Mike Pettine as the
Cleveland Browns
'
15th head coach
was a Three Stooges joke.
And it was funny.
"Since Mike Lombardi and I were Moe and Larry, we set out to find Curly, and we succeeded," Banner said Thursday.
He referred, of course, to the infamous question at the Dec. 27 news conference where Rob Chudzinski's firing was discussed, when a Cleveland-area TV reporter asked owner Jimmy Haslam to promise the fans the Three Stooges were not running the team.
[+] Enlarge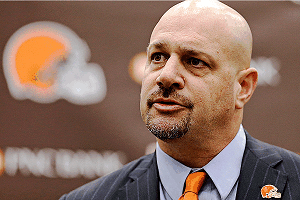 AP Photo/Tony DejakNew coach Mike Pettine will be looking to end Cleveland's skid of six straight seasons with 11 or more losses.
That was 25 days ago, and Banner was able to laugh about it -- even though an exhaustive search had the Browns taking barbs from everyone from the NFL Network to Deadspin to Jay Leno. Banner referred to it as a "pummeling."
"It never burnt," Banner said of the Stooges question. "It didn't feel justified."
Then he chuckled.
"But there's still humor in it," he said. "There's nothing wrong with being able to poke a little fun at yourself from time to time."
Pettine comes from the Buffalo Bills, and Banner said he, like everyone else the team interviewed, asked the Browns about job security in light of Chudzinski getting just one season. Banner said the team explained its thinking to everyone.
"It's not unnerving," Pettine said.
He said it with quiet force.
"Sometimes it's the cockiness of a coach, but I'll always bet on myself," he said. "I don't want to back away from a job because of a perceived lack of security."
Banner said the Browns had Pettine on their radar for the defensive coordinator spot a year ago, but he chose to go to Buffalo. The Browns' CEO said it didn't matter that Pettine was the sixth or seventh person to interview, that the schedule came down to logistics, who was where and who was working.
Pettine promised a mentally tough team that would not fall into old traps of thinking "same old Browns." He promised players would be held accountable. He said he'd adjust his systems to the personnel, not force personnel into a system.
And he said he's a pretty straightforward guy who isn't afraid to be critical. He even admitted his nickname at one point was BFT -- Blunt Force Trauma.
"The days are too short to dance around subjects," he said. "I think guys appreciate that. You have to do it in ways that are not demeaning. You can't be that way as a coach anymore. It can't be that military-type model.
"I think you have to understand we're all in this together."
Which means Pettine enters the same player personnel structure as a year ago, with Ray Farmer and Lombardi providing input on personnel and Banner making the final decisions. Banner said that system won't change.
But Pettine also enters an environment when the perception of the Browns is not great -- with six seasons in a row of at least 11 losses and a coaching search that Banner admitted was so exhaustive it "caused people to question and wonder."
"We wouldn't have wanted to take 10 more days of pummeling," Banner said.
Banner said the pummeling was "not pleasurable" and was "somewhat unjustified" while still admitting that he understood the questions and skepticism about firing a coach after one season.
"It wasn't fun," Banner said. "And it was also hard to not be in a position to respond to it."
Haslam said he never watches TV, so he didn't know the Leno jokes.
"I think that's a perception that you all have generated," he said to the media. "That's not the perception among the candidates. That's not the perception among football people I've talked to around the country."
Haslam also said the Browns might never have had a first choice.
"You have a list of individuals we were going to talk to," he said. "This is a fluid process and it changes all the time."
Pettine was just glad the process ended with him. The son of a high school coaching legend in Philadelphia, a guy hired by Brian Billick in Baltimore and Rex Ryan in New York, he was just happy for the chance because he believes in the people who hired him and he believes in himself.
"There's only 32 of these jobs in the world and these opportunities don't come along often," Pettine said. "People ask me, 'Why didn't you wait? There will be chances next year.' I don't know if I believe in that. When you put all the factors together, this franchise is in position, given the right leadership, to win."
January, 23, 2014
Jan 23
4:58
PM ET
The list of candidates the Cleveland Browns went through before hiring Mike Pettine as coach:

Dan Quinn, Seahawks defensive coordinator. The first to interview was in it until the end, but the Browns chose not to wait for the Super Bowl.

Adam Gase, Broncos offensive coordinator. The Browns sought permission to interview him immediately, and he declined the chance to focus on Denver's playoff run.

Todd Bowles, Arizona defensive coordinator. He interviewed, but withdrew; he simply did not want the job.

Josh McDaniels, New England offensive coordinator. Unlike a year ago, he interviewed, but soon after withdrew from consideration.

Bill O'Brien, former Penn State coach. The Browns would have loved to interview him, but didn't get a chance; he took the job with the Houston Texans.

Gus Malzahn, Auburn coach. On the Jimmy Haslam wish list, but did not interview

Bob Stoops, Oklahoma coach. He was on the wish list too, but did not interview.

Ben McAdoo, former Packers quarterback coach. He interviewed, but took the job as New York Giants offensive coordinator.

Ken Whisenhunt, Chargers offensive coordinator. He interviewed, but took the job in Tennessee over Detroit and Cleveland.

James Franklin, former Vanderbilt coach. He did not interview and took the job in Penn State.

Mike Munchak, former Tennessee coach. He interviewed, but took the job as the Steelers offensive line coach.

Rich Bisaccia, Cowboys special-teams coach. He interviewed, but wasn't hired.

Dirk Koetter, Falcons offensive coordinator. He interviewed, but wasn't hired.

Greg Schiano, former Tampa Bay coach. He was a surprise interview at the urging of Bill Belichick, but he wasn't hired.

Mike Pettine, Buffalo defensive coordinator. He interviewed twice, then flew to Cleveland on Thursday and was hired.
January, 23, 2014
Jan 23
3:59
PM ET
Mike Pettine has many positives, and the
Buffalo Bills
loved him.
He is a forward, direct, blunt, attacking coach who improved the Bills' defense in several categories this past season.
He learned under Rex Ryan and coached under him. He brings attitude and intensity and an in-your-face style to the Browns, who
ended the coaching search
that did not want to end Thursday by naming Pettine the team's 15th coach.
[+] Enlarge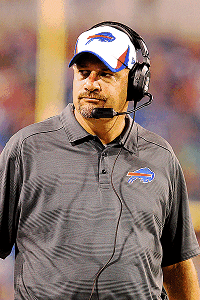 Timothy T. Ludwig/USA TODAY SportsEx-Ravens coach Brian Billick said Mike Pettine "is as good a defensive mind as I've been around."
There is much to like about him.
But ... there was much to like about Rob Chudzinski a year ago.
And there is much that Pettine has to prove, just as CEO Joe Banner and owner Jimmy Haslam have much to prove, starting with showing that this search was not a wayward effort that simply wound up crashing to earth in Buffalo.
Former Ravens coach Brian Billick brought Pettine into the league in 2002 as a video assistant; Billick wanted a video guy with football knowledge, and Pettine connected to Billick through Matt Cavanaugh, a Ravens assistant who knew Pettine from Pitt. Pettine stayed on Billick's staff through 2008.
"Mike Pettine is a good football coach and is as good a defensive mind as I've been around," Billick said. "He will do a good job. The thing you wonder about, I understand you have to go through a process but you could have hired Mike Jan. 3 and had a leg up on putting together a staff."
The Browns did not, though, reach out to Billick to get his feedback, which seems to indicate that the organization clearly did not have a plan in mind when it fired Chudzinski. At least the Browns didn't have a plan they could count on.
Their leading candidates seemed to drop like dominoes. Adam Gase declined to interview. Bill O'Brien went to Houston. James Franklin chose Penn State. Josh McDaniels preferred New England.
As time went on, the search grew wider, to the point that the day before they hired Pettine, they interviewed Dirk Koetter of the Falcons and former Bucs coach Greg Schiano. Koetter was fired at Arizona State in 2006, the same year Ohio State was 12-1 and played in the BCS National Championship. The coach of the Buckeyes that year was Jim Tressel, a guy the Browns chose not to interview (that we know of).
Whether Pettine is a legitimate head coach or merely a coordinator rising past his level has to play out. Pettine has proved much, but still has much to prove.
The Bills loved his approach and how he improved the defense, but Buffalo still finished 6-10 and still gave up 388 points and still had the league's 28th-ranked run defense (128.9 yards per game). Even the Browns' woeful running game -- with
Willis McGahee
the feature back -- was able to run on Buffalo's defense.
Too, there isn't a team in the league that does not think the passing game wins and that bringing along a quarterback isn't vital.
Pettine has never worked on the offensive side of the ball.
He went from a high school coaching position to an entry-level job with the Ravens, where he became close with Rex Ryan and eventually became Baltimore's linebackers coach.
Pettine followed Ryan to the Jets, where he had the title of defensive coordinator even though Ryan ran the defense. To say Pettine didn't have a role in New York isn't fair; he did. But the defensive side of the ball was Ryan's baby. And there was tension between Pettine and some players, specifically cornerback
Antonio Cromartie
.
When Pettine's contract expired, he went to Buffalo with Doug Marrone. There he had complete autonomy with the defense for the first time in his career, and the Jets players were pleased to have Ryan back.
Pettine clearly will need a strong presence on the offensive side of the ball, a guy such as ... oh ... Norv Turner. What's that? Oh. Never mind.
Haslam said when he started the search he wanted a proven winner. Pettine has worked with proven winners, but to say he has a record as one is ignoring the fact he has no record of his own.
It's really kind of weird.
The Browns had an attacking defensive coordinator who believed in disrupting the passing game with different fronts and blitzes.
They just hired a head coach who was an attacking defensive coordinator who believes in disrupting the passing game with different fronts and blitzes.
At this point there is so much uncertainty and negativity swirling about the Browns that nothing they do short of bringing back Paul Brown would be welcomed with open arms.
Pettine takes a job knowing the previous coach didn't even get a calendar year, and knowing the previous coach beat the new coach's defense on a Thursday night game when the starting quarterback hurt his knee not five minutes into the game and the Browns scored the game's final 20 points. Remember those complaints about finishing?
Pettine might wind up the greatest coach in Browns history.
But it sure seems as though there's a lot of grass between that point and where he is now.