February, 25, 2014
Feb 25
8:30
AM ET
Last week, in the days leading up to the start of on-field workouts at the NFL combine, we counted down five of the top position needs for a
Cincinnati Bengals
team that will go into May's draft looking to build depth instead of trying to find immediate starters.
As part of the countdown, I listed three players from each position who I said I would have my eyes on during the interview and testing portions of the event. Now that the combine is concluding, wrapping up Tuesday with defensive back workouts, I figured this would be a good time to go back and look at the numbers posted by the players who were part of the countdown. Each day this week, we'll be doing a rewind of the countdown, analyzing how well the players who were in it worked out.
After
running backs
Monday, up next:
Offensive line
Questions still loom with respect to the Bengals' plans about their rotations at left guard and left tackle. They likely won't be answered until free agency begins in two weeks, and some resolution begins to occur regarding tackle
Anthony Collins
' ability to either re-sign or ink a contract elsewhere. Guard
Mike Pollak
also is an unrestricted free agent and might not be in Cincinnati next season, although the odds are more favorable for him to stay. Until any type of resolution is made with respect to these two rather important free agents, there will continue to be some uncertainty about what the Bengals might do as far as drafting an offensive lineman or multiple linemen.
The age of some of the Bengals' current linemen also gives the organization reason to want to add to their depth on the line. Offensive coordinator Hue Jackson's push for a more physical, run-based scheme this fall certainly would warrant more depth on the line to account for any injuries that might occur. At this point, though, who the Bengals draft on the offensive line depends solely on the types of players who are around when they make their selections. Body size, ability and a previous understanding of Bengals line techniques are factors that could influence draft decisions here. Versatility has always been key for Cincinnati offensive line coach Paul Alexander, too. He'll be looking for players who can fill multiple roles and play multiple positions in times of need.
Two of the three linemen I looked at last week, Clemson's
Brandon Thomas
and Alabama's
Anthony Steen
, are those types of versatile players. Thomas played tackle in college, but may be making the move to guard in the NFL. His shorter arms (34 3/4 inches) project better for playing guard than tackle at the next level. His experience at both positions, though, could make him attractive to teams in the middle rounds of the draft. Steen was a guard throughout his time with the Crimson Tide, but he has been told that teams are interested in moving him to center at the next level. While the Bengals seem comfortable with
Kyle Cook
's ability as their starting center, they also have
Trevor Robinson
and
T.J. Johnson
who are listed as backup centers. Pollak could play the position in a pinch, too. Either way, Steen's desire to play either center or guard could make him attractive.
The other lineman,
Morgan Moses
(Virginia), is a bigger bodied tackle who projects into the first two rounds. He might be gone before the Bengals are ready for him, but he could be a solid enough addition for an offense trying to run more efficiently.
Here are numbers (per NFL.com) from the trio's workout Saturday:
Morgan Moses (Virginia)
40-yard dash: 5.35 seconds
Vertical: 21.5 inches
Broad jump: 106 inches
3-cone drill: 7.93 seconds
-- Moses was included on the pre-combine list mainly because I just liked him. He has good size, good arms and really made a name for himself at the Senior Bowl. He looked rather clean in run- and pass-block situations during that game. If the Bengals decided to go offensive lineman with their late first-round pick, he'd likely be there. Overall, he didn't test well Saturday. His 40 time wasn't one of the best among offensive linemen, his vertical was tied for the worst and his broad jump and cone drill numbers didn't wow, either.
Brandon Thomas (Clemson)
40-yard dash: 5.09 seconds
Bench: 35 reps (at 225 pounds)
Vertical: 29 inches
Broad jump: 98 inches
3-cone drill: 8.13 seconds
-- Compared to Moses, Thomas had a better day of on-field testing, turning in the 10th-fastest 40-yard time among linemen, having the sixth-most bench reps and a vertical that tied with others for the fifth highest. The mid-round projection may have boosted his draft stock slightly with those numbers. His greatest asset moving forward, though, will be his versatility.
Anthony Steen (Alabama)
40-yard dash: N/A
Bench: N/A
Vertical: N/A
Broad jump: N/A
3-cone drill: N/A
-- A shoulder injury that was finally operated on late in Alabama's season forced Steen to sit out the physical portion of the combine. He participated in interviews and met with teams, but didn't bench or run. He expects to be healthy enough for Alabama's pro day in April. Another mid-round projection, his versatility will be his biggest asset this spring.
December, 3, 2013
12/03/13
12:00
PM ET
CINCINNATI -- One day after learning left offensive guard
Clint Boling
tore his ACL in Sunday's 17-10 win at San Diego, the
Cincinnati Bengals
on Tuesday placed Boling on season-ending injured reserve and re-signed fellow lineman
Dennis Roland
.
Roland was on the Bengals' roster for three games earlier this season before getting waived. He comes back as the Bengals look to shore up depth on their line amid the possibility that they may shake up the lineup to feature Pro Bowl tackle
Andrew Whitworth
at Boling's old spot.
A third-year player from the University of Georgia, Boling started every game for the Bengals last season, and did the same in all 12 of this year's contests. He only lasted five plays against the Chargers on Sunday, though, going down on just the second drive of the game. Almost instantly the Bengals knew the injury was serious when Boling needed to be helped off the field by tight end
Alex Smith
.
Boling becomes the ninth Bengals player to head to the IR, and the first on offense. Receiver
Andrew Hawkins
was lost for all of the preseason and half of the regular season when he was added to the IR/designated to return list in August. He was the only other non-PUP (physically unable to perform list) offensive player to miss significant time this season. Hawkins came back at Miami four games ago.
Also a Georgia product, Roland is a sixth-year player who has spent his entire career with the Bengals. Although he was released Sept. 25, he didn't play for any other team before getting re-signed Tuesday. He has seen action in 69 career games and three postseason games. A tackle by trade, Roland's arrival could be a sign the Bengals are bolstering their depth at offensive tackle in the event they decide to move Whitworth to Boling's position more permanently.
After Boling went down Sunday, the Bengals' offensive line -- with Whitworth at left guard, reserve
Anthony Collins
at left tackle and
Mike Pollak
at right guard in place of an injured
Kevin Zeitler
-- led the way for a 164-yard team rushing performance. It was among the top three rushing efforts for Cincinnati this season.
December, 2, 2013
12/02/13
8:15
PM ET
CINCINNATI -- Dare we say it?
Why not? Somebody has to.
The Cincinnati Bengals are better off with Andrew Whitworth at offensive guard.
There. It's been said. The universe may not want to accept it, but it's now out there. Take it or leave it. Agree with it or laugh at it. Whatever you do, just consider the following: the Bengals sure looked pretty good Sunday afternoon with the Pro Bowl tackle playing on the interior of their line.
For all but five of the 61 plays they ran against the Chargers in their Week 13 contest at Qualcomm Stadium, the Bengals were forced into the unenviable task of replacing their two starting offensive guards. Right guard
Kevin Zeitler
already was missing in action, declared inactive before the game due to a foot injury that has slowed him the last three weeks. He made the trip, but didn't participate.
He ended up getting joined on the sidelines by left guard
Clint Boling
, a third-year lineman from Georgia who succumbed to a knee injury on the Bengals' second drive. Coach Marvin Lewis after the game called it "significant." During his news conference back in Cincinnati on Monday, he outlined just how bad it was.
[+] Enlarge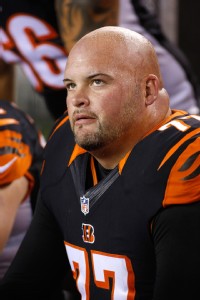 AP Photo/David Kohl"As good as throwing the ball is, running the ball, you can't take the emotion out of being able to run it effectively," Andrew Whitworth said. "It lifts the whole team. It gives a sense of empowerment."
"I don't know if a doctor has read it yet, but I can see it and it looks like a torn ACL," Lewis said.
The coach added that Boling will soon have surgery and be moved to injured reserve. When he officially gets placed on IR, Boling will become the ninth Bengals player to be added to the season-ending list this year. He also will be the first offensive player to receive that designation. Receiver
Andrew Hawkins
was lost for all of the preseason and half of the regular season when he was added to the IR/designated to return list. He was the only other non-PUP (physically unable to perform list) offensive player to miss significant time this season. Hawkins came back at Miami four games ago.
Boling's injury means the Bengals are down at least one starting interior lineman. Zeitler is expected to return from his foot injury this weekend when Indianapolis comes to Cincinnati for a key AFC battle. If Zeitler does play, he probably goes back to his right guard position, sparking a series of important decisions for the Bengals' coaching staff.
Either Zeitler's replacement,
Mike Pollak
, will shift over to left guard and handle Boling's responsibilities, or the Bengals will put him back on the bench and retain the rest of the line setup that plowed the way for a 164-yard team rushing performance, and kept quarterback
Andy Dalton
from taking a single sack Sunday.
All due respect to Pollak, who has played well in relief of Zeitler, but the Bengals need to stick with what made their offense roll so well this weekend. That means sticking with the setup that included moving Whitworth from left tackle to left guard, and bringing reserve tackle
Anthony Collins
over to Whitworth's former left tackle spot.
Andre Smith
, who was bizarrely benched in favor of Collins at right tackle ended up playing exclusively at his usual position following Boling's injury, should stay at right tackle.
"Adjusting to Clint Boling's injury, and Andrew sliding in at guard, we just really did it kind of seamlessly," Lewis said. "That was very good. Our front group, including our tight end
Jermaine Gresham
, did a great job up front blocking."
Cincinnati's linemen felt like they carried the team to the victory.
"We got that swagger," Collins said right after the game. "In the huddle, we were talking to each other like, 'Let's do it. We can't be stopped. Let's do it. Let's drive this ball, put it on our back and go home.'"
On the final drive, they did. Buoyed by running back
BenJarvus Green-Ellis
' pile-moving running ability, the Bengals' offensive front pushed the Chargers back just enough to pick up three first downs that resulted from runs. The harder it seemed Green-Ellis ran, the more joy the linemen seemed to take in continuing to push the line forward.
"As good as throwing the ball is, running the ball, you can't take the emotion out of being able to run it effectively," Whitworth said. "It lifts the whole team. It gives a sense of empowerment."
Asked after the game whether he felt Boling's injury might lead to a reworked Bengals line that had him playing guard, Whitworth was every bit as vague as his coaches were Monday, and likely will be throughout the week.
"We'll see how it plays out," Whitworth said. "I love to be a tone-setter inside."
He has to be that tone-setter.
Offensive coordinator Jay Gruden knows Whitworth can be. Not only does Whitworth's size and agility help shield linebackers from the smaller running backs behind him, but he plays differently when he's inside as opposed to the outside edge, Gruden said.
"As a guard, he has a little bit different demeanor than he would as a tackle," Gruden said. "He can come off a little bit more ferociously, so to speak, where that's what he likes. He likes to grind people and drive people and play physical. Sometimes at tackle, he doesn't get that luxury."
That's all you need to know.
Just leave Whitworth at guard, Bengals. You're better off with him there.
Still, having said that, don't place Whitworth's name in ink at the position. With Pollak playing well and Zeitler coming back, the Bengals are in the envious position of still having depth on the line. They have other options. That's why Lewis won't yet consider the Whitworth-to-guard move a done deal.
Asked what would go into making that decision, Lewis laughed and responded: "Me not talking about it. I guess that line of questioning is over."
Actually, coach, it should have been over as soon as your team walked off the field Sunday.
Here's the answer: leave Whitworth at guard.
July, 22, 2013
7/22/13
12:36
PM ET
The
Cincinnati Bengals
continue to cut ties with much of their free-agent class from a year ago, releasing guard
Travelle Wharton
on Monday.

Wharton, the Bengals' first free-agent signing last year, was projected to be the team's starting left guard until a knee injury in the preseason opener sidelined him for the rest of the year. The Bengals save $1.6 million against the salary cap by cutting Wharton, who earned $4 million in first-year payments despite never playing a game for the Bengals.
Cincinnati was able to make the move because
Clint Boling
, a fourth-round pick in 2011, played solidly in replacing Wharton. Boling was rated the 11th-best left guard in the league last season by Pro Football Focus. The Bengals weren't going to keep Wharton as a backup when he had the team's ninth-highest salary-cap number ($3.375 million).
Another factor was the Bengals' depth on the interior of the offensive line. According to the
team's official website
, the player who fails to win the starting center job (
Kyle Cook
or
Trevor Robinson
) will be the top backup at center and guard.
The release of Wharton is another reminder of how the Bengals weren't successful in free agency last year. The Bengals' top signings of free agents from other teams in 2012 were: Wharton, running back
BenJarvus Green-Ellis
, cornerback
Terence Newman
, cornerback
Jason Allen
, defensive lineman
Jamaal Anderson
and defensive end
Derrick Harvey
. Only Green-Ellis and Newman remain with the team.
The Bengals chose to sign Wharton last year when other top-rated guards (
Ben Grubbs
,
Carl Nicks
and
Evan Mathis
) were available in free agency.
September, 8, 2012
9/08/12
2:00
PM ET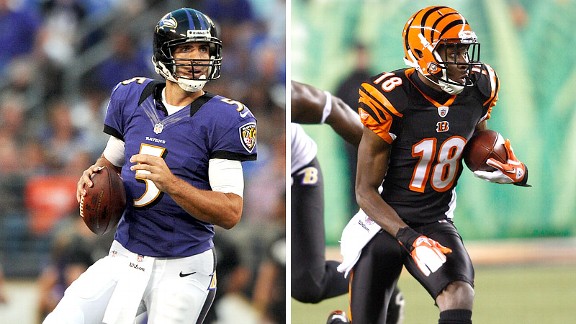 Getty ImagesBaltimore's Joe Flacco, left, and Cincinnati's A.J. Green could hold the keys to victory Monday.
Thanks to Marvin Lewis, the
Cincinnati Bengals
match up pretty well against the
Baltimore Ravens
.
Even though the Ravens have been a perennial playoff team, Lewis, the Ravens' defensive coordinator from 1996-2001, builds his Bengals roster to counter his division rival. Because he helped hand-pick several of the top defensive players who have helped make the Ravens one of the best defenses in the league, the Bengals usually know they can give the Ravens a game.
Since 2006, this competitive series has had only two games in which the margin of difference was bigger than 10 points. In fact, Lewis has a 10-8 lifetime record against the Ravens. Since John Harbaugh arrived in Baltimore in 2008, he's won five out of eight against the Bengals.
Here's what to watch for in this competitive Monday night game:
Baltimore Ravens
1. Will the Ravens have a pass-rush?
The loss of linebacker
Terrell Suggs
was huge for the Ravens. His Achilles tendon injury has created an Achilles' heel for their defense. They need a pass-rush. This goes beyond replacing Suggs' 14 sacks. During the preseason, the Ravens didn't show they were consistently getting to the quarterback. Second-round linebacker
Courtney Upshaw
is still getting his feel for the NFL and might offer some hope. The pressure will fall on
Paul Kruger
, who takes over Suggs' spot. The Ravens are blessed with good coverage cornerbacks, which might allow them to try some blitzes.
2. More will fall on the arm of Joe Flacco:
Offensive coordinator Cam Cameron plans to let Flacco take more leadership on the field and let him use more no-huddle. Though the Ravens don't plan to abandon the run, they will be running an offense with a quicker tempo. Normally, the Bengals play the Ravens to low-scoring games in which both teams often end up scoring in the teens. Last season, offense became more of a factor. The Ravens won, 31-24, and 24-16. Flacco would love to get three or four touchdown drives against the Bengals.
3. More speed at wide receiver:
One of the reasons the Bengals and Lewis keep the scores low against the Ravens is because the Bengals use plenty of man-to-man schemes. In the past, the Ravens didn't have a lot of speed at wide receiver. This year they have speed.
Torrey Smith
, in his second season, is now a complete receiver with speed instead of only being a deep threat in his rookie year.
Jacoby Jones
adds a sub-4.4 threat.
LaQuan Williams
is fast. Watch to see if the Ravens receivers can win the battle against the Bengals cornerbacks.
4. Are the Ravens solid up front?
The Ravens are fielding one of the oldest offensive lines in football. Left tackle
Bryant McKinnie
is 32. Guard
Bobbie Williams
is 35. Center
Matt Birk
is 36. One of the keys to the running game is how Williams and Birk do against defensive tackle
Geno Atkins
. If Atkins' quickness beats the aging legs of Birk and Williams, the Ravens might have trouble running the football up the middle. They might also be vulnerable to inside blitzes.
5. Will Ray Rice's role change?
Rice has carried the Ravens offense for years, but the subtle changes in this year's offense could adjust his role. First, will the no-huddle limit some of the runs Rice could make? Second, if the Ravens have problems in the middle of the line, will he have to bounce more plays to the outside? Rice is a threat running and receiving, but the new emphasis on throwing the ball could make him more of a threat through the air.
Cincinnati Bengals:
1. Problems in the middle of the Bengals offensive line:
The Bengals lost guard
Travelle Wharton
and center
Kyle Cook
for the season, and they have to make do with
Clint Boling
at left guard and
Jeff Faine
at center. Faine is an established NFL veteran, but he sometimes has trouble against big 3-4 defensive tackles. How he handles
Terrence Cody
,
Haloti Ngata
and
Ma'ake Kemoeatu
could be the key to the game for the Bengals. If the pocket collapses in the middle of the field, it could be a tough day for quarterback
Andy Dalton
.
2. Establishing the man-to-man matchups:
Defensive coordinator Mike Zimmer is a master of matching up his cornerbacks against receivers. He has plenty of options.
Nate Clements
and
Leon Hall
are the starters, but at his disposal is longtime Cowboys cornerback
Terence Newman
,
Adam "PacMan" Jones,
and
Jason Allen
.
3. Making sure Taylor Mays has a good game:
Taylor Mays won the strong safety job, so this will be his most extensive playing time as he enters his third year in the league. Mays has cornerback speed and is a big hitter, but he is still raw at the position. The Ravens will try to challenge him by sending tight ends
Ed Dickson
and
Dennis Pitta
in his direction. Flacco will also try to get him out of position with play-action fakes that could free up Torrey Smith for some deep completions.
4. Establishing a running game:
The Bengals had a solid running back with
Cedric Benson
. Now, the
BenJarvus Green-Ellis
era begins. Green-Ellis is a smart player who doesn't fumble, but he has yet to prove he can be an every-down back week in, week out. The Bengals still have a young quarterback in Dalton, so it would be nice if he could count on Green-Ellis getting 16 to 18 carries a week.
5. Sorting out the receiving corps:
Everyone knows
A.J. Green
has established himself as one of the best young receivers in football. Tight end
Jermaine Gresham
is a big-play tight end. But the Bengals have revamped everything behind him.
Andrew Hawkins
takes over as the slot receiver.
Brandon Tate
is the starter at wide receiver for now, but third-round pick
Mohamed Sanu
is an intriguing prospect. With defenses figuring to double Green, Dalton has to see who can establish themselves as dependable pass-catching options.
August, 13, 2012
8/13/12
1:04
PM ET
The season-ending knee injury to left guard
Travelle Wharton
means the Bengals will go from a nine-year veteran to
Clint Boling
, a fourth-round pick from a year ago.
Boling
Cincinnati shouldn't have to deal with this downgrade in experience. A few weeks before the draft, the Bengals signed
Jacob Bell
, an eight-year veteran. But Bell retired 32 days after signing a one-year, $890,000 deal (included $65,000 signing bonus) with the Bengals. He said he walked away from the game because of the fear of long-term heath risks, but his decision also came shortly after Cincinnati drafted
Kevin Zeitler
in the first round (meaning Bell would be a backup).
In hindsight, the Bengals had the right instinct in adding experienced depth at guard. They just didn't foresee such a run of bad luck at that spot. So instead of having Bell, who has started 100 career games in the NFL, the Bengals will turn to Boling, who has three career starts.
The Bengals are fortunate that Boling has been improving. He's a different lineman since last season, when he got overpowered by defensive linemen. The biggest adjustment has been getting his pad level down.
Bengals offensive coordinator Jay Gruden insinuated that Boling's strong camp had the starting left guard job up in the air.
"Boling was doing very well. In fact, we had yet to set it as far who's where," Gruden told the
Cincinnati Enquirer
. "We're just taking these games and putting everybody in different spots and taking a look at them, and try to find the best group. Unfortunately Travelle, he's out. But he was doing good things also. But now Clint is going to have to step up and be that guy."
August, 11, 2012
8/11/12
2:24
PM ET
Starting left guard
Travelle Wharton
suffered a
season-ending knee injury
during Friday night's preseason-opening
17-6
victory against the Jets, a source told ESPN's John Clayton. Wharton, 31, who signed a three-year, $10 million contract in March, is done after playing three snaps.

The loss of Wharton hurts the Bengals' plans of getting their running game on track. Last season, the Bengals averaged 3.9 yards per carry, which ranked 27th in the NFL. Cincinnati replaced
Cedric Benson
with
BenJarvus Green-Ellis
at running back, but the addition of Wharton was almost as important in recharging the running game.
Cincinnati's biggest weakness was running the ball up the middle, where the 320-pound Wharton was going to make a real push. According to ESPN Stats & Information, the Bengals averaged 3.3 yards in between the tackles (30th in the NFL) and scored three touchdowns up the middle (tied for 21st).
The Bengals made Wharton their first free-agent signing this year because his strength was run blocking. And Green-Ellis, who excels at running inside, would've been following Wharton more often than cutting to the outside.
Cincinnati will also miss Wharton's experience. He has started 99 games over the past eight seasons. Now, the Bengals are expected to turn to
Clint Boling
, a 2011 fourth-round pick who has three career starts.
August, 7, 2012
8/07/12
7:00
PM ET
CINCINNATI -- Here are some quick thoughts from my first day at Bengals' camp, where 640 fans and myself endured the 91-degree heat Tuesday afternoon:
The first round of team drills went to the defense. The receivers couldn't get open. On one play, quarterback Andy Dalton just threw the ball in the ground after the pass rush got to him.
Dalton went on to throw two impressive passes later in practice. He dropped a 15-yard pass over a defender and right into the hands of A.J. Green on the right sideline. He then hit Mohamed Sanu in stride down the left sideline after the rookie got past safety Robert Sands.
The two receivers who stood out Tuesday were rookie Marvin Jones and Andrew Hawkins. Jones got open a couple of times over the middle and then got free deep, but backup quarterback Bruce Gradkowski didn't see him.
There was a small scare toward the end of practice, when Pro Bowl defensive tackle Geno Atkins hobbled off the field. He got retaped and stayed to watch the rest of practice.
There was a brief scuffle that included backup guard Clint Boling. There's no truth to the rumor that Rex Ryan is coming down to scold the Bengals.
Cornerback Leon Hall wore a yellow jersey throughout practice, which signifies him as the defensive leader of the day. The Cincinnati beat reporters call it the "Tour de Zimmer" after defensive coordinator Mike Zimmer. It's kind of like a gold star that you wear. I would immediately give that yellow jersey to defensive end Carlos Dunlap, who was unblockable today.
I'm wrapping up my visit with the Bengals on Wednesday. My Camp Confidential piece on the team, which will have more in-depth observations, will run Friday.
Hope everyone enjoyed a very busy day on the AFC North blog.
April, 7, 2012
4/07/12
7:00
AM ET
Some might have been surprised when the Bengals
agreed to a one-year deal
with guard
Jacob Bell
. It has been four weeks since he visited Cincinnati.
Bell
But adding Bell makes sense, especially signing him to a short-term contract. The Bengals needed a right guard heading into the draft, and they could do much worse than a lineman who has 100 career starts. This isn't to say Bell was signed to be the starter, because he's a below-average run-blocker.
So, what does the signing of Bell mean? He's a one-year insurance policy. The Bengals will still likely draft Stanford's
David DeCastro
or Georgia's
Cordy Glenn
if one is available at one of the team's two first-round picks. The addition of Bell means they don't
have
to draft one of them.
The Bengals have more flexibility and can take the best player available at the 17th and 21st overall picks. They don't have to draft solely on need. And, even if the Bengals don't draft a guard, Bell will probably have to beat out
Clint Boling
and
Otis Hudson
for the job.
Finding someone to fill the spot long manned by
Bobbie Williams
was one of the last glaring holes in Cincinnati's starting lineup. The Bengals addressed left guard earlier this offseason when they signed Panthers free agent
Travelle Wharton
.
April, 6, 2012
4/06/12
4:00
PM ET
Gary Horton of Scouts Inc. broke down
the top six needs remaining

for each of the AFC North teams. You'll need an Insider subscription to view the entire post, but here's a glimpse of the top three needs:
CINCINNATI BENGALS

Horton's top three needs
: Cornerback, guard and safety.
Horton on cornerback
: The starters in 2011 were
Leon Hall
, who will be coming off an Achilles injury, and 32-year-old
Nate Clements
. When Hall went down,
Adam Jones
filled in, but none of these three make you comfortable in man coverage. Newly acquired free agent
Jason Allen
will help, but there is a lot of work to be done here.
Hensley's comment
: I wouldn't put cornerback as the top need because the Bengals added Allen and re-signed Jones. Allen is an upgrade over
Kelly Jennings
. Guard is the bigger concern. If the season started today, the Bengals' starting right guard would either be
Otis Hudson
,
Clint Boling
or
Anthony Collins
(who would shift over from tackle).
CLEVELAND BROWNS

Horton's top three needs
: Quarterback, wide receiver and running back.
Horton on quarterback
: Right now, their options at QB are starter
Colt McCoy
and veteran backup
Seneca Wallace
, but nobody expects it to stay that way. With two first-round draft picks, they will almost surely pick a QB with one of them.
Hensley's comment
: You could make a strong argument that quarterback, wide receiver or running back should rank as the No. 1 need. My top need for Cleveland is right tackle. The Browns can at least start McCoy,
Greg Little
,
Mohamed Massaquoi
and
Montario Hardesty
at those other positions. Right tackle was a weak spot for the Browns last season with
Tony Pashos
and
Artis Hicks
, both of whom are now gone. The Browns' starting right tackle at this point is
Oniel Cousins
, a third-round bust from Baltimore.
BALTIMORE RAVENS

Horton's three needs
: Inside linebacker, left guard and safety.
Horton on inside linebacker
: The
Ray Lewis
era will be ending soon, and the Ravens need to find his replacement.
Jameel McClain
was re-signed, and he can play inside or outside, but a three-down linebacker who can play solid pass defense is sorely needed.
Hensley's comment
: Left guard is the biggest need on the team, and it's not even close. The Ravens couldn't keep
Ben Grubbs
and failed to sign
Evan Mathis
. The fallback option is
Jah Reid
, a backup offensive tackle last season. Going from a Pro Bowl guard (Grubbs) to a converted tackle (Reid) is a major step down.
PITTSBURGH STEELERS

Horton's top three needs
: Offensive tackle/guard, nose tackle and running back.
Horton on offensive tackle/guard
: Center
Maurkice Pouncey
is the only stable starter on this unit. Veteran tackle
Max Starks
is coming off an ACL injury and T
Willie Colon
can't stay healthy, though the coaches hope he can get through a full season at RT with young
Marcus Gilbert
moving from RT to LT. There is also a big hole at left guard. The Steelers need to get at least one, and maybe two, starters up front.
Hensley's comment
: You can't really disagree with this assessment. Left guard
Doug Legursky
is a backup who performed admirably when
Chris Kemoeatu
was benched. Gilbert has a good chance of succeeding on the left side, but it's hard to depend on Colon at right tackle with his injury history. The Steelers' options are limited because there is no depth.
Jonathan Scott
, who has struggled mightily, is the top backup at tackle, and there's no reserves at guard with
Trai Essex
(free agent) and
Jamon Meredith
(not tendered as a restricted free agent) off on the roster.
May, 4, 2011
5/04/11
2:30
PM ET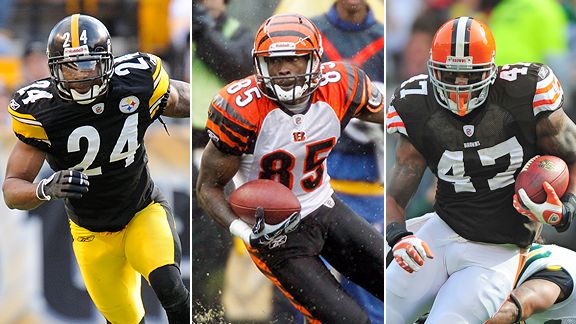 AP PhotoDraft-day moves by their teams could mean Ike Taylor (Steelers), left, Chad Ochocinco (Bengals), middle, and Lawrence Vickers (Browns) will be wearing different uniforms next season.
While one dream was being made last week, another was coming to an end.
Saturday in California, former Stanford fullback
Owen Marecic
happily took a call from the
Cleveland Browns
in the fourth round. Marecic was excited to be entering the NFL and knowing his destination in 2011.
Soon after, current Browns fullback and pending free agent
Lawrence Vickers
' phone began buzzing constantly to let the veteran know Cleveland
likely drafted his replacement.
"Honestly, my first reaction was 'Wow,'" Vickers told the AFC North blog this week. "I'm amazed. I was amazed I was still a free agent and wasn't signed [by the Browns] before the deadline. I didn't understand it. But at the same time I do understand, because nothing has ever come easy to me. So I was prepared for it.
"If they want me, they want me. If they don't, they don't. As a man, you have to be prepared for anything. But in the back of my mind I thought I would be in Cleveland."
Welcome to the harsh world of the NFL.
As teams were making draft picks last week, each move to replace players and plug holes could impact what AFC North teams do in free agency. Let's take a look at where each division team stands.

Cleveland Browns
Top draft picks:
DT
Phil Taylor
, DE
Jabaal Sheard
, WR
Greg Little
, FB Owen Marecic
Potential impact:
The Browns were in need of talented players and could have as many as four Week 1 starters in this year's draft class. Health permitting, Taylor and Sheard are heavy, heavy favorites to start at defensive tackle and defensive end, respectively. Cleveland doesn't have many bodies at those positions. Little will be thrown into a receiving corps that includes
Brian Robiskie
and
Mohamed Massaquoi
. Both have struggled and Little, who missed last season at North Carolina because of a suspension, will have every chance to compete for a starting role. But Marecic was the pick that turned some heads. The Browns were eerily quiet about Vickers' pending free agency this offseason, and speculation began to grow that the new coaching staff didn't feel he was a good fit for the West Coast offense. Those thoughts were confirmed Saturday, when Cleveland made a surprise pick for a fullback in the fourth round. Vickers, one of the top blocking fullbacks in the NFL, is expected to test the market, where he will surely get interest. The Browns did a good job of filling holes but still need to address certain areas. Safety and the right side of the offensive line remain glaring needs.

Cincinnati Bengals
Top draft picks:
WR
A.J. Green
, QB
Andy Dalton
, OLB
Dontay Moch
, G
Clint Boling
Potential impact:
Cincinnati's first two picks were not a surprise, but both were telling. It likely
signaled the end
of the
Chad Ochocinco
-
Carson Palmer
era with the Bengals. Both veterans, who have been the faces of the franchise for years, are under contract. But Ochocinco is in the final year of his deal and is expected to be traded or released following the acquisition of Green. Palmer
wants to be traded
or he plans to retire, which is why the Bengals drafted Dalton. Bengals head coach Marvin Lewis is already projecting Dalton to be the Week 1 starter. Cincinnati should get all the value it can for Ochocinco and Palmer. It's questionable whether any team is willing to trade and pay the approximate $6 million for one year with Ochocinco. But it takes only one team. With Palmer, there will be several teams lined up and ready to pounce if the Bengals put him on the market. Cincinnati's coaching staff appears ready to move on without Palmer, so it will come down to ownership. Bengals owner Mike Brown said recently that the team has
no intention of trading Palmer
. The Bengals did not draft a cornerback until the seventh round (
Korey Lindsey
), but that probably has no bearing on pending free agent
Johnathan Joseph
. Cincinnati isn't expected to retain Joseph, who will be one of the league's top free agents. But the team has
Adam Jones
for insurance to pair with starter
Leon Hall
. The Bengals also want starting tailback and pending free agent
Cedric Benson
back, as evidenced by the team not drafting a replacement.

Baltimore Ravens
Top draft picks:
CB
Jimmy Smith
, WR
Torrey Smith
, OT
Jah Reid
, WR
Tandon Doss
Potential impact:
The Ravens took one of the
biggest risks in the draft
by selecting Smith of Colorado. He has a long list of off-the-field issues at Colorado, but the Ravens feel confident Smith will stay out of trouble. In terms of talent, Baltimore landed a player with the potential to be the team's first shutdown corner since
Chris McAlister
. Smith is expected to start right away, and this impacts two pending free agents in
Josh Wilson
and
Chris Carr
. Wilson played well for Baltimore once he earned the starting job in the second half of the 2010 season. Carr was a backup, but a solid presence in the locker room. With the pickup of Smith, Wilson and Carr are no longer huge priorities in free agency. The Ravens are getting
Domonique Foxworth
back from a knee injury and
Lardarius Webb
is still on the roster. The pick of Torrey Smith in the second round fills a need for a speedy receiver to pair with
Derrick Mason
and
Anquan Boldin
. He is expected to fill the No. 3 receiver role
T.J. Houshmandzadeh
will leave behind. Ravens coach John Harbaugh also spoke highly of Reid, the team's third-rounder. Former starting offensive tackle
Jared Gaither
was injured last season and has been in the doghouse for quite some time and isn't expected to return. In terms of holes, the Ravens still need an impact pass-rushing threat to pair with Pro Bowl defensive end/linebacker
Terrell Suggs
.

Pittsburgh Steelers
Top draft picks:
DE
Cameron Heyward
, OT
Marcus Gilbert
, CB
Curtis Brown
, CB
Cortez Allen
Potential impact:
The Steelers stayed true to form by drafting for depth in the first two rounds with Heyward and Gilbert. Barring injury, both players will be put in the rotation but are not expected to start. But the third and fourth rounds are where things got interesting for Pittsburgh. The Steelers went with cornerbacks in back-to-back rounds with Brown and Allen. They hope one or both rookies can make an immediate impact. That might be asking a lot for the reigning AFC champions. Brown was the second-best corner on his team at the University Texas to
Aaron Williams
, on whom the Steelers passed in the first round. Allen played at a small school (Citadel) and will make a significant jump to the NFL. All of these factors
increase the value
of
Ike Taylor
, who is Pittsburgh's biggest free agent. The Steelers' No. 1 corner would fill an important starting role and take a lot of pressure off the team's young corners. That way Brown, Allen,
Keenan Lewis
and
Crezdon Butler
can all compete for reserve roles and develop at a more gradual pace. The price tag will be the biggest question. The going rate for solid cornerbacks this offseason has been about $10 million per season. It's doubtful the Steelers are willing to pay that much to retain Taylor. Also look for the Steelers to fill their kicker positions in free agency and perhaps add another backup tailback to replace
Mewelde Moore
.
February, 25, 2011
2/25/11
12:09
PM ET
NFL SCOREBOARD
Sunday, 2/2
WEEKLY LEADERS