October, 9, 2013
10/09/13
2:07
PM ET
FLORHAM PARK, N.J. -- Jets wide receiver
Santonio Holmes
(hamstring) didn't practice Wednesday. He was wearing a sweatshirt and shorts during the portion of practice open to the media.
Holmes suffered a strained hamstring Sept. 29 during the Jets' loss to Tennessee. Holmes did not practice last week and it appears he will not suit up Sunday against his former team, Pittsburgh.
Cornerback
Dee Milliner
(hamstring) did individual work off to the side during practice. He suffered a hamstring injury Sept. 25 during practice and has not practiced or played since. It's too early in the week to know whether Milliner will have a chance to suit up Sunday.
Safety
Jaiquawn Jarrett
was not working during the portion open to the media. He was riding a stationary bike. Jarrett was not listed on last week's injury report, but Jets head coach Rex Ryan will provide an update on the safety when he meets with the media later.
The Jets were also without tight end
Kellen Winslow
(knee), defensive tackle
Kenrick Ellis
(back) and wide receiver
Clyde Gates
(knee). Ellis missed for a personal reason, while Gates was present during the open portion but did not work. Winslow was not on the field.
The Jets also made roster moves, signing defensive tackle Terence Barnes to the practice squad and releasing defensive tackle Junior Aumavae.
September, 30, 2013
9/30/13
3:01
PM ET
Tough season for the
New York Jets
' wide receivers.
Stephen Hill
, who left the game Sunday after suffering a head injury on the second play, was diagnosed with a concussion, Rex Ryan announced Monday. The second-year receiver was evaluated again as part of the league's protocol on concussions. It means he probably won't play next Monday night when they face the
Atlanta Falcons
(1-3) on the road.
Fellow receiver
Jeremy Kerley
suffered a concussion in the opener and missed the next game.
Hill was drilled by Titans safety
Michael Griffin
on the second play of the game, an underthrown ball that was intercepted by cornerback
Alterraun Verner
. Surprisingly, there was no flag thrown on the play. Hill walked slowly off the field and was taken to the locker room for testing.
Ryan didn't comment on the legality of the hit, saying only that there was no penalty.
The Jets could be without their starting receivers in Atlanta, as
Santonio Holmes
pulled a hamstring in the fourth quarter. He, too, didn't return. Ryan provided no update on Holmes, who missed the preseason as he recovered from last season's foot surgery.
Hill is the second-leading receiver on the team, with 13 catches for 233 yards and one touchdown. He's only 19 yards shy of his rookie total. Holmes has 10 receptions for 243 yards and a touchdown.
If they can't play, the likely starters would be Kerley and
Ben Obomanu
or
Clyde Gates
, with rookie
Ryan Spadola
also available in reserve. They could try to sign veteran free agent
David Nelson
, whom they worked out last week.
There will be one returning player on offense -- RB
Mike Goodson
, who became eligible Monday to rejoin the team for practice. His four-game suspension for violating the league's substance-abuse policy is over.
September, 13, 2013
9/13/13
12:58
PM ET
An examination of five hot issues from the New York Jets' 13-10 loss to the New England Patriots:
1. Geno, meet adversity:
Bill Parcells used to say the true test of a quarterback's mettle comes after he has a bad game, when he steps into the huddle in practice and has to look his teammates in the eyes. Do they see confidence, or do they sense self-doubt? That will be Geno Smith's world next week. He said all the right things after his three-interception performance, but now he has to move past it and re-establish himself as the leader of the offense. This was a tough one for the rookie. The game was there for the taking, but he made a bad decision and two bad throws in the fourth quarter. The most troubling part? He struggled against a four-man rush, completing only 9 of 24 passes with three interceptions. The Patriots showed you can rattle an inexperienced quarterback without having to blitz him.
[+] Enlarge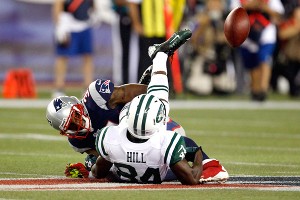 William Perlman/The Star-Ledger via USA TODAY SportsStephen Hill and the Jets receivers had a tough time holding on to the ball Thursday night.
2. Catch the damn ball:
This has been an issue since June minicamp, when the wide receivers left more droppings on the field than a family of geese. There were six dropped passes Thursday night, including three by
Clyde Gates
, who failed to bring in a low but catchable ball in the end zone. Clearly, coach Rex Ryan was exasperated. Gates was thrust into a bigger role because of the injury to
Jeremy Kerley
, and he responded with only two catches on eight targets. The bigger concern is
Stephen Hill
, who had a fumble and a drop. When they weren't dropping balls, the receivers struggled to get open against the Patriots' press coverage. The lack of a big-time threat on the outside has a trickle-down effect on the entire offense.
3. Overly aggressive play calling:
Coordinator Marty Mornhinweg showed a lot of confidence in Smith, maybe too much confidence, especially in the fourth quarter. Not only did he call 10 pass plays, giving an effective
Chris Ivory
only one rushing attempt, but Mornhinweg raised questions with the type of throws he called. Smith attempted six passes of at least 10 yards, completing only one, according to ESPN Stats & Information. They might have been better served with safer passes, maybe a slip screen or two, instead of downfield shots.
4. Dee for disaster:
Other than quarterback, the toughest position for a rookie is cornerback. You're bound to experience growing pains against the NFL's big-time receivers. But here's the deal with
Dee Milliner
:
Calvin Johnson
wasn't on the field. Neither was
Larry Fitzgerald
. Milliner struggled to cover
Kenbrell Thompkins
and a cast of no-name receivers, and that's alarming. It didn't take long for Ryan to say, "Enough is enough," benching Milliner at halftime. Milliner wasn't a third-round pick; he was the No. 9 overall pick in the draft. No one expects him to be
Darrelle Revis
, the man he's trying to replace, but he should be better than this. What irked Ryan was that Milliner made mental errors -- or as Milliner called them, "simple mistakes."
5. Mo bad news:
Defensive end
Muhammad Wilkerson
(ankle) didn't appear to be seriously hurt, but it would be a blow to the defense if he misses even one game. He's the Jets' best defensive player, and they're thin on the defensive line. They would be in trouble against the
Buffalo Bills
next week, especially if
Quinton Coples
(ankle) misses another game.
September, 13, 2013
9/13/13
2:56
AM ET
FOXBOROUGH, Mass. --
Geno Smith
's final throw of the night came as he walked through the tunnel on the way to the
New York Jets
' locker room. Frustrated by three fourth-quarter interceptions -- something no quarterback had done in six years -- Smith fired a towel toward the wall.
And, miraculously,
Clyde Gates
wasn't there to drop it.
Smith showed accountability, accepting full responsibility for the
13-10
loss to the
New England Patriots
on Thursday night at Gillette Stadium. Yeah, he was bad, but his teammates were worse. At least Smith had an excuse; he's a rookie, and there will be more games like this as we watch the Education of Geno over the next few months. For his offensive teammates, there was no excuse.
The Jets dropped six passes, including three by Gates, and came unraveled in a fourth quarter that included a melee in the final seconds.
D'Brickashaw Ferguson
and
Willie Colon
, a couple of seasoned pros, were ejected, typifying the night for the Jets.
[+] Enlarge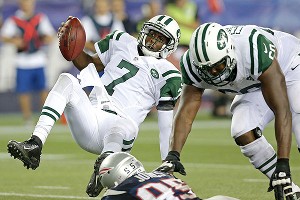 Barry Chin/The Boston Globe via Getty ImagesGeno Smith was sacked four times on a rain-soaked night in Massachusetts.
They lost their cool and self-destructed. You could almost hear Bill Belichick laughing from the sideline.
Smith took it hard. When he got to the locker room, he was so down that fellow rookie
Sheldon Richardson
felt the need to walk over and give a mini pep talk. "Gotta let it go," Richardson told him. He saw the disappointment in Smith's face.
The NFL is a humbling league. Four days ago, Smith was being hailed for his fourth-quarter cool in the Jets' gift win over the
Tampa Bay Buccaneers
. On this night, he was a mess in the fourth quarter, completing as many passes to the other team as he did to his own -- three.
"There were costly mistakes that were completely on me," Smith said. "I didn't get it done. I take full responsibility for it. I will get better."
It's no wonder
Mark Sanchez
is hoping to return, hinting that he'll postpone shoulder surgery until after the season. He probably thinks he will have an opportunity to get his old job back. We know how he feels about the quarterback situation, telling the NFL Network before the game, "I won the competition, no doubt."
Sanchez would've won it by default because Smith threw three interceptions against the
New York Giants
in a preseason game. Basically, he replayed the same nightmare against the Patriots, costing his team over and over.
"Obviously," Rex Ryan said, "he wishes he had a few back."
The first interception was a classic rookie mistake. In range for a potential game-tying field goal, Smith was flushed to his left and forced a third-down pass across his body to
Santonio Holmes
. It was intercepted by
Aqib Talib
.
"During that time of the game, I have to be more mindful of the situation," said Smith, who completed only 15 of 35 passes for 214 yards and a horrible passer rating of 27.6. "I made a decision that ultimately cost my team."
This was no easy task, facing the Patriots on a short week. In fact, no rookie quarterback had ever defeated a Belichick-coached team in Foxborough. Smith was the fifth to fail, but you know what? At least he had a shot in the fourth quarter.
Then came an interception by
Alfonzo Dennard
, who stepped in front of an off-target throw to Gates. Then, with less than a minute to play, Smith received another chance to pull it out. This time, there were no gifts from
Lavonte David
. Smith served up another interception to Talib on a bad throw to
Stephen Hill
.
"A terrible mistake," Smith said. "It hurt. I can't lie, it hurt, but it's only the beginning. We've got to get better from it."
Smith accepted too much responsibility, but he wasn't about to call out his butterfingered receivers. Aside from Gates,
Bilal Powell
,
Ryan Spadola
and Hill also dropped one apiece. Hill also lost a fumble, which set up a Patriots field goal.
If the Jets hope to be competitive this season, the supporting cast has to elevate its play to compensate for Smith's inevitable growing pains. That's how they did it in 2009, when Sanchez was a rookie. He benefited from the top-ranked running attack and the top-ranked defense.
The defense did its job, forcing
Tom Brady
into
Tim Tebow
-like passing numbers. He actually completed less than 50 percent of his attempts (19-for-39) for the first time since 2009, thanks to a supporting cast of practice squad talent. If Smith had a modicum of help from his teammates, the Jets would've won the game.
A great quarterback surrounded by kids, even on an off night, was good enough to beat a kid surrounded by veterans.
"I don't like to look at it as a learning experience, because I think I'm ready for this," Smith said. "I know I'm ready for this."
Can his teammates say the same?
August, 9, 2013
8/09/13
10:54
PM ET
DETROIT -- The
New York Jets
opened the preseason Friday night with
a 26-17 loss
to the
Detroit Lions
at Ford Field. Despite a killer interception,
Mark Sanchez
won the night over
Geno Smith
in the ballyhooed quarterback competition. Smith left in the third quarter after rolling his ankle. It doesn't appear serious, but he can't afford to miss any practice time.
What it means
: As it stands now, Sanchez will be the opening-day starter. He gave as many points to the Lions as he produced for the Jets -- 7-7 -- but he showed greater command than Smith, who delivered a non-descript performance in his NFL debut. Smith is doomed if he misses any practice time; it's almost impossible for a rookie to play catch-up in training camp.

Sanchez's night:
It was the worst possible start for Sanchez, who threw a pick-six on the Jets' first series. Under pressure on a screen pass, he didn't put enough air under the pass and it was intercepted by rookie defensive end
Ziggy Ansah
, who returned it 14 yards for a touchdown. Sanchez has a maddening tendency to turn a safe pass into a calamity. In fact, he almost had another screen intercepted.
To Sanchez's credit, he responded to the disastrous start, finishing 10-for-13 for 125 yards with a 26-yard touchdown pass to a wide-open
Jeff Cumberland
. It culminated a seven-play, 80-yard drive, much of which came in the hurry-up. It was typical Sanchez -- some good, some ugly. Some things don't change.
Geno's night
: Unlike Sanchez, Smithi didn't make any horrible mistakes, but he also didn't bring any spark to the offense. The former West Virginia star, who got two series behind the starting offensive line, generated only one first down on his first three drives -- a 15-yard pass to
Clyde Gates
on his first play. Simply put, Smith didn't look ready to take over the team. He finished 6-for-7 for 47 yards. Smith came out on the first series of the third quarter, when he turned his right ankle on an open-field scramble.
Greg McElroy
came in and did a nice job against the Lions' third-stringers, going 11-for-19 for 145 yards and an 11-yard TD pass to
Zach Rogers
.
Big-play tight ends
:
Dustin Keller
is gone, but Cumberland and
Kellen Winslow
displayed playmaking ability. Winslow made a nice catch-and-run for 24 yards. Cumberland scored his touchdown on a deep seam, showing his ability to get vertical. It's too soon to say the Jets have two weapons at tight end, but it was a good start.
Another injured running back
:
John Griffin
was carted off with a lower-leg injury. It didn't look good. Already down
Chris Ivory
,
Mike Goodson
and
Joe McKnight
, the Jets can't afford another injury in the backfield. Ivory (hamstring) is expected to return Sunday.
New-look defense
: The Jets opened with seven new starters in the post-
Darrelle Revis
era. All things considered, the defense held up fairly well. Most of the starters played most of the first half, an unusually long stint for the first game, and allowed 10 points. Cornerback
Darrin Walls
, an early substitution for starter
Antonio Cromartie
, got beat on a 15-yard scoring pass. One player who jumped out was nose tackle
Kenrick Ellis
, who deflected a pass and held the point of attack. Safety
Dawan Landry
got beat once in coverage. Keep in mind that Lions quarterback
Matthew Stafford
played only two series.
The rookies:
It was a so-so debut for top pick
Dee Milliner
, who started at corner in the base defense. He didn't have to cover all-world receiver
Calvin Johnson
-- Cromartie drew that assignment -- so that made life easier for Milliner. He had a nice pass break-up in the end zone, but he missed an open-field tackle and allowed a 27-yard reception. Milliner gets some slack, though, because he missed a lot of time and has to be rusty. It was a relatively quiet night for defensive tackle
Sheldon Richardson
.
The Q report:
Former first-round pick
Quinton Coples
, making the transition to outside linebacker, flashed good and bad on his first two plays. He deflected a pass on an outside rush, but he failed to set the edge on an outside run by
Reggie Bush
. Coples didn't move well in space. This will be an interesting position change.
What's ahead
: The Jets return to Cortland for four days of practice. They break camp Thursday and return to Florham Park, where they will prepare for next Saturday's game against the
Jacksonville Jaguars
.
August, 9, 2013
8/09/13
9:00
AM ET
CORTLAND, N.Y. -- The
New York Jets
haven't faced expectations this low since 2006, when they hired a relatively anonymous
New England Patriots
assistant named Eric Mangini. Somehow, they made the playoffs under the baby-faced head coach.

The odds of duplicating that this season are about the same as seeing two Butt Fumbles in one lifetime.
Even the bombastic Rex Ryan, who once guaranteed a Super Bowl, has refrained from delivering a headline-making prediction. The Jets are rated in many power polls as a bottom-five team, but that stoked Ryan's fire to only a medium flame.
"If you're a competitor, how does that thing not get to you?" Ryan said. "How does that not motivate you? It's almost like, 'Well, OK, we're going to show you.'"
In the not-so-old days, Ryan would've said something like, "We'll see who has the egg on their face when we're in the playoffs."
Ryan has toned it down because he recognizes the enormity of the challenge.
The Jets, coming off a dysfunctional,
Tim Tebow
-obsessed 6-10 season, are rebuilding. New general manager John Idzik parted ways with 11 starters (including All-Pro cornerback
Darrelle Revis
), tore apart the front office and changed the culture.
Idzik, hired even though he has little background in personnel, instilled a buttoned-down, almost paranoid environment in an organization once known for its wacky ways.
The circus is gone. The Kremlin is here.
It's a change for the fun-loving Ryan, but he has bought in because he's coaching for his job. He joked recently that if the Jets are in position to draft Jadeveon Clowney, the presumptive No. 1 pick in 2014, he won't be around to see it.
Earth to Ryan: You won't be around if you finish with as many as six wins. Idzik inherited Ryan, at the urging of owner Woody Johnson, and he will hire his own man if the team shows no improvement.
In a way, Ryan is in an almost impossible situation. His roster was gutted, leaving a team many scouts believe has only four top-tier players: cornerback
Antonio Cromartie
, defensive end
Muhammad Wilkerson
, center
Nick Mangold
and left tackle
D'Brickashaw Ferguson
.
Throw in a potential quarterback controversy, and you're looking at a long year in New York.
THREE HOT ISSUES
[+] Enlarge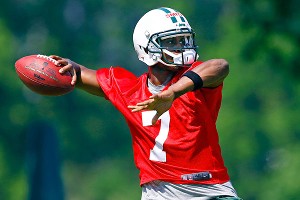 AP Photo/Rich Schultz"He can do more" than Mark Sanchez, one veteran player said of rookie quarterback Geno Smith.
1. Who plays quarterback? The competition is billed as
Mark Sanchez
versus
Geno Smith
. In reality, it's Smith versus Smith. It's his job to win. If the second-round pick proves capable of functioning in an NFL offense, he'll be the opening-day starter.
Sanchez will start the first preseason game, but his performance is virtually meaningless. The Jets know what he can and can't do, and it has been a "can't-do" situation over the past two seasons. If it weren't for an $8.25 million guarantee, he probably would have been cut loose in the offseason.
The organization wants a fresh start at quarterback. It went into camp thinking Sanchez would win by default, but Smith, shaking off a lackluster spring, has impressed with his arm strength, accuracy and athleticism. "He can do more" than Sanchez, one veteran player said. The question is whether or not Smith can handle it from a mental and maturity standpoint. When his brain catches up to his arm, it'll be his team.
2. How will they score points? The Jets finished 28th in scoring last season, and they will be hard pressed to improve that ranking. They have a suspect cast of skill-position players, including past-their-prime pass-catchers (
Braylon Edwards
and
Kellen Winslow
), a lead back who's never had more than 137 carries in a season (
Chris Ivory
) and an injured former Super Bowl hero who may never be the same (
Santonio Holmes
).
New offensive coordinator Marty Mornhinweg is an experienced playcaller, but it's hard to call plays when you don't have the talent. The Jets need productive seasons out of wide receiver
Stephen Hill
and tight end
Jeff Cumberland
, who have a combined total of 53 career receptions. Holmes could be a factor at some point, but he probably won't be ready for Week 1 as he continues to rehab a surgically repaired foot. Get the picture? It looks bleak.
Because of the uncertainty at quarterback and the lack of playmakers on the perimeter, the Jets absolutely must be a strong running team. That's not out of the question -- the line is solid -- but they will see a heavy dose of eight-man fronts and run-blitzing defenses.
3. Can Ryan hold it together? After back-to-back seasons out of the playoffs, Ryan faces a make-or-break year. He has two years left on his contract, meaning he'll be extended or fired after the season. He has no previous background with Idzik, making it a tenuous situation.
Thinking self-preservation, Ryan has taken control of the defense, becoming the de facto coordinator. He did it this way in 2009, when he felt most comfortable as a head coach. He'll leave the offense to Mornhinweg, whose pass-happy philosophy might not be a good fit with Ryan's defensive-oriented approach.
[+] Enlarge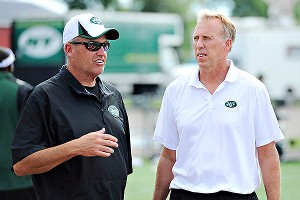 Rich Barnes/USA TODAY SportsRex Ryan, left, will likely need more than last season's six wins if he wants new general manager John Idzik, right, to keep him around.
Ryan's job security will be an issue throughout the season, especially if the Jets get off to a bad start against a tough schedule. It could become a feeding frenzy for the New York media. It may not be playoffs or bust, but another losing season probably will mean the end of the Ryan era.
REASON FOR OPTIMISM
Once again, the Jets will rely on their defense -- and that's not such a bad thing.
Under Ryan, they've finished no worse than eighth in total defense, and they have the talent to keep the streak alive. There could be some growing pains as Ryan integrates seven new starters, but the unit should get stronger as the season progresses.
Revis is gone, traded to the
Tampa Bay Buccaneers
, but the Jets will be OK outside with Cromartie and top pick
Dee Milliner
. They're good enough to play man-to-man coverage, which will allow Ryan to crank up his blitzing schemes.
They don't have a big-time pass-rusher -- the glaring deficiency -- but this is the most athletic defensive line of the Ryan era. And it should be, considering they've drafted linemen in the past three first rounds. If
Quinton Coples
and rookie
Sheldon Richardson
develop as quickly as Wilkerson, already one of the league's best 3-4 ends, this group will be fun to watch.
REASON FOR PESSIMISM
The NFL is a quarterback-driven league, and the Jets' quarterback situation is as murky as any in the league. It's a controversy waiting to happen.
Sanchez still has the loyalty of a few holdovers in the locker room, but there are many players intrigued by Smith's skill set. If Sanchez wins the job and struggles, it could create a division in the locker room.
Nothing drains the energy out of a team more than a quarterback mess. It happened last year with Sanchez and Tebow, although this could be more volatile because Smith -- unlike Tebow -- can actually play the position.
Sanchez has lost the home fans, who booed him mercilessly last season. If the toxicity carries over to this season, it will create a bad vibe, and that can bring down an entire team. A difficult first-half schedule won't help matters.
OBSERVATION DECK
The Jets are relying on several players with recent injury histories, including Winslow (limited in camp), Edwards (limited), Holmes, guard Willie Colon, wide receiver Clyde Gates and kick returner Joe McKnight. That's always a dicey proposition.

The Jets have been spoiled for two decades at running back, but not anymore. This marks the first time since 1994 that no one on the roster has a 1,000-yard season in his career. It will be backfield by committee, with Ivory (yet to practice because of a hamstring injury), Bilal Powell and McKnight. Mike Goodson was supposed to be a key player, but he's dealing with undisclosed personal issues and didn't report to camp. Powell, a pleasant surprise, could end up as the lead back.

Remember all the talk last summer about Tebow and the Wildcat? It was all hot air, as the Jets barely used him. Tebow is gone, but the plan remains. They will use the Wildcat with Powell or wide receiver Jeremy Kerley, and they plan to use the read option with Smith. Ironic, huh?

Ryan and defensive coordinator Dennis Thurman will keep opponents guessing by employing different looks. The Jets remain a 3-4 base defense, but don't be surprised if they mix in 4-3 fronts. They will blitz a lot more than last season, count on it. You also could see three cornerbacks (Kyle Wilson lining up as a safety) in certain base packages.

Wilkerson doesn't garner too many headlines because he doesn't say much, but he's a special talent. He felt he deserved to go to the Pro Bowl last season; he's ready to break through in '13.

Mornhinweg, a Bill Walsh disciple, employs a West Coast offense, but he's not the stereotypical West Coast guru. He's an aggressive playcaller and will take deep shots. That should bode well for Hill, a vertical threat who has matured after a disappointing rookie year.

The Jets could have three rookies in the opening day lineup -- Smith, Milliner and Richardson. The last time they had as many as two was 2006, Ferguson and Mangold. By the end of the year, Brian Winters could be starting at left guard. It could be a watershed draft

Looking for a sleeper? Keep an eye on second-year linebacker Demario Davis, who replaces Bart Scott. Davis is terrific in pass coverage, so good in space that Ryan is thinking about keeping his base defense on the field against certain three-receiver packages.
January, 4, 2013
1/04/13
12:00
PM ET
The
Miami Dolphins
have five draft picks in the first three rounds and more than $40 million of salary-cap room this offseason. If this were a poker game, Miami would hold the most chips at the NFL table.
But the person holding all the cards in Miami often makes Dolphins fans nervous. Embattled general manager Jeff Ireland will be calling the shots for the Dolphins during their most important offseason in recent memory. For better or worse, Ireland's decisions over the next few months will significantly impact Miami's franchise for the next three to five years.
[+] Enlarge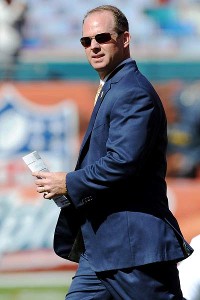 Steve Mitchell/USA Today SportsGeneral manager Jeff Ireland has the resources this offseason to help make Miami a playoff contender in the near future.
Ireland is a polarizing figure in Miami. He is 20-28 since taking over full time for former Dolphins president Bill Parcells in 2010. Ireland's track record the past three years has been inconsistent, and many Miami fans wanted him out before the start of the 2012 season.
Ireland's free-agent signings have been littered with misses. Last year alone, quarterback
David Garrard
, cornerback
Richard Marshall
and receiver
Chad Johnson
were all free-agent busts. Ireland also has been hit-and-miss in the draft. Some of his good picks include rookie quarterback
Ryan Tannehill
and center
Mike Pouncey
. But Ireland's misses also include tailback
Daniel Thomas
, receiver
Clyde Gates
and rookie tight end
Michael Egnew
. The
Koa Misi
pick over
New England Patriots
tight end
Rob Gronkowski
in 2010 also is hard to forget. That poor decision by Ireland only furthered the gap between Miami and its biggest rival.
So is Ireland the right person to manage more than $40 million and 10 total draft picks? His track record proves the Dolphins are taking a risk.
This is a make-or-break year for Ireland, who still has a lot to prove as Miami's general manager. The good news is Ireland is coming off his best draft in Miami. His 2012 picks included Tannehill, starting offensive tackle
Jonathan Martin
and contributing reserves
Olivier Vernon
and
Lamar Miller
. This group helped lead Miami to a respectable 7-9 record and provided optimism for the future.
"I was impressed with Ireland this past offseason and they are loaded with picks going forward," said Matt Williamson of Scouts Inc. "I would target 2014 to be highly competitive for Miami. It's very achievable."
Of course, all of that is contingent on Ireland making the right calls in 2013.
Ireland's first order of business is taking care of his
in-house free agents
. The Dolphins have plenty of cap room because many key players are coming off the books. Starters like left tackle
Jake Long
, leading rusher
Reggie Bush
, leading receiver
Brian Hartline
, No. 1 corner
Sean Smith
and defensive tackle
Randy Starks
will look to cash in this offseason. These are all tough calls. Miami cannot pay all of them.
It will be up to Ireland, with some input from rookie head coach Joe Philbin, to determine who stays and who goes. Ireland must walk a fine line of paying enough money to keep his own key contributors but still leave enough cap room to chase outside free agents. It will take some shrewd decisions and masterful self-scouting by Ireland. He cannot overrate or overpay his own players, which is a mistake general managers often make.
One of the most important things Ireland must accomplish is getting the right skill players around Tannehill. The rookie quarterback showed a lot of potential in his first year but was hamstrung by limited receivers and tight ends. Tannehill still managed to throw for 3,294 yards, 12 touchdowns and 13 interceptions in his first season.
The good news is the wide receiver position is very strong in free agency this year. Free-agent receivers
Greg Jennings
,
Dwayne Bowe
and
Mike Wallace
are possibilities for the Dolphins, who have the money to spend.
Jennings played under Philbin
for several years in Green Bay and knows the West Coast offense. Bowe is a Miami native who could return home, and Wallace has the deep speed Miami needs. Each player has the potential to fit well in Miami's offense and provide a boost for Tannehill.
"Wallace's speed would be ideal for Miami, but I trust him the least," Williamson said of this year's free-agent receivers. "Jennings is the most familiar but I worry that he might be on a slight decline. Bowe is really solid and from Miami. I would sign one and still draft a receiver high."
Tannehill also needs a better receiving tight end. This was a staple in Philbin's offenses in Green Bay, but Miami was limited with that position last year. Aging tight end
Anthony Fasano
could not stretch the field and is a free agent who may not return.
Following free agency, the Dolphins will enter the draft with a first-round pick (No. 12 overall), two second-round picks and two third-round picks. Miami picked up an additional second-rounder last summer from the
Indianapolis Colts
via the
Vontae Davis
trade. The Dolphins also got an extra third-rounder from the
Chicago Bears
for trading receiver
Brandon Marshall
. These key picks will be used to plug additional holes on the roster.
These are exciting and promising times for Miami. The Dolphins are in prime position to close the gap with the Patriots in the AFC East and perhaps make a playoff run in 2013. But it will be up to Ireland to wisely spend Miami's immense offseason resources.
August, 31, 2012
8/31/12
11:21
PM ET
Click
here
for a complete list of
Miami Dolphins
' roster moves.

Most significant move:
Dolphins general manager Jeff Ireland, head coach Joe Philbin and the rest of his coaching staff warned their wide receivers that they needed to step up. This is Miami's weakest area, and week after week, receivers dropped balls and failed to make plays. Still, it was surprising that Miami cut two receivers of significance:
Clyde Gates
and
Roberto Wallace
. Both were on the bubble, but at least one was expected to make the cut -- especially on a receiver-deprived team. The Dolphins also released fellow receivers
Chris Hogan
,
B.J. Cunningham
and
Jeff Fuller
. The Dolphins said in the spring that they liked their receivers group; clearly, those opinions changed after training camp and the preseason.
Onward and upward:
Miami made two free-agent additions to help the team's depth at linebacker this offseason:
Jamaal Westerman
and
Gary Guyton
. Both players had starting experience and had played in the AFC East. But neither fit well with Miami's new 4-3 defense. The Dolphins decided to cut their losses and not take either on their 53-man roster. There's a good chance other teams will be looking for veteran linebackers, and due to their experience, both have a chance to land elsewhere.
What's next:
Miami should be one of the busiest teams in free agency and scanning waivers. The Dolphins are rebuilding and need a lot of upgrades and depth. Wide receiver and safety are two positions Miami certainly will have its eye on. The Dolphins have a long way to go to make their roster into a contender. Rookie quarterback
Ryan Tannehill
needs some assistance in his first season. So expect more changes in Miami before its Week 1 game against the
Houston Texans
.
August, 12, 2012
8/12/12
10:20
PM ET
The
Miami Dolphins
released the best receiver in their training camp
Sunday night, cutting six-time Pro Bowler
Chad Johnson
after he was charged with domestic abuse. He was on pace to be the No. 1 receiver in Miami's new West Coast offense.
So what's next for Miami's passing game? That is the big question facing first-year Dolphins head coach Joe Philbin.

Here is a look at Miami's remaining receivers:
It's not a star-studded group -- but it's what the Dolphins are left with after cutting Johnson. The Dolphins clearly didn't feel the 34-year-old veteran was worth the headache and distraction he brought to the locker room.
But someone from this group must step up. Hartline, Naanee and Bess are the most proven; they will get the first chance. After that, younger receivers like Wallace, Pruitt and Gates have a chance to finally live up to their potential.
The Dolphins set an example of character over talent by cutting Johnson. But it's a decision Miami also has to live with on the field.
July, 31, 2012
7/31/12
10:00
AM ET
DAVIE, Fla. -- Don't tell linebacker
Karlos Dansby
and defensive end
Cameron Wake
the
Miami Dolphins
aren't contenders in 2012.
"We can be great," Dansby said at the opening of training camp.
Added Wake, "We have the talent [to make a run]."

There is a feeling of newness in Miami. The Dolphins believe a revival is coming this year, sooner than most expect.
Dolphins rookie head coach Joe Philbin has instilled a calm, quiet confidence in this team, which finished 6-10 last season. The change also includes new offensive and defensive schemes. First-year defensive coordinator Kevin Coyle is switching Miami to a 4-3 defense, and new offensive coordinator Mike Sherman is implementing a West Coast offense.
Miami's practices are faster and better organized. Even owner Stephen Ross has been impressed with the way the new-look Dolphins have operated since the spring.
"[Changes] are pretty evident and you can feel it," Ross said. "People can talk the talk, but you can see that we're walking the walk, and I think that's what's important. If fans feel that and see that, I think they're going to be very excited about that."
There are plenty of new faces. With just three weeks of training camp, will Miami and its new coaching staff have enough time to sort everything out? It also adds an extra challenge that HBO's "Hard Knocks" is there to document Miami's every move until the start of the regular season.
Most outsiders project 2012 to be a rebuilding year for the Dolphins. But it's clear the Dolphins have higher expectations internally.
THREE HOT ISSUES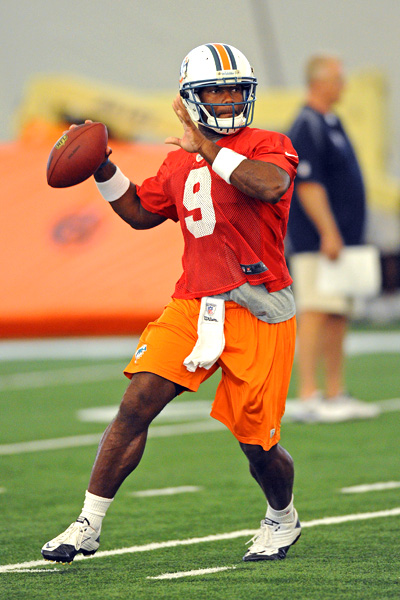 Steve Mitchell/US PresswireVeteran David Garrard looks to have the early lead to become the Dolphins' starting quarterback.
1. Which quarterback will prevail?
Miami's quarterback competition among
Matt Moore
,
David Garrard
and rookie
Ryan Tannehill
is in full swing. Every play is watched closely by Dolphins coaches and the media.
But who is Miami's best option? Grading the first several practices, I give the edge to Garrard.
The nine-year veteran, who missed all of 2011 with a back injury, looks the most poised and in control of the offense. Garrard played in a West Coast system before. He knows the reads, progressions and what's expected.
"I think my chances are pretty good," Garrard said of winning the starting job. "I don't think they would have me here or even say that it was open competition if my chances weren't good. I know I can still play. I've just got to continue to prove it on the field."
Moore is the incumbent, but you wouldn't know it from his early practices. Moore has not looked consistent dating to spring workouts. The tricky part is Moore has never been a great practice player. He performs best when the lights are on in an actual game. He proved that last year by going 6-3 in his final nine starts.
Moore's best chance to win this job is to outperform Garrard in preseason games. Tannehill arrived to camp two days late and is a long shot to get in the race.
2. What is the plan at receiver?
Miami has a hodgepodge group of mostly unproven receivers who need to settle in. Miami has 12 receivers on its roster and zero defined roles at the position. The Dolphins do not know their No. 1, No. 2 or No. 3 receiver after several practices.
Philbin, a former offensive coordinator of the
Green Bay Packers
, said he doesn't believe in putting numbers on his receivers. But Philbin does need receivers who can get open and make tough catches. There have been tons of drops dating to organized team activities. In the first two training camp practices alone, I counted five drops.
For what it's worth, Miami began camp with
Chad Johnson
and
Legedu Naanee
as its two starting receivers and
Davone Bess
in the slot.
Brian Hartline
,
Roberto Wallace
,
Julius Pruitt
and
Clyde Gates
also are in the mix.
But Johnson has been particularly impressive. This is the first time in a while that expectations are not high for the 34-year-old receiver. Johnson was a bust for the
New England Patriots
, catching just 15 passes last season. But he is making some eye-opening plays in Miami's training camp.
"He's very serious. I think he's very passionate about what he does," Philbin said. "He's been impressive. We like his work ethic, the energy, the enthusiasm that he brings. He wants to do well. He certainly wants to let the quarterback know when he's open."
If Johnson turns out to be a No. 1 receiver again -- or close to it -- that would take a lot of pressure off the rest of the group. It would at least give Miami's quarterback someone reliable to throw to.
3. Defense wants to be elite.
There has been so much talk about Miami's quarterbacks and offense during the offseason that it's easy to forget about the defense. This is a physical group that wants to be elite. Miami finished No. 15 in total defense last year, but its ranking was a bit skewed because of the Dolphins' 0-7 start. Miami's defense played like a top-10 unit in the second half of last season.
Miami's run defense is one of the best in the league, although you wonder if the adjustment to the 4-3 defense will hurt continuity. Miami returns many of the same players in the front seven, but switching from a 3-4 to a 4-3 will force some players into different roles.
Miami's secondary is the biggest question defensively. The team has a pair of young corners in
Vontae Davis
and
Sean Smith
looking to make a jump, while the safety position is in flux.
Reshad Jones
and
Chris Clemons
began camp as the starting safeties, but versatile defensive back
Jimmy Wilson
also worked with the first team.
REASON FOR OPTIMISM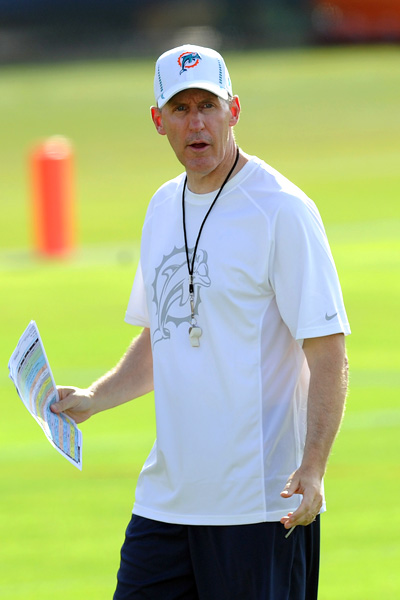 Steve Mitchell/US PresswireFirst-year coach Joe Philbin has seemed unfazed by several curveballs already thrown his way.
Philbin has his head on straight. He has a good demeanor for a rookie head coach, and you have the sense things won't be too big for him in his first year.
Philbin already faced several challenges. Miami agreed to do "Hard Knocks," which can be a coach's nightmare because it allows an outsider all-access. Philbin also has a three-way quarterback competition, and the front office added a colorful personality to the locker room in Johnson. But Philbin has taken each challenge in stride and even has a good sense of humor about things.
I have no idea if Philbin can match wits with Bill Belichick on Sundays or properly manage the final five minutes of a game. We will have those answers soon enough. But I like what I've seen from Philbin so far.
REASON FOR PESSIMISM
I don't see this team scoring a lot, a huge problem.
Miami's plan is to run an up-tempo passing offense with questions at quarterback and unproven receivers. In theory, this is a strategy that is doomed to fail.
The Dolphins' offensive strength is their running backs. But a West Coast offense is, by nature, pass-heavy. If Philbin thinks he can run his Green Bay-style offense in Miami with Garrard or Moore at quarterback instead of
Aaron Rodgers
, he is sadly mistaken.
I expect plenty of growing pains for Miami's offense and the team losing plenty of low-scoring games. The defense will keep the scoring down most weeks, which is good because Miami's offense won't be lighting it up.
OBSERVATION DECK
Speaking of Miami's running backs, the group looks solid. Starting tailback Reggie Bush looks in the best shape of his career and is coming off his first 1,000-yard rushing season. Bush said his goal is to lead the NFL in rushing. That seems like a long shot, but another 1,000-yard season would be great for Bush. Backups Daniel Thomas and rookie Lamar Miller also have run hard early in camp and have plenty of potential.

Dansby enters this season in tremendous shape. He checked in at a trim 247 pounds. Last year Dansby was a victim of the lockout. He began last season around 270 pounds and didn't get down to his usual playing weight until midseason. Not coincidentally, Dansby played his best football in the final eight games of 2011. "You live and you learn," Dansby said.

I like what I'm seeing in the daily corner-receiver battles between Smith and Johnson. Both are competitive and want to push each other. Smith, 25, has made it a point to line up against Johnson, a six-time Pro Bowler, every chance he gets. Sometimes Johnson wins and sometimes Smith wins, but both players are getting better.

I predict a breakout season for third-year defensive lineman Jared Odrick. He gathered some momentum at the end of last season and looks ready to put it all together this year. Odrick, a 2010 first-round pick, will be a full-time starter for the first time in his career. He has a good combination of size and quickness and has been tough to block in camp.

Miami's tight ends have yet to flash this offseason. The position was huge in Green Bay, where Jermichael Finley developed into a star under Philbin. Dolphins veteran Anthony Fasano and rookie third-round pick Michael Egnew are trying to fill that role. Fasano has the experience and Egnew has the edge in athleticism, but neither is making many plays.

It's early, but Hartline has fallen down the depth chart. Many projected Hartline to be the No. 1 receiver in Miami's offense, but he missed most of the spring with a leg injury and began training camp on the second team. The injury is not helping him.

The Dolphins have worked rookie right tackle and second-round pick Jonathan Martin exclusively with the first team in training camp. He's a virtual lock to start in Week 1. Martin played in a pro-style offense at Stanford and was Andrew Luck's left tackle. Martin is switching to the right side this year to pair with left tackle Jake Long.
April, 29, 2012
4/29/12
2:30
PM ET
The first-round pick was obvious. Everyone knew the
Miami Dolphins
loved former Texas A&M quarterback
Ryan Tannehill
with the No. 8 overall pick, which went according to form.
But after that, I was curious when Miami was going to take a wide receiver in the draft. It didn't happen in the second round. It didn't happen in the third, fourth or fifth rounds.
Miami finally drafted a pair of receivers in the sixth and seventh rounds. The Dolphins selected
B.J. Cunningham
of Michigan State and
Rishard Matthews
of Nevada.
"I think we drafted a couple good players that we think could ascend," Dolphins general manager Jeff Ireland said. "But weren't going to reach. That's not my philosophy."
Does Miami have enough to be effective at wide receiver next season? Here is a look at the players currently on the roster.
According to rookie head coach Joe Philbin, the West Coast offense doesn't need a star, No. 1 target. But projected starters Brian Hartline and Devone Bess and possibly Legadu Naanee could be put in roles bigger than what they are used to.
Miami traded Pro Bowl receiver
Brandon Marshall
to the
Chicago Bears
in the offseason. The Dolphins expect to throw the ball a lot with a new West Coast offense, probably more than last year, despite a group with a lot to prove.
"The more guys you can get into different spots to create mismatches for the defense, the better you're going to be," Philbin said. "I don't think we lock in."
With the draft complete and free agency all but done, this is probably the receiver group Miami rolls with next season. Is this group good enough to produce in 2012?
August, 19, 2011
8/19/11
11:39
AM ET
By
Brian Biggane, Special to ESPN.com
| ESPN.com
The one major question about the
Miami Dolphins
the entire offseason was never sufficiently answered.
So what is the deal at quarterback, anyway?

Chad Henne
was the unequivocal choice of general manager Jeff Ireland and coach Tony Sparano at this time last year. There was boundless confidence that the team's second-round pick in 2008 was ready to take the reins of an offense that was expected to be made more proficient by the addition of wide receiver
Brandon Marshall
.
The results were not pretty. On five occasions, all at home, Henne had the opportunity to win or tie a close game with a fourth-quarter scoring drive, and on all five he failed. Three of the subsequent losses were to also-rans Buffalo, Detroit and Cleveland, leaving Miami with a second straight 7-9 finish.
The failures almost cost Sparano his job, as owner Stephen Ross took a run at Jim Harbaugh, and for a time it seemed Henne might be replaced when Ireland engaged in negotiations for Denver's
Kyle Orton
that ultimately came up empty. When the dust settled, former Carolina Panther
Matt Moore
had been brought in as a backup, but nothing had really changed. Henne was still the one.
The team around him does appear to have gotten better. Coordinator Mike Nolan's defense, sixth in the league a year ago, has remarkable depth on the defensive line and is better at linebacker with the additions of
Kevin Burnett
and
Jason Taylor
. Ireland addressed a deficiency in speed at the skill positions with the acquisitions of
Reggie Bush
and fourth-round wideout
Clyde Gates
. First-round pick
Mike Pouncey
, a center, has brought stability to the offensive line.
But in the 12 years since
Dan Marino
retired, it has always come back to the quarterback. This year is no different.
Even Marshall, who at one point late last season said he was "not sure" he and Henne could coexist, had good things to say about his beleaguered quarterback who was actually booed at one preseason practice at Sun Life Stadium.
"Chad has been amazing this summer, getting the guys together," he said. "He's been the face of leadership."
Sparano was even more forthcoming.
"I've seen more people going to Chad for answers," he said. "You would have to envision when you're at Indianapolis or a place like that people are going to Peyton (Manning) for the answers. Well, more people are going to Chad for the answers now, and that's a direct reflection of what this young man has done."
Chad Henne and
Peyton Manning
in the same sentence … now that's a stretch for even the most loyal Dolphin fan.
Five days after Sparano made those comments, Henne started the first preseason game at Atlanta and was intercepted twice in five throws while Moore, playing both with and against second-teamers, was solid.
It may or may not happen, but certainly all the pieces for a year of quarterback controversy are in place.
THREE HOT ISSUES
[+] Enlarge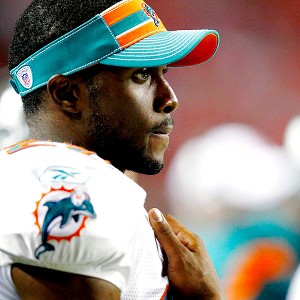 Josh D. Weiss/US PresswireWill Reggie Bush be able to revitalize a stagnant running game?
1. Can Bush and rookie Daniel Thomas make people forget Ronnie Brown and Ricky Williams?
From 2005-10 either Brown or Williams led the Dolphins in rushing, and four of those six years they finished 1-2. Both were getting older -- Williams is 34, Brown 29 -- and the running game ranked 30
th
in yards per carry (3.7) and 21
st
in yards per game (102.7) last season. Ireland decided it was time to move on. Thomas, a second-round pick, led the Big 12 in rushing at Kansas State the past two seasons and at 6-foot and 230 pounds, he can pound the middle. Bush, who has missed 20 games to injury the past two seasons, expressed a desire to be the feature back upon his arrival but seems more likely to line up all over the field. "The lack of experience is definitely a concern," admitted Sparano, whose stable of backs also includes unproven
Kory Sheets
and
Lex Hilliard
.
2. How will the season unfold for Marshall?
The simple fact Marshall was perceived to have a down year when he had 86 catches last season -- tied for second in franchise history behind O.J. McDuffie's 90 in 1998 -- demonstrates how high the expectations are for the man known as "The Beast." Marshall's off-field problems, which included the arrest of his wife after Marshall was found stabbed at his home in April, culminated with him being diagnosed and treated for borderline personality disorder this offseason. In camp this summer, it seemed every time Marshall went out for a pass, Henne was the one throwing it. If Gates can be the home-run threat Miami lacked after trading
Ted Ginn
Jr. last season, Marshall could benefit greatly.
3. Will new offensive coordinator Brian Daboll bring spice to a boring offense?
Miami's top two receivers last season, Marshall and
Davone Bess
, averaged 11.8 and 10.4 yards per catch. No wonder Henne came to be known as "Checkdown Chad." But in the Dolphins' first scrimmage this year, Daboll unveiled four-receiver sets and had Bush lined up everywhere from the backfield to wideout. Despite having
Josh Cribbs
, Daboll's offense didn't exactly light up the scoreboard in Cleveland, finishing 29
th
in total offense and 25
th
in yards per play. Sparano prefers the ground-and-pound, but Henne and Daboll must demonstrate they can keep up with prolific offensive units such as New England, San Diego and Houston -- which happen to be Miami's first three opponents.
BIGGEST SURPRISE
If a former first-round pick can qualify as a surprise, then second-year defensive end
Jared Odrick
has earned that distinction. Odrick was lost early in the opener against Buffalo last season with a broken leg. His comeback was then stopped six weeks later by a broken ankle, ending his season. Worse, it turned out his first injury was eerily similar to one he suffered as a sophomore at Penn State, raising questions as to whether he could remain healthy enough to be counted upon. But in the early weeks of camp, Odrick was a force, as he and partner
Tony McDaniel
moved ahead of last season's starters,
Randy Starks
and
Kendall Langford
, in team drills. That quartet as well as
Phillip Merling
and
Ryan Baker
give Miami inordinate depth at defensive end.
BIGGEST DISAPPOINTMENT
After losing
Justin Smiley
to chronic shoulder injuries, the Dolphins had a vacancy at right guard in 2010 and drafted
John Jerry
out of Mississippi in the third round. Jerry, the younger brother of Atlanta defensive tackle
Peria Jerry
, got 10 starts but struggled to beat out journeyman
Pat McQuistan
. When Miami selected Pouncey in the first round of the draft,
Richie Incognito
, who played both guard spots at times last season, was put on the left side and Jerry was given the opportunity to win the right guard spot. After seeing unsatisfactory results in the first two weeks of camp, Sparano moved
Vernon Carey
over from right tackle and brought in free agent
Marc Colombo
, who had been let go by Dallas.
OBSERVATION DECK
[+] Enlarge

Scott Cunningham/Getty ImagesThe Dolphins hope that pick Clyde Gates will be able to stretch the field like Ted Ginn Jr. did.

Two relatively obscure rookies provided two of the more intriguing storylines of training camp. Gates, of Abilene Christian, whose father was released from prison last fall after serving a lengthy sentence for first-degree murder, was one. Seventh-rounder Jimmy Wilson of Montana, who spent 26 months in jail before being acquitted of a first-degree murder charge, was the other. Gates, who ran the 40 in 4.37 at the combine despite nursing a sore groin, provides needed speed at wide receiver and Wilson is a big hitter and ball hawk in the secondary.

While first-round pick Pouncey was drawing favorable comparisons to his Steeler All-Pro twin brother Maurkice for his blocking and intelligence, his struggles snapping the ball were an ongoing concern as camp progressed. Pouncey, who moved to center as a senior at Florida after his brother left early, had some nightmarish games on shotgun snaps with the Gators and clearly doesn't have the technique down yet.

Marshall isn't known for being shy around a microphone, but he wasn't in a talkative mood the first three weeks of camp. He spoke only once, to reveal his diagnosis for borderline personality disorder, and took only a handful of questions. Of course, Marshall was in the middle of the Henne soap opera last season, so there was speculation he didn't want to stir up the water this year as he continues to undergo treatment for his disorder.

The only real battle for a starting job in camp has been at free safety. Third-year man Chris Clemons, last season's starter, was trying to hold off Reshad Jones, who made a favorable impression in limited opportunities as a rookie in 2010. Jones had a sack and an interception against Tennessee in one of his two starts and seems to be more of a playmaker.

The biggest mystery in camp surrounded the status of Pro Bowl tackle Jake Long, who was put on the physically unable to perform list early and did not work at all the first three weeks. Sparano said Long's injury did not involve his knee, which along with his shoulder, required surgery after last season.ÿ