April, 3, 2013
4/03/13
5:10
PM ET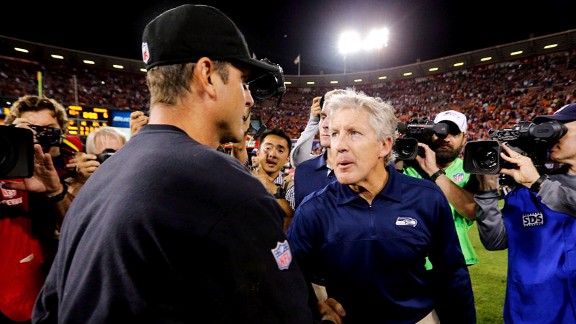 Ric Tapia/Icon SMIPete Carroll's Seahawks and Jim Harbaugh's 49ers have continued their rivalry into the offseason.
The
San Francisco 49ers
' and
Seattle Seahawks
' 2012 battle for NFC West supremacy has turned into
a perceived battle
this offseason.
"It just feels like the Seahawks make a move, then the Niners make a move," former NFL quarterback Damon Huard said Wednesday during
our conversation
on 710ESPN Seattle. "The Seahawks sign
Percy Harvin
, then the Niners go get
Anquan Boldin
. The Niners just signed
Nnamdi Asomugha
, they signed
Colt McCoy
, and now it's the Seahawks' turn to sign a quarterback. It really feels like this competition that was so fun to watch last fall has carried over into the offseason between the Niners and the Seahawks."
That's what it feels like from this angle, too. So, when ESPN's Bill Polian listed 49ers general manager Trent Baalke among his
top six executives


without a mention for Seattle counterpart John Schneider, I knew some Seahawks fans would take offense.
"Schneider should be on there," SamW9801 wrote in commenting on the Polian piece.
I'm going to ratchet up the discussion with
an assist
from Tony Villiotti of draftmetrics.com. Tony identified
ranges of picks
by how frequently teams have found five-year starters within those ranges.
Using those general ranges, displayed at right, I've put together a chart at the bottom of this item comparing the 49ers' and Seahawks' draft choices since 2010.
Baalke took over the 49ers' draft room roughly a month before the 2010 draft. Schneider became the Seahawks' GM that offseason. The 49ers then underwent a coaching change after the 2010 season, at which point Baalke assumed the GM title officially. We might cut Baalke some slack for selecting
Taylor Mays
, a player then-coach Mike Singletary valued. There were surely other times when both GMs followed their coaches' input, for better or worse.
Seattle has drafted 28 players over this period, three more than San Francisco has drafted. The Seahawks had more to work with from a qualitative point as well. Their median choice was No. 130 overall, compared to No. 165 for the 49ers.
It's pretty clear both teams know what they are doing in the draft.
Aldon Smith
,
Anthony Davis
,
Mike Iupati
and
NaVorro Bowman
have earned Pro Bowl and/or All-Pro honors for the 49ers.
Russell Okung
,
Earl Thomas
,
Russell Wilson
,
Kam Chancellor
and
Richard Sherman
have done so for the Seahawks.
Both teams have found franchise quarterbacks after the first round.
Colin Kaepernick
was chosen 36th overall in 2011. Wilson went to Seattle at No. 75 last year.
Neither team has missed in that first category, which includes players taken among the top 13 overall picks. Smith and Okung are elite players at premium positions.
Both teams have unanswered questions in that 14-40 range. The 49ers are waiting on
A.J. Jenkins
to produce. The Seahawks haven't gotten much from
James Carpenter
. But in Iupati and Thomas, the 49ers and Seahawks found players among the very best at their positions. Kaepernick's selection puts this group over the top for San Francisco. Seattle got eight sacks from
Bruce Irvin
as a rookie in 2012, so the Seahawks aren't far behind. It's just impossible to overlook the value a franchise quarterback provides.
Seattle has the edge in the 41-66 range. Mays is long gone from the 49ers. That leaves
LaMichael James
for the 49ers against
Bobby Wagner
and
Golden Tate
for Seattle. Wagner was an instant starter at middle linebacker and a three-down player who commanded consideration for defensive rookie of the year. Tate blossomed with Wilson at quarterback.
The Seahawks also have an edge in that 67-86 range, having selected Wilson.
Seattle holds a 7-3 lead in number of picks used between the 87th and 149th choices, a range producing five-year starters 16 percent of the time, according to Villiotti.
Both teams used picks in that range for players whose injury situations dragged down their draft status:
Joe Looney
in San Francisco,
Walter Thurmond
in Seattle. Both teams found starting linebackers in this range: Bowman to the 49ers,
K.J. Wright
to the Seahawks. Both teams found developmental running backs in that range:
Kendall Hunter
to the 49ers,
Robert Turbin
to the Seahawks. Both teams found Pro Bowl players: Bowman in San Francisco, Chancellor in Seattle.
Sherman, arguably the NFL's best cornerback, gives Seattle an edge in the 150 through 189 range of picks. Both teams found backup tight ends there.
Anthony Dixon
(49ers) and
Jeremy Lane
(Seahawks) have the potential to expand their roles.
The 49ers found starting fullback
Bruce Miller
in the final pick range, which runs from 190 to the end of the draft. Seattle found a projected starting guard there in
J.R. Sweezy
.
Malcolm Smith
is a candidate to start at linebacker for Seattle. Miller and Sweezy both played defense in college. Miller has already successfully transitioned to offense. Seattle thinks Sweezy will do the same.
Summing it up:
Both teams can feel good about their draft performance over the past three seasons. I doubt either team would trade its picks for the other team's picks. That makes sense. Teams draft the players they like best. The 49ers have six projected 2013 starters to show for their choices. The number is eight for the Seahawks, not counting Irvin or Tate. Seattle has had more choices and higher quality choices, and more openings in the lineup to accommodate those players. I think that shows in the results.
September, 20, 2012
9/20/12
7:09
PM ET
August, 31, 2012
8/31/12
11:05
PM ET
Click
here
for the complete list of
Carolina Panthers
roster moves.

Most significant move:
The biggest move of the day wasn't the release of a player. Instead, it was a trade. The Panthers will send a future draft pick to San Francisco for safety
Colin Jones
. I don't think the Panthers are looking for Jones to come in and start at safety. This move was more about special teams -- and if you saw Pittsburgh's
Chris Rainey
have a long punt return against them Thursday night, you saw why the Panthers still have concerns with the unit. Jones should help solve that problem. He was a regular on special teams for the 49ers and had eight special-teams tackles last season.
Onward and upward:
Throughout training camp and the preseason games, there was a lot of buzz about undrafted rookie receiver
Jared Green
. Part of it came because he's the son of Hall of Famer Darrell Green. But part of it came because the kid can play. The Panthers had a numbers crunch at receiver and wanted to keep guys like
Kealoha Pilares
and
Joe Adams
because they have invested draft picks in them in recent years, and both have abilities in the return game. But Green only helped himself with what he did in the preseason. Another team could take a shot and claim him off waivers. If not, Carolina almost certainly will try to get Green on the practice squad.
What's next:
As it stands, I'm not sure the Panthers are completely content with their cornerback situation.
Chris Gamble
and
Captain Munnerlyn
are the starters with rookie
Josh Norman
and second-year pro
Josh Thomas
as the backups. The Panthers really would like to move Munnerlyn inside and let him match up with slot receivers as the nickel back. Heading into camp, they though Norman might be able to step straight into a starting job. But his development was slowed a little when he missed some practice time with an injury.
Brandon Hogan
and
Darius Butler
also were guys the Panthers had high hopes for, but both got injured. I'm not sure the Panthers want to put too much on Norman's plate right away. They could look to bring in another cornerback. I could also see them at least checking to see what's available as far as defensive-line depth. I know a lot of Carolina fans are shouting for the Panthers to do something at kicker after
Justin Medlock
missed two long field-goal attempts in the preseason finale. But all indications are the Panthers are planning to stick with Medlock.
June, 1, 2012
6/01/12
12:38
PM ET
Four safeties from the NFC earned Pro Bowl honors last season.
All four played in the NFC West:
Earl Thomas
and
Kam Chancellor
from Seattle,
Dashon Goldson
from San Francisco, and
Adrian Wilson
from Arizona.
On the surface, few positions appear stronger within the division. Beneath the surface, there isn't much depth -- at all.
Matt Barrows of the Sacramento Bee sized up the situation in San Francisco recently, noting that
C.J. Spillman
is the team's
only backup safety
with even one regular-season defensive snap on his resume.
The 49ers can expect Goldson, an unsigned franchise player, to report at some point before the season. But San Francisco, like Seattle in particular among NFC West teams, lacks proven alternatives if injuries strike at safety. The drop from Pro Bowl talent to unknown backup can be a hard one.
It's a position to watch in the NFC West, for sure.
Arizona Cardinals

Starters:
Wilson,
Kerry Rhodes
Backups:
Rashad Johnson
(498 defensive snaps in 2011),
James Sanders
(462),
Blake Gideon
(0),
Eddie Elder
(0).
Comment:
Rhodes missed nine games to injury last season. Johnson started in his place and played extensively during the Cardinals' late-season defensive revival. The experience Johnson gained should leave the Cardinals feeling better about the position. Sanders started six games for Atlanta last season. Arizona did not re-sign backups
Hamza Abdullah
or
Sean Considine
, who were special-teams contributors. Overall, the Cardinals feel very good about their depth in the secondary. Wilson's ability to play at a high level last season despite a torn biceps tendon improved the position's outlook. Wilson turns 33 in October, but appears to have quite a bit left.
Seattle Seahawks

Starters:
Thomas, Chancellor
Backups:
Chris Maragos
(11 defensive snaps in 2011),
Jeron Johnson
(9),
Winston Guy
(0),
DeShawn Shead
(0).
Comment:
Atari Bigby
provided veteran depth last season. San Diego signed him as a potential starter in free agency. Maragos projects as a core special-teams player. The Seahawks were high enough on Jeron Johnson, an undrafted rookie in 2011, to keep him on the 53-man roster over a draft choice,
Mark LeGree
. Maragos projects as a core special-teams player. Guy and Shead have made positive impressions in practice recently. This is one position where Seattle could stand to develop or acquire quality depth in case Thomas or Chancellor suffers an injury. But with two of the NFL's best young safeties in the lineup, the team should be set at the position for years to come.
San Francisco 49ers

Starters:
Goldson,
Donte Whitner
Backups:
C.J. Spillman (16 defensive snaps in 2011),
Colin Jones
(0),
Ben Hannula
(0),
Trenton Robinson
(0), Mark LeGree (0),
Michael Thomas
(0).
Comment:
The 49ers did not re-sign veteran backups
Reggie Smith
and
Madieu Williams
. They did not use an early draft choice for a safety or target a veteran in free agency. Spillman, undrafted from Marshall in 2009, is getting plenty of reps this offseason while Goldson remains unsigned as the 49ers' franchise player. Spillman is already among the very best special-teams players in the division (he joined Seattle's
Heath Farwell
among non-positional specialists on our
all-NFC West team for 2011
). It's a bit early to know whether the 49ers could count on Spillman at safety if an injury forced their hand. But with eight safeties on the roster, the 49ers do have developmental options at the position.
St. Louis Rams

Starters:
Quintin Mikell
,
Darian Stewart
Backups:
Craig Dahl
(486 defensive snaps in 2011),
Matt Daniels
(0).
Comment:
Dahl started three games last season and 24 over the past three. He gives the Rams decent veteran depth behind Mikell and the emerging Stewart. Daniels is an
undrafted free agent from Duke
. He was
eager to sign
with the Rams when he learned they had only three other safeties under contract. Rookie third-round choice
Trumaine Johnson
has the size to play safety, but coach Jeff Fisher said the plan will be for Johnson to remain at cornerback. "(Moving to safety) may be something that happens later in his career, but right now he helps us as a corner," Fisher told reporters during the draft.
September, 3, 2011
9/03/11
7:02
PM ET
Check
here
for a complete list of the San Francisco 49ers' roster moves.
Surprise move:
Releasing veteran backup quarterback
Josh McCown
was a mild surprise, not a shocking one. The team sought veteran depth behind
Alex Smith
and rookie
Colin Kaepernick
. McCown was on the roster for those purposes and could conceivably return if needed down the line, but the 49ers want to upgrade there if they can.
Keeping sixth-round safety
Colin Jones
seemed odd on the surface after Jones played sparingly on defense during preseason. He played extensively on special teams, however. Keeping Jones could qualify as a victory for assistant head coach/special teams Brad Seeley. Veteran guard
Tony Wragge
was let go after the team drafted interior linemen and developed
Adam Snyder
as an option at center. Keeping only two tight ends on this initial roster was a mild surprise but also a reflection of
Nate Byham
's season-ending injury. Rookie
Konrad Reuland
will presumably wind up on the practice squad.
No-brainers:
Rookie receiver
Ronald Johnson
was a draft choice with ties to the coaching staff from his days at USC, but he didn't do enough during preseason to warrant releasing a superior player. Johnson appears to be a candidate for the practice squad. Keeping safety
Reggie Smith
despite injury concerns also was a smart, predictable move. He was in line to start entering camp and should factor at the position eventually. Backup running backs
Anthony Dixon
and
Kendall Hunter
made it, with Hunter as the apparent favorite for the No. 2 role.
What's next:
The 49ers will want to add a veteran backup quarterback at some point in the near future. Smith has durability and performance-related concerns. Kaepernick, though talented, does not appear ready to step in as a starter in the near term. McCown knows enough of the offense at this point to come back in a pinch, but the team could sign another veteran for Week 1.
August, 8, 2011
8/08/11
2:37
PM ET
SANTA CLARA, Calif. --
Dashon Goldson
's one-year contract agreement with the
San Francisco 49ers
shines more light on the safety position as training camp continues.
Goldson,
Donte Whitner
,
Madieu Williams
and
Reggie Smith
give the team veteran depth at the position. All started games last season, as did
Taylor Mays
, whose future with the 49ers remains clouded as the team solicits trade offers for him.
Curtis Taylor
,
C.J. Spillman
,
Chris Maragos
and
Colin Jones
are also safeties on the roster for San Francisco.
Why so many safeties? The 49ers needed to improve their pass defense this offseason. They've rounded up a long list of safeties, creating a competitive situation as the exhibition season approaches. Options are better than no options.
Matt Williamson of Scouts Inc. foreshadowed the 49ers' experience with Goldson this offseason,
writing in June
: "You might tell him, 'See what you can get, let us know,' and if he can get a big number he goes, but if he comes back, you get him back at your price and everyone is happy."
That is exactly what happened for the 49ers, a big win for the team. Goldson should return supremely motivated and possibly humbled. The team hasn't committed to him unnecessarily. The sides can revisit the situation one year from now. If Goldson plays well, the 49ers will be in better position to work out a long-term deal during the season, with Goldson having learned free agency isn't always such a fun experience.
Note:
The flight I caught to San Jose early Monday was boarding just as news of Goldson's $2 million agreement was circulating.
May, 11, 2011
5/11/11
12:30
PM ET
The
Seattle Seahawks
were on the clock with the 99th overall choice in the 2011 NFL draft when the
Minnesota Vikings
called to inquire about a trade.
Coach Pete Carroll and general manager John Schneider had a decision to make. The team wanted to add more picks, so sliding back into the Vikings' spot at No. 106 carried some appeal. But the Seahawks had not addressed defense to that point in the draft, and Mississippi State outside linebacker
K.J. Wright
was a player they had been targeting.
Seattle decided to
stand pat at No. 99
.
"It is rare that you would find a linebacker with that much length (6-foot-4) and 4.6 speed,"
Carroll said after the draft
. "We need that flexibility."
[+] Enlarge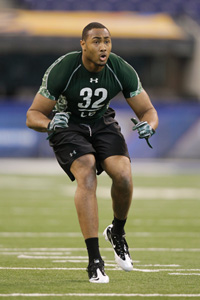 AP Photo/Michael ConroyK.J. Wright, who was drafted by the Seahawks with the No. 99 pick, was the last 4-3 strongside linebacker drafted.
This seemed a bit improbable. After all, teams selected 24 more linebackers over the remaining 155 selections. Surely one of them could have provided what the Seahawks wanted from Wright, right? Not necessarily. The more I studied those selections, the more I understood what Carroll was talking about. Wright was the fourth and final 4-3 strongside linebacker selected in the draft. All were gone among the top 100 selections.
The NFL has become so specialized, particularly on defense, that players are increasingly difficult to categorize. Seeking fresh perspective on the 2011 draft, I reclassified the 254 players chosen into 20 positional categories, based largely on how teams plan to use them. The process was imperfect because teams view players differently, and some players transcend easy categorization. But patterns that emerged were helpful in bringing the big picture into clearer focus.
Breaking down linebackers into five categories across 3-4 and 4-3 schemes was particularly helpful.
Teams selected one 4-3 strongside linebacker in each of the first four rounds, but none thereafter. They selected 12 4-3 weakside linebackers -- none in the first two rounds, five in the sixth and three in the seventh. That position carried less value relative to others based on when the players came off the board.
Nine of 11 4-3 defensive tackles went in the first three rounds, affirming how much teams value that position. Teams selected five 4-3 defensive ends in the first two rounds, then none until taking one in the fifth and four more in the seventh. Teams selected four five-technique defensive ends in the first round and one in the second, but none over the next four rounds.
I ultimately divided players into percentiles based on where they were selected in relation to other players from the same positional categories. Three NFC West players were the first players chosen at their specific positions. They were in the top percentile for their positions. Three, including Wright, were the last players chosen at their specific positions. They were in the bottom percentile.
The percentiles say nothing about whether individual players will succeed in the NFL. In some cases, players with lower percentiles probably carried more value at that moment in the draft based on how few prospects remained available at their positions.
Without categorizing players more specifically, we might not have any idea.
Overall, this draft featured 37 cornerbacks; 28 wide receivers; 24 running backs; 21 interior offensive linemen; 20 offensive tackles; 16 safeties; 13 tight ends; 12 quarterbacks; 12 4-3 weakside linebackers; 11 4-3 defensive tackles; 10 4-3 defensive ends; 10 3-4 outside linebackers; eight five-technique defensive ends; seven 3-4 inside linebackers; seven fullbacks; six 4-3 middle linebackers; four 4-3 strongside linebackers; four nose tackles; and two specialists. Two defensive linemen -- Kansas City's
Allen Bailey
and Baltimore's
Pernell McPhee
-- qualified as nickel pass-rushers.
And now, a look at all 35 NFC West draft choices, listed by how early they were drafted in relation to other players at their specific positions:
First quarter: 75th percentile and higher
Patrick Peterson
, CB,
Arizona Cardinals
: First of 37 cornerbacks selected
Aldon Smith
, OLB,
San Francisco 49ers
: First of 10 3-4 outside linebackers
Robert Quinn
, DE,
St. Louis Rams
: First of 10 4-3 defensive ends
Ryan Williams
, RB, Cardinals: Second of 24 running backs, putting him in the 91.7 percentile for the position (FBs excluded)
Lance Kendricks
, TE, Rams: Second of 13 tight ends (84.6)
James Carpenter
, T, Seattle Seahawks: Fourth of 20 offensive tackles (80.0)
Chris Culliver
, CB, 49ers: Eighth of 37 cornerbacks (78.4)
Rob Housler
, TE, Cardinals: Third of 13 tight ends (76.9)
John Moffitt
, G, Seahawks: Fifth of 21 interior offensive linemen (76.2)
Second quarter: 50th to 74th percentile
Anthony Sherman
, FB, Cardinals: Second of seven fullbacks (71.4)
Austin Pettis
, WR, Rams: Eighth of 28 wide receivers (71.4)
Kendall Hunter
, RB, 49ers: Tenth of 24 running backs (58.3)
Bruce Miller
, FB, 49ers: Third of seven fullbacks (57.1)
Kris Durham
, WR, Seahawks: 12th of 28 wide receivers (57.1)
Daniel Kilgore
, C, 49ers: 10th of 21 interior offensive linemen (52.4)
Sam Acho
, OLB, Cardinals: Fifth of 10 3-4 outside linebackers (50.0)
Colin Kaepernick
, QB, 49ers: Sixth of 12 quarterbacks (50.0)
Greg Salas
, WR, Rams: 14th of 28 wide receivers (50.0)
Third quarter: 25th to 49th percentile
Richard Sherman
, CB, Seahawks: 24th of 37 cornerbacks (35.1)
Mark LeGree
, S, Seahawks: 11th of 16 safeties (31.3)
Quan Sturdivant
, ILB, Cardinals: Fifth of seven 3-4 inside linebackers (28.6)
Byron Maxwell
, CB, Seahawks: 27th of 37 cornerbacks (27.0)
David Carter
, DE, Cardinals: Sixth of eight five-technique defensive ends (25.0)
Jermale Hines
, S, Rams: 12th of 16 safeties (25.0)
Fourth quarter: Zero to 24th percentile
Colin Jones
, S, 49ers: 13th of 16 safeties (18.8)
Jabara Williams
, LB, Rams: 10th of 12 4-3 weakside linebackers (16.7 )
Ronald Johnson
, WR, 49ers: 24th of 28 wide receivers (14.3)
Mikail Baker
, CB, Rams: 32nd of 37 cornerbacks (13.5)
Pep Levingston, DE, Seahawks: Seventh of eight five-technique defensive ends (12.5)
Mike Person
, C, 49ers: 19th of 21 interior offensive linemen (9.5)
Malcolm Smith
, LB, Seahawks. Eleventh of 12 4-3 weakside linebackers (8.3)
Jonathan Nelson
, S, Rams: 15th of 16 safeties (6.3)
K.J. Wright, LB, Seahawks: Fourth of four 4-3 strongside linebackers (0.0)
DeMarco Sampson
, WR, Cardinals: 28th of 28 wide receivers(0.0)
Curtis Holcomb
, CB, 49ers: 37th of 37 cornerbacks (0.0)

NFL SCOREBOARD
Thursday, 8/21
Friday, 8/22
Saturday, 8/23
Sunday, 8/24
WEEKLY LEADERS