NFL Nation:

Colin Kaepernick's new deal
June, 5, 2014
Jun 5
7:00
PM ET
With details
of the
Colin Kaepernick
extension with the
San Francisco 49ers
through 2020 emerging, Kaepernick's deal is now considered the 12th richest current quarterback contract according to ESPN Stats & Information.
It is using the average value of the first thee years of the deal, which is the preferred measure used among the league to gauge optimum worth of a deal. Below is the list of the top 12 average quarterback contracts. While he is 12th, there is no denying Kaepernick is going to be paid well.
Kaepernick
Matt Ryan
$22.9M
Aaron Rodgers
$22.7M
Joe Flacco
$20.7M
Drew Brees
$20.3M
Peyton Manning
$19.3M
Tony Romo
$18.0M
Jay Cutler
$18.0M
Matthew Stafford
$17.7M
Ben Roethlisberger
$17.6M
Eli Manning
$17.0M
Philip Rivers
$16.8M
Colin Kaepernick $14.7M
June, 5, 2014
Jun 5
4:35
PM ET
INDIANAPOLIS -- Like every NFL front office official, coach, player or fan,
Indianapolis Colts
quarterback
Andrew Luck
heard about
San Francisco 49ers
quarterback
Colin Kaepernick
's new, lucrative $110 million deal.
Kaepernick
Luck
Luck, like he has always done, isn't worried about what that means for him once he's eligible for a contract extension next year.
"As a football fan I pay attention. I think it's weird to talk about other people's contracts," Luck said during a meeting with the media at the team's complex Thursday. "It's weird. What's his business is his business, but as a football fan, you go 'that's awesome.' I got to know Colin in the Bay Area, so I'm happy for him. As it pertains to me and the future, it's for my agent to discuss. It's not the time or place to think about that."
It's not surprising that Luck didn't have much to say about Kaepernick's new deal. The Colts quarterback doesn't operate like that. His focus is strictly on what it'll take for Indianapolis to take the next step in the AFC next season.
Kaepernick led the 49ers on deep playoff runs in his two seasons as the team's starting quarterback, including a trip to Super Bowl XLVII.
Luck, despite dealing with poor offensive line play and an inconsistent defense, has a 22-10 record and led the Colts to the playoffs in each of his first two seasons.
ESPN NFL Insider Adam Schefter reported Thursday that Luck and Seattle quarterback
Russell Wilson
could get deals between $24 million to $25 million a year when they get their new deals.
June, 5, 2014
Jun 5
2:50
PM ET
There is one thing we've learned from the
Colin Kaepernick
contract, worth $110 million with $61 million guaranteed: It protects the
San Francisco 49ers
, unlike the deal
Tony Romo
signed with the Dallas Cowboys.
From 2014-2018, Kaepernick's base salaries are guaranteed only if he gets injured and can't play that particular season.
However, on April 1 of each year, the guarantee moves from injury to fully guaranteed. So if the 49ers decide in March not to keep Kaepernick, they can let him go without any major cap hits.
Romo
This is a smart move for a franchise that appears to have found its quarterback of the future. If Kaepernick isn't what the 49ers believe he is, then he's gone and the huge salary-cap hits are minimized.
The Cowboys have no such insurance, if you will, regarding Romo.
When he signed his six-year, $108 million contract two years ago, it was filled with huge cap hits for the franchise.
Team executive vice president Stephen Jones has said the quarterback position takes up the bulk of the cap. At the time that Romo signed his deal, it was needed because the Cowboys didn't have another player at his position ready to take over.
But with Romo now coming off back surgery -- he's signed until 2019, when he'll be 39 years old -- it raises some questions about the type of deal he signed.
Romo's base salary is just $1 million in 2014 and his cap hit is only $11.7 million because it was a restructured deal.
In 2015, Romo will have the highest cap number for any quarterback in the league at $27.7 million. It's in this season where the Cowboys will have to restructure his contract, yet again, to lower his cap figure.
Romo's final year with the Cowboys might be in 2016 when he's 36 and he could become a post-June 1 cut.
Of course, it's easy to second-guess what the Cowboys have done with Romo's contract. It was worth it at the time, and with his back issues of the last year, it raises questions about his health long term.
If we've learned anything this offseason, NFL teams are protecting themselves more than ever. The Cowboys have done this in contract deals with
Sean Lee
and Henry Melton.
Romo was a different situation. And now after seeing what the 49ers have done, maybe the contract should have been done differently.
June, 5, 2014
Jun 5
9:37
AM ET
A mega-contract shouldn't be on his mind right now. Redskins quarterback
Robert Griffin III
has other things to worry about: improving in the pocket, returning to the path he was on pre-knee injury, winning games.
Yet, after San Francisco's
Colin Kaepernick
signed his contract Wednesday -- receiving $61 million guaranteed,
though the breakdown of the contract is favorable to the Niners
making that guaranteed amount a bit dubious -- it's fair to wonder what the other young quarterbacks might receive next spring. That is, if teams decide to give them a new contract rather than just extend their rookie deals by one year, which they can do with first-round picks such as Griffin and
Andrew Luck
.
Russell Wilson
? As a third-round pick he'll get a new deal.
[+] Enlarge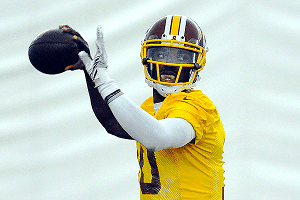 AP Photo/Richard LipskiRobert Griffin III has a lot to prove coming off a subpar season.
For Griffin, though, the path is less clear than it is with the others. Wilson won a Super Bowl, though Seattle's defense was the star. But he's also a good quarterback. Luck steadily improved and led his team to the playoffs his first two years.
It's not a huge leap of faith to say Griffin will return to the path many expected him to be on pre-knee injury. He's had a good offseason; he's a year removed from surgery and ditched the knee brace and he no longer has friction with the head coach or offensive coordinator. Toss in the fact that Griffin has more explosive talent around him and it's less of a stretch. He's still a maturing player in many ways, but his drive is impressive. It would be silly to write him off after last season.
But he's already had two ACL surgeries on his right knee and he still has to prove he can beat a team consistently with his arm. The read option is a nice change-up, but the long-term money is earned in the pocket. Yes, he's also coming off a subpar second season. In fairness, the lack of an offseason hurt him considerably. The mistake made by many (myself included) was in thinking last August that it wouldn't have the impact it did. I can tell you that while certain people were bad-mouthing Griffin behind the scenes late in the season, questioning his ability to improve in certain areas, those same people said not a word about these same things, say, in August. Not a word.
The Redskins don't have to do anything with Griffin's contract for a couple of years if they prefer. They could extend the deal next offseason (that's what Carolina did with
Cam Newton
; he'll receive $14.87 million this season) and then worry about the next contract after the 2016 season. By then they'll have a great idea of where Griffin is headed.
It's tough to compare Griffin to Kaepernick because the circumstances are different. The latter is 17-6 as a starter and 3-1 on the road in the postseason, having played in a Super Bowl. Kaepernick has a much better defense around him -- the Niners were a good team before he started a game. But he was hurt last year by not having good receivers. Griffin took a team that had finished in last place three straight years to an NFC East title. There were other factors, but he was a primary one, injecting a massive dose of hope.
Their stats are comparable. Griffin tops him in several areas, but Kaepernick has a better passer rating. In 29 starts, Kaepernick has completed 59.8 percent of his passes for 5,046 yards, 31 touchdowns and 11 interceptions for a 93.8 rating. In 28 starts, Griffin has completed 62.7 percent of his passes for 6,403 yards, 36 touchdowns and 17 interceptions for a 91.5 rating.
At 6-foot-4 and 230 pounds, Kaepernick is built for a long career. The concern some had about Griffin coming out of college is that, at 6-foot-2 and 220 pounds, he might not be durable. It's still up for debate. Both players are not finished products. Some of the knocks on Griffin -- the need to better anticipate throws, failing to throw to a player who appeared open -- are things I saw from Kaepernick and Wilson at times during the past season and postseason. It just didn't hurt them as much because their teams could still win without them having great games. (Kaepernick, by the way, has three touchdowns, seven interceptions and a 1-3 record vs. Seattle).
Kaepernick did excel against the blitz this past season, something Griffin did not do after doing just that as a rookie.
But
Kaepernick earned his money
. The next wave of quarterbacks will soon be in position to get theirs. Whether Griffin gets that sort of cash is up to him, of course. Play well and the franchise that gave up a lot to get him will pay a lot to keep him around.
The Redskins have time to make a decision. But Griffin needs to lay a strong case for himself this fall.
June, 5, 2014
Jun 5
8:00
AM ET
CHARLOTTE, N.C. --
Carolina Panthers
quarterback
Cam Newton
and San Francisco's
Colin Kaepernick
are often compared on the field because they're both big, mobile players who came into the league together in 2011.
Now the comparisons will begin at the negotiating table.
On Wednesday, Kaepernick
received a six-year deal
reportedly worth up to $126 million, including a record $61 million guaranteed.
[+] Enlarge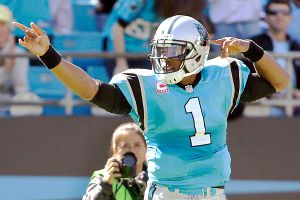 AP Photo/Bob LeveroneCam Newton's representatives surely took notice of Colin Kaepernick's new contract.
Don't think for a moment that for Newton won't use that for ammunition as they negotiate a long-term deal for the team's franchise quarterback.
Newton is entering the final year of his rookie deal after the Panthers exercised the fifth-year option, guaranteeing the first pick of the 2011 draft $14.87 million in 2015. The Panthers have made it clear they want to negotiate a long-term deal, though that might have to wait until after this season when the team is cap-healthy.
Kaepernick's new deal will average out to around $21 million per year through the 2020 season.
Most of the so-called experts believe Newton will get at least $18 million a year, which would put him in the $108 million category if the Panthers were to give him a six-year deal.
Newton's representatives might argue that their client deserves closer to the Kaepernick money.
Statistically, Newton (6-foot-5, 245 pounds) has a better numbers. He has completed 882 of 1,475 passes (59.8 percent) for 11,299 yards and 64 touchdowns. He also has run for 2,032 yards and 28 touchdowns.
Kaepernick (6-4, 230) has completed 382 of 639 passes (59.8 percent) for 5,046 yards and 31 touchdowns. He has rushed for 937 yards and nine touchdowns.
Where Kaepernick holds the edge is the win-loss column, particularly in the postseason. He is 17-6 as a starter in the regular season, 4-2 in the playoffs and 3-1 on the road in the playoffs. He has taken San Francisco to the NFC Championship Game twice and the Super Bowl once.
Newton is 25-23 and 0-1 in the postseason, with that one loss coming last season to Kaepernick and the 49ers.
But Kaepernick inherited a team that was coming off a trip to the NFC Championship Game when he replaced
Alex Smith
as the starter in 2012. Newton inherited a 1-15 team and was forced to start from the get-go in his rookie season.
Despite being surrounded by less talent than Kaepernick, Newton set an NFL rookie record for passing yards with 4,051, eclipsing the mark of 3,739 set by
Peyton Manning
with the Colts in 1998.
Newton also made the Pro Bowl as a rookie and followed it up with another Pro Bowl selection this past season after leading Carolina to a 12-4 record. Kaepernick has yet to make the Pro Bowl.
Carolina general manager Dave Gettleman will surely point to Kaepernick's advantages over Newton, beginning with the playoff record. He also can use the fact that since Kaepernick made his first start in Week 11 of 2012, he is the third highest-rated quarterback with a rating of 69.6.
Only Denver's Manning (83.3) and Green Bay's
Aaron Rodgers
(71.3) are higher during that time.
Newton's people may point out that the 2010 Heisman Trophy winner has brought the team prestige beyond the field, from being a finalist for the "Madden 15" cover to being invited to the White House Correspondents' Dinner.
Regardless, Newton and Kaepernick will be compared often during upcoming negotiations.
Kaepernick has set the bar high.
June, 4, 2014
Jun 4
9:35
PM ET
INDIANAPOLIS – It wouldn't be surprising if the reaction to
San Francisco 49ers
quarterback
Colin Kaepernick
's new $110 million deal, which includes a record $61 million guaranteed, went something like this from the important figures inside the
Indianapolis Colts
' organization:
Owner Jim Irsay started squirming after realizing he'll likely have to pay quarterback
Andrew Luck
even more than that.
General manager Ryan Grigson was probably like, "This is why I had to be frugal and not free-spend during the offseason."
Luck, in typical Luck fashion, probably didn't have much reaction because he doesn't operate like that.
You can spend plenty of time debating whether Kaepernick is worth the contract. You can't knock somebody for getting paid. But no matter how you look at Kaepernick's huge payday, just know that the Colts should prepare themselves because they'll have to pay Luck even more money than what the 49ers quarterback got once he's eligible for a contract extension next year.
Why?
Luck is a better quarterback.
I know, I know, Kaepernick plays in the toughest division in the NFL -- the NFC West -- and he's been to the Super Bowl and the NFC Championship Game twice in as many seasons.
But just like the
Seattle Seahawks
'
Russell Wilson
, Kaepernick gets help from a very good defense and running game to assist with the passing game.
Luck?
The Colts' defense has been a weak link outside of
Robert Mathis
' 19.5 sacks last season.
A running game?
Now that's funny.
Luck has overcome those flaws to lead the Colts to 22 victories and the playoffs in each of his first two seasons. He's done it with some late-game heroics, too.
Kaepernick is 21-8 as the 49ers' starting quarterback. Luck is 22-10 and 1-2 in the playoffs.
Kaepernick has thrown for 5,046 yards, 31 touchdowns and 11 interceptions in his career. Luck has thrown for 8,196 yards, 46 touchdowns and 27 interceptions in his career.
Grigson knows at some point, he'll have to pay Luck and some of the other players in the 2012 draft class. He openly said so during the combine in February.
Here's a breakdown of guaranteed money given to active quarterbacks:
Kaepernick: $61 million
Matt Ryan
: $59 million
Tom Brady
: $57 million
Drew Brees
: $55 million
Tony Romo
: $55 million
Aaron Rodgers
: $54 million
Jay Cutler
: $54 million
Kaepernick set the bar with the contract Wednesday afternoon. Now you should expect Luck to surpass it.
June, 4, 2014
Jun 4
5:30
PM ET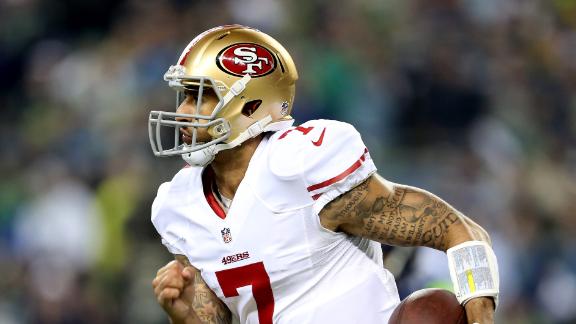 The early consensus is that the
San Francisco 49ers
have committed way too much to quarterback
Colin Kaepernick
.
Really?
Should they have stuck to the $1.073 million they owed him on the final year of his rookie deal?
Kaepernick
Instead, the 49ers and Kaepernick's agents
finalized a six-year extension
worth more than $110 million with a record $61 million in guaranteed money, according to ESPN's Adam Schefter. Kaepernick is now under contract through the 2020 season.
He will turn 27 in November. He has just 29 career starts. He is still learning the game. He is not in his prime yet.
And he is not overpaid. The average money is in line with what the elite quarterbacks in the NFL make. Don't get tripped up by the guaranteed money. OK, it is a record, and it will likely be surpassed by the next quarterback who signs a long-term extension.
The reality is, quarterbacks get paid in the NFL. Believe me, every NFL team wants to have to pay its quarterback big. If not, it means the team doesn't have its answer at the position. If a quarterback is good, he is going to get paid. Kaepernick has reached that point.
If you don't think Kaepernick has arrived, please think again. He is 21-8 in his NFL starts and has already won three road playoff games. He has been to the NFC Championship Game three times -- starting two -- and to the Super Bowl.
He is entering just his second full season as a starter, and he's that accomplished. For those who might argue he hasn't reached his potential, I offer this: How is that a bad thing?
He is only going to improve. Yes, Kaepernick does need to work on his pocket presence, and yes, he's not as far along with his read progressions as the team would like.
But he will master those areas.
What quarterback was fully polished after 29 starts? He's going to get better like all good quarterbacks do. In two years, I expect this deal to look like a bargain for the 49ers.
San Francisco will be rewarded for this investment. For those of you who don't think he is worth this contract, answer me this: What is the alternative?
Let him walk in free agency and try to develop another cheaper quarterback? Good luck with that. You think the
Cleveland Browns
,
Oakland Raiders
or
Jacksonville Jaguars
wouldn't love to be in the position to commit long term to a 26-year-old with Kaepernick's résumé?
The 49ers are built to win now, and they are built to win in the future. The fact that Kaepernick has been secured for the prime of his career at the going quarterback rate only improves San Francisco's chances.
June, 4, 2014
Jun 4
5:16
PM ET
Wilson
The bar has been set, meaning
Seattle Seahawks
quarterback
Russell Wilson
will likely become a $20-million-per-year quarterback starting in 2015.
San Francisco 49ers
quarterback
Colin Kaepernick
agreed to a
six-year deal Wednesday worth $110 million
, with $61 million guaranteed and a possible $16 million more in playoff incentives.
Kaepernick is starting his fourth NFL season, which is the spot Wilson will be in after the 2014 season, when he is eligible to renegotiate his rookie contract.
So Kaepernick's deal is a way to gauge what Wilson could ask for in his new contract. If you go by the statistics and the success, Wilson should probably get more than Kaepernick.
Wilson has a Super Bowl victory; Kaepernick has a Super Bowl loss. Kaepernick is 21-8 as the 49ers' starting quarterback. Wilson is 24-8 in the regular season and 4-1 in the playoffs.
Kaepernick threw for 3,197 yards, 21 touchdowns and eight interceptions for a quarterback rating of 91.6 last season, while Wilson threw for 3,357 yards, 26 TDs and nine interceptions for a QB rating of 101.2.
Wilson, who has a base salary of $662,000 for 2014, is second in NFL history with 52 TD passes in his first two seasons. Only Dan Marino had more, with 68.
By the numbers, Wilson has the edge. So if Kaepernick is paid an average of $18.3 million per year, plus playoff incentives, it's logical to assume Wilson is worth $20 million per year at minimum.
Obviously, some of this will depend on how well Wilson plays in 2014. If he leads the Seahawks back to the Super Bowl, the price goes up. If he doesn't and his stats fall substantially, the price goes down.
But in all likelihood, Wilson is headed toward a $20-million-a-year deal and an overall contract in excess of $120 million.