NFL Nation:

Collin Mooney
August, 6, 2014
Aug 6
11:00
AM ET
NASHVILLE, Tenn. -- Every team in every training camp talks optimistically. Every team with a new coaching staff talks about how things are different for the better.
The
Tennessee Titans
are lowly regarded by plenty of fans and media nationally. But they have a lot going on that they feel those people have not paid attention to.
With Ken Whisenhunt and his staff at the helm, new schemes on both sides of the ball, a schedule that doesn't include some of the powers they faced a year ago and a division with two other rebuilding franchises, they might have a chance to surprise.
.
"You say each and every year, 'Feels different, feels different, feels different,'" safety
Michael Griffin
said. "Just, you can see every day, people out there talking, we always have guys picking people up. Each and every day there is competition. There are little side bets here and there -- who's going to win this period and things of that nature. The whole time we're all trying to get each other better.
"Again, it just feels so much different in this locker room, and everybody has the same goals in mind, and that's a positive around here."
THREE REASONS FOR OPTIMISM
[+] Enlarge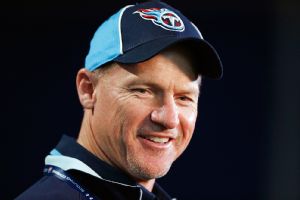 Brian Spurlock/USA TODAY SportsNew coach Ken Whisenhunt brings a solid résumé and a strong coaching staff to the Titans.
1.
Whisenhunt isn't Vince Lombardi or Don Shula, but the Titans' new coach is a significant upgrade from Mike Munchak, who was unsteady in his first three years as an NFL head coach. Whisenhunt had success in the role during his six seasons in Arizona, and he is a well-regarded offensive mind who will do more with what the Titans have than his predecessors.
Whisenhunt had the connections and the interviewing skills to hire a staff that appears to be filled with strong teachers, including a few quality holdovers. Defensive coordinator Ray Horton is turning the Titans into a less predictable 3-4 and comfortably works his way into different sections of practice when position work is unfolding. I've watched these coaches teach and I've seen them connect with players.
Whisenhunt may field a complex offense that's hard to defend, but he's good at keeping things simple. I don't see any changes in how the Titans function that aren't for the better at this point.
2.
The Titans don't have players the fans are going to pick to captain their fantasy squads, but Tennessee should have a good array of quality weapons on offense.
Kendall Wright
topped 1,000 yards in his second season, and now the team's best receiver will be sent on a wider variety of routes, not just inside slot stuff. He's been excellent so far in camp.
Justin Hunter
is doing better getting his legs under him and is catching the ball more comfortably. He got behind Atlanta's defense a few times in the recent joint practice and should be a constant deep threat.
Nate Washington
is showing he remains a versatile, productive guy.
Beyond the receivers, tight end
Delanie Walker
and running backs
Dexter McCluster
and
Bishop Sankey
will be good pass-catching options. When the Falcons gave the Titans a lot of room underneath,
Jake Locker
hit McCluster with a pass over the middle, and he had a ton of space to take. The Titans have invested a great deal in their offensive line over the past two seasons. They have one more tackle than they need after signing
Michael Oher
and drafting
Taylor Lewan
. There should be better protection for the quarterback and better holes for the running backs.
3.
The 4-3 defense in recent years lacked a star pass-rusher on the edge who an offense had to fear every snap. The Titans still don't seem to have that guy. They have to find him, but even if he doesn't emerge from this group, the overall production out of the pass rush should be better. Who is rushing and who is dropping into coverage? In the 4-3, opponents pretty much knew. In this 3-4, it won't be nearly as clear on a regular basis.
Jurrell Casey
, who notched 10.5 sacks as a tackle last season, will work as an end now. He's worked on speed rushes off the edge as well as his bread-and-butter quick power stuff in camp.
Sure, some good quarterbacks can diagnose who is rushing and who isn't, no matter the front. But outside of
Ben Roethlisberger
and
Andrew Luck
(twice), the Titans don't face any A-list quarterbacks coming off big 2013 seasons this time around. They don't see Seattle and San Francisco this season either.
THREE REASONS FOR PESSIMISM
1.
Locker is a really likable guy who works hard, says the right things and desperately wants to prove he is the long-term answer for the Titans at quarterback. But in two seasons as the starter, he's missed 14 games while dealing with shoulder, hip, knee and foot injuries. He's practiced pretty well, but there are plays splashed in that can be killers on a Sunday afternoon.
Getting 16 games out of him is hardly a certainty for the Titans. Even if they do and he fits well with what Whisenhunt is asking him to do, he has not been accurate or poised enough when he has played. He sometimes tries to do too much and isn't poised under pressure. Though he moves well and is very fast, putting him on the move puts him at more risk of another injury. Behind him are more question marks.
Charlie Whitehurst
has had no real success in just 13 games in eight seasons and often fails to step into his throws. Rookie
Zach Mettenberger
has a great arm but slipped to the sixth round for several reasons and is rotating with
Tyler Wilson
as the third-team QB. (Update: Wilson was released Wednesday.)
2.
The offensive weaponry looks good, but for those five pass-catchers to give the Titans the nice smorgasbord of options, they need to stay healthy. Also, guys like Hunter (second year), Sankey (a rookie) and McCluster (first year with the Titans and Whisenhunt) need to show that their potential and practice play translate into NFL Sundays in a Tennessee uniform. Wright was the best player on offense last season and should grow more. Can the others become known quantities?
Who is the star of the defense? DT-turned-DE Casey is a strong, quick rusher who was healthy and productive in 2013. He is going to land a big-money contract -- either soon from Tennessee or on the market next spring. There are some nice pieces around him, but the Titans need veterans to have their best seasons and youngsters to emerge, all simultaneously. In Georgia, no defender stood out and regularly gave the Falcons more than they could handle.
3.
Forty-seven percent of the current 90-man roster has been in the league for two years or less. Youth is generally good, but it needs to be quality youth and it needs to be surrounded by quality veterans. The Titans lack experience in a lot of spots. There aren't kids in camp who weren't high picks but have forced their way up the depth chart to this point.
Maybe it's a great mix of players and a good share of the inexperienced people can blossom together. But with new coaches and new schemes, it could be asking a lot for all that to happen in the first season.
OBSERVATION DECK
[+] Enlarge

Don McPeak/USA TODAY SportsJake Locker needs a healthy season if he hopes to become the long-term answer at QB for the Titans.

Locker said he feels more comfortable speaking up and being vocal, and he has shown himself to be more confident in how he carries himself. After one throw that looked to be too long for an undrafted rookie, Locker pointed to tell Julian Horton where he should have gone. He still has bad moments in practice, but the preseason has not started, and he is progressing.

The Titans have moved running back Jackie Battle to fullback, where he can offer some needed versatility. He appears to have a sizable lead on incumbent Collin Mooney, who has had, at most, a handful of first-team snaps.

Among long-shot late additions, veteran receiver Derek Hagan has been consistently good and Brian Robiskie is also gaining notice. He's competing for the fourth and fifth wide receiver spots with Marc Mariani and Michael Preston. Maybe they'll keep six.

Sankey is learning quickly how to be a pro, and he has shown a bit of everything the Titans said they expected when they made him the first running back selected in the draft. His first day in pads he looked like an experienced NFL-caliber pass protector. He has good vision and makes good decisions on when to go and when to cut. He also catches the ball well, can run inside and outside.

Weakside outside linebacker Shaun Phillips has not worked at all with the first team when Kamerion Wimbley has been practicing.

Tommie Campbell was politely mentioned with Coty Sensabaugh and Blidi Wreh-Wilson as a contender for the starting right cornerback spot that opened when Alterraun Verner signed with Tampa Bay. But it's a two-man competition, and Campbell has struggled horribly.
July, 27, 2014
Jul 27
8:02
PM ET
NASHVILLE, Tenn. -- A daily review of the hot topics coming out of
Tennessee Titans
training camp:
In one-on-ones with receivers against defensive backs, undrafted rookie wideout Julian Horton matched up against undrafted rookie corner Ri'Shard Anderson. Jake Locker's pass sailed further downfield than where Horton had broken to the sideline. As Anderson looked back after the ball went incomplete, Locker pointed to where he should have been. That's not vocal, but it did illustrate the sort of ownership and willingness to be heard that Locker said he's been more reluctant to show in the past.
There was a stiff wind that had a bearing on a lot of passes. Charlie Whitehurst looked most affected by it to me, particularly on some deep balls in one-on-ones where he chose to put a lot of air under passes. Even Zach Mettenberger, the strongest-armed quarterback on the team, threw some wobblers. Ken Whisenhunt said he was happy with the wind, because the Titans were sure to get something like it on a game day at some point. Long-time assistant equipment man Matt Thompson has always shown a big arm. He made one of the day's best throws when Leon Washington needed a ball in the end zone to bring out as the team worked on return positioning. It was over 40 yards in the air, a rope with a nice arc and plenty of zip.
Whisenhunt said more cover-2 was as big a reason for the reduction in deep completions from Day 1 to Day 2 as the wind. Defensive coordinator Ray Horton said no deep balls have been a theme since he joined the team and he was glad the offense hit them on the first day so he could say "this is what we're talking about" to the defense.
There were some big mismatches where the matchups got out of sync. I guess the lesser player in Justin Hunter vs. Anderson and Rico Richardson vs. Coty Sensabaugh has a lot to learn from such a snap. But I liked when Tommie Campbell stepped on the field, replacing Khalid Wooten, for a snap against Justin Hunter. Campbell struggled against Marc Mariani on Saturday and had a tough time again, particularly in some snaps against Hunter.
Blidi Wreh-Wilson got the second day work as the second starting cornerback, after Sensabaugh had it on Saturday. Wreh-Wilson stuck with Hunter on a deep route early in seven-on-seven and Locker looked to want to go there, but ended up checking down.
Taylor Lewan got the bulk of the work as the starting left guard with Andy Levitre (appendix) out and Byron Stingily heading inside to deal with sickness.
Michael Preston worked higher in the receiver pecking order on Day 2, and Mariani was lower.
Whisenhunt said at the start that competitive positions wouldn't see the same guy at the front of the line for multiple days. That bodes well for the status of Jackie Battle, who was the front-liner at fullback ahead of Collin Mooney again on Sunday.
Locker was running comfortably and without any hesitation. In one team period, he pulled it down after seeing nothing to his liking and ran up the middle, threw a completion along the right sideline to Nate Washington after rolling right and also rolled left and took off that direction. There was nothing to suggest his surgically repaired foot was any sort of issue.
Nate Washington returned to the receiver group jawing hard at cornerback Micah Pellerin, telling him not to do that and "if you're beat, you're beat." Pellerin dropped a pick of Whitehurst on a throw Whitehurst didn't seem to step into as strongly as he could have.
Second team defense: LE Al Woods, NT Antonio Johnson, RE Mike Martin, LOLB Shaun Phillips, ILB Zaviar Gooden, ILB Colin McCarthy, ROLB Akeem Ayers, LCB Tommie Campbell, S George Wilson, S Daimion Stafford, RCB Sensabaugh.
Washington, Dexter McCluster, Bishop Sankey and Mariani didn't field balls, but each brought balls out of the end zone in a kickoff return period.
Kendall Wright made a nice sliding catch in traffic in front of Sensabaugh.
Stafford picked off a Tyler Wilson pass for tight end Jason Schepler.
Bernard Pollard was busting on Zach Mettenberger from the sideline as Mettenberger led the offense, shouting "Roll Tide." That's what someone said to Metenberger recently before sucker punching the former LSU player at a Nashville bar.
December, 3, 2013
12/03/13
8:40
PM ET
NASHVILLE, Tenn. -- The banged-up
Tennessee Titans
jiggled their roster Tuesday to restock for Sunday's game at Denver and the remainder of the season, adding veteran tight end
Visanthe Shiancoe
.

Shiancoe will join
Taylor Thompson
as the two healthy players at the position.
Craig Stevens
missed the Titans' game at Indianapolis because of a concussion.
Delanie Walker
was knocked out of the game against the Colts in the first half with a concussion of his own.
The Titans also have a new fullback who's really not new.
Collin Mooney
is on injured reserve with a knee injury suffered at Lucas Oil Stadium, and the Titans replaced him with
Quinn Johnson
, who was the team's fullback in 2012. Johnson went on injured reserve just before this season, and the Titans reached an injury settlement with him and went forward with Mooney.
Putting Mooney on IR created one open roster spot, and the Titans created two more by waiving linebacker
Zac Diles
and safety
Shann Schillinger
. Shiancoe and Johnson fill two spots, and
Michael Griffin
returns from a one-week suspension that came with a roster exemption.
September, 6, 2013
9/06/13
4:59
PM ET
NASHVILLE, Tenn. --
Quinn Johnson
is doubtful for Sunday's game in Pittsburgh because of a quad injury. If he can't go, the
Tennessee Titans
need to sort out a fullback for Sunday.

GM Ruston Webster
told us on Nashville radio

that the team has to have one.
"It would be tough for us in our offense and the way that we are playing to go without a fullback," he said. "Some teams do, some teams use tight ends, But offensively, the fullback is part of our running game especially. So Quinn is banged up and we're in the process of making a decision there on what to do."
The options:
Tennessee worked out free agents Michael Robinson (formerly of Seattle) and John Conner (formerly of Cincinnati) on Friday. But Jim Wyatt of The Tennessean said the team wasn't immediately intending to sign one of them. Playing a guy who has not practiced with the team would be tough. And vested veterans on the team in Week 1 are assured of their full base salary no matter if they are with the team all season.
Collin Mooney is on the practice squad and could be promoted. But to make room for him the Titans would have to cut someone. I see Keyunta Dawson, a defensive end who can play special teams, as a candidate here. They like him and could re-sign him next week presuming Johnson is back healthy. But if someone scooped him up it wouldn't be tragic.
Coach Mike Munchak on Mooney: "Well, he's someone we have confidence in if that's what we need to do. That's the one good thing about having someone here that knows what we're doing. So, that'll be one of our options, but we'll just wait and see how this thing works out."
September, 1, 2013
9/01/13
6:41
PM ET
NASHVILLE, Tenn. -- More notable than the guys from Titans training camp who are on the initial list of practice squaders is the one who isn't:
Rusty Smith
.

But Jim Wyatt of The Tennessean tweeted that Smith is
expected to accept
the Titans' offer and join up.
Smith cleared waivers unclaimed, and while his feelings might have been hurt, an offer to join anyone else's practice squad probably wouldn't have wound up better for him.
The Titans do really like him, they just decided they didn't need three quarterbacks on the roster. And they don't. Functionally, he will still hold the No. 3 role and if
Jake Locker
or
Ryan Fitzpatrick
is hurt and can't suit up, the Titans will sign Smith to their roster and dress him for a game.
If there was another practice squad chance, he might have had weaker quarterbacks in front of him at No. 1, No. 2 or both. But he'd have had to move and he'd have had to learn a new offense and won over a new coaching staff.
There could have been more reward, but there certainly would have been more risk.
Once he signs, the Titans will have filled six of their eight practice-squad spots, all with players who were with them in camp.
That list:
DT Stefan Charles
FB
Collin Mooney
WR Rashad Ross
LB Jonathan Willard
CB Khalid Wooten
All of the players were with the Titans during training camp this season. Four of them were undrafted rookies while Wooten was a seventh-round draft pick.
Ross' selection speaks especially highly of him, because the Titans have a deep group of receivers and kept six on the 53-man roster.
August, 31, 2013
8/31/13
6:30
PM ET

Most significant move:
Marc Mariani
came back from a vicious broken leg suffered in the preseason in 2012. A shoulder injury suffered in the preseason opener cost him the rest of camp and the preseason, and the Titans put him in injured-reserve Saturday, ending his season. He might have been ready as soon as Week 3, but the Titans clearly didn't like the uncertainty. They could have waived him injured, exposing him to a claim. In that scenario,
St. Louis Rams
coach Jeff Fisher, who was instrumental in the Titans drafting the receiver/returner out of Montana in 2010, might have wanted him. But the Rams or anyone else would have had to have added him without getting to examine the injury, and Mariani's not under contract beyond this year so a new team could have been at risk for picking up a year's salary and getting nothing out of him. If he wasn't claimed, he would have reverted to Tennessee's IR. By putting Mariani directly on IR, he is assured of his $575,000 base salary this season but won't play anywhere. The move means
Darius Reynaud
is the returner. He showed himself to be only the team's fifth-best running back during camp, but sticks to handle punts and kickoffs.
Wildcard:
If
Rusty Smith
clears waivers, the Titans will want the fourth-year quarterback back on their practice squad. He's not been on the active roster for nine games in any of his first three seasons, so he retains his practice squad eligibility. If Smith is claimed, the Titans will need to find a young quarterback for the spot, who they can work to develop as insurance and who will be able to offer an option as the No. 2 if
Jake Locker
or
Ryan Fitzpatrick
suffers an injury that results in any missed time. One team that won't claim Smith -- his hometown
Jacksonville Jaguars
.
What's next:
I could see the Titans shopping for a veteran safety as they sift through cuts. Seventh-round pick
Daimion Stafford
is on the roster now, but the Titans are heavy with strong safeties and light at free safety. They'd probably like better balance and Stafford could ultimately land on the practice squad. With 10 defensive linemen plus strongside linebacker
Akeem Ayers
in line to play a good share of end, the last pure end --
Keyunta Dawson
-- is hardly a lock at this point. Only one injured Titan, rookie linebacker
Zaviar Gooden
, is likely to miss the season opener at Pittsburgh.
Tennessee Titans cuts:
S
Al Afalava
, T
Daniel Baldridge
, TE
Brandon Barden
(injured), DT
Stefan Charles
, DT
Zach Clayton
, TE
Jack Doyle
, LB
Gary Guyton
, DT
DaJohn Harris
, S
Corey Lynch
, FB
Collin Mooney
, DE
Nigel Nicholas
, RB
Jalen Parmele
, WR
Rashad Ross
, LB
Tim Shaw
, QB
Rusty Smith
, LB-DE
Scott Solomon
, G
Kasey Studdard
, WR
Dontel Watkins
, LB
Jonathan Willard
, CB
Khalid Wooten
, C-G
Fernando Velasco
Placed on Injured-reserve:
WR/returner Marc Mariani.
August, 30, 2013
8/30/13
3:14
PM ET
NASHVILLE, Tenn. -- Rather than tell you this is what's going to happen, I'll tell you this is what would happen if I had influence in the
Tennessee Titans
meeting room when final cuts will be decided.

Some cuts are already trickling out from Jim Wyatt of The Tennessean, so check
his Twitter feed
.
Quarterbacks:
Jake Locker
,
Ryan Fitzpatrick
There just is no room for
Rusty Smith
and there
isn't a need
for a third quarterback unless things go incredibly wrong. The difference between a random third guy and Smith isn't giant.
Running backs:
Chris Johnson
,
Shonn Greene
,
Jackie Battle
,
Quinn Johnson
(FB)
Battle has to contribute on special teams, but he was better than
Jalen Parmele
through the preseason. Wyatt says Parmele is already gone. Johnson's been hurt and could lose out to
Collin Mooney
.
Wide receivers:
Kenny Britt
,
Nate Washington
,
Kendall Wright
,
Damian Williams
,
Justin Hunter
,
Michael Preston
,
Marc Mariani
(return specialist)
Preston is one of the best 53 players on the team. Even though he won't be active on Sundays if everyone's healthy, you keep extra quality depth at one spot if it's better than weaker depth at another spot. Once he's healthy, Mariani isn't as explosive as a punt returner as
Darius Reynaud
, but will more regularly get 10 yards.
Tight ends:
Delanie Walker
,
Craig Stevens
,
Taylor Thompson
No need for a fourth on the 53. Sign
Jack Doyle
to the practice squad
Offensive linemen:
Tackles
Michael Roos
,
David Stewart
,
Mike Otto
,
Byron Stingily
. Interior:
Andy Levitre
,
Chance Warmack
,
Rob Turner
,
Brian Schwenke
,
Fernando Velasco
Velasco is guaranteed $2.02 million under his tender contract out of restricted free agency. I'm not sure he should stick over
Scott Solomon
at linebacker or
Stefan Charles
at defensive tackle. But the big push for revamping the line and the desire for depth after last year's slew of injuries makes me feel like they will stay loaded.
Defensive ends:
Derrick Morgan
,
Ropati Pitoitua
,
Kamerion Wimbley
,
Lavar Edwards
,
Keyunta Dawson
.
Dawson is a good guy to have. I can see him staying and the Titans going five ends as opposed to six tackles. But linebacker
Akeem Ayers
is a nickel end so he factors in here as well.
Defensive tackles:
Jurrell Casey
,
Sammie Hill
,
Mike Martin
,
Antonio Johnson
,
Karl Klug
(swing)
I've got Stefan Charles over
DaJohn Harris
but neither making it. If one of them sticks, it's the last defensive line spot probably over Dawson. I see Charles on the practice squad.
Linebackers:
Akeem Ayers,
Moise Fokou
,
Zach Brown
,
Zaviar Gooden
,
Colin McCarthy
,
Patrick Bailey
Scott Solomon is one of my last two cuts. I want to keep seven 'backers. The seventh guy would be a trade-off for Velasco, I think. Solomon is versatile, seems to be catching on to the position change and can still play end if needed. He's not practice squad eligible. I just can't fit him here. I might keep him over Bailey but I don't think they rank him that way.
Safeties:
Michael Griffin
,
Bernard Pollard
,
George Wilson
,
Daimion Stafford
The fourth spot isn't strong and Stafford could probably go to the practice squad. But if they choose a veteran --
Al Afalava
or
Corey Lynch
-- as the fourth I could see them trying to upgrade it with an outsider.
Cornerbacks:
Jason McCourty
,
Alterraun Verner
,
Tommie Campbell
,
Coty Sensabaugh
,
Blidi Wreh-Wilson
I'd expect
Khalid Wooten
on the practice squad.
Kicker:
Rob Bironas
Punter:
Brett Kern
Long-snapper:
Beau Brinkley
August, 30, 2013
8/30/13
1:01
PM ET
NASHVILLE, Tenn. -- The game book from Week 3 told us quite a bit.
While the "did not play" list isn't ironclad -- even professional stat crews miss guys when there are 90 a side -- it tends to be pretty telling.

Of healthy guys who didn't play, four of the six were part of the cuts that got the Titans from 90 to 75. Defensive end
Nigel Nicholas
was listed a not having played, but he actually played five snaps.
The Tennessee-Minnesota game book doesn't offer such hints, though plenty of the coming cuts to get the Titans down to 53 are obvious.
The Titans sat a slew of veterans, both dinged and healthy. The team granted preseason action to plenty of guys who won't be on their team, and a number who won't be on any team.
Here's the list of guys who didn't play:
WR
Kendall Wright
WR
Kenny Britt
RB
Shonn Greene
RB
Chris Johnson
CB
Jason McCourty
S
Bernard Pollard
FB
Quinn Johnson
LB
Zaviar Gooden
LB
Zach Brown
LB
Akeem Ayers
TE
Brandon Barden
WR
Marc Mariani
WR
Nate Washington
DE
Derrick Morgan
DE
Ropati Pitoitua
DT
Sammie Lee Hill
DT
Jurrell Casey
Barden is the only guy on that list who is a likely cut, and he tweaked a knee during the preparation week. The injured Johnson could lose out to
Collin Mooney
. Mariani (shoulder) is in a fight for the return job.
Otherwise, everyone on that list is on the team. Ten of them will be starters. Wright is the third receiver. Greene is the second running back.
So we get no hints.
One more game book note: It's preseason for the stat guys, too. They gave credit for
Daimion Stafford
's third interception to
Al Afalava
.
July, 19, 2012
7/19/12
1:18
PM ET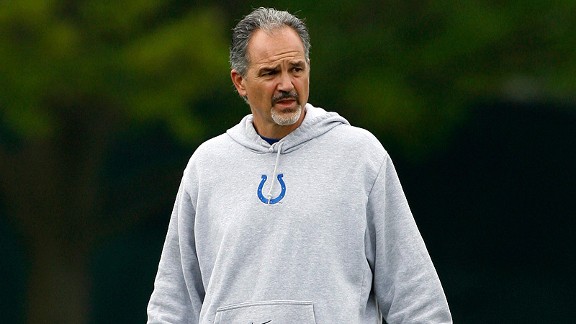 Brian Spurlock/US PresswireIndy's Chuck Pagano utilizes some philosophies that go against conventional wisdom in today's NFL.
I fear for the AFC South.
Sure, it's aligning with modern pro football in some ways:
Three of the four teams have picked a quarterback in the top 10 of the draft in the past two years, intent on building around him.

Yes, we see Andre Johnson in place for the Texans and the influx of promising, young wide receivers in Justin Blackmon and Kendall Wright.

Of course everyone's got an emphasis on rushing the passer: The Texans in the second incarnation of Wade Phillips' swarming front, the Colts as they shift Dwight Freeney and Robert Mathis around, the Titans with the addition of Kamerion Wimbley, the Jaguars with the draft selection of Andre Branch.
But it's a division with some outdated philosophies, expenditures and roster construction.
We've got teams talking too much about the run and not enough about the pass. We've got costly running backs. We've got offenses determined to use fullbacks, most of whom are unlikely to be threatening as receiving targets.
While the Texans can have a nice offensive-defensive balance and a nice run-pass balance on offense, the teams chasing them can't yet claim the same.
So here's my look at some of the issues that put the division at risk of being dodo birds who lose out in the NFL's survival of the fittest.
Mindset:
Coach Chuck Pagano arrived in Indianapolis touting
an old staple
of how to play. His Colts, he said, will run and stop the run -- even if that's not a great template for success anymore as teams that don't run well and don't play great run defense are winning.
He cited the Steelers, who were 14th in rushing last year and eighth in run defense. Hardly dominant.
A team with a great running game and ground defense can probably win big in today's league. But it would be breaking with current convention, where our most recent Super Bowl winners have been built around quarterbacks and people who rush the quarterback.
Last year's Super Bowl teams were hardly in line with a run-and-stop-the-run philosophy. The Giants were the league's worst run team in the regular season and ranked 19th in rush defense, while the Patriots were 20th in rushing and 17th in rush defense.
Paying running backs and roster construct:
Three of the four teams in the division have big, second-contract investments in running backs: Houston's
Arian Foster
, Jacksonville's
Maurice Jones-Drew
and Tennessee's
Chris Johnson
.
Spending big money at the position is not the way the league is moving and those three teams are no longer in position to try to play keep away from
Peyton Manning
. In today's NFL, veteran running backs get used up and discarded in favor of younger, cheaper options with more tread who are less prone to a sudden drop-off.
The Jaguars are built around Jones-Drew, who now wants a new, bigger contract, despite the high odds that his team can win five games without him in 2012 just as easily as it did with him in 2011.
In fact, it's reasonable to wonder about Jacksonville's overall financial allocations.
Jones-Drew makes good money, and if the Jaguars are healthy at linebacker, it's probably their best position on defense. They paid big bucks to recruit
Paul Posluszny
and
Clint Session
to town last year to play with
Daryl Smith
.
Unfortunately, teams that play 4-3 defenses don't require three top-flight linebackers. One of them is typically a situational player who's not part of the nickel package.
And the difference between a great 4-3 linebacker and an average 4-3 linebacker seems much smaller to me than the difference between a great end and an average end in the same system. It's easier to find guys who can run, hit and tackle than it is to find guys with pass-rush skills. That's where a 4-3 focus should be.
It's an issue in Tennessee, too, where the Titans have spent their past two second-round picks on linebackers
Akeem Ayers
and
Zach Brown
. Even if they are starters for years, isn't it easier to find good linebackers later in the draft (see
Colin McCarthy
from the fourth round in 2011) than it is to find good pass-rushers?
Plenty of fullback snaps:
Houston can continue to call
James Casey
a fullback. He's an H-back to me. He can block, sure, but the Texans sacrifice nothing having him on the field at one of the five spots eligible to catch passes. Teammates rate his as the best hands on the team.
The other three teams in the division don't have such a guy.
Greg Jones
is a good blocker for the Jaguars. I want him in the game on third-and-short or a goal-line package. But beyond that, his presence does at least one of two things if not both: signals run and sacrifices one of those five eligible positions as a weapon for
Blaine Gabbert
. (I know
Montell Owens
is viewed as a special-teamer, but with Jones, Owens and
Brock Bolen
, the Jaguars have three fullbacks. Three!)
The role for a fullback on offense is small. And although small roles can have big value, I'm not so sure about fullbacks these days. With two fantastic tight ends on its team, New England used a fullback on 10 snaps last season. The Giants used a fullback on 24.93 percent of their offensive snaps, less than the Texans, Jaguars and Titans.
Isn't a tight end who is capable of lining up a bit in the backfield more valuable, presuming he's got better hands?
I'd rather the Jaguars line up with
Marcedes Lewis
and
Zach Miller
than with Lewis and Jones, because Miller can be a threat in the pass game. I'd rather the Titans line up with
Jared Cook
and
Craig Stevens
than with Cook and
Quinn Johnson
or
Collin Mooney
. I'd rather the Colts use
Coby Fleener
and
Dwayne Allen
than take one off the field for a fullback whose name I do not yet know. (The Colts have said they intend to use a fullback, though they don't have one now and didn't use one in the Manning/Bill Polian era.)
Heck, feel free to go all the way from a two-back set right past a two-tight set all the way to a three-wide set. Spread out the field for your passing game, while also creating space for your running back to work. Jones-Drew led the league against stacked boxes. Imagine what he might do if the Jaguars can spread out a defense.
Sure, you're going to mix up personnel and use all those sets, and your people and philosophy will dictate some of it. But look to the league's best teams, centered on quarterbacks and pass-rushers, as a guide for what to try to use more and what to de-emphasize.
It's a copycat league. Is the AFC South keeping up with the Joneses?
June, 21, 2012
6/21/12
12:34
PM ET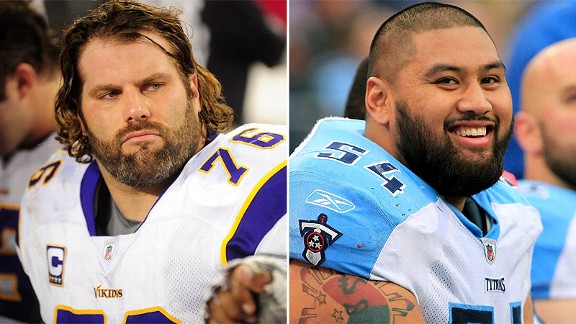 US PresswireThe Titans' Eugene Amano, right, should benefit greatly by working with Steve Hutchinson in 2012.
NASHVILLE, Tenn. -- Though he played poorly last year and the Titans brought a parade of potential veteran replacements through town during free agency,
Eugene Amano
remains in place as the Titans' center.
He had surgery on his right knee and left ankle, and said the knee hampered him all of last season. He recently returned to action, and better health should help him if he retains his spot.
But even more significant is the new guy who will line up to his left, veteran guard
Steve Hutchinson
.
"He's the glue of that offensive line right now," offensive coordinator Chris Palmer said. "He's a veteran that's played a lot of snaps, he knows how to play the game and I think he settles everyone down up front…
"I've been very, very pleased with the run game in OTAs and minicamp, we've done a good job there. It looks like we're in sync, all five guys are working well together and I'm anxious to get the pads on when we get back for camp."
While the Titans offered QB
Matt Hasselbeck
excellent protection last season, the run game crumbled. Chris Johnson's effort was ultimately questionable, but he wasn't finding any room consistently and the ground effort ranked 31st in the league.
Coach
Mike Munchak
talked about how it was a collective problem that couldn't be pinned on one or two people: Johnson didn't always make the right decisions, the offensive line had some communication issues, the fullback and tight ends had busted plays, too. There were different mistakes on different plays and far too few cleanly executed run snaps.
Still, the way the Titans addressed personnel suggested things they thought should be fixed. Fullback
Ahmard Hall
is gone -- the Titans will go with
Quinn Johnson
or
Collin Mooney
. Right guard
Jake Scott
hit free agency and they didn't discuss bringing him back.
Leroy Harris
is flipping to that side to accommodate Hutchinson, who's always been on the left.
And the Titans courted veteran centers
Scott Wells
,
Chris Myers
,
Jeff Saturday
and
Dan Koppen
but didn't land one of them and continue to back Amano. His competition is
Kevin Matthews
, an undrafted free agent from 2010, and
William Vlachos
, an undrafted rookie.
Hutchinson's arrival gives the Titans several things.
[+] Enlarge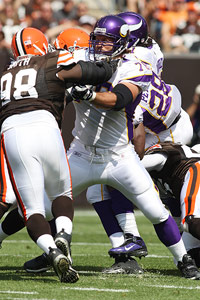 Icon SMINot only does Hutchinson push people around in the trenches, the Titans say the veteran has helped this offseason with his effort and communication skills.
In 12 seasons with Seattle and Minnesota, he's seen it all. He's a standard-setter at practices already. He's helped solve communication troubles. And the team hopes that he can help Amano the way
Kevin Mawae
did, back when Mawae was the veteran center and Amano played guard.
Working under two Hall of Fame offensive linemen, Munchak and line coach
Bruce Matthews
, Hutchinson will now work to spread their messages.
Munchak said he loves the way Hutchinson runs from drill to drill and practice period to practice period. The guard does not pace himself in the early practice offensive line period, but always goes full speed.
"Guys see that and realize that's the standard," Munchak said. "That happens automatically. They're going to be better players just because they see how a guy that's had success does it."
Said Amano: "It gives you motivation to keep up with the old guy."
Munchak talks disappointedly about the communication problems that were a piece of the run struggles last season. He coached the offensive line for 14 seasons before he became head coach last season.
"That's the first time in awhile we've had some of those issues," he said. "That's something when you have another veteran in there you're going to have guys that really get along well. The things they're doing, the adjustments they are making, the calls they are making -- it's so much ahead of where you think they'd be this time of year."
That's not only about line calls and adjustments that linemen need to analyze correctly and communicate clearly, Hutchison said, but about a degree of non-verbal communication and understanding the group has to have.
And the defenses the Titans face are increasingly unpredictable up front. In the AFC South, the Texans changed to a 3-4 last season and the Colts are making the switch this year. It used to be clear where guys like
Dwight Freeney
and
Robert Mathis
would be. Now there will be mystery to it as Indianapolis tries to create confusion.
In considering the Titans' run blocking, I wrote recently that they
don't necessarily
have to be a top-flight rushing offense in order to be a good team. A great pass-blocking unit that's middle of the pack as a run offense can be good enough overall to win.
Hutchinson and the Titans aren't going to co-sign that thinking.
They'll strive for balance and want to execute every play the way it's drawn up. But he did say there is only so much an offense can do.
"You'd like to be great at both, but there are only so many offensive yards you can get a game," he said. "If you're throwing the ball for 300-plus yards a game, you're not going to run the ball that much. If you have the ball for 45 minutes in a game and running for 200 yards on the ground, you're not going to throw the ball that much.
"You strive for a good balance of both, you want to be good at both. But you just want to get the yards, you want to win the game."
May, 17, 2012
5/17/12
12:00
PM ET
»
NFC pressure points
:
West
|
North
|
South
|
East
»
AFC pressure points
:
West
|
North
|
South
|
East
Examining who faces the most challenging season for the Titans and why.

Running back
Chris Johnson
could get away with one off season. He was a tentative runner in 2011 no matter what he or the team says about it. He got sick of early contact. He gave up too often. He went down too easily.
The Titans have made some changes that should help.
Whether
Eugene Amano
remains at center or is replaced, the pivot man will be next to veteran guard
Steve Hutchinson
. The team expects him to have a big, positive influence on the guy next to him. Fullback
Ahmard Hall
won't be re-signed, so the Titans will go with
Quinn Johnson
or undrafted rookie
Collin Mooney
as the lead blocker if the Titans stick with a fullback. First-round draft pick
Kendall Wright
bolsters the receiving corps and should be able to threaten deep, as will a healthy
Kenny Britt
. An increasingly threatening passing game should help the Titans back defenses off. Take a defender out of the box, and Johnson should be more effective.
He's also spending extensive offseason time with the team for the first time, and coaches are convinced picking apart last season and making corrections together through the spring and summer will make a difference.
Another piece of Johnson's contract becomes guaranteed after this season. If he comes up with another dud, the team will have cause to bail.

NFL SCOREBOARD
Thursday, 9/11
Sunday, 9/14
Monday, 9/15
WEEKLY LEADERS