February, 27, 2012
2/27/12
9:00
AM ET
INDIANAPOLIS -- Wide receivers stood out Sunday with blazing 40-yard dash times at the NFL scouting combine.
Todd McShay of Scouts Inc. summed up the implications from
his perspective

.
The receiver group carries special interest in the NFC West and particularly for San Francisco after the 49ers acknowledged they
needed help at the position
. But with a potentially strong free-agent crop, I could see the 49ers addressing their 2012 rotation with a mid-priced veteran, giving them additional flexibility in the draft.
That thinking came to mind Saturday during a roughly 40-minute conversation with McShay and fellow ESPN.com divisional bloggers
Kevin Seifert
,
Paul Kuharsky
and
Bill Williamson
.
What did McShay think of the receivers in this draft?
"I think they're all overrated," he said. "That doesn't mean they're not going to be good. I don't think
Justin Blackmon
is
A.J. Green
or even Julio [Jones] ones or even
Michael Crabtree
. He's really, really good, but certainly not
Calvin Johnson
or A.J. Green."
McShay's quick thoughts on some of the other receivers in this draft:
Crabtree, 24, led 49ers wide receivers last season with 72 receptions for 874 yards and four touchdowns.
Josh Morgan
is returning from injury and could re-sign.
February, 26, 2012
2/26/12
4:39
PM ET
INDIANAPOLIS -- NFL teams can at least partially thank
Arizona Cardinals
cornerback
Patrick Peterson
for delivering one of the top prospects at the position to the 2012 draft.
Morris Claiborne
credits Peterson, his former LSU teammate, for converting him from the enemy ranks: offense.
"Growing up, I was mainly an offensive guy," Claiborne said from the scouting combine Sunday. "I didn't play too much defense, just here and there, but I never really played corner til i got to college."
Claiborne initially resisted Peterson's recruitment. But Peterson, who developed the moniker "DBU" to describe LSU, won him over.
"Patrick kept on pulling me," said Claiborne, projected as a first-round pick. "I tried for a day or two and I ended up liking it."
Peterson advised Claiborne to "go up and take over" at the combine. Claiborne has not yet worked out. He'll skip the bench press until his pro day to protect a wrist injury he played with during the season.
Claiborne and Peterson, the fifth overall choice in the 2011 draft, differ in their styles.
"I'm more of a technician, trying to funnel the guys instead of getting really physical with them at the line all the time," Claiborne said.
February, 26, 2012
2/26/12
3:48
PM ET
INDIANAPOLIS -- California defensive lineman
Trevor Guyton
knew plenty about the
Arizona Cardinals
before meeting with them at the NFL scouting combine.
Guyton, coached at Cal by former Cardinals defensive coordinator Clancy Pendergast, has been watching
Darnell Dockett
tape for the last couple seasons.
"He's one of the guys who just has an elite first step, a whole lot of balance and velocity with his strikes and slants," Guyton said Sunday from Lucas Oil Stadium. "Those are the main things that I focus on when I watch him play, just the way he is penetrating and everything like that. He is pretty violent with his game."
Arizona, Minnesota, Washington, San Diego, Detroit, Pittsburgh, Tampa Bay and Jacksonville have met with Guyton so far, he said.
Combine officials measured Guyton at 6-foot-3 and 285 pounds. Guyton played in a hybrid 3-4 scheme under Pendergast. He could appeal to some 3-4 teams as an end. He could play defensive tackle in other schemes. That versatility adds appeal, but Guyton's relative inexperience could affect his stock.
Guyton grew up in Philadelphia before playing high school ball in the Seattle area. Washington State offered him a scholarship before Guyton had even played varsity ball.
"I went to a football camp at Washington State after my sophomore year and I just killed it," Guyton said.
February, 26, 2012
2/26/12
2:18
PM ET
INDIANAPOLIS -- Quick thoughts after a second session watching quarterbacks and receivers at the NFL scouting combine in Lucas Oil Stadium:
This was the second of two trips inside Lucas Oil Stadium as part of groups organized by the Pro Football Writers of America. I'll remain here until Monday morning, working from the media room at the stadium.
February, 26, 2012
2/26/12
1:37
PM ET
INDIANAPOLIS -- A few thoughts after watching select quarterbacks and wide receivers work out inside Lucas Oil Stadium on Sunday morning:
Disclaimer: In some ways and probably overall, watching the action on television beats watching from the stands, at least for those of us who aren't trained in scouting. Our group of reporters watching this session had prime club-level seats at about the 35-yard line. The players were working on the other side of the field. There were times when I glanced up to the big screen to make sure I'd properly identified the players.
Assignments: The Pro Football Writers of America assigned one or two players to each of the roughly 20 reporters watching this specific group. Arizona quarterback Nick Foles and Oklahoma State receiver Justin Blackmon were the players on my list. Sometimes it's tough to tell how a player fared, but in this case, Foles obviously struggled with his longer passes. Quarterbacks are often more comfortable throwing to their own receivers. In this case, Foles failed to connect deep when Arizona teammate Juron Criner was his receiver.
My notes on Foles: "Foles struggled with his throws, particularly on post-corner routes. Coaches appeared to advise him on his deep-ball trajectory after Foles overthrew Arizona teammate Juron Criner on an early deep pass. Foles put too much air under subsequent deep passes. He did not hit receivers in stride on those balls. Foles did elicit a 'good throw' commendation from one coach after connecting with Michigan's Kenneth Hemingway on a 10-yard out route. North Carolina State's Trevor Graham dropped pass from Foles on a hitch route."
My notes on Blackmon: "Blackmon appeared to be protecting his sore hamstring. He did not appear to open up and really run. He bobbled one pass while running through the gauntlet. He dropped one pass on a go route. There wasn't much to see here." The gauntlet consists of receivers running the width of the field while catching passes from quarterbacks stationed along the way. Receivers are to catch and quickly discard passes from seven quarterbacks while running the 53-yard width. Blackmon went to the ground making one catch.
Obvious limping: Tennessee Tech receiver Tim Benford seemed to be limping each time he returned to the group after running his routes. He appeared to step awkwardly after making an impressive over-the-shoulder catch early in the session. Wake Forest's Chris Givens appeared to suffer from cramping. He left the field with a trainer and stretched one leg while sitting on a table.
Diving grab: Georgia Tech's Stephen Hill made the most spectacular catch, a diving grab on a deep pass.
Quiet in there: Players are accustomed to performing before raucous crowds. The atmosphere in Lucas Oil Stadium would have let them hold a putting competition. We could hear the passes hitting players' hands.
There's another session scheduled for noon.
February, 26, 2012
2/26/12
10:14
AM ET
INDIANAPOLIS -- I'll be heading into Lucas Oil Stadium with other Professional Football Writers of America members for quarterback/receiver workouts beginning at 9:45 and noon ET.

We'll be watching workouts and getting a feel for the overall atmosphere.

There is a production tradeoff; the time spent inside makes blogging more difficult. But hopefully there will be some reward from getting a first-hand look at the proceedings.
February, 22, 2012
2/22/12
1:01
PM ET
A few of the NFC West angles I'll be tracking from the NFL scouting combine beginning Thursday:
Value of the No. 2 overall pick. The St. Louis Rams hold it, but they already have their quarterback. The pick's trade value could fluctuate based on how well Baylor quarterback Robert Griffin III performs — not just at the combine, where he is expected to run (not throw), but also at his pro day. The Rams have needs throughout their roster. They need additional picks. Moving back from No. 2 would not necessarily require settling for a lesser player if quarterbacks were the first two players chosen.

[+] Enlarge

Doug Pensinger/Getty ImagesReceiver Justin Blackmon could help his draft stock depending on how well he performs at this week's NFL combine.

Justin Blackmon's 40-yard time. The Rams need weapons for quarterback Sam Bradford. Blackmon, the big wide receiver from Oklahoma State, could help in that area. NFL teams will want to see how well he runs at the combine. Raw speed isn't everything for wide receivers, of course. It can be vastly overrated, particularly for wideouts with Blackmon's size. Still, a respectable 40-yard time could make teams feel better about drafting Blackmon among the first few picks overall.

Coin toss. Seattle and Kansas City finished tied in calculations for draft order. As a result, they will flip a coin to determine which team picks 11th and which one picks 12th.

QBs beyond the top two. Andrew Luck and Griffin figure to be long gone when Seattle picks 11th or 12th overall. Will Ryan Tannehill or another quarterback open eyes at the combine? Last year, early mock drafts projected only a couple first-round quarterbacks. Teams wound up drafting four among the top 12 overall choices. Seahawks general manager John Schneider recently stressed an aversion to forcing a quarterback pick based on need. Is it too early to rule out taking one 11th or 12th?

Sizing up the pass-rushers. Seattle would love to snag a top-tier rusher in this draft, particularly if quarterback isn't a viable option early. North Carolina's Quinton Coples and South Carolina's Melvin Ingram are two to watch. We'll want to emerge from the combine with a better feel for which players might fit.

Kalil and the tackle class. Arizona and St. Louis need help at offensive tackle. USC's Matt Kalil figures to be the top prospect and gone among the first several overall selections. Where do Iowa's Riley Reiff and Stanford's Jonathan Martin fit into the picture? Will they be gone when Arizona picks 13th overall?

Value at the receiver position. The San Francisco 49ers have relatively few needs. They went 13-3 on the strength of good coaching and talent. They could use help at wide receiver, however. That doesn't necessarily mean they need to draft one in the first round. Last year, they watched Doug Baldwin, who had played for 49ers coach Jim Harbaugh at Stanford, become a threat in Seattle as an undrafted free agent. Receiver wound up being one of the very few positions San Francisco did not address particularly well, either through free agency or the draft. Which wideouts could make surprising rookie impacts among those chosen later?
Thanks to those who weighed in with thoughts earlier Wednesday. I'm still going through some of those and will follow up as the combine gets going.
February, 22, 2012
2/22/12
10:45
AM ET
With the NFL combine kicking off, let's take a look at several of the potential story lines involving the NFC South during the draft-preparation event:
Double dipping again?
Last year, Tampa Bay general manager Mark Dominik used his first two picks on defensive ends
Adrian Clayborn
and
Da'Quan Bowers
. The year before that he used his first two picks on defensive tackles
Gerald McCoy
and
Brian Price
. In that same draft, Dominik also took two receivers almost in succession, with
Arrelious Benn
coming in the second round and
Mike Williams
in the fourth. If there's a position where I can see Dominik doubling up this year, it's cornerback. It's unclear what the future holds for
Ronde Barber
and
Aqib Talib
.
[+] Enlarge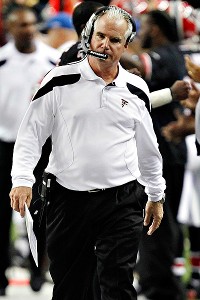 Josh D. Weiss/US PresswireThe pressure is on coach Mike Smith to get the Falcons to the Super Bowl, not just the playoffs.
Sitting it out:
The Saints and Falcons don't have first-round picks. But their scouts and coaches should be paying close attention to all the top prospects. You never know who might fall out of the first round, like Bowers did last year. More importantly, there's no guarantee the Saints or Falcons stay out of the first round. They both have aggressive front offices and both are in a win-now mode. I can see either one trading back up into the first round.
Flip a coin:
That literally is what it will come down to in deciding who gets the No. 8 pick and who gets the No. 9 pick between Carolina and Miami. The coin flip will be held Friday in Indianapolis. Carolina general manager Marty Hurney is an extremely superstitious guy and I'm guessing he's carrying some sort of coin that he thinks is lucky. By the way, Hurney is so superstitious that he's hoping for the No. 8 pick for another reason besides the fact it's one spot higher than No. 9. In the 2003 draft, the Vikings failed to turn in their pick on time. The Panthers wound up jumping ahead of them and taking offensive tackle
Jordan Gross
. He's had a pretty nice career, so Hurney probably is hoping for a repeat.
In need of a hit:
Like coach Mike Smith and quarterback
Matt Ryan
, Atlanta general manager Thomas Dimitroff is under a bit of pressure if the Falcons don't advance deep into the playoffs next season. Owner Arthur Blank has said simply making the playoffs isn't good enough. He wants to contend for the Super Bowl. Dimitroff has had mixed success with his first-round picks. Ryan and linebacker
Sean Weatherspoon
have worked out pretty well and
Julio Jones
looks like he can be an elite player. But defensive tackle
Peria Jerry
and offensive tackle
Sam Baker
have had their careers stall. Dimitroff is going to be busy in free agency, but he needs to pull a starter somewhere out of this draft and it would be especially nice if that guy was a defensive end or a left offensive tackle.
In need of a pass rush:
The problem with new defensive coordinator Steve Spagnulo's scheme is that the Saints don't have the personnel to run it effectively yet. Spagnuolo likes to generate almost all his pressure from the front four. Outside of veteran defensive end
Will Smith
, the Saints don't have any real pass-rush threats on the line. The Saints almost certainly will address that in the draft.
February, 14, 2012
2/14/12
5:53
PM ET
BRADENTON, Fla. -- The NFL world doesn't yet know a lot about Tampa Bay coach Greg Schiano, so let's turn to someone who does.
Let's turn to Mohamed Sanu, who spent the past three seasons playing wide receiver for Schiano at Rutgers, for a scouting report.
[+] Enlarge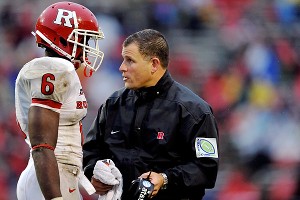 Paul Abell/US PRESSWIRE"He helped my career tremendously," Mohamed Sanu said of Greg Schiano. "He always got the best out of me every day."
"They're going to get a real resilient coach that never lets up on an opponent,'' Sanu said Tuesday. "He's just a tough coach. He's going to want the best out of you every single day in practice and out on the field on Sundays. He's very energetic. He'll get up in your face. He'll crack a joke here and there. But he'll get on you if he needs to.''
Sanu had 115 catches for 1,206 yards and seven touchdowns as a junior last season. After consulting with advisers about where he might land if he entered the 2012 NFL draft, Sanu decided to skip his final year of eligibility. Sanu wouldn't say exactly what the advisers told him, but most draft gurus and publications are projecting him to go in the first two rounds.
Sanu has been working out at IMG Football Academy since January and will go to the scouting combine in Indianapolis next week. Sanu, who made his decision to pass up his senior year before Schiano left Rutgers said it's ironic his college coach will be one of the NFL coaches watching him next week.
"He helped my career tremendously,'' Sanu said. "He always got the best out of me every day. We had a very tight relationship, so he didn't have to demand it out of me because he knew that I was going to give it all every day.''
Schiano knows plenty about Sanu, which leads to an obvious question: Could the coach and player be reunited in the NFL? Anything is possible. Sanu could be available when Tampa Bay picks early in the second round and it's not like the Bucs had stellar play at wide receiver last season.
"That would be awesome to be able to play for him again,'' Sanu said. "He's just a great coach and I just love being around him. But I can't really control that. I just want the opportunity to get the chance just to go prove myself and play the game I love. We'll see what happens.''
February, 14, 2012
2/14/12
5:03
PM ET
BRADENTON, Fla. -- The boot was off Tuesday and
Ryan Tannehill
's right arm looked just fine.
The Texas A&M product, who is considered one of the top quarterback prospects in the 2012 NFL draft, said the foot injury that forced him to miss the Senior Bowl is healing fast. Tannehill said he will head to Indianapolis for the scouting combine next week and will go through medical testing and meeting with teams, but will not participate in any of the on-field drills.
Tannehill said he'll save that for his pro-day workout in late March when he expects to be 100-percent healthy. Tannehill had been in a walking boot until recent days after having surgery to repair a fractured fifth metatarsal a little more than three weeks ago.
The surgery was performed in Charlotte by
Carolina Panthers
team physician Robert Anderson, one of the best-known foot specialists in the sports world.
"Dr. Anderson basically put a screw in there,'' Tannehill said. "It's locked down and I shouldn't have any problems going forward.''
Tannehill will stay out of the physical part of the combine, but he wasn't holding back on the field Tuesday at IMG Football Academy, where he's taking part in pre-combine training with about 30 other draft prospects.
After fellow quarterbacks
Russell Wilson
(Wisconsin) and
Kirk Cousins
(Michigan State) finished the on-field portion of their workday, Tannehill remained on the field for about 15 minutes getting one-on-one work with former Carolina quarterback Chris Weinke, who runs IMG's football operations. Tannehill said the fracture happened during a January workout at IMG, but Anderson told him it probably was the result of a pre-existing stress fracture.
Tannehill said he plans to come directly back to Bradenton after the combine and begin doing more intense on-field work with Weinke.
"We'll come back and push it pretty hard,'' Tannehill said. "I'm thinking I should be getting close to 100 percent by right after the combine and we'll really jump into the on-field stuff then to make up for the time I missed and get ready for pro day.''
Tannehill has been mentioned as a possible first-round pick by some draft experts. Last year, Carolina's
Cam Newton
and Minnesota's
Christian Ponder
came to IMG to work with Weinke and both ended up starting as rookies.
"I knew that Cam and Christian worked with coach Weinke and he helped elevate them,'' Tannehill said. "That's what you look for in a QB coach is someone who can take you to the next level. We lost a little time because of the foot, but we'll make up for it.''
(
Note:
I'll have much more from my visit to IMG, including features on some top prospects over the coming days.)

NFL SCOREBOARD
Thursday, 8/28
WEEKLY LEADERS