NFL Nation:

Corey Chavous
May, 23, 2011
5/23/11
7:28
PM ET
Sam Bradford
has generally kept a low profile during the NFL lockout, except when
collecting awards
and
statues in his honor
.
The
St. Louis Rams
' quarterback has also been busy working on his second career as an NFL quality-control coach.
[+] Enlarge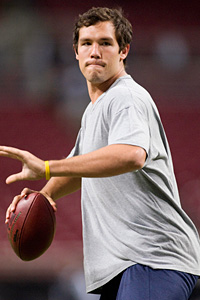 Jeff Curry/US PresswireRams quarterback Sam Bradford has taken on some coaching duties during the lockout.
Bradford, a $50 million man as the NFL's No. 1 overall draft choice last year, has assumed unconventional duties during player-organized practices that began in the St. Louis area Monday.
Those duties included drawing up plays on cards, the same work an entry-level assistant would undertake for the scout team in a regular practices. Because quarterbacks' playbooks are the most complex of all, Bradford was in better position to serve in a coaching capacity.
"He would call out a play and he would also break it down and explain it to all the other guys and the young guys who were there for the first time," guard
Jacob Bell
said by phone following the first session Monday.
Removing coaches from the practice-field equation makes it tougher for players to know for sure whether they're executing techniques correctly. That is particularly true for the Rams' offensive players as they adjust to a new coordinator, Josh McDaniels.
Players do have playbooks in their possession, however, and the books designed for quarterbacks contain much of the information needed for teaching. Two former Rams players,
Torry Holt
and
Corey Chavous
, are serving as coaches during daily sessions scheduled to run through Thursday.
"It's really cool to have them," Bell said. "They are coaching figures out there. Everybody is really working together."
Players have hired personal trainers to help with agility and conditioning drills.
Each day begins with weight-lifting sessions, followed by 45 minutes of agility work and about 80 minutes of practice. Players do not wear helmets or much padding. The non-contact sessions include seven-on-seven work. Players also practice breaking the huddle and calling plays at the line of scrimmage.
A few other notes related to these practices:
Bill Coats of the St. Louis Post-Dispatch lists 23 of an estimated 30 players attending the workouts. The breakdown included all three quarterbacks, five offensive linemen, four receivers, four tight ends, five linebackers and two defensive backs. Coats listed no running backs or defensive linemen, but noted that additional players were expected to attend over the next few days.

Two of the team's eight draft choices -- tight end Lance Kendricks and receiver Greg Salas -- were listed among those attending. I wondered whether some agents were advising their clients to exercise caution, but Carl Carey, who represents Rams first-round pick Robert Quinn, said he had not tried to steer Quinn either way. Carey also said he wasn't aware of these specific workouts.

While having more players attend speaks well for team chemistry, whether or not a specific player was there for a specific day reveals little. Quinn said during the draft that Bradford, James Laurinaitis and Chris Long were already making him feel welcome.

Bradford's participation is obviously more significant. Bell: "He's really doing it big. They are really breaking down and dissecting the plays, going over them, had the cards drawn up, looked pretty good out there."

Receiver Donnie Avery is looking "really good out there" after missing last season with a knee injury, Bell said.
It's tough to say whether these workout sessions will make a significant difference on the field once the season finally does begin. Strong attendance can only be a good thing, however.
"It says we're committed to winning and having a good season," Bell said. "On the other hand, it shows we're sick of sitting around and waiting for this thing to end."
January, 31, 2011
1/31/11
5:21
PM ET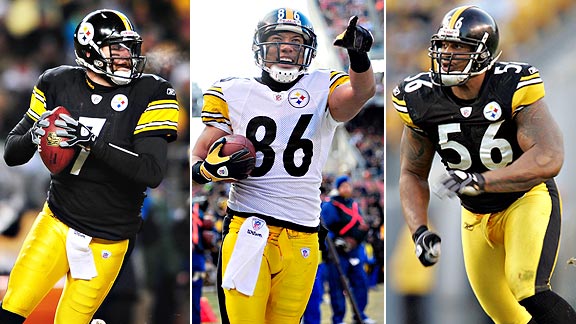 US PresswirePittsburgh's Ben Roethlisberger, Hines Ward and LaMarr Woodley are all playing in Super Bowl XLV, but could they have ended up in the NFC West coming out of college?
FORT WORTH, Texas -- The
Pittsburgh Steelers
appeared loose and comfortable during their first Super Bowl 45 media session.
They've been in big games before, and frequently, thanks largely to shrewd drafting.
This is the Steelers' third Super Bowl appearance in the last six seasons.
The team made available
James Farrior
,
Flozell Adams
,
Hines Ward
,
Brett Keisel
,
Ben Roethlisberger
and
LaMarr Woodley
during its initial media session Monday -- just the opportunity I needed to produce an item corresponding to the one titled, "
Draft hindsight: Aaron Rodgers and beyond
".
The idea: to examine a Super Bowl team's featured players -- in this case, the ones made available Monday -- with an emphasis on draft status and the decisions NFC West teams made in the same rounds. Not every team held a choice in every featured round.
The
Arizona Cardinals
had a shot at Steelers quarterback Ben Roethlisberger, but they came out OK.
Here goes ...
1997 Draft: James Farrior, LB, Virginia
Round:
First (eighth overall, by the
New York Jets
)
NFC West spin:
Farrior is a two-time Pro Bowl choice, but the NFC West offers no apologies for passing over him.
Orlando Pace
and
Walter Jones
became perennial Pro Bowl tackles. Jones became the best player in Seahawks history, in my view.
Shawn Springs
made one Pro Bowl trip and picked off 33 passes during a 13-year career. The Cardinals had no shot at Farrior. They chose Tommy Knight one pick later. He started 54 games in six NFL seasons. Rumor says the 49ers selected a quarterback in the first round of this draft.
First-round selections in the division:
1998 Draft: Flozell Adams, T, Michigan State
Round:
Second (38th overall, by Dallas)
NFC West spin:
Adams became a five-time Pro Bowl choice with Dallas. His career appeared finished, or close to it, until injuries led the Steelers to call on him this season. Arizona passed on Adams twice. Safety
Corey Chavous
, chosen five spots before Adams, went to a Pro Bowl with Minnesota. He was a productive player for roughly a decade. Tackle
Anthony Clement
, chosen two spots before Adams, started more than 100 games for three teams.
Second-round selections in the division:
1998 Draft: Hines Ward, WR, Georgia
Round:
Third (92nd overall, by Pittsburgh)
NFC West spin:
The Rams and Seahawks found Pro Bowl-caliber players when they passed over Ward in the third round. Seattle gave up on
Ahman Green
prematurely, however, after coach Mike Holmgren grew weary of early fumble problems. The 49ers missed on tackle
Chris Ruhman
three choices before Ward went to Pittsburgh. Ruhman played in six games with the 49ers, starting none. He played in 11 NFL games with two starts overall. The 49ers passed on Ward even though
Jerry Rice
had suffered a devastating knee injury in the 1997 opener.
Third-round selections in the division:
2002 Draft: Brett Keisel, DE, BYU
Round:
Seventh (242nd overall, by Pittsburgh)
NFC West spin:
The 49ers drafted longtime starting guard and center
Eric Heitmann
three spots before the Steelers found Keisel. Pittsburgh could use Heitmann this week after the Steelers' starting center,
Maurkice Pouncey
, suffered a severely sprained ankle during the AFC Championship Game. Keisel became a Pro Bowl choice for the first time this season, distinguishing him from 2002 NFC West seventh-rounders. The Rams found their mainstay snapper in this draft. Keisel was gone when the 49ers found guard
Kyle Kosier
, who started 29 games for them and remains a starter with Dallas.
Seventh-round selections in the division:
2004 Draft: Ben Roethlisberger, QB, Miami of Ohio
Round:
First (11th overall, by Pittsburgh)
NFC West spin:
The Cardinals passed over Roethlisberger and came away with a potential Hall of Fame receiver. No complaints there, even though quarterbacks are more valuable than receivers. None of the other NFC West teams had a shot at Roethlisberger. Seattle and St. Louis were set at quarterback, anyway.
First-round selections in the division:
2007 Draft: LaMarr Woodley, OLB, Michigan
Round:
Second (46th overall, by Pittsburgh)
NFC West spin:
The Cardinals could certainly use Woodley now, and badly, but they had already invested millions in the position heading into the 2007 draft. Free-agent additions
Chike Okeafor
and
Bertrand Berry
had combined for 14.5 sacks during the 2006 season. Unfortunately for the Cardinals, they haven't gotten enough from their second-round investment in
Alan Branch
.
Second-round selections in the division:
OK, all done, and just in time. ESPN.com teammates Mike Reiss, Kevin Seifert and I are heading out to the Packers' media session next. Seifert is driving and he doesn't wait for anyone. Gotta jam.
July, 24, 2009
7/24/09
11:11
AM ET
Posted by ESPN.com's Mike Sando
Training camp site:
Northern Arizona University (Flagstaff, Ariz.)
Campfires: Coach Ken Whisenhunt isn't afraid to make first-round draft choices earn their starting jobs. He benched Matt Leinart coming out of camp last season, then made talented rookie Dominique Rodgers-Cromartie wait until near midseason before becoming a full-time starter. The trend could continue this summer as rookie first-round choice Beanie Wells practices with the Cardinals for the first time.
Wells projects as the long-term replacement for Edgerrin James at running back, but Ohio State's late graduation prevented him from participating in minicamps and organized team activities. That means the adjustment period for Wells could take a little longer. Expect Tim Hightower to enter camp as the tentative starter.
Meanwhile, the situation at tight end remains a mystery. Arizona is carrying six tight ends on its roster, one behind the league high. Ben Patrick, the player coaches have tried to develop as a player versatile enough to help as a receiver and blocker, faces a four-game suspension to start the season. That could open the door for Anthony Becht, Leonard Pope or Stephen Spach to seize the starting job. I don't see a clear favorite, particularly with Patrick serving a suspension and Spach coming off knee surgery.
| | |
| --- | --- |
| | |
| | Jeff Mills/Icon SMI |
| | Will Beanie Wells be able to avoid the injuries that plagued him in college? |
Camp will be a downer if ... Wells doesn't immediately prove he can avoid the long list of injuries that affected him in college. Arizona needs a more dynamic runner to run its offense the way Whisenhunt and offensive line coach/running game coordinator Russ Grimm want to run it. Wells has the physical ability to provide that missing element. Can he stay on the field and will he fight through some of the ailments that await every running back in the NFL?
The preferred scenario would include Wells breaking a few long runs during the preseason, setting up the play-action passing game that worked so well for Arizona when the team showed more balance in the playoffs last season.
Camp will be a success if
... the reconfigured coaching staff takes control of the team and helps Arizona build on the momentum from its Super Bowl season.
Whisenhunt has stressed continuity during the first two years of his tenure. He kept the same five starters on the offensive line even though right guard Deuce Lutui had penalty problems and center Lyle Sendlein sometimes struggled while playing through a shoulder injury. While the approach worked, continuity wasn't an option for the coaching staff once the Chiefs hired offensive coordinator Todd Haley head coach.
Whisenhunt's decision to fire quarterbacks coach Jeff Rutledge and defensive coordinator Clancy Pendergast shook up the staff considerably more.
Warner will miss the rapport he enjoyed with Haley. The two appeared inseparable at times and the relationship seemed to benefit Warner on the field. Can the newly configured staff fill the void or otherwise find ways to keep Warner and the offense rolling?
Money men: Key players Karlos Dansby, Anquan Boldin and Darnell Dockett want lucrative long-term deals.
Franchise player rules will force Dansby to wait, and he should be content "settling" for a one-year franchise deal worth nearly $9.7 million. The volatile Dockett has also committed to letting his play do the talking, a good sign for the team.
While Boldin put aside his concerns to produce last season, his situation bears monitoring. Another year without a new contract probably equates to a higher frustration level. Boldin, generally the consummate pro, might have a harder time dealing with the situation -- particularly if the team fails to meet expectations.

---
San Francisco 49ers
Training camp site:
49ers headquarters (Santa Clara, Calif.)
| | |
| --- | --- |
| | |
| | Kyle Terada/US Presswire |
| | Can Shaun Hill distinguish himself to claim the starting QB job? |
Campfires: The 49ers have quite a few position battles for a team that finished strong and feels good about its chances for contending within the division.
The quarterback race will rightfully command the most attention. Coach Mike Singletary said the players will know whether Shaun Hill or Alex Smith should be the starter, at which point Singletary will merely affirm what they know. That means Smith's status as the No. 1 overall draft choice in 2005 will not afford him any advantage in the competition. Hill's 7-3 record as the 49ers' starter over the last two seasons gives him the edge.
On defense, Dashon Goldson would have to flop or suffer another injury for the older and less athletic Mark Roman to take back his job at free safety. Dre Bly has the edge over Tarell Brown at right corner. Kentwan Balmer, the 49ers' first-round choice in 2008, could push for a starting job at left defensive end.
Camp will be a downer if
... both quarterbacks flounder and veteran
Damon Huard
appears to be the best option. Unlikely? Perhaps. But the scenario isn't as laughable as it should be. Neither Hill nor Smith distinguished himself during the competition a year ago. Even if Mike Martz was playing favorites when he installed J.T. O'Sullivan as the starter, the fact remains that O'Sullivan enjoyed the strongest preseason of the three.
The new offensive system should better suit Hill in particular, and the 49ers have declared this quarterback race a two-man affair, ruling out Huard as a contender. Still, after years of backing up Trent Green, Tom Brady and Dan Marino, Huard wound up starting three of the first five games in Kansas City last season when the unaccomplished Brodie Croyle and Tyler Thigpen were his primary competitors.
Camp will be a success if
... Hill validates his 7-3 record as the 49ers' starter, right tackle
Marvel Smith
makes it through training camp healthy and the push toward a full-time 3-4 defense validates
Parys Haralson
and
Manny Lawson
as promising pass-rushers.
Hitting on all three of those might be asking a bit much, but getting two of them right might be enough, particularly if the 49ers feel good about the quarterback situation.
On the receiving end: It's a little surprising to see the 49ers emerge with their deepest group of receivers in years after committing to Singletary's smashmouth approach. The change to Singletary and offensive coordinator Jimmy Raye was all about making smarter use of the players general manager Scot McCloughan and former coach Mike Nolan had acquired in recent years.
That meant -- and still means -- forging an identity in the ground game. Yet, while receivers Michael Crabtree, Isaac Bruce, Brandon Jones and Josh Morgan will not be battling Larry Fitzgerald and Anquan Boldin for Pro Bowl berths this season, they do give the 49ers better potential than they've enjoyed recently.
Singletary's smashmouth roots should not and likely will not dissuade the 49ers from making frequent use of those receivers.
---
| | |
| --- | --- |
| | |
| | Kirby Lee/Image of Sport/US Presswire |
| | The Seahawks must get Matt Hasselbeck through training camp unscathed. |
Training camp site:
Seahawks headquarters (Renton, Wash.)
Campfires: The Seahawks weren't going to pretend that first-round choice Aaron Curry would have to prove himself in camp to earn a starting job. They put the fourth overall choice in the lineup from the beginning. No suspense there.
Most positions in Seattle appear settled. The situation at receiver should produce intrigue with Nate Burleson, Deion Branch and rookie burner Deon Butler fighting to get on the field with T.J. Houshmandzadeh and tight end John Carlson. Injuries will probably help sort out the situation. Burleson is returning from ACL surgery. Branch is entering his first full season since undergoing his own ACL procedure.
Don't be surprised if rookie second-round choice Max Unger pushes for playing time somewhere in the interior of the offensive line. He projects as the long-term starter at center if Chris Spencer plays out his contract and leaves following this season.
If Spencer holds the job, Unger figures to find his way onto the field in one of the guard spots, perhaps this year.
Camp will be a downer if ... quarterback Matt Hasselbeck's back injury flares up at any point along the way. Hasselbeck and the Seahawks say the quarterback has long since overcome the problems that helped limit him to seven starts last season. They didn't know the extent of the problem a year ago when they assured fans that Hasselbeck would be fine for the regular season. The issue is under control now, they say, but the very nature of back injuries should raise at least some concern heading into a pivotal season for the organization.
Camp will be a success if ... Hasselbeck, left tackle Walter Jones and defensive end Patrick Kerney put to rest concerns about their long-term health. Beyond the obvious injury storylines, this camp becomes a success for Seattle if Curry validates coach Jim Mora's opinion that the linebacker's pass-rushing abilities are indeed far stronger than anticipated on draft day.
Seattle badly needs to restore its pass rush to better compete against the Cardinals' passing game in a broader effort to overtake Arizona in the division. Kerney is the key, but the Seahawks are also counting on pressure from other sources: Brandon Mebane, Cory Redding, Lawrence Jackson, Darryl Tapp and possibly Leroy Hill. Significant pass-rush help from Curry would offset Julian Peterson's departure while making it easier for the Seahawks to justify having drafted a linebacker fourth overall.
Learning curve: By all accounts, the two years Mora spent in the background watching Mike Holmgren operate should leave him better prepared to handle his second head-coaching job. The way Holmgren handled everything from players to the media differed quite a bit from the more freewheeling approach Mora displayed with the Falcons.
Lessons learned? Yes, but it will be interesting to see how the Seahawks' leadership -- operating without Holmgren for the first time since 1998 -- will respond under pressure if things go wrong early.
---
St. Louis Rams
Training camp site: Rams Park (Earth City, Mo.)
| | |
| --- | --- |
| | |
| | G. Newman Lowrance/Getty Images) |
| | Will Marc Bulger be able to regain his old form behind a revamped offensive line? |
Campfires: The Rams need to figure out what they have at receiver, linebacker and left cornerback after overhauling their roster.
Torry Holt, Orlando Pace, Drew Bennett, Trent Green, Anthony Becht, Corey Chavous, Pisa Tinoisamoa, Brian Leonard, Gary Stills, Jason Craft, Ricky Manning, Fakhir Brown, La'Roi Glover, Dane Looker, Travis Minor, Dante Hall, Nick Leckey and Brett Romberg were among the former starters and role players cast aside in the makeover.
None was irreplaceable. Getting rid of them was the easy part. Identifying and developing adequate replacements will take time.
Camp will be a downer if ... top draft choices Jason Smith and James Laurinaitis aren't ready to contribute right away. Coach Steve Spagnuolo has taken it slowly with both rookies, but he likely will not have that luxury once the regular season gets going. Smith and Laurinaitis probably must play and play well for the Rams to avoid trouble.
Laurinaitis' development is critical because the Rams appear so thin at linebacker after releasing Tinoisamoa. Even if Laurinaitis plays well, the Rams' depth at linebacker could betray them.
Camp will be a success if ... quarterback Marc Bulger finds comfort behind an upgraded offensive line. Bulger can be a highly accurate passer when opposing defensive linemen aren't pounding the confidence out of him. The player who topped 4,300 yards passing with 24 touchdowns and eight interceptions three years ago hasn't resembled even remotely the scared soul seen under center for the Rams too often over the last two seasons.
The Rams' should start to regain some swagger on the line with 320-pounder Jason Brown taking over at center and the personably intense Smith at tackle. Right guard Richie Incognito won't be the only starter with some snarl, in other words. That should help provide improved protection for Bulger and leadership for the offense.
Fantasy spin: Running back Steven Jackson should not hurt for opportunities now that the Rams have landed a 320-pound center (Brown, free agent from the Ravens) and a 258-pound fullback (Mike Karney, late of the Saints). The Rams will try to develop their young receivers, but rarely should any of them represent a more formidable option than Jackson. And if he gets some luck with injuries, look out.
May, 31, 2009
5/31/09
9:26
PM ET
Posted by ESPN.com's Mike Sando
Rams owner Chip Rosenbloom's attempts to find a buyer for the franchise comes while "cash flow for the family is a problem" -- which invites scrutiny upon the team's decision to part with so many older, higher-priced players.
Every new coaching staff wants to reshape its roster. The Rams needed to get younger whether or not cash flow was a problem for ownership. Most of the players the Rams released were arguably scheduled to earn more than they proved to be worth. Salary-cap concerns were another factor. Still, cash-flow issues could have influenced some decisions.
The Rams saved $26.85 million in 2009 cash outlays by releasing the following seven players:
These are gross savings. Net savings are less. The Rams released Green, for example, but a contract for his replacement, Kyle Boller, cost $1.5 million in salary and bonus.
Bennett needed to go. Time appeared to run out for Green and Chavous. Holt's salary was inflated. I think the Rams would have been more talented keeping Pace, Tinoisamoa and probably even Becht. Those players found homes on winning teams. Pace commanded as much in 2009 money from the Bears as the Rams would have paid him.
May, 11, 2009
5/11/09
4:04
PM ET
Posted by ESPN.com's Mike Sando
Len Pasquarelli's column about teams needing to clear the air with jilted quarterbacks brought to mind a part of the game Matt Hasselbeck mentioned to John Boyle of the Everett Herald:
"I experienced kind of a high-low in 2001. I got traded and talked to the coaching staff and they said, 'Hey, we want you to come be our starting quarterback.' And then during training camp, they go and sign Trent Dilfer, who had just won a Super Bowl. I think I learned a lot through that experience and through other experiences like that."
Quarterback commitments can indeed be fickle. Matt Leinart and Alex Smith have learned that the hard way. The Cardinals' decision to bench Leinart didn't need much explaining, in my view, because Super Bowl MVP Kurt Warner was the alternative.
The quarterback question I would have in St. Louis is how quickly the Rams might turn away from Marc Bulger if he were to struggle.
General manager Billy Devaney and the new coaching staff have not hesitated to push out established players, from Torry Holt to Orlando Pace to Drew Bennett to Corey Chavous to Pisa Tinoisamoa and others. Bulger probably wasn't going anywhere this offseason for a few reasons:
Bulger remained the Rams' most viable option.
The team invested heavily in Bulger before the 2007 season.
The team had too many other needs to draft a quarterback second overall.
Releasing Bulger would have carried negative salary-cap ramifications.
Kyle Boller, Brock Berlin and Keith Null are the alternatives to Bulger. If all goes to plan, the Rams will run the ball effectively, putting Bulger in better position to avoid punishment. Bulger will become comfortable again while re-establishing his career.
All bets are off if the season does not go to plan. The people who identified Bulger as the Rams' franchise quarterback no longer remain in positions of authority within the organization. That could make him more vulnerable than the typical franchise quarterback.
March, 25, 2009
3/25/09
1:35
PM ET
Posted by ESPN.com's Mike Sando
DANA POINT, Calif. -- We'll have more Rams fans resurfacing if coach Steve Spagnuolo and the new leadership can turn around the organization.
In the meantime, Cardinals fan HornerJD50 provided a Rams-related question (see comments here) for the NFC coaches' breakfast media session Wednesday morning at the NFL owners' meeting.
HornerJD50: Much was made about the Cardinals' losing culture last year, and while the Rams don't have the long history of losing like the Cardinals, recently that's all they have been doing. What is Spags' step-by-step process in changing the culture of his franchise?
HornerJD50 also asked about what traits the Rams would value in a potential successor for quarterback Marc Bulger. I didn't get to that subject, figuring Spagnuolo would dance around it, anyway. I did ask about the culture part. Spagnuolo provided a thoughtful answer.
Spagnuolo: What it means to me is figuring out the character of the people that are in the building. And I'm not talking about just players and coaches, but the whole building. I think this will be a whole organizational effort [and] goal. And I really believe that the people in the building at Rams Park, everybody is headed in the right direction. It's easy right now. It's a honeymoon period. It's new. The test will be a year from now, depending on how the season goes. Will we still be able to feel that way? There is always an element of that throughout the building in order to get everybody headed in the same direction and have a chance at success.
It begins with the players. What I learned most in this league is veteran leadership is tremendously key. We'll try to identify those leaders on our team and hopefully they'll step to the forefront in those tough times that you know you are going to have on no matter what team in the league in a 16-game season. I remember vividly going through it in Philadelphia and I remember Brian Dawkins, Jeremiah Trotter and Donovan McNabb at a certain point in the season deciding, 'Hey, guys.' They did little things with the other players, very unseen things, but they made a big difference in us turning it around.
The Rams have parted with a long list of veteran players since Spagnuolo took over, including Torry Holt, Anthony Becht, Orlando Pace, Drew Bennett, Trent Green and Corey Chavous. The team has gone from being one of the five oldest in the league to being one of the five youngest.
I raised that fact with Spagnuolo. He said sometimes established players must leave before new leaders can feel comfortable emerging. I thought back to a recent conversation with cornerback Ron Bartell. We'll find out if he's one of the new leaders.
March, 13, 2009
3/13/09
5:04
PM ET
Posted by ESPN.com's Mike Sando
The Rams' long-awaited decision to release Torry Holt, announced Friday, continues their trend toward youth with an eye toward the salary cap.
The team has parted with eight players recently. Seven played offense. Most were aging players with higher salaries.
Before cutting Holt, the Rams released left tackle Orlando Pace, tight end Anthony Becht, receiver Drew Bennett and quarterback Trent Green. Strong safety Corey Chavous was a casualty on defense. All five were in their 30s.
The Rams also parted with center Brett Romberg, who signed with the Falcons. Another offensive lineman, restricted free agent Mark Setterstrom, did not receive a qualifying offer. He could conceivably return at a price lower than the $1 million minimum tender for RFAs.
Getting younger comes with a short-term price for the Rams. Despite being proactive in signing center Jason Brown and safety James Butler while re-signing cornerback Ron Bartell, the Rams will enter the draft with multiple needs.
Donnie Avery, Keenan Burton, Derek Stanley, Travis Brown, Joel Filani and Nate Jones are their receivers.
Without Pace, Alex Barron becomes the only established tackle on the roster. Guard Jacob Bell and second-year pro John Greco might be able to make the move to tackle if needed, but the Rams still need numbers, particularly if swing tackle Adam Goldberg leaves in free agency.
St. Louis is down to six offensive linemen: Brown, Bell, Barron, Greco, Richie Incognito and Roy Schuening. Expect the Rams to find at least two linemen in the draft.
December, 11, 2008
12/11/08
9:27
AM ET
Posted by ESPN.com's Mike Sando

Bernie Miklasz of the St. Louis Post-Dispatch says the Rams will have a hard time retaining Jim Haslett as coach given the team's struggles. Potential candidates: Giants defensive coordinator Steve Spagnuolo, Cardinals assistant head coach and offensive line coach Russ Grimm, Titans defensive coordinator Jim Schwartz, Ravens defensive coordinator Rex Ryan, Titans offensive line coach Mike Munchak, Bucs defensive backs coach Raheem Morris and Stanford head coach Jim Harbaugh.
Jim Thomas of the St. Louis Post-Dispatch says Rams safety Oshiomogho Atogwe has at least one takeaway in seven of his last 10 games. Atogwe is responsible for 10 of the Rams' 17 takeaways this season.
Bill Coats of the St. Louis Post-Dispatch explains why the Rams are benching Corey Chavous in favor of Todd Johnson. Age is one factor. Johnson also played relatively well against the Cardinals in Week 14, according to Haslett.
Steve Korte of the Belleville News-Democrat says Rams receiver Dane Looker is the emergency kicker while Josh Brown rests a groin injury.
Also from Korte
: Chavous declined comment following his job loss.

John Crumpacker of the San Francisco Chronicle says 49ers nose tackle Aubrayo Franklin points to improved conditioning and more creative play calling as reasons for his success this season.
Kevin Lynch of Niner Insider says 49ers tight end Vernon Davis could play a role in blocking Dolphins pass-rusher Joey Porter.
Matt Maiocco of the Santa Rosa Press-Democrat checks in with Franklin and linebacker Patrick Willis, key players in the 49ers' defense. Willis thinks he has improved since last season even though his stats aren't as prolific.
Also from Maiocco: NFL rules prevent teams from signing interim coaches to long-term deals until after the season. They 49ers cannot hire Mike Singletary before Dec. 29.
Lowell Cohn of the Santa Rosa Press-Democrat explains why 49ers coach Singletary carries around a black book with gold leafing on the pages. Singletary has been a prolific note taker since his retirement from the NFL in 1993.
Also from Cohn: A transcript of his conversation with Singletary.
Matt Barrows of the Sacramento Bee doesn't understand why the Dolphins and other teams have had success with the Wildcat offense.
Daniel Brown of the San Jose Mercury News says the Dolphins' Ronnie Brown has 47 carries for 249 yards from the Wildcat this season. Singletary credits the Dolphins' coaches. Also, the 49ers' confirmed that offensive coordinator Mike Martz is no longer a candidate for the San Diego State coaching job.

Paola Boivin of the Arizona Republic explains how Cardinals pass-rusher Bert Berry became an advocate for children. His wife overcame leukemia when both were in middle school.
Bob McManaman of the Arizona Republic says the Vikings' Adrian Peterson expected the Cardinals to draft him.
Darren Urban of azcardinals.com explains why the Cardinals drafted Levi Brown instead of Peterson. Coach Ken Whisenhunt wanted to build a strong offensive line. Meanwhile, Brown isn't interested in rehashing the draft.
Also from Urban: Kurt Warner is taking a low-key approach to the Cardinals' success. The quarterback is projecting a business-as-usual demeanor.

Clare Farnsworth of the Seattle Post-Intelligencer expects Seneca Wallace to start at quarterback against the Rams in Week 15. Wallace is getting the meaningful coaching in practice.
Also from Farnsworth: Pro Bowl left tackle Walter Jones also might miss the St. Louis game.
John Morgan of Field Gulls explains why selecting a quarterback in the first round can make sense. That's where teams tend to find the great ones.
Jose Romero of the Seattle Times thinks Jones might not prevail in Pro Bowl voting for the first time in years.
Danny O'Neil of the Seattle Times says the Seahawks are reluctant to let Hasselbeck play while the quarterback still feels a "tingle" stemming from his back injury.
Eric Williams of the Tacoma News Tribune says Julian Peterson and other Seahawks are eager to get another shot at Rams guard Richie Incognito, whom they accused of dirty play.
December, 10, 2008
12/10/08
9:49
AM ET
Posted by ESPN.com's Mike Sando

Jim Thomas of the St. Louis Post-Dispatch says the Rams will place cornerback Tye Hill on injured reserve. Also, Todd Johnson will replace Corey Chavous at strong safety.
Also from Thomas: A chat transcript leading off with a question about Jim Haslett's job prospects. Thomas thinks the Rams will open the search if Haslett fails to win two of the final three games. Haslett could still be a candidate at that point.
Jeff Roman of ramsgab.com looks at potential candidates for the Rams' head coaching job.
VanRam of Turf Show Times is putting his money on Haslett to keep the job.

Joe Staley of the 49ers updates his blog with an item about his first NFL touchdown. Also, Staley has become a San Jose Sharks fan despite growing up in Michigan.
Also from Staley: A look back at the victory over the Jets, with an emphasis on the 49ers' strong third-down play.
Taylor Price of 49ers.com checks in with 49ers receiver Jason Hill, who is making strides in his second season from Washington State.

Emily Gersema of the Arizona Republic was there when Cardinals receiver Larry Fitzgerald accompanied an 8-year-old to school as part of a contest promotion.
Kent Somers of the Arizona Republic checks in with Cardinals general manager Rod Graves for a look at the team's offseason priorities. Graves remains optimistic about mending the team's relationship with receiver Anquan Boldin.
Darren Urban of azcardinals.com says Early Doucet is the odd man out thanks in part to Steve Breaston's emergence as a productive receiver.

John Morgan of Field Gulls breaks down the Seahawks' offensive linemen, making the case that Steve Vallos isn't the answer at center. He also recognizes Brandon Mebane as one of the best things the Seahawks have going. He sees Sean Locklear as the future left tackle. An aside: Locklear's contract does include escalators in case he plays at least half the snaps at left tackle. The escalators reflect potential expectations for Locklear once Walter Jones retires.
Clare Farnsworth of the Seattle Post-Intelligencer says the Seahawks could be shut out from the Pro Bowl. Lofa Tatupu says he hasn't played well enough to make a fourth consecutive trip.
Scott Johnson of the Everett Herald sees draft positioning on the line when the Seahawks visit the Rams.
Danny O'Neil of the Seattle Times quotes Holmgren as saying football isn't a sport where teams intentionally lose games to improve playoff positioning.
November, 4, 2008
11/04/08
10:38
AM ET
| | | | | | | | |
| --- | --- | --- | --- | --- | --- | --- | --- |
| Arizona Personnel Group at St. Louis, Week 9 | Runs | Yards/ Run | Pass Att. | Yards/Pass Att. | INT | Sacks | Total TD |
| 4 WR | 3 | 2.7 | 21 | 10.6 | 0 | 1 | 2 |
| 2 RB, 3 WR | | | 1 | 0.0 | 0 | 0 | 0 |
| 2 RB, 2 WR, 1 TE | 14 | 8.6 | 6 | 11.8 | 0 | 0 | 1 |
| 1 RB, 2 WR, 2 TE | 4 | 6.8 | | | 0 | 0 | 0 |
| 2 RB, 3 TE | | | | | | | |
| 1 RB, 3 WR, 1 TE | 6 | 3.5 | 5 | 9.8 | 0 | 0 | 0 |
| TOTALS | 32 | 5.6 | 33 | 10.4 | 0 | 1 | 3 |
Posted by ESPN.com's Mike Sando
The Cardinals were a fascinating team to watch during their blowout victory over the Rams in Week 9.
The unannounced switch from Edgerrin James to Tim Hightower at running back produced the desired results. The Cardinals showed balance in amassing more than 500 yards, but they also missed numerous opportunities. This could have been a 600-yard game.
Arizona dropped passes and committed penalties that wiped out big plays. The Cardinals also missed a few blocks that might have sprung Hightower for additional yardage. Overall, however, this was still a very impressive performance. A few things I noticed while breaking down the Cardinals' offensive personnel use:
September, 11, 2008
9/11/08
10:42
AM ET
Posted by ESPN.com's Mike Sando
Re-watching the Rams-Eagles game last night brought into focus the Rams' problems in the secondary. The chart, which shows the most yards given up by NFL defenders in Week 1, lists three Rams and one Seahawk among the top five.
Tye Hill seemed to be in position on one of the Eagles' big completions early, but DeSean Jackson made the play. Seattle's Kelly Jennings had a hard time with the Bills' Lee Evans.
These breakdowns, tracked by Stats LLC., can be subjective. Only the Rams know for sure which of their players were responsible for certain aspects of specific coverages. Sometimes a cornerback gives up a big play after a safety fails to help in coverage. That could have been the case with some of these plays. But a careful review can generally tell us which players failed in coverage most of the time.
How to read the chart: "Targeted" shows how many times each player had passes thrown to the players he was covering. "Burned" shows how many of these passes were completed. "Yards" shows how many yards these passes gained. "TD" shows how many produced touchdowns.

NFL SCOREBOARD
Thursday, 9/18
Sunday, 9/21
Monday, 9/22