NFL Nation:

Corey McIntyre
January, 26, 2011
1/26/11
2:08
PM ET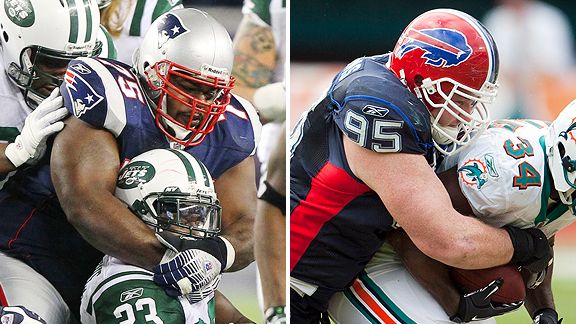 Getty Images, US PresswireThere was enough room on the All-AFC East team for nose tackles Vince Wilfork and Kyle Williams.
Reader input didn't make compiling the 2010 All-AFC East team a simple process.
Despite your tremendous response to help me assemble the quintessential roster, I had to make an executive decision, break a deadlock, defend one of my no-brainer selections and throw out some ballots because of shenanigans.
In the end, we have an All-AFC East squad everybody should be satisfied with.
We began the process a week ago, when
I chose 10 players I believed were automatic
. The other 17 positions were for you to vote upon. You didn't disappoint.
There were some great races, most notably at left tackle and nose tackle.
As with any voting process on the AFC East blog, I always can be convinced to move from a stance. My instructions were to vote for one nose tackle for a 3-4 scheme with emphasis that
New England Patriots
keystone
Vince Wilfork
and
Buffalo Bills
standout
Kyle Williams
must be considered nose tackles because that's how each team identifies him.
But enough readers made the case that Wilfork and Williams played elsewhere along the line so frequently that they should be eligible for some quasi position. I do appreciate the point.
The Patriots' official game-by-game player participation record says Wilfork started eight games at defensive end. Williams started every game at nose tackle (12) or defensive tackle (four).
I decided to add Wilfork and Williams as "defensive tackles" on a defensive front with
New York Jets
defensive end
Shaun Ellis
, who received an avalanche of votes. But I didn't want to slight the No. 2 defensive end,
Kendall Langford
of the
Miami Dolphins
. Langford received a healthy number of votes. Too many to dismiss.
That left me with a dilemma: How can I honor four defensive linemen and still maintain a 3-4 alignment? I took the easy way out. I added a 12th defender. I'm not thrilled with my final decision, but it's an appropriate way to give proper credit where it's due.
On the other side of scrimmage, Dolphins left tackle
Jake Long
and Jets left tackle
D'Brickashaw Ferguson
finished in a tie, forcing me to make the call. Each was selected to be a Pro Bowl starter. Long was voted All-Pro.
I chose Long. He played hurt for much of the season. He slipped on plays here or there, but he mostly remained dominant.
A few readers took me to task for my coronation of Dolphins punter
Brandon Fields
without allowing a vote because Jets punter
Steve Weatherford
had a great season. Weatherford tied an NFL record with 42 punts inside the 20-yard line. He was impressive.
But I found Fields more remarkable this year. He ranked fourth with a 46.2-yard average (3.6 yards longer than Weatherford). Fields' net average of 37.8 yards was only 0.3 yards shorter than Weatherford's, but the Dolphins were atrocious on special-teams protection and coverage. They fired their special-teams coordinator after Week 4. Fields had two punts blocked and one returned for a touchdown.
The Jets have venerable special-teams coach Mike Westhoff and sensational coverage men, as illustrated by four Jets receiving at least two votes for the special-teams position on the All-AFC East team.
And it's
not often a punter is MVP of a game, but Fields certainly was
against the Jets in Week 14.
There were some surprises in the balloting.
Bills receiver
Steve Johnson
ran away with one of the two available spots, but I didn't expect
Santonio Holmes
to take the other one so handily over teammate
Braylon Edwards
or Patriots star
Wes Welker
.
I assumed Patriots tight end
Rob Gronkowski
would win, but in a close race, especially with the possibility of splitting votes with teammate
Aaron Hernandez
. Gronkowski crushed everyone else. He had four times as many votes as his closest competition,
Dustin Keller
of the Jets.
Bills linebacker
Arthur Moats
finished a distant second to
Calvin Pace
. But I found it amusing that almost every time a vote came in for him, the reader stipulated it was because Moats injured
Brett Favre
.
Patriots rookie
Devin McCourty
had six times as many votes as Dolphins cornerback
Vontae Davis
for the position opposite Jets star
Darrelle Revis
.
Antonio Cromartie
wasn't remotely in the race.
The most balanced voting happened at the safety positions. Patriots strong safety
Brandon Meriweather
edged out
Jim Leonhard
of the Jets, with
Donte Whitner
of the Bills closely behind in third.
Bills free safety
Jairus Byrd
, a Pro Bowler as a rookie in 2009, accumulated just 14 more votes than
Patrick Chung
of the Patriots.
The special-teams race was fun to track. Thirteen players received at least one vote, with Jets hitter
Eric Smith
barely beating teammate
James Ihedigbo
and Bills fullback
Corey McIntyre
.
September, 10, 2009
9/10/09
11:15
AM ET

Posted by ESPN.com's Tim Graham
ORCHARD PARK, N.Y. -- This was supposed to be
Trent Edwards
' big no-excuses season.
He purportedly had all the materials he would need. Three years into his NFL career, we were going to find out whether he deserved to be considered the
Buffalo Bills
' quarterback of the future.
| | |
| --- | --- |
| | |
| | George Gojkovich/Getty Images |
| | Trent Edwards has a lot to adjust to this season: a new left tackle, new offensive coordinator and new offensive scheme to run. |
That was the sentiment a month ago, maybe even a couple of weeks ago.
Not anymore.
Edwards heads into 2009 with less support than he's ever had. If Edwards were to fall flat on his facemask this year, we still wouldn't know with any reasonable degree of certainty what he's capable of and whether he should be the man in 2010.
Within 10 days of the season opener, the Bills have made decisions that dim Edwards' chances of success.
Edwards, to his credit, isn't looking for excuses. It sounds like he still believes the Bills' offense depends mainly on him.
"I think that the position I am in -- with two years under my belt, with a lot of say in the way this offense goes -- a lot of the reason this offense is going to be where it needs to be is because of me," Edwards said. "I think that's a great opportunity for me."
About the only way we will discover anything new about Edwards is if he puts the team on his back and leads them to the playoffs.
Anything less can be justified by the circumstances the Bills' front office and coaching staff created.
July, 26, 2009
7/26/09
12:36
AM ET
Posted by ESPN.com's Tim Graham
PITTSFORD, N.Y. -- Terrell Owens knows he's a big deal. He's reminded of it everywhere he goes, in everything he does.
But, relatively speaking, Owens is an even bigger deal in Western New York than he ever has been anywhere else.
Legends were forged in San Francisco before Owens arrived there. Philadelphia has seen its share of superstars. Icons have passed through Dallas for decades.
Aside from maybe O.J. Simpson, nobody in Buffalo sports history has embodied the combination of sports stardom and mainstream celebrity as T.O.
Each time Owens touched the ball Saturday morning during the Bills' opening training camp practice at St. John Fisher College in suburban Rochester, the crowd erupted. It was his debut in front of the fans, and they welcomed him like a hero.
They beseeched him for autographs afterward and exploded with the loudest ovation of the day when he obliged. The roar drowned out part of head coach Dick Jauron's news conference being held 50 yards away.
"I pinch myself sometimes," Owens said. "I've realized that I've had a following everywhere that I've been. I expected nothing different here. I know that the Buffalo fans are very, very fanatical. They're behind their team 100 percent, so coming out here I expected nothing less."
Bills fans have rooted for Jim Kelly, Thurman Thomas and Bruce Smith. None of them arrived with the credentials that T.O. can boast.
Owens has 951 receptions. His next will move him past Bills great Andre Reed for sixth place all-time. Owens has scored 141 touchdowns, the most of any active NFL player. He has his own reality television show. He's known around the world.
Add all of that to a team that hasn't been to the playoffs in nine seasons, and it's easy to see why fans are so euphoric over Owens.
Win or lose, he makes their team relevant again.
Even though Buffalo's top four draft choices were absent Saturday, almost every question posed to head coach Dick Jauron and quarterback Trent Edwards was about Owens' presence.
"He's one of many here, but he's a great example because -- let's face it -- we don't have anybody else that's caught 951 balls in the league," Jauron said.
Actually, all of the Bills with at least one career reception combined -- Lee Evans, Josh Reed, Roscoe Parrish, Steve Johnson, James Hardy, Derek Schouman, Derek Fine, Dominic Rhodes, Marshawn Lynch, Fred Jackson and Corey McIntyre -- have 997 receptions.
No wonder Owens received more cheers Saturday morning than the rest of the team put together.
"It definitely gives me an appreciation for who I am and what I've done throughout my career," Owens said. "It's a humbling situation. I know I'm a blessed individual and know that I have a lot to offer. I expect to bring some of those same things I brought to other teams. That's a lot of success, a lot of touchdowns and a lot of wins."
February, 26, 2009
2/26/09
8:42
PM ET
Posted by ESPN.com's Tim Graham
The Buffalo Bills' most significant revelations Thursday dealt with two players they didn't want any more: Guard Derrick Dockery and tight end Robert Royal.
But they had a lot of assets they preferred to keep.
BuffaloBills.com writer Chris Brown wraps up all the moves they made Thursday.
The Bills re-signed third-string quarterback Gibran Hamdan, fullback Corey McIntyre and defensive back Dustin Fox.
Brown also reports the Bills extended low tenders to linebacker Keith Ellison and safety George Wilson.
The low tender is for one year at $1.01 million and gives the Bills the opportunity to match any offer sheet those players might sign. If the Bills decline to match, they would receive a draft pick commensurate with where that player was drafted -- in Ellison's case a sixth-round pick, and in Wilson's case nothing because he wasn't drafted.
The Bills also retained the rights to several exclusive-rights players: Quarterback Matt Baker, running back Fred Jackson, running back Bruce Hall, tight ends Derek Schouman and Jonathan Stupar, defensive end Copeland Bryan, linebacker Blake Costanzo and long snapper Ryan Neill.
One move not listed in Brown's report is tackle Kirk Chambers. My sources tell me terms have been reached on a multiyear deal. Chambers would have been an unrestricted free agent at 12:01 a.m. Friday.
February, 26, 2009
2/26/09
1:06
PM ET
Posted by ESPN.com's Tim Graham
The Buffalo Bills have re-signed fullback Corey McIntyre to a two-year contract extension, an NFL source has informed ESPN.com. Financial terms aren't yet known.
McIntyre, a pure backfield blocker and special-teamer, would have become an unrestricted free agent at 12:01 a.m.
The Bills signed McIntyre prior to Week 5, cutting Darian Barnes to make room. McIntyre played 11 games. He had zero carries and two receptions for minus-1 yard.
His value was in clearing holes for Pro Bowl running back Marshawn Lynch and backup Fred Jackson.
October, 2, 2008
10/02/08
11:34
AM ET
Posted by ESPN.com's Tim Graham
New York Jets
Buffalo Bills
Miami Dolphins
New England Patriots

NFL SCOREBOARD
Thursday, 9/18
Sunday, 9/21
Monday, 9/22