August, 27, 2010
8/27/10
12:01
PM ET
Chaz Schilens
calls it his "secret relationship" with Marquis Cooper.
It began a decade ago in suburban Phoenix. It ended during a terrible weekend in March 2009 off the rough shores of Florida.
More than 17 months after the tragic death of Cooper, Schilens, the Raiders' talented No. 1 receiver, opened up about his friendship with the 26-year-old linebacker and special-teams ace who lost his life in a boating accident.
[+] Enlarge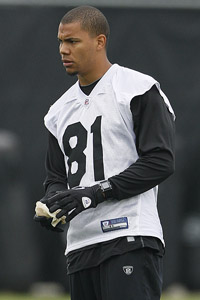 AP Photo/Eric RisbergChaz Schilens "still hurts" when remembering his friend and former teammate Marquis Cooper.
Cooper and two friends, including former Detroit defensive lineman Corey Smith, are presumed dead after Cooper's fishing boat capsized off the Gulf Coast near Clearwater, Fla. There was one survivor.
Cooper was an avid fisherman who often talked to his teammates about his love of deep-sea fishing. In the days before the accident, Cooper invited Schilens to Florida for a trip. Thrilled to join someone he long considered a mentor and idol, Schilens jumped at the idea.
"Nobody knows," said Schilens during training camp, still clearly shaken by the memory, "but I was supposed to go out there. I was going to make my [travel] plans to go there the weekend it happened … I remember my mom called me to tell me about it and it was just unbelievable. All I could think about was, 'This cannot be happening.' Each day got tougher and tougher and the search went on. It was a rough, rough time."
Schilens still caries memories of his older friend with him. He brightens up when talking about Nov. 8, 2008. It was midway through Schilens' rookie season as a promising seventh-round pick in Oakland. He was walking through the team's facility when he saw a familiar face down the hallway.
"I said to myself, 'Hey, that's Marquis Cooper,' " Schilens said. "I was so excited. It was just like high school. And then they put his locker right next to mine -- right next to it. In this entire, huge locker room, our lockers were right next to each other. And no one even knew our connection."
Cooper and Schilens both grew up in Gilbert, Ariz. Cooper was three years ahead of Schilens. Cooper didn't know much about Schilens. But the young football and baseball star (Schilens was drafted by the Detroit Tigers out of high school) knew plenty about Cooper.
Early in his career at the University of Washington, Cooper came to Arizona State to play in front of the home fans. Schilens went to the game just to watch Cooper play.
"He didn't know it was me but he threw me a glove after the game," Schilens remembered. "He had a great game and blocked a punt to help Washington win …. He was my boy. He was my idol. It was my secret relationship."
As Schilens made a name for himself in Gilbert, Cooper became aware of him and the two began a friendship. Schilens wanted to go to Washington just as Cooper did, but the Huskies never showed much interest. Still, Cooper followed Schilens as he developed at San Diego State.
When the two became teammates in Oakland, they often spent time together and Schilens would go to dinner with Cooper, his wife and young daughter. Schilens and several of his Oakland teammates still check in with the family.
In the meantime, Schilens, who is dealing with knee and foot injuries and will miss at least a few weeks after arthroscopic knee injury, wants to reach his potential on the field in part as a tribute to the player who inspired him.
"Marquis was special to me," Schilens said. "I just wish the best for his wife and child in this terrible tragedy. It still hurts."
March, 9, 2009
3/09/09
8:06
AM ET
Posted by ESPN.com's Kevin Seifert
Hope everyone had a pleasant weekend. It was decidedly quiet in these parts after Friday's flurry of moves.
Yes, the second tier of NFL free agency has begun. The big names are off the board, and now teams are filling in their depth and shifting gears to the draft. The college Pro Day schedule is kicking into gear, and executives like Minnesota vice president Rick Spielman plan to hit the road Monday.
What's left? You have to imagine that Chicago will address its right tackle position in some way, most likely by re-signing free agent John St. Clair. Green Bay will continue to sift through the rubble for players with experience in the 3-4 defense. They still have interest in free-agent linebacker Kevin Burnett.
Detroit, meanwhile, has indicated an interest in adding to its quarterback depth. Will the Lions help release the logjam of veterans available on the free-agent market, a group that includes Jeff Garcia, Rex Grossman, Byron Leftwich, J.P. Losman and others? And will the Bears join that pursuit or settle in with Caleb Hanie as their No. 2 quarterback? Those are some of the questions we will be following this week.
But first, let's catch up on the highlights of NFC North weekend coverage:
Tom Silverstein of the Milwaukee Journal Sentinel wonders if Packers cornerback Tramon Williams will hold out for a multiyear contract this offseason. Williams is an exclusive rights free agent, which means his contract has expired but he is not eligible to sign with another team. It's the same situation Packers running back Ryan Grant found himself in last offseason.
Tim Froberg of the Appleton Post-Crescent wants an apology from former Packers offensive lineman Tony Mandarich, who has admitted to steroid use during his playing days.
It's pretty clear Minnesota has no interest in re-signing safety Darren Sharper. Judd Zulgad of the Star Tribune wonders where Sharper will end up.
As it turns out, tight end L.J. Smith did visit Detroit last week. Carlos Monarrez of the Detroit Free Press reports Smith hasn't ruled out signing with the Lions.
Jerry Green of the Detroit News debunks, once and for all, the "curse" of Bobby Layne.
Mitch Albom of the Detroit Free Press on former Lions defense end Corey Smith: "I have been more stung by the thought that someone I met -- not a friend, not a close associate, just someone I spoke with a few times -- suddenly could be whisked away, not even a body to confirm the death. He's here. Then he's gone?"
Brad Biggs of the Chicago Sun-Times is confident the Bears will soon sign St. Clair.

March, 5, 2009
3/05/09
8:40
AM ET
Posted by ESPN.com's Kevin Seifert
Those of you who read Wednesday's post on Chicago's lack of activity on the free agent market, especially as it pertains to wide receivers, would be interested to note the comments of Bears general manger Jerry Angelo on the topic.

Angelo's Q&A with ChicagoBears.com was published Wednesday afternoon and included this response when asked if he will upgrade the Bears' receiving corps:
"Naturally, we're going to look at that real hard, in all likelihood in the draft. We're not looking for backup wide receivers. What we want are potentially starting wide receivers. We have a nucleus of receivers that we feel good about in terms of twos, threes, fours and fives, and if we carried six, a sixth receiver. Part of that ties into special teams. What we're looking at is the top of the wide receiver position. Where does that come from? It comes with a premium receiver in free agency if there's one out there and/or in the draft. Yes, it's a position that we are looking at."
As we discussed Wednesday, it's difficult to find immediate help from a receiver in the draft -- hence the need to scour the free agent market first. But Angelo said in another response that the price for a starting-caliber veteran receiver, notably T.J. Houshmandzadeh, was too high:
"Houshmandzadeh is a fine receiver. Would we have entertained him? Yes, but we wanted to see what his marketplace was. In this case, we felt like [what he received from Seattle] was an exorbitant amount of money. Remember, he was a No. 2 in Cincinnati. That's not to say that what Seattle did wasn't right for them; their situation is different in my mind than ours. They had an inordinate amount of injuries with receivers and they felt like they needed to get somebody that was established and healthy."
A lot of teams would have liked to have had Houshmandzadeh. But he's going to be 32 in '09 and the price that you're paying for that receiver we felt was very high. You have to look at economics when you look at players. Who doesn't want Houshmandzadeh? But you have to look at the economics: What are the implications to the cap going forward and what does that prevent us from doing in other areas within our team and/or in free agency?"
Some might suggest Angelo is overestimating the potential of his current group of receivers, but it's only fair to present his comments here to help flesh out Wednesday's post.
Continuing around the NFC North on a Thursday morning:
March, 4, 2009
3/04/09
7:47
AM ET
Posted by ESPN.com's Kevin Seifert
We haven't posted much on the search for former Detroit defensive end Corey Smith because something just didn't seem right about mixing the increasingly tragic story with daily news about free agent comings and goings. But with the U.S. Coast Guard's decision to call off the search for Smith and two other boaters who went missing over the weekend in the Gulf of Mexico, it's time to share some thoughts and words from some of the people who knew Smith well in Detroit.

Tom Kowalski of Mlive.com recalls how committed former Lions coach Rod Marinelli was to keeping Smith on the roster, even if it meant overloading at the defensive line position. Marinelli told ChicagoBears.com that Smith was "as tough as any guy I ever coached."
Former Lions receiver Roy Williams recalled how Marinelli repeatedly showed a tape of Smith blocking two men during a kickoff return in 2007.
Smith had a sweet tooth and once told Brian Van Ochten of Mlive.com that his favorite dessert was brownies and ice cream:
"If I see it in front of me, I've got to eat it -- that combination," Smith once told Van Ochten. "I put fudge on it. I just love that hot and cold combination, plus the [hot] fudge."
Smith was a free agent and it was uncertain whether the Lions had plans to bring him back, but it's clear he made a lasting legacy in Detroit.
Continuing around the NFC North:
March, 2, 2009
3/02/09
7:44
AM ET
Posted by ESPN.com's Kevin Seifert
I'm baaaaaaaack. Whether you noticed I was away from the blog is another question. Thanks to those who filled in some posts while I was attending a lovely -- and warm -- wedding south of the border.
With internet access restored, I've spent some of Monday's wee hours trying to catch up on the free-agent happenings around the NFC North. It seems that Minnesota wants another big-time receiver, Green Bay is patiently waiting for the right price and Chicago's top target was an offensive lineman who can play tackle or guard. Oh, and Detroit reportedly was involved in trade discussions that would have netted Denver quarterback Jay Cutler while also signing a starting-caliber receiver and acquiring two cornerbacks.
That's what I gleaned in a nutshell, and I'll return later Monday with some more detailed thoughts on those topics. For now, let's get ourselves back to even and catch up on the Black and Blue's latest news, starting with a holding pattern in Minnesota for free agent receiver T.J. Houshmandzadeh:


NFL SCOREBOARD
Thursday, 8/28
WEEKLY LEADERS