October, 19, 2014
Oct 19
5:30
PM ET
ST. LOUIS -- Observed and heard in the locker room after the
St. Louis Rams
' 28-26 victory against the
Seattle Seahawks
:
Harkey
Harkey's recovery:
There was plenty of confusion about who, exactly, recovered running back
Tre Mason
's fumble in the final minute of the game. The officials ruled the Rams recovered it, but there wasn't much video evidence to support it. Even coach Jeff Fisher said he was already speaking to defensive coordinator Gregg Williams about what to call on the ensuing defensive series when the officials offered the pleasant surprise declaring it the Rams' ball. But tight end
Cory Harkey
said he was the one who managed to come out of the dog pile with the ball to preserve the victory. Harkey and offensive lineman
Mike Person
, who was on the field in the jumbo package, were actually fighting over the ball before realizing they were on the same side.
"We were both fighting for the ball, and I ended up with it," Harkey said. "As long as one of us ended up with it, that's all that mattered."
Saffold's health:
Right guard
Rodger Saffold
suffered a knee injury late in the game and did not return, leaving many to wonder if the oft-injured Saffold would miss extended time again. But Fisher said Saffold could have came back into the game on the final drive, and Saffold told reporters that he'll be ready to go next week against the
Kansas City Chiefs
.
A clean game:
Fisher and the Rams were pleased with what was their cleanest game of the season in terms of some of the self-inflicted mistakes that are common for them. They had just two penalties -- one was a delay of game they took on purpose -- allowed no sacks and had no turnovers.
March, 3, 2014
Mar 3
2:30
PM ET
The free-agent market is scheduled to begin March 11 and teams may begin negotiations with those poised to hit the market beginning March 8. We'll countdown to that with a position-by-position look at what the Rams have in place, who is set to hit the market, what they might need and who might fit the bill.
In place:
The Rams spent big money last offseason to bring tight end
Jared Cook
to St. Louis from Tennessee. Although technically listed as a tight end, Cook was the de facto replacement for
Danny Amendola
as a super sized slot receiver.
Lance Kendricks
and
Cory Harkey
remain under the team's control for 2014 and join Cook as one of the groups where the Rams seem most settled heading into the offseason.
Pending free agents:
Mike McNeill
(restricted)
What's needed:
At first glance, the Rams seem to be pretty well set at tight end with the three under contract each bringing a different flavor to the table. Cook will continue as the primary pass receiving threat from the position while Harkey handles in line blocking and fullback duties and Kendricks does a little bit of everything.
However, the big picture beyond 2014 is a little more up in the air. Kendricks is scheduled for unrestricted free agency after 2014 and Harkey will be restricted. McNeill is a favorite of head coach Jeff Fisher and the Rams could likely get him back at the lowest tender number.
Tight end is still far from a pressing need going into the offseason but if the right opportunity presents itself, it's something that could at least earn a second look.
Possible fits:
The biggest free agent prize of all is New Orleans'
Jimmy Graham
but the Rams obviously won't be in that market. Instead, if the Rams wanted to make an addition here it would likely be from the bargain bin.
Matthew Mulligan
, who was with the Rams in 2012 as a blocking specialist is the type of player who would fit that bill but the Rams replaced him last year and seemed content with Harkey in that job.
Verdict:
I don't expect the Rams to make any free agent additions at this position with the possible exception of retaining McNeill on a low tender as a restricted free agent.
November, 30, 2013
11/30/13
4:30
PM ET
ST. LOUIS -- Three individual matchups to keep an eye on as the
St. Louis Rams
take on the
San Francisco 49ers
on Sunday.
Rams' front seven vs. Niners running back Frank Gore
Gore
Perhaps no individual player of the past decade has been more of a thorn in the side of the Rams than Gore. While the Rams have had their games where they've kept him in check, Gore seems to have a knack for finding just the right time to drive a stake through the Rams' chances with a touchdown or big play.
In the first meeting, the Rams limited Gore for much of the first half until he took a fourth and 1 carry 34 yards for a touchdown to make it 14-3 San Francisco. That play effectively zapped the Rams of their energy and Gore went on to a big day, finishing with 153 yards on 20 carries.
The Rams' run defense has had its share of ups and downs in the games since, but aside from poor performances against Tennessee and Houston it has been much improved.
Gore's production has been limited a bit by lack of opportunities but it's possible San Francisco is trying to conserve him for the stretch drive. It's probably a safe bet to expect a heaping helping of Gore on Sunday.
"He's not getting the carries right now," Rams coach Jeff Fisher said. "He's probably hoping to get more. I think they've gone, in the last four games, like 19, 18, 13, 13. They're very effective in the running game and he's still got a lot of ability.
"I would expect to see a lot of runs, yes."
Long
Rams left tackle Jake Long vs. Niners linebacker Aldon Smith
The Rams managed to miss Smith in the first meeting as he dealt with off-the-field issues and took a leave from the team.
But Smith returned in Week 10 against Carolina and has been working his way back into the mix every week since. Smith had two sacks last week against Washington and appears to be rounding back into form.
Smith
Contrary to what some might have said, Long was one of the few Rams who performed fairly well in the first meeting of the year against the Niners.
But the Rams have dramatically altered their offensive approach since that game, and Long has been quite good since they started operating out of a more power run heavy scheme.
The challenge will be greater this week with Smith on the other side. Long struggled mightily against Dallas'
DeMarcus Ware
in Week 3 and had some hiccups against Indianapolis'
Robert Mathis
. The Niners' 3-4 defense more closely resembles what the Colts do than Dallas, but in Smith, Long should face a similar challenge in terms of athleticism and speed off the edge.
Rams quarterback
Kellen Clemens
even joked this week that he wouldn't mind if Long and the Rams got a little help from the holiday.
"If he's taking his time (getting back up to speed), that's fine," Clemens said. "Maybe he has a little too much turkey on Thursday, that'd be just fine."
Harkey
Rams tight end Cory Harkey vs. Niners linebacker NaVorro Bowman
For all of the players who notched dominant performances in the Niners' win the first time the two teams met, perhaps none imposed his will more than Bowman, San Francisco's "other" inside linebacker, who might also be its best defensive player.
Bowman was all over the place in that first meeting even without running mate
Patrick Willis
there to work as his tag team partner. He finished the game with six tackles, two sacks, a forced fumble and a pass breakup but he was even more active than that line indicates.
Bowman
"He's a veteran guy," Clemens said. "He can diagnose plays and they did a good job -- because (LB Patrick) Willis was out -- they did a good job of putting Bowman in the spot where he was going to be most effective. He knows where the ball's going to go a lot of times. Willis is the same way. They're very good players. They get their guys lined up. They get their guys in the right spot and make plays. We'll have to account for them."
That most of Bowman's pressure that came up the middle was especially disconcerting for the Rams. The onus of handling that pressure falls on any number of players, but Harkey might be one of the players the Rams need to step up the most.
Harkey has developed into the team's ultimate hybrid, playing a lot of fullback in addition to inline tight end duties. He's been a key cog in the running game and needs to be on point in the efforts to neutralize Bowman.
November, 29, 2013
11/29/13
1:00
PM ET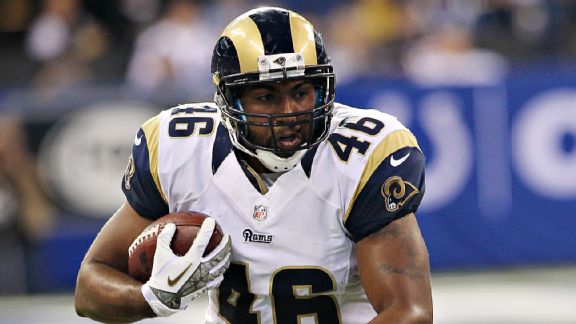 Pat Lovell/USA TODAY SportsAs Cory Harkey's role as a blocker has expanded, the Rams' running game has taken off.
EARTH CITY, Mo. -- It is NFL custom for successful running backs to take care of the offensive linemen, tight ends and fullbacks who open holes for them during the course of the season.
But what happens if the two backs you have created so much space for are both rookies? Taking it further, what if one is a fifth-round pick and the other an undrafted free agent?
Such is the position of Rams tight end/fullback
Cory Harkey
.
"We haven't been out to eat yet but we've been talking about it," Harkey said, laughing. "We don't get on them that much about it."
If the Rams running game continues rolling like it has, maybe it'd be best if
Zac Stacy
and
Benny Cunningham
came up with a creative way to say thank you, with Harkey at the top of the gift-giving list.
Perhaps lost in the mix of the Rams' revamped rushing attack is the revelation that Harkey has been since he began playing much more. Sure, the Rams installed Stacy as the starter after the Week 4 debacle against San Francisco but Harkey also became a far more integral cog in the attack in the immediate aftermath of that game as well.
Through the first four weeks, Harkey played a grand total of 11 snaps, mostly at tight end while the Rams pursued packages with more receivers and fewer tight ends.
After coach Jeff Fisher decided his offense needed a new direction, one in which the running game would become more of a focal point, he also decided that one of the directions to take would be directly behind the 6-foot-4, 260-pound Harkey.
Of course, for that to happen, Harkey would have to become more versatile than his usual role as an inline blocker at tight end. Fisher and tight ends coach Rob Boras had Harkey doing some experimental work at fullback during the spring and summer as
Lance Kendricks
missed time with an injury.
Harkey's task became turning those practice repetitions at fullback into game-time production, something he hadn't done since his first two years at UCLA. He turned to fellow tight ends such as Kendricks and
Mike McNeill
, players who have experience doing a little bit of everything, for advice on how to become a more well-rounded player.
"Coach talked to me before all this happened about me doing some stuff out of the backfield but I want the team to be good, I want to be good, I want to be successful," Harkey said. "So I knew I was going to do whatever I can to help this team win. This has been that role for me."
That role has continued to expand every week, as Harkey grows more and more comfortable in his new surroundings. He played 38 snaps against Jacksonville just a week after the Rams decided to rev up the running game. In the seven games since that San Francisco loss, Harkey has averaged almost 31 snaps per game.
[+] Enlarge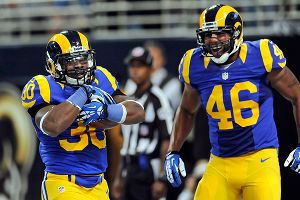 AP Photo/L.G. PattersonCory Harkey, right, has helped pave the way for Zac Stacy's breakout rookie season.
Harkey has still done some work attached to the line of scrimmage as a tight end but he can regularly be seen leading Stacy or Cunningham through the hole and instigating head-on collisions with linebackers and defensive backs. He's even chipped in six catches for 53 yards and a touchdown though he's also responsible for three drops.
Adjusting to moving in space and covering up defenders remains a work in progress but evidence of Harkey's growth was on display last week against Chicago.
Witness Harkey's big block on Chicago linebacker
James Anderson
to clear Stacy for an 11-yard gain on the first play from scrimmage. Or Harkey taking on and locking up Bears end
Shea McClellin
on the edge to lead Stacy for a 35-yard run.
"For me it's just that and you have got to stay low every play, get a good push on guys," Harkey said. "You are going against guys who are a little bit more athletic and also strong and big so just having good leverage, good knee bend and being able to bring some pop.
"I'm getting used to it. I think it's been a good place for me. I am still trying to do everything, in-line blocking and everything. I think they like what I can do back there so it's been good."
Indeed the Rams are quite pleased with what Harkey is bringing to the table both in terms of production and intangibles.
"Cory's done a great job," Fisher said. "He stepped up when Lance was down. He's doing a lot of different things. He's lining up at the tight end position. He's our move guy at fullback, and he's really got a good sense for that and feel for that as far as attacking linebackers and DBs."
Much like his thankless position on the field, Harkey also doesn't get much credit for what he brings to the huddle and locker room, either. The soft-spoken Harkey is always polite and humble in interviews but never strikes you as a fiery leader type.
Quarterback
Kellen Clemens
said Harkey is actually a bit of a sparkplug for the offense.
"I love Cory Harkey," Clemens said. "I absolutely do. He's very versatile. He's very smart. He's a very hard worker. You love to play with guys like Cory Harkey. The other thing that he does that I think goes unnoticed sometimes is he brings a lot of energy. He's kind of a pump-up guy sometimes. He has a very, very unique role on this football team and he fills it and we're very glad to have him."
In some ways, Harkey fills a unique but evolving role in the NFL at large. True fullbacks have been headed toward extinction for some time but more and more teams are looking for tight ends with the versatility to do both. Kendricks did a lot of it last year and he still does but Harkey has joined him in their many movements.
Although it's taken some getting used to and Harkey is still a ways from having mastered the position, he's got the first requirement of playing fullback down, for he really enjoys high speed collisions.
"It's pretty fun," Harkey said. "I like it. I think some of the tight ends will agree that I kind of like that action so it's good."
September, 11, 2013
9/11/13
5:15
PM ET
EARTH CITY, Mo. --
St. Louis Rams
running back
Daryl Richardson
didn't practice Wednesday because of a foot injury, according to the team's injury report.
Richardson appeared to tweak his left foot midway through Sunday's game against Arizona and Rams trainers evaluated him on the sideline. He did return to finish the game, though.
Asked about Richardson on Wednesday, Rams coach Jeff Fisher said he expected his starting running back to return to the mix in short order.
"Oh, yeah, he'll practice tomorrow," Fisher said. "He just needed some rest."
Elsewhere on the injury report, the Rams got some good news with the return of tight end
Cory Harkey
. Harkey had been out since the third preseason game against Denver with a knee injury. He was listed as a full participant on the injury report.
Safety
Darian Stewart
did not practice and cornerback
Quinton Pointer
was limited as both continue to deal with thigh injuries.
For Atlanta, the injury report looks like this:
DNP: DT
Jonathan Babineaux
(knee), OT
Sam Baker
(knee), WR
Julio Jones
(knee), WR
Roddy White
(ankle).
Limited: S
Thomas DeCoud
(knee), DT
Peria Jerry
(knee), DE
Cliff Matthews
(neck), CB
Asante Samuel
(thigh), LB
Sean Weatherspoon
(knee)
September, 8, 2013
9/08/13
3:25
PM ET
September, 6, 2013
9/06/13
7:00
PM ET
EARTH CITY, Mo. -- The St. Louis Rams made no changes to their injury report Friday afternoon save for the ones required by the league.
In what came as no surprise, the Rams ruled the four players who have not practiced all week and didn't go again Friday out for Sunday's game against Carolina.
Those four players are safety
Darian Stewart
(thigh), cornerback
Quinton Pointer
(thigh), linebacker
Jonathan Stewart
(hip) and tight end
Cory Harkey
(leg). Of the group, only Darian Stewart had projected as a starter entering camp.
Rodney McLeod
replaced Stewart after he suffered the injury against Green Bay in the second preseason game and hasn't looked back. He's expected to start in Stewart's place alongside rookie
T.J. McDonald
.
Pointer's injury leaves
Trumaine Johnson
and
Brandon McGee
as healthy backups at corner while Stewart's leaves the Rams with just undrafted rookies
Daren Bates
and
Ray Ray Armstrong
behind the starting trio. Without Harkey, the Rams have
Jared Cook
,
Lance Kendricks
and
Mike McNeill
available for game day at tight end.
September, 5, 2013
9/05/13
4:45
PM ET
EARTH CITY, Mo. -- Unlike most of their NFC West division brethren, the Rams made it out of the preseason in relatively good shape in terms of injuries.

After watching Seattle and San Francisco lose receiver
Percy Harvin
and
Michael Crabtree
, respectively, and Arizona guard
Jonathan Cooper
's season ending knee injury, the Rams have to feel pretty good about their lot on the injury front.
That luck can turn at a moment's notice, but for now the Rams don't have any of their major contributors dealing with any ailments.
Thursday's injury report looked the same as it did Wednesday from a Rams' perspective.
Tight end
Cory Harkey
(leg), safety
Darian Stewart
(thigh), cornerback
Quinton Pointer
(thigh) and linebacker
Jonathan Stewart
(hip) did not practice for the second consecutive day. Also worth noting, Harkey walked around on the sidelines without the use of crutches.
December, 30, 2012
12/30/12
3:15
PM ET
SEATTLE -- We've got sunshine and temperatures in the high 30s as the
Seattle Seahawks
and
St. Louis Rams
warm up on the field at CenturyLink Field.
Seahawks cornerback
Richard Sherman
is the only non-specialist I see on the field at this time. He's working on his backpedal and breaking on passes thrown by a Seahawks staffer. Sherman has every reason to revel in the opportunity Sunday after dodging a four-game suspension on Thursday.
Sherman will start for Seattle. The team will be without injured linebacker
Leroy Hill
. The speedy but inexperienced
Malcolm Smith
will start in Hill's place.
Also inactive for Seattle: safety
Winston Guy
, cornerback
Walter Thurmond
, cornerback
DeShawn Shead
, guard
Rishaw Johnson
, guard
John Moffitt
and tackle
Mike Person
. Moffitt, a former starter, is inactive for a second consecutive week. The team has decided it's better off with rookie seventh-round choice
J.R. Sweezy
in the lineup at right guard. Sweezy started in Week 1 and again against San Francisco last week.
The Rams' inactive list includes quarterback
Austin Davis
, receiver
Steve Smith
, running back
Terrance Ganaway
, tight end
Cory Harkey
, linebacker
Sammy Brown
, tackle
Joe Barksdale
and defensive tackle
Matt Conrath
. No surprises there.
August, 31, 2012
8/31/12
10:04
PM ET
Click
here
for the complete list of
St. Louis Rams
roster moves.

Most significant move:
The Rams released No. 2 quarterback
Kellen Clemens
even though Clemens knew the offense better than any player on the roster. Clemens, who spent time with the
New York Jets
when Rams offensive coordinator Brian Schottenheimer held the same job there, lost out to impressive undrafted free-agent quarterback
Austin Davis
.
Davis, drafted by the Boston Red Sox this year, stood out during preseason for his poise. Some players appear as though they belong. Davis did, at least initially. The preliminary assumption here is that Davis fared well enough to win the No. 2 role, although rosters remain fluid and the Rams will consider veterans at every position as they become available. The Rams also released
Tom Brandstater
, who was initially thought to be competing with Davis for the third-string role.
Onward and upward:
Clemens could catch on with another team. Overall, however, the Rams had more holes than front-line talent to fill those holes. The players they released will not be coveted elsewhere. That was partly because the suspension
Austin Pettis
faces for the first two games bought the Rams time at wide receiver, where the team has quite a few mid-level prospects. With Pettis on the reserve/suspended list and not counting against the 53-man limit, the Rams kept the six receivers considered most likely to stick, including veteran
Steve Smith
and second-year pro
Greg Salas
.
Veteran fullback
Ovie Mughelli
received his release and could appeal to the dwindling number of teams valuing a traditional blocking fullback. The Rams kept only four running backs on this initial 53-man roster. They parted with
Chase Reynolds
after coach Jeff Fisher lauded the 24-year-old back as someone with the ability to close out a game.
The Rams also cut
Aaron Brown
,
Cornell Banks
,
Cory Harkey
,
Jamaar Jarrett
,
Jose Valdez
,
Scott Smith
,
Mason Brodine
,
Nick Johnson
,
Ben Guidugli
,
Kendric Burney
,
Deangelo Peterson
,
Sammy Brown
, T. Bob Hebert,
Tim Barnes
,
Bryan Mattison
,
Vernon Gholston
and
Joe Long
. Gholston could be running out of chances.
What's next:
The Rams need help throughout their roster. They have the No. 2 priority in waiver claims. Expect them to put that privilege to use. The Rams should be active in pursuing help at defensive tackle after losing first-round pick
Michael Brockers
for a month (estimated) with a high-ankle sprain.
Trevor Laws
is already on injured reserve.
The Rams have only eight offensive linemen, one fewer than teams generally prefer to keep. They could use another one. They kept six linebackers, on the low side. The team is carrying 11 defensive backs at present. I wouldn't be surprised if they shopped former starting corner
Bradley Fletcher
, who was playing deep into games in preseason.
NFL SCOREBOARD
Thursday, 10/23
Sunday, 10/26
Monday, 10/27