NFL Nation:

Cowboys-Eagles 110809
January, 3, 2010
1/03/10
9:07
PM ET
By
Matt Mosley
| ESPN.com


Three things to know about next weekend's Cowboys-Eagles wild-card game.
1. The Cowboys are already trying to forget about Sunday's 24-0 beatdown of the Eagles.
Wide receiver
Patrick Crayton
told me the team will try to imagine the Eagles are a completely different team. Maybe closer to the team that won six games in a row heading into Sunday's season finale. It's tough to beat a team three times in a row, but the Cowboys are obviously the superior team at this point in the season. The Eagles will show up with a completely different scheme on defense. At least that's what the Cowboys are expecting to happen. The zone defense that the Eagles used Sunday has to change. The Cowboys destroyed the Eagles with quick slants. And players were amazed that Philly didn't do more to change things up in the game.
2. Eagles have to have some pride on defense.
The most demoralizing thing for the Eagles' defense has nothing to do with
Tony Romo
's 311 passing yards. It's the fact that they were gashed in the running game for 179 yards. That's an embarrassment for a defense that prides itself in being physical up front. The Cowboys' offensive line took over this game from the opening snap. When you get dominated at the line of scrimmage, you have to respond. Jerry Jones said after the game that next week will be an "extension" of Sunday's game. The Eagles better hope he's not right. I expect to see a completely different approach from the Eagles next week.
3. Wade Phillips is about to coach himself into another season.
Jones said he had the "paperwork drawn up" on an extension for Phillips, but he wasn't quite ready to commit after the Cowboys' victory. I thought Phillips called an excellent game. He sent
Bradie James
and
Bobby Carpenter
on some linebacker blitzes early in the game that frustrated
Donovan McNabb
. Later in the first half, McNabb was feeling pressure that wasn't there. With the Eagles having to use maximum-protection, they couldn't get as many weapons into routes. Just a really nice game plan from Phillips and I expect him to do something similar next week.
January, 3, 2010
1/03/10
7:27
PM ET
By
Matt Mosley
| ESPN.com
ARLINGTON, Texas -- With just over two minutes left in the game, the power to the scoreboard and massive video screen at Cowboys Stadium went out. It was the first bit of good news for an Eagles team that was dominated for four quarters. The Cowboys have back-to-back shutouts for the first time in club history and they're looking more and more like a team to be reckoned with in the playoffs.


The Eagles missed out on a chance to secure a bye and they'll have to return to Cowboys Stadium to open the playoffs. Just as they did against the Saints and Redskins, the Cowboys got off to a fast start and never looked back. Running back
Marion Barber
, who has been criticized for choosing the wrong holes this season, had three carries for 58 yards on the opening drive.
Quarterback
Tony Romo
threw a 10-yard touchdown pass to
Jason Witten
when Eagles cornerback
Asante Samuel
gambled by going for an interception. The Eagles ended another Cowboys' scoring opportunity with a
Joselio Hanson
interception but it just put off the inevitable.
This was a whipping of the highest order. The Cowboys harrassed
Donovan McNabb
from the start and didn't allow him to find any rhythm. The only player who had any success was tight end
Brent Celek
. The Eagles missed their best opportunity to score when McNabb couldn't handle a low snap from center
Nick Cole
out of the shot gun with 4:43 left in the first half.
Romo was 24-of-34 for 311 yards and two touchdowns against an Eagles defense that was on its heels from the opening snap. He hit
Miles Austin
and
Patrick Crayton
on quick slants that overwhelmed the Eagles' secondary. Now the two teams will face each other again in the opening round of the playoffs.
It's tough to beat a team three teams in one season but right now you have to like the Cowboys' chances.
January, 3, 2010
1/03/10
5:59
PM ET
By
Matt Mosley
| ESPN.com
Here are some quick observations from the first half of Eagles-Cowboys:
The Cowboys set the tone early when Marion Barber had 58 yards rushing on the first drive. The Cowboys have been the most physical team by far and they've played with more sense of urgency.
The Eagles are trying to drop a linbacker into coverage to guard against the quick slants to Miles Austin and Patrick Crayton -- and it's not working. Austin and Crayton have been open almost every time Tony Romo has looked in their direction.
Donovan McNabb looks gun-shy to me. He took some hits early and he's now rushing everything. He threw it behind Jeremy Maclin when he was wide open. Then he missed DeSean Jackson on a deep ball when the receiver was five yards behind Terence Newman.
The Eagles have trailed at halftime four times coming into this game. They lost all four of those games.
I blame that fumble as much on Donovan McNabb as I do Nick Cole. Is it that hard to bend over a little and catch a low snap?
January, 3, 2010
1/03/10
4:42
PM ET
By
Matt Mosley
| ESPN.com
ARLINGTON, Texas -- Cowboys running back
Marion Barber
had three carries for 58 yards on the first possession. It looked like Eagles linebacker
Moise Fokou
was destroyed on a couple of the plays by right guard
Leonard Davis
. The Eagles' defensive tackles,
Brod Bunkley
and
Mike Patterson
, have been superb at stuffing the run, but they're off to a rough start.
In other news, the Cowboys sacked
Donovan McNabb
on the Eagles' first possession. Looked like
Bradie James
beat
Winston Justice
on an outside blitz. Right now, the Cowboys are dominating the line of scrimmage on both sides of the ball. Eagles linebacker
Will Witherspoon
is getting blown up on running plays.
January, 3, 2010
1/03/10
3:18
PM ET
By
Matt Mosley
| ESPN.com
ARLINGTON, Texas -- Eagles coach Andy Reid spent the week indicating that
Michael Vick
would be his No. 2 quarterback despite a quadriceps contusion. I thought it seemed like an unnecessary risk but it's something that Reid has done quite a bit this season.
But now we know that Reid may have been trying to mislead Wade Phillips and his defense. Vick is listed as the Eagles' emergency quarterback, which makes it highly unlikely that we'll see him on the field today.
Kevin Kolb
will be the No. 2 quarterback behind
Donovan McNabb
. The only other mild surprise for the Eagles in terms of inactives is safety
Quintin Demps
. He told reporters all week that he planned to play and return kicks. But he's been listed as inactive. That means that rookie
Macho Harris
may be returning kicks again. Remember that he had two fumbles last week against the Broncos.
No surprises on the Cowboys' inactives list. We know that
Marc Colombo
and
Pat Watkins
could potentially return for next weekend's wild-card playoff game. With the Vikings beating up on the Giants, we know a Cowboys loss today would send them to Minneapolis. An Eagles loss would return them to Arlington, Texas, again next weekend to play the Cowboys.
An Eagles win would give them the No. 2 playoff seed and a bye in the opening round.
November, 9, 2009
11/09/09
3:07
AM ET
| | |
| --- | --- |
| | |
| | Al Bello/Getty Images |
| | The Dallas defense did a good job keeping Donovan McNabb on the run. |
Posted by ESPN.com's Matt Mosley
PHILADELPHIA -- It wouldn't be wise to make any sweeping judgments on the
Dallas Cowboys
until their cruelest month arrives in December, but it's fair to say they took an important step at the Linc on Sunday night. They returned to the site of one of the most regrettable performances in franchise history and seized control of first place in the NFC East with
a 20-16 win
over the
Philadelphia Eagles
.
Winners of four consecutive games, the 6-2 Cowboys will head to Green Bay next Sunday as one of the hottest teams in the league. And last season's 44-6 loss at the Linc could become a distant memory.
"We came out here and laid an egg," said inside linebacker
Bradie James
of last December's loss. "I won't ever forget that, but we were able to put that behind us and move forward today. Ever since that Kansas City game [a 26-20 Dallas OT victory Oct. 11], it's skyrocketed for us."
Sunday against the Eagles (5-3), the offense made a huge play in the fourth quarter to put the Cowboys on top, 20-13. But it was the defense that won this game. The Cowboys listened to everyone talk all week about how dangerous the Eagles' weapons were. But from the start, the Cowboys didn't let the speed of
DeSean Jackson
and
Jeremy Maclin
intimidate them. The Cowboys certainly double-teamed Jackson at times, but they didn't ask cornerback
Terence Newman
to follow him all over the field as he has done with star receivers in the past.
The Cowboys' game plan was to keep everything in front of them and not allow the big plays that the Eagles have thrived on this season. By the fourth quarter, Cowboys defenders said they could hear Eagles receivers voicing their frustration at not being able to break free. And it might have been some greediness on coach Andy Reid's part that led to a game-changing interception late in the third quarter.
Leading 13-10, the Eagles got the ball back at their 23-yard line. On first down, wide receiver Jeremy Maclin jogged off the line of scrimmage as if he was going to block before turning on the jets in an attempt to race past the Cowboys' secondary. Safety
Ken Hamlin
recognized from the start what Maclin was doing, and he shouted to second-year cornerback
Mike Jenkins
, "Stay back!" That proved to be good advice.
"I knew there was something fishy going on," Jenkins said. "Ken was telling me to get over the top of Maclin, so I started sprinting."
Jenkins matched Maclin step for step and then he undercut the route to pluck the interception. That led to a 33-yard field goal by
Nick Folk
, tying the score at 13. The Cowboys' defense only allowed one play of more than 25 yards -- and that was a 45-yard screen pass to
LeSean McCoy
.
Cowboys nose tackle
Jay Ratliff
and outside linebacker
DeMarcus Ware
overwhelmed the Eagles' offensive line and stayed in quarterback
Donovan McNabb
's face throughout the game. McNabb was only 16-of-30 for 227 yards and he threw two interceptions. He appeared completely out of rhythm for much of the evening -- and the secondary played a large role in that. If you take away the deep ball from the Eagles, they're not much to look at. It's not like they can turn to a power running game.
Donovan McNabb vs. Cowboys pressure

Category
Standard
Added


Comp.-Att.

13-22

3-8

Yards

178

49

TD-Int.

1-0

0-2

Passer Rtg.

100.2

19.3
"We took it personally that no one was giving us any respect," Jenkins said. "We've been shutting receivers completely down, but people weren't talking about it. I think we made a statement tonight. To come into their house and walk away with a win ... I think it's a big statement."
Even when last year's Cowboys were winning games early in the season, you could see trouble on the horizon. They were a sensitive bunch who couldn't believe it when anyone questioned them. This year's team seems to stay in the present, and players know that nothing will be handed to them.
The Eagles had second-and-1 at the Cowboys' 45-yard line early in the fourth quarter. McCoy was stuffed for no gain on consecutive plays by
Anthony Spencer
and James. Then McNabb tried to dive for the first down and was stopped by
Marcus Spears
.
I have no clue why a man with McNabb's lower body strength would try to leave his feet. But it was a huge play for the Cowboys, and
Tony Romo
connected with
Miles Austin
for a 49-yard touchdown pass four plays later.
"They ran the ball towards [Marcus] Spears' side and he said on Sundays his side was closed, and he made the big play again," said James. "There was a big pile but the ball fell our way. You never come to Lincoln Financial and not earn a victory here. I think there were a lot of guys out there that were making plays all over the place."
The Cowboys know that December looms, and that's why they need to keep stacking wins in November.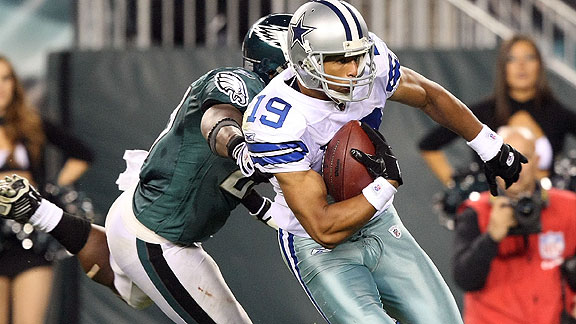 November, 8, 2009
11/08/09
11:36
PM ET
Posted by ESPN.com's Matt Mosley
PHILADELPHIA -- We were just talking about how
Miles Austin
didn't have a catch in this game. Then on third down, he used a double move to completely freeze cornerback
Sheldon Brown
. Safety
Sean Jones
was out of position to make the touchdown-saving tackle, in part, because Austin gave him such a violent inside move.
The legend of Austin lives on and now the Cowboys can try to tee off on McNabb. OK, I'm breaking away to prepare a Rapid Reaction. I'll see you guys back here in 30 minutes or so.
November, 8, 2009
11/08/09
10:37
PM ET
Posted by ESPN.com's Matt Mosley
PHILADELPHIA -- Cowboys safety
Gerald Sensabaugh
had solid coverage on tight end
Brent Celek
near the goal line, but Celek bolted to the corner of the end zone when he saw
Donovan McNabb
rolling right. Sensabaugh got caught staring at McNabb's eyes instead of being aware of Celek. Pretty savvy move by Celek on the touchdown.
I'm not sure what
Tony Romo
was doing on that last interception. It looked like
Jason Witten
was looking inside and Romo threw the ball outside.
Sheldon Brown
had an easy interception.
November, 8, 2009
11/08/09
10:24
PM ET
Posted by ESPN.com's Matt Mosley
PHILADELPHIA -- Former Colts head coach Tony Dungy
shared some interesting thoughts on Eagles quarterback Michael Vick
during tonight's pregame show on NBC. Dungy, who advised Vick as he returned to the league, said the Bills were interested in the quarterback before he signed with the Eagles.
"But I think a dark horse is Buffalo," Dungy said. "They talked originally. There was some communication there. I think that could be a good spot."
Dungy also mentioned the Redskins, Browns and Rams as possible destinations.
November, 8, 2009
11/08/09
8:56
PM ET
Posted by ESPN.com's Matt Mosley
PHILADELPHIA -- The Cowboys are hoping safety
Gerald Sensabaugh
can handle Eagles tight end
Brent Celek
one-on-one. But Sensabaugh just intercepted a
Donovan McNabb
that was thrown too high for
Jeremy Maclin
. Perhaps Sensabaugh should review the rule that allows him to run with the ball if he's not touched. He stayed on the ground for three seconds before making a lunge.
So far,
Tony Romo
and the Cowboys have been pretty impressive on third downs.
Kevin Ogletree
did a superb job of running after the catch, setting up
Tashard Choice
's touchdown run out of the Wildcat formation. Someone finally executed the Wildcat formation at the Linc.
Cowboys up, 7-0.
November, 8, 2009
11/08/09
12:23
PM ET
Posted by ESPN.com's Matt Mosley
PHILADELPHIA -- Eagles running back
Brian Westbrook
is expected to miss tonight's game against the Cowboys,
according to ESPN's Adam Schefter
. Westbrook (concussion) practiced Wednesday and Thursday before getting a break on Friday and was listed as questionable for the game.
Schefter indicates that coach Andy Reid is erring on the side of caution after Westbrook took a severe blow to the head two weeks ago against the Redskins. Last Saturday, Westbrook woke up with what Reid described as a "slight" headache, and the running back sat out the Giants game.
All signs were pointing to him playing against the Cowboys, so you'd have to think that he probably had another setback. Westbrook has admitted to worrying about his long-term health but said he planned to forget those fears when returning to the field. The Eagles aren't confirming the report, but that's not a huge surprise since the club doesn't have to announce its inactives for another seven hours or so.
It's certainly a setback for the Eagles not to have their Pro Bowl running back, but they've shown they can win without him. Last week against the Giants, fullback
Leonard Weaver
and rookie tailback
LeSean McCoy
each had long touchdown runs. Even when he's been in the lineup this season, Westbrook hasn't been a huge part of the offense.
I didn't like Cowboys linebacker
Keith Brooking
's chances of covering Westbrook on those wheel routes that have given Giants linebacker
Antonio Pierce
so much trouble in the past, but McCoy's capable of running the same patterns. It speaks to the Eagles' depth on offense that Westbrook's absence doesn't feel like a game-changer at all.
It wasn't that long ago that he was the team's most dangerous weapon. I think wide receiver
DeSean Jackson
has definitely replaced him in that category. And
Brent Celek
and
Jeremy Maclin
are making up ground as we speak. OK, I'll get back to you if we hear more.

NFL SCOREBOARD
Thursday, 8/28
WEEKLY LEADERS