NFL Nation:

Cowboys-Saints 121909
December, 20, 2009
12/20/09
2:03
AM ET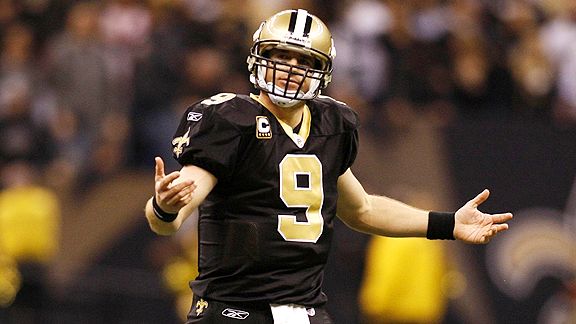 Chris Graythen/Getty ImagesDrew Brees and the Saints aren't perfect but a championship is still within reach.
NEW ORLEANS -- Now we know for certain the
New Orleans Saints
are not a perfect team.
But come on, stop acting so surprised that the
Dallas Cowboys
came into the Superdome on Saturday night, dominated the Saints for three quarters, and were able to hold off a furious fourth-quarter rally on their way to a
24-17 victory
.
This time, there was no miracle on Poydras Street, just
Drew Brees
getting crushed (again) and fumbling the ball -- and his shot at the MVP trophy to
Peyton Manning
-- as the clock ticked down. So much for 16-0.
But isn't this kind of appropriate anyway? Reach deep down and tell the truth -- have the Saints really been anything close to a perfect team for the last month or so?
If you had visions of them going through the regular season undefeated and strolling on to win the Super Bowl (read 19-0), you were hallucinating or too caught up in the hype. Fact is, the Saints have showed their flaws every week (except for that New England game) since a Nov. 15 trip to St. Louis.
Maybe you should have seen rookies and old guys getting thrown into the secondary and getting thrown on. Maybe you shouldn't have been nominating replacement left tackle
Jermon Bushrod
for the Pro Bowl and realized that, translated into Cajun, Bushrod means "smoke, mirrors and, in the end, duck."
And maybe you haven't noticed, but no matter who's in the secondary, this defense just isn't all that good when defensive tackle
Sedrick Ellis
isn't on the field. Oh, and there also was that myth, although it sure looked true for a long time, that the Saints could spot anybody any lead and still find a way to win it in the fourth quarter.
Soon-to-be-former Cowboys kicker
Nick Folk
did open the door for the miracle of all miracles when he sent a short field-goal attempt on a collision course with the upright with two minutes, 16 seconds remaining. But 2:04 later, Dallas defensive end
DeMarcus Ware
blew past Bushrod and decked Brees and any shot at perfection.
"All of our goals are still out there,"' New Orleans receiver
Marques Colston
said.
Several other Saints uttered similar words and they are absolutely right. The Saints are 13-1, they should win their final two games against Tampa Bay at home and Carolina on the road, and they should end up with home-field advantage throughout the NFC playoffs.
And, yes, it is still entirely possible this could be a special season. A Super Bowl victory remains somewhere on the horizon.
But let's not talk Super Bowl or even playoffs right now.
"If you're playing a playoff game and you go out and play like that, you're going to have the same result as tonight," New Orleans safety
Darren Sharper
said.
Sharper is exactly right. Picture the Saints playing the way they did against the Cowboys against … oh, let's say Philadelphia or Arizona or Minnesota or Dallas, again, in the playoffs. It would be ugly.
But this isn't about bashing the Saints, so let's look on the bright side. All the attention and pressure that comes with being undefeated is now gone. And all those questions about whether the Saints should rest their starters or shoot for perfection will stop.
"There is no type of relief,'" New Orleans coach Sean Payton said. "It's disappointing. It's disappointing when you lose."
Disappointing, but not really all that disastrous.
The Saints are still in a spot where everyone else in the NFC would love to be sitting. And, this might be the best news of all, there's plenty of room to make it all better.
Now, the Saints can focus entirely on fixing their problems. They got banged-up cornerback
Tracy Porter
and linebacker
Scott Fujita
back on the field against the Cowboys. The Saints are always very tight-lipped with information on injuries and Payton wasn't providing any postgame updates on running back
Reggie Bush
, linebacker
Jonathan Vilma
, center
Jonathan Goodwin
or cornerback
Randall Gay
, each of whom had to leave the field, for at least some time, with injuries.
All indications are cornerback
Jabari Greer
, who has sat out the past six games with a groin injury, Ellis and tight end
Jeremy Shockey
, who was a bit of a surprise scratch Saturday with a turf-toe injury, will be back. Maybe before the regular season ends, and almost certainly for the playoffs.
Plug Greer and Porter back in as the starting cornerbacks and you don't have to keep throwing rookie
Malcolm Jenkins
and veteran
Mike McKenzie
, who was on the street a month ago, out there. Plug Greer and Porter back in and Sharper no longer has to play mostly Cover 2 to bail out McKenzie and Jenkins. Sharper can roam free as he did early in the season when he was an interception machine.
Remember how good the New Orleans defense was early in the season? There's really no reason it can't be like that again. Get Ellis and Greer healthy and all the parts should be in place.
And get Shockey back healthy so the Saints can go with their two-tight end sets, with Shockey and
David Thomas
, instead of having to use only Thomas and leaving Bushrod without much help against the Dallas pass rush.
Picture all that and you still can see a bright ending for the Saints. It can't be perfect now, but if the Saints can fix all that's ailed them for the last month in time for the playoffs, a Super Bowl win would be better than perfect.
December, 20, 2009
12/20/09
1:50
AM ET
NEW ORLEANS -- Marty Callinan was assigned to cover the game for ESPN's Stats & Information and he just passed on some interesting stuff on Drew Brees, who probably has lost his chance at the Most Valuable Player award to Peyton Manning.

In the first 13 games, Brees completed more than 60 percent of the passes he threw for 15 or more yards down field, while averaging 17.2 yards per attempt on passes in this category. He had thrown 14 touchdowns and five interceptions on passes of 15 yards or more.

But none of that seemed to matter Saturday night against the Cowboys. Brees threw eight passes of 15 yards or more and didn't complete a single one. He also had one of those passes intercepted.

If you want to narrow it down a little more, Brees was fine on short passes but struggled on everything else. Brees completed 80 percent of passes thrown 10 yards or less and had 231 passing yards on those plays. On passes of 11 yards or more, Brees completed only 33.3 percent for 67 yards.

Marty also pointed out the Cowboys used five or more defensive backs on every play after both two-minute warnings and never sent more than four pass rushers (prevent defense). During the last two minutes of each half, Brees went 6-for-10 with 49 yards and an interception. Brees was sacked twice and Dallas recovered both fumbles.
December, 20, 2009
12/20/09
1:21
AM ET
By
Matt Mosley
| ESPN.com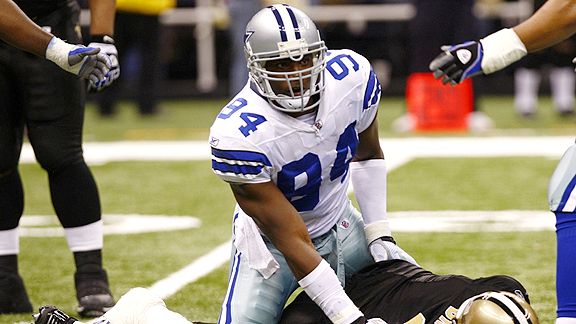 Scott Halleran/Getty Images DeMarcus Ware's return to the lineup had a huge impact on the Cowboys and Drew Brees.
Just when you thought Wade Phillips and the Cowboys were pretty much done, they go out and hand the Saints their first loss of the season. And as much as we've bragged about
Drew Brees
this season,
Tony Romo
was the best quarterback on the field in the
Cowboys' 24-17
win. Romo was 22-of-34 for 312 yards and a touchdown. And he used his legs to extend important drives. He has been heavily criticized for his record in December, but this was the signature win that a lot of folks have been waiting on. Here are a few quick-hitting observations on the Cowboys' win in the Big Easy:
Having DeMarcus Ware on the field gave the Cowboys a huge lift. Phillips wisely limited him to passing downs and he had a ton of energy. That made a big difference on the final drive. It was Ware who caused the Brees fumble that clinched the win for the Cowboys. And right up until that moment, I thought Brees might have a legitimate shot of leading the Saints back. Here's what Ware told the NFL Network moments after the game: "When I told the team I was playing tonight, everybody's eyes lit up. And as you can see, the scoreboard lit up too." Most people didn't believe Phillips on Monday when he said that Ware could possibly play against the Saints. But the All-Pro outside linebacker made steady progress with the team's medical staff and was finally cleared after going through a series of tests a couple hours before the game.
Miles Austin is obviously the Cowboys' No. 1 wide receiver at this point. He had the big touchdown early in the game, but it was his catch and run on a third-and-long with 6:28 left in the game that held the Saints' comeback at bay. You can tell Romo has so much faith in Austin. Conversely, why would anyone have faith in Roy Williams at this point? His drop on a quick slant in the fourth quarter allowed the Saints to continue their comeback. I'd bench the guy. He really has no business being on the field -- especially with players such as Kevin Ogletree and Patrick Crayton making clutch catches.
Surely the Cowboys will go ahead and cut kicker Nick Folk now. The NFL Network showed footage of him shanking field goals before the game and sure enough he hit the right upright on a short attempt with 2:14 left in the game. I can't imagine him being on the roster when the Cowboys make the trip to Washington next Sunday night. Winning has a way of covering up warts, but Folk can't hide after that miss.
Mike Jenkins is about to become a perennial Pro Bowl player if he keeps this up. The Cowboys' second-year cornerback went toe-to-toe with perhaps the deepest group of receivers in the league. His interception in the second quarter ended a Saints scoring threat and he made plays throughout the game. He's playing with a swagger right now that's pretty impressive. And he's getting good jams at the line of scrimmage. Jenkins told me Wednesday he's a huge fan of Charles Woodson's game. And on Saturday night, he sort of reminded me of Woodson. He's by far the best cornerback the Cowboys have right now and he'll be in the Pro Bowl mix next season.
It's a joke that Jay Ratliff isn't in the top five in the Pro Bowl fan voting. Ratliff can take over a game from his defensive tackle spot. He controlled Saints center Jonathan Goodwin and caused a lot of trouble in the middle. Ratliff didn't really show up on the stat sheet other than his fumble recovery, but he caused a lot of trouble for the Saints.
This had to be outside linebacker Anthony Spencer's best game as a Cowboy. With Ware resting quite a bit on first and second down, Spencer turned up the pressure. For some reason, the Saints kept forgetting to block him and Spencer took advantage. Spencer and Ware combined for four sacks, two forced fumbles and a fumble recovery. This is what the Cowboys had in mind when they drafted Spencer in the first round.
Let's revisit the Austin note: Austin completely embarrassed Saints first-rounder Malcolm Jenkins on a double move on the touchdown. Jenkins just bit all the way, allowing Austin to get over him for the easy touchdown. Perfect throw by Romo. And then the heralded Darren Sharper had trouble keeping track of Austin. Austin ran through Sharper's arm tackle on one long play in the first half. On that huge play with 6:28 left in the game, tight end Jason Witten did a nice job of clearing things out for Austin.
Tony Romo said on TV after the game that the Cowboys used a Tony Dungy video clip as a source of motivation. Romo revealed special teams coach Joe DeCamillis showed a video of Dungy saying on NBC last Sunday night the Cowboys had "no chance" against the Saints.
The Cowboys' reward: One whole week with no one talking about how awful they've been in December. Impressive win. If they follow it up with a win in Washington, we're looking at a huge showdown between the Cowboys and Eagles to end the regular season.
December, 19, 2009
12/19/09
11:37
PM ET


NEW ORLEANS -- It's over.
New Orleans' shot at an unbeaten season came to an end late Saturday night
with a loss
to the
Dallas Cowboys
. The Saints, who trailed 24-3 at the start of the fourth quarter, almost staged one of their miraculous fourth-quarter comebacks.
But it didn't happen. After scoring two touchdowns in the fourth quarter, the Saints had a chance for a last-gasp drive. It stalled near midfield when quarterback
Drew Brees
fumbled.
I'm going downstairs for the postgame interviews. I'll be back with more in a bit.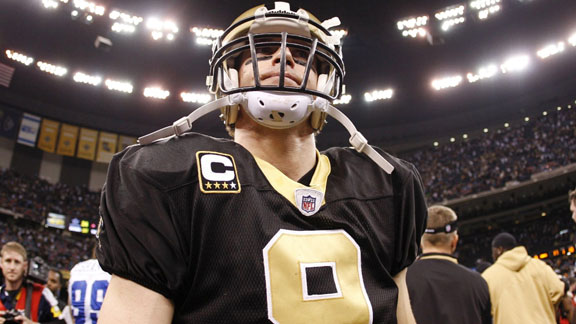 December, 19, 2009
12/19/09
11:12
PM ET
NEW ORLEANS --
Drew Brees
just claimed sole possession of
the franchise record
for touchdown passes.
Brees just threw No. 121 since joining the Saints in 2006, breaking his tie with
Aaron Brooks
. Remember him?
December, 19, 2009
12/19/09
11:12
PM ET
NEW ORLEANS -- If you turned off your television set thinking New Orleans' chance at a 16-0 season is over, you might want to turn it back on.

The Saints just scored their second touchdown of the fourth quarter. Dallas still leads, but it's now 24-17. There are eight minutes left.
December, 19, 2009
12/19/09
9:26
PM ET
NEW ORLEANS -- Center
Jonathan Goodwin
has left the game after suffering an injury midway through the second quarter.
The trainers appear to be working on Goodwin's left leg or ankle. They seem to be wrapping something right now. I think there's a decent chance Goodwin will return. Backup
Nick Leckey
has been filling in on this drive.
December, 19, 2009
12/19/09
8:54
PM ET
NEW ORLEANS – Rather weird moment here in the Superdome. New Orleans cornerback
Randall Gay
appeared to collapse in the huddle with 6:08 left in the first quarter.
He walked off the field after trainers appeared to be examining his head. Gay is over on the sideline with the trainers now. This is another blow to a depleted New Orleans secondary. Starter
Jabari Greer
has been out with an injury and
Tracy Porter
had been out for several weeks before tonight.
Gay and rookie
Malcolm Jenkins
started at cornerback. Porter now has come on to take Gay's spot.
We'll let you know if we get any update on Gay's injury.
December, 19, 2009
12/19/09
8:45
PM ET
NEW ORLEANS – I'm going to jump over and join my friends at ESPN Dallas for their live chat on tonight's game.
I'll bounce between there and the NFC South blog throughout the game. If you'd like to join the chat, here's
the link
.
December, 19, 2009
12/19/09
8:43
PM ET
NEW ORLEANS –
David Thomas
(not the founder of Wendy's) was the starting tight end for New Orleans as
Jeremy Shockey
was out with a toe injury.
Thomas actually lined up at fullback on the first play. He's gotten lots of playing time this season. Update: As I was writing, Thomas just caught a pass on New Orleans' second play of the game. Look for more of that.
December, 19, 2009
12/19/09
1:17
PM ET
NEW ORLEANS -- Mike Triplett has a very
good story
about how Sean Payton has matured as a coach and I'd like to elaborate on this a bit because this is one topic that hasn't been talked about enough in this magical season for the Saints.

Payton
If you followed the Saints closely last year and have done the same this year, you've seen very visible growth by Payton. He certainly wasn't a bad coach before, but the maturity we've seen from Payton this year has helped him emerge as a top-notch coach.
The thing that's impressed me most about Payton this year has been his willingness to adapt -- that's been a fatal flaw for a lot of other coaches. Payton had to make some very tough decisions after last year's disappointing 8-8 season.
He knew he had to do something about a defense that was bad last year. He fired coordinator Gary Gibbs and brought in Gregg Williams. The results there speak for themselves.
Payton didn't stop there. He didn't let pride or ego get in the way as he realized there had to be adjustments to an offense that had only a passing game last year. Payton added a new emphasis on the running game and the Saints no longer are a one-dimensional offense.
On top of that, I think Payton has a better sense and feel of his team than he did last year. He kept training camp at home this year and made the schedule a bit lighter. That helped cut down on injuries and it also might be a reason why the Saints still look fresh late in the season.
Again, I thought Payton was a good coach already. But, this season, he's become a better one.

NFL SCOREBOARD
Thursday, 9/18
Sunday, 9/21
Monday, 9/22