NFL Nation:

Cowboys Stadium
December, 23, 2012
12/23/12
4:50
PM ET
Thoughts on the New Orleans Saints'
34-31 overtime victory
against Dallas at Cowboys Stadium on Sunday:
What it means:
The Saints improved to 7-8, but they might have done themselves more harm than good in the locker run by hurting Dallas' playoff hopes. Suspended New Orleans coach Sean Payton remains without a contract for next season and there's been a ton of speculation that he could end up in Dallas, where he served as an assistant coach and was very close to owner Jerry Jones. If the Cowboys don't make the playoffs, the chances that Jones will fire coach Jason Garrett increase dramatically. If there's an opening in Dallas and Payton hasn't already worked out a new deal with New Orleans, Jones is likely to come after Payton with an open checkbook.


What I liked:
The way the Saints came to play even though they began the day with only the slightest chance of backing into the playoffs and that scenario was eliminated as the day went on. This team faced a lot of adversity all season long, but the Saints never used that as an excuse.
Drew Brees
threw for a season-high 437 yards, middle linebacker
Curtis Lofton
forced a fumble and recovered it to set up a crucial touchdown and the Saints still pulled out the overtime win after blowing a 14-point fourth-quarter lead.
What I didn't like:
A defense that seemed to be improving in recent weeks struggled mightily. The secondary in particular had major problems, especially when it came to attempting to cover
Dez Bryant
. Cornerback
Jabari Greer
left the game with a concussion and backup
Johnny Patrick
had a very rough day. That defense is the reason the Saints aren't going to the playoffs and a lot of work has to be done on that side of the ball in the offseason.
What's next:
The Saints complete their season next Sunday by hosting the
Carolina Panthers
at the Mercedes-Benz Superdome.
February, 8, 2011
2/08/11
3:15
PM ET
Pittsburgh resident and Steelers fan Dan Powell felt fortunate to land tickets to Super Bowl XLV on Feb. 6. It was a rare opportunity to see his team compete in person for a seventh championship on the NFL's biggest stage.
But Powell's Super Bowl experience was anything but super. In fact, it was awful. Powell was one of
the reported 400 fans
who purchased tickets but couldn't watch the game because of a seating issue at Cowboys Stadium.
In a telephone interview Tuesday, Powell shared his Super Bowl experience with ESPN.com's AFC North blog.
"At no point during the whole thing did anyone come down and talk to us and told us what the story was," a disappointed Powell said. "Everything we know about it we read through the paper the next day or were looking through our phones online. ... No one had any info."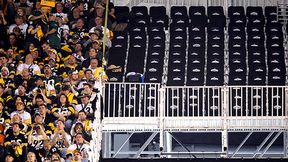 AP Photo/Chris O'MearaA section of empty seats are seen at Cowboys Stadium before Super Bowl XLV. The temporary seats weren't completed and were deemed unsafe.
Powell said he entered Super Bowl week with extremely high expectations.
His father is a longtime Steelers season-ticket holder who won the lottery and was able to buy two Super Bowl tickets directly through the team at face value. Powell and his brother, Brad, jumped at the chance and bought two tickets for $800 each. The tickets were for Section 430A, Row 25.
Dan Powell and his brother arrived at Cowboys Stadium about four hours before kickoff in order to soak in the Super Bowl experience. They wanted to see the Steelers warm up, the pregame festivities and all the new stadium has to offer. But only delays and complications would follow.
"We waited in line for about an hour and a half to get through security, but we didn't really care about that because we were expecting to wait in line for that long," Powell said. "Then we get through all the security and gave our tickets to the people, and they said, 'Your tickets are no good.'"
From there it was a complete state of confusion, according to Powell. After talking to various people and getting little info, he was sent over to a ticket solution's booth near the Texas Rangers' baseball field.
"By this time it's about 4 p.m. [CT], so we sprint over there, and it's a hike," Powell said. "We get over there and we wait about 15 minutes or so before they come out and make an announcement. There's about a 1,000 people crowded around this little tent waiting and they kept saying, 'Somebody will have answers. Somebody will have answers.'
"Finally a guy comes out and says 'Your tickets have been reactivated. You all are good to go in.'"
So Powell and his brother sprint back to Cowboys Stadium to try to catch the little time there was left of the pregame atmosphere. It took another 45 minutes to get through security a second time, but the pair got in about 30 minutes before kickoff.
When Powell thought he'd made it through an already tough day, things got even worse when he got to his seats.
"We gave our tickets to the usher and she says, 'Sorry, everything above row 12 is closed. You can't go up there,'" Powell said, still flabbergasted days later.
The NFL deemed those seats unsafe due to an installation issue. Powell was among the unlucky few who owned a ticket in that area. Well after kickoff, some were relocated to "equal or better seats," according to the NFL. But Powell and his brother were among the reported 400 ticket holders forced to watch the game from a pair of sports bars in the basement of the stadium.
"It was two bars and they told us Steelers fans in one and Green Bay fans in the other," Powell said. "I don't know why they split us up. But at this point the game was about to start, and people down there as you could imagine were going crazy and screaming at anyone who would listen. Most of them were security guards and police who really couldn't do anything. I felt bad for them, actually, but I understood the people being angry."
Finally, a little before halftime representatives from the NFL entered the sports bar and passed out
letters to ticketed fans
. The letter stated a refund was due for three times the original value of the tickets and the fans would be granted entry to a hospitality area while at Cowboys Stadium, which is where the Powells already were.
It's been reported that special amenities were provided during Super Bowl XLV. But Powell says in his experience that wasn't the case.
"The NFL is acting like they treated us very, very well, like royalty or something," Powell said. "But they gave us no info. They said it was free food and drinks. There was absolutely no free food. I went to the bar and talked to the bartender in getting two free beers -- one for me and one for my brother. But that was at the bartender's discretion. So some people got them."
In total, Powell estimates he and his brother spent about $4,000 each on Super Bowl tickets, hotel, airfare, ground transportation, parking, food and entertainment. He said he would have much rather sat in a sports bar Sunday in Pittsburgh and had the same experience while saving thousands of dollars.
Reportedly the NFL plans to give Powell and others free tickets to Super Bowl XLVI next year in Indianapolis to make up for the huge error. But with no way of knowing the participating teams, Powell says it probably won't be the same.
"There's no guarantee the Steelers will be in another Super Bowl ever. But I wish they could give us a Super Bowl ticket next year and be guaranteed a ticket the next time the Steelers go," Powell said. "I wouldn't be real interested in seeing any other teams. I went to this Super Bowl strictly because the Steelers were in it."
February, 6, 2011
2/06/11
4:36
PM ET
ARLINGTON, Texas -- The
Pittsburgh Steelers
are one of the NFL's most-experienced teams. That is a major reason they are participating in Super Bowl XLV Sunday against the
Green Bay Packers
.
But here is a breakdown of several key Steelers who will see their first action on the NFL's biggest stage:
WRs Mike Wallace, Emmanuel Sanders and Antonio Brown
Analysis:
Known in Pittsburgh as the "Young Money Crew," Wallace, Sanders and Brown have stepped up huge for the Steelers. Wallace is an elite deep threat and has carried the Steelers' passing game this year. Sanders has come on as a legit No. 3 receiver, while Brown has made his mark in the playoffs with back-to-back big catches to end games. This trio needs to step up for Pittsburgh to win its seventh championship.
RBs Rashard Mendenhall and Isaac Redman
Analysis:
Both running backs are playing in their first Super Bowl but under different circumstances. Mendenhall was on the roster in 2008 but broke his shoulder as a rookie early and missed the playoff run. Now Mendenhall is playing well in his first postseason. Redman has earned his way on the active roster this season after impressing the coaching staff while on the practice squad.
C Doug Legursky
Analysis:
It was questionable if Legursky would make the team out of training camp. Now the backup center is starting in the biggest game of the season. Pro Bowl center
Maurkice Pouncey
suffered a high ankle sprain in the AFC title game against the
New York Jets
. Legursky filled in admirably for more than three quarters and also had two full weeks to prepare.
DE Ziggy Hood
Analysis:
Hood is another injury replacement. He filled in for
Aaron Smith
(triceps) most of this season and played well. Pittsburgh still led the NFL in run defense and the Steelers finished second in total defense, despite Smith's injury. Hood also is playing his best football in the playoffs.
OT Flozell Adams
Analysis:
Although one of Pittsburgh's oldest players, Adams, 35, has zero Super Bowl experience as a longtime member of the
Dallas Cowboys
. The Steelers have taken the approach all week to "win one for Flozell." Not only does Adams have a chance to win his first ring, but he can do it in the same city he played most of his career.
February, 6, 2011
2/06/11
2:39
PM ET


ARLINGTON, Texas -- The AFC North blog has checked into humongous Cowboys Stadium in preparation for Super Bowl XLV between the
Pittsburgh Steelers
and
Green Bay Packers
.
There were tons of fans from both teams outside. Here are some pictures of my trip into the stadium you can check out
here
,
here
and
here
.
It should be a fun day. We're just getting warmed up.
February, 5, 2011
2/05/11
2:45
PM ET
»
Super Bowl XLV Final Word
:
Steelers
|
Packers
Five nuggets of knowledge about Super Bowl XLV:
[+] Enlarge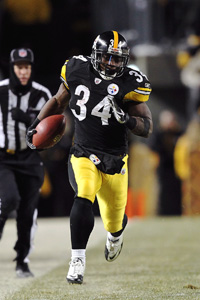 Al Bello/Getty ImagesRashard Mendenhall has been a potent weapon for the Steelers, rushing for 167 yards in two playoff games.
Big stage for Mendenhall:
The play of
Pittsburgh Steelers
tailback
Rashard Mendenhall
has been
under the radar
throughout the playoffs. But Mendenhall's performance will be very important for Pittsburgh to beat the Packers. Mendenhall has rushed for 167 yards and three touchdowns in Pittsburgh's two playoff games. Playing in his first Super Bowl, Mendenhall has the ability to keep the chains moving and keep Green Bay quarterback
Aaron Rodgers
off the field. The Packers' run defense has struggled at times, ranking just No. 18 in the NFL this season.
Win one for Flozell:
Nearly all the veteran players on the Steelers own at least one Super Bowl ring. But one veteran who doesn't own any jewelry is starting right tackle
Flozell Adams
. He played a dozen years for the
Dallas Cowboys
and
signed with the Steelers
before training camp. With Adams returning to his old stomping grounds, Pittsburgh is taking the approach to "Win one for Flozell." Offensive linemen all wore throwback Michigan State jerseys of Adams on the flight to Dallas on Monday as a show of solidarity.
Keeping the streak:
One of the safest bets in sports has been the Steelers in Super Bowls. Pittsburgh is 6-1 all time in the big game, with the only loss coming to the Dallas Cowboys following the 1995 season. (Credit
Neil O'Donnell
.) Pittsburgh's current group of veterans such as receiver
Hines Ward
, quarterback
Ben Roethlisberger
, safety
Troy Polamalu
and linebacker
James Farrior
are looking to go
3-0 in Super Bowls
. Experience definitely favors Pittsburgh and may play a factor in this game.
Taking shots:
Steelers receiver
Mike Wallace
hasn't made many big plays in the postseason, as defenses have been geared to stop him. But Super Bowl XLV could be an opportunity for Wallace to get back to making those game-changing plays. Packers defensive coordinators Dom Capers blitzes often, and that will present chances for Wallace to go over the top of the defense against single coverage. Much has been said about Green Bay's speed advantage indoors. But Wallace will undoubtedly be the fastest player in this game.
The big Legursky:
It was questionable if
Doug Legursky
would make Pittsburgh's roster out of training camp last summer.
Now he's
replacing
Maurkice Pouncey
as the Steelers' starting center in the Super Bowl. It has been a wild ride this season for Legursky, who made the team once veteran center and former starter
Justin Hartwig
was cut. Legursky filled in at various positions this season. He feels center is his best position, and the Steelers hope he's correct when he faces the Packers on the biggest stage.
January, 26, 2011
1/26/11
6:00
PM ET
PITTSBURGH -- Offensive tackle
Flozell Adams
spent the majority of his career with the
Dallas Cowboys
. But that was the last team he cared to talk about on Wednesday.
"I'm a Steeler," Adams said, dodging any questions in the locker room about Dallas. "So that's how we roll."
[+] Enlarge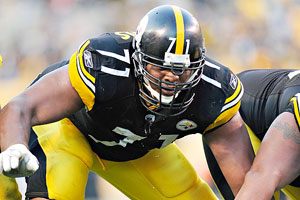 Icon SMIFlozell Adams will be returning to Cowboys Stadium, but this time with the Pittsburgh Steelers.
After a dozen years with the Cowboys, Adams will return to the place where it all started. This time Adams will be the starting right tackle for the AFC champion
Pittsburgh Steelers
, who will play the
Green Bay Packers
in Super Bowl XLV at Cowboys Stadium.
It's yet another twist of irony between the Steelers and Cowboys, who are two of the NFL's winningest franchises, combining for 11 Super Bowl championships. Adams never had the chance to win a title with the Cowboys. But he gets his first shot at a ring on the Cowboys' home turf in his first season with the Steelers (14-4).
"It would mean just as much, if not more, for me to win it for Flozell," Steelers quarterback
Ben Roethlisberger
said. "To go back to Dallas and he's never had a chance to go to a Super Bowl. To get to play in one, and it's in Dallas, I want to win one for him as much as I do myself."
Adams, 35, was released by the Cowboys this past offseason. Pittsburgh signed him as a replacement for the injured
Willie Colon
, who tore his Achilles and was out for the season.
Adams had to switch from left tackle to right tackle with the Steelers but got better as the season went on. His run blocking, in particular, has been solid. Adams helped pave the way for tailback
Rashard Mendenhall
(1,273 yards, 13 touchdowns) to have a career season.
"It was a challenge," Adams said of the position switch. "I had some trouble adjusting with it and learning the scheme in the beginning. But I just stuck with it."
Less than a year after being released, the sight of Adams potentially holding up the Lombardi Trophy at Cowboys Stadium may not sit well with many Dallas fans. But don't ask Adams to reflect on his days as a Cowboy. He's not interested in talking about his former organization this week.
"It's been a while; I don't remember," Adams said, laughing. "I'm just talking about the Steelers and what we're doing for this Super Bowl right now, that's all."
November, 25, 2010
11/25/10
10:55
PM ET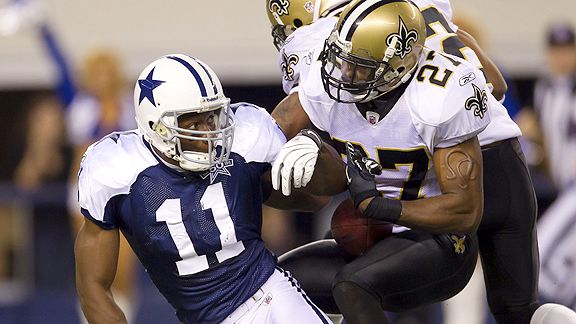 Wesley Hitt/Getty ImagesThis forced fumble by Malcolm Jenkins, right, gave the Saints new life against Dallas.
ARLINGTON, Texas -- Maybe it was one of the goat horns that suddenly was sprouting out of
Malcolm Jenkins
' helmet that caused perhaps the biggest play of the season for the
New Orleans Saints
.
The safety, who made a mistake in coverage, somehow chased down
Dallas Cowboys
receiver
Roy E. Williams
and popped the ball loose deep in Saints' territory. Just moments earlier, it seemed the Saints were about to let a shot at a repeat of the NFC South title and the Super Bowl championship fade away.
"It could have been a catastrophe,'' Jenkins said.
That's no exaggeration. Jenkins' play helped the Saints defeat the Cowboys,
30-27
, in a bizarre Thanksgiving game at Cowboys Stadium. Jenkins chased Williams knowing he had to make more than a tackle. He needed something close to a miracle.
After all, Jenkins was a big part of the reason why Williams was running free downfield and the Saints were about to blow a game that seemed so winnable early on.
With Dallas leading 27-23, Williams caught a slant pass from
Jon Kitna
. Jenkins said he took a bad angle in pursuit, and a cornerback had slipped. That left Williams running free down the middle of the field with three minutes remaining. If Williams scored, the Saints would need two possessions to have a chance. Even if he didn't score, the Cowboys might have been able to run out the clock or, at worst, kick a field goal.
"If I just tackled him there, the game is over,'' said Jenkins, a second-year pro who made the transition to safety after playing cornerback as a rookie.
With Williams running free, cornerback
Tracy Porter
was the only New Orleans player downfield and Williams had a lot of room to beat him. As Williams got near Porter, he tried to wrap the ball up. Jenkins was in pursuit from the blindside.
At the New Orleans 11-yard line, Jenkins caught up to Williams and somehow popped the ball free.
"It kind of fell right into my stomach,'' Jenkins said. "All I can say about that is God is good.''
Divine intervention? Well, that might be extreme, but there's no doubt Jenkins did something extraordinary.
"I think I did everything I could have done,'' Williams said. "It went through my head to just fall down, but that's not in my repertoire. The guy just made a great play. We had it in our pocket, and I let it go.''
Jenkins fell down with the ball and
Drew Brees
and the offense came onto the field.
"Whenever you have No. 9 out there, you have a chance,'' Jenkins said.
Brees marched the Saints 89 yards in five plays and one minute and eight seconds. He put New Orleans ahead to stay with a 12-yard touchdown pass to
Lance Moore
on the first play after the two-minute warning.
Even then, it wasn't over for the Saints, who spent most of the second half of the game looking like they were going to blow a game they'd led by 17 points against a 3-7 team. The Cowboys moved downfield.
David Buehler
's 59-yard field-goal attempt to tie the game with 31 seconds left had the distance, but was left of the goal post by just a few feet.
"To give up that lead and go home, it would have been a terrible weekend,'' Jenkins said.
An embarrassing loss after the Saints led by as much as 20-3 in the first half might have had implications beyond the weekend. It would have put the Saints two games behind the
Atlanta Falcons
in the NFC South race and started a downward spiral for a team that's been inconsistent all season.
[+] Enlarge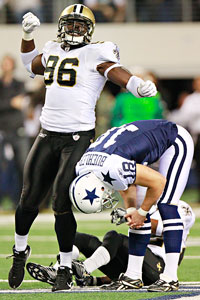 AP Photo/Mike FuentesDavid Buehler's missed field goal in the final minute gave Alex Brown and the Saints reason to celebrate.
The Saints squandered the big lead as
Reggie Bush
, making his return from missing eight games with a broken leg, dropped two easy passes and fumbled away a punt return. Rookie tight end
Jimmy Graham
had a pass go off his hands and turn into an interception for Brees.
"It's a credit to our team's fight,'' coach Sean Payton said. "That play Malcolm makes late is a heart play. It's an effort play and that inspires a whole team. It was kind of a gut-check win.''
By popping the ball loose and having it fall into his gut, Jenkins helped the Saints get to 8-3. They now have as many wins as the Falcons, who are 8-2 heading into Sunday's showdown with Green Bay at the Georgia Dome.
"The sweet thing about winning is it gives the players an extra three days off to get their feet wet,'' Payton said.
The Saints will get Friday, Saturday and Sunday off before returning to practice next week to get ready to face Cincinnati on the road the following Sunday. They likely would have had to work at least part of the weekend had they lost, and it certainly wouldn't have been pleasant. They would have to have played the rest of the season trying desperately to catch up to the Falcons.
There's a fine line between wins and losses and heroes and goats. Jenkins' play on Williams demonstrates that better than anything.
"Our mentality for the entire fourth quarter (was) to (get the ball back) and give our offense another chance,'' Jenkins said.
His play not only gave Brees and the offense another chance. It gave the Saints a chance to compete for another NFC South title and another Super Bowl title.
November, 25, 2010
11/25/10
6:12
PM ET
ARLINGTON, Texas -- It's halftime here at Cowboys Stadium and the Saints have dominated so far. The Saints lead 20-6.
They jumped out to a 17-0 first-quarter lead, but did allow Dallas' offense a nice long drive in the second quarter to trim the lead to 17-3. Garrett Hartley made a 45-yard field goal at the end of the second quarter to swing the momentum back toward the Saints. But Dallas kicked a field goal on the final play of the first half.
If you aren't already on our live game chat,
hop over here
. I'll be back on the chat by the time the third quarter starts.
September, 17, 2009
9/17/09
12:30
PM ET
| | |
| --- | --- |
| | |
| | James D. Smith/Icon SMI |
| | Dallas will play its home opener this Sunday in the $1.2 billion Cowboys Stadium, which will become the new standard by which other stadiums are judged. |

Posted by ESPN.com's Matt Mosley
Cowboys owner Jerry Jones has a different spin on an old saying: "If you're going to do it, you might as well do it bigger." This is a man who's been breaking rules ever since he barged into the NFL in 1989 -- and he's turned the
Dallas Cowboys
into the most valuable franchise in American sports.
Jones could have saved himself some money by staying in the aging Texas Stadium, but that would've been way too safe for the former wildcatter from Arkansas. It was his vision to build the greatest stadium in the world -- and he just might have pulled it off.
On Sunday night, new Cowboys Stadium will make its regular-season debut when the division rival
New York Giants
come to town. Not many people know this, but in order to get his players' attention, Jones assembled everyone in the locker room in the offseason and told them exactly what he was spending per month. At one point during the 2008 season, Jones told me that the "burn rate" for the new stadium was $1 million per day. I'm never been a big burn rate guy, but that certainly sounded like a significant investment.
"Jerry has different ways of letting us know how important things are," linebacker
Bradie James
told me recently. "And the numbers he was throwing out got our attention pretty fast."
The latest word on how much the stadium cost Jones and the citizens of Arlington is $1.2 billion, but then, who's really counting? More than his three Super Bowls and numerous marketing breakthroughs, Jones believes this stadium will be his legacy. He'll look at you with a straight face and tell you that Cowboys Stadium will soon be as recognizable as the White House -- and I'm not talking about the structure shared by some of his early '90s players.
| | |
| --- | --- |
| | |
| | James D. Smith/Icon SMI |
| | Jerry Jones went around the world to draw inspiration for Cowboys Stadium's design. |
Jones and his family flew around the world looking for inspiration for the stadium. They studied London's Wembley Stadium and an airport in Lyon, France. To hear Jones talk about his passion for fritted glass is good for one's soul -- especially in that familiar accent. After trips to Great Britain, France and Italy, the Jones family made a pilgrimage to one of America's architectural treasures: The Colosseum at Caesars Palace in Las Vegas, where Celine Dion was making her 5-year run. Jones became so intoxicated by the images shown by an enormous video board hanging over the stage that he couldn't focus on Dion.
"I couldn't take my eyes off it," Jones told me about a year ago. "It was something I knew we'd have to have."
But more on that later. For now, Jones truly believes the opening of Cowboys Stadium will serve as a motivating force for his team in '09. He's done everything except name the stadium a team captain, but I think that's probably coming Sunday night.
"I think our team will play to the level of the new stadium," Jones said at the beginning of training camp. "We've spent a lot of time over the years talking about playing for the Cowboys, what it means, the visibility of the team, the interest in the team. We're the most-watched team there is in the NFL; we're the most-watched programming in all of television … the Dallas Cowboys. That's fact."
I've never heard of a new building leading a franchise to a Super Bowl, but Jones is convinced something like that can happen. Yes, going 13 years without a playoff victory can take its toll on a fan base, but it's nothing a $29 Party Pass can't solve.
OK, here's my list of features that will blow your mind about new Cowboys Stadium:
| | |
| --- | --- |
| | |
| | Tom Pennington/Getty Images |
| | The massive video boards in the stadium's center have already created waves this season. |
Until you see it in person, you can't truly appreciate JerryVision:
I find myself studying the steel wires that are holding the enormous video boards suspended from the ceilings. It's a surreal experience to look up there and see this monstrous scoreboard -- and it's in HD. When I was at Giants Stadium last week, the video boards in the corners seemed like 50-inch Curtis Mathes TVs by comparison. It's fun to watch players walk out for warm-ups and just stare at the video board. And yes, every punter is going to try to nail that thing before the game. Bradie James confronted former
Tennessee Titans
punter A.J. Trapasso before the game and asked him why he was trying to bang kicks off the scoreboard. "Because it's up there," responded Trapasso.
There's a lot of wow factor associated with the stadium, but the scoreboard is the most memorable feature. There's nothing quite like it in the world -- not even at Celine's old place.
The players enter the field through a bar:
Actually it's called the Miller Lite Club. After leaving the locker room, the players make their way to the field while surrounded by hundreds of screaming fans. There's nothing close to this around the league. Jones wants this to be an interactive experience -- and he's succeeded. But is it a good idea to give a bunch of fans beer bottles after the Cowboys have played a horrible first half? We'll see. Asked about entering the stadium through a bar, Australian punter
Mat McBriar
joked that he was "tempted" to stop for a drink.
The nighttime views from outside the stadium are stunning:
Jones didn't cut any corners on all that fritted glass. On one side of the stadium, the glass wall is inverted at a 14-degree angle. For whatever reason, that allows thousands of lights to create a shimmering effect. At the base of all that glass is some limestone rock that has a Texas feel to it. The lead architect on the stadium, Bryan Trubey, told me recently that he wanted to create an "airy" feel to the stadium. So even when the roof's closed, all the glass makes fans think they're in an outdoor environment.
You have to love the Party Pass approach:
I think the feature that excites Jones the most is the $29 Party Pass that allows an additional 20,000 fans to have standing-room only tickets. Jones envisioned it being like the pavilion areas at PGA Tour events. In the end zones, fans will be able to mill around sipping on $8 beers while watching the game. There could be 100,000 fans at the Giants game. Jones studied the other NFL stadiums and he talked about how Buccaneers fans loved the ship at Raymond James Stadium.
"They were on it like they were going after chum," Jones said of Bucs fans.
The Cowboys have the most expensive seats in the league, but the $29 Party Pass provides a much better price for fans on a budget. On Sunday night, Jones will roll out his prized possession for the world to see.
And don't ask him to raise the scoreboard.
August, 21, 2009
8/21/09
7:10
PM ET
Posted by ESPN.com's Paul Kuharsky
| | |
| --- | --- |
| | |
| | ESPN.com's Paul Kuharsky |
| | Everything is bigger in the new Cowboys Stadium. |
ARLINGTON, Texas -- The incomprehensibly big HD screen is flashing snapshots of the building process of Cowboys Stadium.
It's hard to take your eyes off it, and right now it's just a slideshow. (One friend called it Godzilla-vision.) My press box seat is in a corner, so I have a side-angle view of one of the crystal clear sideline screens, as well as look at one of the smaller versions facing the peasantry with end zone seats or standing room spots.
Driving in for Friday night's Titans-Cowboys game was not as bad as I expected. Police and traffic control staff all knew what was where -- a rarity at a lot of venues and an impressive feat considering this is the building's first football game.
There are pay lots "nearby" that have $60 price tags. Steep.
A lot of fans came early and tailgated. Some of them then lined up at the doors and raced in when they opened.
The two lowest sections of seats are actually below ground level, which helps make things feel less big than they are.
If you come in and walk down to your seat, you have to think "Boy, am I close." If you come in and walk up just one section to your third-level seat, I suspect you think "Boy, I feel closer than I expected."
Someone else told me they heard that Reliant Stadium would fit in here, and my eyes tell me it's true. It's certainly more of an oval, while Reliant is rectangle.
I saw Craig Hentrich trying to hit the bottom of the huge screens with punts and fail on several tries. But Jim Wyatt, sitting next to me, says Hentrich got it once, and backup punter A.J. Trapasso hit it three times that he saw.
Time to explore more.
NFL SCOREBOARD
Thursday, 11/27
Sunday, 11/30
Monday, 12/1
WEEKLY LEADERS