March, 6, 2012
3/06/12
12:19
PM ET
Facebook friend Jonathan makes a simple request of the
San Francisco 49ers
: get
Mike Wallace
.

Wallace
"How valuable could the 30th pick be?"
he asks
.
This is the most enticing argument for chasing after a young, talented restricted free agent such as Wallace, who might qualify as the best deep-threat receiver in the NFL. NFC West fans might remember Wallace's 95-yard touchdown reception against Arizona last season, or his 53-yard reception against Seattle, or his 46-yarder against St. Louis.
Wallace would give the 49ers the deep-threat wideout their rotation has been lacking.
A few considerations:
Price: The 49ers would have to pay Wallace enough for two things to happen. One, Wallace would have to sign an offer sheet, forcing the 49ers to outbid any other suitors. Two, the deal would need to be structured so that Pittsburgh would not match it. The 49ers would then have to send their first-round choice, 30th overall, to the Steelers.
Fit: The 49ers have carefully identified which players in their locker room to hold up as leaders. Patrick Willis, Joe Staley and Vernon Davis have gotten lucrative long-term deals. Justin Smith and Frank Gore have also been highly paid. Smith is the perfect example of a free agent from another team who was worth the investment. The 49ers would have to feel good about how Wallace would react to a payday. Signing him affects dynamics at the position, putting Wallace over Michael Crabtree and the other receivers.
The pick: It's easy to discount the value of that 30th choice because so many draft choices fail to pan out. But that is why teams employ personnel departments. The 2009 first round was largely disappointing, but the Green Bay Packers nonetheless landed B.J. Raji and Clay Matthews. Tennessee stood pat at No. 30 and drafted Kenny Britt, who averaged 17.5 yards per reception with 15 touchdowns before suffering a season-ending knee injury early last season. Niner fans will point to the 2004 draft, when San Francisco took receiver Rashaun Woods at No. 31. But a look at receivers drafted from the 28th through 32nd picks since 2001 shows Woods was more exception than rule. Hakeem Nicks, Britt, Craig Davis, Anthony Gonzalez, Michael Jenkins and Reggie Wayne were the other receivers in that group.
The offense: Would the 49ers maximize their investment in a deep-threat receiver? Would Wallace open up their offense, taking them to another level? Or would the nature of the 49ers' approach and potential limitations at quarterback leave us wondering why Wallace's production had failed to carry over?
I'd have a hard time criticizing the 49ers if they made a strong play for Wallace. They need help at the position. Wallace is only 25 years old. Wallace is established and ascending.
It's true that receivers often disappoint, but very few in Wallace's position hit the market. The new labor agreement gives the best restricted free agents more freedom. This would seem to be a relatively low-risk proposition for the 49ers as long as Wallace's personality and work ethic checked out.
April, 7, 2011
4/07/11
12:00
PM ET
»
NFC Draft Watch
:
East
|
West
|
North
|
South
»
AFC
:
East
|
West
|
North
|
South
Each Thursday leading up to the NFL draft (April 28-30), the ESPN.com NFL blog network will take a division-by-division look at key aspects of the draft. Today's topic: history in that spot.

Buffalo Bills
The Bills' top pick is No. 3 overall. Here are the last seven players taken in that spot, with their NFL teams in parentheses:
2010:
DT
Gerald McCoy
(Buccaneers)
2009:
DE
Tyson Jackson
(Chiefs)
2008:
QB
Matt Ryan
(Falcons)
2007:
T
Joe Thomas
(Browns)
2006:
QB
Vince Young
(Titans)
2005:
WR
Braylon Edwards
(Browns)
2004:
WR
Larry Fitzgerald
(Cardinals)
ANALYSIS:
Some sexy picks have been made in this spot. None of the players have been out-and-out busts, although character concerns have overshadowed a couple. Only McCoy and Jackson haven't been selected for at least one Pro Bowl. Fitzgerald is an elite receiver, arguably the best in the business. Edwards can be a dangerous playmaker when not dropping passes, which he didn't do last year. Ryan is an emerging star. Young has been a lightning rod, but he did win rookie of the year and has gone to a pair of Pro Bowls. Thomas is a star blocker with four Pro Bowls on his résumé already.

Miami Dolphins
The Dolphins' top pick is No. 15 overall. Here are the last seven players taken in that spot, with their NFL teams in parentheses:
2010:
DE
Jason Pierre-Paul
(Giants)
2009:
LB
Brian Cushing
(Texans)
2008:
G
Branden Albert
(Chiefs)
2007:
LB
Lawrence Timmons
(Steelers)
2006:
CB
Tye Hill
(Rams)
2005:
LB
Derrick Johnson
(Chiefs)
2004:
WR
Michael Clayton
(Buccaneers)
ANALYSIS:
This is a region of the first round where picks can break either way. There have been solid players drafted here, but no superstars. Cushing was a rookie of the year, but his career has been tainted by performance-enhancing drug usage. Clayton made an immediate impact with 80 catches for 1,193 yards and seven touchdowns as a rookie, but hasn't caught more than 38 passes since. Johnson has been a solid linebacker for Kansas City, while Timmons has been an influential member of Pittsburgh's defense the past two seasons. Hill has been the biggest disappointment. He has been with four teams, starting 25 games.

New England Patriots
The Patriots' first-round picks are Nos. 17 and 28 overall. Here are the last seven players taken in those spots, with their NFL teams in parentheses:
2010:
G
Mike Iupati
(49ers) and DE
Jared Odrick
(Dolphins)
2009:
QB
Josh Freeman
(Buccaneers) and G
Eric Wood
(Bills)
2008:
T
Gosder Cherilus
(Lions) and DE
Lawrence Jackson
(Seahawks)
2007:
DE
Jarvis Moss
(Broncos) and T
Joe Staley
(49ers)
2006:
LB
Chad Greenway
(Vikings) and TE
Marcedes Lewis
(Jaguars)
2005:
LB
David Pollack
(Bengals) and DE
Luis Castillo
(Chargers)
2004:
LB
D.J. Williams
(Broncos) and CB
Chris Gamble
(Panthers)
ANALYSIS:
Results have been mixed with these slots, but the 28th pick actually has found more starters than the 17th in recent years. Freeman showed signs of developing into a future star last year, and Cherilus has started 40 of his 43 games at right tackle. Williams and Greenway have been regular starters. But Moss and Pollock didn't work out. In the 28th slot, Odrick is the only one who hasn't been a regular starter. Injuries detonated his rookie season.

New York Jets
The Jets' top pick is No. 30 overall. Here are the last seven players taken in that spot, with their NFL teams in parentheses:
2010:
RB
Jahvid Best
(Lions)
2009:
WR
Kenny Britt
(Titans)
2008:
TE
Dustin Keller
(Jets)
2007:
WR Craig Davis (Chargers)
2006:
RB
Joseph Addai
(Colts)
2005:
TE
Heath Miller
(Steelers)
2004:
RB
Kevin Jones
(Lions)
ANALYSIS:
What strikes me is that all seven selections not only are offensive players, but also ball handlers. Perhaps teams in the back of the draft feel they can gamble a little bit and try to hit big on a skill position. Whatever the reasoning, it seems to have worked. This has been a successful spot. Jones and Addai rushed for 1,000 yards as rookies. Best appears to be the Lions' running back of the future. Miller and Addai have gone to Pro Bowls. Britt was the Titans' leading receiver last year. Keller is one of the NFL's better tight ends.
March, 25, 2011
3/25/11
12:33
PM ET
Ken Whisenhunt is right when he says
Levi Brown
takes more criticism as a high draft choice than he would take as someone selected later in the process.
That's the way it works. The highest picks in a draft class should outperform their peers.
[+] Enlarge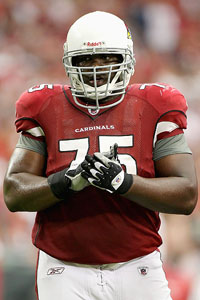 Christian Petersen/Getty ImagesLevi Brown, drafted fifth overall in 2007, can still become an "outstanding" player according to Ken Whisenhunt.
The
Arizona Cardinals
don't need anyone to remind them that they selected Brown over some All-Pro performers, including
Adrian Peterson
and
Patrick Willis
. But it's not as though Brown, a player with 56 consecutive regular-season starts, qualifies as a flat-out bust, either. He moved to left tackle from the right side last season and will stay there.
"He improved last year," Whisenhunt said this week from the NFL owners meeting in New Orleans. "As a left tackle, it's not an easy position to move from right tackle. He will continue to get better. He is a talented football player. The biggest thing he has struggled with is the consistency of his play. But a lot of times you are under the microscope more because you were the fifth pick in the draft."
I would rank Brown, chosen fifth overall in 2007, somewhere around 20th out of 32 first-round picks that year.
Brown has obviously or arguably outperformed the following first-round selections from 2007:
JaMarcus Russell
,
Jamaal Anderson
,
Ted Ginn Jr
.,
Amobi Okoye
,
Adam Carriker
,
Justin Harrell
,
Jarvis Moss
,
Aaron Ross
,
Reggie Nelson
,
Brady Quinn
,
Anthony Gonzalez
and Craig Davis.
Gaines Adams
, chosen fourth that year, passed away after Tampa Bay traded him to Chicago.
The following first-rounders from 2007 have obviously or arguably outperformed Brown:
Calvin Johnson
,
Joe Thomas
,
LaRon Landry
, Adrian Peterson, Patrick Willis,
Marshawn Lynch
,
Darrelle Revis
,
Lawrence Timmons
,
Leon Hall
,
Michael Griffin
,
Dwayne Bowe
,
Brandon Meriweather
,
Jon Beason
,
Anthony Spencer
,
Robert Meachem
,
Joe Staley
,
Ben Grubbs
and
Greg Olsen
.
"The reason we drafted Levi where we did was because we had him rated high enough to go in that position, but we also felt like we had to develop our offensive line and defensive line at that point, because that is where the most critical component of your team," Whisenhunt said. "That is the only way you are going to have a chance to compete. Levi has been a good player. He is often criticized, but I think that comes with being the fifth pick, and I don't understand how you evaluate offensive linemen, because they are not catching passes or running touchdowns in."
Whisenhunt said he thought Brown can and will become an "outstanding" player.
"Any time an offensive lineman gets drafted that high, especially in a fantasy football world where people want you to get dynamic playmakers, you are going to face some kind of criticism," Whisenhunt said. "I have to give Levi some credit. As tough as it's been, he hasn't let it affect him. He has continued to work and get better and I think this will be a big year for him. This is a chance for him to show that he can play this position very well."
March, 17, 2011
3/17/11
12:00
PM ET
»
NFC Draft Watch
:
East
|
West
|
North
|
South
»
AFC
:
East
|
West
|
North
|
South
Each Thursday leading up to the NFL draft (April 28-30), the ESPN.com NFL blog network will take a division-by-division look at key aspects of the draft. Today's topic: draft rewind -- examining the past five drafts.
Denver Broncos
Best choice:
Elvis Dumervil
, linebacker.

The Broncos have had an uneven drafting history in the past five years. Many of Denver's better picks are no longer with the team. Dumervil was a safe choice. He has been a very productive player since Denver took him the fourth round in 2006. Dumervil led the NFL with 17 sacks in 2009. He missed all of last season with a pectoral injury. But he is considered a cornerstone of Denver's defense as it begins the John Fox era.
Worst choice:
Alphonso Smith
, cornerback. There are a lot of candidates here, but I had to go with Smith. He edged out 2007 No. 17 overall pick
Jarvis Moss
, who was cut last season. Smith is the choice because he lasted one season in Denver and he cost the Broncos the No. 14 overall pick in 2010. Former Denver coach Josh McDaniels fell for Smith when he dropped to the second round in 2009. McDaniels, running his first NFL draft, traded the team's first-round pick in 2010 to take Smith. He was replaced four times as a rookie, including by an undrafted rookie. Denver finally dumped him off to Detroit on the final cut-down day last year.
On the bubble:
Knowshon Moreno
, running back. There are a few choices here, but Moreno has to make immediate strides. The No. 12 overall pick in 2009 has had a slow start to his career. He's had his moments, but he's been plagued by injuries and an overall lack of productivity. If he doesn't progress in 2011, the Broncos may have to make other plans at tailback.
Kansas City Chiefs
Best choice:
Jamaal Charles
, running back.

Charles was a wonderful parting gift from the Carl Peterson era. He was part of Peterson's final draft in Kansas City and was he a doozy. He was taken in the third round, with the No. 73 overall pick in 2008. The pick was acquired from Minnesota in the
Jared Allen
trade. Charles has developed into one of the best running backs in the NFL. He is a big reason why the Chiefs were a worst-to-first story in 2010.
Worst choice:
Turk McBride
, defensive lineman. The Chiefs haven't had many overtly horrible picks in the past five years. I'm going with McBride because he was a second-round pick, No. 54 overall, in 2007. The defensive lineman spent his second season on the injured reserve and was cut in 2009.
On the bubble:
Tyson Jackson
. Jackson had potential to make Kansas City fans forget about McBride. The defensive end was the No. 3 overall pick in 2009. He hasn't done much in two seasons. Still, the Chiefs are hopeful that the earnest Jackson will develop into a good player. He will have time to prove himself, but he will be watched closely.
Oakland Raiders
Best choice:
Zach Miller
, tight end.

The Raiders' 2007 draft will always be remembered for the colossal
JaMarcus Russell
mistake. But the Raiders did find a gem with their very next pick. They took Miller in the second round with the No. 38 overall choice. Miller has developed into one of the better young tight ends in the NFL. He is a top offensive weapon.
Worst choice:
JaMarcus Russell, quarterback. I didn't have to do much debating on this one. Russell is considered by many league observers to be the worst draft pick of all time. He never improved and the Raiders gave up on him last spring at the age of 24. Russell is still out of the league.
On the bubble:
Darrius Heyward-Bey
, wide receiver. The No. 7 overall pick in 2009 needs to start producing on a consistent basis and he needs to show he can catch the ball. If not, Heyward-Bey will fall further behind Oakland's other, more productive young receivers. Heyward-Bey has only 35 catches in 26 NFL games.
San Diego Chargers
Best choice:
Marcus McNeill
, left tackle.

The Chargers have some solid picks in the past five years, but I'm going to go with McNeill. He is not an elite left tackle, but he is a very solid player who is a strong anchor to the offensive line. He is the long-term answer for San Diego at a key spot. San Diego is getting a lot of value for the No. 50 overall pick in 2006.
Worst choice:
Buster Davis
, wide receiver. The Chargers haven't whiffed badly on a lot of picks in the past five years. But it looks as if Davis may not ever pan out as a Charger. He was the team's first-round pick in 2007, No. 30 overall. His biggest issue has been staying healthy. He finally showed some promise last year, but he missed the final nine games with an injury. He has played only 26 games in four seasons.
On the bubble:
Larry English
, linebacker. English is the fourth 2009 first-round pick to make this list. Like the other three players, it's time for English to show he can help his team. The Chargers took the Northern Illinois linebacker at No. 16 because of his high motor and ability to rush the passer. English, who already is 25, has only five sacks in two NFL seasons. He missed eight games because of injury in 2010. The Chargers probably will draft a pass-rusher in the first round, so English will have to fight for playing time in 2011.
September, 19, 2010
9/19/10
10:41
PM ET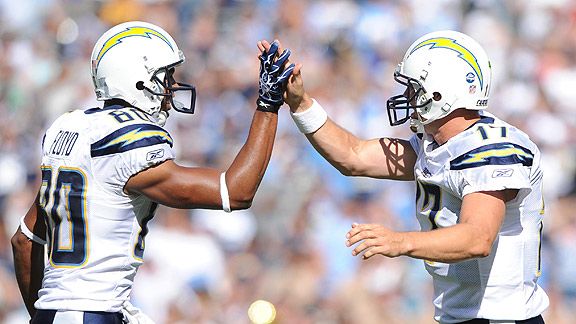 Christopher Hanewinckel/US PresswireMalcolm Floyd, Philip Rivers and the Chargers bounced back big with a Week 2 victory.
SAN DIEGO -- Tuesday is an off day in the NFL.
It wasn't one in San Diego last week.
The Chargers' facility was teeming with focused players Tuesday afternoon, hours after the team flew home in the middle of the night after losing in a rain storm in Kansas City on "Monday Night Football."
The San Diego players didn't lose their day off as a punishment for the loss (that type of stuff is not allowed). No, nearly every player showed up to work Tuesday on their own accord. They independently decided to work on their day off.
"It was a complete focus from Tuesday on, starting pretty much the time we got off the plane," San Diego safety
Eric Weddle
said Sunday. "This was a week of complete focus on being the team we know we are."
The Chargers didn't seem like a team in need of a day off Sunday as they completely
thrashed visiting Jacksonville 38-13
in a game that was blacked out on local television for the first time in six years. San Diego dominated every phase of the game and it looked like the Super Bowl contender it expected to be. Clearly, the extra attention spent during the week paid off.
Hey guys, as a reward, take this Tuesday off. Enjoy the beach. Hang with the family. You earned it.
Several players said after the game that there was no worry about having yet another slow start to the season, even after the 21-14 loss at Kansas City in Week 1. The Chargers had been 5-7 in September under coach Norv Turner heading into the Jacksonville game. Slow starts have been a way of life the past the three seasons.
Yet, this year, San Diego didn't feel the weight of starting slow.
San Diego knows it played pretty well at Kansas City, especially on defense. The offense stalled during a two-quarter monsoon. Yet, the Chargers still almost found a way to win.
"I hate to make excuses, but we all knew how weather hurt us last week," San Diego receiver Craig Davis said. "There was no worry that we weren't a good team or anything. We knew we'd come back and show we're a strong offense."
During the week, San Diego quarterback
Philip Rivers
said he knew the team would have "a great year."
Absent of panic or worry, the Chargers demonstrated their power Sunday.
Rivers threw for 334 yards and three touchdowns, erasing talk that the team is paralyzed on offense without holdout receiver
Vincent Jackson
and left tackle
Marcus McNeill
. Defensively, San Diego swarmed Jacksonville and created six turnovers.
"The offense and defense both did their jobs today," Weddle said. "This is team we are."
The following are key aspects to the game:
Mathews has scare:
It got tense at Qualcomm Stadium early in the second quarter when prized rookie tailback
Ryan Mathews
had to be helped off the field and he was taken to the locker room on a cart with a right ankle injury.
Mathews did run back to the sideline late in the second quarter. He did not play. He probably would have played if the game was in doubt.
He described his injury as a mild sprain but insisted he could have played. He probably will be monitored this week.
"I'm a football player," the No. 12 overall draft pick in April said. "I want to play football."
[+] Enlarge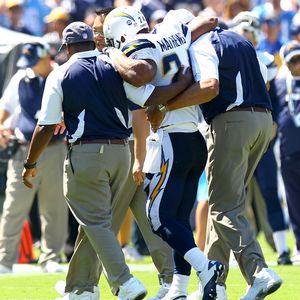 AP Photo/Kevin TerrellChargers running back Ryan Mathews left the game with an injury but later returned to the sidelines.
Mathews had 26 yards on five carries and two catches for 29 yards before he was hurt. Mathews was stripped of the ball once. He has now been stripped of the ball and has lost two fumbles in two NFL games. Still, he said he is not concerned about having any fumble issues.
Still, I'm sure his coaches are concerned.
Human bowling ball
Mike Tolbert
ran for 82 yards on 16 carries as he took over for Mathews as the primary tailback. San Diego, which was ranked No. 31 in rushing offense last season, racked up 151 yards rushing on 30 carries.
"We ran the ball even without Ryan," Davis said. "We didn't run the ball well last season, so that was a good sign for us."
Offense on point:
There can't be much squawking about Jackson and McNeill's absence this week. Eight San Diego players combined for 22 catches. Rivers received terrific protection and he was sacked only once.
"We have a great group to throw the football to," Rivers said.
It will be interesting to see if San Diego general manager A.J. Smith feels good enough about his offense after this performance to deal Jackson.
Minnesota is among the teams interested in him. The Vikings lost Sunday to fall to 0-2. Plus, receiver
Percy Harvin
has a hip injury. Minnesota may be tempted to try to save the season and overpay for Jackson.
Under a settlement reached Thursday, Jackson has to sit out the first four games of the season under suspension -- instead of six -- if he is traded by 4 p.m. Wednesday. If that window closes without a deal, Jackson will only be able to be traded after the Chargers' sixth game Oct. 17 and before the Oct. 19 trade deadline.
It's something to watch this week.
Defense swarms:
The first half was sloppy as the two teams combined for seven turnovers. Yet, every time San Diego's offense made a miscue (two of Rivers' passes were intercepted on balls that bounced off of a receiver's hands) the defense would step up.
San Diego had four interceptions and two fumble recoveries. Cornerback
Antoine Cason
, who was chosen to replace the traded
Antonio Cromartie
, had two interceptions and forced a fumble.
San Diego, which didn't crumble even though Jacksonville used a no-huddle offense often, had only two sacks but often pressured the quarterback. San Diego has now played eight quarters of solid football.
"It was a total team effort," linebacker
Kevin Burnett
said. "It doesn't get better than that."
A performance like that calls for a day off.
June, 10, 2010
6/10/10
1:00
PM ET
»
NFC On the Radar
:
East
|
West
|
North
|
South
»
AFC
:
East
|
West
|
North
|
South
A player, coach or issue that should be on your radar as training camp approaches.
The Chargers are looking at a potential issue at receiver if star
Vincent Jackson
holds out into the season.
[+] Enlarge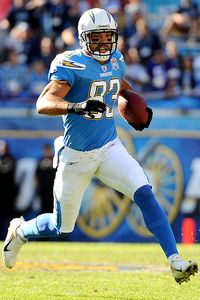 Harry How/Getty Images The contract situation between Vincent Jackson and the Chargers could get ugly.
Jackson is a restricted free agent who has not signed his tender. The Chargers are expected to reduce the tender offer to Jackson next Tuesday, which is the deadline to reduce a restricted free agent's salary to 110 percent of the previous season's salary if they don't sign their tender. Standout left tackle
Marcus McNeill
also could hold out as a restricted free agent.
Jackson probably will stay away from the team until he gets a long-term deal. That does not seem to be on the team's radar. San Diego general manager A.J. Smith is not intimidated by players or their actions. Thus, this situation has the potential to get ugly.
The Chargers would surely miss Jackson. He has developed into one of the better receivers in the NFL and is Philip Rivers' favorite target. Jackson had 68 catches last season, averaging 17.2 yards per grab. He is a matchup nightmare and has terrific size and speed.
The San Diego offense would survive without Jackson but it would certainly lose an important element. The team would have to rely heavily on young receivers
Malcom Floyd
,
Legedu Naanee
and
Craig Davis
. Floyd and Naanee are quality players while Davis has been dealing with injuries.
If Jackson misses time, expect the Chargers to use tight ends
Antonio Gates
and
Randy McMichael
and running backs
Ryan Mathews
and
Darren Sproles
even more in the passing game.
As we get closer to training camp, it looks more and more like the idea of playing without Jackson could become a reality.
March, 31, 2010
3/31/10
1:18
PM ET
»
NFC History
:
East
|
West
|
North
|
South
»
AFC
:
East
|
West
|
North
|
South
»
Draft Watch
:
Biggest needs
(2/17) |
Busts/gems
(2/24) |
Schemes, themes
(3/3) |
Recent history
(3/10) |
Needs revisited
(3/17) |
Under-the-radar needs
(3/26) |
History in that spot
(3/31) |
Draft approach
(4/7) |
Decision-makers
(4/14) |
Dream scenario/Plan B
(4/21)
Each week leading up to the NFL draft (April 22-24), the ESPN.com blog network will take a division-by-division look at key aspects of the draft. Today's topic: History in that spot.

Chicago Bears
The Bears' top pick is No. 75 overall. Here are the last five players taken in that spot, with their NFL team in parentheses:
2009:
Ball State tackle
Robert Brewster
(Dallas)
2008:
Oklahoma defensive back
Reggie Smith
(San Francisco)
2007:
Illinois State receiver
Laurent Robinson
(Atlanta)
2006:
Louisville guard
Jason Spitz
(Green Bay)
2005:
Virginia Tech defensive back
Eric Green
(Arizona)
Robinson had 37 receptions as a rookie but has since moved to St. Louis. Spitz was the Packers' opening-day center last season before a back injury sidelined him. He is a candidate to start in 2010. Smith has played in 13 games over the past two seasons for the 49ers, with seven tackles and no interceptions.

Detroit Lions
The Lions' top pick is No. 2 overall. Here are the last five players taken in that spot, with their NFL team in parentheses:
2009:
Baylor offensive tackle
Jason Smith
(St. Louis)
2008:
Virginia defensive end
Chris Long
(St. Louis)
2007:
Georgia Tech receiver
Calvin Johnson
(Detroit)
2006:
USC running back
Reggie Bush
(New Orleans)
2005:
Auburn running back
Ronnie Brown
(Miami)
Brown, Bush and Johnson have all been dynamic playmakers for parts of their careers. Coincidentally, all three have been slowed by knee injuries of varying severity. The Rams are still waiting for elite payoff from Long and endured an inconsistent rookie season from Smith.

Green Bay Packers
The Packers' top pick is No. 23 overall. Here are the last five players taken in that spot, with their NFL team in parentheses:
2009:
Mississippi offensive tackle
Michael Oher
(Baltimore)
2008:
Illinois running back
Rashard Mendenhall
(Pittsburgh)
2007:
LSU receiver
Dwayne Bowe
(Kansas City)
2006:
Oklahoma guard
Davin Joseph
(Tampa Bay)
2005:
Nebraska cornerback
Fabian Washington
(Oakland)
Oher, Mendenhall, Bowe and Joseph have been full-time starters. Washington moved from Oakland to Baltimore.

Minnesota Vikings
The Vikings' top pick is No. 30 overall. Here are the last five players taken in that spot, with their NFL team in parentheses:
2009:
Rutgers receiver
Kenny Britt
(Tennessee)
2008:
Purdue tight end
Dustin Keller
(
New York Jets
)
2007:
LSU receiver
Craig Davis
(San Diego)
2006:
LSU running back
Joseph Addai
(Indianapolis)
2005:
Virginia tight end
Heath Miller
(Pittsburgh)
All five are skill players, for what it's worth. Davis has been a bust, but Miller, Addai and Keller are highly productive players. Britt is on pace to be as well.
NFL SCOREBOARD
Sunday, 2/2
WEEKLY LEADERS