February, 26, 2010
2/26/10
9:15
PM ET
INDIANAPOLIS --
I doubt Bill Belichick will be too impressed
with this declaration.
Nevertheless, NFL Network analyst Charley Casserly made a bold statement Friday about this year's draft class.
[+] Enlarge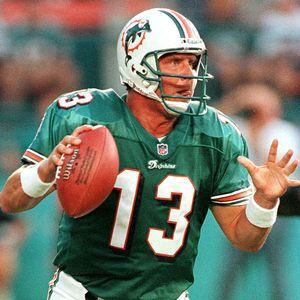 RHONA WISE/AFP/Getty Images Dan Marino was the 27th player drafted from the very successful Class of '83.
The former
Washington Redskins
and
Houston Texans
executive asserted the players taken in this year's first round will be the greatest collection of talent since the most celebrated class turned pro nearly three decades ago.
"This is the best first round I've seen since 1983," Casserly said at the NFL scouting combine in Lucas Oil Stadium.
Of the
28 players selected in the first round in 1983
, six have been inducted into the Pro Football Hall of Fame. They went to 77 Pro Bowls and won nine Super Bowls.
The 1983 quarterback class is legendary. All five AFC East clubs selected quarterbacks.
The Baltimore Colts took John Elway first overall. The
Buffalo Bills
drafted Jim Kelly 14th. One spot later, the
New England Patriots
chose Tony Eason. The
New York Jets
got Ken O'Brien 24th, and the
Miami Dolphins
used the 27th pick on Dan Marino.
Other first-round stars included running backs Eric Dickerson and Curt Warner, offensive linemen Chris Hinton, Jimbo Covert and Bruce Matthews and defensive backs Joey Browner, Gil Byrd and Darrell Green.
Casserly claimed only that crew will surpass the one that comes together in April.
With a rookie salary cap expected to be part of the next collective bargaining agreement, 53 underclassmen declared for this year's draft so they can sign under the current CBA, which allows rookies to get whatever they can.
"In talking to general managers throughout the league, decision-makers," Casserly said, "I think it's the result of two things. Last year, there was a concentrated effort to keep players in school. Conversely, both sides in the labor negotiations have talked about a rookie wage scale.
"So when you have those two things working, players without a motivation to stay in school will say 'The players who stayed in last year, you have a perfect storm to have the best junior crop you've had since all the way back to '83.' So I think this is the best first round I've seen going into a draft since 1983."
April, 2, 2009
4/02/09
9:10
AM ET
Posted by ESPN.com's Mike Sando

Nick Wagoner of stlouisrams.com says Steve Spagnuolo is anxious for the Rams' to open their first minicamp under his leadership. They'll get going at 6:30 a.m. Thursday. Spagnuolo: "I was telling somebody the other day that when you finally get to this point, you finally feel like this is what you got hired to do. We're coaches, that's what we do, that's what we enjoy so now we get a chance to get out there and do exactly what we enjoy doing."
Adam Caplan of ScoutNFLNetwork.com says the Seahawks and Rams are among the teams expected to meet with Utah pass rusher Paul Kruger before the draft.
Jim Thomas of the St. Louis Post-Dispatch's report about Gus Frerotte's expected deal with the Rams drew a couple of wisecracks in the comments section. The first: "Great, when will Jamie Martin report for camp?" The second: "Re-sign Jeff Smoker too." Not bad, but in reality, who were the Rams supposed to sign as a reasonably priced backup?
Vaughn McClure of the Chicago Tribune says the Bears want to make Orlando Pace their starting left tackle. He also says the Bears' interest in former Panthers and Seahawks cornerback Ken Lucas is only "lukewarm" at this point. Don't be surprised if Lucas re-signs with Seattle.

Sonja Haller of the Arizona Republic provides details from Kurt Warner's appearance at Muhammad Ali's annual charity event. Ali's wife, Lonnie, honored Warner with a sports leadership award. Lonnie Ali on Warner: "If there ever was an athlete that I think epitomizes everything that this man sitting next to me [Ali] is, he's sitting right there."
Nakia Hogan of the New Orleans Times-Picayune says Phoenix, New Orleans and Miami have submitted bids to land the 2013 Super Bowl. Owners plan to make a decision during their May meetings.
Kent Somers of the Arizona Republic says the Cardinals invited a limited number of college prospects to their headquarters before the draft. The team didn't value such visits when Dennis Green was the head coach and it's tough to argue with some of the results. Ohio State running back Chris Wells is expected to visit soon.
Also from Somers: Cardinals president Michael Bidwill and general manager Rod Graves attended USC's pro day. Coach Ken Whisenhunt and owner Bill Bidwill did not.
CBSSports.com quotes Cardinals receiver Anquan Boldin as saying he wants to re-sign with the Cardinals. Boldin: "Hopefully, something gets done. We'll see what happens. At this point I'm leaving it up to everyone else and just trying to enjoy life."

Eric Williams of the Tacoma News Tribune checks in with draft analyst Rob Rang for a look at how the Seahawks might approach the draft. Rang says he would be surprised if the Seahawks passed on Aaron Curry if given a chance to draft the Wake Forest linebacker. Rang on Michael Crabtree: "He's a spectacular talent. I really think he's an Anquan Boldin type of player. He doesn't have that elite speed, but you know, for me the fact that he wasn't able to run for scouts matters very little. Even the [foot] surgery matters very little, because Jonathan Stewart had the same surgery and he was every bit the player his rookie season that I thought he would be. Michael Crabtree will be as well."
Michael Steffes of Seahawk Addicts looks at the Seahawks' offensive linemen and tight ends heading toward the draft. The team did not draft an offensive lineman in 2008. Expect that to change this year.
Aaron Weinberg of nextseasonsports.com looks at the six players Seattle has drafted among the top five overall picks. Steve Niehaus, Kenny Easley, Curt Warner, Cortez Kennedy, Rick Mirer and Shawn Springs were the players chosen.

Matt Barrows of the Sacramento Bee lists USC's Mark Sanchez among the college prospects expected to visit with the 49ers before the draft. Barrows: "The 49ers are wise to show interest. In Sanchez does fall to 10 on April 25, there will be plenty of teams clamoring to grab him, creating an opportunity to trade down. Who knows, maybe the Broncos will still be stuck with unhappy Jay Cutler on draft day and will be willing to make a deal."
Kevin Lynch of Niner Insider thinks the 49ers might have their best group of receivers since Terrell Owens departed. Lynch: "After a rocky start to the offseason, the 49ers have seemingly recovered. In the last week, they've signed a possible replacement to the departing Jonas Jennings at right tackle in Marvel Smith and now have an assurance [Isaac] Bruce will come back."
NFL SCOREBOARD
Thursday, 10/2
Sunday, 10/5
Monday, 10/6