NFL Nation:

Curtis Johnson
August, 20, 2014
8/20/14
8:00
AM ET
METAIRIE, La. --
New Orleans Saints
coach Sean Payton and
Indianapolis Colts
receiver
Reggie Wayne
go way back. Well, sort of.
Wayne, a New Orleans-area native, was among the ones who got away when Payton was recruiting the area for the University of Illinois in his final year as a college coach in 1996.
Wayne
Payton brought up that memory Tuesday when asked for his general impressions of Wayne throughout his stellar 13-year career and what he thinks of Wayne now trying to come back from a torn ACL at the age of 35.
It's possible that Wayne will make his preseason debut against the Saints on Saturday night, though that hasn't been decided yet.
"He's an extremely talented player," Payton said. "I know him a little bit uniquely because I was here in Louisiana recruiting high school players for the University of Illinois, C.J. and I."
That "C.J." refers to Curtis Johnson, the current Tulane head coach and former Saints receivers coach, who had a recruiting stranglehold on the New Orleans area back in those days. Johnson helped woo Wayne and safety
Ed Reed
, among others, to the University of Miami. Johnson also helped lure Hall of Fame running back Marshall Faulk to San Diego State, where Johnson and Payton first worked together.
"We spent a better part of a week going in and out of these schools," Payton continued. "I would say we got to about 30, 35 schools. Had I been just solo with a map, I probably would have gotten to 12. But Curtis would drive in, parking lot, back door, in a gymnasium, right to the coach, where normally you might go to the front desk and get a pass and go through all the correct steps. But that year, Reggie Wayne was coming out, that year Ed Reed was coming out. There was another good player coming out of St. Augustine High School, I think a defensive tackle, I can't think of his name. There were a handful of good players coming out. So I remember his recruitment, I remember hearing what I heard from Curtis and then over the years followed him.
"Look, he is very competitive. He's the type of player that could do that, that could recover from an injury like that. And he has had a great career."
I asked Payton if he ever beat out Johnson for a New Orleans-area prospect.
"Not while he was at Miami. No," said Payton, who remains close with Johnson and the Tulane program. "Every year there is great talent (in the New Orleans area). And one of the things he is doing so well at Tulane is identifying, recruiting, and those guys are winning their battles. It starts with the procurement of talent. He is very good at that."
June, 5, 2012
6/05/12
6:35
PM ET
METAIRIE, La. -- The
New Orleans Saints
went through two minicamp practices Tuesday. I'm working on several columns and other items for the future, but let me share some quick notes and observations from the first day of minicamp.
At times, quarterback Chase Daniel looked very good while working with the first team. Same for Sean Canfield, but it's pretty obvious these guys aren't quite on Drew Brees' level. I'm pretty sure Tuesday was the first time I've seen the Saints practice and witnessed back-to-back incompletions. That basically doesn't happen with Brees.
Assistant head coach Joe Vitt said it's too early to talk about defensive linemen because they're not hitting and they're not in pads. But it's pretty obvious Vitt is high on young defensive ends Greg Romeus, Junior Galette and Martez Wilson.
Vitt said he's not ready to say that Wilson's move from linebacker to defensive end is permanent. But Vitt said Wilson's past as a linebacker gives him an advantage on the other defensive ends as they sometimes are being asked to drop into pass coverage in the new defensive scheme.
Although the Saints had only five draft picks this year, Vitt said he views the class as having six members. Romeus had to sit out his rookie season with a knee injury and Vitt said he's being treated as a rookie.
Defensive coordinator Steve Spagnuolo expressed the same precaution about judging defensive linemen before full contact, but he sounded very high on defensive tackle Brodrick Bunkley, who joined the Saints during the offseason. Spagnuolo raved about Bunkley's fundamentals and attention to detail.
Tight end Jimmy Graham appears to have added some muscle in the offseason. I asked him about it and Graham said his weight is still 265, but said he's spent a little more time in the weight room and has added some muscle.
The Saints added a little secondary depth just before minicamp. They signed former Tampa Bay cornerback Elbert Mack.
The Saints lost guard Carl Nicks to Tampa Bay in free agency, but quickly replaced him with Ben Grubbs. Nicks may be the best guard in the NFL, but Grubbs isn't bad. In fact, he may be better than Nicks in some ways. "I think that he is probably a little better communicator on the line of scrimmage than Carl Nicks,'' Vitt said.
The Saints clearly are in the experimental stages at linebacker. They opened the morning session with Curtis Lofton, Scott Shanle and David Hawthorne working with the first team. In the afternoon session, they shook things up and had free-agent pickup Chris Chamberlain working with the first team in Shanle's spot.
Zach Strief worked with the first team at right tackle in the morning session, but Strief wasn't on the field in the afternoon. It wasn't clear if Strief was injured or if there was another reason for his absence. Rookie Marcel Jones worked with the first team in the afternoon. I'm not sure that bodes well for the future of Charles Brown, who Vitt previously said was competing for a starting job.
Left tackle Jermon Bushrod, who was rehabbing an injury through the early part of organized team activities, was back on the field and practicing with the first team Tuesday.
Former Saints receivers coach Curtis Johnson, now the head coach at Tulane, brought his staff out to watch practice. Vitt said Johnson offered a critique after the morning session.
I know a lot of New Orleans fans like to criticize strong safety Roman Harper's pass- coverage skills. But I did see Haprer coming through with a nice breakup on a deep pass in the morning session.
January, 12, 2012
1/12/12
8:40
PM ET
New Orleans coach Sean Payton confirmed reports Thursday that offensive line coach Aaron Kromer will interview for the job as head coach of the
St. Louis Rams
. Payton gave Kromer a ringing endorsement.
"He's been a huge asset to us,'' Payton said. "He came initially as a running backs coach and then moved to the offensive line, handles our run game and is a real good talent. Again, he's a big reason for our success offensively. These types of things come with the success we're having. We talked about Curtis (Johnson going to Tulane) already and going back to Doug Marrone (leaving for Syracuse). Those opportunities I think are good ones."
Although Kromer has never been a coordinator, Payton said he has no doubt he could handle the leap to becoming a head coach.
"In our league, it's a very small circle,'' Payton said. "I think people know the talents prior to beginning a job search and what they're looking for. He's been a good addition for us."
July, 24, 2010
7/24/10
9:49
PM ET
By
Matt Mosley
| ESPN.com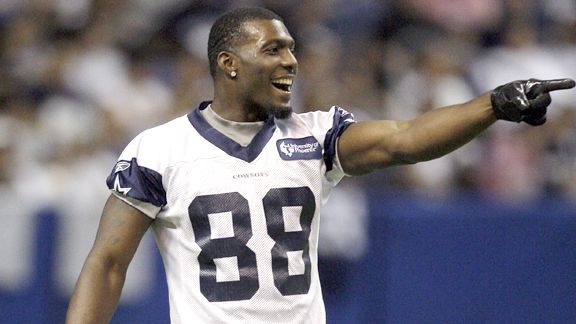 AP Photo/Tony GutierrezDez Bryant made a splash during the first day of training camp -- showing up 45 minutes early and making acrobatic catches.
SAN ANTONIO -- The
Dallas Cowboys
' first training camp practice was scheduled to begin at 2:15 p.m. local time, but first-round pick
Dez Bryant
took the field 45 minutes early to the delight of fans and I'm sure his coaches. As he's done since his first rookie camp, Bryant stole the show with an array of acrobatic catches. He spiced up even the most routine warm-up drill by reaching up and snagging the corner of the football with his left hand as if it were a Nerf.
At least one reporter (from the Dallas-Fort Worth CBS affiliate) was already asking folks to lay odds on when Bryant would replace Roy Williams in the starting lineup. Imagine what we'll be saying after Bryant's
second
practice, which is scheduled for Sunday. The former Oklahoma State wide receiver was just thrilled to be playing football again. After Bryant made a remarkable catch along the sideline, Wade Phillips' legendary father, Bum, cut off his conversation with Jerry Jones and began clapping like a fan. Believe it or not, though, there were other players on the field Saturday. Let's get to the observation deck:
[+] Enlarge

AP Photo/Tony GutierrezFans gave Tony Romo the loudest ovation of the day when the quarterback took the field.

The loudest cheers of the day were reserved for quarterback Tony Romo, who ran a warm-up lap as he took the field at 2:29 p.m. local time. A few minutes earlier, Miles Austin walked onto the field to a large ovation and acknowledged the crowd with an exaggerated wave of his arm. I had a long visit with Austin after practice about how his life has changed over the past year. It appears that he and Bryant will have a spirited competition to see who can make the toughest catches in practice. Austin told me that he's looking forward to a preseason matchup with the Dolphins because he wants to catch up with the man who gave him a chance in the league, Bill Parcells.
It didn't take long to realize that someone was missing from the tight ends group. Martellus Bennett, who has a lot to prove after a disappointing 2009 season, is on the non-football injury list with an ankle sprain. Bennett suffered the injury while running some routes at Valley Ranch on his own last week, but the Cowboys don't seem overly concerned. The athletic training staff had already set up shop in San Antonio, so the tight end wasn't able to get the same type of treatment that he normally would have received. He'll be day-to-day, and quite honestly, he's not in position to miss any days based on his tepid performance during the past season. It's odd that Phillips failed to mention Bennett's injury during Friday's opening news conference...
Second-year tight end John Phillips had an impressive first practice. He caught a couple of passes across the middle and he outperformed the other tight ends on a blocking sled. He's added some muscle and he looked dominant in blocking drills.
It's only the first practice, but Patrick Crayton had a bad drop on an inside route during drills. It will be an interesting battle for the fourth receiver spot between Crayton and Kevin Ogletree. Another possible candidate, Sam Hurd, missed practice because his wife had a child Friday. And since Phillips became a grandfather six days ago, I'm thinking he'll cut Hurd some slack.
Had a good conversation with right tackle Marc Colombo. He's obviously in much better condition than the last time we saw him in a regular-season game against the Vikings. Colombo told me that he'd lost 12 pounds. "I decided to get in shape and kick some [expletive]," said the right tackle/heavy metal guitarist.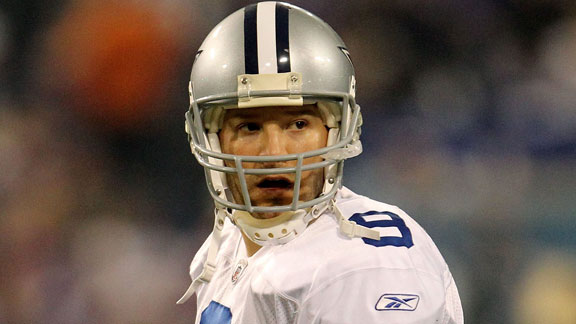 January, 17, 2010
1/17/10
12:13
PM ET
By
Matt Mosley
| ESPN.com
MINNEAPOLIS -- Greetings from the Metrodome, where fans have just been warned that pyrotechnics will be used throughout the game. This is somewhat concerning to me, but I'll just roll with it for now.
Now let's look at today's inactives list. No surprises here. For the Cowboys, special teams ace
Pat Watkins
has returned from a sprained knee and he replaces rookie safety
Michael Hamlin
on the active list.
Cowboys:
Emergency QB
Stephen McGee
, CB
Cletis Gordon
, S Michael Hamlin, LB
Jason Williams
, G
Montrae Holland
, C
Duke Preston
, T
Pat McQuistan
, LB
Curtis Johnson
Vikings:
Emergency QB
Sage Rosenfels
, WR
Jaymar Johnson
, CB
Karl Paymah
, TE
Garrett Mills
, LB
J Leman
, C
Jon Cooper
, DE
Jayme Mitchell
, DT
Letroy Guion
January, 9, 2010
1/09/10
7:00
PM ET
By
Matt Mosley
| ESPN.com
ARLINGTON, Texas -- As we've already told you,
Michael Vick
is active for tonight's game and I would expect for him to play a fairly significant role in the game plan. The Cowboys spent more time in the film room preparing for Vick this week because they felt like the Eagles would be in more of a desperation mode in this game. Now let's take a look at the inactives for both teams:
Cowboys:
QB
Stephen McGee
, S
Pat Watkins
, CB
Cletis Gordon
, LB
Jason Williams
, G
Montrae Holland
, C/G
Duke Preston
, T
Pat McQuistan
, LB
Curtis Johnson
Eagles:
QB
Kevin Kolb
, CB
Geoffrey Pope
, FS
Quintin Demps
, T
King Dunlap
, C
Dallas Reynolds
, WR
Kevin Curtis
, TE
Martin Rucker
, DT
Trevor Laws
August, 2, 2008
8/02/08
1:06
PM ET
Posted by ESPN.com's Paul Kuharsky
Before I figure where my delayed flight and missed connection will leave me tonight, let's have a look around the division, shall we?
Houston Texans
Andre Johnson isn't practicing when the Texans are inside on turf.
John McClain looks at two Texans, Darrell Green and Emmitt Thomas, who become hall of Famers Saturday.
Megan Manfull discusses the Texans' running backs and looks for you to share your opinions.
Indianapolis Colts
Bob Kravitz has some fun with the idea of hiding Peyton Manning during his rehab from knee surgery. Kravitz also shares a touching story about a lost pair of shorts -- it could make you tear up. I was on the radio with him Friday. He doesn't sound excited about Beijing.
As Indianapolis prepares for the league's preseason curtain-raiser in Canton, Mike Chappell considers which current Colts have Hall of Fame credentials. He polled several selectors as well as John Madden. Interesting split on Bill Polian. I agree with Peter King on this one.
Third-round linebacker Philip Wheeler needs knee surgery and will miss at least a couple weeks, while cornerback Michael Coe could also need an operation, Chappell reports.
Two undrafteds to keep an eye on, according to Phillip B. Wilson, are defensive tackle Eric Foster and defensive end Curtis Johnson.
Anthony Gonzalez knows Canton well.
Jim Sorgi has started preseason games before, so he will try to treat Sunday night as business as usual, according to Colts.com.
Jacksonville Jaguars
Brad Meester will miss eight to 10 weeks after surgery to repair a torn right biceps and Reggie Williams will be out two or three weeks after a knee scope, reports Michael C. Wright.
A check in on Khalif Barnes versus Richard Collier for Jacksonville's left tackle job. It's a matter of trust.
Some scrimmage notes from the Times-Union.
Some wrap-up thoughts after I spent two days with the Jaguars.
Tennessee Titans
Redo the top 10 in the first-round of the 2005 draft and Lofa Tatupu is a Tennessee Titan, says Alex Marvez at FoxSports.com. We call Alex Mr. President, as he's the top man in the Pro Football Writers of America.
Michael Griffin is learning a lot from Chris Hope, says Jessica Hopp, who could become Jessica Bliss any day now if her office email catches up to her marital status.
Practicing at night under new practice-field lights energized the Titans, Jim Wyatt tells us.
A week into Titans camp, Wyatt shares his three best guys on each side of the ball.