NFL Nation:

Cushing suspension 2010
May, 12, 2010
5/12/10
3:07
PM ET
I am not surprised that
Brian Cushing
held onto the
defensive rookie of the year award
in the Associated Press' revote.
The AP reported Cushing got 18 votes, Buffalo safety
Jairus Byrd
got 13 to finish second and Green Bay linebacker
Clay Matthews
finished third with 10. Three voters were unable to return ballots and two abstained.
Why did Cushing retain his award after the positive test from September under the league's policy against performance enhancing drugs?
I agree with this tweet from Stephanie Stradley (
@StephStradley
) that answers that question:
"Cushing retains DROY bc :1 He was best; 2. Discomfort in speed/change of AP DROY voting rules for just this; 3. No clear 2nd place candidate"
Also, Cushing was eligible to play in all 16 games last season, and the vote is based on what an eligible player did. My problem is as much with
the testing/suspending process
as the award.
He'll serve the suspension when he has to. That, and a dented reputation, seem to me to be a just penalty for his violation. Stripping him would have set a new precedent. Some say that would have been a bold, good development. I think it would be complicated and sloppy and still wonder now what circumstances will produce the next revote.
So defensive rookie of the year remains a line on his resume. We'll also remember that season is connected to the four-game suspension still to come.
One interesting connected note, courtesy of Manish Mehta: Cushing's USC teammate
Mark Sanchez
was
blown away
by the news of the positive test and suspension.
May, 11, 2010
5/11/10
7:25
PM ET
I wrote
this post
back in December during awards season and thought sharing this list again made sense now. These are the voters reconsidering Brian Cushing's defensive rookie of the year award.
New results -- or the same results again -- are expected Thursday afternoon.
May, 11, 2010
5/11/10
12:21
PM ET
The
Brian Cushing
saga
led the NFC West blog to respond to a
reader's question
regarding the 2005 defensive rookie of the year voting.
That's where the AFC West comes in.
San Diego linebacker
Shawne Merriman
won the award that year. During the next year, Merriman was suspended four games for using a banned substance.
Thus, should there be a re-vote to give 2005 runner-up
Lofa Tatupu
a chance to win the award? With all due respect to the Seattle linebacker, no way.
That award was Merriman's. There is a gigantic difference between Merriman's situation and Cushing's. Merriman tested positive
well into his second season
. Cushing tested positive during his rookie season. Unless proven otherwise, Merriman's accomplishments of his rookie season have to be considered unsullied. It would be purely speculative to say Merriman used a banned substance the year before he was caught.
That's why there is little chance The Associated Press will dig back five years to re-open the Merriman case. The AP didn't wait long to take another look at Cushing's case. It would have done the same to Merriman if it were relevant.
May, 10, 2010
5/10/10
7:30
PM ET
After a positive test that put
Brian Cushing
in violation of the league's policy against performance-enhancing drugs, we're asking if the
Houston Texans
star should be stripped of his defensive rookie of the year award from last season.
I think it's too simple a question, and not the right one -- even as the Associated Press is having a re-vote.
[+] Enlarge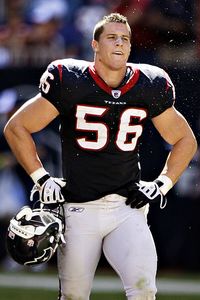 AP Photo/David J. PhillipThe Associated Press will re-vote on the defensive rookie of the year award, which had been given to Brian Cushing.
Cushing reportedly
failed the test
in September. He wasn't told he'd be suspended until February. He didn't get word on his appeal until recently.
Cushing was eligible to play last season. How then can he be stripped? There isn't a separate category for players with positive tests registered that have been processed too slowly. Do we really want one?
I don't. I want a faster process that assures that all the guys on the field are even, none benefitting from any unnatural advantages.
I also worry about an AP reversal nudging the league over the edge and onto a slippery slope. If Cushing is stripped, every award winner would be under a microscope he doesn't necessarily deserve.
And in what people like to call the ultimate team game, might not your performance-enhancing drug use help put a player in position for awards and the sort of contractual rewards that can come with them?
Let's say an offensive player of the year is a running back and some of his linemen tested positive. Maybe there's a quarterback who is protected by that line or registers some of his numbers by throwing to an enhanced receiver. Maybe there are defensive tackles who keep an MVP middle linebacker clear to make plays but who are later found to have used performance enhancers.
Would each of those awards rate as tainted and would the second-place finisher have a beef?
"John Doe is NFL MVP," the reports would read, "presuming a positive test doesn't come to light." So we'd announce the award winners and then later we could have news reports that they passed their drug tests, confirming the awards and allowing for the engraver to go ahead and get to work on the plaques or trophies.
In light of all of that, I'd alter the question to this:
Why can't a filthy-rich league accelerate the drug testing process and expedite results and rulings and appeals? And wouldn't that assure us, as best is as reasonable to expect, that the players on the field are in good standing with the league, and thus with the voters determining post-season awards?
The league's perspective when I asked about its time line and wondered about making it faster: A reminder that "due process can be lengthy."
May, 10, 2010
5/10/10
6:53
PM ET
Buffalo Bills
safety
Jairus Byrd
will have another crack at winning the NFL's defensive rookie of the year award.
[+] Enlarge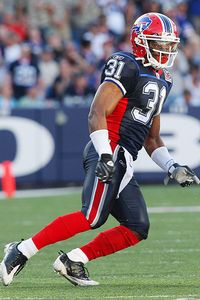 Luc Leclerc/US PresswireJairus Byrd, the runner-up in the initial AP vote for defensive rookie of the year, had nine INTs in 2009.
The Associated Press, purveyors of the widely accepted version of the award,
has decided to allow its voters to recast ballots
after the revelation that last year's winner,
Houston Texans
linebacker
Brian Cushing
, violated the league's policy on performance-enhancing drugs in September.
Byrd finished second in voting for AP's defensive rookie award, but Cushing won in a landslide, 39-6. Cushing can win the award again.
He will return to the ballot
, giving voters the option to vote for him while considering his violation. The league, after all, did allow Cushing to keep playing.
Also on the ballot are
Green Bay Packers
linebacker
Clay Matthews
and
Washington Redskins
defensive end
Brian Orakpo
.
"This is the first time we've encountered an issue like this," said Lou Ferrara, AP's managing editor for sports and entertainment. "Because these awards are based on on-field performance, we consider it necessary to review the matter and allow for a re-vote, especially after concerns were raised by many of our voters."
Cushing's transgression came to light last week. The NFL suspended him for the first four games of the upcoming season, and Cushing's appeal was denied last week.
May, 10, 2010
5/10/10
6:09
PM ET
As we've been
discussing for much of the day
, the Associated Press has
called a re-vote
for its NFC Defensive Rookie of the Year award following the four-game suspension of the original winner, Houston linebacker
Brian Cushing
.
I just spoke with one of the voters, and he confirmed Cushing's name remains on the ballot. I like that the AP didn't rule out Cushing as a possibility for those who don't want to apply retroactive revelations to the voting. But I think it's fair to say this move opens up the possibility that Green Bay linebacker
Clay Matthews
will win the award. Other candidates include Buffalo safety
Jairus Byrd
, who finished second in the original vote, and Washington linebacker
Brian Orakpo
, who finished fourth.
Earlier today, longtime AP writer Dave Goldberg said it would be
unprecedented
for the AP to call a re-vote. Votes are due back Wednesday at noon. We'll keep you updated.
May, 10, 2010
5/10/10
1:47
PM ET
ESPN's Adam Schefter reports
Houston Texans
linebacker
Brian Cushing
violated the NFL's policy on performance-enhancing substances
with a failed test in September
.
How should that have affected his receipt of the defensive rookie of the year award?
The award is handled by The Associated Press, not the NFL. So should the AP strip him of the honor and give it to the player who finished second in the balloting,
Buffalo Bills
safety
Jairus Byrd
?

Cushing

Byrd
That could happen.
Asked if Cushing could be stripped, AP reporter Barry Wilner, who oversees balloting for the wire service's annual NFL awards, told me in an e-mail "we are looking into it." Wilner didn't elaborate on what would happen if the AP did strip Cushing.
Byrd was the runner-up, but the award also could be left vacant, which might be a stronger message to send.
Cushing theoretically produced the bulk of his phenomenal season while clean. Once he was caught, he would be forced to undergo additional tests, which we can assume he passed.
But without taking the PEDs up until that point, maybe he doesn't get drafted 15th overall and take over such an integral role in the Texans' defense.
He finished with a team-high 133 tackles, four sacks, 13 tackles for losses, 13 quarterback hits, four interceptions and two forced fumbles.
Cushing might have been clean, but he apparently had a lot of help to get into position to make such an impact. Byrd's season, meanwhile, looks all the more impressive. He played most of the year with a sports hernia. Surgery placed him on injured reserve for the last two games, yet he still tied for the NFL lead with nine interceptions.
Had voters for the award known Cushing had broken the rules in September, the only way he would've won the award is enough of them were able to justify it by saying "Well, the NFL let him play." I doubt enough of the voters would have been able to overlook the violation.
The defensive rookie of the year award doesn't fall under the so-called Merriman Rule because it isn't sanctioned by the NFL -- but it wouldn't matter if it was an official league award.
In response to
San Diego Chargers
linebacker
Shawne Merriman
testing positive, the NFL in 2007 instituted a policy that
bars a player suspended for PEDs from the Pro Bowl
the season they're suspended and doesn't retroactively apply to the season in which he tested positive.
That means Cushing gets to keep last year's Pro Bowl appearance on his résumé.
May, 10, 2010
5/10/10
10:32
AM ET
Take a look at the background picture of Green Bay linebacker
Clay Matthews
'
Twitter account
. It's a 2009 Sports Illustrated cover featuring Matthews and two of his former USC teammates:
Brian Cushing
, later drafted by Houston, and
Rey Maualuga
, who landed in Cincinnati.
[+] Enlarge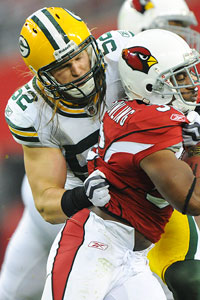 Kirby Lee/US PresswireClay Matthews posted 51 tackles, including 10 sacks, during his rookie season in Green Bay.
Barely a year later, Matthews is the only one of the trio unscathed by controversy. Maualuga was arrested in January for drunken driving and was scheduled to spend
30 days in rehab
. Cushing, the 2009 NFL defensive rookie of the year for Houston, was
suspended
four games Friday after testing positive for performance-enhancing drugs.
And for those who will start the guilty-by-association discussion between Cushing and Matthews, who gained some 60 pounds between his junior year in high school and the start of his college career, let's follow the lead of
Greg A. Bedard of the Milwaukee Journal Sentinel
.
Bedard points out Matthews' April 2009 response to rumors he had tested positive for steroids himself. Matthews explained how he developed from an unrecruited 161-pound high school junior to a 220-pound college linebacker and expressed frustration at how quickly steroid rumors start when young football players gain weight.
Let's allow Matthews' unambiguous words, courtesy the
Packers' website
, speak mostly for themselves.
Clay, were you part of an erroneous report?
Clay Matthews: Yeah, the same website actually reported that B.J. [Raji] had tested positive for recreational drugs and me and my other teammate, Brian Cushing, had tested positive for steroids, which is completely false. Unfortunately in years past people have had to just wait it out and let the smoke clear and at that time their name is damaged. No matter if you come out clean, people are going to think less of you as a person. So [we] were fortunate enough to be able to call the head administrator for the drug test and he let us know, no, you didn't test positive. It was just a matter of shutting a guy down and letting people know the real story. It's unfortunate, but I guess we're in this position that we are today and it wouldn't be happening if we weren't in this position. You learn from it and you grow from it really.
When you went to SC, were you 161 pounds?
CM: No, that weight has been exaggerated tremendously. I want to set the record straight and say I was 228 coming into SC. After camp, around 220. I just worked hard. I'd love for the writer of that article to come see how I train and live a day in my shoes, and he can see how I put on this weight and what not. It was funny, I just heard the other day Aaron Curry was 195 at Wake Forest when he first checked in. People can put on weight. They work hard. It's not that hard provided you have a workman's mentality.
You redshirted and were there a long time, so was it not just the weight room but you hit some growth spurts there too?
CM: Yeah, absolutely. Fortunately and I guess unfortunately, Matthews are just late bloomers. The same with my dad and my Uncle Bruce, we all going into college, we put on a tremendous amount of weight. It was just a little late in the recruiting process so you have to walk on here and there and make a name for yourself. That's what I had to do. You can talk to anyone at that program and they'll say I'm one of the hardest workers and I'm going to be in the weight room. Not just in the weight room, but on the practice field, watching film, game film, and they'll tell you the type of character that I possess.
So what did you weigh your junior year when they wouldn't recruit you?
CM: 166.
How tall were you?
CM: Probably around 6-foot, 6-1. Probably the only college guy to have actually grown in height too throughout college.
Some of you will suggest that we in the media perpetuate guilt-by-association themes by introducing them in the first place. Writing about it draws a connection readers might not otherwise make, you might say, and extends the damage rather than letting the issue settle.
I strongly disagree. I covered baseball from 1996-99, the years leading up to the steroid revelation era. At the time, writers bent over backward to avoid mentioning steroids, even in the presence of obvious clues, in order to avoid sullying the reputation of players who hadn't admitted to using them. And since there was no reliable testing at the time, no one admitted it. So for the most part, steroids were not part of the public discussion even though, as we now know, they were being used by some of the best players in the game.
Nowhere am I suggesting that Matthews should come under more scrutiny now that one of his college teammates has tested positive. But we would be naïve to think that ignoring the connection would help diminish its legitimacy. Every American with a computer can publish his or her opinion via the Internet. So in an era of unattributable accusations and connecting of the dots, we need more openness, more public discussion and maximum accountability. I'd rather have someone like Clay Matthews step forward and assert he has never taken steroids than sit back and believe rumors will dissipate if they go unaddressed.
May, 10, 2010
5/10/10
9:01
AM ET
Friday night I posted
this
about
Brian Cushing
. Here are some more thoughts on his
suspension
for a violation of the league's policy against performance-enhancing drugs:
[+] Enlarge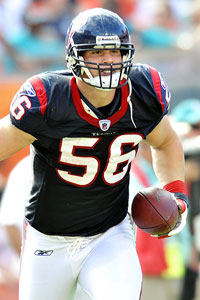 Steve Mitchell/US PresswireBrian Cushing will be suspended four games for violating the NFL's policy on performance-enhancing substances.
Look, it's a hard-line league with a hard-line policy. A lot of readers have said: "Wait, we have to see what he tested positive for." I disagree. And the fact that in his statement he didn't offer up what he claims it was, but only that it wasn't a steroid, weakened his public case. He ingested something he wasn't supposed to. It might have been by mistake, but even if it was, it doesn't matter under the policy. Violate it and suffer the consequences of perception.
Cushing missed most of training camp last year with a knee injury. The suspension for the first four weeks of the regular season puts a difficult wrinkle into Gary Kubiak's training camp and preseason plans. How much doesn't Cushing play with the first team? How much time does his likely replacement,
Xavier Adibi
, get? Or if Kubiak creates a competitive situation for the job for the first quarter of the season, how does Kubiak hold that battle during camp and still weave Cushing into the action?
I wish I remembered where I read someone tweeting this over the weekend, but certainly it's a popular thought. Can you imagine the outcry if Andrew Bailey or Chris Coghlan, the AL and NL rookies of the year for baseball in 2009, got suspended for violating a policy against performance enhancers? The NFL had done well insulating itself, somehow, from a similar outcry in the exact same situation. I've seen and heard a lot of disappointment, even some disgust. Most of it's about the Texans having to play without him for the first four games. There isn't an outcry I am hearing insisting that Cushing give back the defensive rookie of the year award or that the league strip him of it.
Finally, Cushing's suspension created quite an interesting conversation about loyalty on Twitter. Jay Glazer of Fox covers the NFL and also trains several players in mixed martial arts to improve their conditioning, strength and agility. He quickly tweeted that he was "livid" and that his company has "a pretty strict policy against cheaters." Texans right offensive tackle
Eric Winston
also chimed in.
Here's a bit more on how it went in the Twitterverse:
2:21 PM May 8th @Jay_Glazer: "Right now, no, we will not be training him. We do not want to be associated w any of this crap. Gotta cool off b4 we make a final decision"

3:51 PM May 8th @ericwinston: "Wow! With friends like Jay Glazer who needs enemies! He used Cush to pump up his service and then when Cush hits a bump in the road, he"

3:52 PM May 8th @ericwinston: "Wants nothing to do with him. Sad to see just another guy out there for personal gain and could care less about the people he works with."

3:53 PM May 8th @ericwinston: I'm not saying Cush it's ok to break the rules but you stick by your friends, not run from them when they face adversity.

6:44 PM May 8th @Jay_Glazer: "Last thing on Cush, he'll always be my boy! Love training him. Randy& I have to take a hard stance on some things. Hope we all get past this"

8:08 PM May 8th @Jay_Glazer: "Hey, this is new ground for me and randy, we're trying to swim our way through. I don't think there's any clear-cut answer. Day by day"
May, 7, 2010
5/07/10
10:08
PM ET
The
Houston Texans
were understandably filled with pride over nailing the 15th pick in the 2009 draft. They wanted to add a more physical, sturdier linebacker to their defense and they sure got one in
Brian Cushing
, who won defensive rookie of the year.
But now with Adam Schefter's
report
that a failed test under the league's policy against performance enhancing substances and an unsuccessful appeal mean Cushing will miss the first four games of 2010, all that comes into question.
Why exactly was he more physical and sturdier?
No matter any explanation we hear for the test, or if there is an admission, opponents and fans will wonder about that rookie year.
Cushing proved smart in his first year in the league, in that while even a good share of veterans around the league often don't make the Sunday lineup if they don't practice,
he could
. Sidelined during the week by multiple knee problems, rib fractures, a broken hand and a broken pinkie he was able to play when it counted.
Now we ask, what helped him do so? And we wonder just how smart he really was if he was taking something and failing a test and an appeal.
He will miss games against the Colts, at the Redskins, the Cowboys and at the Raiders.
The opener, against a defending AFC Champion the Texans have beaten just once since they began play in 2002, and that game against the Cowboys, where Houston will be anxious to dent the state's hallowed NFL franchise, would have been tough enough with Cushing.
Xavier Adibi
would likely be the third linebacker during that stretch, joining middle man
DeMeco Ryans
and
Zac Diles
. Diles would likely flip to Cushing's strongside with Adibi taking over on the weakside.
Veteran
Kevin Bentley
and fourth-round pick
Darryl Sharpton
out of Miami are also in the mix.
May, 7, 2010
5/07/10
9:34
PM ET
ORCHARD PARK, N.Y. -- There was discussion in the
Buffalo Bills
' media workroom Friday about whether the Pro Football Hall of Fame should remove
Lawrence Taylor
if the
distressing charges
against him prove true.
Buffalo News reporter Mark Gaughan, a member of the Hall of Fame's board of selectors, explained that can't happen. Once a player has been inducted -- even if it's O.J. Simpson -- he's in for good.
The NFL doesn't have a history of stripping players of their honors. But in this age of performance-enhancing substances, what if a player earned an award while on steroids?
Last year's defensive rookie of the year,
Houston Texans
linebacker
Brian Cushing
, has been suspended the first four games of the upcoming season for
violating the league's policy on performance-enhancing drugs
.
Cushing was voted the top defensive rookie ahead of Bills safety
Jairus Byrd
, who was named to the Pro Bowl and
tied for the league lead with nine interceptions
despite playing most of the season with a sports hernia before bowing out the last two games to have surgery.
While we don't know if Cushing violated the policy during the 2009 season or after, it's hard to imagine anybody voting him rookie of the year if they were aware of the transgression.
He entered the league amid suspicions he was juicing, but without a positive test, everybody had to assume his performances were legitimate.
I didn't have a vote, but I agreed Cushing deserved the award ahead of Byrd.
It's possible Cushing broke the rules after he won the award. The NFL tests playoff teams as long as they keep playing, but the Texans didn't qualify. It also conducts offseason drug tests, but Cushing's suspension was handed down in February (the appeal was denied Friday), creating a small window for the violation to have taken place after the 2009 regular season.
As for Byrd, I spoke with him momentarily in the Bills' field house Friday. He looked like he was in good shape. Byrd watched the morning rookie camp session -- head coach Chan Gailey's first practice -- from the sidelines with cornerback
Terrence McGee
and linebacker
Nic Harris
. Byrd then went through a running workout inside the field house.

NFL SCOREBOARD
Thursday, 8/21
Friday, 8/22
Saturday, 8/23
Sunday, 8/24