NFL Nation:

D.C. Jefferson
November, 4, 2013
11/04/13
2:34
PM ET
TEMPE, Ariz. -- Four weeks after trying him out, the
Arizona Cardinals
signed tight end
Jake Ballard
to a one-year contract, the team announced Monday.
Ballard
In a subsequent move, Arizona released rookie tight end
D.C. Jefferson
.
Arizona brought in Ballard for a tryout during the week of Oct. 14, but the team didn't think he could last the whole season. Ballard tore his ACL in Super Bowl XLVI with the
New York Giants
. He missed all of last season as a member of the
New England Patriots
, who cut him after training camp.
In 15 games with the Giants -- one in 2010 and 14 in 2011 -- he had 604 yards and four touchdowns on 38 receptions.
Jefferson, who was drafted in the seventh round of April's draft, was active for four of the Cardinals' eight games this season but didn't catch a pass.
September, 27, 2013
9/27/13
9:30
AM ET
SARASOTA, Fla. –
Arizona Cardinals
tight end
D.C. Jefferson
has read about the displeasure with Greg Schiano's coaching style from afar, and he knows exactly what the
Tampa Bay Buccaneers
are going through.
Jefferson played for Schiano for three years at Rutgers.
Jefferson
"I'm not surprised that the guys wouldn't be able to handle it, not being acclimated to that kind of coaching," Jefferson said. "Not from Coach Schiano but from themselves."
Jefferson said Schiano is a stickler for the details, well above and beyond what NFL players are accustomed to.
Well, "stickler" might be an understatement. And if a player isn't focused on doing things Schiano's way, Jefferson said it won't be pretty.
"It's a detail-oriented team in every aspect, every single detail matters, and a lot of guys ain't used to that," Jefferson said. "A lot of guys are used to being real loose and free.
"There's a lot of little stuff that Coach Schiano focused a lot of emphasis on. It'll be a little tough for some guys from different college[s] who didn't have that kind of coaching."
After practice at Rutgers, it wasn't a surprise if Schiano called for cross-field sprints. It was grueling but it helped Jefferson develop. A few months into his NFL career Jefferson has noticed he's better prepared for the NFL than some of his teammates, thanks to Schiano.
"It has made me a lot better person as far as on the field and off the field," Jefferson said.
This weekend in Tampa will be a homecoming and a reunion for Jefferson. He grew up an hour from Raymond James Stadium in Winter Haven, Fla., and he'll be lining up across from the man who recruited him to the Northeast.
"I'll be comfortable with seeing him," Jefferson said. "It's Coach Schiano. I have a strong relationship with him. I'm excited."
September, 4, 2013
9/04/13
8:03
PM ET
Arizona Cardinals
coach Bruce Arians doesn't want to rush
Rob Housler
back from a sprained right ankle.
The tight end missed Wednesday's practice, spending portions on a stationary bike and working on leg drills outside while the rest of the team practiced inside the bubble.
Housler is too valuable to Arians' tight-end-heavy offense to risk an injury that could nag all season. Arians would rather sacrifice the practice time until Housler is 100-percent healthy.
"He's still day-to-day," Arians said. "He's making great progress.
"I don't want this thing to linger for a month. We want to get him well, like we did with (tight end)
Kory Sperry
. We got him well. We didn't hurry him back and sting it again and again and again and be limping all year."
The other Cardinals listed on the injury report are more for precautionary reasons. They're all are expected to play Sunday at St. Louis. And all, with the exception of
Javier Arenas
, missed time during training camp because of injuries.
September, 3, 2013
9/03/13
10:30
AM ET
Eighty-six of the first 88 players drafted in 2013 remain on 53-man rosters entering Week 1. The two exceptions play for NFC West teams.
The
Arizona Cardinals
'
Jonathan Cooper
, chosen seventh overall, suffered a season-ending leg injury during preseason. He is on injured reserve. The
San Francisco 49ers
'
Tank Carradine
, chosen 40th overall, remains on the reserve/non-football injury list while recovering from a knee injury.
Twenty-five of 39 NFC West choices this year remain on their original teams' 53-man rosters. That includes all seven picks for the
St. Louis Rams
and seven of nine for the Cardinals. The 49ers and
Seattle Seahawks
had a higher number of picks arranged lower within each round, and fewer open roster spots to accommodate them.
Injuries have left six picks from the division on various injured lists. Three of the Seahawks' top five picks will not help the team anytime soon. That includes Harper, defensive tackle
Jesse Williams
(injured reserve) and cornerback
Tharold Simon
(reserve/physically unable to perform).
Percy Harvin
, who cost Seattle its 2013 first-round choice, is also injured.
Five 2013 draft choices from the division landed on their original teams' practice squads. One of them, fourth-round choice Chris Harper, subsequently left his original team (Seattle Seahawks) to sign with the 49ers' 53-man roster.
Three picks from the St. Louis Rams and one from the 49ers are scheduled to start in Week 1. Cooper would have started for the Cardinals if healthy.
Harper wasn't the only NFC West draft choice to land on another team. The 49ers'
Marcus Cooper
, a seventh-round choice, wound up with Kansas City after the Chiefs claimed him off waivers.
August, 25, 2013
8/25/13
8:38
AM ET
Rookie guard
Jonathan Cooper
's athleticism was on display Saturday night when the first-round draft choice pulled around the
Arizona Cardinals
' formation to deliver a block downfield with about 10 minutes remaining in the third quarter of an exhibition game against San Diego.
Unfortunately for Cooper, his quickness on this play would cost him. He was nine yards downfield and even with running back
Alfonso Smith
when
Frank Beltre
, an undrafted rookie free agent linebacker for the Chargers, tackled Smith and rolled onto Cooper's left foot.
Cooper's foot caught in the grass just long enough for it to roll inside-out in one quick, damaging movement. Cooper suffered a broken left leg, coach Bruce Arians told reporters after the game. He might miss the 2013 regular season, although Arians was not sure that would be the case.
The Cardinals drafted Cooper seventh overall to lead their offensive line for years to come. They had exceedingly high expectations for Cooper on draft day. They raised those expectations after seeing Cooper practice with the team. Now, they might have to wait a year before Cooper begins to make the desired impact. It's a brutal blow for Arizona.
"He has a unique skill set, maybe one of the more athletic offensive linemen I've [scouted] in the 15 years I've been in the business," Cardinals general manager Steve Keim said on draft day. "He has tremendous feet, bend, athleticism, space skills, and the ability to pull and play on the perimeter."
The Cardinals had neglected their line for years, at great cost to their quarterbacks, running backs and to the organization overall. Cooper was the first offensive lineman the team had drafted in the first three rounds since 2007, when Arizona selected
Levi Brown
fifth overall. Tennessee was the only other team to similarly neglect its line in the draft over that five-year span.
Arizona has a couple options with Cooper if the team determines he might be able to return this season. The team could leave Cooper on its active roster, or the team could place him on injured reserve with a designation for return. Teams can use the IR-DFR designation for one player each season. That player can return to practice six weeks after being placed on the IR-DFR list. The player is eligible to play in a game two weeks after that.
The Cardinals do have better depth on their line this season. Current right guard
Daryn Colledge
played left guard before Cooper's arrival.
Bobby Massie
, who played right tackle before the team signed
Eric Winston
, could project to guard.
Paul Fanaika
is another option.
But as the Cardinals prepared for a 2013 season within a rugged NFC West, they envisioned Cooper helping them meet the physical demands up front.
"Our division is so physical," Arians said on draft day, "and the thing that sets San Francisco, Seattle, and now St. Louis also, apart is their offensive and defensive lines of scrimmage are extremely good. We have to match that physicality on both sides of the ball."
That will be much tougher to do without Cooper. Arizona opens the regular season at St. Louis against a Rams team that tied for the NFL lead in sacks last season.
Cooper wasn't the only high-profile casualty for Arizona during its 24-7 defeat to the Chargers.
Rob Housler
,
Dan Williams
,
Rashard Mendenhall
,
Andre Roberts
,
Matt Shaughnessy
and
D.C. Jefferson
also suffered injuries of unknown severity.
This felt like a night with long-term negative repercussions for Arizona.
April, 29, 2013
4/29/13
9:00
AM ET
The NFC West's fiercest current rivals, San Francisco and Seattle, both wound up selecting tight ends from Rice University in the recently completed NFL draft.
How the 49ers and Seahawks selected those tight ends invites a question: Did the 49ers snatch from Seattle a player the Seahawks would have selected?
Tight end was seen as a primary need for the 49ers and a secondary one for the Seahawks based on how each team has run its offense recently.
When NFL teams selected three tight ends between the 21st and 47th selections, San Francisco risked watching more players at the position come off the board before it was scheduled to select with the 61st overall choice. So, with Green Bay on the clock at No. 55 and Seattle scheduled to pick at No. 56, the 49ers traded into the Packers' slot to select Vance McDonald, the more prominent of Rice's tight ends last season.
Seattle then traded back six spots to No. 62 before selecting Texas A&M running back
Christine Michael
. The Seahawks later selected McDonald's teammate, tight end Luke Willson, in the fifth round at No. 158 overall.
To my knowledge, no one asked 49ers general manager Trent Baalke or his Seattle counterpart, John Schneider, about the sequence when San Francisco jumped past the Seahawks to select McDonald. The two men worked together in Washington years ago and could have a good feel for the other's tendencies. However, there is no way the 49ers could have known whether the Seahawks or any other team was going to select McDonald between the 55th and 61st selections.
"There's times when you want to sit tight and there's a lot of times where people will question, 'Well, why did you move up five when he would have been there?'" Baalke told reporters when discussing trades in general. "Well, there's no proof that the player would have been there. So, you do what you need to do to make sure you get the players you want to get."
By trading up six spots, the 49ers moved past Atlanta, New England, Denver, Houston and Seattle in the draft order. Three of those five teams selected tight ends later in the draft. Atlanta used a fourth-rounder for Stanford's Levine Toilolo. Seattle used the fifth-rounder for Willson. Houston used a sixth-rounder for Ryan Griffin from Connecticut.
Baalke could have sized up those teams' needs collectively when deciding to move up for McDonald. They might not have had only the Seahawks in mind.
The 49ers had enough picks to move around the board freely to fill needs at values agreeable to them. The price they paid Green Bay for the 55th choice -- the 61st and 173rd picks -- was lower than the price Seattle commanded for the 56th selection (Baltimore handed over the 62nd, 165th and 199th picks for that one).
[+] Enlarge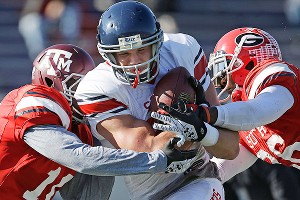 AP Photo/Dave MartinSan Francisco traded up in the second round to select Rice tight end Vance McDonald.
Comparatively, then, the 49ers got a good deal. Why not move up if the price is right? The Packers have long been known as a team willing to move back for additional picks. They simply could have made for a convenient trading partner whether or not Seattle was scheduled to select one spot later.
Teams usually have several players in mind for each selection they hold. They move up when the list of players they consider worthy of a certain value range dwindles, or if a specific player within striking distance is rated far higher than others likely to be available to them. They move down when the list of worthy players is longer.
"I don't know that you ever trade back six, seven, eight picks and hope one player's there," Baalke said when explaining why the 49ers traded back six spots to No. 40. "That's risky business. So, we had a number of players that we were willing to take. And at that time we felt that one of that group of guys was going to be available at 40, and we would have been happy with all of them."
The fact that McDonald and Willson both played at Rice before winding up in the NFC West seems coincidental.
"Vance was obviously the more stout guy, if you will," Schneider said. "Willson was more of the down-the-field threat, but there is no question Vance was much more involved in their offense."
Injuries limited Willson in 2012. He previously played first base on the Canadian national team and spent time in the Toronto Blue Jays organization. According to the Vancouver Sun,
Willson posted impressive numbers
at his pro day: 4.46 seconds in the 40-yard dash, 38-inch vertical leap, 10-plus feet in the broad jump and 23 reps of 225 pounds in the bench press.
"We like the fact that for us he was the second-best tester of all the tight ends in this draft," Schneider said. "He is 6-5 1/2, running 4.51 and great hands, can get down the field. He is quick off the ball, gets his shoulders around quick. He is a really interesting prospect for us."
Baalke said his team valued McDonald's versatility in particular. McDonald also led all tight ends at the NFL scouting combine with 31 reps on the bench press.
"He's 260-plus pounds, he's got a huge wingspan, he's got big hands," Baalke said. "He lines up all over the place. He lines up a little bit in the backfield. He lines up on the line of scrimmage. He lines up in the wing position, off the line of scrimmage. And he also lines up outside. He's smart, he's tough and he is a good fit within our system."
NFL SCOREBOARD
Sunday, 2/2
WEEKLY LEADERS