August, 31, 2012
8/31/12
8:44
PM ET

Most significant move:
Clark Haggans
failed to make the cut after five-plus seasons with the Cardinals. He could always re-sign at some point if the Cardinals need depth at outside linebacker. He'll be cheaper at that time, given that veteran contracts become guaranteed once a player is on the roster for Week 1.
For now, though, the Cardinals are moving forward with
Quentin Groves
as a primary backup behind starters
Sam Acho
and
O'Brien Schofield
at outside linebacker.
Brandon Williams
was thought to be part of that mix as well, but the Cardinals waived him with an injury designation, citing a shoulder problem. Williams will revert to injured reserve unless the Cardinals reach an injury settlement with him. A settlement would allow Williams to sign with Arizona or another team once he's healthy.
It's a good sign, ultimately, that Arizona feels good enough about its outside linebackers to proceed without the 35-year-old Haggans. After a certain point, every team should develop enough young depth to threaten older, declining players. In this case, however, I'm not sure Arizona has a viable replacement for him. Groves showed promise, but he has zero sacks over the past three seasons.
Onward and upward:
None of the players released by Arizona jumps out to me as someone sure to catch on elsewhere. That is because the Cardinals found a way to keep 11 defensive backs, including all their best corners. Had
A.J. Jefferson
or
Michael Adams
hit the market, both would have attracted interest. The same would have been true for
Greg Toler
, most likely.
Crezdon Butler
,
Antonio Coleman
,
Blake Gideon
,
Russ Hochstein
,
Ricky Lumpkin
,
Colin Parker
,
Larry Parker
,
DeMarco Sampson
,
Alfonso Smith
,
Quan Sturdivant
,
Ronald Talley
,
Everrette Thompson
,
Martell Webb
,
Scott Wedige
,
Isaiah Williams
and
D.J. Young
were released. No big surprises there. Haggans could catch on somewhere.
Quarterback
Rich Bartel
landed on injured reserve, as did running back
Javarris James
.
Stephen Williams
was waived/injured with an Achilles' injury.
What's next:
The Cardinals could use help at offensive tackle and outside linebacker. They decided against designating
Levi Brown
as a player eligible to return from injured reserve later in the season. That means Brown will not return from his torn triceps until next season.
D'Anthony Batiste
heads toward the season as the projected starter at left tackle. Another candidate, Young, struggled during preseason and received his release Friday.
The Cardinals are paying for missing on 2009 second-round choice Cody Brown, an outside linebacker. They're counting on Acho and Schofield to carry the full load, but there's little depth behind them. Schofield must prove he's durable in a full-time role after recovering from a career-threatening knee injury.
August, 23, 2012
8/23/12
11:37
PM ET
NASHVILLE, Tenn. -- Some thoughts out of the Titans'
32-27 win
over the
Arizona Cardinals
at LP Field on Thursday night.
The Cardinals wanted to test out rookie left tackle D.J. Young as they look to replace the injured Levi Brown (triceps) for the season. Young failed this test, badly, as the Titans' big defensive free agent addition Kamerion Wimbley attacked him with great effect. Wimbley sacked John Skelton on his first play and Kevin Kolb on his first. He had a couple of hurries, too. The Cardinals' entire offensive line was bad in pass protection and the Titans rushed very effectively. Jurrell Casey is really turning into a well-rounded defensive tackle. He's an absolute handful.
Want variety? On the Titans' first four offensive plays from scrimmage, they lined up with an empty backfield, with two tight ends, with three wide receivers and with two backs. The only thing with the potential to make them predictable this season would seem to be down and distance.
Jake Locker was victimized by drops by Javon Ringer and Nate Washington, but finished the first half having hit on just 8 of 16 passes. Completing 50 percent, he still had a 115.6 passer rating since he had 124 yards and two TDs. Connections of 28, 29 and 35 yards have a way of helping out. He made better decisions and smartly took off a few times as he felt pressure.
On a first-quarter return, Marc Mariani suffered a gruesome broken lower left leg that was Theismann-esque. We'd been wondering about Darius Reynaud as someone putting pressure on Mariani for the return jobs. Reynaud comes out of the night as a lock to make the roster as the returner now because of Mariani's misfortune. I don't know whether Mariani would have been getting many, if any, receiver snaps at the expense of Kenny Britt (once healthy and when not suspended), Nate Washington, Kendall Wright, Damian Williams or even Lavelle Hawkins.
Middle linebacker Colin McCarthy has an excellent nose for the ball. But his two interceptions of Kolb on this night were absolute gifts. The first was thrown into an area filled with Titans, and he looked like the intended receiver on the second, which he returned for a 31-yard touchdown.
Aaron Francisco is a special-teams demon. I can't see how he won't be the fourth safety on this team, unless the Titans find better defensive depth elsewhere. If they do, special-teams coach Alan Lowry would surely shed a tear over losing Francisco.
Camp leg/kicker Will Batson was 3-for-4 on field goals, but accounted for only three points. He hit a 26-yarder in the fourth quarter, only to see it wiped away by a holding call against Taylor Thompson. Then Batson hit from 36... only to see it wiped away by a holding call against... Thompson. Then Batson hit from 46 and made it to the sideline without seeing a flag. Britt greeted him excitedly.
I don't know what's going on with the two-tone coloring of the Titans' light blue uniform tops. But it's incredibly distracting that the coloration is inconsistent from player to player. Quinn Johnson and Ringer, standing side-by-side, didn't look like they were wearing the same jersey. Honestly. Nike, are you reading?
The new "Titantrons" at LP Field are really impressive. It's a big benefit of the stadium's open-end zone configuration. -- finding room to fit giant HD video boards wasn't an issue. Some other buildings that might want to match these won't have a spot for them. Stadium game productions are updated and far better. But the lyrics of "Folsom Prison Blues" on the big screens, intended to produce a sing-a-long between the third and fourth quarter, appeared to fail miserably. Put that one on the shelf.
August, 23, 2012
8/23/12
9:47
PM ET
Looking back on three things discussed here before the Arizona Cardinals' preseason game Thursday night at the Tennessee Titans:


1. Skelton's rhythm.
Horrible pass protection from the starting offensive line, notably left tackle
D.J. Young
, made it tough for
John Skelton
to find a rhythm early. Skelton did show an ability to throw on rhythm when given time, including when he found tight end
Jeff King
over the middle. But he also overthrew his target for an interception on the Cardinals' second play. Skelton faced too many third-and-long situations thanks to sacks, a poor running game and a holding penalty. Rookie receiver
Michael Floyd
dropped a slightly off-target pass on third-and-3 to kill another drive. Skelton completed 4 of 10 passes for 41 yards and the one pick. He did not make a strong case for the starting job.
Kevin Kolb
took over and had no chance on his first possession. The pass protection was that bad. Arizona changed out its tackles from that point forward. Kolb responded by showing immediate improvement. He did a good job staying in the pocket initially. That had been a problem for him. Bad habits die hard, however, and Kolb hurt his cause by rolling right and throwing back toward the middle of the field, resulting in an interception.
Kolb didn't let the mistake rattle him, however -- he played freely after the pick. Going to a two-minute offense probably helped. Kolb went out and played without thinking so much, it appeared. Kolb bailed from the pocket a couple times, but he made it work -- especially when finding
Larry Fitzgerald
with an across-the-body deep ball while rolling left. That play gained 53 yards. Kolb capped the drive with a touchdown pass to
Andre Roberts
. He completed 9 of 12 passes for 95 yards in the first half.
Was that drive to end the half enough to boost Kolb into the lead in his race against Skelton? It had to help, but ...
Kolb opened the second half with the starters and promptly threw a pick for a Tennessee touchdown. Arizona gave Kolb another chance, continuing with the no-huddle attack. The approach seemed to keep the Titans' pass rush in check, but this was also a case of Arizona starters working against Tennessee backups. Kolb's pass to
Todd Heap
converted a fourth-and-1, but the drive ended after officials incorrectly administered offsetting penalties instead of penalizing only Tennessee for having 12 defenders on the field.
2. Beanie Wells' debut.
Wells found little running room for the most part. He did accelerate well around the right side, launching himself for extra yardage. Getting through the game healthy had to be the top priority. Wells seemed to come out OK. Gaining 12 yards on six carries won't jump off the stat sheet, but there wasn't much running room for the Cardinals' backs in the first half.
3. The offensive tackles.
The Cardinals found out Young isn't the short-term answer on the left side. Young struggled badly against multiple defenders, including
Kamerion Wimbley
. The Cardinals did not help him.
D'Anthony Batiste
came into the game at left tackle ahead of schedule. The pass protection improved. Rookie
Bobby Massie
took over on the right side. The Batiste-Massie combination appeared far preferable. That could be the combination Arizona considers going with heading into the season, unless coaches decide veteran
Jeremy Bridges
provides a better option.
August, 23, 2012
8/23/12
1:03
PM ET
FLAGSTAFF, Ariz. -- One quarterback at
Arizona Cardinals
camp was fighting to win back the starting job he'd never really earned. The team had paid millions to him, but questions persisted over his toughness, durability and leadership.

Another quarterback at Cardinals camp had outperformed his status as a late-round draft choice. He was bigger and had a stronger arm. Teammates responded more favorably to his presence on the field, it seemed, but he wasn't the most accurate passer, which was a concern.
If those descriptions stirred thoughts of
Kevin Kolb
and
John Skelton
, respectively, you'd be correct. But the same passages applied to the Cardinals' ill-fated 2010 quarterback race between
Matt Leinart
and
Derek Anderson
. Back then, Arizona cut Leinart, struggled with Anderson and finished with a 5-11 record.
The comparison naturally did not sit well with Ken Whisenhunt, the Cardinals' sixth-year head coach. He sees a team that has won with both Kolb and especially Skelton behind center. He sees a team returning a 1,000-yard rusher, a fleet of perimeter playmakers featuring the incomparable
Larry Fitzgerald
and a defense that dominated during a 7-2 run to finish last season.
"The biggest difference, in 2009, we were a damn good football team at 10-6, but how many [key] players did we lose after that year, five?" Whisenhunt said.
Four, if we count
Kurt Warner
,
Anquan Boldin
,
Karlos Dansby
and
Antrel Rolle
.
"This year, we didn't lose that," Whisenhunt said. "That is the biggest difference in how I feel from 2010 and the way I feel in 2012."
How the quarterback situation plays out will largely determine whether Whisenhunt is right.
THREE HOT ISSUES
1. Kolb's adjustment.
Going from Philadelphia's West Coast system to the Cardinals' offense has been tougher than anticipated for the Cardinals' would-be starting quarterback. The goal seems so simple: Find ways for Kolb to remain in the pocket and trust the offense. But the instincts Kolb developed with the Eagles keep getting in the way. That could explain what Raiders defensive lineman
Tommy Kelly
indelicately called "skittishness" -- the tendency for Kolb to bail from the pocket at the first sign of trouble.
Learning the Cardinals' offense hasn't been a problem. Unlearning what he did in Philly? That's another story.
"It's just the way they create the pocket, there versus here," Kolb said. "They teach us to really push up in the pocket in Philly. Two, three hitches up in the pocket when you get up there. You can see that. If you watch Mike [Vick], he has got two really big hitches into his throws. If it's not there, it's go or throw, you know what I mean?
[+] Enlarge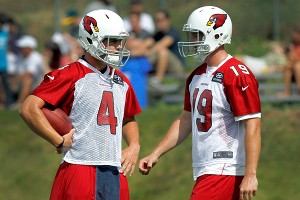 AP Photo/Ross D. FranklinJohn Skelton, right, appears to have the upper hand over Kevin Kolb for the Cardinals' starting quarterback job.
"Here, when you get to that 8-yard range [on a drop-back], they want you to hang in that vicinity and just stay there. It is just a different deal. A lot of it is rhythm. As a quarterback, you always want to be on rhythm."
Coaches would rather have Kolb throw the ball away immediately than take off running without clear purpose. The line has a hard enough time protecting Kolb when it knows the quarterback's location. Unscripted relocation has proved costly.
Kolb has a firm command of the offense. He's football savvy and fully capable of processing information at the line of scrimmage. That's what makes his difficulties confounding.
"There haven't been any problems mentally," quarterbacks coach John McNulty said. "He is on top of things, he anticipates things. I think sometimes it's not as clean or as clear as he wants and then all of a sudden you start moving. And when you make those big, violent moves when the line is not expecting it, then you're kind of on your own. If we're not making plays out of it, they're not worth doing, because all you're going to do is get hit or go backwards."
2. Shaky offensive line.
The Cardinals were auditioning left tackles as camp broke after
Levi Brown
suffered a potentially season-ending torn triceps tendon. For all the criticism Brown has taken over the years, he was clearly the best offensive tackle on the team. The line was a concern even before Brown's injury. Now, it's bordering on a crisis.
Jeremy Bridges
,
D'Anthony Batiste
,
Bobby Massie
,
D.J. Young
and
Nate Potter
are the other tackles on the roster. Bridges has started 55 regular-season NFL games. Batiste has started four. Massie and Potter are rookies. Young has no starts after entering the NFL in 2011 as an undrafted free agent.
One more time
: The Cardinals have drafted zero offensive linemen in the first three rounds over the past five drafts. They did not draft an offensive lineman in any round of the 2011 or 2010 draft. The 2012 draft didn't fall right for them when it came to adding a tackle early. They got Massie in the fourth round, which seemed like good value. He'll start at right tackle eventually, and perhaps right away.
3. Running back health.
Beanie Wells
and
Ryan Williams
are coming off knee surgeries. The Cardinals felt good enough about their prospects to sail through the offseason without addressing the position. That seemed a little risky.
Likely troubles in pass protection could lead the Cardinals to lean more heavily on their ground game, at least in theory. Wells and Williams would appear to carry greater injury risks than backs without recent knee troubles. Utility back
LaRod Stephens-Howling
was banged up during camp.
REASONS FOR OPTIMISM
The team showed dramatic improvement, particularly on defense, while finishing with that 7-2 record over the final nine games last season.
Sometimes momentum
doesn't carry over
. In the Cardinals' case, however, there are reasons to expect sustained improvement.
The 2011 team was breaking in a first-time defensive coordinator, Ray Horton, following a lockout-shortened offseason. Players needed time to grasp the concepts. They got better late in the season. They should be better yet following a full offseason.
Arizona has front-line talent at every level of its defense. End
Calais Campbell
, inside linebacker
Daryl Washington
and cornerback
Patrick Peterson
are dynamic young players on the rise. End
Darnell Dockett
and strong safety
Adrian Wilson
are in their 30s now, but both remain productive.
The team has gone 7-4 with Skelton as its starter. That figure doesn't even count Skelton's most impressive performance of the 2011 season, when he replaced an injured Kolb and helped Arizona upset San Francisco.
Skelton might not be pretty to watch, but six game-winning drives in 13 career appearances give him credibility in the locker room. Whisenhunt was with the
Pittsburgh Steelers
when the team won ugly with a young
Ben Roethlisberger
. Skelton is not Roethlisberger, but he is a big, strong quarterback with some moxie.
The Cardinals have big-play threats on offense. They finished last season with 15 pass plays of at least 40 yards, more than New England and every team but the
New York Giants
(18),
Detroit Lions
(16) and
Green Bay Packers
(16).
Greater consistency from the quarterback position isn't out of the question. If the Cardinals get it, they'll surprise skeptics.
REASONS FOR PESSIMISM
The team that finished last season on that 7-2 hot streak also went 1-6 to open the season.
And let's face it, the Cardinals, while unfortunate in a few instances early in the year, were fortunate to win seven of their final nine. They claimed four of those seven victories in overtime. Five came against teams with losing records at the time.
[+] Enlarge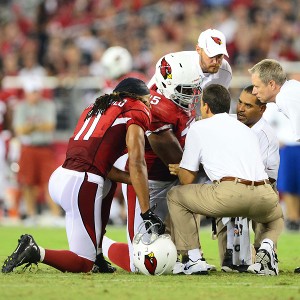 Mark J. Rebilas/US PresswireThe Cardinals may have lost arguably their best offensive tackle, Levi Brown, for the season.
The young talent on defense is backed up with the oldest reserves in the league. The offensive line is solid at center and left guard, but the other three positions should strike more fear in the Cardinals' quarterbacks than in the opposition. Removing Brown from the equation was devastating, given the already tenuous nature of the tackle situation.
Kolb hasn't been able to stay healthy or produce when on the field. That isn't going to change with the floodgates likely opening at both tackle spots.
Skelton has shown greater ability to keep his wits against pressure. Whichever QB starts will need every bit of resourcefulness he can muster against a schedule featuring
a long list
of able pass-rushers:
Jared Allen
(22 sacks last season),
Jason Babin
(18),
Aldon Smith
(14),
Chris Long
(13),
Chris Clemons
(11),
Julius Peppers
(11),
Cliff Avril
(11),
Trent Cole
(11),
Mark Anderson
(10),
John Abraham
(9.5),
Cameron Wake
(8.5),
Kyle Vanden Bosch
(8),
Justin Smith
(7.5),
Clay Matthews
(6) and
Mario Williams
(5).
OBSERVATION DECK
William Gay appears to be running unopposed at right cornerback. Opportunistic rookie Jamell Fleming, a third-round choice, will factor one way or another at the position. Fitzgerald: "[Fleming] is extremely talented. The thing I like about him is he can move around. They've got him playing inside a little bit, playing outside. What it shows you is that he is intelligent, he can pick up the defense. He understands terminology, what's going on, and he plays fast. And the ball just seems to find him."

Coaches noticed a big jump from the spring to June to training camp in Skelton's ability to handle pre-snap responsibilities. They hope that progress can help him fare better early in games. One theory holds that Skelton's grasp of a game would improve as he had a chance to study photos of opposing formations on the sideline between possessions. By the fourth quarter, he was up to speed. "We're trying to get to where we have the handle before the game," McNulty said.

Losing Brown hurt, but center Lyle Sendlein is arguably the offensive lineman Arizona can least afford to lose. He has started every game over the past four seasons and, like many centers, holds everything together up front. Left guard Daryn Colledge: "If we had to replace one guy, he would be the worst one probably on the whole football team. He is the key cog, especially for this offensive line. He is the captain and he is our guy. Without him, the wheels just might come off."

Sixth-round choice Justin Bethel, a free safety, looks like a keeper after making a positive impact on special teams.

Inside linebacker Stewart Bradley appears more comfortable in the Cardinals' defensive scheme, but the team still appears to value Paris Lenon as the starter next to Washington. That arrangement is more palatable after Bradley, one of the team's big free-agent signings in 2011, took a pay reduction.

First-round draft choice Michael Floyd hasn't stood out yet. Fitzgerald will continue to carry the passing game. Rob Housler will emerge as more of a threat at tight end. Andre Roberts and Early Doucet give the team two strong inside options. Getting Floyd going will be one key to unleashing Roberts from the slot. Roberts has good quickness and instincts. The Cardinals' quarterbacks like the way he moves within zones, but they need to do a better job locating him.

The Cardinals think they have a great one in Peterson. The physical attributes are obvious. Peterson also has the necessary desire. Arizona saw it last season when Peterson played through an Achilles injury suffered at Cincinnati.

This season as last, the Cardinals are counting on young outside pass-rushers O'Brien Schofield and Sam Acho. Schofield is fighting through knee problems, a potential concern given the career-altering surgery he underwent coming out of college. He played 38 percent of the defensive snaps last season. Arizona will need him to play a much higher percentage in 2012. Can Schofield hold up? Clark Haggans, 35, is the backup.

Arizona should be strong at nose tackle with a leaner Dan Williams and underrated backup David Carter at the position.

It's tough to envision Kolb emerging as the starter based on what we've seen to this point. There's no clear indication Kolb is close to breaking through. "The only thing I can do is stay patient, know that it's all part of God's plan," Kolb said. "My mentality is that I'm going to get through the bad to get to the good. Something good is going to come of it."
August, 23, 2012
8/23/12
10:45
AM ET
Three things to watch for Thursday night in the Arizona Cardinals' fourth exhibition game, this one at Tennessee (ESPN, 8 p.m. ET):


1. Skelton's rhythm.
The Cardinals have outlined a few points of emphasis for quarterback
John Skelton
. Rhythm is a primary one. They want to see Skelton run the offense at a quick tempo, delivering the ball on time and from the right spots to promote accuracy. Skelton is starting this game, but
Kevin Kolb
could get a chance with the starters as well. Can one of these quarterbacks make a compelling case for the starting job? For Kolb, staying in the pocket and getting rid of the football remain top priorities.
2. Beanie Wells' debut.
The Cardinals' starting running back is scheduled to play in a game for the first time since last season. He's coming off knee surgery. Arizona needs him to stay healthy. Last week, fellow running back
Ryan Williams
made a successful return from a more serious knee operation. I'm interested in seeing whether each man's presence pushes the other to step up his game.
3. The offensive tackles.
This will be the Cardinals' first game since losing left tackle
Levi Brown
to a potentially season-ending torn triceps tendon. Arizona plans to filter several players through both tackle spots while searching for the best combinations.
D'Anthony Batiste
,
D.J. Young
and
Bobby Massie
are three players to watch.
August, 20, 2012
8/20/12
9:24
PM ET
FLAGSTAFF, Ariz. -- The focus on offensive tackles and quarterbacks intensified Monday as the
Arizona Cardinals
held their first full practice since facing Oakland on Friday night.

Left tackle
Levi Brown
's potentially season-ending triceps injury forced the Cardinals to consider contingencies. Meanwhile,
John Skelton
worked at quarterback with the starting offense, with
Kevin Kolb
getting second-team reps as part of their rotation.
Coach Ken Whisenhunt has announced no timetable for naming a starting quarterback for the regular season. Skelton will get the start Thursday against Tennessee.
A few notess and observations from practice at Northern Arizona University:
All for now. Time to process some interviews from earlier in the day. I'll be back at practice Tuesday as Cardinals camp breaks.
August, 18, 2012
8/18/12
2:00
PM ET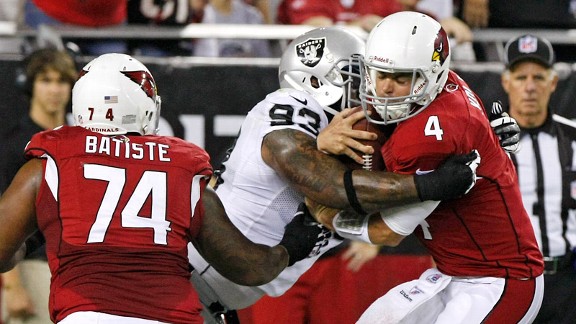 AP Photo/Rick ScuteriThere has been mounting criticism of Arizona quarterback Kevin Kolb's presence in the pocket.
The
Arizona Cardinals
were so much better on several fronts during their
31-27 exhibition victory
over Oakland on Friday night.
The game could wind up being a disaster for them anyway.
Left tackle and especially quarterback are two of the most important positions on an NFL roster. Bad things happened for the Cardinals at both of those positions. Let's consider the potential ramifications:
Left tackle
Starter
Levi Brown
suffered a torn triceps that will keep him out at least three months and possibly for the full 2012 season,
ESPN's Adam Schefter reported
.
Brown, though heavily criticized as a pass protector in particular, is the best tackle on the roster. The Cardinals faced tough questions at tackle even when Brown was available to them. Subtracting Brown from the equation stings, especially because the Cardinals haven't done well drafting or developing younger players for the line.
Arizona is one of two NFL teams, with Tennessee being the other, to draft zero offensive linemen in the first three rounds over the past five drafts. A few good teams have similarly ignored the position early in those drafts -- New Orleans, Philadelphia and the
New York Giants
have each taken just one that early since 2008 -- but that is little consolation. The Cardinals could use young reinforcements.
Veteran
Jeremy Bridges
has played left tackle in the past. Perhaps he can do so again. He's tough and will battle. Ideally, though, Bridges would have provided a veteran fallback on the right side. Brown's absence could push Bridges to the left side. That could, in turn, push rookie fourth-round choice
Bobby Massie
into the lineup at right tackle on an accelerated schedule.
D'Anthony Batiste
is another veteran tackle on the roster. He is 30 years old and has four career starts, all with Atlanta in 2007.
D.J. Young
, an undrafted free agent in 2011, worked at left tackle after the Cardinals lost Brown. He has never played in a regular-season game. Rookie fifth-round choice
Senio Kelemete
, a left tackle in college, has projected at guard with the Cardinals.
Quarterback
What began as a promising night for
Kevin Kolb
turned into another referendum on his overall suitability for the position. We've heard coaches and analysts criticize Kolb for bailing from the pocket prematurely when pressure arrives. We haven't heard these people say Kolb bailed prematurely out of fear, but Raiders defensive lineman
Tommy Kelly
came right out and said it Friday.
"He is skittish. He is scared back there,"
Kelly said
. "Anytime anybody gets close to him, he starts looking at the refs. As a defensive lineman, you love a quarterback like that. He ain't even trying to look at the routes no more. He is paying attention to us and you ain't going to get nothing done like that."
Kelly's criticisms line up with the comments Cardinals coaches have made about Kolb. They've wanted him to hang longer in the pocket. They've also said the Cardinals' quarterbacks failed to find wide-open receivers last season. Connecting the dots, it's tough to hang in the pocket if you're afraid, and tough to find wide-open receivers if you're focused on defensive linemen.
If Kelly is saying these things, some Cardinals players are likely thinking them, in my view. Throw in the March report suggesting the Cardinals had "
lost confidence
" in Kolb and the picture is not a pretty one for the quarterback.
We have so far seen in Kolb a player who has:
Received nearly $20 million from the team in about one year, setting high expectations;

Missed four games with a turf-toe injury and three more with a concussion -- this after failing to last one full game as Philadelphia's starter in 2010, suffering a concussion then as well;

Tossed an interception on his first preseason pass of 2012;

Exited the 2012 exhibition opener with an injury;

Taken three sacks, one for a safety, in limited work against the Raiders;

Invited the most damning kind of criticism a quarterback can take, this from an opponent.
Kolb has completed 5 of 15 passes for 47 yards with no touchdowns, one interception and four sacks in three relatively short preseason appearances.
I've gone from giving Kolb a slight edge to favoring Skelton by default to thinking there's little hope for Kolb to salvage the situation. The confidence I thought Kolb showed during the early days of his first training camp with Arizona (in 2011) was either imagined or fleeting.
The Cardinals can still come out OK if Kolb pulls a reversal or if Skelton winds up being the answer. Until then, Cardinals fans have reason to be a little skittish, even scared, as the regular season approaches.
July, 27, 2011
7/27/11
5:17
PM ET
The
Arizona Cardinals
released their list of undrafted free agents heading into 2011 camp.
A few notes:
The Cardinals have agreed to terms with four offensive tackles, a high number. Seven of the 21 rookies are offensive linemen. Every NFL team but Arizona and Tennessee has drafted an offensive lineman in the first three rounds since 2008. The Cardinals and Titans have Hall of Fame offensive linemen in high-ranking coaching roles. They trust their coaches to get the most from their linemen. But with center Lyle Sendlein and guard Deuce Lutui unsigned, the Cardinals needed depth. Even if Sendlein or Lutui signed, neither could practice before Aug. 4.
The Cardinals signed quarterback John Skelton's brother, Stephen, a tight end from Fordham. They should have an instant rapport in practice, for sure.
I ran the
Seattle Seahawks
' list when the team
made it available
Tuesday. More of these to come.

NFL SCOREBOARD
Thursday, 8/28
WEEKLY LEADERS