NFL Nation:

Damien Holmes
July, 31, 2014
Jul 31
4:59
PM ET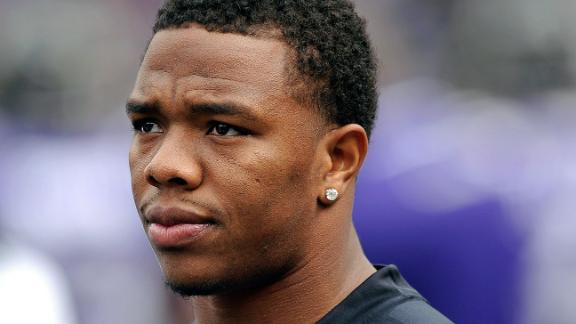 OWINGS MILLS, Md. -- In stark contrast to
Ray Rice
's awkward news conference in May, the
Baltimore Ravens
running back showed Thursday that he finally understood the weight of his actions from the alleged altercation with his then-fiancée in February.
He delivered the correct message, one the NFL failed to do last week with the two-game suspension, by not only apologizing to his wife, Janay Palmer, but also expressing a desire to become an advocate for domestic-violence causes.
Rice was compelling in his contrition, calling it the biggest mistake of his life. He stood in front of the microphone alone, without his wife standing by his side, and took full responsibility for the incident. Perhaps more importantly, Rice actually said the words "domestic violence," which weren't heard in his statement two months ago.
"My actions were inexcusable," Rice said. "That's something I have to live with the rest of my life."
Before anyone pats Rice on the back, this is what he should have said the first time when he broke his silence in May. Instead, Rice nervously fumbled through notes on his phone and apologized to team officials and his sponsors. That debacle of a news conference came across as damage control to his image.
His 17-minute news conference Thursday hit the right tones. He apologized to all women affected by domestic violence. He accepted the blame for losing the respect of fans. Rice came across as genuinely sorry.
"I let my wife down, I let my daughter down, I let my wife's parents down, I let the whole Baltimore community down," Rice said.
Rice's biggest misstep was not talking about what happened in the elevator. He was asked twice about it and declined to answer both times. His stance against domestic violence would have resonated stronger if he had explained his transgressions.
"I'll be honest: Like I said, I own my actions," Rice said. "I just don't want to keep reliving the incident. It doesn't bring any good to me. I'm just trying to move forward from it. I don't condone it. I take full responsibility for my actions. What happened that night is something that I'm going to pay for the rest of my life."
The only way Rice can move forward from this incident and show he's truly sincere is through his actions. It's not by his words. It's not by a hefty donation, which is merely a gesture. It's by proving this will remain a "one-time incident" and by supporting domestic-violence causes.
Thursday represented a small step forward for Rice. But it was an important one.
August, 30, 2013
8/30/13
10:45
PM ET
The
Denver Broncos
' top football executive, John Elway, has consistently preached the benefits of youth, homegrown players and in the era of the seven-round draft the importance of finding an undrafted rookie or two along the way who can help his team.
And as the Broncos made moves on the way to trimming their roster to 53 players, there was a little of each of those tenets.
The Broncos did not officially file most of their Friday moves to the NFL's personnel department by the end of the day, meaning none of them are tabulated in their roster total until they do. (The only transaction they filed was an injury settlement with rookie wide receiver
Quincy McDuffie
.) But they did inform a small group of players that they were no longer with the team. Veteran running back
Lance Ball
was one of them, and
he took to Twitter
after getting the news:
Closing another chapter in my book, thanks to the Broncos Organization for the years of great memories and also the fans who supported me!

— Lance Ball (@LanceBall35) August 30, 2013
Ball was always an "a-little-of-this, a-little-of-that" player for the Broncos over the last three seasons, a solid pro who played in 41 games for the team, including 15 last season and 16 in 2011. But as a vested player heading into his fifth season, Ball's $1.323 million salary would be guaranteed if he is on the roster for the season opener. And with this move the Broncos appear to have cleared a spot on the running back depth chart for undrafted rookie
C.J. Anderson
.
At least that's what Anderson believes, given that he took to Twitter to say
"I'm a bronco."
An hour or so, later Anderson
followed
with "Lets get 2 work."
It would mean the Broncos have had at least one undrafted rookie make the opening 53-man roster in 10 consecutive seasons. It would also mean the Broncos think enough of Anderson to keep him even though he could be three weeks away from being game-ready because of a sprained MCL suffered in practice following the Broncos' first preseason game.
In that game, against the 49ers, Anderson finished with 69 yards on 15 carries. At 225 pounds, he also gives the Broncos' offense some short-yardage power, something they team has not always shown with the top three backs -–
Ronnie Hillman
,
Montee Ball
and
Knowshon Moreno
. If the Broncos also keep
Jacob Hester
(he is the only back who has lined up at fullback for the team), that makes five running backs on the depth chart, the same total the Broncos kept last season when they made the cut to 53. The Broncos kept just four backs when they exited camp in 2011.
Anderson also sent a
tweet
to Hester on Friday that read (in part), "keep helping and being that great vet."
Also released Friday, according to several team sources, were wide receivers
Gerell Robinson
and
Lamaar Thomas
, cornerback
Aaron Hester
and linebacker
Damien Holmes
-- though again, none of those moves were formally filed to the league, and the Broncos could reverse field on Saturday. Of the four, Robinson would be the best candidate to land on the practice squad (that's where he was last season).
The Broncos can sign eight players to the practice squad beginning on Sunday.
The Broncos will have to make 17 more roster moves by 4 p.m. MT Saturday afternoon. They are expected to have made all of them by the time Elway is scheduled for a media gathering at 2 p.m.