NFL Nation:

damon harrison
October, 29, 2013
10/29/13
3:50
PM ET
The Cincinnati debacle notwithstanding, the
New York Jets
have exceeded expectations with a 4-4 record. Some so-called experts didn't think they'd win four games for the entire season. You know who you are.
Before the season, I spoke to several personnel experts, and the consensus was that it was a six-win roster. A former Jets player, someone who understands the pulse of the team, told me in the preseason, "They're going to be terrible."
[+] Enlarge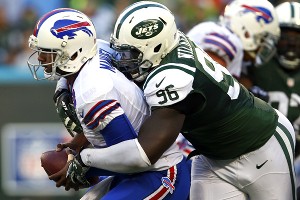 Rich Schultz/Getty ImagesMuhammad Wilkerson is the defensive star through eight weeks, notching a career-high seven sacks.
They were terrible in Cincinnati and in Tennessee, but the Jets aren't a terrible team. Despite having only one or two blue-chip players, DE
Muhammad Wilkerson
and maybe C
Nick Mangold
, they've managed to hang around in the wild-card race. Rex Ryan and his staff have done a nice job of coaching around the obvious deficiencies and a rookie quarterback. Sure, they've benefited from a couple of huge breaks (the
Lavonte David
late hit and the
Chris Jones
push), but at least they were good enough to capitalize on them.
Without further delay, our midseason awards:
Offensive MVP
: QB
Geno Smith
. Not much competition here. Yeah, I know, he cost them a couple of games with turnovers, but he also won games with his deep-throwing ability (
Buffalo Bills
), poise in the clutch (
Atlanta Falcons
) and mobility (
New England Patriots
).
Defensive MVP
: DE Muhammad Wilkerson. A no-brainer. He already has a career-high seven sacks, along with one interception and one forced fumble. He's a lock for his first Pro Bowl. If he keeps it up, he could get some votes for NFL Defensive Player of the Year.
Special-teams MVP:
PK
Nick Folk
. You can't quibble with perfection. The man is 19-for-19 on field goals, including three game winners. Next to Wilkerson, he's the team MVP.
Most Improved
: RB
Bilal Powell
. He began training camp as an afterthought, but he worked his way up to the starting job. He has become a more elusive runner than in past years.
Least Improved
: NT
Kenrick Ellis
. He was expected to make a big jump in Year 3, but he was slowed by a preseason back injury and hasn't come close to being a dominant run stuffer.
Biggest Surprise
: NT
Damon Harrison
. "Big Snacks" came out of nowhere last year and Wally-Pipped Ellis in the preseason. Harrison is one of the reasons why the Jets are No. 1 against the run.
Biggest Disappointment
: CB
Antonio Cromartie
. Coming off a Pro Bowl season, Cromartie already has allowed five completions of at least 46 yards. His uneven play has made it harder for the defense to deal with the
Darrelle Revis
void.
[+] Enlarge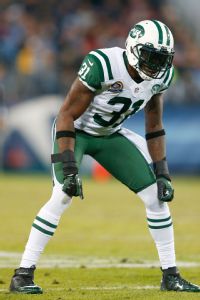 Joe Robbins/Getty ImagesIn 2013, Jets cornerback Antonio Cromartie hasn't quite lived up to his Pro Bowl season of last year.
Best Rookie
: DT
Sheldon Richardson
. If it weren't for him, GM John Idzik would be taking major heat for the Revis trade. Richardson, acquired with the Revis pick (No. 13 overall), is a future star.
Best Offseason Acquisition
: RG
Willie Colon
. Plagued by injuries in recent years, Colon hasn't missed a play and has added an element of toughness to the offensive line.
Worst Offseason Acquisition
: RB
Mike Goodson
. Because of his embarrassing arrest and the subsequent suspension, he was a disaster before he stepped foot on the field. Maybe next time the front office will put more stock in its background checks.
Best-kept Secret
: CB
Ellis Lankster
. He's not the leading tackler on special teams (he's second, behind
Nick Bellore
), but Lankster is the most dynamic player on the coverage units.
Best Coaching Move
: Ryan decided before the season to take control of the defense, running it on a day-to-day basis. Ryan is at his best -- ditto, the defense -- when he's in charge.
Worst Coaching Move
: The decision to insert
Mark Sanchez
in the fourth quarter of a preseason game, behind a backup offensive line, was a brainlock for the ages.
Biggest Concern
: There's not enough offense. In their four losses, the Jets have managed only two touchdowns. They have to face four top-12 defenses in the second half. Uh oh.
Key to the Second Half:
Continued improvement from Smith. His passer rating in Games 5-8 (75.2) was better than Games 1-4 (68.6), meaning he's moving in the right direction, albeit with baby steps. The struggling pass defense is another key, but luckily for the Jets, they face only one top-10 passing offense -- Sunday against the
New Orleans Saints
.
The Jets will make the playoffs if
: They win at least five of their remaining eight. Take a look at the AFC standings; a 9-7 record could be good enough for the second wild-card spot.
Player Ready to Emerge
: RB
Chris Ivory
. He showed flashes against the Patriots. With the weather beginning to turn, Ivory's power-running style will be critical down the stretch.
October, 21, 2013
10/21/13
6:15
PM ET
Rex Ryan probably didn't want to come off as a tattletale, but the
New York Jets
coach left little doubt Monday that he knew about the
New England Patriots
' previous use of the illegal pushing technique on field goal blocks, and he didn't deny blowing the whistle on them.
In fact, the Jets sideline alerted the officiating crew during the game to watch out for it, a person familiar with the situation said late Monday.

Ryan
While he wouldn't answer directly on whether he was aware the Patriots had used it once the previous week against the
New Orleans Saints
, Ryan said, "The coaches watch every single play of every single game, so we're aware of the opponents' tendencies and everything else."
In other words, he knew.
Ryan declined to say if that information was shared with his players ("I'll leave that in-house"), and he also avoided the question of whether he tipped off officials before Sunday's game.
"Again, you know what? My comments with the officials, I'll just leave that way," he said.
The Jets were well-schooled on the new "push" penalty, players said Monday. In addition to the mandatory tutorital in training camp from officials, who travel the country to educate teams on new rules, the players were "reminded" as recently as early last week, said
Damon Harrison
, a member of the field-goal unit.
They were reminded because the Patriots got away with it last week.
Chris Jones
pushed teammate
Will Svitek
on
Garrett Hartley
's 39-yard field goal late in the fourth quarter. Jones and Svitek ran the same technique against the Jets, but the umpire saw it and threw a flag -- 15 yards for unsportsmanlike conduct. It nullified a field-goal miss by
Nick Folk
, who followed up by nailing one from 42 yards in overtime, lifting the Jets to a 30-27 win.
The "push" penalty, on the books this season for the first time, is designed to improve player safety. This was the first time it was enforced.
Former Jets special-teams coach Mike Westhoff, an ESPN Radio analyst, studied a tape of the play and said it was "very, very evident" that it was orchestrated. He said Jones "cheated back in his stance," allowing him to get in position to push Svitek from behind.
"I watched the tape. You don't have to be Sherlock Holmes," Westhoff told ESPNNewYork.com. "I can't prove this -- I don't know what they teach -- but those guys are pretty sharp up there [in New England]. I can't imagine them running a technique and not being aware of it. In my opinion, it was coached, taught and implemented that very way. I think they did it on purpose and got caught."
Westhoff said he "blocked a lot of kicks with that same technique," but it was legal up until this season. He said it's an unsafe practice because of "the force it generates," a big body pushing another big body into a blocker.
Demario Davis, another special-teams contributor, said he was "very aware of the rule." Patriots coach Bill Belichick admittedly wasn't, acknowledging Monday his postgame interpretation was wrong. Rule 9, Section 1, Article 3 from the rule book is pretty straight-forward: "Team B players cannot push teammates on the line of scrimmage into the offensive formation."
Willie Colon
, another interior blocker on the field-goal unit, said "all coaches should have knowledge of the rules." But he admitted he didn't know what was going on until after the game.
How could a head coach make such an oversight? Ryan didn't want to go there.
"I'm not worried about that," he said, bristling after several questions about the controversy. "The focus is going to be wherever you guys want it to be, but I think we outplayed New England, and I think that's why we won the game."
October, 11, 2013
10/11/13
12:00
PM ET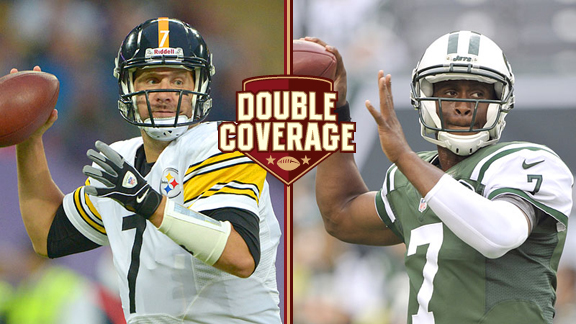 USA TODAY SportsBen Roethlisberger and the 0-4 Steelers take on Geno Smith and the surprising Jets.
Things you didn't expect to see in the standings when the NFL released the schedule last April: The
New York Jets
at 3-2, the
Pittsburgh Steelers
at 0-4.
The rebuilding Jets were supposed to struggle under a coach who already was being called a lame duck, and the Steelers ... well, they were supposed to be the Steelers, a model of consistency.
The two teams meet up Sunday at MetLife Stadium. The Steelers are off to their worst start since 1968, the year of the Jets' only Super Bowl season. If the Steelers lose this game, they're pretty much done in terms of playoff aspirations. The Jets played a similarly desperate team Monday night, and that didn't seem to faze them, as they stunned the
Atlanta Falcons
on the road. The Steelers should be well-rested coming off a bye week.
ESPN.com Jets team reporter Rich Cimini and Steelers reporter Scott Brown break down the matchup:
Cimini
: Scott, I look down the Steelers' roster and I still see a lot of those familiar names --
Ben Roethlisberger
,
Antonio Brown
,
Troy Polamalu
,
LaMarr Woodley
, etc. It's hard to imagine how the Steelers could be this bad. I'm sure you could write 5,000 words on why they're 0-4, but how 'bout a few thoughts on what has gone wrong?
Brown
: Rich, I think I have written triple that amount on everything that has gone wrong. Turnovers have been the biggest problem for the Steelers, and that is on both sides of the ball. The Steelers have committed 11 of them with six coming in the last two games by Roethlisberger alone, and they are still without a takeaway, which is unbelievable when you think about it.
Playing from behind has a lot to do with the Steelers' turnover problem, especially on defense. The defense is at its best when it puts opposing quarterbacks in obvious passing situations and forces them into the kind of mistakes that lead to turnovers. Would you believe the Steelers have had exactly two leads this season and those were 2-0 and 3-0 in the season opener against the Titans and in the second game at Cincinnati, respectively?
Rich, this defense usually confuses and frustrates rookie quarterbacks, but
Geno Smith
has hardly played like a first-year signal-caller. Has his play surprised you, and is it sustainable?
Cimini
: I was surprised by how well he played Monday night in Atlanta because he had been a turnover machine -- 11 in his first four games. All of a sudden, something clicked. I don't know if it was a one-game thing or the start of a trend.
I know the Steelers' defense isn't what it used to be, but Dick LeBeau will have had two weeks to cook up something to confuse the kid. How Smith responds to new looks from the defense will decide this game. The Jets leaned a bit more on the running game last week, taking some pressure off Smith, and I suspect they'll take a similar approach on Sunday. Blitz pick-up will be a key, as will the receivers' ability to gain separation. I remember the Steelers were very aggressive last season in Week 2 with the Jets' wideouts. While on the subject of quarterback play, how would you assess Big Ben's play to this point?
Brown
: It has been fine other than the turnovers, and I think it will get better with tight end
Heath Miller
back and running back
Le'Veon Bell
giving the Steelers a legitimate threat in the ground game. Roethlisberger is on pace to throw for almost 5,000 yards this season, which would obliterate his career-high of 4,328 yards (2009). But Roethlisberger is also averaging just over 40 pass attempts per game. That number is way too high, especially given how leaky the Steelers' offensive line has been through the first quarter of the season.
The emergence of Bell should restore balance to the Steelers' offense. My question for you is, will such balance have to wait a week? The Jets' defensive line looks awfully physical and it is hard to envision the Steelers having much luck running the ball against it.
Cimini
: You're right, Scott, the Jets have been very good against the run. They've faced some good backs --
Chris Johnson
,
C.J. Spiller
,
Doug Martin
-- and they're allowing only 76.2 yards per game and 3.0 per carry. I'd be surprised if the Steelers have much success on the ground.
The Jets' front seven is much improved from last season. They added more athleticism at nose tackle (
Damon Harrison
), tackle (
Sheldon Richardson
), weak inside linebacker (
DeMario Davis
) and rush linebacker (
Quinton Coples
). They're no longer vulnerable on the perimeter, as they were last season. I think they will make the Steelers one-dimensional, which should allow the Jets to get good pressure on Roethlisberger. Speaking of pressure ... four sacks for the mighty Steelers? What happened to that defense?
Brown:
Man, depends on who you ask. The easy answer is to say that age has finally collared a once fearsome defense, but that is not entirely accurate. Defensive end
Brett Keisel
, strong safety Polamalu and cornerback
Ike Taylor
are among the most tenured Steelers, and they have played well this season.
Age has caught up with the Steelers a little bit, and the defense needs to get more out of younger players such as cornerback
Cortez Allen
and outside linebacker
Jarvis Jones
. Jones, the Steelers' No. 1 pick last April, is going to be really good, but he has not made much of an impact as a pass-rusher. The Steelers desperately need Jones to emerge opposite Woodley, who has three of the team's four sacks.
.
September, 29, 2013
9/29/13
6:00
AM ET
Week 4 notes on the
New York Jets
:
1. Green with envy
: The Giants won their last two Super Bowls, in large part, because of a franchise quarterback and a dominant defensive line. Clearly, that defensive line is eroding before our eyes. For a change, the best D-line in town belongs to the Jets, whose front three/four is emerging as a premier unit. I'm not saying they'll be playing a home game next February, but it's hard not to be optimistic about the early returns.
[+] Enlarge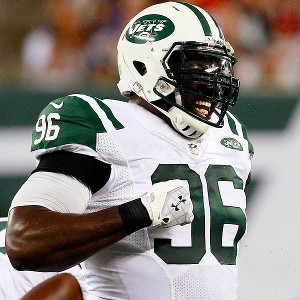 William Perlman/The Star-Ledger/USA TODAY SportsWith the likes of Muhammad Wilkerson, the Jets have one of the better defensive lines in the NFL.
"They've got one of the best defensive lines in the NFL," said ESPN analyst Damien Woody, a former Jet. "You don't think the Giants would trade for the Jets' defensive line? The Giants would kill for the Jets' defensive line right now."
The Jets' front should be good because they picked a lineman in each of the past three first rounds --
Muhammad Wilkerson
(2011),
Quinton Coples
(2012) and
Sheldon Richardson
(2013). Because of salary-cap restrictions, it's rare for a team to invest that much into one position group. Finances eventually could cause the break up of the group, so enjoy it while you can.
Damon Harrison
, undrafted in 2012, is the low-cost guy of the bunch.
You probably won't see another eight-sack performance anytime soon, but the front's ability to generate pressure seems to have affected Rex Ryan's play calling. This season was supposed to mark the return of Blitzing Rex, but check out the numbers: The Jets have used five or more rushers on only 34.9 percent of the pass plays, the league average, according to ESPN Stats & Information.
2. Naming rights
: It's premature to bestow a nickname on the defensive line, but Twitter follower @travisppisani raises an interesting quirk: The line is led by the three "sons" -- WilkerSON, HarriSON and RichardSON. I'll take that a step further. How 'bout "My Three Sons" as a potential nickname? I guess Ryan would be Fred MacMurray, right? I haven't figured out how to get Coples in there, but give me time. That linebacker/line hybrid position is a challenge.
3. Premature celebration
: Richardson said he's motivated by people who questioned his ability to play the run. He's doing well, and not shy about sharing his feelings.
"I've been playing the run most definitely exceptionally well," he said. "I made sure I'm sound in that because of my knocks coming into the NFL, which I didn't understand."
Based on overall performance, Richardson is the seventh-rated 3-4 end in the league, according to ProFootballFocus. His grade would be higher if he tackled
Fred Jackson
last Sunday instead of celebration before the whistle -- "a rookie mistake," he said. "Won't happen again." By the way, the man he replaced, Mike Devito (
Kansas City Chiefs
), is fourth in the ratings.
4. The Buc stops in 2014
: Unless rookie QB
Mike Glennon
is some sort of savior, the
Tampa Bay Buccaneers
(0-3) appear headed to a top-10 draft pick -- or maybe higher. Naturally, the Jets will be second-guessed for not demanding the Bucs' 2014 first-round pick in the
Darrelle Revis
trade.
Before the trade, there were reports saying the Bucs were offering the '14 choice, not their '13 first rounder -- and the Jets were balking. It would be a second-guess on my part if I criticized the outcome because I wrote at the time that the smart play would be take the immediate and known quantity -- the Bucs' No.1 this year (13th overall). They did, using it to select Richardson, who looks like the real deal.
Remember, the Jets will get the Bucs' third rounder as part of the deal, meaning they will have at least three picks in the top 70 if the Bucs continue to tank.
5. Bay Watch
: A divorce between the Bucs and demoted QB
Josh Freeman
seems inevitable. Who could've imagined that
Mark Sanchez
and Freeman -- the second and third-drafted quarterbacks in 2009, respectively -- would be on the outs after five years? They both showed real positive strides in 2010. Of the 11 quarterbacks drafted in '09, only one still has a starting job -- the
Detroit Lions
'
Matthew Stafford
, chosen No. 1 overall.
Freeman will be a free agent after the season. Sanchez is signed through 2016, but likely will be traded or released.
6. Nick the Quick
: The Jets return to the scene of their 2012 lowpoint -- Nashville, where they committed five turnovers and were eliminated from playoff contention last Week 15 with a 14-10 loss to the
Tennessee Titans
. I asked C
Nick Mangold
what he remembered most about that night, and he replied without hesitation: "I short-armed that snap at the end." They had a chance to pull out a victory in the final minute, but Sanchez failed to handle a low, but catchable shotgun snap from Mangold. The Titans recovered.
Mangold has appeared in roughly 7,000 plays in his career and, by his count, he has botched only three snaps -- one in 2006 (
Chad Pennington
at quarterback), last December in Nashville and last week (a premature snap to
Geno Smith
).
"You don't forget them," he said. "I know all of them, biblically."
7. Evil twins:
The Jets should be wary of Titans CB
Jason McCourty
. He and his twin brother,
New England Patriots
S
Devin McCourty
, have turned into Jets killers over the last two seasons.
In Week 2, Devin recovered a fumble and returned it 44 yards. In two meetings last season, Devin scored on a 104-yard kickoff return and, in the Butt Fumble Game, he forced a fumble on a kickoff return -- and the fumble was returned for a touchdown. Jason upheld the family tradition by recording two interceptions in last December's game in Nashville.
The McCourty brothers grew up in Nyack, N.Y., and both attended Rutgers. Maybe this is some sort of payback after being ignored in the '09 draft by one of their local teams.
8. Perspective, please
: The
Buffalo Bills
are a dangerous team in one respect, and one respect only: The Jets usually play so well against the Bills that it creates a false sense of confidence about the team, internally and externally. It happened early last season, and it could be happening now, coming off last week's win. The same people who predicted a 4-12 season are now talking about playoff possibilities. It's a long season, folks. Relax.
9. Johnny on the spot
: One thing I've noticed about GM John Idzik: He likes to be near the action -- or maybe I should say the "competition." It was apparent in training camp, where he was on the practice field, lurking near positional drills. In last Sunday's win, he was on the Jets' sideline in the fourth quarter, behind the bench. In fact, there was a TV shot of him, congratulating
Santonio Holmes
after his game-winning touchdown. I'd like to say Idzik is a Jerry Jones wannabe, but that wouldn't be accurate. Idzik isn't exactly a spotlight guy.
10. The wild, wild East:
Things are moving pretty fast in the AFC East -- literally. The Bills average one play every 29.3 seconds (first in the NFL), followed by the New England Patriots (36.9, seventh),
Miami Dolphins
(37.2, ninth) and Jets (37.7, 11th), according to ESPN Stats. Who knew?
August, 25, 2013
8/25/13
12:16
AM ET
EAST RUTHERFORD, N.J. -- With a chance to claim the starting job, rookie QB
Geno Smith
suffered a three-interception implosion in the
New York Jets
'
24-21 overtime win
over the Giants on Saturday night at MetLife Stadium. The Jets were dreadful, committing five turnovers. A bad night turned worse when Sanchez hurt his right shoulder in the fourth quarter on a vicious hit by defensive tackle
Marvin Austin
. Sanchez shouldn't have been in the game. No one can mess up the quarterback position better than the Jets.
What it means
: The Jets, especially upper management, wanted Smith to seize his opportunity, but they have no choice but to name Sanchez the opening-day starter -- if he's healthy. It would be a setback for GM John Idzik, who drafted Smith in the second round with the hope that he'd unseat the turnover-prone Sanchez. It may happen eventually, but not now. Unless ...
Uh, oh, Geno
: Smith, in his first extended action, threw three interceptions in a span of 12 attempts. In each case, he made a different mistake. The first interception (
Prince Amukamara
) was an inaccurate pass; he threw behind
Ryan Spadola
on a crossing route. The second interception (
Stevie Brown
) was a poor decision, an under-pressure overthrow to
Kellen Winslow
. The third interception (
Justin Tuck
) was a bad read. Smith failed to read a zone blitz by Tuck, who dropped into coverage on
Jeff Cumberland
. Smith never saw him and forced the ball to his tight end. His night ended with a terrible mental mistake, as he took a safety by stepping out of the back of the end zone while trying to avoid pressure.
Smith (16-for-30, 199 yards) showed his lack of experience at every turn, but this was to be expected. After all, he entered the game having played only 14 snaps in the preseason. The Jets forced the issue, hoping to anoint Smith, but the strategy backfired. Instead of using the third preseason game to build chemistry with the starting unit, still learning Marty Mornhinweg's offense, they wasted prime reps on a quarterback not ready for the bright lights.
Rookie game plan
: The coaching staff gave Smith every opportunity to succeed, drawing up a relatively conservative game plan. He threw mostly underneath, including a few screen passes. The plan was for him to throw quickly, but that backfired on the first series, when two balls were deflected at the line of scrimmage. Smith regrouped, leading an eight-play, 86-yard touchdown drive. He was 4-for-5 for 41 yards on the drive, including a 22-yard scoring pass to
Ben Obomanu
. Smith played better in the second half when given a chance to throw off play-action. He led a 57-yard touchdown drive, but it came against the Giants' backups.
Classic Sanchez
: He replaced Smith in the fourth quarter and -- shocker! -- fumbled a shotgun snap. He was booed by the crowd. After the injury, Sanchez was replaced by
Matt Simms
, who rallied the Jets to a touchdown with two minutes left.
Sanchez fans?:
Smith didn't get much help from his receivers. He was victimized by three drops --
Bilal Powell
,
Jeremy Kerley
and Obomanu. Hill contributed to the ugliness with a fumble, which came shortly after an unsportsmanlike-conduct penalty. Hill needs to mature, quickly. The drop-fest was reminiscent of minicamp, when Rex Ryan was infuriated by the number of dropped passes. The only highlight was a 32-yard grab by
Stephen Hill
. The good news?
Santonio Holmes
, activated Friday to the active roster, looks ready to return. In the pregame warmups, Holmes ran full speed, cutting hard on his surgically repaired foot as he ran routes for QB
Greg McElroy
.
Injury concerns
: Several players left with undisclosed injuries, including CB
Antonio Cromartie
, DT
Sheldon Richardson
, LG
Vladimir Ducasse
and WR
Clyde Gates
. Cromartie may have suffered from leg cramps, which plagued him last week in practice.
Big night for big fellas
: It was a nice performance for the Jets' defensive line, namely
Muhammad Wilkerson
,
Damon Harrison
and Richardson. They got good pressure on
Eli Manning
, exploiting the Giants' patchwork offensive line. This was Richardson's best game by far, as he showed his athleticism on quick penetrations. The Jets could be a line-reliant defense this season because the secondary, a strength in recent years, struggled again. CB
Kyle Wilson
, who started for injured rookie
Dee Milliner
, was called for three pass-interference penalties. S
Antonio Allen
took a bad angle on the first play from scrimmage, springing
David Wilson
for an 84-yard TD run.
What's ahead
: The Jets close the preseason Thursday night against the Eagles at MetLife Stadium.