March, 31, 2011
3/31/11
2:05
PM ET
Miami Dolphins
head coach Tony Sparano felt it was important to add former NFL players to his coaching staff.
I posted a story Wednesday that
looked into the importance of assistants with playing experience
. To follow up, I wanted to share Sparano's thoughts on his three new position instructors: assistant wide receivers coach Ike Hilliard, tight ends coach Dan Campbell and pass-rush coach Bryan Cox.
[+] Enlarge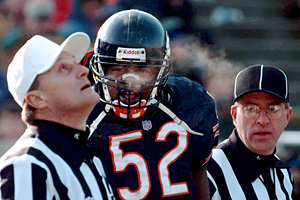 AP Photo/Beth A. KeiserBryan Cox played for the Dolphins, Jets, Bears, Saints and Patriots over a 12-year career.
Cox is the most familiar player to fans who follow the AFC East. He was a lightning-rod linebacker who played for the Dolphins,
New York Jets
and
New England Patriots
in a 12-year career. He recorded 51.5 sacks, 22 forced fumbles and a nice double-bird salute to
Buffalo Bills
fans.
Cox never played for Sparano, but former Dolphins vice president of football operations Bill Parcells -- the man who hired Sparano -- coached Cox for two seasons with the Jets. Cox's entire coaching career has been working as Eric Mangini's defensive line assistant for the Jets and
Cleveland Browns
.
"Since I came into the league with Bill Parcells, Bryan is a guy I've always talked to Bill about in different ways," Sparano said at the NFL owners meeting in New Orleans last week. "Bryan's a unique guy. His passion for the game is tremendous, and that's something that really intrigues me. Putting him in the role I have him in now gives me great luxury."
Former Dolphins defensive coordinator Paul Pasqualoni often would pull pass-rushers out of defensive drills to work with them individually. But current coordinator Mike Nolan doesn't like to leave the group much for one-on-one work -- although outside linebacker
Cameron Wake
didn't appear to suffer from a lack of instruction last season.
Cox "gives me the ability to split the pass-rushers up and get them away from the inside drills and exclusively work on pass-rush with a guy that's going to be able to help them," Sparano said.
Sparano was a
Dallas Cowboys
tight ends coach when Campbell was there. Sparano promoted him from intern to tight ends coach, replacing George DeLeone.
Sparano said Campbell, a 10-year veteran with three clubs, is "a guy I think an awful lot of" and called him "one of the toughest players I ever coached" and "fundamentally really good."
Hilliard was a receivers coach for the UFL's Florida Tuskers the past two seasons. He played a dozen NFL seasons for the
New York Giants
and
Tampa Bay Buccaneers
. He caught 546 passes and scored 35 touchdowns. He'll help first-time NFL position coach Steve Bush.
"Ike Hilliard comes highly recommended to me from a lot of people that I respect in this business, guys that he played for," Sparano said. "Steve Bush is very good from a mental standpoint, scheme, how he attacks people. But Ike Hilliard would be a guy from a fundamental standpoint that would help those guys, particularly with the man-to-man stuff and how he played the position.
"It's unique to have a guy that has played the inside position as well as Ike has played it in our league, to be able to bring some of those details to the table for a guy like [Davone] Bess or [Brian] Hartline or even
Marlon Moore
. These guys can learn a lot from him."
March, 30, 2011
3/30/11
10:42
AM ET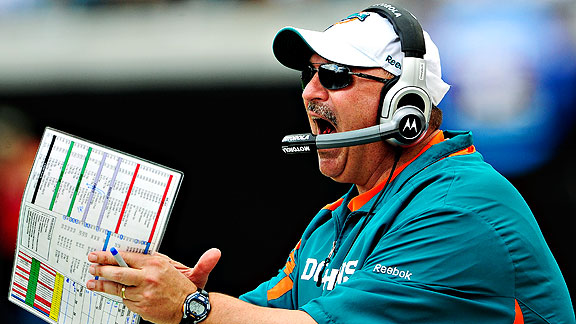 Sam Greenwood/Getty ImagesDolphins coach Tony Sparano felt it was necessary to add former players to his coaching staff.
Miami Dolphins
receiver
Brandon Marshall
scoffed in September that broadcast analyst Sterling Sharpe had no right to judge him.
Marshall claimed Sharpe didn't do enough on the field
to earn the privilege.
Imagine, then, how much disdain Marshall would harbor for criticism from those who didn't play in the NFL at all.
When you consider Marshall's logic and the sort of position coaches he has worked with, you get a sense of how unstable a situation can be.
As a rookie, he learned from former Pro Bowl receiver Steve Watson. But since 2007, Marshall's coaches have been Jeremy Bates, Jedd Fish and Adam Gase with Denver and Karl Dorrell last year with Miami. None of them played in the NFL. Neither Fisch nor Gase played in college.
Probably not the kinds of guys you'd expect to make a connection.
Dolphins head coach Tony Sparano rearranged his coaching staff after last season. He moved Dorrell into the quarterbacks vacancy and promoted Steve Bush from a quality-control role -- usually considered entry-level -- to receivers coach. Bush hasn't been an NFL position coach before. In 2008, the Dolphins hired the one-time Syracuse assistant away from West Genesee High in upstate New York.
Some help was in order, and not just for Bush.
Sparano made it a point to add former players to his coaching staff because he identified a deficiency. He needed more voices to reach his players.
Although the Dolphins parted ways with running backs coach James Saxon, they hired Ike Hilliard to assist Bush and Bryan Cox to coach pass rushing and promoted Dan Campbell from intern to tight ends coach.
"I feel good about the way we were able to put the staff together with the infusion of ex-players onto the staff," Sparano said last week at the NFL owners meeting in New Orleans.
"A little bit of that flavor and that knowledge on your coaching staff helps a lot. Sometimes, as coaches, we can get tunnel vision and forget about what the players' needs are. When you get an ex-player on your staff -- somebody that's really not far removed -- it helps you a lot."
A breakdown of AFC East coaching staffs shows there are multiple philosophies on former NFL players as assistants.
The Dolphins went into last season with two position coaches who played in the NFL: assistant head coach and secondary assistant Todd Bowles and Saxon. They now have four assistants with a combined 557 games.
Buffalo Bills
head coach Chan Gailey has one former NFL player on his staff, but none coaching a position. Former defensive back Adrian White, a veteran of seven seasons, handles quality control.
New England Patriots
defensive line coach Pepper Johnson is the lone member of Bill Belichick's crew to have experienced NFL action. Johnson played linebacker for four teams over 13 years.
Then there's Rex Ryan's staff, populated by six former NFL players with 62 seasons and 829 games. Matt Cavanaugh coaches quarterbacks, Anthony Lynn running backs, Henry Ellard receivers, Mike Devlin tight ends, Mark Carrier defensive line and Dennis Thurman defensive backs.
I reached out to three former coaches who played in the NFL -- Tom Flores, Herm Edwards and Ted Cottrell -- to get their opinions on the significance of having on-field experience on staff.
"It's always been a thing with the players," said Cottrell, an
Atlanta Falcons
linebacker and successful defensive coordinator for the Bills, Jets,
Minnesota Vikings
and
San Diego Chargers
, "where they think in the backs of their minds, 'Well, you haven't played this game. You don't know what we're going through. You haven't done this, Coach.' But if you have some playing experience on your staff, it helps offset that."
As valuable as those players-turned-coaches are, they're difficult to find. The best players don't necessarily make the best coaches because what came to them naturally can't always be conveyed through instruction.
[+] Enlarge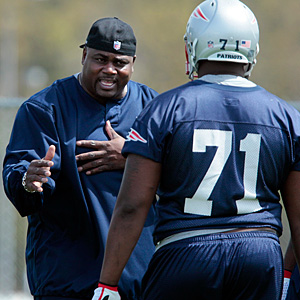 AP Photo/Elise AmendolaPatriots defensive line coach Pepper Johnson is the only member of Bill Belichick's staff with NFL playing experience.
Flores found a way to make it work. He and Mike Ditka are the only two in NFL history to win a Super Bowl ring as a player, assistant coach and head coach. Flores played quarterback for the Bills,
Oakland Raiders
and
Kansas City Chiefs
before guiding the Raiders to pair of Super Bowl titles.
"Some of the young kids coming out have no idea," Flores said. "They think they invented the game. Sometimes you have to bring them back to reality.
"But you also don't want somebody who keeps saying, 'Well, when I played ... When I played ... When I played ...' The player thinks, 'I don't give a damn when
you
played.
We're
playing now.'"
The transition from player to coach is difficult. Many players focus so much on their specific jobs when they're active that they don't become students of the overall game or learn how their roles fit into the overall puzzle. Others find it difficult to stop acting like a player when their careers are over.
Still, the ex-player element can be crucial in various instances.
"Sometimes you need a bridge with a former player," said Edwards, who played cornerback for the
Philadelphia Eagles
and was head coach for the Jets and Chiefs. "His voice is going to speak volumes, especially during the rough times because he's done it; he's been through it. He can give them, 'OK, this is what we gotta do' speech.
"He's going to respect because he played, but can he teach? That's the whole key. Players will figure that out."
Not all coaches are comfortable hiring former players, particularly those fresh off the field. Cottrell claimed there's a fear of subversion, that the former player will relate better to the locker room than the man in charge.
"Who do you think the players on the roster will gravitate towards more?" Cottrell asked. "The guy who played in the NFL and is young, or the older guy who didn't play?"
The former player, I responded.
"Damn right they would," Cottrell said. "That's why some coaches are intimidated to hire them. That's the truth. They don't want that guy around."
Added Edwards: "I've seen that happen. There's no doubt about that. That's when you're paranoid, but there are coaches like that."
Even so, Edwards conceded insurrections aren't an unfounded conspiracy theory.
"If you've got a former player in his positional meeting room, saying, 'Man, the coach doesn't know what he's talking about,' then you've got no shot as a head coach," Edwards said. "That's why you've got to be particular on who you hire."
The Patriots have a more institutional coaching staff. Their message is easy to deliver when players consider Belichick has won three Super Bowls and four conference championships in the past decade.
Rather than rely on former players, Belichick has core assistants such as offensive line coach Dante Scarnecchia (28th season with New England) and running backs coach Ivan Fears (15th season).
Belichick grooms assistants from gophers into coordinators and even head coaches. A steady stream of his acolytes -- Eric Mangini, Josh McDaniels, Brian Daboll, Bill O'Brien, Matt Patricia -- got their NFL starts under Belichick with no pro playing experience.
New England's cyclical process protects organizational doctrine from outside influences. Johnson, the lone ex-player on the staff, played 10 of his 13 seasons under Belichick.
"Belichick has a certain philosophy, and you want everybody to be on the same page," Flores said. "Sometimes, when you bring in guys that have been too many other places, they're not going to be on your page because they've been trained someplace else.
"If you bring up assistants through the ranks, then they'll be trained the way you want them to be. Everybody has to buy into the same program."
At the other end of the spectrum are the Jets.
Ryan obviously values former players. Their presence on the staff contributes to the Jets being an attractive destination for free agents, and Cottrell surmises the Dolphins have noticed.
"From a coaching standpoint, he looks at the Jets and wants to catch them in the division," Cottrell said. "He thinks, 'Rex has six guys that have played the game who are coaching. Uh oh. Rex has got an advantage on me.'
"That's got to be in the back of his mind. You've got to win your division to get into the playoffs, and when you look at your coaching staff, you see you don't matchup in that area."
Or, in the case of adding Hilliard at least, maybe it was as simple as noticing the Dolphins didn't match up with Marshall.
March, 4, 2010
3/04/10
10:36
AM ET

Atlanta Falcons
Potential unrestricted free agents:
CB
Brian Williams
, WR
Marty Booker
, QB
Chris Redman
.
Potential restricted free agents:
RB
Jason Snelling
, RB
Jerious Norwood
, P
Michael Koenen
, CB
Brent Grimes
, OL
Quinn Ojinnaka
, T
Tyson Clabo
, G
Harvey Dahl
.
Franchise player:
None.
What to expect:
General manager Thomas Dimitroff repeatedly has used the phrase "fiscally responsible'' when talking about the approach to free agency. In other words, the Falcons aren't going to go on some wild spending spree. This organization prefers to build through the draft. But history has shown the Falcons aren't afraid to make a strategic strike or two in free agency. They have a huge need at defensive end and that's a tough spot to get guaranteed production from when you've got the No. 19 overall pick in the draft. The Falcons aren't likely to target elite free-agent DE
Julius Peppers
, but you could see them make a move for another pass-rusher.

Carolina Panthers
Potential unrestricted free agents:
DE Julius Peppers, WR
Muhsin Muhammad
, QB
Josh McCown
, QB
A.J. Feeley
.
Potential restricted free agents:
LB
Thomas Davis
, QB
Matt Moore
, TE
Jeff King
, CB
Richard Marshall
, DT
Louis Leonard
, LB
James Anderson
, DT
Tank Tyler
, CB
C.J. Wilson
.
Franchise player:
None.
What to expect:
Owner Jerry Richardson is very concerned about the uncertain labor situation and that may keep him from spending big money in free agency. The Panthers avoided a $20 million hit by not placing the franchise tag on Peppers, but that doesn't mean all of that money is going to be used in free agency. The Panthers traditionally are a team that builds through the draft and they didn't sign a single UFA last year. But look for at least a few smaller moves because coach John Fox has to win this year and needs to improve this roster, especially on the defensive line, at wide receiver and perhaps at quarterback.

New Orleans Saints
Potential unrestricted free agents:
QB
Mark Brunell
, S
Darren Sharper
, TE
Dan Campbell
, TE
Darnell Dinkins
, DT
Kendrick Clancy
, LB
Scott Fujita
, S
Pierson Prioleau
, LS
Jason Kyle
.
Potential restricted free agents:
G
Jahri Evans
, RB
Mike Bell
, RB
Pierre Thomas
, WR
Lance Moore
, TE
David Thomas
, T
Jermon Bushrod
, S
Roman Harper
, S
Usama Young
, DT
Remi Ayodele
, DT
Anthony Hargrove
, T
Zach Strief
, S
Chris Reis
, WR
Courtney Roby
, LB
Marvin Mitchell
.
Franchise player:
None
What to expect:
As a final-four team the Saints aren't allowed to sign any unrestricted free agents unless they lose one of their own at a similar price tag. That's likely to keep the Saints from being big players in free agency. But the good news is they don't have a lot of dramatic needs. They will have to keep a protective eye on some of their restricted free agents, who may draw interest from other teams.

Tampa Bay Buccaneers
Potential unrestricted free agents:
WR
Antonio Bryant
, DE
Jimmy Wilkerson
, S
Will Allen
, LB
Angelo Crowell
, S
Jermaine Phillips
.
Potential restricted free agents:
RB
Cadillac Williams
, LB
Barrett Ruud
, T
Donald Penn
, WR
Maurice Stovall
, T
Jeremy Trueblood
.
Franchise player:
None.
What to expect:
The Bucs haven't spent a lot of money in free agency in recent years and they've been sending out signals this year won't be much different. They're focused on the 10 draft picks they hold. But the Bucs could pull a small surprise or two. They've got a restless fan base and more needs than those draft picks can handle. A couple of signings in free agency could energize the fan base and help the rebuilding process. The Bucs really need a No. 1 wide receiver and they're not truly positioned to get that in the draft.
June, 5, 2009
6/05/09
6:46
PM ET
Posted by ESPN.com's Pat Yasinskas
METAIRIE, La. -- Saints tight end Dan Campbell will have knee surgery Monday, but is expected to be back in time for the start of training camp.
Coach Sean Payton said Campbell will have arthroscopic surgery to repair damage to his medial collateral ligament. Campbell will miss the rest of the team's organized activities. Campbell wasn't the only tight end injured in Friday's minicamp. Darnell Dinkins sprained his ankle. Payton said he wasn't aware of the severity of Dinkins' injury.
In other injury news, linebacker Dan Morgan, who's coming out of retirement, strained a calf muscle early in the afternoon session and left practice. That might not come as a surprise to those who have followed Morgan's star-crossed career.
February, 9, 2009
2/09/09
7:41
AM ET
Posted by ESPN.com's Kevin Seifert
Monday is the first day of 2009 that NFL teams can start manipulating their rosters in anticipation of the Feb. 27 roster compliance deadline. That's a fancy way of saying players can start negotiating contract extensions with their existing teams and clubs can start releasing players. NFL front offices have opened for business.
Some NFC North teams will be busier than others. David Birkett of the Oakland Press has added two names to the list of players the Detroit Lions are expected to release: Guard Edwin Mulitalo and tight end Dan Campbell.
That brings the total number of soon-to-be-released Lions veterans to four, including receiver Mike Furrey and cornerback Leigh Bodden. It's possible there will be others. We'll keep you updated.
Continuing around the NFC North:
Jerry Green of the Detroit News believes Lions coach Jim Schwartz will do a good job -- if the team's front office and ownership leaves him alone.
Broadcaster John Madden, for one, agrees with Chicago coach Lovie Smith's decision to call the majority of the Bears' defensive signals in 2009. Brad Biggs of the Chicago Sun-Times has the story.
Pete Dougherty of the Green Bay Press-Gazette looks at the Packers' salary-cap situation -- they were $19 million under the cap and are expected to get at least $6 million in adjustments and credits -- and what they might do with the room.

August, 13, 2008
8/13/08
2:04
PM ET
Posted by ESPN.com's Kevin Seifert

ALLEN PARK, Mich. -- The Detroit Lions greeted us with the most physical, emotional practice we've seen this summer. (Nothing like that Club Med they're running over in Minnesota. Oh, hi Brad!) This is what the black-and-blue division is supposed to look like.
The two-hour, full-pads affair included three bruising hits from defensive players and one very angry quarterback. Yes, Jon Kitna went bonkers on first-year linebacker Buster Davis after Davis knocked tight end John Owens to the ground during a goal-line passing drill.
Even in full-pads practices, you don't usually see players getting knocked to the ground. It definitely struck Kitna the wrong way.
"Do something, Buster! Do something!" Kitna screamed, over and over, after the play. (We're guessing he meant, "Do something in this league before you start throwing players around in practice.") Getting angrier with each yell, Kitna started walking toward Davis before a few coaches got in his way. Fists never came close to flying, but rarely do you so much as see a quarterback advance in a threatening manner.
(Of course, Davis would have had no choice but to back down. He's trying to make the team as a backup linebacker. His chances would probably decrease slightly if he beat up the starting quarterback.)
Lions coach Rod Marinelli has been preaching mental discipline throughout camp. But he's also a classic tough guy and thus seemed torn over Kitna's response. Marinelli said there is "no doubt" Kitna was protecting his offensive teammates. However, Marinelli added, "I don't like the extracurricular. I don't want that. But I understand guys standing up for each other. But we'll be a good team when we don't have penalties -- when we're tough, we're physical and we don't make mistakes. That's all."
From my vantage point, it all started during an earlier drill when linebacker Ernie Sims planted receiver Mike Furrey after a catch. Safety Dwight Smith, never at a loss for words, was jawing with offensive players for much of the goal-line drill, and Davis popped tight end Dan Campbell before his hit on Owens prompted Kitna's outburst.
Kitna is well-known for his fiery personality, but at least one player seemed surprised by how far he took it Wednesday. Receiver Roy Williams, who didn't practice but was watching from the sideline, said he appreciated Kitna's intent but added: "He probably would have gotten knocked out, so I would have rathered him stay back and be the quarterback."
I was interviewing another player when Kitna spoke to reporters, but here's what he had to say, as reported by Tom Kowalski of Mlive.com:
"I'm not going to get into specifics. That's how competitors are. Today's really the last day [of training camp] and we're ready to start seeing other people on a weekly basis. You usually don't go more than seven days without a game in the preseason, and this is our seventh day -- and we've still got three more days until we play. The guys are just ready to hit somebody else."
Everyone has their own opinion on this sort of thing, but count me in the group that considers it an encouraging sign for the Lions. As an outsider dropping in to get a glimpse of a team with few national expectations, it was nice to see the Lions getting after it. The hitting was great and reflected the toughness Marinelli is trying to install into the Lions organization.
You hope that Kitna will control those emotions during a game, but I would rather see vicious hitting and a quarterback going after a linebacker on 10 out of 10 days -- especially if the alternative is watching a lifeless group slog through another dog day of camp.
We'll bring you more practice observations later today.
August, 10, 2008
8/10/08
11:29
AM ET
Posted by ESPN.com's Kevin Seifert
Had a nice chat Friday night with Minnesota Vikings owner Zygi Wilf before his team's preseason opener at the Metrodome. Wilf committed some $70 million in guaranteed money during the Vikings' preseason shopping spree, and he was eager to see the first game action of the summer.
Although some might view the Vikings' moves as a quick-fix approach to building a contender, Wilf's philosophy has been to focus on winning now and in the future. He has charged Rick Spielman, vice president of player personnel, with assembling personnel behind the current veteran base to provide seamless transition of talent.
I didn't bother asking Wilf about the elephant in his suite: The Vikings' long-running, and still-unsolved, quest for a new stadium. Wilf and the Metropolitan Sports Facilities Commission are revising a proposal for downtown Minneapolis that was once priced at $954 million. They hope to bring it before the Minnesota state legislature in 2009 -- but the Vikings' lease at the Metrodome expires in 2011 and they are on most observers' short list for relocation to Los Angeles.
Wilf de-leveraged himself soon after buying the team in 2005 by saying he would never move it. He continues to follow that rhetorical path, and is instead relying on Minnesota state leaders to salvage a community asset before the NFL steps in and forces his hand.
In an extended profile of Wilf in Sunday's Star Tribune, reporter Judd Zulgad broached the topic. Wilf repeated his mantra: "I'm not considering moving [the team.] I'm not considering selling it."
In other, somewhat lighter news around the NFC North:
NFL SCOREBOARD
Sunday, 2/2
WEEKLY LEADERS