April, 28, 2013
4/28/13
11:55
AM ET
Is Dan Fouts next?

In an eyebrow-raising revelation,
former San Diego running back great LaDainian Tomlinson said he met the Charger's new brass at the NFL combine in February and that general manager Tom Telesco and coach Mike McCoy asked him to come out of retirement.
Tomlinson said the men said he could carry the ball 10-12 times a game. Tomlinson, who turns 34 in June, said he was flattered, but he had mentally moved away from the game. He retired after the 2011 season. Tomlinson spent his first nine seasons with the Chargers, leaving after the 2009 season.
What do I make of the offer? Well, I think Telesco and McCoy want to get better, and they will consider anything. I truly think it's for the best that Tomlinson isn't coming back. He didn't have much in the tank in his last few years.
The Chargers have since added depth behind
Ryan Mathews
at the spot.
May, 2, 2012
5/02/12
4:57
PM ET
San Diego couldn't keep its eyes off of
Junior Seau
.
There were a few minutes remaining in the first half of the Chargers' home game against the
Denver Broncos
last November when the entire stadium roared.
It was for Junior.
Seau and his family emerged from a tunnel and stood near the home sideline he used to rule. Seau looked regal in a suit adorned with a traditional Samoan money lei, which marked moments of celebration. This was one of the biggest parties of Seau's life. The Oceanside kid was being inducted into the Chargers' Hall of Fame and he was being presented by Dan Fouts, another face of the franchise.
[+] Enlarge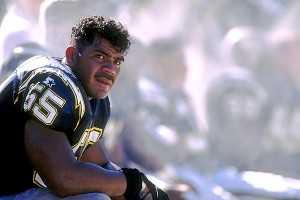 J.D. Cuban/Allsport/Getty ImagesJunior Seau was the face of the Chargers for many seasons and is their greatest sports icon.
It was as if the Chargers and Broncos didn't matter. All eyes were on Seau and the stadium rocked with chants of "Junior."
It was the last time Seau shined in Qualcomm Stadium. However, the memory of Tiana Baul "Junior" Seau will never fade in San Diego.
Handsome, vibrant, and caring, Seau was the perfect role model for a self-assured, laid-back beach town. He laughed. He surfed. He helped. He was San Diego.
San Diego stopped Wednesday morning.
Seau died at the age of 43
at his Oceanside home. Police are investigating his death as a suicide.
I have been on the phone with some people in San Diego and the news of Seau's death has been a devastating blow to the city. News video shows a large group of people crying in front of Seau's home. Seau's mother tearfully addressed media. At Chargers Park Wednesday, the team's flag flew at half staff.
Even though Seau last played in San Diego in 2002, he remains its greatest sports icon. The San Diego sports Mt. Rushmore starts with Seau.
He was from San Diego and he stayed in San Diego even though he finished his NFL career in Miami and New England. The sight of No. 55 jerseys has been an every-Sunday occurrence at Qualcomm Stadium. I expect it to remain that way. Seau's restaurant (which is a couple miles from the stadium) remains one of the most popular eateries in San Diego.
Adding a chilling factor to this devastating story is that Seau is the eighth member of San Diego's only Super Bowl team, the 1994 Chargers, to die. The others are running back Rodney Culver, linebackers Dave Griggs, Lew Bush and Doug Miller, defensive tackle Shawn Lee, defensive end Chris Mims and center Curtis Whitley.
The deaths of so many young men have haunted the memory of that team. Now the face of the team joins that sad list.
Seau has been a hero in San Diego for 25 years. He was a nationally known high school football and basketball star in Oceanside. When his hometown Chargers took Seau from USC with the No. 5 pick in 1990, the city, hungry for NFL success, rejoiced. The party lasted for 13 years.
Seau -- who probably will make the Pro Football Hall of Fame in three years -- was named to the 1990s All-Decade team and to 12 Pro Bowls.
He was a fierce playmaker with unmatched emotion and passion. Off the field, he was a major fundraiser for his hometown charities. He recently held his annual golf tournament.
There have been some recent tough times for Seau. He was divorced. In 2010, he was arrested after his girlfriend accused him of abuse. He was never charged. Hours after the incident, he drove his vehicle off a cliff. Seau denied it was a suicide attempt. He said he fell asleep.
If Seau's death is ultimately ruled a suicide, so many questions will remain. But this fact is unquestioned: Seau was a San Diego legend. That will never change.
December, 28, 2011
12/28/11
12:08
PM ET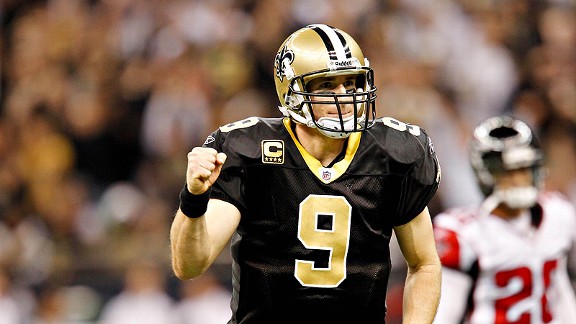 Derick E. Hingle/US PresswireDrew Brees broke Dan Marino's 27-year-old single-season passing record Monday night.
Breaking
Dan Marino
's single-season record for passing yardage enhanced
Drew Brees
' MVP credentials even if
Aaron Rodgers
remains the favorite on your imaginary ballot.
The manner in which Brees broke the record shouldn't matter too much in the end because Brees needed only 15 games to break it. Yes, the Saints kept passing during their blowout victory over Atlanta solely because they wanted Brees to get the record. But if the record hadn't fallen Monday night, Brees likely would have claimed it against Carolina in Week 17 -- a game the Saints must win for any shot at the NFC's second seed in the playoffs.
One thing I wanted to know, however, was to what degree Marino chased Dan Fouts' previous record with the same sense of purpose. A trip back into 1984 showed Marino taking a different, more organic path to the record.
Marino entered the 1984 regular-season finale against the
Dallas Cowboys
with a chance to clinch home-field advantage through the AFC playoffs.
A week earlier, Marino had thrown four second-half touchdown passes to turn a 17-7 deficit into a 35-17 victory over Indianapolis. Needing just 19 yards against the Cowboys to break Fouts' record, Marino closed the season with a 340-yard effort featuring the winning 63-yard touchdown pass to
Mark Clayton
with 51 seconds remaining.
The Cowboys had tied the game with 1:47 remaining on deflected 66-yard pass that Tony Hill caught off the rebound.
"The final moments were as stunning and sensational as in any game this season,"
the New York Times' Michael Janofsky wrote
at the time.
Marino was the MVP, of course. Brees, despite his record-setting ways, stands second on our list again this week. Rodgers has more touchdown passes and fewer interceptions for a team with a better record and a Week 1 victory over Brees' Saints. But if Green Bay rests Rodgers and its starters while Brees outduels
Cam Newton
in Week 17, then what?
July, 8, 2011
7/08/11
12:24
PM ET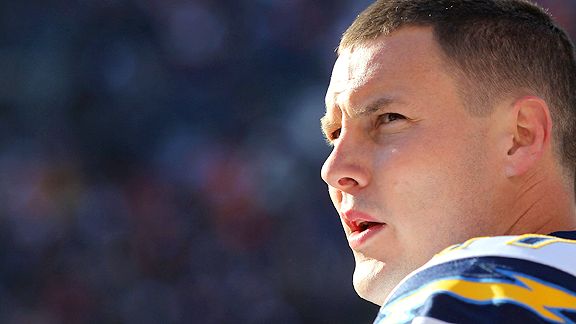 Doug Pensinger/Getty ImagesWithout a Super Bowl ring, will Hall of Fame voters look past Philip Rivers?
There are six active starting NFL quarterbacks who have won a Super Bowl.
Philip Rivers
is not one of them.
That fact hangs over Rivers' head and will be the biggest question mark about him until he wins one. There's little doubt that the San Diego Chargers' prolific, big armed, big-hearted leader is the best active quarterback alive without a Super Bowl ring.
If Rivers, 29, ends his career without hardware, will it prevent him from being enshrined into the Pro Football Hall of Fame? After his first five seasons as an NFL starting quarterback, Rivers (the No. 4 overall pick in the 2004 draft) has compiled statistics that suggest he is on his way to making the Canton, Ohio, museum.
And, thus far, he compares with non-Super Bowl-winning modern era quarterbacks such as
Jim Kelly
,
Warren Moon
,
Dan Marino
and fellow Chargers' quarterback Dan Fouts.
"I think he's on his way," Gary Horton of Scouts Inc, said of Rivers' chances of becoming bronzed. "He's got the look of a Hall of Fame player. He belongs with those names that have made it recently … It would really help his cause if he won a championship, but he's on pace in my mind."
Quarterbacks are judged on championships, and Rivers has pressure because several quarterbacks he is judged directly against have won Super Bowls recently.
New Orleans'
Drew Brees
won the title after the 2009 season. Brees left San Diego after the Chargers decided to start Rivers in 2006. The Giants'
Eli Manning
won the title in 2008. Manning and Rivers were the centerpieces of a 2004 draft-day trade. Pittsburgh's
Ben Roethlisberger
has won two Super Bowls. He was picked seven slots after Rivers in 2004. Green Bay's
Aaron Rodgers
won the Super Bowl earlier this year. He was drafted the year after Rivers.
The two other active quarterbacks to have won the Super Bowl are New England's
Tom Brady
(three rings) and the Colts'
Peyton Manning
(one).
If Rivers doesn't win a Super Bowl in his career, it could be held against him in the Hall of Fame voting room, especially if a few more quarterbacks win titles before he retires. The numbers could be stacked against him.
Brady and Peyton Manning are slam-dunk Hall of Famers. I'd think Roethlisberger, Brees and Rodgers are in good shape to make it unless they all totally fall apart. Recent retiree
Brett Favre
will make it, and fellow recent retiree
Kurt Warner
has a great chance to be enshrined. The late
Steve McNair
could also get some consideration. Thus, a lot of quarterbacks who played during Rivers' career could be heading into the Hall of Fame in the next 5 to 15 years.
[+] Enlarge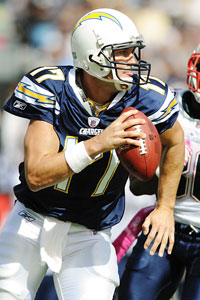 Christopher Hanewinckel/US PresswireDuring his career Philip Rivers has passed for 19,661 yards, 136 touchdowns and has a passer rating of 97.2.
Seven quarterbacks have been enshrined in the Hall of Fame in the past 15 years. But this is a golden age of quarterbacking, so a large number will get in if they are deemed worthy by the voting committee. Winning that elusive ring is always recommended. A title could be the difference for Rivers between getting elected quickly and having a long wait.
Still, Rivers' numbers show he is on pace to be considered seriously for Hall of Fame enshrinement.
In his career, Rivers (who threw a total of 30 passes in his first two NFL seasons) has thrown for 19,661 career yards. He has thrown 136 touchdowns and 56 interceptions. His career passer rating is 97.2. In 15 career seasons, Fouts threw for 43,040 yards, 254 touchdowns and 242 interceptions, and his passer rating was 80.2. Rivers is on pace for a much better career than Fouts, who never went to a Super Bowl but is enshrined in Canton.
Kelly, who lost four Super Bowls, played 11 seasons in the NFL. He threw for 35,467 yards and 237 touchdowns, and his passer rating was 84.4. Moon played 17 seasons in the NFL. He threw for 49,325 yards and 291 touchdowns, and his passer rating was 80.9. Dan Marino played 17 seasons. He threw for 61,361 yards and 420 touchdowns, and his passer rating was 86.4
If Rivers continues to play at a high level, he could be in the neighborhood of some of these Hall of Fame quarterbacks who did not win a Super Bowl.
Of the active Super Bowl winning quarterbacks, only Rodgers has a better career passer rating than Rivers. Peyton Manning, Brady and Brees have more touchdown passes, and Peyton Manning and Brees have more passing yardage than Rivers since 2006.
"He stacks up with a lot the current guys and the recent Hall of Famers," Matt Williamson of Scouts Inc. said. "I think he is very much in the same class as Kelly or Moon for sure -- and maybe even Marino. Longevity will be key, but his lifetime numbers should be off the charts."
If Rivers (who had a famously speedy recovery from a torn ACL in the 2007 playoffs) can stay healthy, he should make a serious Canton push, ring or no ring.
"The guy has everything," Horton said. "He's a son of a coach. He's a gym rat. He has great skills. He showed last year he can succeed with street free agents because all of his guys were hurt … Philip Rivers is a Hall of Fame type guy, there's no doubt about it."
May, 24, 2011
5/24/11
12:03
PM ET
Examining the most crucial event in the history of every team in the division.
There is no one in professional sports quite like Al Davis.
Say what you like about the mercurial, jump-suit clad czar of the
Oakland Raiders
, but the man is one of a kind.
He is the Oakland Raiders. AFC West history lessons must start with Davis.
[+] Enlarge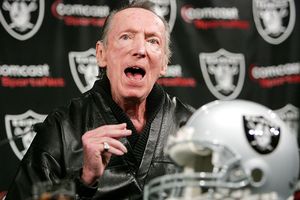 Justin Sullivan/Getty ImagesThe Raiders have been all Al Davis since 1963, winning three Super Bowls and one AFL championship.
Just set the tone, baby.
Although the Raiders are one of the NFL's most tradition-rich franchises, there was really no other choice as Oakland's representative for the pivotal moment in team history. It all started in 1963 when a young, brash offensive mind from Brooklyn left his post as an assistant coach with the rival
San Diego Chargers
to become the head coach/general manager of the Raiders.
Readers agreed as Davis was a runaway winner, beating the Raiders' first Super Bowl win in Super Bowl XI, the Raiders' return to Oakland in 1995 and the trade of coach Jon Gruden to Tampa Bay in 2002.
It has to be Davis. After all, if it weren't for Davis' arrival in Oakland, none of the other finalists might have occurred. Nothing has happened involving the Raiders since 1963 that hasn't had Davis' fingerprints all over it. Nothing.
Readers noticed.
Rob31340 said:
While it does not excuse recent failures, Al Davis is probably one of the three most important figures in NFL History. Even though he has been passed by in matters of business and football in general, no current owner or executive can lay claim to accomplishing more for the league and Oakland Raiders than Al Davis.
Added MicRaider:
"Al Davis changed the whole perspective of the organization, and the AFL. This man is responsible for changing football for generations to come in many different aspects of the game, not just on the field, but the business, too .. (nothing else) come close to defining us as the Raider Nation than BIG AL."
It's been 48 years and it's been good and bad, but there's no denying that Al Davis -- less than two months shy of his 82nd birthday -- has and does define the AFC West.
Broncos: This one's for John
While Davis has been the face of the Raiders for 48 years as an off-field leader, there hasn't been a player in AFC West history who had more of an impact than
John Elway
.
One of the greatest quarterbacks ever to play in the NFL, Elway
was
the
Denver Broncos
from 1983 to 1998. He led Denver to five Super Bowls and won the final two in his final two NFL seasons.
Elway's legacy has lasted beyond his retirement. There are still likely to be more orange No. 7 jerseys in the Mile High stands than any other.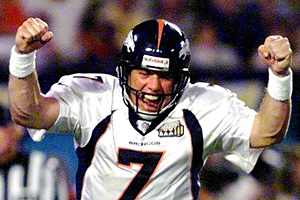 JEFF HAYNES/AFP/Getty ImagesJohn Elway led the Broncos to five Super Bowls, winning two.
This January, as he watched his once-proud franchise slip into irrelevancy, Denver owner Pat Bowlen gave Elway the ball again at the age of 50, asking for another patented Elway comeback, making him the vice president of football operations in Denver.
It all started in 1983 when Denver traded a package to the Baltimore Colts to get Elway after he refused to play for the Colts. This one was a no-doubter. The voting was even more lopsided than Davis' win in Oakland. The other choices in Denver were Mike Shanahan's arrival in 1995 as head coach, the drafting of running back
Terrell Davis
in 1995 and the team's first Super Bowl win in Super Bowl XXXII.
The readers made it clear what was the flash point in Denver. It was the arrival of the Duke.
Said
Arhoades28:
"It has to be Elway … Elway and his 5 SBs define this franchise, for me at least."
Added Jefffree57:
"It all started with Elway. He might not have won it until Shanny and TD came. But he sure did keep that team competitive for a long while and a great leader for those SB wins."
Chiefs: We are champions
When we first started this project, I was leaning toward making the arrival of the great
Derrick Thomas
in the 1989 draft as the team's Flash Point.
[+] Enlarge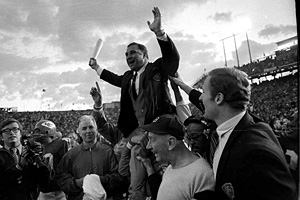 AP PhotoKansas City coach Hank Stram and the Chiefs celebrated the franchise's first and only Super Bowl victory in 1970.
He was one of the most ferocious defensive players in the NFL in recent memory and was a major reason why the Chiefs were a consistent contender for much of the 1990s. No player hassled Elway more than Thomas ever did.
He was the face of Kansas City until his tragic death in 2000 from complications following an auto accident.
However, the more I considered it, the more I thought the Chiefs' lone Super Bowl title in Super Bowl IV is the Flash Point in team history. It was a solid winner over Thomas' arrival, the arrival of general manager Scott Pioli in 2009 and the team's move from Dallas in 1963.
I get it. Nothing changes a franchise's landscape like a championship. I am a lifelong fan of the San Francisco Giants, who won their first World Series last fall. From now on, whatever happens, that first championship will always be the defining moment of the franchise in my mind.
The same thing happened in Kansas City in January, 1970. The Chiefs were a big deal back in the day and this was the team that will forever be remembered of all Lamar Hunt's great teams.
Here's some of what Chiefs' fans have to say about that team:
Said Jayrodtremonki:
"This one is the hardest one for me to call. Winning the Super Bowl and drafting DT are both huge moments for the franchise. Growing up with Thomas as my favorite player it's obviously a little closer to my heart, but it's still hard to put him over the crowning achievement of guys like Dawson, Lanier, Bell, Taylor, E Thomas and Hank Stram."
Added Freyasfav:
"Hank Stram's teams were fantastic, show the old NFL what they were missing – pizzazz."
Chargers: The Decade of LT
The San Diego Chargers are the only team in the AFC West never to have won a Super Bowl.
[+] Enlarge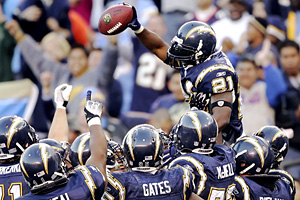 Lisa Blumenfeld/Getty ImagesTeammates raised up LaDainian Tomlinson after he broke the NFL single-season TD record in 2006.
However, they are rich in history. There have been some great players in this organization.
Perhaps no one has defined the team more than running back
LaDainian Tomlinson
. It's funny, because this is a quarterback's league and the Chargers have been blessed with great quarterback play. Dan Fouts was a Hall of Famer and
Philip Rivers
has become an elite quarterback.
Still, LT owned the Chargers.
That's why the Chargers' taking him with the No. 5 pick of the 2001 NFL draft was the winning Flash Point in San Diego history.
It beat out Fouts' arrival in 1973, the 2004 draft-day trade with the
New York Giants
involving Rivers and
Eli Manning
and the Chargers' lone Super Bowl appearance, a lopsided loss to San Francisco in Super Bowl XXIX.
With a special running style and an off-field personality to match, Tomlinson became a superstar in San Diego. He turned the Chargers from a bottom feeder to a perennial division champion until his controversial departure in 2010, which left him in tears.
There are no hard feeling. Tomlinson's legacy lives in San Diego.
Jordang702
put it simply: "LT was huge for them!!!!!!"
May, 11, 2011
5/11/11
1:10
PM ET
What key event significantly changed the fortunes of the Chargers -– for better or worse? Give us your take and we'll give you our definitive moment May 24.
The Chargers got a great steal when they nabbed Oregon QB Dan Fouts in the third round of the 1973 draft. Fouts and coach Don Coryell made San Diego's "Air Coryell" offense famous. Fouts was a premier gunslinger, and while the Chargers never made it to the Super Bowl under his guidance but they were one of the most dangerous teams in the NFL during his heyday.
The Chargers' lone Super Bowl performance, a lopsided loss to San Francisco's in Super Bowl XXIX, is a bad memory. But it was a part of team history.
The Chargers set themselves up for a productive decade with the selection of running back
LaDainian Tomlinson
in 2001. He became the NFL's best running back fro a time and was the face of the franchise until his release in 2010.
In 2004, the Chargers made the best of
Eli Manning
not wanting to play for them. San Diego held the No. 1 pick, took Manning and then packaged him in a deal with the
New York Giants
that brought QB
Philip Rivers
to the Chargers. Rivers has developed into the new face of the franchise in San Diego.
If you have a better option than what we have listed, hit Other in the SportsNation poll and let us know in the comments section.
January, 20, 2011
1/20/11
5:40
PM ET
If the Jets advance to the Super Bowl, would Rex Ryan be the best coach in the NFL?

FLORHAM PARK, N.J. --
Peyton Manning
in Lucas Oil Stadium,
Tom Brady
in Gillette Stadium and
Ben Roethlisberger
at Heinz Field.
[+] Enlarge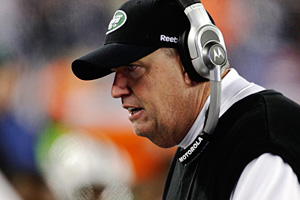 AP Photo/Stephan SavoiaIf Rex Ryan completes another improbable playoff run, is he the league's best coach?
That's the gauntlet
New York Jets
coach Rex Ryan must traverse.
And if he makes it through still alive and advances to the Super Bowl, then Bill Belichick, Lovie Smith, Todd Haley or anybody else who wins a 2010 Coach of the Year Award ought to ship it on over to One Jets Drive.
The sixth-seeded Jets can accomplish a rarity if they defeat the
Pittsburgh Steelers
on Sunday for the AFC Championship. Wild-card teams have reached the Super Bowl before, but only one team ever has knocked off the first, second and third seeds to do it.
The 2005 Pittsburgh Steelers were the first, but the quarterbacks they faced in those playoffs were
Carson Palmer
, Manning and
Jake Plummer
. Not exactly a Murderer's Row.
Manning, Brady and Roethlisberger have won six Super Bowls and played in eight. They have a combined 32-17 postseason record.
"That's a pretty strong task when you mention guys like that," said Tom Flores, who coached the first wild-card champions, the 1980
Oakland Raiders
, in Super Bowl history. "They've been there before. They've experienced being in big games before and winning big games before.
"You're going against the best. There's no unknowns there."
In addition to the superstar opposing quarterbacks, the Jets are venturing into some of the most difficult venues in any sport.
Flores got past an impressive group of quarterbacks for his first Super Bowl (he won another two years later as a division champ): Ken Stabler, MVP Brian Sipe and future Hall of Famer Dan Fouts.
But that lineup isn't as tough as what the Jets are facing. Flores sees Sunday's game being less intimidating than their showdown against the Patriots.
"Their biggest hurdle was in New England," Flores said. "That was almost impossible to beat them there."
Unfortunately for Ryan, awards like coach of the year are based on regular-season results.
He led the Jets to a 11-5 record, but they faded down the homestretch. Their lopsided 45-3 loss to the Patriots in Week 13 followed the next week by an ugly home loss to the
Miami Dolphins
erased any chance of Ryan winning honors.
But if Ryan can navigate this rugged playoff stretch and make it to the Super Bowl, then we'll know who really deserves to be considered the best.
"Well, I can say this: It's not easy," Ryan said. "I don't know who's next. [Terry] Bradshaw?
"Clearly, we have a ton of work to do to pull this off. But we think we're the men for the job, and we're going to find out Sunday."
August, 8, 2010
8/08/10
9:33
AM ET
Does
Drew Bledsoe
belong in the Pro Football Hall of Fame?
The numbers suggest he does.
The numbers, however, also show Hall of Fame milestones are changing.
[+] Enlarge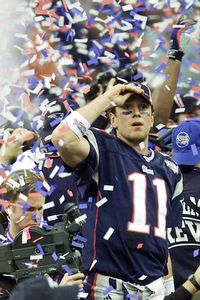 AP Photo/Beth A. KeiserDrew Bledsoe was the backup to Tom Brady in Super Bowl XXXVI.
In a piece for "The Fifth Down" blog at NYTimes.com, quarterback statistician Luis DeLoureiro takes a look at the traditional assurances for induction. In the past
multiple championships or 40,000 yards passing
have meant an automatic bronze bust in Canton.
All seven quarterbacks who've been eligible for the Hall and have thrown for 40,000 yards have gotten in. Two more are active and should enter on the first ballot:
Brett Favre
and
Peyton Manning
.
Dan Marino
,
Warren Moon
, Fran Tarkenton and Dan Fouts didn't win titles. Moon and Fouts never appeared in a Super Bowl.
So what about Bledsoe?
He threw for 44,611 yards and 251 touchdowns in 14 seasons with the
New England Patriots
,
Buffalo Bills
and
Dallas Cowboys
. He reached two Super Bowls with the Patriots, losing as a starter and winning as
Tom Brady
's backup.
But everyone knows the NFL has evolved. Passing numbers are prolific compared to 10 years ago.
New York Jets
and Patriots quarterback
Vinny Testaverde
is another example. He threw for even more yards than Bledsoe did. The Heisman Trophy winner rolled up 46,233 yards and 275 touchdowns, ranking among the top eight all-time in each category
DeLoureiro, who
also writes for NFLStatAnalysis.net
, noted the only two quarterbacks of the Super Bowl era to enter the Hall of Fame without 40,000 yards or multiple championships were
Steve Young
and
Jim Kelly
.
Both presented special cases. Young started only eight seasons and was a two-time league MVP. Kelly took the Bills to four straight Super Bowls.
Tom Donahoe, the former Bills general manager, use to refer to Bledsoe as a future Hall of Famer, a comment that always sounded ridiculous to me.
It still does.
July, 1, 2010
7/01/10
11:43
PM ET
He was frail and weak, but he stood out like a legend should.
[+] Enlarge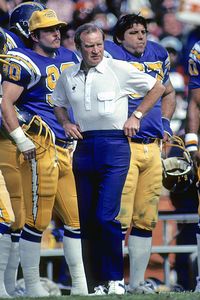 Al Messerschmidt/NFL/Getty ImagesDon Coryell revolutionized the passing game and led San Diego to two AFC championship games.
It had been 24 years since he last roamed the field, yet the San Diego crowd roared when his name was announced as part of the Chargers' 50th anniversary team last season.
"Air Coryell" will always fly in San Diego.
Thursday night was a sad one for the Chargers
when Don Coryell died at the age of 85.
He had been in poor health for quite awhile.
Coryell coached the Chargers from 1978-86. Led by quarterback Dan Fouts, his teams were among the best passing teams in the NFL for years. Coryell was known as a passing-game innovator and he led the Chargers to AFC championship games in 1980 and 1981.
While Coryell's bid for entrance into the Pro Football Hall of Fame fell short in February, he had a lot of support for enshrinement. Fouts led the push for his former coach
wrote a letter of support
to every voter in the on the Hall of Fame committee, urging them to vote in Coryell.
The Chargers are still rooting for his enshrinement.
"We are terribly saddened by the passing of Coach Coryell," said Chargers president Dean Spanos said in a statement Thursday night. "He revolutionized the game of football, not only in San Diego, but throughout the entire NFL. Don Coryell was a legend not only with the Chargers but throughout San Diego. Though unfortunately he did not live long enough to see it, hopefully one day his bust will find its proper place in Pro Football's Hall of Fame. He will be missed."
It is always difficult for coaches who never won a Super Bowl ring to get into the Hall of Fame because of the backlog of great players waiting for enshrinement. But since Coryell had such a huge influence on the passing game, I think he has a chance to eventually get in.
"He was ahead of his time in the downfield passing game," said Gary Horton of Scouts Inc. shortly before the February Hall of Fame vote. "He was a terrific student of the game. He understood matchups and defenses. Coryell was that first guy to say, 'Let's go vertical and make some big plays.' He still has an influence on the game."
As the Chargers' crowd showed last season, Coryell will always be beloved in San Diego.
May, 19, 2010
5/19/10
1:39
PM ET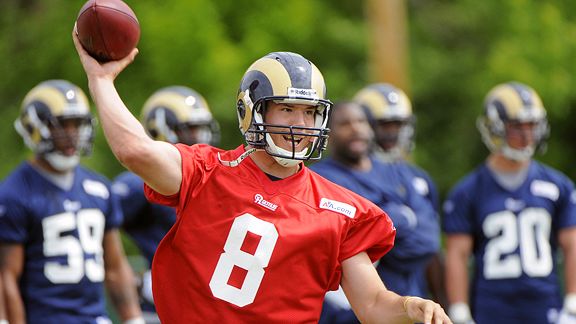 G. Newman Lowrance/Getty ImagesIt remains to be seen how the Rams will handle quarterback Sam Bradford during his rookie season.
The
St. Louis Rams
need not look far to see what can happen when an overmatched NFL team mishandles a quarterback drafted first overall.
The division-rival
San Francisco 49ers
are still trying to recoup their investment in 2005 first overall choice
Alex Smith
.
The Rams probably will not change offensive coordinators every year for the next five seasons, as the 49ers improbably did in Smith's first five, but they still need to be careful with rookie No. 1 overall choice
Sam Bradford
.
Early indications suggest the Rams would like to follow the plan Philadelphia took with
Donovan McNabb
back in 1999, when Rams offensive coordinator Pat Shurmur was coaching the Eagles' tight ends. Doug Pederson opened as the Eagles starter that season, allowing McNabb to ease into the starting role. McNabb got some reps off the bench before taking over as the starter in November.
In setting expectations for Bradford, I looked at production by rookie quarterbacks since 1970. The list featured several older players, some with experience in the CFL or USFL. I filtered out those players by focusing only on quarterbacks who were 25 or younger as NFL rookies. A quick look at them by games started:
16-game starters
There were only five, in part because the NFL season spanned only 14 games until 1978.
Peyton Manning
,
Matt Ryan
,
Joe Flacco
, Rick Mirer and
David Carr
pulled it off. All but Flacco, chosen 18th overall by Baltimore in 2008, were drafted among the top three overall choices in their class.
The ones who took the most sacks as rookies -- Carr (76) and Mirer (47) were the only ones to absorb more than 32 -- had the poorest careers. That might suggest the players had a hard time recovering from the beatings they took early in their careers. It also might reveal something about the quarterbacks' ability to process information quickly enough to get rid of the football before trouble arrives.
Offensive lines tend to take disproportionate blame for sacks, in my view. Quarterbacks are often responsible for them as well.
11- to 15-game starters
None in this group threw even 20 touchdown passes in a season (Manning and Dan Marino are the only rookie quarterbacks since 1970 to reach that barrier as rookies).
We should expect modest production from Bradford even if he starts most of the Rams' games.
Ben Roethlisberger
was a rarity among this group by completing at least 60 percent of his passes, but rookie completion percentage wasn't a reliable indicator for career success overall.
Some quarterbacks ranking lower played when teams ran higher-risk offenses and rules made it tougher to complete passes.
6- to 10-game starters
Hall of Famers Marino, John Elway, Terry Bradshaw and Dan Fouts fell into this group.
This group featured a solid middle class headed by McNabb,
Eli Manning
, Bernie Kosar, Jim McMahon, Neil Lomax, Steve Beuerlein, Pat Haden, Doug Williams and Rodney Peete.
There were a few disappointments -- Ryan Leaf, Cade McNown,
Kyle Boller
and the 49ers' Smith, who still has a shot at redemption -- but this seems like a reasonable number of starts for a quarterback drafted early.
Matthew Stafford
and
Josh Freeman
fell into this category last season.
3- to 5-game starters
Some high picks fell into this category, including Bert Jones, Vinny Testaverde, David Klingler, Tony Eason,
Rex Grossman
, Akili Smith,
Jay Cutler
, Tommy Maddox, Jim Everett and 1984 supplemental choice Steve Young.
This group produced relatively few true stars, however. Young was an obvious exception. Boomer Esiason was a good value.
In looking at the list, though, my sense is that a really good quarterback -- particularly one chosen early -- will start more than five games if he gets a chance to start at all in his first season.
2 or fewer starts
Hundreds of rookie quarterbacks failed to start a game and
69 did not attempt a pass
. The latter group featured
Tony Romo
and in-the-news quarterbacks
Kevin Kolb
and
Charlie Whitehurst
, but
Daunte Culpepper
, the 11th player chosen in 1999, stood out as a rare high draft choice among the group.
Unlike
Carson Palmer
, who sat out his rookie season as a high choice in Cincinnati, Bradford is going to play as a rookie unless he gets hurt.
It's reasonable to expect Bradford to start at least half the games, putting up modest numbers. He'll probably struggle some, and that is OK, but it's a bad sign if the Alex Smith comparisons apply by season's end. Smith tossed one touchdown pass with 11 interceptions as a rookie. He wasn't ready and his supporting cast gave him little chance. That's a bad combination.
February, 5, 2010
2/05/10
12:35
PM ET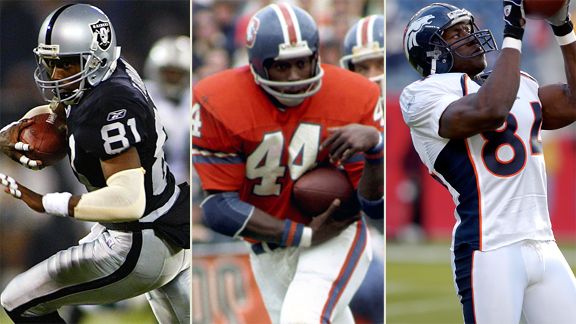 Getty Images/US PresswireTim Brown, Floyd Little and Shannon Sharpe all have compelling cases to be Hall of Famers, but can they make the cut for this class?
There are four men who spent the majority of their careers in the AFC West who are among the 17 finalists being considered for induction in the Pro Football Hall of Fame. The results of the voting will be announced at 5 p.m. ET Saturday.
We spent the week researching each finalist's chances by talking to several members of the voting committee and several league observers.
Here is a look at each finalist's case:
Tim Brown: Los Angeles and Oakland Raiders, wide receiver, 1988 to 2003
Known for:
He was the face of the Raiders for years. He was a standout receiver and return man. The Heisman Trophy winner from Notre Dame was one of Oakland's best draft picks ever. He was a reliable, smart player.
AFC West body of work:
Of his 1,094 career catches, 1,070 came as a Raider. Brown, who played his final NFL season in Tampa Bay, caught at least 80 passes nine times and he had nine 1,000-plus yard receiving seasons.
Quote from a voter:
"He posted great numbers but those have to be placed in context with the era in which he played. He'll get in but maybe not this year."
Scouts Inc.'s take:
"I think he'll probably get in, but I rank Cris Carter slightly ahead of him. If Jerry Rice is a 10, Carter is an 8.5 and Brown is an 8. Brown was excellent but I don't think you could ever say he was the best player at his position. I'm not sure if he was really special or if he had a defining moment, But he was remarkably consistent and he helped on special teams. He never had any glaring weaknesses and he moved the chains. He ran every route." --
Matt Williamson
What I think will happen:
A couple of years ago, I would have thought Brown was a slam-dunk choice in his first year of eligibility. But the voting committee has very high standards for receivers and there is a backlog of quality eligible receivers. With Rice (who played four seasons in Oakland and who announced his retirement at the Broncos' facility after a fruitless preseason in Denver) a shoo-in and Carter, Andre Reed and tight end Shannon Sharpe making a push, Brown may not make it in his first year. If not this year, he'll get in sometime because he was so consistent. Because his numbers were never truly jaw-dropping, he may have to wait in a long receiver line for a couple of years.
[+] Enlarge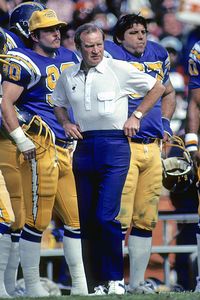 Al Messerschmidt/NFL/Getty ImagesDon Coryell was 69-56 during his nine seasons coaching in San Diego.
Don Coryell: San Diego, coach, 1978 to 1986
Known for:
Coryell is credited with being a major innovator in the passing game, earning him the nickname "Air Coryell." Hall of Fame quarterback Dan Fouts credits his career to Coryell.
AFC West body of work:
The Chargers were virtually unstoppable in the air under Coryell. San Diego changed the way the division played both offense and defense in an effort to keep up with the innovative Coryell.
Quote from a voter:
"I'm a big Coryell fan. He won a lot of games … Sure, he didn't win a Super Bowl, but he changed the way the game was played."
Scouts Inc.'s take:
"He was ahead of his time in the down-field passing game. He was a terrific, student of the game. He understood matchups and defenses. Coryell was that first guy to say, "Let's go vertical and make some big plays." He still has an influence on the game." --
Gary Horton
What I think will happen:
Coryell is the only coach among the finalists. I think he will have a large group of voters behind him. I think many voters were impressed by the
letter of support
sent by Fouts in support of his former coach. Still, this is a very strong class and Coryell could be left on the outside. He is not a shoo-in.
Floyd Little: Denver, running back, 1967 to 1975
Known for:
Little was one of Denver's first true stars. He was the face of the franchise when he played.
AFC West body of work:
He led the NFL in rushing from 1968 to 1973. When he retired, he was the seventh leading rusher in NFL history with 6,323 yards rushing and he had 54 touchdowns.
Quote from a voter:
"One of the great running backs of his era. He played on some bad teams and never ran behind a Pro Bowl offensive lineman. He deserves to be in."
Scouts Inc.'s take:
"I've talked to Tom Jackson (former Denver star linebacker and current ESPN analyst) and he loves Floyd. Floyd was a tough, hard-nosed runner. He was the heart and soul of that team."
--
Gary Horton
What I think will happen:
Little may have the best chance of the four AFC West finalists. He is a senior's committee finalist, so his path Saturday may be easier than the 15 traditional finalists. If Little doesn't make it Saturday, he likely never will. I expect him to get in.
Shannon Sharpe: Denver, tight end, 1990 to 1999 and 2002 to 2003
Known for:
Sharpe was one of the most accomplished receiving tight ends in NFL history. The boisterous Sharpe was a self-made player from a small school who was a huge part of Denver's two Super Bowl winning teams.
AFC West body of work:
Sharpe had 671 of his 815 catches in the AFC West. He had three 1,000-yard receiving seasons and two seasons in which he had 10 touchdowns.
Quote from a voter:
"Crazy numbers for a tight end, and I think he'll be on the edge of making it this year."
Scouts Inc.'s take:
"Sharpe should go in. He was a massive liability as a blocker but nobody cared. Tight ends don't go to the Hall of Fame because they blocked well. In a way, he revolutionized the game because he was a wide receiver as much as he was a tight end. He was the Dallas Clark of his era. He was very tough and he was a very hard worker who overcame coming into the league as a small-school guy. I think that gets overlooked because he is so loud and brash. But he was a hard worker who was on a lot of great teams. He was a difference-maker."
--
Matt Williamson
What I think will happen:
I was surprised that Sharpe didn't make it last year in his first year of eligibility. He was one of the best tight ends ever to play in the NFL. I think he may get in this season. But if some voters look at him as a receiver, he could get lost in the shuffle again.
November, 23, 2008
11/23/08
5:58
PM ET
Posted by ESPN.com's Tim Graham
Consecutive 400-Yard Pass Games (Since 1970 Merger)
Matt Cassel becomes the 5th quarterback since the merger in 1970 to post consecutive 400-yard pass games and the first since Billy Volek in 2004. Otherwise, he's in good company with the three other QB on this list.
Year
Quarterback
2008
Matt Cassel
2004
Billy Volek
1985
Phil Simms
1984
Dan Marino*
1982
Dan Fouts*
*Pro Football Hall of Famers
MIAMI -- Matt Cassel has accomplished something only five other quarterbacks have done since the NFL-AFL merger 38 years ago.
Cassel has thrown for 400 yards in back-to-back games, joining Dan Fouts in 1982, Dan Marino in 1984, Phil Simms in 1985 and -- to add some levity to the list -- Billy Volek in 2004.
In addition to the 400-yard barrier, Cassel also has completed 30 passes and thrown for three touchdowns in consecutive games.
Cassel completed 30 of 41 attempts for 415 yards and three touchdowns in Sunday's 48-28 victory over the Miami Dolphins.
He was 30 of 51 for 400 yards and three touchdowns in an overtime loss to the New York Jets the previous week.
For the record, Tom Brady has one career 400-yard game. He threw for 410 yards against the Kansas City Chiefs in September 2002. The most he threw for in the Pats record-breaking 2007 campaign was 399 yards.
NFL SCOREBOARD
Sunday, 2/2
WEEKLY LEADERS