NFL Nation:

Dan Gronkowski
August, 30, 2013
8/30/13
10:12
PM ET
The
Cleveland Browns
got a head start on their final cuts, waiving six rookies and reserve tight end
Dan Gronkowski
. The Browns need to make 15 more moves to get down to the league limit of 53 by Saturday at 6 p.m.
Gronkowski, who is in his third NFL season, caught a 14-yard touchdown pass in Thursday's preseason finale. A 2009 seventh-round pick by the Lions, Gronkowski also played for the Broncos and Patriots before joining the Browns in 2011.
The six rookies waived were OL
Braxston Cave
, WR
Mike Edwards
, DB
Abdul Kanneh
, RB
Miguel Maysonet
, DB
Kent Richardson
and P/K
Colton Schmidt
.
September, 3, 2011
9/03/11
3:31
PM ET
Check here
for a complete list of the
Denver Broncos
' roster moves.

Surprise move:
The cuts of defensive lineman
Jeremy Jarmon
and safety
Kyle McCarthy
were unexpected. Jarmon was brought in through a trade from Washington for
Jabar Gaffney
. He was expected to be part of Denver's defensive-line rotation. McCarthy was working with the first-team defense for parts of camp. But in the end, 2010 draft picks
David Bruton
and
Darcel McBath
were kept over McCarthy.
No-brainers:
There was talk that
Derrick Harvey
could be cut. But the team needs to keep him, especially with Jarmon out. The former No. 8 overall pick from Jacksonville is needed on Denver's tenuous line. While he probably will never live up to his lofty draft position, Harvey is solid against the run and could help Denver. Also, I'm not shocked that Denver kept only rookie tight ends
Julius Thomas
and
Virgil Green
behind starter
Daniel Fells
. They cut
Dante Rosario
and
Dan Gronkowski
. The Broncos really like their three tight ends.
What's next:
The Broncos have the No. 2 waiver priority. Expect them to use it often. Denver probably will look at defensive linemen, cornerbacks, offensive linemen and running backs on the waiver wire. The Colts cut defensive tackle
Tommie Harris
. DT is Denver's greatest need, but the Broncos might be reluctant to pursue a player who has been cut by the Bears and Colts this year. Recently cut defensive linemen
Jacob Ford
(Tennessee) and
Marcus Harrison
(Chicago) could be appealing to Denver.
July, 31, 2011
7/31/11
5:29
PM ET
December, 24, 2010
12/24/10
2:29
PM ET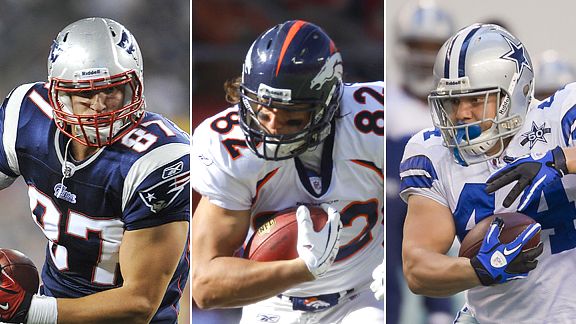 Getty ImagesThe brothers Gronkowski: Rob (left), Dan and Chris, are the fourth trio of siblings to play in the NFL at the same time since the 1920s.
AMHERST, N.Y. -- Diane Gronkowski put the finishing touches on a Christmas Eve prime-rib dinner for her family. They were going to sit down for a pleasant meal and then go to church.
Her five young sons, jacked up on yuletide excitement, burned off some energy with one of their favorite basement games. They crouched over mini hockey sticks, scampered about and thwacked at a spongy ball -- and the occasional body part.
"I just remember opening the door and saying, 'Come on up for dinner!' " Diane recalled.
Glenn, the youngest and 4 years old at the time, was the first to greet his mother atop the stairs with what she described as "this hole in his chin."
[+] Enlarge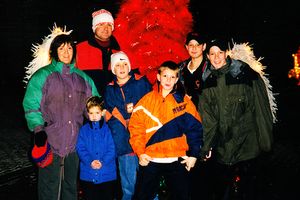 Courtesy of The Gronkowski FamilyThe Gronkowskis celebrate during Christmas in 1997: Diane (left), Gordy, Glenn, Chris, Rob, Dan and Gordie.
"I got woozy," said Gordy Gronkowski, the father. "It was split pretty good. You could see right into it."
Instead of piling into the car for Christmas mass at St. Gregory the Great, the Gronkowskis diverted their evening through Millard Fillmore Suburban Hospital.
The bloody scene wasn't typical for Christmas, but it was a relatively routine day at the Gronkowski house in Buffalo's northern outskirts.
"So we didn't have dinner. We didn't go to church," Diane said. "What are you going to do? I couldn't get wound up about those things, or I wouldn't have been able to handle them. I would have had to stop with one."
As you can tell by checking out NFL rosters, Gordy and Diane Gronkowski didn't stop with one child. They had five, all of them boys, all of them successful athletes who saved their parents about $800,000 in college tuition, room and board.
Three sons -- Rob, Chris and Dan -- are in the NFL this year. The oldest, Gordie, has been playing professional baseball the past five seasons. The kid with the three-inch scar on his chin, Glenn, already has a full-ride football scholarship waiting for him.
"It's a great family story, one of the great family stories ever in sports," Glenn Gronkowski said. "To have five brothers be successful in sports is awesome."
Because it's difficult to follow the Gronkowskis without a scorecard, here's a handy lineup you can use for reference throughout the remainder of this story:
Gordy (with a y): Dad is a former Syracuse football player.

Diane: Mom isn't difficult to identify. She's the one who's always outnumbered.

Gordie (with an ie): The firstborn son is a 27-year-old pro baseball player. The former Angels draft pick plays first base in the Frontier League.

Dan: The injured Denver Broncos tight end will turn 26 next month and is in his second NFL season. He attended Maryland, where he was a Rhodes scholar nominee.

Chris: The Dallas Cowboys rookie fullback will turn 24 on Christmas. He has played every game and started six. He attended Maryland before transferring to Arizona.

Rob: The New England Patriots rookie tight end is 21 years old. He left Arizona a year early to enter the draft. He's tied for the team lead with seven receiving touchdowns.

Glenn : The youngest Gronkowski is a senior at Williamsville North High and will play football at Kansas State next year.
What a name, Gronkowski. It's no Smith or Jones or Thompson.
By itself, though, Gronkowski won't command anyone's attention aside from being tough to spell.
But the guys who wear it on the backs of their jerseys play like you imagine a Gronkowski would.
When you watch them buzz around an 80,000-seat stadium, they're the same fun-loving, roughneck hellions who lumped up each other in whatever new game their imaginations could concoct. As they got older, they spent more time in the basement pumping iron on equipment that puts your gym to shame. Gordy Gronkowski is the founder of G&G Fitness, one of the country's biggest fitness equipment retailers.
"The Gronkowski name brings so much notice," said Kansas State co-offensive coordinator Dana Dimel, who recruited Glenn and coached Rob and Chris at Arizona. "It's already starting to catch on. It means having a joy and a passion for the game and being a good, quality kid.
"They love playing the game. They bring a great work ethic to the table. They have an inbred toughness to them that's genetically there and coaches just love."
With the way the Gronkowskis approach the game, they're not only building careers, but also a brand that's popular among fans. It was inevitable they would
team up for their own website, GronkNation.com
.
Three brothers playing in the NFL simultaneously is a rarity.
The Pro Football Hall of Fame has documented 24 sets of three or more brothers in NFL history. Seven times have three brothers played in the NFL at the same time, but the Gronkowskis are just the fourth trio since the 1920s.
Four Browner brothers -- Ross, Jim, Joey and Keith -- made it to the NFL, with three of them simultaneously on rosters in the mid-1980s.
But even if Glenn Gronkowski joins his brothers in the NFL, they won't match the Nesser clan. Al Nesser played for the Akron Pros in 1921, while brothers Frank, Fred, John, Phil and Ted played for the Columbus Panhandles. Ted also was the Panhandles coach, perhaps explaining the high Nesser ratio.
The longer Chris Gronkowski experiences life in the NFL, the more he realizes how special it is that at least three brothers have made it.
"I've seen about 40 guys come and go since I've been here," Chris said of his season with the Cowboys. "You don't realize how many guys are coming through until you're in it. It's just incredible. Everyone can play. You have to do something special. You've got to stick out. Sometimes it takes an injury to get your chance."
[+] Enlarge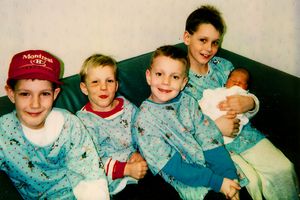 Courtesy of The Gronkowski FamilyGordie (left), Rob, Chris and Dan sit with Glenn on the day their youngest brother was born.
The Gronkowskis obviously possess robust genes, but Dimel noted their success is as much nurture as nature.
"Gordy and Diane are a great combination," Dimel said. "Gordy is so fun-loving, but tough and hard-nosed. Diane's just solid as a rock, stable and organized and intellectual. When you coach the boys you see both of those traits really showing up."
Gordy and Diane certainly demanded their boys handle their pursuits properly, but neither forced their boys into sports as much as they committed their time and resources. The Gronkowski boys simply couldn't compete often enough. They were three-sport stars through high school: football, basketball or hockey and baseball.
"Hockey started at 4:50 a.m.," Diane said wearily, remembering how tough it was for youth teams to get ice time at reasonable hours. "I would wear my clothes to bed and put them to bed with their clothes on so we could sleep those extra five minutes and get up at 4:20. And hockey was all day, every day in the winter. That's just what you did."
While Gordy's bloodlines are more sporting -- his grandfather, Ignatius Gronkowski, was a U.S. bicyclist at the 1924 Olympic Games in Paris -- Diane confessed she knew little about athletics until her boys initiated her one activity at a time.
When she took Gordie to his first hockey practice, they showed up with a bag full of equipment and "no clue what to do with any of it," she said. Diane asked the father of a teammate to dress his son one pad at a time so she could observe and dress her son identically.
"I don't know how she did it," Chris Gronkowski said. "We were five boys, fighting every day. It was more than a job for her to take care of us, cooking, cleaning, taking us to practice, making sure we did our homework.
"It was tough on her, and there were points I felt bad for her. We had to stop going to church and doing a lot of family events because she couldn't control us. It's a blessing what she did for us. It was incredible what she did for us."
Aside from the cross-country travel, Diane enjoys games a lot more these days. She doesn't have to chauffeur anybody to Gillette Stadium or Invesco Field at Mile High. Equipment managers tend to her boys, making sure they have clean uniforms and the right pads.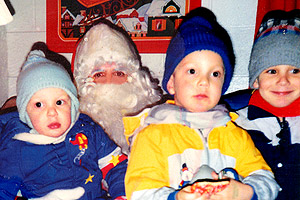 Courtesy of The Gronkowski FamilyRob (left), Chris and Dan sit with Santa Claus. It is hard for the family to get together during Christmas now that the three brothers are all in the NFL.
She can laugh about it now when she sees Rob's jersey hanging alongside
Tom Brady
's in the Patriots' gift shop.
"There are 80,000 people in this stadium clapping because my son did something they liked," Diane said. "It's a lot of years, a lot of blood, sweat and tears to get to that point. I mean, how proud can you be?"
The holidays, however, can be a melancholy time for Gordy and Diane Gronkowski, who have been divorced for a couple of years.
Their sons are in a line of work that's not conducive for family gatherings. For the past few years, bowl games prevented them from getting together. Now the NFL regular season is taking precedence.
"Every time a holiday comes around you think about how great it would be to see your family," Rob Gronkowski said. "Being with the family, running downstairs and opening presents, it was always fun with my brothers.
"But we're living our dreams and doing what we always wanted to do. That definitely helps us deal with not being together. That's one of the sacrifices."
By luck of the schedule, Rob actually will be home for Christmas this year. The Patriots will play the
Buffalo Bills
in Ralph Wilson Stadium on Sunday. But neither Chris nor Dan can make it. Chris will be playing in Glendale, Ariz., on Christmas night.
"Christmas is lonelier more than anything because they're all moving on in life," Gordy said. "I hope someday, 10 years from now, we can meet somewhere and get together. But on Christmas day I can sit there and turn on the TV at 8 o'clock and watch my son play. So it's not all that sad.
"That joy is something you have to experience to understand the feeling I have watching my sons play on TV, to go 'Holy crap. My kid is on TV right now, playing in the National Football League!' And then it's not just one, not just two, but three of them.
"It makes you realize how unbelievably lucky we are as a family."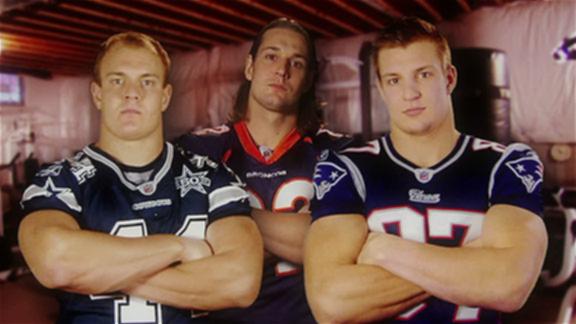 November, 24, 2010
11/24/10
5:38
PM ET
The
New England Patriots
and
Detroit Lions
will play at 12:30 p.m. for your Thanksgiving enjoyment.
Here are five questions to consider for the Patriots:


Can the Patriots win three games in 11 days?
The
Cleveland Browns
, of all teams, pummeled the Patriots in Week 9, creating plenty of concern about the defending AFC East champs. Since then, however, the Patriots merely knocked off the
Pittsburgh Steelers
and
Indianapolis Colts
-- the past two AFC champions and the only other two teams in the conversation when discussing the greatest team of the past decade. Now the Patriots face the lowly Detroit Lions. Should be a piece of pumpkin pie, right? In many ways, this will be the toughest of the three games. The Patriots are on the road with four days to prepare for a tradition the Lions consider their Super Bowl. It will be a test. Legitimate contenders close these games out.
Can the Patriots put together a 60-minute defensive performance?
The Patriots' defense had its moments Sunday versus the Colts. They intercepted
Peyton Manning
three times, including the game-clinching pick snagged by safety
James Sanders
with 31 seconds left. But the Patriots were clinging to a three-point lead because they'd been dominated by Manning for much of the second half. The Patriots rank 30th in total defense, 17th in run defense and 31st in pass defense.
How do the Patriots cover Calvin Johnson?
With injuries hampering the Lions backfield, they'll need to rely heavily on their superstar receiver. The Patriots have struggled in defending the pass, but they have done well against specific receivers, namely
Randy Moss
in Week 8 (one catch for 8 yards). Johnson presents a more multidimensional problem.
New York Jets
cornerback
Darrelle Revis
held Johnson to one catch for 13 yards in Week 9. But the Patriots don't have a Revis, and that's the only game "Megatron" hasn't scored a touchdown since Week 3.
Will DanJarvus Green-Woodhead control the game again?
This could be another big day for New England's effective backfield combo of
BenJarvus Green-Ellis
and
Danny Woodhead
. The Patriots have been successful on the ground against 4-3 defenses, including Sunday's victory over the Colts. The Lions feature a rugged defensive line that's anchored by rookie defensive tackle
Ndamukong Suh
and right end
Kyle Vanden Bosch
. Even so, the Lions rank 26th in run defense and 28th in average allowed per carry.
Which Patriots rookie tight end will have honors this week?
Tom Brady
has been alternating back and forth between
Rob Gronkowski
and
Aaron Hernandez
almost by the week. Hernandez had two touchdown receptions against Cleveland. Gronkowski had three against Pittsburgh. Hernandez had one against Indianapolis. Thanksgiving was supposed to be a big day for the Gronkowskis, but the Lions traded brother
Dan Gronkowski
to the
Denver Broncos
in September.
Dallas Cowboys
fullback
Chris Gronkowski
will play the
New Orleans Saints
at 4:15 p.m.
September, 6, 2010
9/06/10
12:52
PM ET
Some NFC North teams will continue tweaking their rosters over the next 24 hours, but for the most part, what you see is what you're going to get for Week 1 games. In that vein, let's take a look at some random but interesting (to me) trends we're seeing. Some of the observations are mine, and I've given credit to those who came up with the others:
[+] Enlarge

Andrew Weber/US PresswireSafety Louis Delmas is the only Lions defensive back who was on the roster last season.
September, 4, 2010
9/04/10
4:28
PM ET
Before anyone starts doing cartwheels over the
Detroit Lions
'
latest swindle/trade
, let's remember one thing: Good cover cornerbacks are never, EVER reasonably available when under contract. You can get them, but it almost always requires a ridiculous contract on top of premium trade terms.
The Lions had to do neither Saturday afternoon in order to pry
Alphonso Smith
away from the
Denver Broncos
. Instead, general manager
Martin Mayhew
sent No. 4 tight end
Dan Gronkowski
to the Broncos. And that's it. As of now, at least, there are no indications that the Lions included any draft picks for Smith, who was the No. 37 overall pick of the 2009 draft.
It's rare that a team gives up on a highly-drafted cornerback after one year. It was especially painful for Denver which, as my AFC West colleague Bill Williamson
recently pointed out
, traded its 2010 first-round pick (No. 14 overall) to jump back into the second round in 2009 to draft Smith. But he was buried deep on the Broncos depth chart this summer and would have been released were it not for this trade.
That said, Mayhew had every reason to make this trade. Even though Gronkowski
had a strong preseason
, there was little chance he would play in a tight end group that includes established veterans
Brandon Pettigrew
,
Tony Scheffler
and
Will Heller
. Cornerback is a much more important position than tight end, and the Lions' need there is acute.
Chris Houston
and
Jonathan Wade
finished the preseason as the starting cornerbacks, with
Eric King
working at nickel. But Smith will get every opportunity to turn around his career in Detroit, at minimal cost to the Lions. Advantage, Detroit.